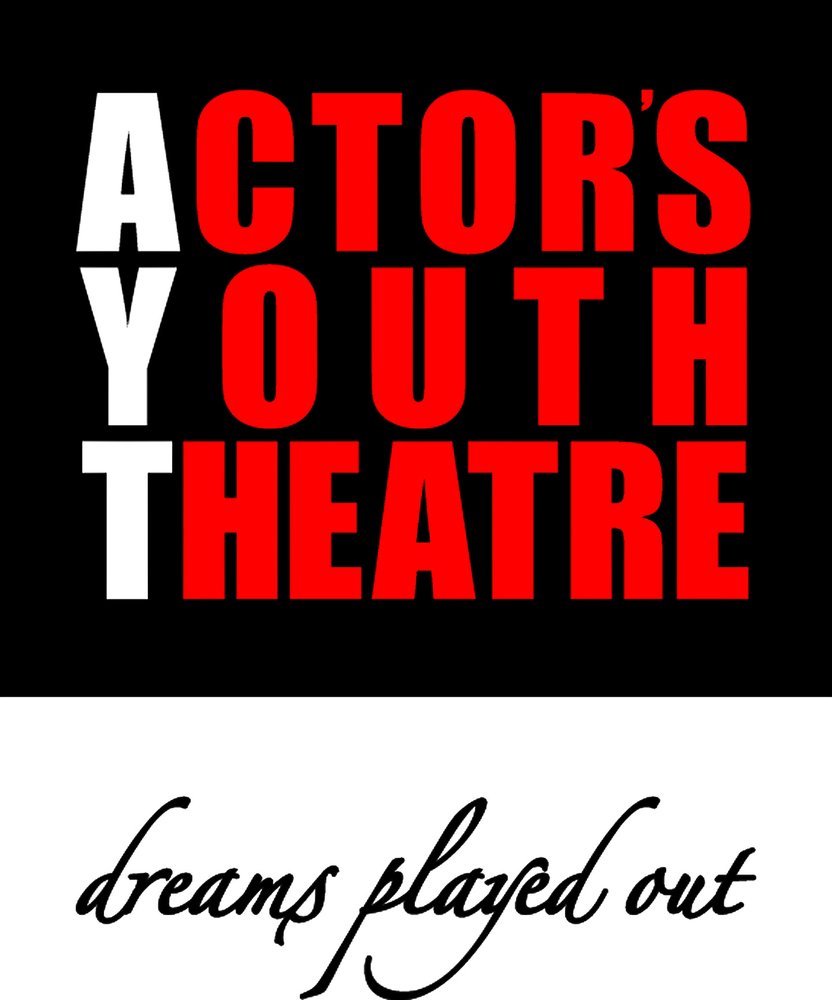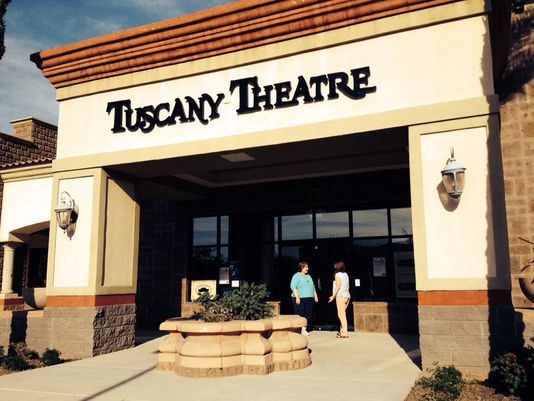 Actor's Youth Theatre (AYT) is a non-profit performing arts organization with the mission of educating, entertaining, and enriching the lives of individuals in the community. AYT provides opportunities for people of all ages and backgrounds to develop acting, dancing, and musical talents through comprehensive performing art workshops, community outreach, performance opportunities, and the presentation of theatre productions.
AYT maintains a high standard of excellence while providing participants with a safe, inclusive atmosphere and a learning environment dedicated to implementing positive self-discipline. While encouraging creativity, AYT cultivates opportunities to learn all facets of theatre and performance for lifelong growth and appreciation of the arts.
The Tuscany Thetre is the home of AYT – all classes, workshops, auditions, rehearsals and performances are at this location
861 N Higley Road suite 105  Gilbert, AZ  85234  (NE corner of Higley and Guadalupe)
LEADERSHIP
Chris Bowler, Executive Director.  Julie Clement, Co-Founder and Artistic Director.  Kristin Bowler, General Manager & Director of Operations.
Board of Directors
Chair:  Julie Clement
Vice Chair:  Brian Ray
Secretary:  Franc DelFosse
Financial Officer:  Mitch Robinaugh
Director of Marketing:  Open Position
Director of Development:  Marcus Ellsworth
Director of Operations: Kristin Bowler
Youth Executive Board
President: Chantel Powers
Vice President: Debbie Ritter-Williams
Secretary: Susan Coleman
Treasurer: Amy Smyth
Past President:  Cheri Lundgreen
Members At Large:
Kerry Galcik
Benedict Palumbo
Arlene Welch
Phone Number
(480) 907-7050
Mailing Address
861 N Higley Rd. Suite 105
Gilbert, AZ  85234
PHOTOGRAPHS & OTHER ITEMS
2015. THE HAUNTED
Cast List
Guthry Brentwood – Noah Delgado
Chassy Brentwood – Bailey Madsen
Denny Brentwood – Parker Ellsworth
Emily Brentwood – Megan McEwen 
Kendritch/Policeman – Bryce Dilullo
Lissa – Alexis Winn
Rachel – Laurynn Allen
Hildred Castaign – Danny Blankemeier
Miriel Castaign – Tommee Sampson
Dr. Archer/Policeman – Nicholas Philips
Mr. Wilde – Rhett Nyman
Hawberk/The King in Yellow –  Riley Wood
Constance Hawberk – Ashley McGuire
Louis Castaign/Weston – Sam Cottle
Vance/ Bergen – Carter Palumbo
Detective Ludmire/Policeman – Hayden Keegan
Charles "Charlie" Castaign – Troy Jansen
Bertie Trimbull Castaign – Rachel Lundgreen
Ruby Trimbull – Kylee Webb
Beatrice Trimbull – Sarah Edmunds
Eleanor Fanell – Maria Boas
Mary – Maribeth Blankemeier
Sarah – Stormy Mullis
Dee – Elinor Neeley
Lindy – Tatum Hanks
Dermott/Policeman – Hayden Biggs
Teresa – Allyson Lundell
Branson – LJ Webb

Gil Benbrook's Review of 'Bonnie & Clyde'. talkingbroadway.com
The 2011 musical Bonnie & Clyde didn't last long on Broadway. That's a shame, as it is a throwback to Broadway musicals of the past in that it isn't based on a movie and wasn't a revival. It is simply a new musical, based on real people, with a good score, a clear book with period perfect dialogue, and well-crafted book scenes that naturally flow into and out of the songs. So it's nice to see that Actors Youth Theatre has decided to present the Arizona premiere of this unsuccessful Broadway musical to give Valley audiences a change to see the relatively new show. AYT's production features two teenagers giving smashing performances in the lead roles with several impressive supporting performances and clear direction.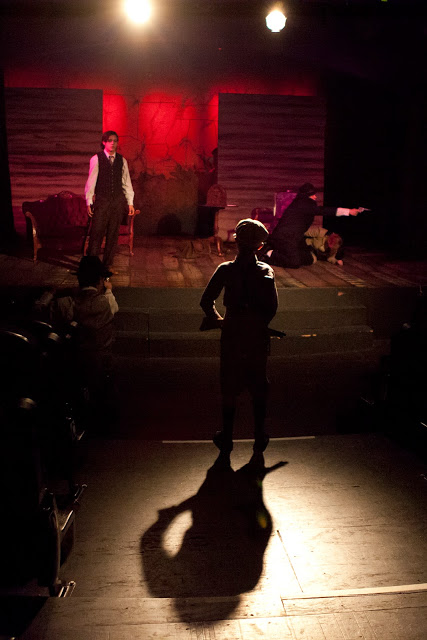 Bonnie Parker and Clyde Barrow were two outlaws in 1930s Texas who, along with a few others, became famous for robbing many stores and banks across several states. This was the time of the Great Depression and they both came from poor families and became minor celebrities due to the robberies and the fact that they were unmarried 20 year olds on the run. Several men, including some police officers, were killed during the robberies and those murders along with their new found fame and notoriety made them the focus of a manhunt which ended with them being ambushed and killed. The musical covers all of that and more, wisely starting with the ambush, then going back to when they were both about 12, showing how they met and what started them on their life of crime.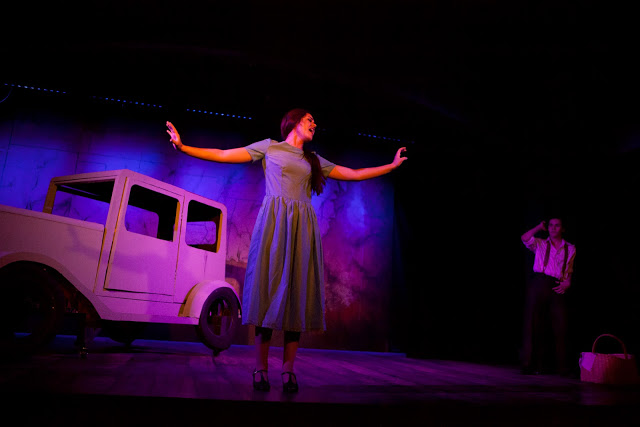 Frank Wildhorn's score, with lyrics by Don Black, features elements of country, bluegrass, gospel, and blues as well as more traditional musical theatre ballads. There are many catchy tunes and the character-driven ballads that are natural fits to the characters and the time and place of the story and aren't just generic pop rock ballads like Wildhorn has sometimes written for his previous shows. The book by Ivan Menchell doesn't feature any moment or scene that doesn't add to the overall plot and thrust of the show—every scene is important. There also aren't any unnecessary characters to get in the way of the story. A lot happens in the 2 1/2 hours.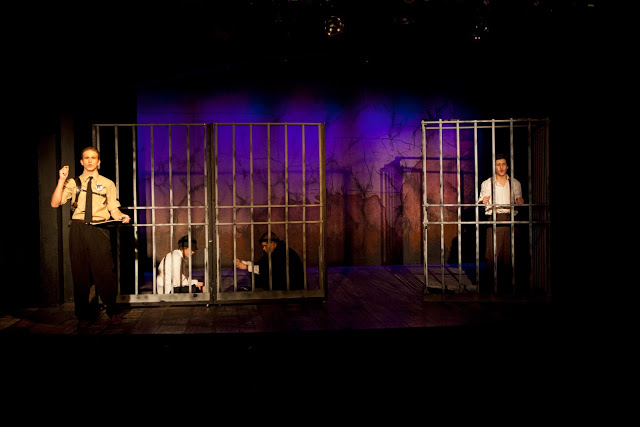 Twelve-year-old versions of the characters are wisely used in the very beginning of the musical to set their dreams in motion. Bonnie wants to be a movie star just like Clara Bow and Clyde wants to be just like Billy the Kid. While the musical never attempts to lay blame on anyone else for what Bonnie and Clyde did, the mentions of Clyde and his brother Buck being arrested and questioned by police at various times for no reason at all does flesh out why the brothers have a violent streak. Combine this with the many views of poverty and depression and you see why Clyde decides to rob a few stores for some quick cash. However, I do wish Menchell had focused the book a little more on the world outside of our main characters. There is some talk about the Depression and we see bread lines and hear of people starving and being out of work, but we rarely get a sense of how the politicians were doing nothing to help, which contributed to many people feeling restless and desperate—a big reason why Bonnie and Clyde and others turned to a life of crime.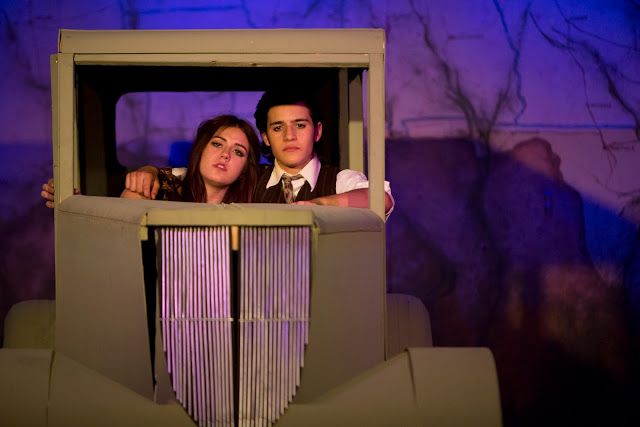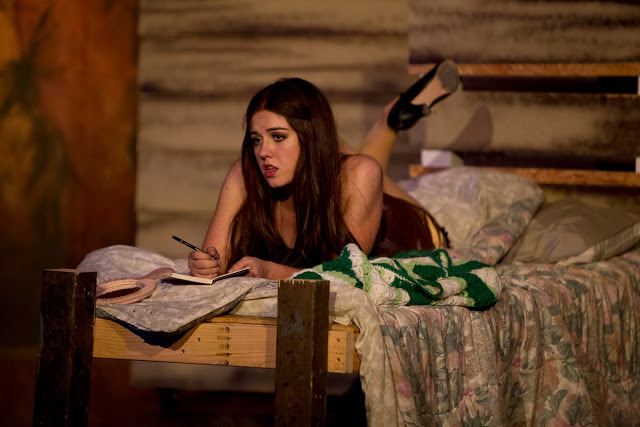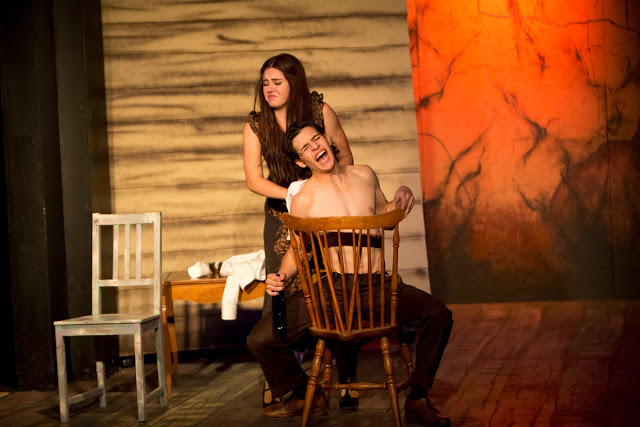 Adyson Nichols and Joey Grado are Bonnie and Clyde and they both portray their roles naturally and are very believable as these two famous people. Grado often elicits a roaring growl to his expert singing that underscores the ferocity and anxiety he instills in Clyde. He is especially good in the several dialogue-heavy moments he has, completely throwing himself into the part. You clearly see the desperation Clyde feels and how he gets off on the life he has chosen. Like Grado, Nichols brings the same passion and desire for finding a life that is different and exciting to Bonnie. She is conflicted in her love for bad boy Clyde and, like Grado, excels with the smartly written dialogue. They also convey a nice amount of realistic fire to their relationship and you never once doubt the heat, passion, and connection the two have for each other. They both also have very good singing voices and manage their way through the tricky score fairly well, only occasionally being slightly not up to the challenge of the score.
The AYT cast also features Tim Eversole as Clyde's brother Buck and Kayleah Wilson as Buck's wife Blanche. Both are very good. Wilson nicely captures the God-loving woman who also loves her man, even when he is doing wrong. Eversole delivers a fully fleshed out character as well, full of conflict between right and wrong. Kale Burr is Ted, the policeman who has a thing for Bonnie, and he has a nice stage presence, creating a realistic man in charge. He also has a great duet with Grado where they both profess their love for her. As far as the ensemble goes, Sarah Scroggins and Michala Montano are very effective as Bonnie and Clyde's mothers, respectively, and Angelina Cappellano is given some nice solo parts as the preacher. Eric Lundgreen and Madeline Riggs are great as young Clyde and young Bonnie, with very good voices and professional acting chops. The rest of the ensemble play multiple parts effectively, particularly Jessica Sinodis as the Governor and Danny Blankemeier as the man she brings in to hunt down the fugitives. Ethan Vaughn and Ben Wright make an impression with just a few lines, and pretty much everyone in the cast is given an important character to play. My only quibble is with some of the cast's quiet line deliveries; a few need to project more so they can he heard in the back of the audience.
Director Tracie Jones keeps the action moving forward swiftly and has staged the show with a clear purpose. She effectively uses the entire space, including great use of the aisle in the audience. The set design by Mitchell Glass and Kerry Jordan uses just a few pieces of furniture, two moving panels, and two effective jail cells to establish each scene. They've also created a very realistic car for Bonnie and Clyde to ride in as well as a clever backdrop that is a giant map of the southern states where the duo conducted their crimes. Aurelie Flores' costumes are great period editions and Tom Fitzwater's lighting is atmospheric, full of bright reds that echo the Texas heat and the fiery passion of our leads.
The one big obstacle that Bonnie & Clyde has is that its two main characters are ones who you don't naturally want to root for. They are cold-blooded killers after all. But because pretty much anyone seeing the show knows how the story will end, and if you didn't know you find out in the first 30 seconds, the musical is wisely focused on how the characters got to be who they are along with their devoted relationships with their families. The musical doesn't excuse them for what they did or try to explain why they did what they did, and by not doing that it makes a good attempt to get you to feel for them much the way the musical Chicago makes you connect with its two main females, who are also both murderers. In the end you may not want to like them but with the charisma of the characters and understanding somewhat of the desperation they feel, you end up feeling for them.
Bonnie & Clyde is a dark story based on real characters with plenty of murders to remind us of how bloody and real the story is, but there are also many moments of humor and humanity too. AYT doesn't shy away from the adult aspects of the plot and, with impressive performances from Grado and Nichols and clear, precise direction, delivers a winning production.
Director / Music Director: Tracie Jones Assistant Director: Mitchell Glass
Choreographer: Corinne Mann
Set Designers: Mitchell Glass, Kerry Jordan
Costume Designer: Aurelie Flores
Lighting Designer: Tom Fitzwater
Stage Manager: Rebekah Avila
Cast:
Clyde Barrow: Joey Grado
Bonnie Parker: Adyson Nichols
Marvin "Buck" Barrow: Tim Eversole
Blanche Barrow: Kayleah Wilson
Cumie Barrow: Michala Montano
Sherriff Schmid: Anson Romney
Ted Hinton: Kale Burr
Deputy Bud Russel/Guard #1: Adam Lundgreen
Young Clyde: Eric Lundgreen
Young Bonnie: Madeline Riggs
Emma Parker: Sarah Scroggins
Preacher: Angelina Cappellano
Henry Barrow: Troy Jansen
Governor Miriam Ferguson: Jessica Sinodis
Captain Frank Hamer: Danny Blankemeier
Bob Alcorn: Ben Wright
John/Joe: Josiah Moulton
Trish: Olivia Nienstedt
Stella: Julia Jordan
Eleanor: Rachel Spencer
Guard #2: Nolan Decker
Judge: Bailey Gorman
Shop Customer: Olivia Lundgreen
Shop Keeper: Kaleigh Feuerstein
Archie: Ethan Vaughn
Bank Teller: Mackenzie Nelson
Bank Customer #1: Hannah Kredit
Bank Customer #2: Madison Volker
Deputy Johnson/Radio Announcer: Noah Delgado
Salon Ladies: Kate Nienstedt, Gracie Gentile, Grace Lisicki, Savannah Powers