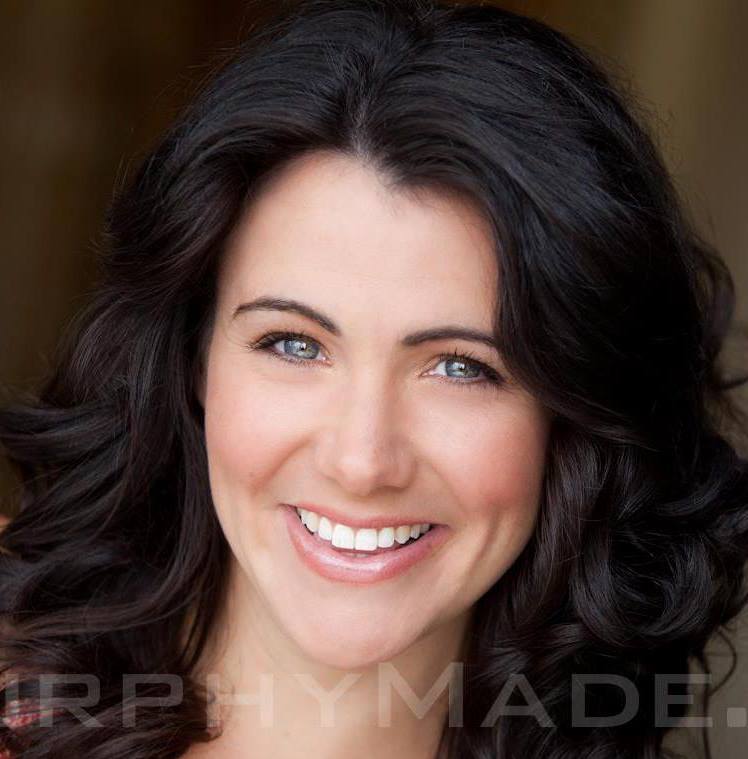 PLEASE HELP
This page is in development. I would be grateful if you would share any memories, anecdotes, photographs or other memorabilia. Please use the button at top right to contact me and I will give you the details on sharing. Thank you.
YOU TUBE APPEARANCES
LOCAL PERFORMANCES
Natalie was active in the early years of Scottsdale Desert Stages Theatre.
One of Natalie's biggest local hits was the Sinatra revue, My Way, at Phoenix Theatre, directed by Paul Barnes, choreographed by Michael Barnard with music direction by Alan Ruch. Her co-stars were Rusty Ferracane, Kristen Drathman and Nick Cartell.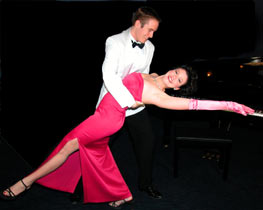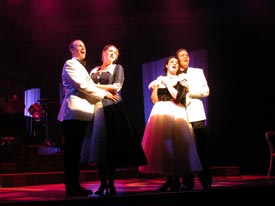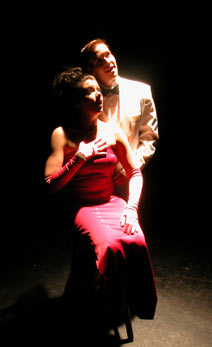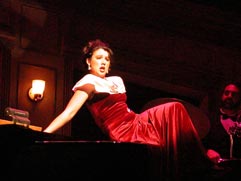 Other local credits include Grand Hotel, Scottsdale Community Players, 1998; Chicago, Phoenix Theatre, 2003; Thoroughly Modern Millie, Phoenix Theatre, 2006.
BROADWAY & OFF-BROADWAY PERFORMANCES
Natalie's Broadway debut was in Les Miserables. Off-Broadway credits include: Rated P – For Parenthood, Forbidden Broadway: Alive and Kicking. Broadway credits include: Les Miserables.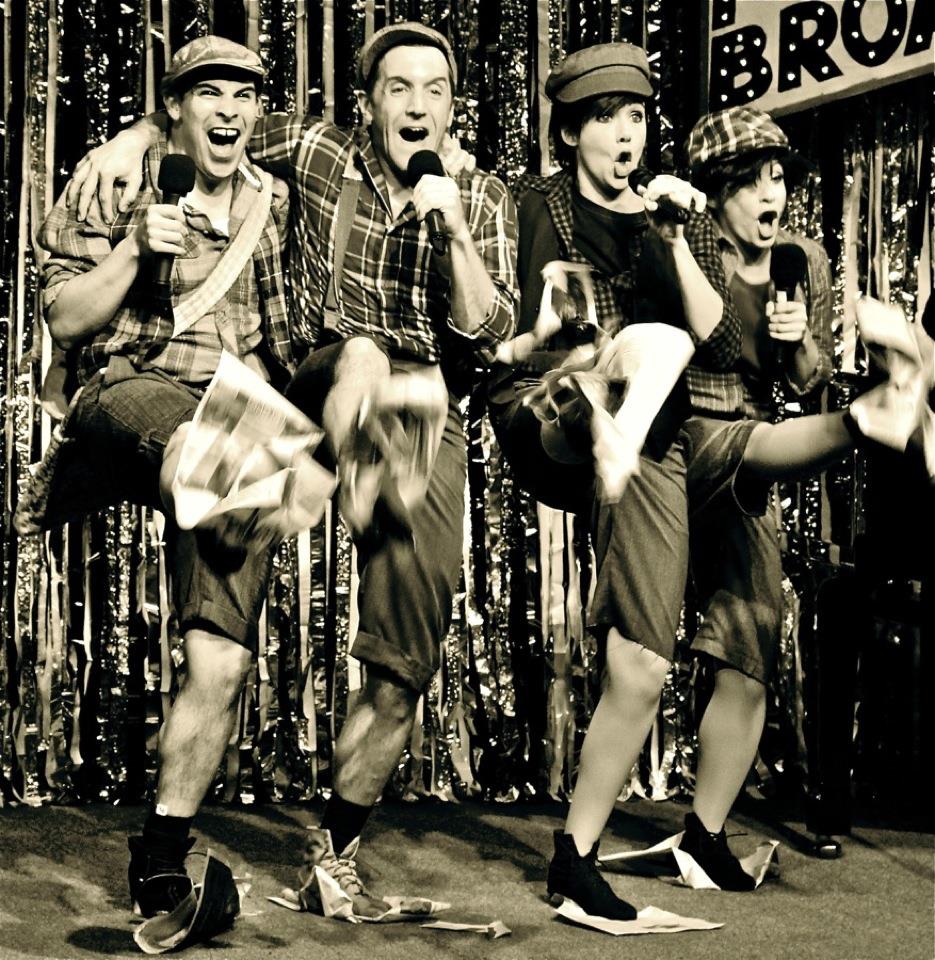 PRESS CLIPPINGS
Natalie Ellis has the right stuff to play Roxie Hart in Phoenix Theatre's production of Chicago.
You know Roxie. One of the great bad girls of the American stage. Shoots her lover and gets away with it. Sets her sights on being a star and lets nothing stand in her way.
No dead lovers in Ellis' resume, and "bad girl" never enters the conversation when friends and rivals dish the gossip, but she's the hottest thing in Valley musicals.
Entirely by plan.
" 'Determined'? That's a good word for Natalie," says Nick Cartell, her frequent co-star and off-and-on boyfriend. "If she wants something, she's willing to work as hard as it takes to get it."
An example is the part of Flaemmchen in Grand Hotel, which Scottsdale Community Players produced five years ago. Flaemmchen is a good deal less than she should be. By day a
stenographer in a Berlin hotel, by night she makes herself available to the hotel's wealthy guests.
Natalie didn't know Flaemmchen would be the breakthrough role that made her a sought-after leading lady. She simply knew she could do the part.
Did it matter that she was 15 and the audition scene involved Flaemmchen's rape?
Nope. She aced it.
"I was amazed," says Natalie's mother, Linda, recalling the tryouts.
Ginger Moore, Grand Hotel's producer, didn't discover the actress' true age until opening night.
Even then, she had trouble believing it.
"I've always looked older, and I've always gotten the older roles," Natalie says. "I knew Robyn Ferracane, the director, thought I was 16 or 17, but if she had asked me, I would have told her my age. She didn't ask."
It was never a moral issue, Natalie says; Flaemmchen's scenes were specific, but not explicit.
"It's theater," she says. "You're playing a part. You really don't do anything."
Nor did the actress feel intimidated by the character's rape. What intimidated her was working with adult actors.
"It was my first grown-up lead — the pressure was intense," she says. "Flaemmchen was more than my foot in the door, she taught me a lot about myself."
Natalie's performance convinced local artistic directors that they wanted her in their casts.
Chicago is her fifth show with Phoenix Theatre's Michael Barnard.
"She is such a smart actress," he says. "You tell her, 'Give me a little more of this,' or, 'Have you thought of that?' and, immediately, she's on it. I don't know of anyone who is more determined to
give you exactly what you want."
Natalie had her career epiphany at age 5. Already a two-year vet of dance classes, she became a member of the Sunshine Generation, a children's performing group.
"Ever since then, I've felt more comfortable onstage," she says. "It's my home."
The Ellises were living in Flagstaff, and the only vocal teacher willing to take on such a young student was in Sedona. Linda drove Natalie to classes four times a week.
"It was difficult in the snow," Linda says. "I was afraid of heights. Those switchbacks in Oak Creek Canyon were a challenge."
She never questioned the effort.
"I always dreamed of being what she is, but I was stupid and got
married at 18," Linda says. "I was in love, but I also didn't have the talent Natalie has. That was why I was set on her receiving good training. You can't start that sort of thing at 16 or 18."
Natalie, who is a graduate of the New School for the Arts in Tempe, is the first to acknowledge that her social life has taken a hit as a result of her obsessions.
"I'm very uncomfortable being around someone who isn't involved in the business," she says. "They look at people in the theater and think we're insane. They just don't understand."
Although it's tough to find anyone who will say an unkind word about the actress, she's not without rivals. After all, she's been hogging the market in musical leads.
"There's a sense of competitiveness there," she admits, "but I don't let it take over. If I don't get a role, I don't let it affect my relationships with other actors, or at least I try not to; there are people out there who live for competition."
With Cartell, it functions on a different level.
"She makes me work harder just to keep up with her, and that's very good," he says. "It becomes a battle to see who can do the best job."
The two have co-starred in more than a dozen productions and been a romantic item at least twice. If there's a villain involved in their story, it's their lifestyle. They don't always work together and, last
year, Cartell relocated to Japan, where he appears in several productions at Disney's Tokyo parks.
"I'm probably just as determined as Natalie is, and that means when we're in a working situation, we understand that the relationship comes second," he says.
"But that never changes the fact that Natalie is, and always will be, my best friend. I call her constantly from Tokyo. She gives good advice."
Natalie, resigned, agrees:
"It can be an emotional roller coaster, and there is a lot of stress, but for us, there can be no real life outside theater. We just have to learn to deal with that."  — Kyle Lawson, The Arizona Republic, 2003.
*****
Thoroughly Modern Millie at Phoenix Theatre stars the thoroughly engaging Natalie Ellis, who's returning to the company where she rose to prominence in My Way, Into the Woods and, most spectacularly, Chicago. Millie is the stage version of the 1967 Julie Andrews film musical about a young woman who seeks a career and a handsome hubby in 1920s New York and you can take it from us, Ellis doesn't suffer by comparison. See her now. She's off to the Big Apple herself when Millie closes.  —The Arizona Republic, 2006.