BILL 'WALLACE' THOMPSON
Wallace of Wallace & Ladmo fame
Theater actor
Bill appeared in two "straight" theater productions, "Stalag 17" and Turk in "Come Back, Little Sheba" in 1958 at Phoenix (Little) Theatre.
Comment from film and television actress Paty Lombard:
When I was doing the weather at good old Channel 5 in the good old days, I would go on "W&L" set often and just watch and laugh more than the kids. Wallace Ladmo and McMahon…my god, what a talented trio. Come to think of it…they never DID give me a free Ladmo bag. Makes one miss one's youth, doesn't it?
Ben Tyler's play
Actor-Director-Producer Ben Tyler wrote "The Wallace and Ladmo Show," which had its premiere in 2001 at Desert Foothills Theater and was a major hit. The play tells the story of the Valley television show by the same name that became an Arizona legacy. It ran from 1954 to 1989 and is recognized nationally as a ground-breaking children's program. If you grew up in Arizona during that period, chances are you were a fan. Did you ever get a Ladmo bag?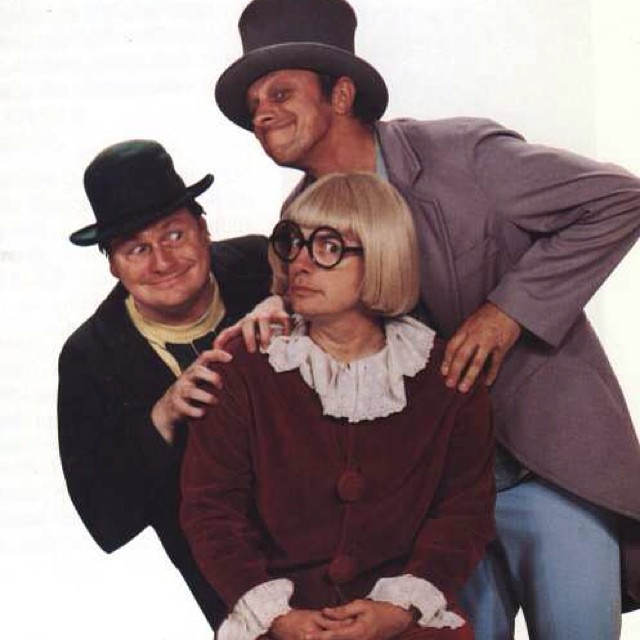 Biography
Before he was Wallace, he was Bill Thompson.  He was born in New York City on Dec 18, 1931, the son of William and Marie Thompson and the eldest of three brothers.  His father worked as an investment manager on the second floor of the Empire State Building. "I was embarrassed to tell my friends about this," Thompson remembered. "I mean, if you're going to have an office in the Empire State Building, you should at least have an office on the 70th or 80th floor!"