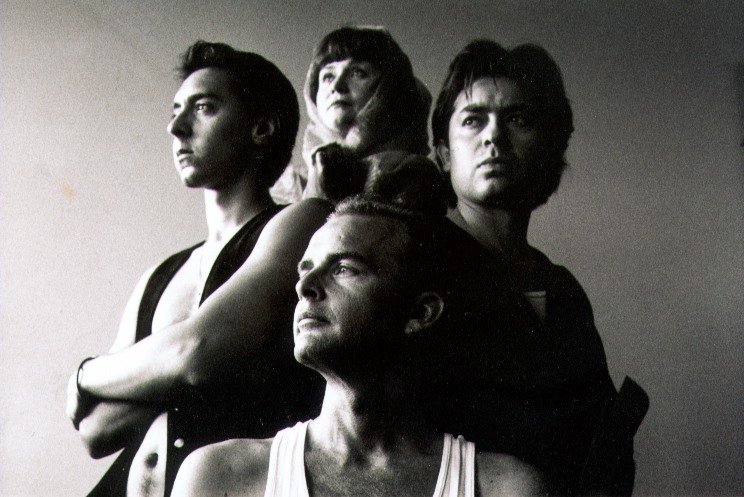 From Mollie Kellogg: This is a photo I took for Blood Wedding, performed at the 3rd Street Theatre before Bradley C. Golden and Peter Cirino found our building. David A. Akin, Ceasar Hernandez and Bruno Cisneros  were in the cast. I do not recall the actress in the back. This photo was taken at Marilyn Szabo's studio where we rehearsed. I was pregnant with my first child, Oni, during this production.
This was our second show as Planet Earth. Our first was Friendly Divorce by Terry Earp at Raymond King Shurtz' Playwrights Theatre, across from where we lived. Although, somewhere in there. Bruno and I performed Quintuplets on Playwright's stage (later David Akin and I would also perform Quintuplets at the Willow House, to a very large crowd thank to Wyatt Earp's public relations efforts.)
******
1995. "Medea." Directed by Peter James Cirino. Music: Luis A. Hernandez. Cast: Mollie Kellogg as Medea, David A. Akin as Jason, Shel Bailey as Black Spirit, Diane Contreras Harris as Sister Nanina. Scenic Design: Mario Gallegos. Videography: Matthew Karges and David Gonzales.
REVIEW by Marshall W. Mason, Phoenix New Times, April 20, 1995.
The sensational story of Medea has fascinated audiences throughout time. Corneille wrote a version in 1635, and Cherubini turned it into an opera in 1797. Broadway has produced this play more often (and more successfully) than any other classic. Dame Judith Anderson won a Tony Award as Best Actress in 1948 in the Robinson Jeffers adaptation, then played the Nurse to Zoe Caldwell's 1982 Tony-winning Medea. Only last season, Diana Rigg won a Tony in the latest revival. Maria Callas starred in the 1970 Pasolini film, and even Charles Ludlam wrote a version in which Everett Quinton and Black-Eyed Susan alternated as Medea and the Nurse. There are even rumors of a rock musical Medea in the works.
As Susan Smith goes on trial in South Carolina for murdering her two children, it is no wonder that Medea remains the most modern of ancient plays. Although Euripides wrote it in 431 B.C., it is as relevant as a tabloid headline.
And now Planet Earth Multicultural Theatre is presenting a voodoo version, written and directed by Peter James Cirino and starring Mollie Kellogg Cirino in the eponymous role. The story of Medea concerns the misbegotten love of the woman for her husband, Jason. She has used her magic powers to save this heroic adventurer, rescued him from danger and helped him to carry home the Golden Fleece. She has also borne him two children, and he has brought them all home with him, far from Medea's homeland. Persuaded by Creon that there are considerable advantages to be had from marrying his daughter, Jason abandons Medea to marry the younger woman, ostensibly to contrive a better life for his children. Filled with jealous rage, Medea can think of no more effective way to destroy her faithless husband than to use her magic powers to slay his bride and her father, and then to perform the most unimaginable act our culture can contemplate: kill her own children.
Peter Cirino has found a contemporary equivalent of the superstitions on which the ancient text was based by transplanting the action to Louisiana and the Arawak culture of the Caribbean. He has made use of every feather, candle, incense, symbol, icon, amulet, rune, smoke and mirror he could enlist. Using the claustrophobic confines of the Planet Earth space, he and his designer, Mario Gallegos, have created an environment that eerily invokes a den of sorcery. Even in the entrance to the theatre, lights flicker, strange symbols hover and mystery hangs in the air. Dried palmetto fronds whisper with a dry, scratching murmur.
In one corner, a blood-red spot highlights the bare arms, chest and legs of a conga drummer, whose tight muscularity is both sensual and threatening. Luis A. Hernandez pounds out relentless rhythms that accompany the action of the entire play.
Medea is for actresses what Hamlet is for actors, and Mollie Cirino steps up to the plate with relish. Her angular features drawn by grief, Cirino performs the rituals of Santeria, a blending of voodoo rites and beliefs with Catholicism, peculiar to the Arawak culture of the Caribbean basin. I once saw a Santeria festival in Bahia, Brazil, that greeted the coming of spring. It involved floating candles on the calm sea, incense in the fragrant night air and a great deal of chicken blood. If you saw the film The Big Easy, you will have some idea of the rituals involved in this mysterious practice.
Silently, her eyes simmering with dread of what she must do, Cirino blends the herbs and smoke into the spells of this dark religion. Under her touch, symbols threaten with ominous power. And when she does give utterance, the cries come from her bowels. Suddenly, Cirino's talent blazes into being, and Medea becomes flesh before our very eyes. Cirino is transcendent in her incarnation of a woman scorned. She makes her jealous rage an inevitable result of the betrayal of love, and pursues her revenge with a dedicated malevolent logic.
The production is aided enormously by the most sympathetic Jason I have yet seen. It is clear from David A. Akin's performance that Jason really does love Medea, and that he cannot turn down the offer to make his children princes. Akin endows Jason, usually played as a boor, with depth and dignity that make you understand why Medea cannot let him go.
Shel Bailey is a towering black spirit with a basso profundo voice like that of Geoffrey Holder (of the 7-Up commercials), and it is he who supervises the spells and charms enacted by the cast. He is easy to believe as the godfather of sorcery.
The Nurse is named Sister Nanina in this version, and is played with warmth by Diane Contreras Harris. Only an incompetent trio of amateurs that makes up the chorus mars this primitively powerful production.
One problem with mounting the play of Medea is finding a way to depict the children in a way that engages our horror when they are slaughtered. Many times, an audience may be tempted to feel relief to see the brats get theirs. Peter Cirino has put the children on television monitors, so we see them only in close-up. This gives videographers Matthew Karges and David Gonzales an opportunity to depict their annihilation with superimposed abstract imagery. While this is a novel idea, it didn't quite work on opening night, partly because of technical difficulties, but also because it keeps us from ever feeling very personally about the children. They become just one more media image, and their deaths lack the power of, say, the Rodney King beating.
Still, this is the crowning achievement of Planet Earth theatre for this season, and although I must confess the seductive incense and lull of the conga drums had me drowsy from time to time, this is a Medea that fully captures the mystery and majesty of this masterpiece.
*****