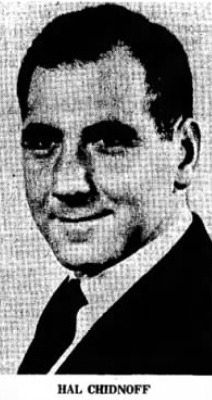 In the 1960s, the people at Phoenix Little Theatre were so close-knit they were almost incestuous.
The same people were involved in show after show: Robert Begam, Helen Begam, Jacqueline Gaston, Jackie Qualman, Louis Leithold, Fay Bullock, Henry Balloni Jr. …
The company could pretty much plug in the title of the play and leave the rest of the program alone.
One of that busy team was Hal Chidnoff, who went from the center-stage spotlight to the director's chair with ease.
Active with the Penn State Players in his youth, he also spent six years playing non-singing character parts at the Metropolitan Opera in New York City.
In 1959, he played the Gentleman Caller in The Glass Menagerie, which co-starred Robert Begam, Jackie Qualman and Fay Bullock. In 1960, he directed the comedy, Who Was That Lady? In 1961, he helmed a well-received Hamlet. It starred Henry Balloni Jr. as the Dane and Jackie Qualman as Ophelia. That same year he had the title role in The Happiest Millionaire with Jacqueline Gaston sharing the stage.
He did not go unnoticed in the rest of the Valley. In 1968, he directed a revival of George Bernard Shaw's scandalous Mrs Warren's Profession for the Scottsdale Community Players.  In 1973, the Players mounted a production of The Last of the Red Hot Lovers to provide him with a showcase acting role.
Oh, yes, before we forget. You also can catch him in Attack of the Killer Tomatoes, the 1978 film spoof that was almost as bad as the movies it spoofed. Hal was General No. 2.
A far cry from Tennessee Williams and Shakespeare.
PRESS CLIPPINGS
1962. Phoenix Little Theatre. "Cat on a Hot Tin Roof."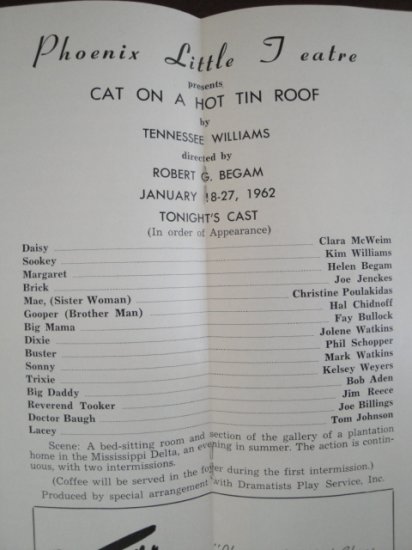 *****
Sept. 18, 1960  Arizona Republic