Harvey Shahan was an actor/director who often worked for Arizona Repertory Theatre in the 1960s and '70s.
He appeared in Volpone, Period of Adjustment and Three Men on a Horse for the company. He also directed Desire Under the Elms, a box-office winner for ART. He also appeared in Henry V in the 1960 Shakespeare Festival at Phoenix Little Theatre.
One of his best-known roles was as King Henry VIII in the Scottsdale Community Players production of Royal Gambit.
Outside of Phoenix, Harvey spent two seasons with the Los Angeles – San Francisco Civic Light Opera Company and appeared on Broadway in The Red Mill, Gypsy Lady and Detective Story.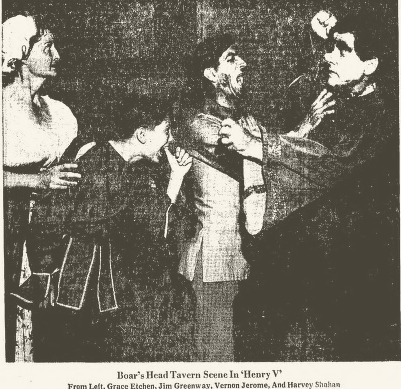 Grace Etchen, Jim Greenway, Vernon Jerome and Harvey Shahan are featured in this photograph published in the Arizona Republic of  March 20, 1960. The play was Henry V.