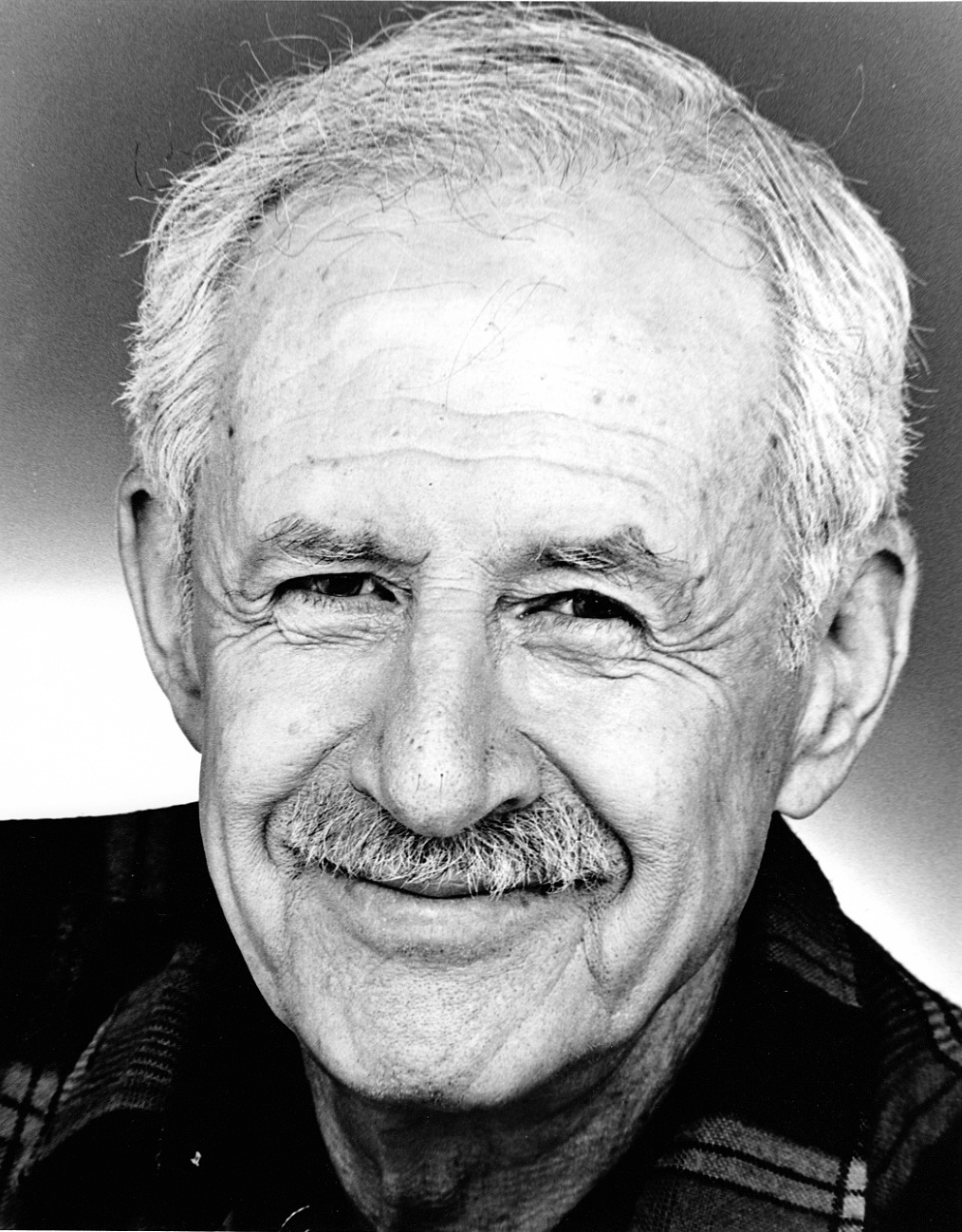 John Graff
Phoenix actor who became active in local theater after moving to the Valley in 1954. He passed away at age 91 in 2008.
According to his daughter, he appeared in more than 100 plays here.
Born in New York City in 1917, John was raised in Woodmere, Long Island. He attended the University of North Carolina, Chapel Hill, and also Columbia and NYU in New York City. At the beginning of WWII, he moved west. In 1942, he enlisted in the army from Tucson and served in New Caledonia in the South Pacific. John returned to New York City after the war and performed as an actor with CBS Radio and Equity Library Theater. He met and married Martha Lavack, of Ohio and New York, in 1947 and they made Tucson their home before moving to Phoenix in 1954. Martha passed away in 1986.
John's working life was spent as a salesman and he was very active with many community theater groups in the Valley. These included Phoenix (Little) Theater, Stagebrush Theater, Southwest Ensemble Theater, Glendale Little Theater and many more. The Graffs were members of the Unitarian Universalist Church, first in Paradise Valley and then on the west side of Phoenix. John retired from sales in 1986 and from local theater involvement in the mid-1990s.
He was a member of Screen Actors Guild and was represented by the Bobbi Ball agency during its existence and then by Leighton Agency.
The following is a list of her father's work that Judy can remember:
"- For Circle 16 (late 1950s, titles not remembered)
For Phoenix Little Theatre:
– King of Hearts (Directed by Olga Roberts.)

– Mrs. McThing
– The Male Animal
– The Seven Year Itch
– Dollface (1965 original by Mary Chase, writer of Harvey. I was in this, too. Phil Pruneau directed, Gene Smith was in the cast)
– On Borrowed Time
– The Royal Hunt of the Sun (This was an Actors Inner Circle production.)
– The Unsinkable Molly Brown
– Gypsy
– The Night Thoreau Spent in Jail
– The Tavern (I was in this, too, 1974; Robert L. Johnson directed)
– Charley's Aunt
– Death of a Salesman
– Vivat, Vivat, Regina
– The Petition (upstairs)
For City of Phoenix Performing Arts Center (3rd Street Theatre):
– The Good Doctor
– Macbeth
– 12 Angry Jurors
– For Scottsdale Community Players/Stagebrush Theatre; Bob was on the Stagebrush board from 1970 to 1973.
– A Man for All Seasons
– A play about Dylan Thomas that starred Jim Edmonson.
(From the Arizona Republic, Sept. 28, 1969)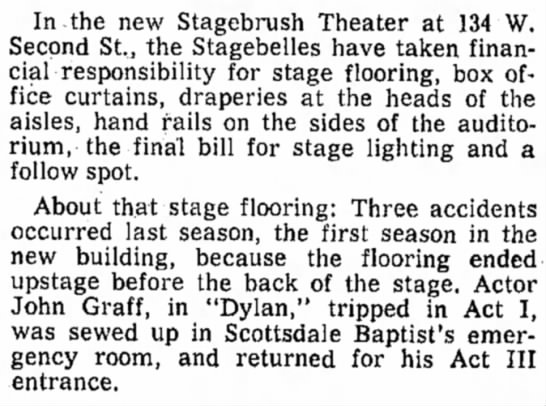 – A play about Joan of Arc.
– Thurber Carnival
For Windmill Dinner Theater:
– Fiddler on the Roof (1972)
For Southwest Ensemble Theater:
– The Last Pad.
– It's Called the Sugarplum
– The Admiral's Ladies (Keith Anderson production with Tom Quillen; not sure if it was still SET then)
For Glendale Little Theater
– The Alchemists' Book
– Sweeney Todd (Unit 1 School Location, 1979) (Trudy Hurley directed.)
– Heaven Can Wait (at Pierre's Playhouse, Cave Creek, 1980)
– Night Must Fall (1980)
– The Importance of Being Earnest (directed by Jacque Gaston)
– The Miracle Worker (Jacque Gaston was Annie Sullivan, directed by Trudy Hurley, Pierre's Playhouse)
– Everybody Loves Opal
– The Sunshine Boys
– Three Men on a Horse (don't remember the company, sometime in the 1960s)."
 *****
 Archival material on this page may be accessed at http://www.newspapers.com
******
REVIEWS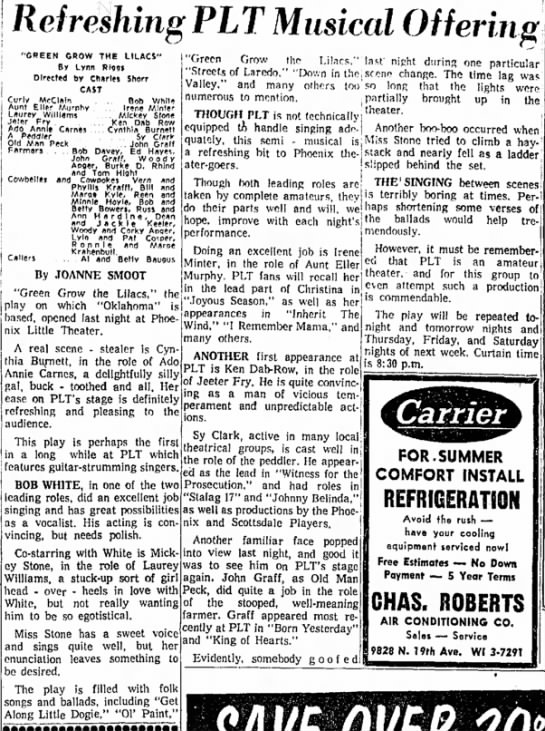 *****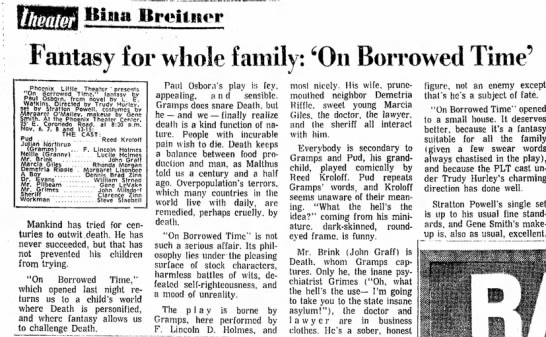 Nov. 7, 1969. Arizona Republic. Bina Breitner.
*****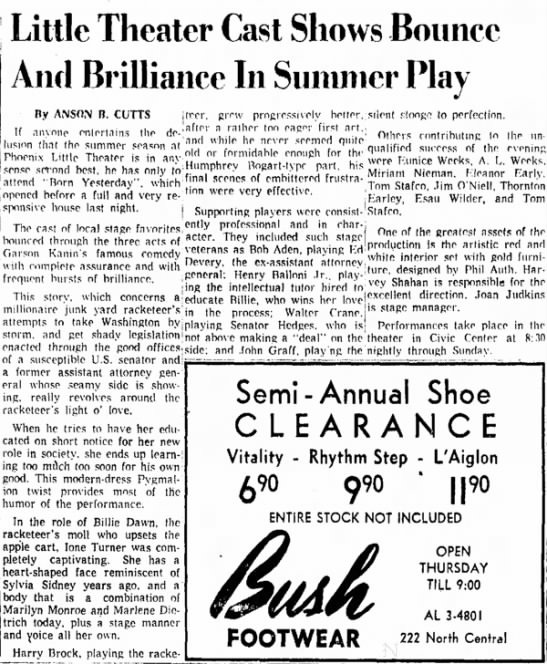 June 24, 1959
 *****
PRESS CLIPPINGS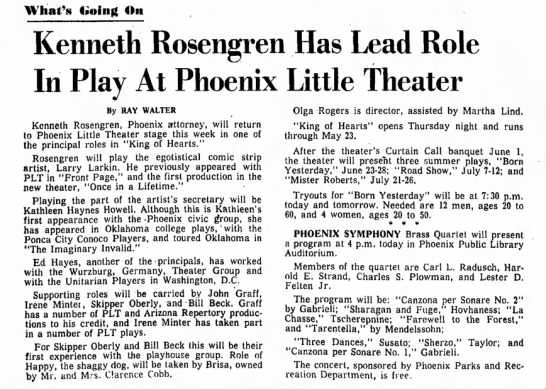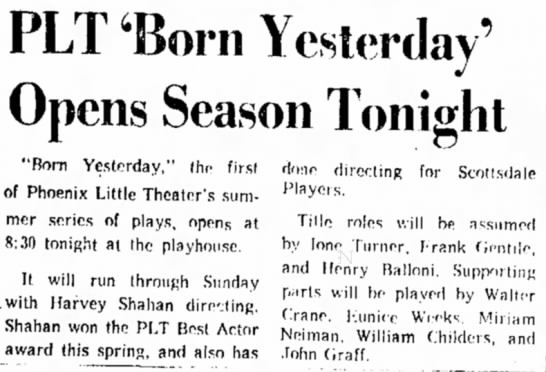 Arizona Republic archives, Jan. 23, 1959
*****