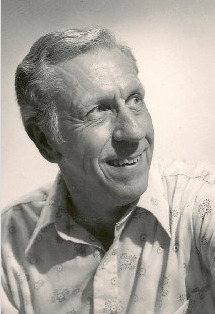 LeRoy Gaintner,  or Roy, as he was sometimes billed, was an actor/director  in Valley theater during the 1950s through the '90s, as well as performing in movies and commercials.
Born in Lancaster, Pennsylvania in 1916, he was involved in little theater work there until the late 1930s. After moving to the Washington, D.C. area, he became active with the Crossroads Theater Group in Arlington, Virginia, where he met his wife of more than 50 years, Esther, a professional violinist.
Moving to Phoenix in 1951, LeRoy was a steady performer and director of numerous plays for Phoenix Little Theater and Scottsdale's Stagebrush Theater, as well as performing at Cudia City, a long-standing western theater set used in many westerns of the 1940s and '50s.
LeRoy was a SAG performer, with roles in a number of movies filmed in the Arizona area. In 1976, he toured for a year as the second lead opposite Bob Cummings in the dinner theater circuit play, Take Her, She's Mine.
LeRoy died in 2008.
PHOTOGRAPHS, REVIEWS & THE KITCHEN SINK
MAY 1968 "Bus Stop" Director: Trudy Hurley.

LeRoy was praised for his "believable, touching" performance in this Trudy Hurley directed version of William Inge's comedy.
REVIEW by Nancy Bennett, The Arizona Republic, May 4, 1968
*****
APRIL 1961. "Towards Zero."  Phoenix Little Theatre. Director: Louis Leithold. Western State premiere of the Agatha Christie mystery.
As always, LeRoy was a welcome addition to the supporting cast.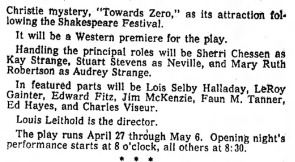 *****
MAY 1959. "Love of Four Colonels." LeRoy directed this production for Arizona Repertory Theatre.
LeRoy ranked among the era's most popular supporting players, but he also was a fine director. One of his plum assignments was Peter Ustinov's play, a reworking of the Sleeping Beauty theme that presented four officers – British, American, Russian and French – attempting to make the Beauty fall in love with them. Michael Ivor, Fred Cahill, Jim Stone and Henry Balloni Jr. were the military men. Fran Tolleson was Beauty. Stan Lambe had the role of the Wicked Fairy and Elfriede Silver was the Good Fairy.