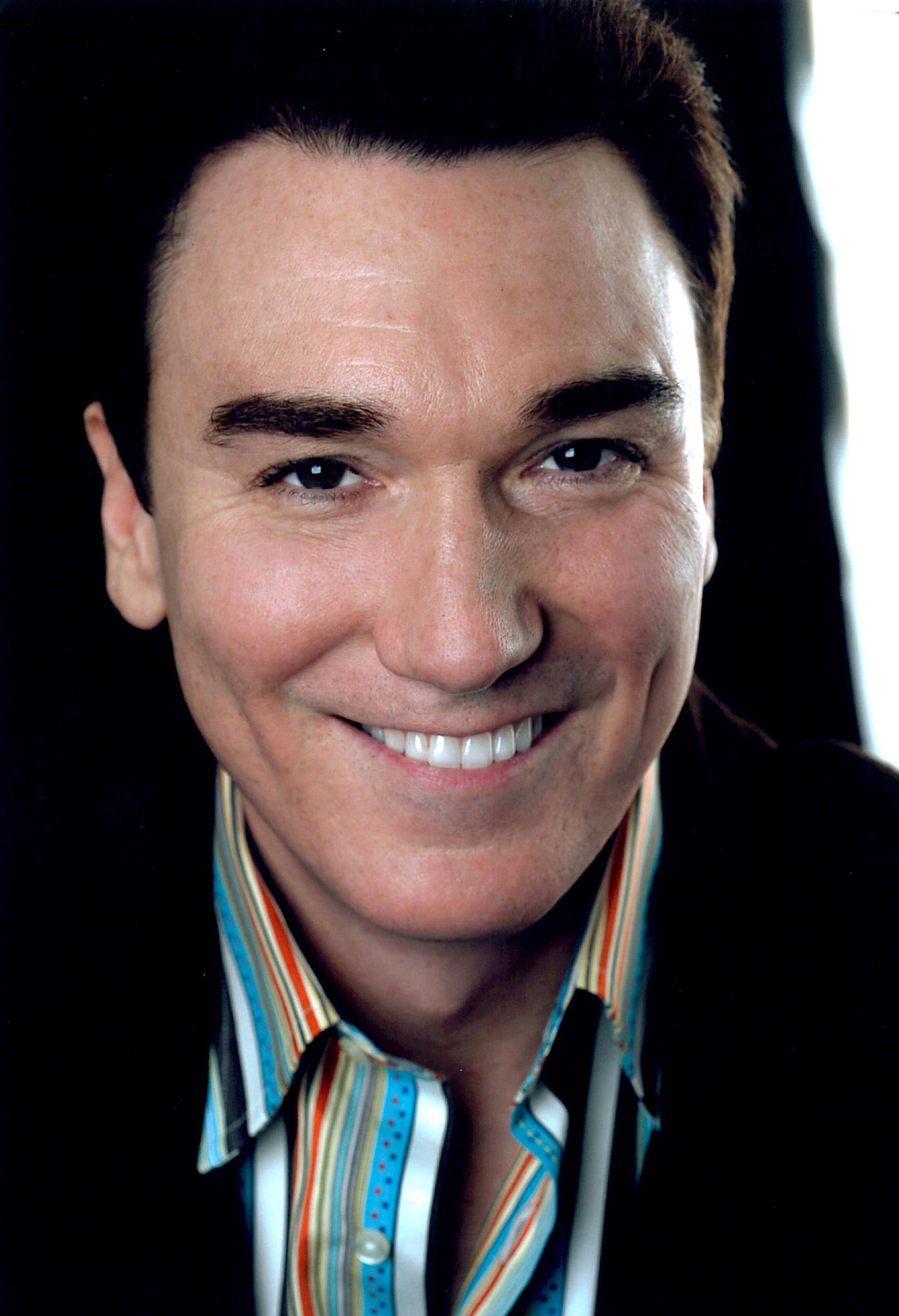 Of all the Broadway actors to spend quality time on Valley stages, none is more charismatic than Patrick Page.
Each time he was interviewed for the Arizona Republic , conversation actually came to a halt as he entered the restaurant where he was meeting with the reporter. The only time the tall, dark-haired actor was ever upstaged was when he was accompanied to an interview by his wife, Paige Davis of Trading Places.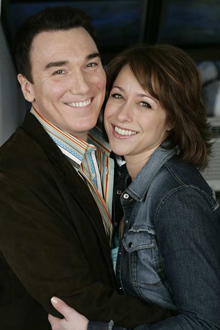 With the opening of his latest Broadway venture, Casa Valentina, Patrick can be officially deemed a Broadway star. But the designation of star is arbitrary. Although not top-billed, his turns as Lumiere in Beauty and the Best, Scar in The Lion King and the Green Goblin in Spiderman: Turn off the Dark stole the sets right out from under the nominal headliners of those elaborate musicals.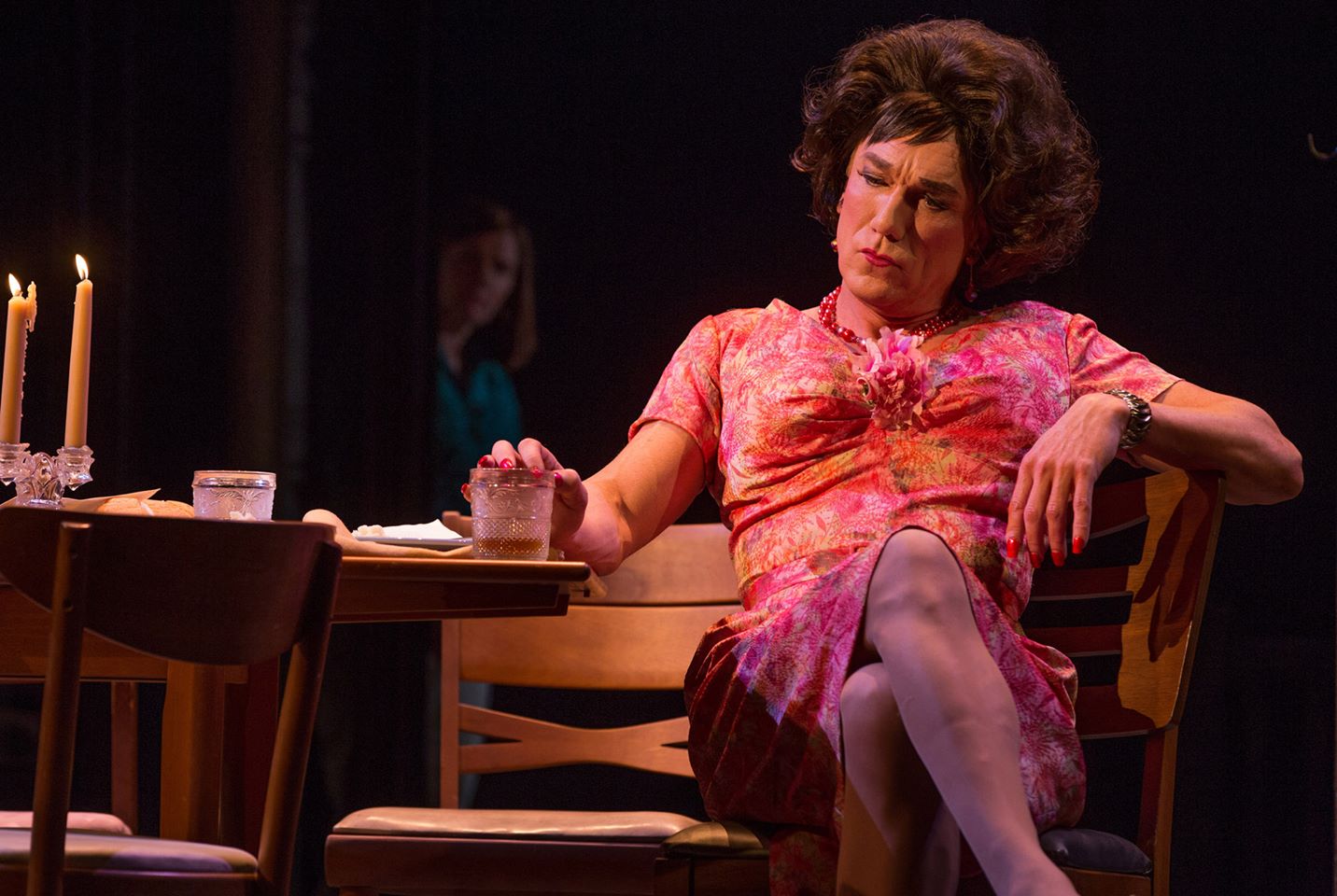 He had some pretty spectacular roles here, too, most notably as the title character in Dracula, for Arizona Theatre Company, and as the director of a riveting Romeo and Juliet for Southwest Shakespeare Company.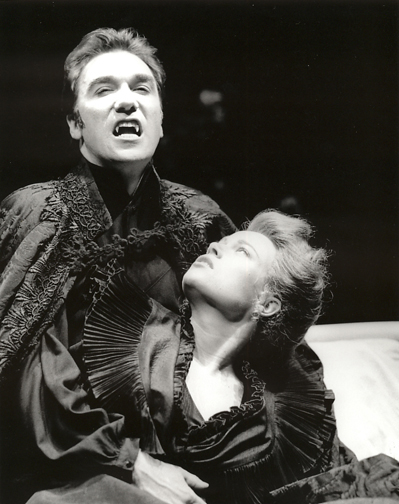 Unless otherwise credited, all photos from Broadway productions are by Joan Marcus. Photos from Arizona Theatre Company's Dracula are by Tim Fuller.
Patrick's official website can be reached here
The website for his current Broadway venture, Casa Valentina, a play by Harvey Fierstein and directed by Joe Mantello is here
His Internet Movie Data Base page is here
His Internet Broadway Data Base page is: here
His Off-Broadway Data Base page is here
BIOGRAPHY
Patrick Page born in Spokane, Washington, and was raised primarily in Monmouth, Oregon. His father Robert (retired) was a theater educator at Western Oregon University (then named Oregon College of Education).
Patrick's early love of Shakespeare took hold when Robert, his father, was an actor with the Oregon Shakespeare Festival in Ashland, Oregon, in 1964-65. Page's mother, Geri (retired) was an administrator at Oregon State University. Patrick has two brothers, Robert and Michael, and one sister, Gayle.
In his teens, he developed an interest in magic and illusion. In 1978 he won the Pacific Coast Association of Magicians Stage Competition and in 1979 he was chosen by the International Brotherhood of Magicians as the Outstanding Teenage Magician in the stage-magic category.
Patrick was married to actress Liisa Ivary from 1989 to 1991. In 2001 he married actress and TV personality Paige Davis (TLC's Trading Spaces, Broadway's Chicago and Boeing-Boeing).
Patrick attended Central High School in Independence, Oregon, graduating in 1980. During high school, he was active not only in theater, but also in speech and debate tournaments and became the first person to win the national championship title twice, as the National Forensics League's Speaker of the Year in both 1979 and 1980.
Next, he attended The Pacific Conservatory of Performing Arts. He then graduated Cum Laude from Whitman College in 1985 and was chosen as the valedictory speaker for his class. During his time at Whitman, Page was twice chosen as the Outstanding Competitive Speaker in the Nation by the American Forensics Association, leading the Whitman team to an overall second place finish at Nationals.
Patrick's early career was spent primarily in Utah and Oregon. He spent six seasons with the Utah Shakespearean Festival in Cedar City, becoming a Resident Artist and the Director of Development, during which time he helped oversee the creation of the new Randall L. Jones Theatre. During the off-season he frequently performed with the Pioneer Theatre Company in Salt Lake City.
Subsequently, he spent several seasons with the Oregon Shakespeare Festival in Ashland, before branching out to other regional theaters and eventually moving to New York. Page's Broadway credits include originating the role of The Grinch in Dr. Seuss' How the Grinch Stole Christmas!, Scar in The Lion King, Lumière in Disney's Beauty and the Beast, Ebenezer Scrooge and Jacob Marley in A Christmas Carol at Madison Square Garden, Decius Brutus in Julius Caesar (opposite Denzel Washington) and multiple roles in The Kentucky Cycle.
His performance as King Henry VIII (opposite Frank Langella) in the Broadway revival of A Man for All Seasons in 2008 was nominated for the Outer Critics Award and chosen by The Wall Street Journal as one of the outstanding theatre performances of that year.
Off-Broadway, he has been seen in Richard II, Rex, and The Duchess of Malfi.
Patrick is also widely recognized as one of America's leading classical actors. He is an Affiliate Artist of The Shakespeare Theatre Company in Washington, DC and an Artist in Residence at The Old Globe in San Diego. As a member of The Shakespeare Theatre Company he received the William Shakespeare Award for Classical Theatre (Will Award) along with other company members in 2007. Past recipients include Ian McKellen, Kevin Spacey, Jeremy Irons, Judi Dench, Ralph Fiennes, Anthony Hopkins, and Kevin Kline.
In 2006, Patrick was awarded the Helen Hayes Award for Outstanding Leading Performance by an Actor for his portrayal of Iago in Michael Kahn's production of Othello at The Shakespeare Theatre. Washington Post critic Peter Marks cited Page's Iago as one of five outstanding American performances of Shakespeare in his lifetime.
PHOTOGRAPHS, CLIPPINGS, NOTES & REVIEWS