ACTRESS, DIRECTOR, ARTISTIC DIRECTOR, THEATER FOUNDER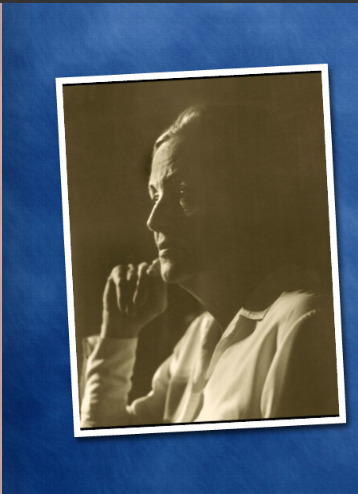 Trudy Hurley was a versatile actress  who proved just as talented in the director's chair. She founded a respected community theater in Cave Creek/Carefree then took over the reins of CopperState Dinner Theatre at Max's shortly after it opened and ran it for several years. In the midst of this, she raised a comic genius for a son, Brian Hurley.
Just as she smoothly switched from comedy to drama as an actress, Trudy was adept at directing everything from low farce to high-style romance, and she was a dab hand at musicals (PLT's The Happiest Millionaire was a favorite with her fans.)
Over the years, Trudy gave a step-up to many theater people. One of the most successful of her young proteges was actress Jacqueline Gaston, who fondly remembers Trudy as one of her greatest mentors. "She taught me so much," says Jacque, who took over CopperState from Trudy.
While Jacque often earned her best reviews in a Hurley production (see Bus Stop below), Trudy earned plenty of her own. Her Gertrude in Phoenix Little Theater's 1961 Hamlet is still recalled by those who take their Shakespeare seriously.
I missed that performance, but I sat in the theater for many others. Trudy was a major influence in my professional life. She was an advocate for community theater – but only for good community theater. She strove to bring out the best in the script and in her actors. In doing that, she taught me that theater is not about labels, or whether actors are paid, or whether the budget is big or the theater seats comfortable.
It is about intelligent writing and heart-felt performances, it is about magic for the mind as well as for the eye, it is about doing the best work. Period.
I owe her one.
PHOTOGRAPHS, REVIEWS & THE KITCHEN SINK
May 1969 "Invitation to the March." Scottsdale Community Players. Director.
MAY 1968 "Bus Stop." Scottsdale Community Players. Director.
REVIEW by Nancy Bennett, The Arizona Republic, May 4, 1968
*****
JANUARY 1968  "Mrs Warren's Profession."  Scottsdale Community Players.  Actress.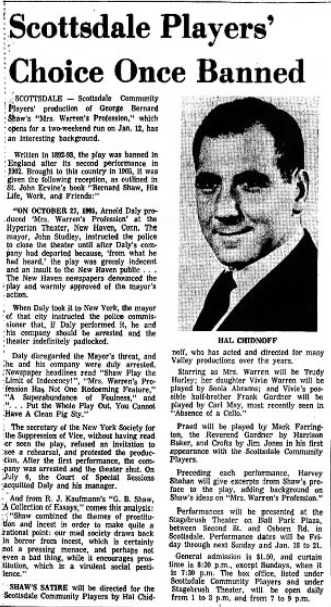 *****
 APRIL 1961. "Hamlet." Phoenix Little Theatre. Actress.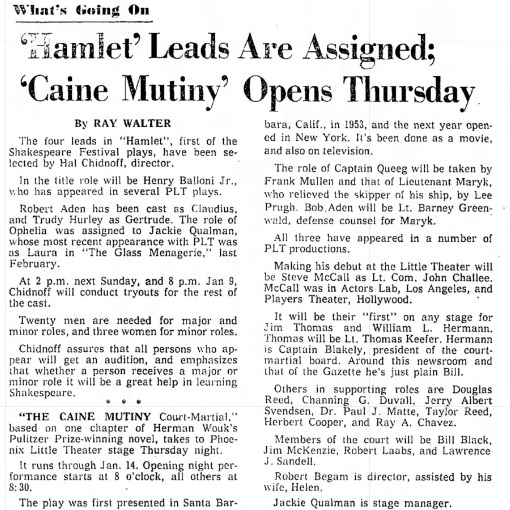 *****
JANUARY 1961 "The Happiest Millionaire"  Director: Trudy Hurley.

Hal Chidnoff, slightly better known as a director (The Rainmaker, Who Was That Lady?) was a popular actor as well. Jacqueline Gaston was just beginning her reign as one of the Valley's leading stage personalities. Henry Balloni  Jr., regarded as the best of the city's best young classical actors (Hamlet, Prince Hal), possessed a fine voice that was put to use in musicals. Charlotte Francis and Fay Bullock were leading ladies lending support to this one, while Rod Kellogg, Dick Jones and stage manager Charles Viseur were well-known supporting actors at many of the Valley's playhouses. Ms. Francis also was a well-known playwright.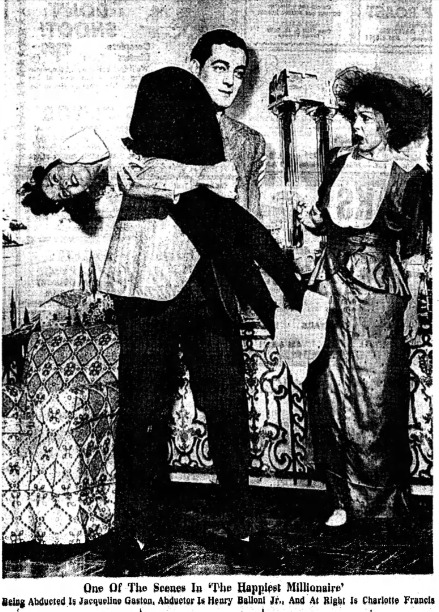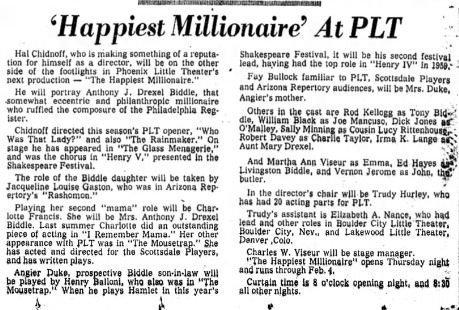 *****
SEPTEMBER 1960  "Riders to the Sea," "Spreading the News." Scottsdale Community Players. Director.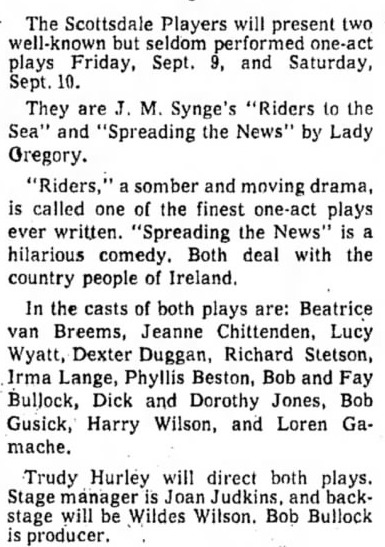 1959. "The Male Animal." Playwrights: James Thurber, Elliott Nugent. Director: Trudy Hurley. Cast: Sidney Smith, Pauline Plencner, Millie Skagstrom, Al Wyatt, Lucy Wyatt, Harry Wilson, Irma Lange, Jack Cook, Carol Hougeland.