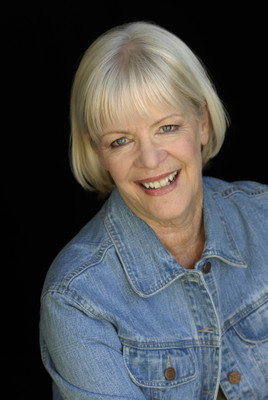 A CRITIC REMINISCES
I think Oscar Wilde was on to something. The bit about the portrait in the attic, I mean. Barbara Walker McBain was a leading lady when I arrived in the Valley in 1977. She's a leading lady today. When I look at photos, I'll be darned if I can see much of a difference.
Age does not wither … or memory, either. I remember Barbara stealing the show from I don't know how many others – sometimes in drama, sometimes, OK, most times, in comedy.
Life isn't fair.  There are people who try to be funny. There are people who are born with comic timing in their bones. Barbara is one of the latter. It doesn't hurt that she sings nicely and acts beautifully. It makes her easy to cast. But when she's making you laugh, she's like having your own personal Lucille Ball. Never misses a beat.
I remember a conversation I had with Gordon Giles, a mover and shaker at the Scottsdale Community Players, about comedy and comics. This was in the late '70s. He told me that one of his favorite performances was that of Barbara as Gooch in Mame. It was for another company, and some years earlier, but that didn't stop him from laughing as he recalled her performance.
My wife and her girlfriend went to see Bye Bye Birdie at Hale Centre Theatre a couple of years ago. They loved Barbara's performance as the hero's outrageous mother. Talked about it for days, in fact.
She's that memorable. And versatile. She's played both the mother and daughter in Barefoot in the Park and aced each of them – though the parts require very different comic inflections.
She was singled out by Arizona Republic reviewer Michelle Hoffman for her Mrs. Potts in Picnic. "Props to Barbara Walker McBain for making her character likable and tragic at the same time."
She's pleased audiences and critics in Steel Magnolias and the musicals, The Pajama Game, Minnie's Boys and Oliver. She was Frau Schneider in three different Cabarets.
Barbara sings "What Would You Do?" from Cabaret.
One evening, a few years after I retired, the next-door-neighbor came home raving about Ruthless the Musical. The guy isn't a theater buff but he knows what he likes. All he could talk about was one performance.
Did I know this actress? he asked, pointing out her name in the program.
Of course, I knew Barbara.
She had hit his funny bone so hard it cracked.
Perhaps that's the reason I admire her so much. Life is seldom a laughing matter- except when you're around Barbara Walker McBain.
One more reason, as if we needed it, to treasure this gift to Valley theater.  –Kyle Lawson
*****
Barbara posted this on FB Sept. 11, 2014:
"OK, so Stephani McDonald called me out to list 5 things you might not know about me:
1. I lived and worked (sang) in a pub in Cliftonville, England. The pub covered an entire block and had a residence for the "Governor" (owner), and rooms for guests/workers.
2. I sold a town! A team from Russ Lyon and I marketed the town of Playas, New Mexico for Phelps Dodge. We had a lot of kooky offers!
3. I was a "stew" for TWA ( yes, my young friends, that once was an airline).
4. I once played Ebenezer Scrooge.
5. I sat next to Don Knotts in a bar in Caracas."
*****
BARBARA'S YEAR ON FACEBOOK, 2014
For Barbara's year on Facebook, 2014 go HERE.  Scroll down, until you find the posting for her "Year"
PHOTOGRAPHS, REVIEWS & THE KITCHEN SINK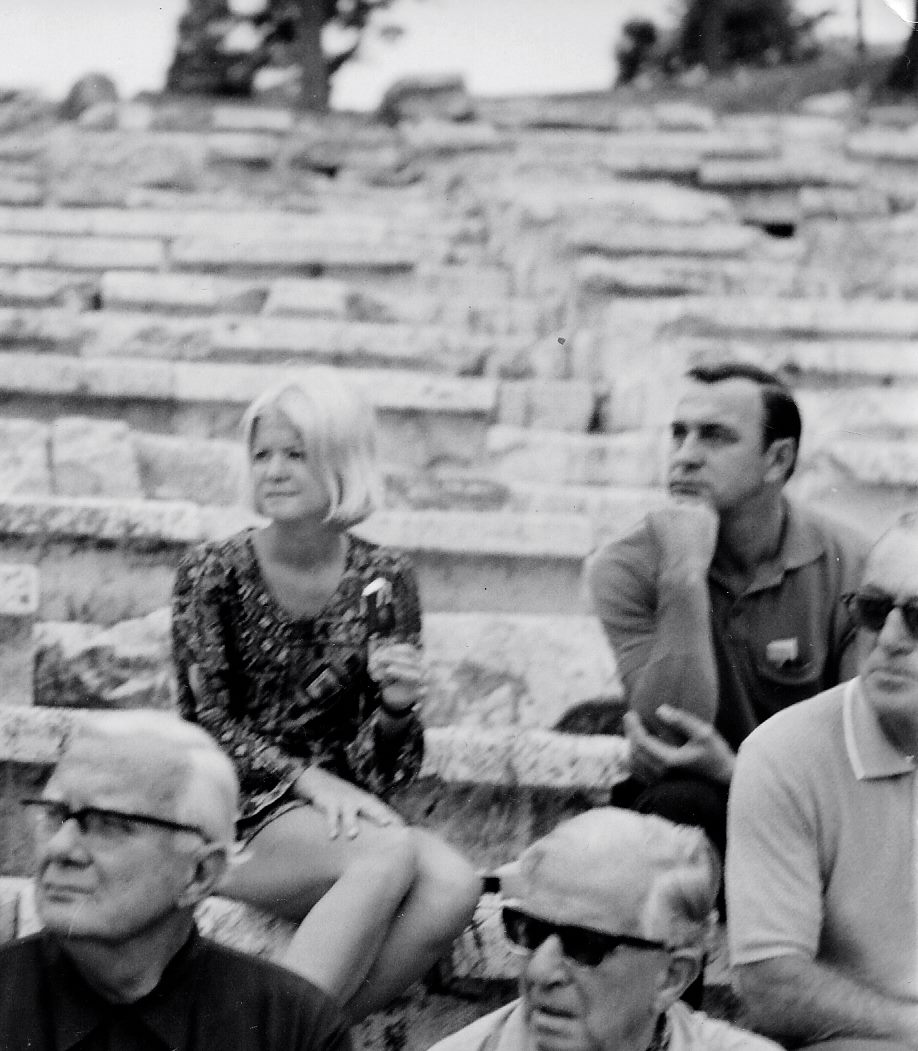 *****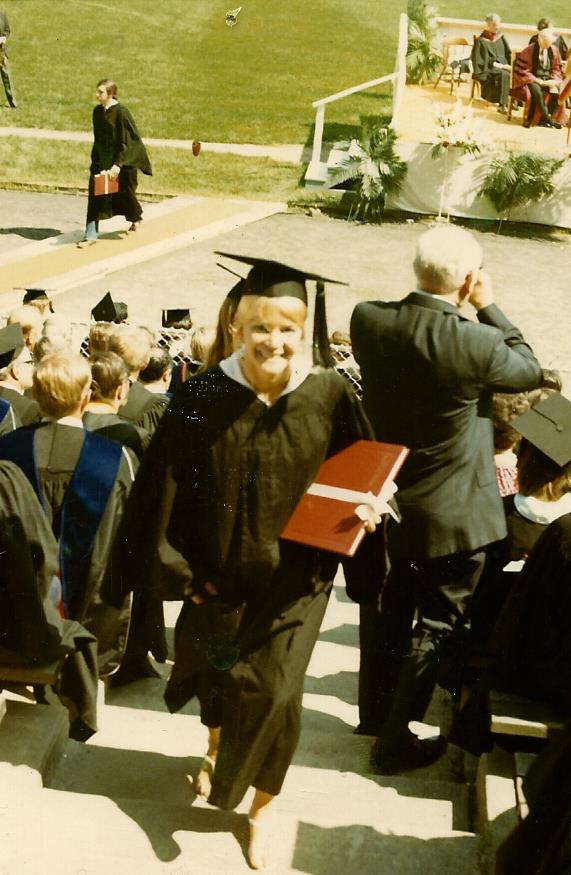 *****
1967-68. The Servant of Two Masters. Denison University.
"That was the show where I was supposed to fall through a trap door on the upper level and the get caught. Well, two days before we opened, I was not caught…..Opened with a sprained ankle. Fun show." — Barbara Walker McBain.

I showed the costume to the director. He took one look at the low neckline and said "get out the socks!"
*****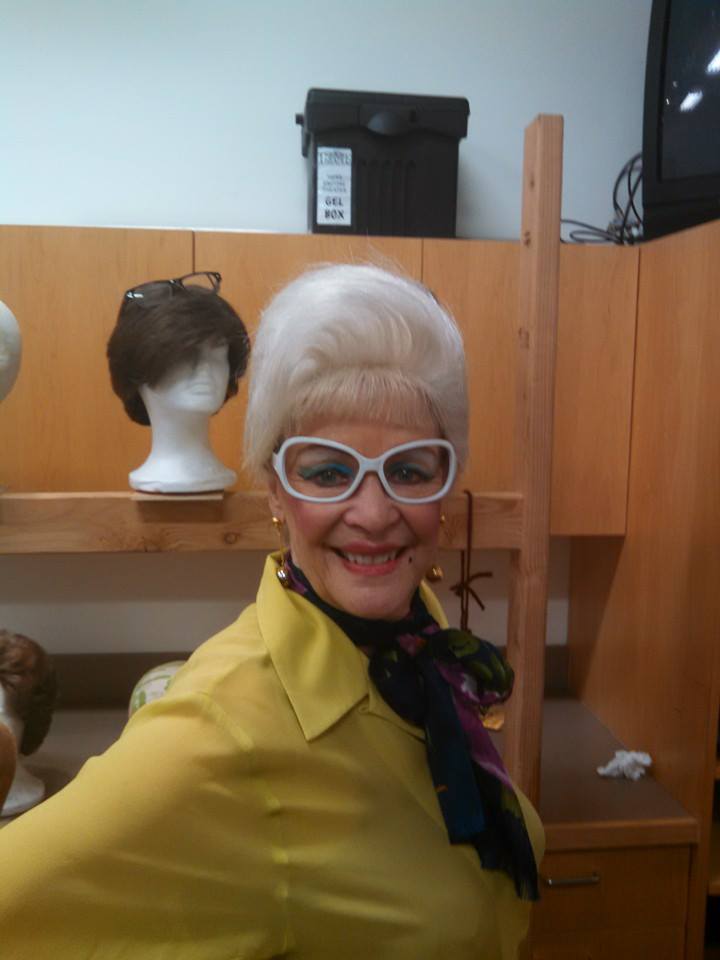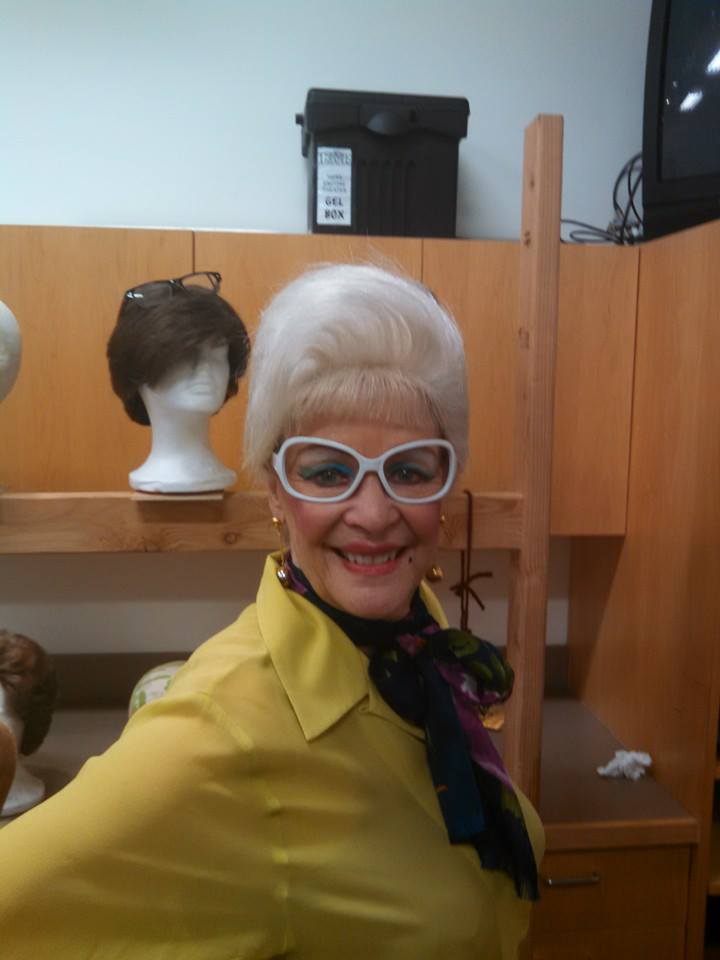 *****
JUNE 2014.  The Full Monty. Mesa Encore Theatre. Directed by Chris Hamby.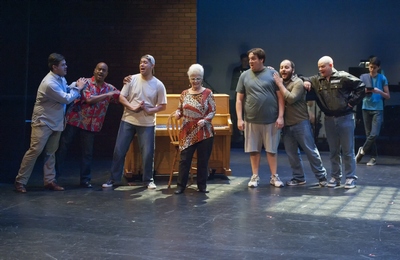 *****
2014.  Driving Miss Daisy.  Scottsdale Desert Stages Theatre.
See Barbara, Al Lowe and Jeff Carpenter in a scene from Driving Miss Daisy.
*****
2013. Ruthless: The Musical. Phoenix Theatre. Opening production at the company's Hormel Theatre.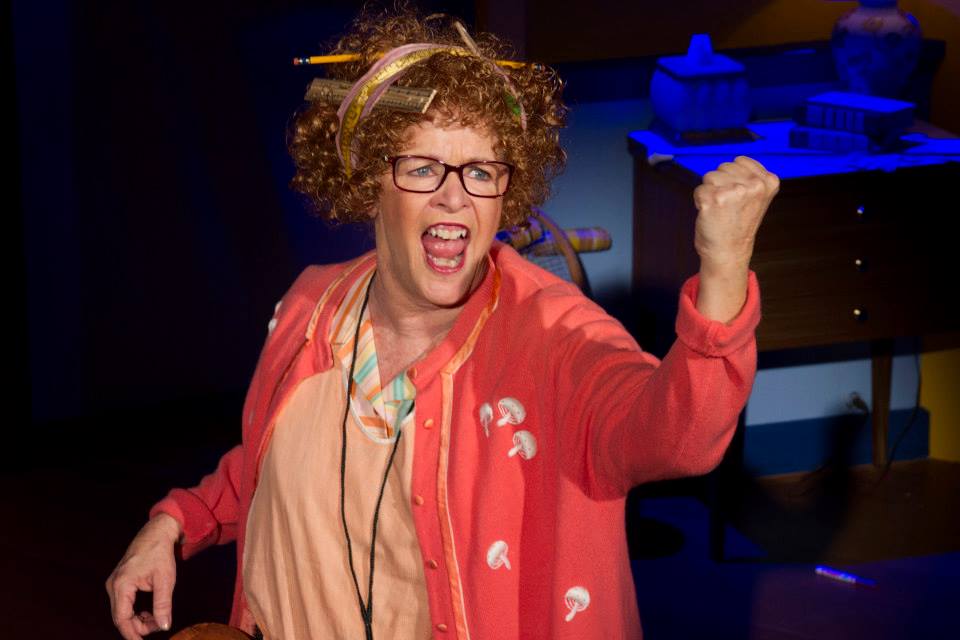 *****
2013. STARR Night.
*****
APRIL 2012  "Picnic"  Desert Foothills Theatre. Director: Diedre Kaye.
Barbara was singled out for her performance as Mrs. Potts, whose hiring of a handsome drifter sets off an emotional firestorm in William Inge's Pulitzer Prize-winning drama.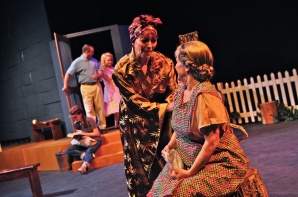 *****
2012. Bye Bye Birdie. Hale Centre Theatre.
*****
2011. "The Spitfire Grill." Phoenix Theatre. Directed by Brad Carroll.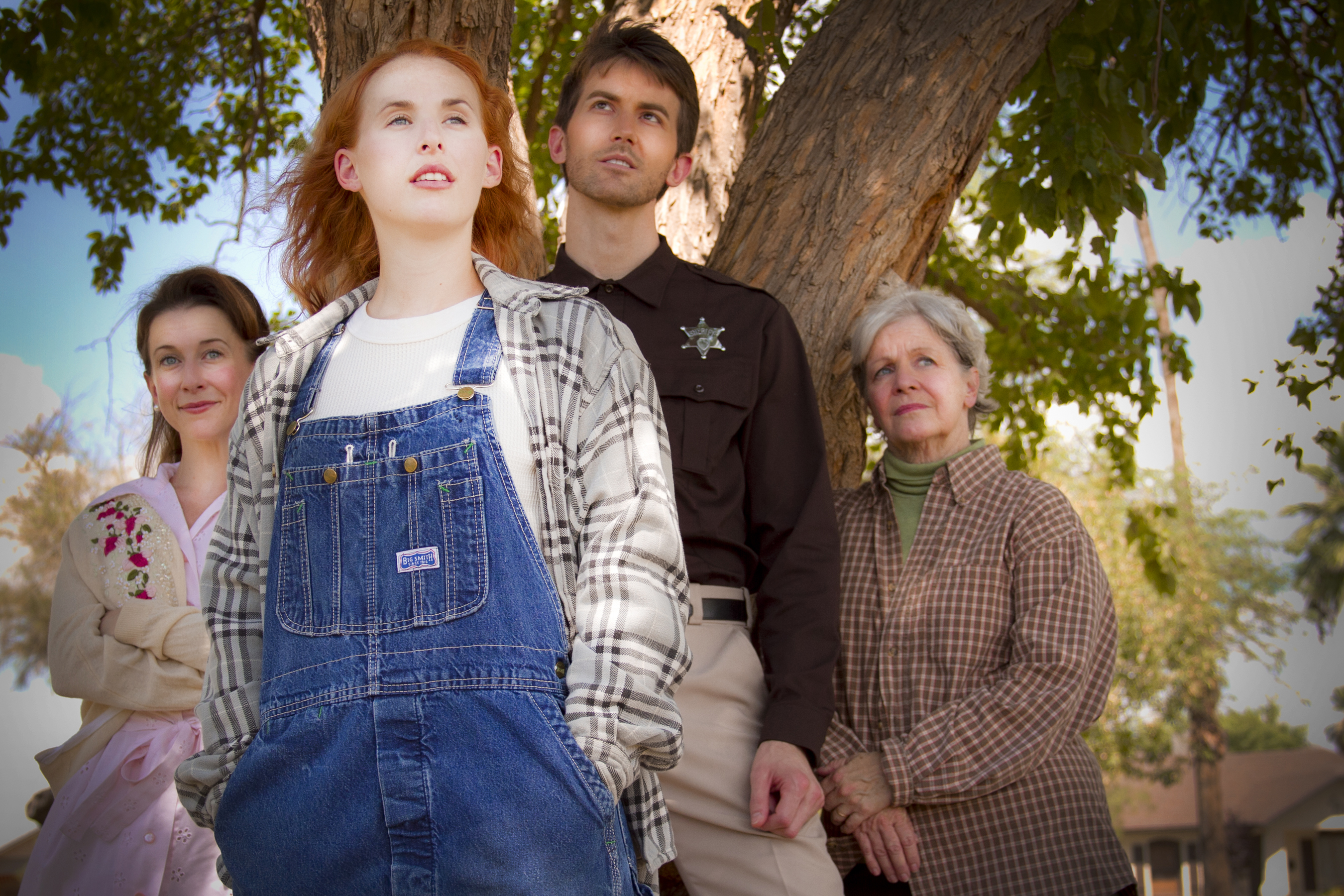 Video featuring Barbara and other cast members in 'The Spitfire Grill'
For Chris Curcio's review that aired on KBAQ October 10, 2011, go HERE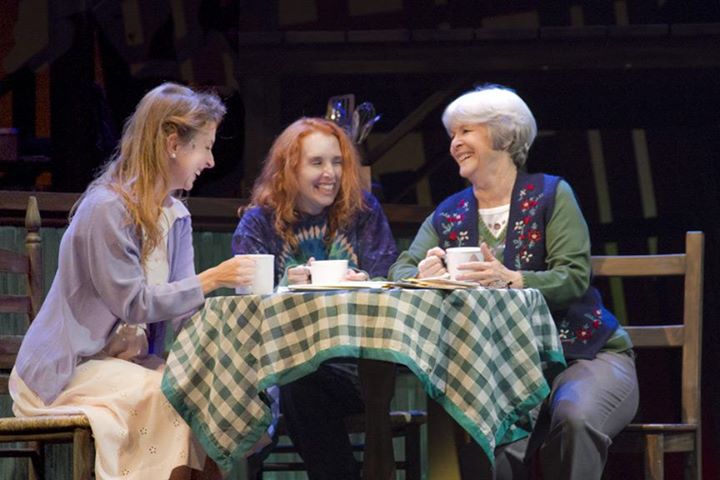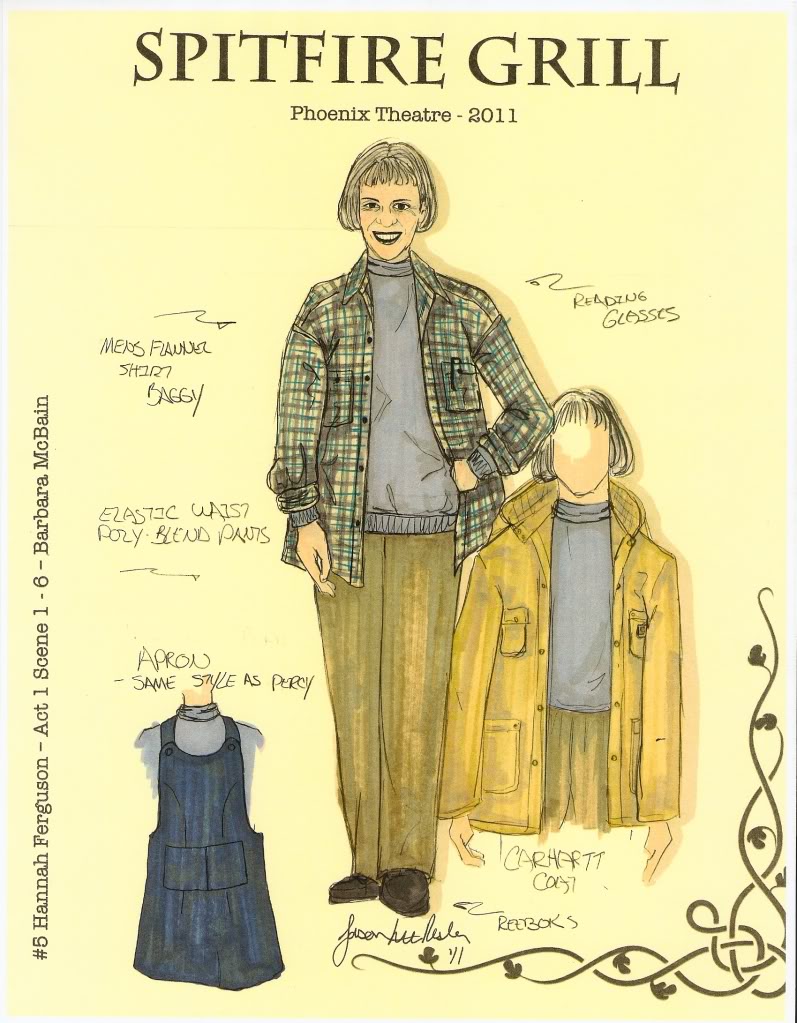 *****
2011. The Music Man. Mesa Encore Theatre.
Video is of "If You Don't Mind My Saying So" sung by Meredith Aiken and Barbara Walker McBain.
*****
MAY 2008. Barefoot in the Park. Scottsdale Desert Stages Theatre.
ARTICLE by Barbara Yost, The Arizona Republic, May. 14, 2008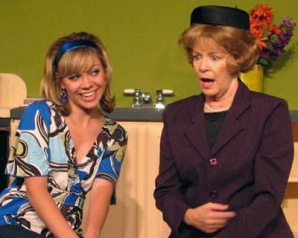 SCOTTSDALE – Barbara McBain's life is passing in front of her on stage.
Thirty years ago, McBain, 59, played Corie Bratter in a Phoenix Little Theatre production of Barefoot in the Park, the Neil Simon comedy about squabbling newlyweds.
She was just out of college at Denison University. Her parents ran a men's store called the Upper Half on Scottsdale's Fifth Avenue. She wanted to be an actress full time.
"I was pretty happy with myself," she said.
In 1979, McBain went to New York and found an agent. She did off-Broadway work and some TV commercials. She got married and then stopped acting to play the role of a mother.
"The biological clock was ticking," she said. She had two sons and her career was put on hold.
But the pull of the theater drew her back to her dream once the boys were older. In 1990, when her husband's job returned her to the Valley, she picked up where she had left off and began to act in several local theater companies, building an impressive resume with singing and acting roles in The Pajama Game, Minnie's Boys, Steel Magnolias, Cabaret ("I've played Fraulein Schneider three times!"), Mame and Oliver.
Now McBain has come full circle. She's playing her own mother – rather Corie's mother, Ethel Banks, in the current Scottsdale Desert Stages Theatre production of Barefoot in the Park that runs through July 6.
McBain's life has changed considerably over three decades. Five years ago, she divorced. Her sons are grown. She works as a realtor for Russ Lyon.
But she's still busy as an actress and happy to be playing mature roles.
"I'm very comfortable in my shoes," McBain, who lives in Scottsdale, said. "I love these roles I'm playing. If there were a grandmother role (in Barefoot), I'd do that in another 30 years."
Angela Kriese plays Corie in the Desert Stages production, which doesn't try to update the 1960s play as some companies do. "She's wonderful," McBain said of the young Scottsdale actress.
McBain doesn't remember many of Corie's lines, but she does recall one of her greatest theater mishaps. In one scene, Corie's husband Paul, an attorney, is consumed by a law case and ignoring his bride. To get his attention, Corie takes off her blouse.
Minutes before that scene, McBain's bra had come undone. If she'd taken off her blouse, "it would have been a wardrobe malfunction," she said with a laugh.
So in character, she pretended to take out the garbage, hooked her bra and came back on stage.
Her shocked co-star said, in character, "Where have you been?"
And the show went on.
Note: For photographs of Barbara in the earlier incarnation of "Barefoot in the Park," scroll down.
*****
1973. Mame. Phoenix Musical Theatre. Barbara played Gooch.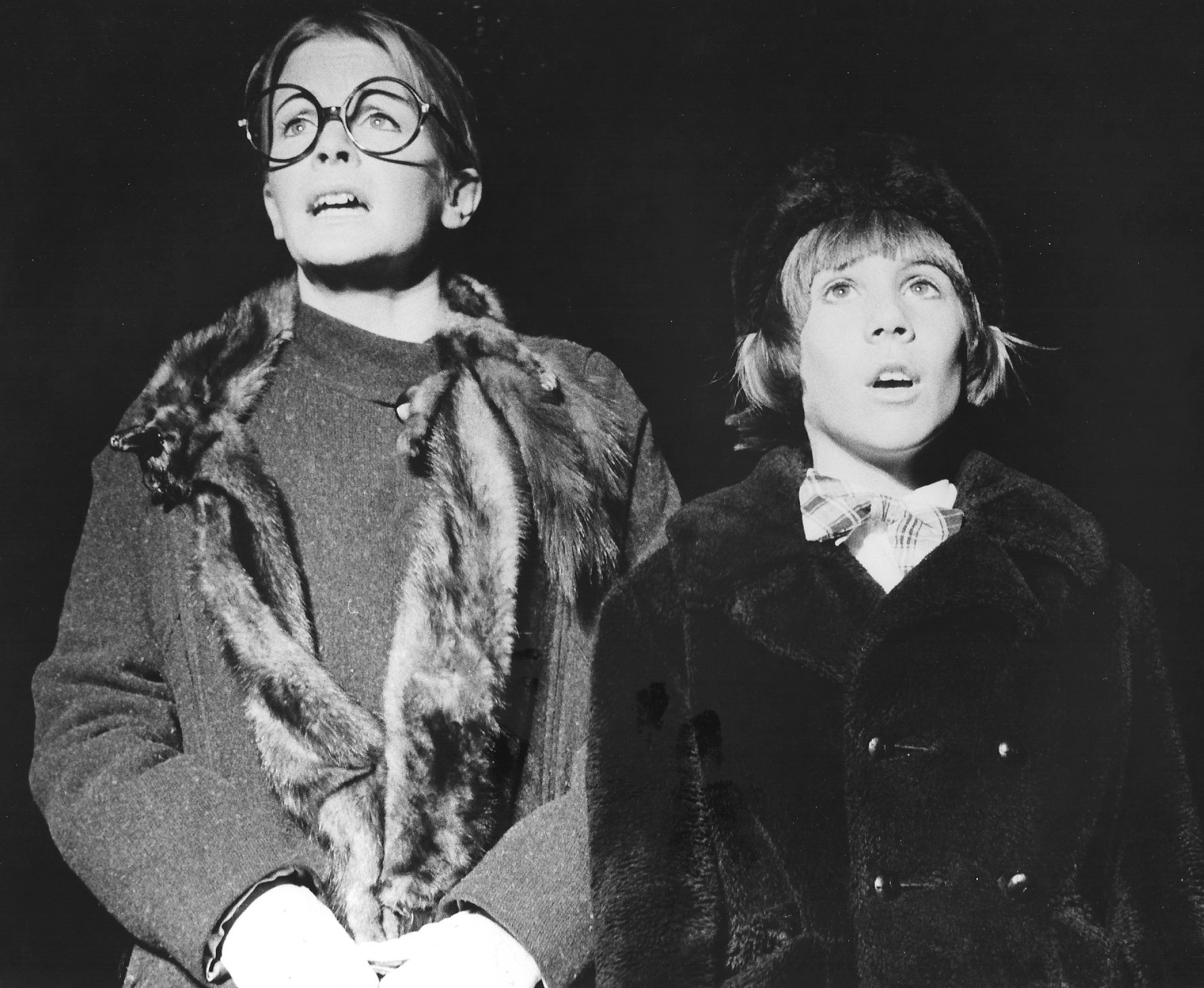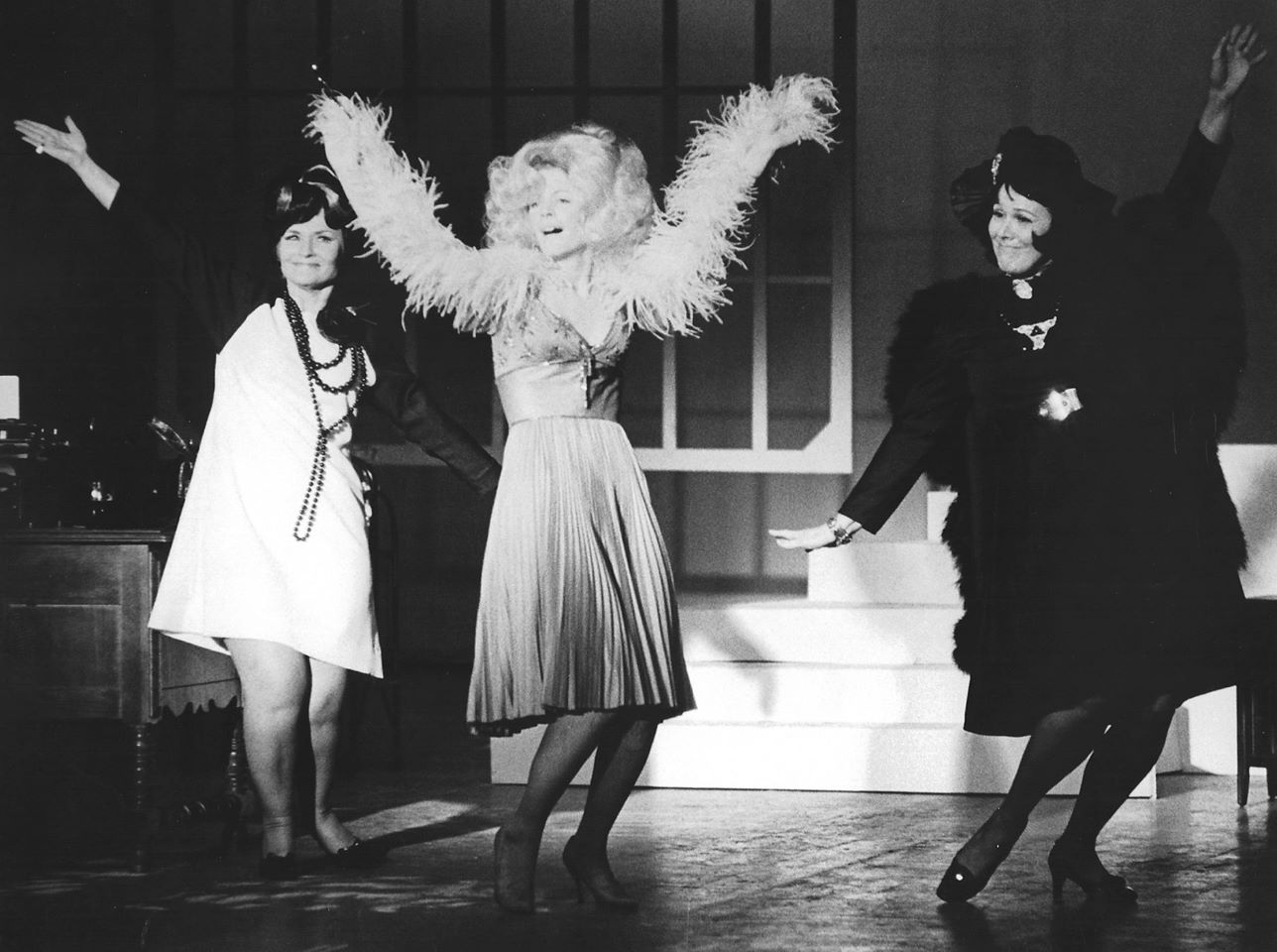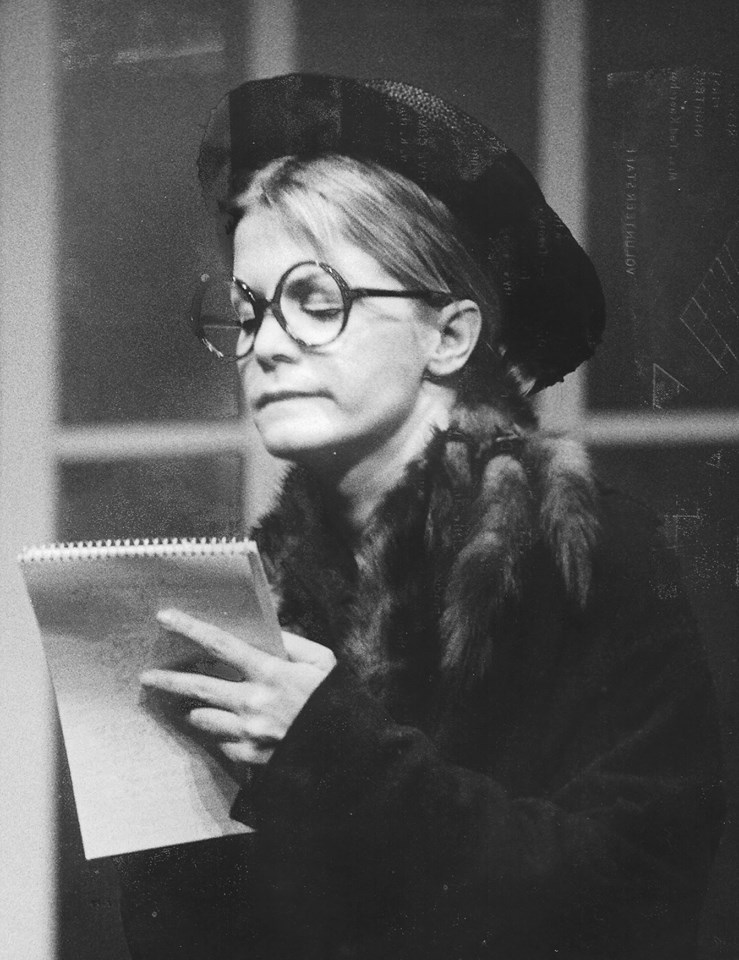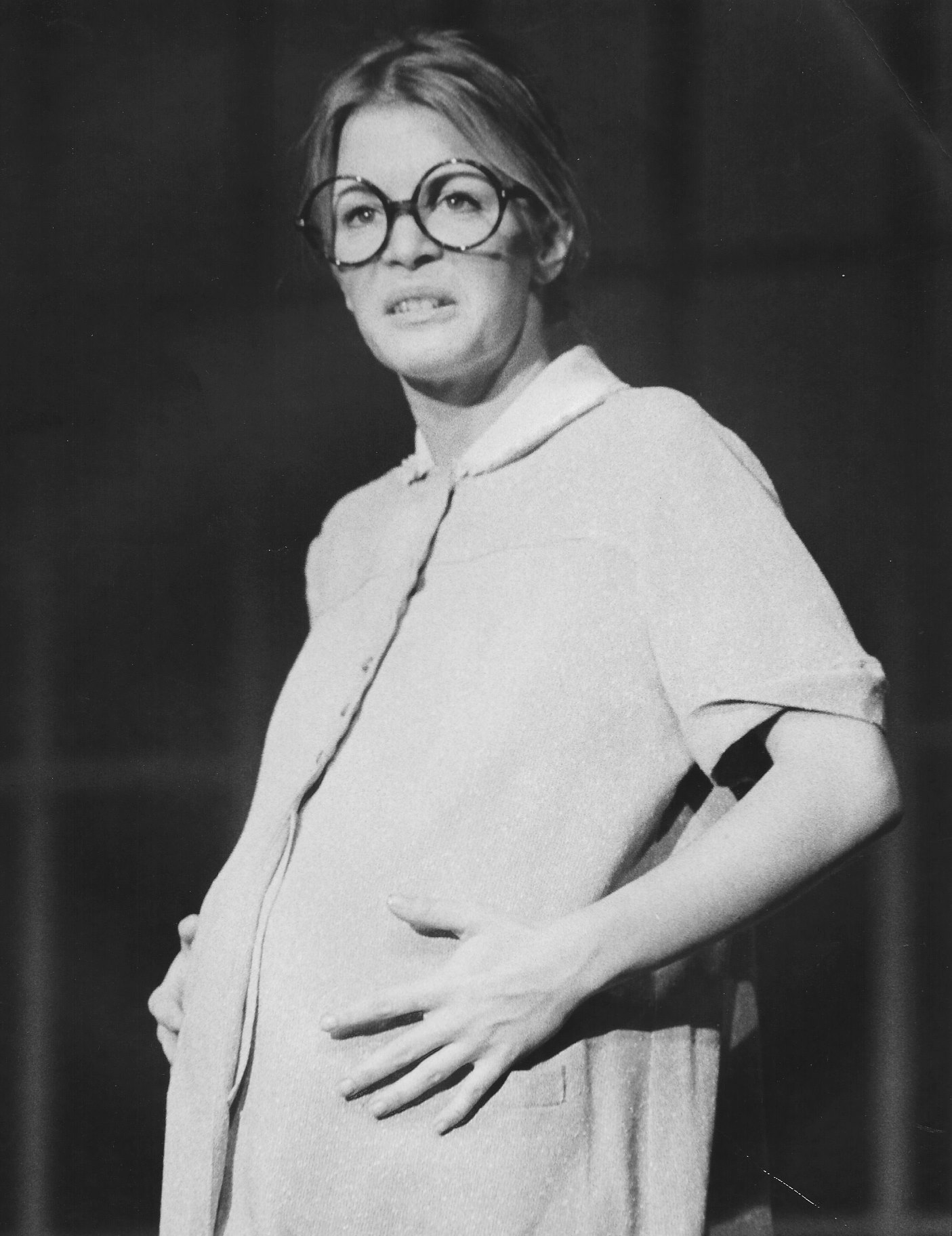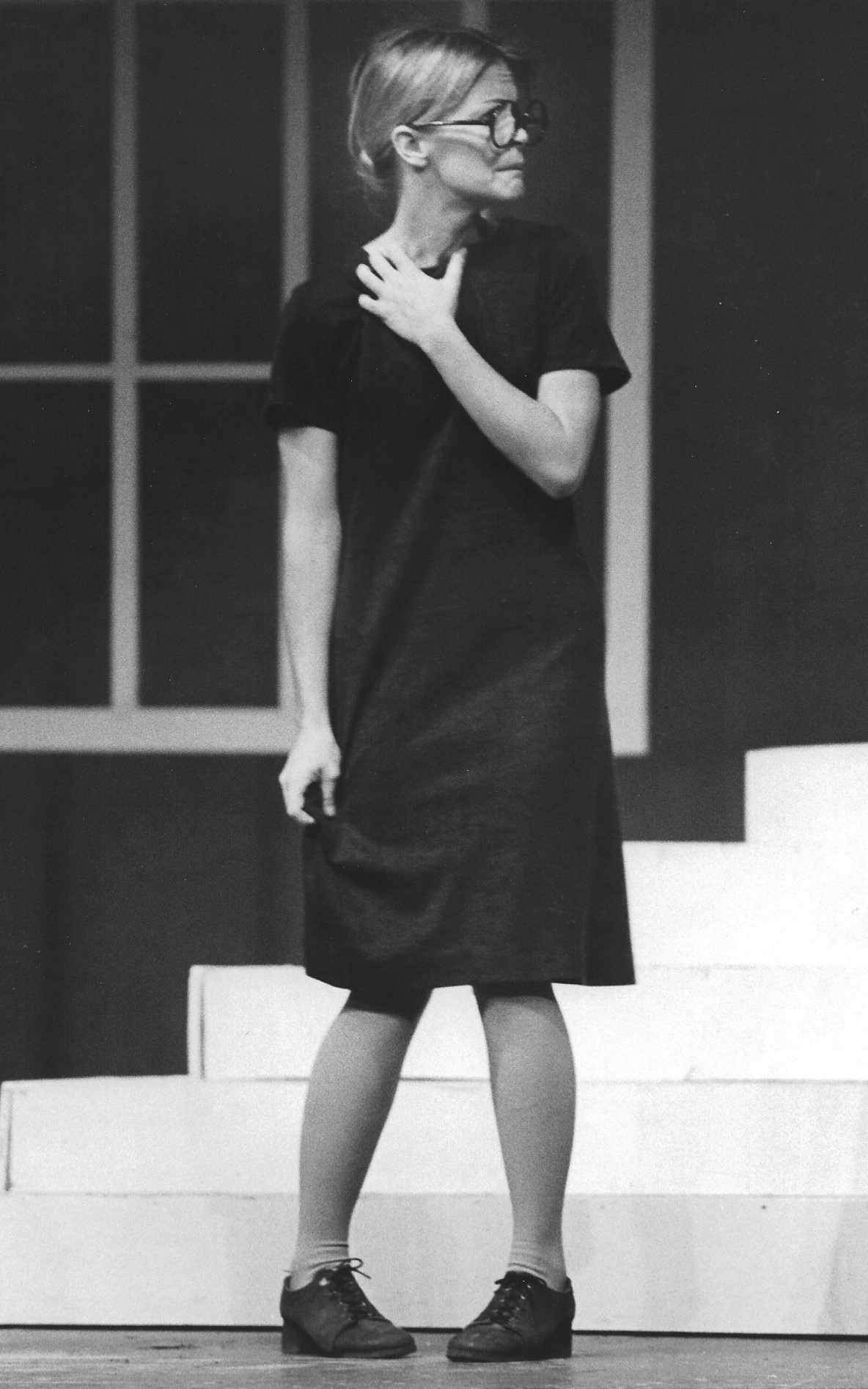 Hardy Price's review in The Arizona Republic singled out Barbara.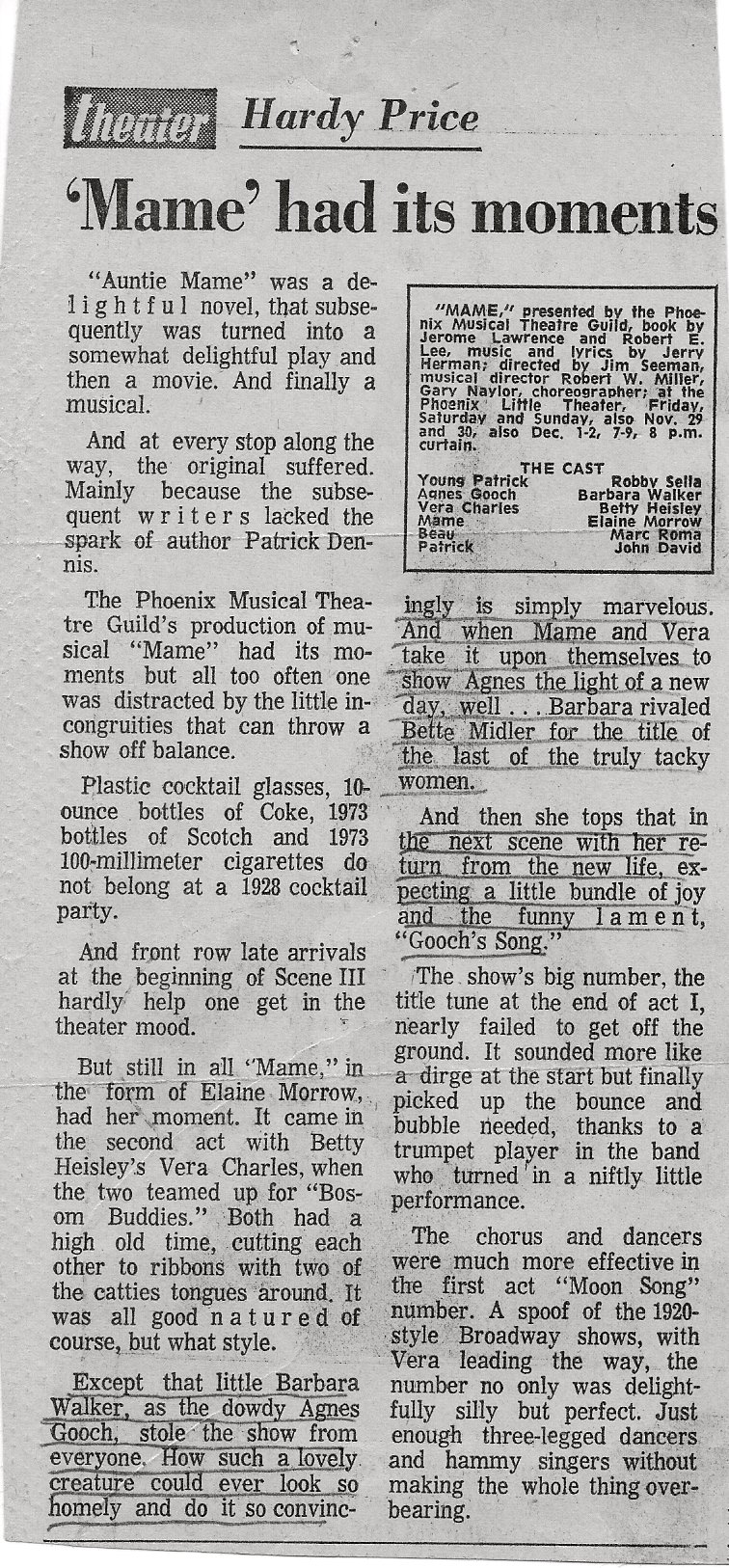 *****
SOMETIME IN THE 1970S. Barefoot in the Park. Phoenix Little Theatre.