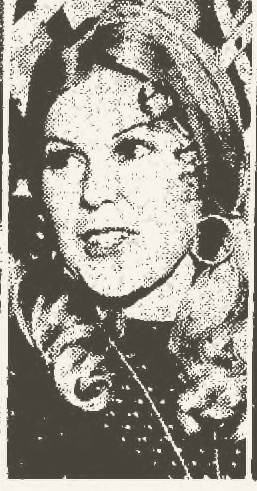 Cecilia Allen was a singer/actress who enlivened Phoenix theater during the 1970s.  A photographer's model, she appeared in more than 60 TV commercials and appeared on The Today Show, The Price is Right and Dundee & the Culhane.
*****
Excerpt from a review by Jack Swanson of the Arizona Republic of her performance in a 1971 production of Hello, Dolly! in which she played Irene.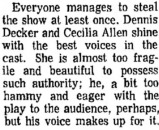 *****
PHOTOGRAPHS, REVIEWS & THE KITCHEN SINK
APRIL 1977. "The Music Man." Phoenix Little Theatre. Director Larry Liff.

Noted for her winsome beauty and sterling upper register, Cecilia (as Marian the Librarian) topped the cast list of many of the decade's best musicals, including this lavish Broadway remake at Phoenix Little Theatre. Larry Collis, excellent as Meredith Willson's con man hero, was her opposite on the male charts. Distinguished in looks, with a megawatt smile and a powerful baritone, he, too, prevailed on marquees.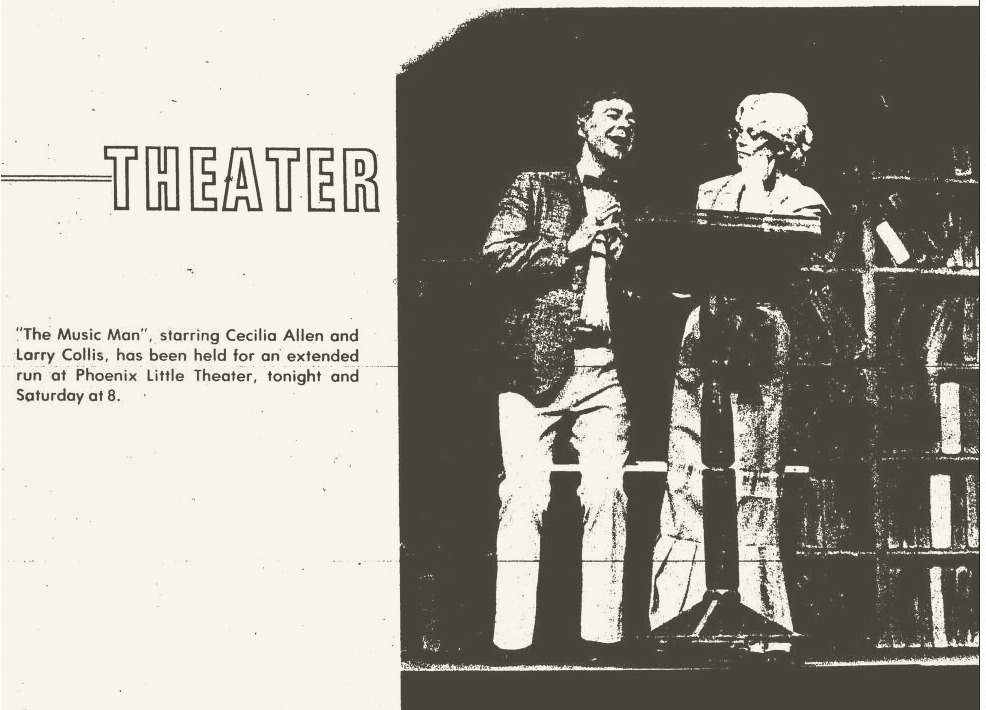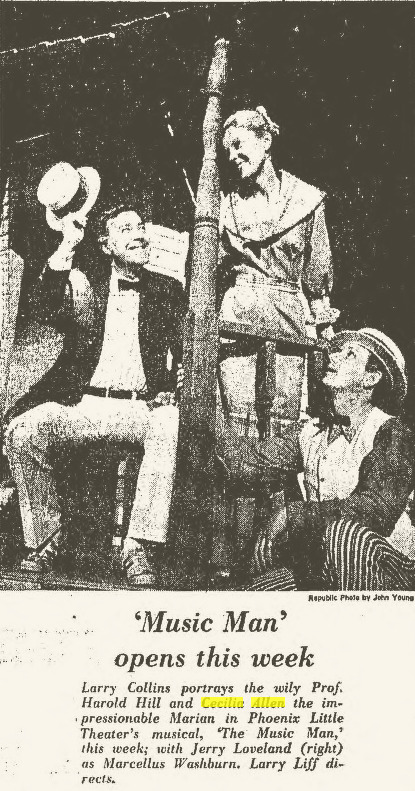 *****
JANUARY 1977. "South Pacific." French Quarter Dinner Theatre at the Safari Hotel, Scottsdale. Director: Larry Liff.

Despite an impressive cast by French Quarter standards  –  John Clegg, stepping away from his conductor's podium at Phoenix Little Theatre; Cecilia Allen, one of the busiest of the Valley's sopranos; Randy Post, a popular supporting actor, and Sylvia Godfrey, an ace comedienne  –  backed by one of the top director-choreographer combinations (Larry Liff and his wife, Carolyn), this production of the Rodgers and Hammerstein classic failed to impress the Scottsdale Progress' critic, Paul Perry. Only Sylvia walked away with any honors.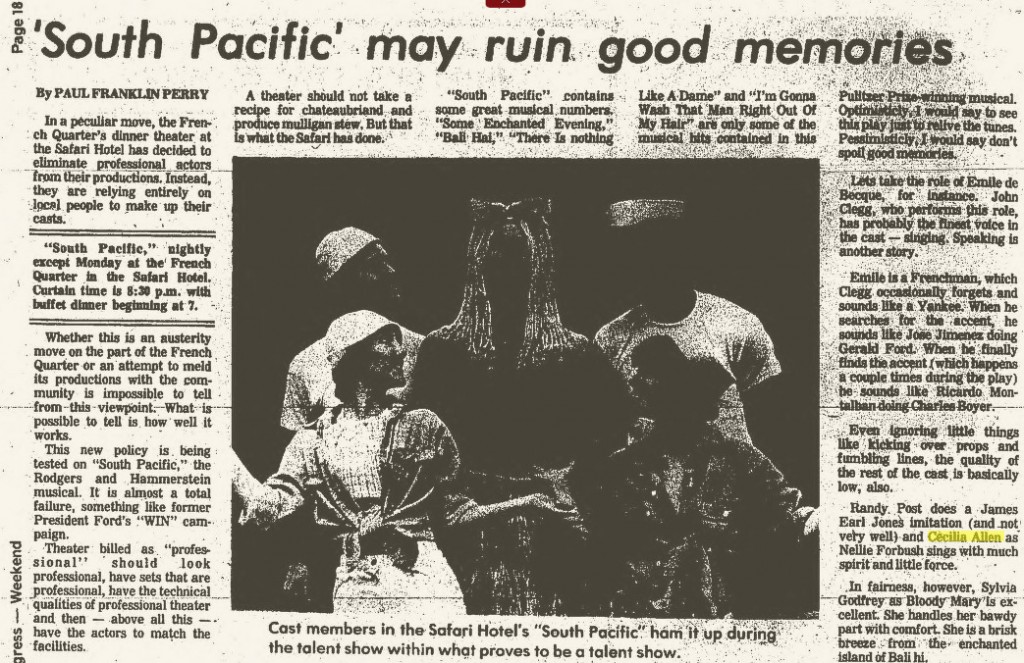 *****
MAY 1976: "1776″. Phoenix Little Theatre. Directors: Larry Liff, Robert Davis.

Larry Liff was one of the era's "big guns" when it came to directors, so it is not surprising that he attracted a powerhouse cast, including not one but three of the best sopranos, Marlene Saens, Cecilia Allen and Virginia Lee. The male members of the cast read like a "who's who" of the day: Ron Duffy, Sheldon Simon, Dick Totman, Robert L. Johnson, Richard Wentz, Dave Thompson, Rick Grove, Marc Roma  …  No one can say PLT didn't celebrate the nation's 200th birthday in style.
*****
1972. THE REPUBLIC PICS THE FOUR TOP MODELS IN PHOENIX
They were Mary Ann Farrell, Gloria Russell, Cecilia Allen and Sheila Paige. Cecilia and Sheila were actresses. Sheila was the first wife of film star Nick Nolte.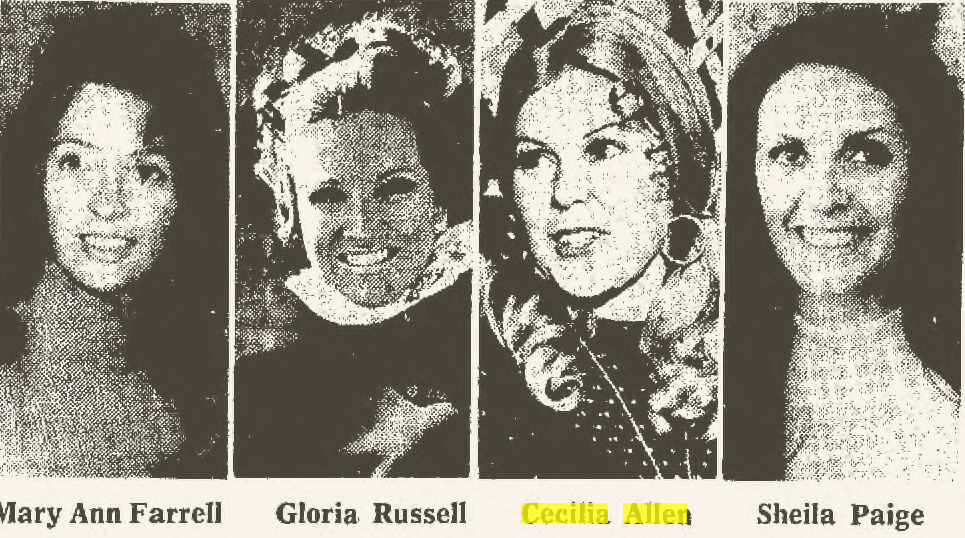 *****
January 1971. "Hello, Dolly!" Phoenix Musical Theatre.
I don't know if Elaine Morrow and Cecilia Allen considered themselves rivals but it seems as if one or the other was in every big musical of the 1970s. Hello, Dolly! at Phoenix Musical Theatre decided to go for broke, casting both of them. Elaine played Dolly and Cecilia was Irene Molloy. Audiences must have left dazzled.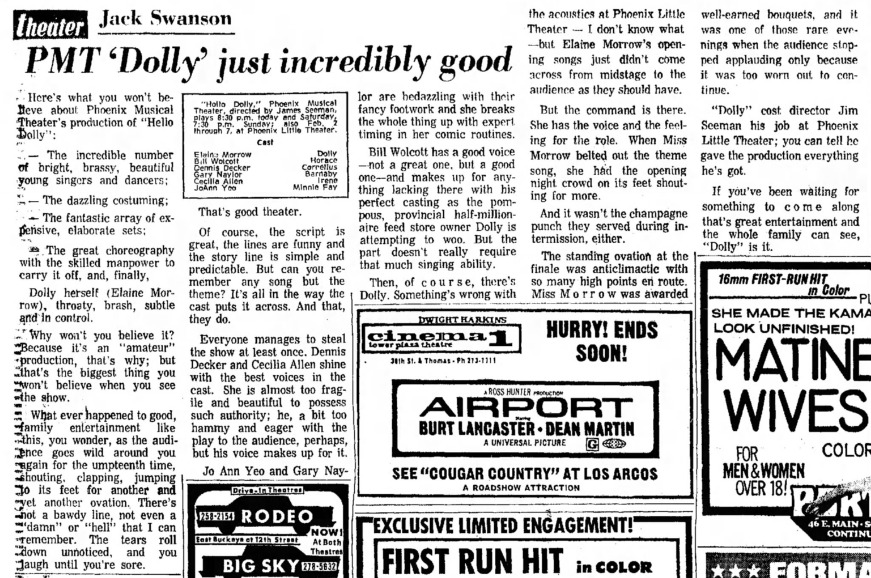 *****
Cecila wasn't just a powerhouse performer, she had a substantial career as a model. With her striking looks, it was no wonder she was always getting her picture in the papers.