Think of Charlotte Francis as the Valley's answer to Arlene Francis. Not that they looked remotely alike. Arlene was a redhead, Charlene a brunette. At least I assume so. I've only seen newspaper clippings, and badly reproduced ones at that, and her hair is always dark.
What they had in common, besides a last name, was a feisty presence and sharply-tuned delivery that made their appearances on TV or the stage welcome. Valley critics loved Charlotte. After her performance in Phoenix Little Theatre's The Mousetrap in 1958, the Arizona Republic's Jack Swanson called her "a breath of fresh air in a stale season."
Rather appropriately, Charlotte is remembered most for I Remember Mama, in which she took on the role of an immigrant mother essayed by Peggy Wood on Broadway and Irene Dunne in the film. Her loving, compassionate parent was the critical and audience favorite of the 1959-'60 season at Phoenix Little Theatre.  (You can read more about I Remember Mama on the Phoenix Theatre page under Companies.)
Charlotte was a versatile performer, switching easily from comedy to drama to musicals. As the diner's owner-waitress Elma, she very nearly stole the show from the rest of the cast in Scottsdale Community Players 1968 production of Bus Top. Another of her well-received performances was in 1961's The Happiest Millionaire at PLT. She excelled in a second 1961 hit, Royal Gambit (for Scottsdale Community Players) that had Henry VIII remaining in Renaissance finery while his wives progressed through costume history to the present.
When she wasn't performing, Charlotte was a playwright. Several of her efforts were produced in Phoenix. She also had her own children's group, the Scottsdale Roadrunners.
Charlotte's daughter, Susan, followed her mother's career path as an actress. In fact, Susan played Charlotte's daughter in Mama. She also co-starred with her mother in Royal Gambit.
For most of the 1960s and into the '70s, Charlotte continued to breathe life into the Valley theater scene.
PHOTOGRAPHS, REVIEWS & THE KITCHEN SINK
1968. "Bus Stop." Scottsdale Community Players.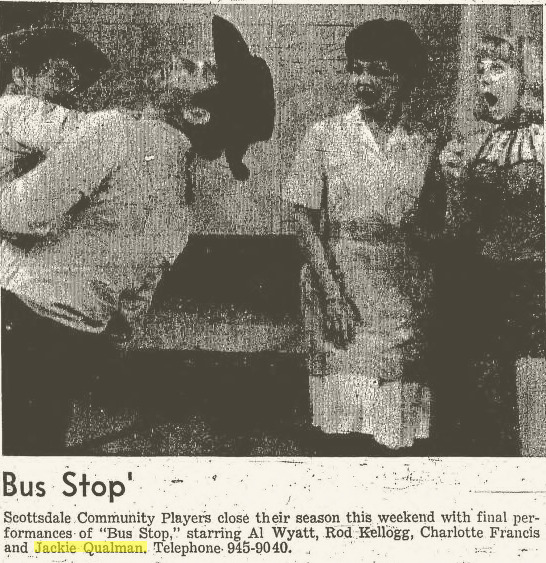 APRIL 1961. "Royal Gambit." Scottsdale Community Players' first attempt at theater in the round. Director: Bob Stout.
JANUARY 1961 "The Happiest Millionaire" Phoenix Little Theatre.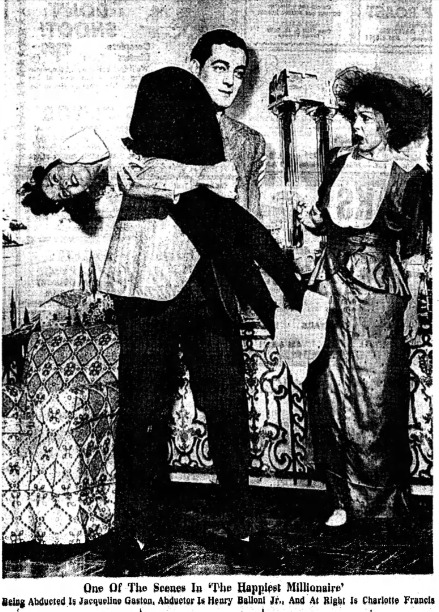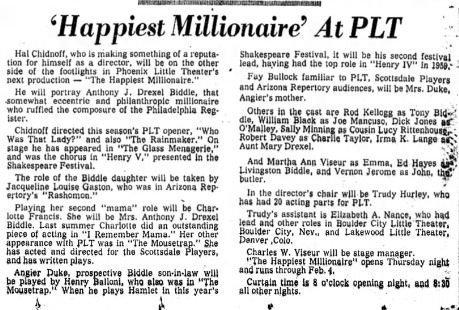 *****
JULY 1960 "I Remember Mama" Phoenix Theatre.