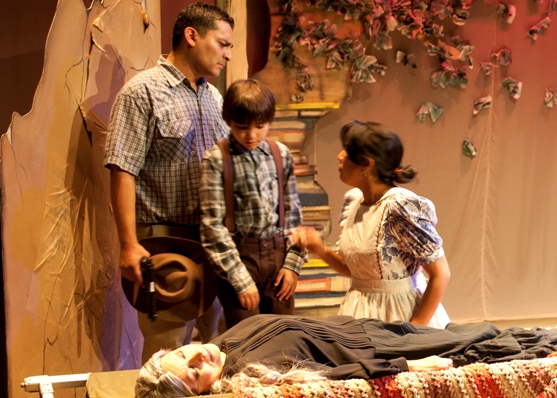 Ernesto Ortiz, Ryan Michael Bernardino, Dulce Juarez and (lying down) Greta Skelly, in "Bless Me, Ultima" at Teatro Bravo. (Aby Rouhi Photography)
This interview with Phoenix actress Dulcie Juarez is posted here courtesy of Phoenix New Times. The article, by Claire Lawton, appeared in the issue of April 3, 2012.
Dulce Juarez is looking around Fair Trade Coffee in downtown Phoenix and pointing out things she could use in an impromptu performance.
"See that chair, this plant, your jacket, that lamp, that man's tie?" she says. "I could use all of those things … It's a matter of making something out of nothing."
The 25-year-old performer, activist, and teacher says the word for this style is Rasquache, which is a Spanish term embraced by the Chicano art movement and used to describe an artwork or artist who accepts and deals with their own material limitations.
Juarez is no stranger to the stage. She got her start in Phoenix playwright James Garcia's Dream Act, and has since acted in his Tears of Lives, and Teatro Bravo!'s Lloronas.
On the stage, she has costumes, props, and scripts at her disposal. But street is where she says she gets the most inspiration.
In 2006, when Proposition 300 passed in Arizona, university students who were not U.S. citizens, permanent residents, or did not have lawful immigration status could not be eligible for in-state tuition or financial aid. Juarez was enraged. She had plenty of friends on both sides of the issue and saw the impact first-hand.
She joined forces with her best friend, Silvia Rodriguez and formed a small improv group called Teatro Nopalero. Together, they drew crowds during protests, took over sidewalks., and dressed up as police clowns to welcome Sheriff Joe Arpaio when he was at ASU's Downtown campus for a presentation.
Nopalero was (and still is) on a mission to educate the public – with or without a Social Security number – about human rights and cultural awareness.
"It has been a very scary time for the Mexican community," says Juarez. "I've been asked for my ID, I've been pulled over because someone thought I fit a profile … but I have to stand up to that and I'm not going to pretend it's right or live in fear."
Juarez has her masters in higher education at ASU and is paying for most of it through acting and commercial jobs, as well as gig as an ordained minister. She says she's constantly acting or filling a role, whether that be in the front of a classroom, on a stage, in a crowd, or behind the podium – and each has a different change of clothes that she usually has to keep in her car because of her tight schedule.
More than anything, Juarez isn't afraid to be the voice of the struggle. She was brought to the United States from Mexico when she was 5. She talks about friends who can't go to the doctor when they're sick because of their status, and young groups she performs for who fight to fit in and stay in the neighborhoods they've always called home.
This woman takes her mission seriously. She's gone on hunger strikes in front of Senator John McCain's office, confronted Arpaio about his stance on immigration, and performed in a cage at ASU.
But she glows with excitement on a recent Tuesday as she talks about her weekend plans; she'll be performing on stage at the national conference of Movimiento Estudiantil Chicano de Aztlán (MEChA) at the Civic Space Park, hanging out with friends, helping family, officiating at three weddings.
Don't worry, she says. She'll have a change of clothes in the car.