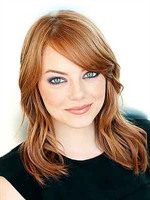 Emma was in Alice in Wonderland, The Little Mermaid, Princess and the Pea, A Winnie-the-Pooh Christmas Tail (three times), about 10 other Valley Youth Theatre productions
Emma's professional career has awarded her with a Golden Globe nomination in 2011 for her performance in Easy A, in addition to 14 wins at the Hollywood Film Festival, MTV Movie Awards, People's Choice Awards and others.
She is most known for her roles in Easy A (2010), The Help (2011) and The Amazing Spiderman (2012). She has also been in Ghosts of Girlfriends Past (2009), Zombieland (2009), Crazy, Stupid, Love (2011) and Gangster Squad (2013). In addition, she guest starred in several TV series like 30 Rock, iCarly and others.
At age 15 Emma decided she wanted to make a career out of acting. She made a PowerPoint presentation to convince her mother and "Project Hollywood" was a success. Emma and her mother traveled to Los Angeles where she landed her first major job.