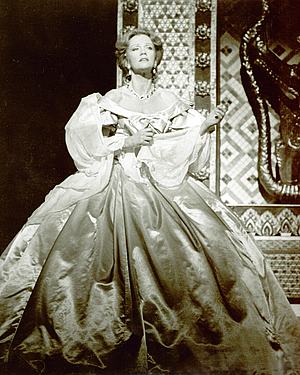 GAMMAGE AUDITORIUM
The King and I
Interview with star Hayley Mills
February 22, 1998|By Kyle Lawson ARIZONA REPUBLIC
Fans line up outside the stage door, but Hayley Mills can tell. They're disappointed. Without her makeup from The King and I, she's a woman. Pretty youthful for 50, maybe, but still grown up.
"You can't stay 14 forever," she says, but she doesn't sound as if she expects anyone to believe it. Even her children went through a phase where they preferred the evidence of the videos. Cool, Mom, dig those great braids.
The actress knows that, daily, in some corner of the globe, her 14-year-old self tidies up everyone's lives in Pollyanna and proves that two adults don't stand a chance against twin teenagers in The Parent Trap. Her youth is preserved inside the planet's VCRs like a prehistoric mosquito entombed in amber.
She is quick to say she doesn't resent it, but in that world, she is forever on the verge of puberty, and that gets old even for a patient soul. When, as The King and I's governess, she sings "Getting to Know You" to the children, she's really offering the audience a chance to get to know her – not as she was, but as she is, a woman who managed to escape the deepest pitfalls of stardom but hit her fair share of potholes.
For some reason, those rough spots come as a surprise to fans. No one seeing her match wills with Vee Talmadge, her King and I co-star, will suspect she doubted she could do the role. Any more than audiences watching In Search of the Castaways or Summer Magic guessed that the actress was a mass of insecurities and victim of an eating disorder brought on by her conviction that she looked like a "piglet."
If Mills has a mantra today, it is, "You can't live your life safely." Even so, the self-doubts haven't been completely exorcised. It took the producers of the Australian tour of The King and I six months to persuade her to take the role.
"I'm glad that they did because the feedback from that tour led me to accept this American tour, and I'm having a wonderful time," she says.
As for Mills' early film career, repeated screenings of The Moonspinners, the 1964 thriller where she goes from child actor to romantic lead, offer the viewer no clues to the personal turmoil she was enduring. Away from the sound stages, however, she was so paranoid about her weight she was certain the crew wasn't putting film in the camera for her close-ups.
"Next stop, lunatic asylum," she said in a recent People interview. "What you want in front of the cameras is cheekbones and eyes that look like golf balls. It was a ridiculous thing. Constantly throwing up doesn't do much for your self-esteem."
Self-esteem would seem to have been the last thing lacking in the child who grew up on an English dairy farm. Unlike many show-business dynasties, the Mills clan is loving and close-knit. Her parents are Academy Award-winning actor Sir John Mills (Ryan's Daughter) and novelist-playwright Mary Hayley Bell. Her older sister, Juliet, also is an actress and her younger brother, Jonathan, is a screenwriter and producer.
When she was 12, director J. Lee Thompson cast her as a girl who witnesses a murder in Tiger Bay. Lillian Disney saw the movie and nagged her husband, Walt, until he cast its youthful star in Pollyanna. The Disney movie put Mills in a class with Shirley Temple and Margaret O'Brien when it came to screen moppets.
Whatever problems she faced off-camera, Mills' on-screen life remained charmed until 1966's The Family Way, her first truly adult film, and one that featured a nude scene, a traumatic experience given her paranoia about her weight. The Family Way wasn't popular, but the one good thing to come from the movie was her association with its director, Roy Boulting, 32 years her senior. They married in 1971 and are the parents of Crispian, 24, leader of the British band Kula Shaker.
In 1975, Mills met actor Leigh Lawson. Two years later, she ended her marriage to Boulting and moved in with Lawson, who's the father of her son Jason, 20.
The relationship with Lawson ended in the early '80s, sending her on a personal quest that seems to have borne fruit.
"I have learned that the important thing is to believe in God and to live your life according to spiritual truths," she told People.
If Mills seems particularly footloose as she waltzes into "Shall We Dance?" it may be because she's broken her most recent connection, a long association with rock musician Marcus Maclaine.
If there is anything Mills loathes talking about, it is her personal relationships, so she's delighted, even if it is by this oblique method, to turn the conversation to The King and I.
"I love that scene," she says. "There's something indescribably romantic about wearing that dress and sweeping through the waltz in the arms of the king."
The role has been "a big, big challenge, but I think I always would have been unhappy with myself if I had turned it down. I've done over 600 performances as Anna now and the play has become a bigger part of my life than the films, really."
She studied with a vocal coach before taking on the part, which was originated on Broadway by Gertrude Lawrence opposite Yul Brynner in 1951 and re-created for the movies by Deborah Kerr, again opposite Brynner, in 1956.
Kerr, of course, didn't sing in the film. Her voice was dubbed by Marni Nixon. Mills is aware that it is Nixon against whom she will be compared by audiences.
"I am not Marni and I am not Julie Andrews," she says. "I do it the best way I can within my limitations."
Mills says she realizes that people still connect her with her movies "and I'm grateful. I don't wish those films had never happened, or that things would have been different. It's true that I sometimes bemoan the fact that people still want me to be 14 and, yes, there were moments when everything wasn't as perfect as it looked on screen, but it was a special time in my life, and I'm glad my work continues to give each succeeding generation pleasure."