PLEASE HELP
This page is in development. I would be grateful if you would share any memories, anecdotes, photographs or other memorabilia. Please use the button at top right to contact me and I will give you the details on sharing. Thank you, Kyle Lawson, page manager. (PS: It would help if you could provide the IDs of those pictured, the name of the production, the year, the company and the photographer credit. If you know them, that is.)
PHOTOGRAPHS, REVIEWS & THE KITCHEN SINK
JANUARY 2014 "Mary's Wedding" Playwright: Stephen Massicotte.  Cast: Kent Welborn, Heidi Haggerty.
It is the eve of Mary's wedding to the soldier she loves, but the night is full of dreams—of young love, of war, of horses—of what might or may not be.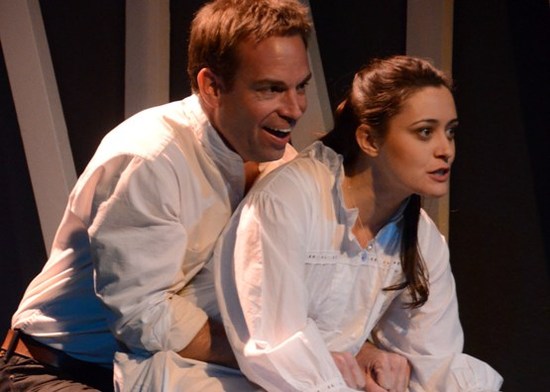 2013. "Great Falls." Theatre Artists Studio. Directed by Judy Rollings.
Judy Rollings directed the local premiere of Lee Blessing's drama about a divorced man (Greg Lutz) and his step-daughter (Heidi Haggerty) driving across the West, looking for meaning in their lives.