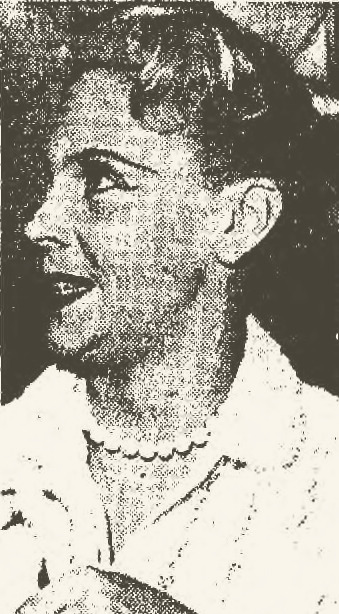 Yes, Phoenix theater has its legends  –  and, yes, no one was more legendary than this actress, director and theater activist.
Helen Begam was to Valley theater what Lynn Fontanne was to Broadway. Her husband, Robert, a prolific actor/director on local stages, was her Alfred Lunt. (Helen died some years ago, but Robert is still active as a longtime member of the board of Arizona Theatre Company.)
From 1959 to 1962, she served as president of Arizona Repertory Theatre.
Her credits included Volpone, Under Milkwood, Who's Afraid of Virginia Woolf?, The Lower Depths and Sweet Bird of Youth for ART and The Lion in Winter, Candida and A Streetcar Named Desire for Phoenix Little Theatre.
Helen had New York connections. She briefly acted at Circle in the Square, a New York theater company that claimed such alumni as Paul Newman, Joanne Woodward and Ben Gazzara.  But it was in Phoenix, where she and Robert settled after World War II, that she had her greatest success.
She met her husband at the Yale School of Drama, where both were students. He was an actor, too, in those days but later put it on the back burner to become one of the nation's leading attorneys. That didn't keep him off the stage entirely. He both performed in and directed many works at Phoenix Little Theater. Some of which starred his wife.
Helen, a thoroughly glamorous creature, generally got the press, however. Who could blame the reporters? Even in her youth, she was living proof as to why they call them grande dames.
*****
For Helen's obituary, see News from the Wings.
*****
NOVEMBER 1970 "The Lion in Winter" Phoenix Little Theatre. Directed by Larry Liff.
It's funny how some productions have an apparently endless shelf life. I'm writing this in 2014, 43 years after Phoenix Little Theatre staged James Goldman's comedy-drama, The Lion in Winter, and still people are talking about it. Although she was dismissed (albeit favorably) in three lines in Larry Rummel's review, it is Helen'sperformance that seems to linger longest in the memory. Apparently she was magnificent. John Sankovich fans (they are legion, legion, I tell you) still recall his King Philip with a smile and, in any discussion of director Larry Liff, this play always seems to poke its nose into the conversation.
*****
MAY 1967. In an article in the Arizona Republic, Helen served as a spokesperson for the interaction between Arizona Repertory Theatre and Valley high school thespians.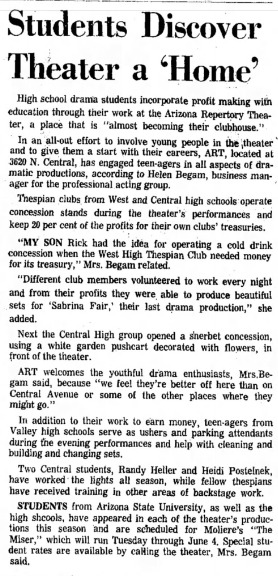 *****
APRIL 1967. "The Lower Depths." Arizona Repertory Theatre. Playwright: Maxim Gorky.  Director: Robert Aden.

ART brought another theater classic to the Valley with this production of Gorky's vivid depiction of turn-of-the-century Russia, which reunited Helen with her Volpone co-star Joseph Jenckes.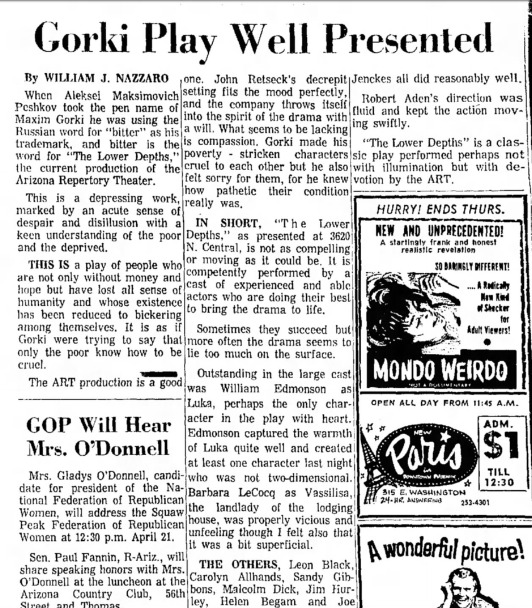 *****
JANUARY, 1966. "Volpone." Arizona Repertory Theatre. Playwright: Ben Jonson.  Director: Phillip Pruneau. 
Helen had the role of Lady Would-Be in this star-studded production of Ben Jonson's classic English comedy.
1966. "Who's Afraid of Virginia Woolf?" Arizona Repertory Theatre. Playwright: Edward Albee.

Helen took on another of the power house roles and, once again, had critics raving. "Her Martha is simply mesmerizing," said Helen Backer of the Arizona Republic. "You can't take your eyes off her."
*****
1962. Phoenix Little Theatre. "Cat on a Hot Tin Roof."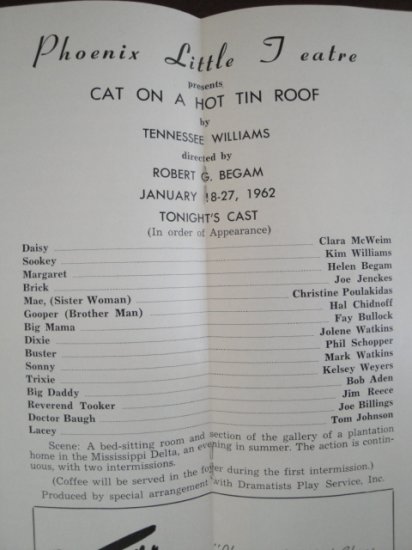 *****
1961. "The Caine Mutiny Court Martial." Phoenix Little Theatre. Playwright: Herman Wouk. Director: Robert Begam. Assistant director: Helen Begam.

Helen frequently stepped off the stage to assistant her husband, Robert, in directing shows. Here, she lent a hand to one of Phoenix Little Theatre's biggest hits in 1961, the staged version of one chapter from Herman Wouk's best-selling novel, The Caine Mutiny.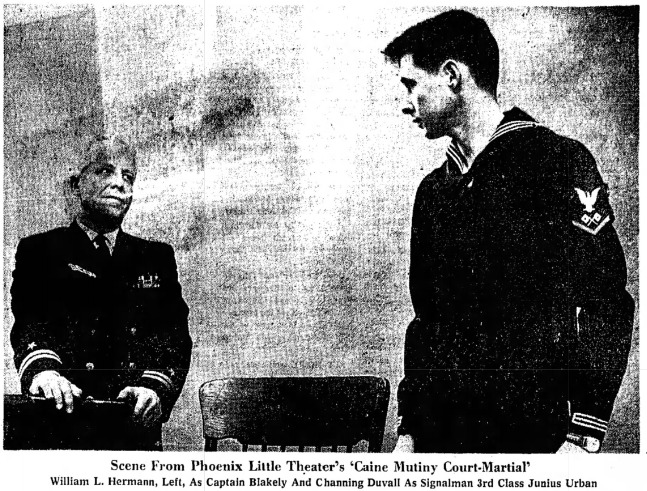 *****
MAY 1961. "Oedipus Rex." Playwright: Sophocles. Director: Helen Begam.
No one can say ART didn't tackle the big ones. Helen, usually an actress for the company, sat in the director's chair for this production of Sophocles' tragedy.
*****
FEBRUARY 1960. "The Glass Menagerie" Phoenix Little Theater.
Helen was seldom parted from her husband when it came to theater. She stepped directly from the leading role in Candida to serve as Joseph Caruso's assistant director on this production, in which Robert Begam was Tom, Fay Bullock was Amanda, Jackie Qualman was Laura and Hal Chidnoff was the Gentleman Caller.
*****
JANUARY 1960. "Candida." Phoenix Little Theatre. Director: Robert Stout.
Helen scored a personal success with the title role in George Bernard Shaw's play. As an aside: Every  review of the show mentioned her costumes, which were apparently spectacular. No reviewer thought to mention the costumer's name.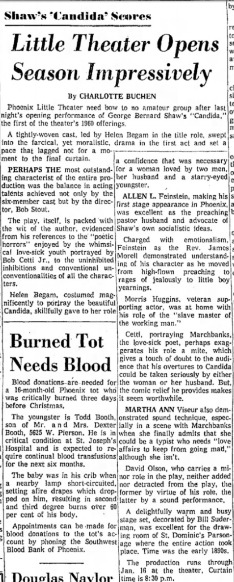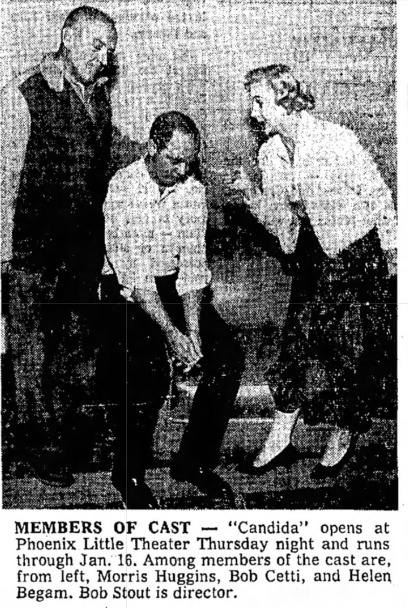 *****
1960
ROSHOMON
Director: E. Lee Tolleson.
Producers: Robert Begam, Helen Begam.
*****
1959. An interview with Helen  in the Arizona Republic of April 13. Also mentioned: Mali Wynn (Mrs. Joseph Wynn). This was back in the quaint days when the paper insisted on referring to a woman by her husband's name, regardless of her accomplishments.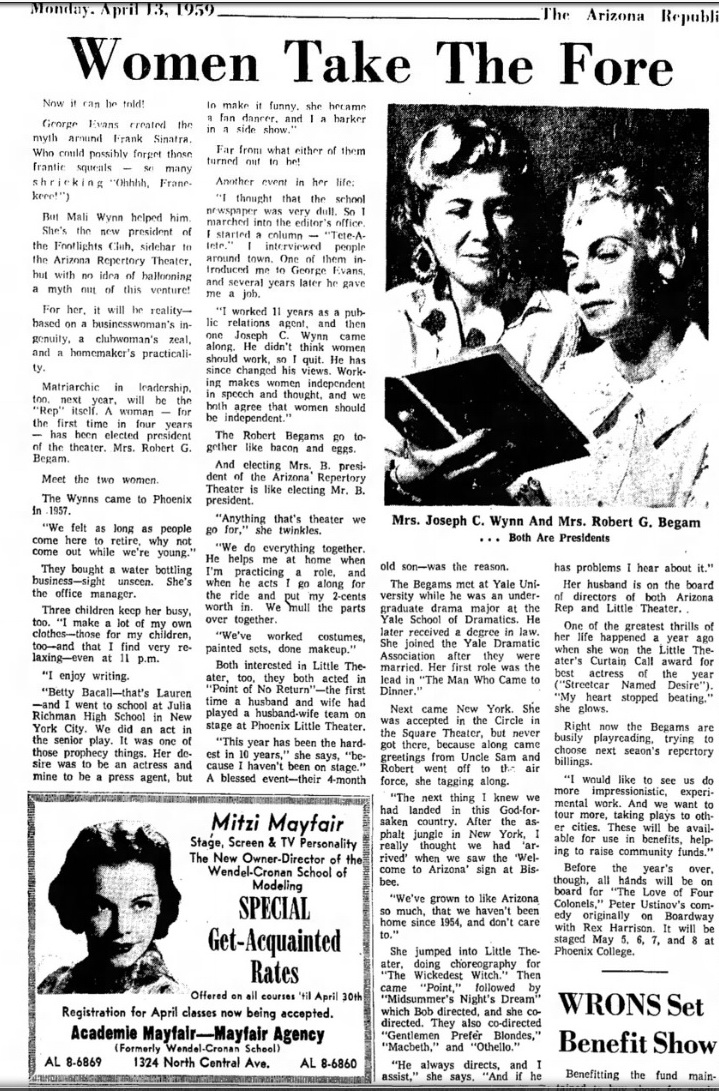 *****
SEPTEMBER 1959. "No Time for Sergeants." Phoenix Little Theatre. Playwright Ira Levin. Director: Robert Begam. Assistant Director: Helen Begam.

The husband-and-wife team of Robert and Helen Begam, by this time considered by all to be the Valley's answer to Lunt and Fontanne, were in the director's chair for this comedy which gave popular leading man Tom Quillen one of his greatest roles. The play was based on Mac Hyman's 1954 best-selling novel about a country bumpkin drafted into the Air Force.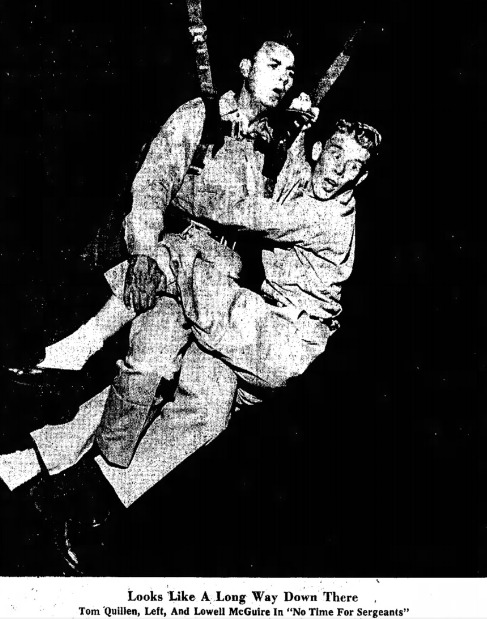 *****
JANUARY 1958. "A Streetcar Named Desire." Playwright: Tennessee Williams. Director: Ken Drisco.
NOTE: Helen was named the Best Actress of 1958 for her role as Blanche.
Helen's fans – and some are still around in 2014 – like to argue over what was her best performance. Was it her Eleanor of Aquitaine in The Lion in Winter, her Martha in Who's Afraid of Virginia Woolf? or her Blanche in this Phoenix Little Theatre production of A Streetcar Named Desire? The money seems to be on Blanche.  One thing is for sure. Helen did not become the acknowledged queen of Valley theater by refusing to take risks. She tackled the big parts head-on and always came out on top.