ACTRESS, DIRECTOR, ARTISTIC DIRECTOR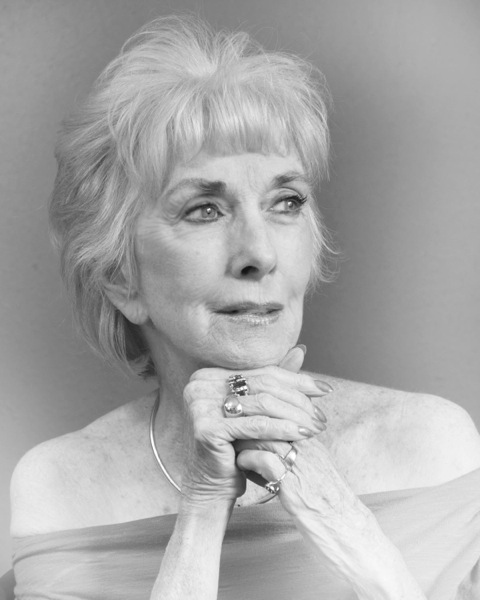 A CRITIC REMINISCES
The word "star" is difficult to manage. It can be – and often is – used for anyone who performs. To use it correctly, though, in its Webster dictionary definitions of  "an outstandingly talented performer" or "the principal member of a theatrical or operatic company who usually plays the chief roles" or "a person who is preeminent in a particular field," requires careful consideration.
Without question, without hesitation, I declare Jacqueline Gaston a star.
She was a leading actress before I arrived in town in 1977. She has remained one to this day. If you doubt my word, consider just a few of her critical triumphs: Blanche in A Streetcar Named Desire, Eleanor of Aquitaine in The Lion in Winter, Ethel Thayer in On Golden Pond, Linda in Death of a Salesman, Adela in The House of Bernada Alba, Suzie in Wait Until Dark. Julia in A Delicate Balance, Annie Sullivan in The Miracle Worker and Georgie in The Country Girl.
And don't forget Mrs. Patrick Campbell in Dear Liar, Miss Helen in The Road to Mecca, Ouiser in Steel Magnolias, Alice in You Can't Take It With You and the title character in Driving Miss Daisy.
It's a resume any actress would kill for, and few can claim.
The first time I saw Jacqueline perform was at a dinner theater in Scottsdale. Unlike most of her credits, which involved classic titles, Under the Yum Yum Tree (review, below) was one of those forgettable sex comedies so prevalent in the 1970s.
I can't even recall the plot today but I do remember her. Vividly.
I was new to Arizona and had just nabbed a job as entertainment editor at the Scottsdale Daily Progress. I was a bit depressed. I had grown up on New York theater, I had been to London and to Stratford-on-Avon. Welcome to Hicktown.
Jacque was the first evidence that my time in Phoenix would not be wasted. She was phenomenal. Gorgeous and glamorous (not always the same thing), with perfect comedy timing. I once compared her to the legendary film and television comedienne, Eve Arden. Those two share a blisteringly wry way with a line that, once heard, is never to be forgotten.
It was not just her stage performances that earned my respect. For many years, she was doyenne of CopperState Dinner Theatre at Max's, giving opportunities to young performers who would become stars in their own right (Bob Sorenson, Cathy Dresbach, Peter J. Hill, so many more).
She was a superb school teacher. I know this because she worked for many years with my wife Pat in the Washington School District. Pat idolized her, an honor my wife rarely bestows.
For all that, it is as an actress that Jacqueline Gaston has left an indelible imprint on the Valley of the Sun.  And not just through her earlier performances. In recent years, she has captured the attention of the new theater-makers and a younger audience with her appearances at the alternative giants, Stray Cat Theatre and Nearly Naked Theatre Company.
Her elegance, perception, emotional sensitivity and joyous laughter is irresistibly seductive, no matter the age of the seduced.
THAT FIRST REVIEW
JULY 1977. "Under the Yum Yum Tree." French Quarter Dinner Theatre, Safari Hotel, Scottsdale. Cast: Jim Servis, Jacqueline Gaston, Noel Irick, Bill Estes.
REVIEW by Kyle Lawson, Scottsdale Daily Progress, July 15, 1977.

THE YOUNG JACQUELINE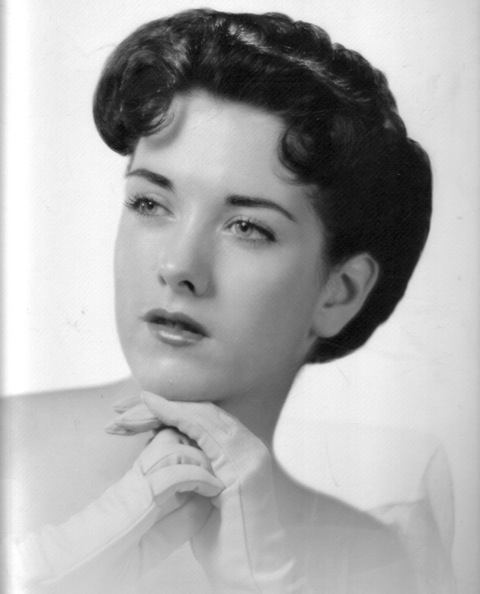 SOMETHING YOU MIGHT NOT KNOW ABOUT JACQUE
In an interview with Robrt Pela of Phoenix New Times, she discussed her father's romance with legendary actress, Tallulah Bankhead.
"Well, I'd like to say it's not true, but I can't," she told Robrt. "He later met my mother and then he became a minister, so I know he'd be unhappy that we're talking about this. But I do have a picture of him and Tallulah together, so there's no point in denying it."
NOTABLE PERFORMANCES

2011. MY FAIR LADY. Arizona Broadway Theatre. Mrs. Higgins.
Robrt Pela wrote in the New Times: "And we did get to watch Jacqueline Gaston as Mrs. Higgins; that part was nice. Her performance proves that even a tiny role like this one can stand out if the actor is worth her salt. No one in our town plays moneyed outrage like Miss Gaston."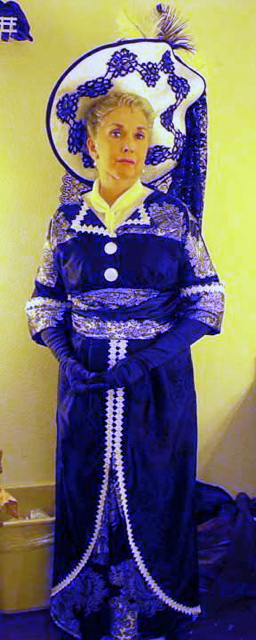 2011. DIVIDING THE ESTATE. Theater Works. Stella Gordon.
Jacqueline was Stella Gordon, a Texas matriarch dead-set against parceling out her estate, in Horton Foote's comedy. Her dysfunctional family had other plans. The confrontations were, to say the least, hilarious.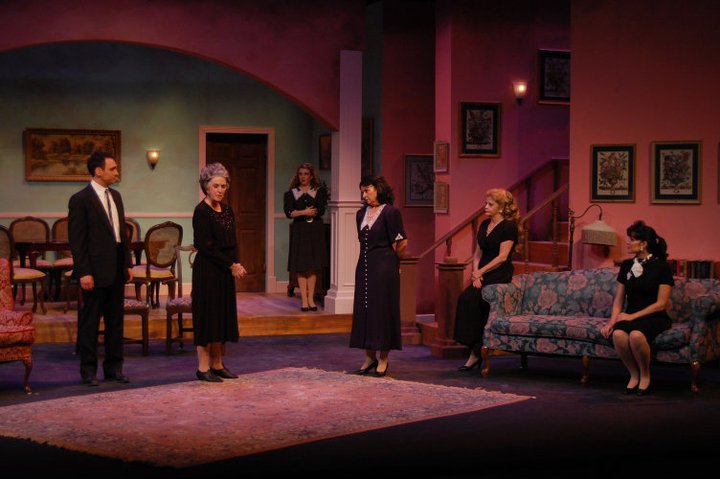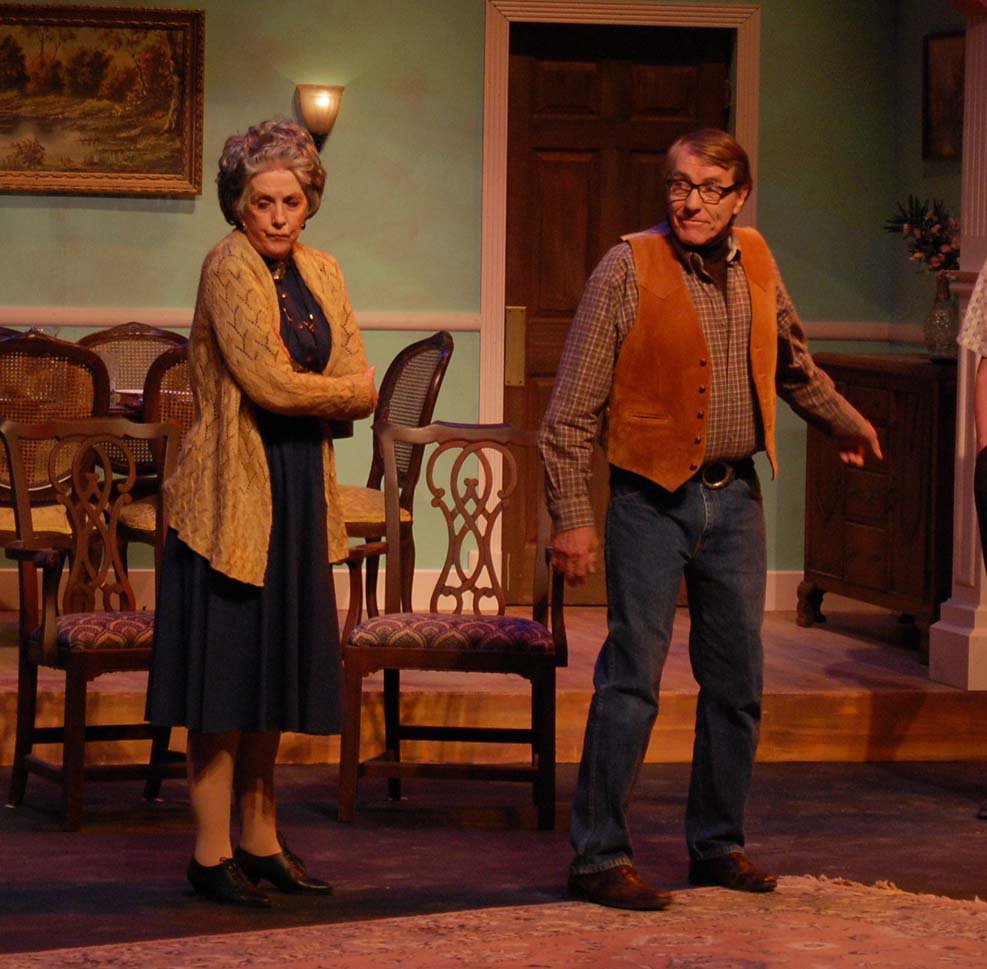 2010. THE PLAY ABOUT THE BABY. iTheatre Collaborative. The Woman.

Jacqueline played The Woman in Edward Albee's play that had its workshop premiere in 1988 and its world premiere at Houston's Alley Theatre in 2000 (which took it to off-Broadway the following year). The work is a dark and witty account of two couples–the combination of jaded Man and Woman vs. innocent Boy and Girl that provided a similar dramatic tension in 1962's Who's Afraid of Virginia Woolf?
SEPTEMBER 2010. FUDDY MEARS. Nearly Naked Theatre. Gertie.
Jacque worked with the A-List in David Lindsay-Abaire's absurdist (or just wacky) comedy, including director Andres Alcala and actors Debra K. Stevens, Joseph Kremer, Devon Nickel, Kerry McCue, David Weiss and Ron May. She played Gertie, a woman who's had a stroke and can't speak properly, in the story of an amnesiac who awakes every morning with a blank slate for memories. (Note: "Fuddy Meers" is Gertie's attempt to pronounce "funny mirrors.") The New Times' Robrt Pela, otherwise not impressed with the production, wrote: "Jacqueline Gaston would have received a better-than-passing grade for making the most of a thankless role: the grouchy grandma whose stroke renders her many lines of dialogue largely unintelligible."  Said Chris Curcio in Curtain Up Phoenix: "Jacqueline Gaston makes Gertie a bumbling idiot but she craftily makes her babbling dialogue understandable enough to help with key plot details."
2009. DRIVING MISS DAISY.  Algonquin Theatre co-production with Theater Works. Miss Daisy.

There seem to be no end of definitive performances in Jacqueline Gaston. She gave another in Alfred Uhry's comic drama, Driving Miss Daisy, about a white Jewish matron of Atlanta and her relationship with her black chauffeur.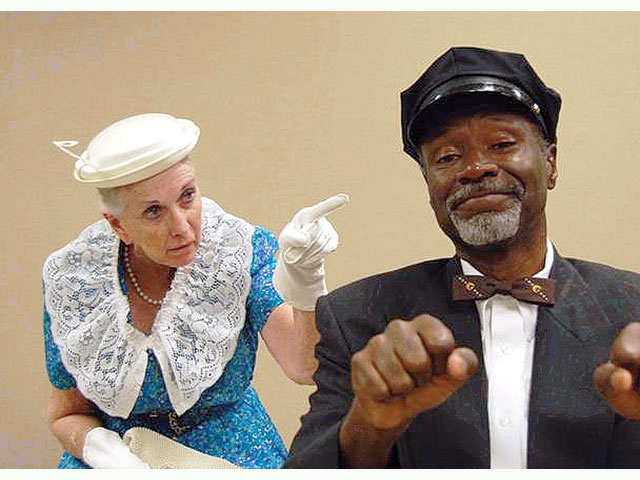 JANUARY 2008. THE OLDEST PROFESSION. Algonquin Theatre. Edna.

Jacqueline had a ball, playing a prostitute and singing raunchy songs along with four of the Valley's premier actresses.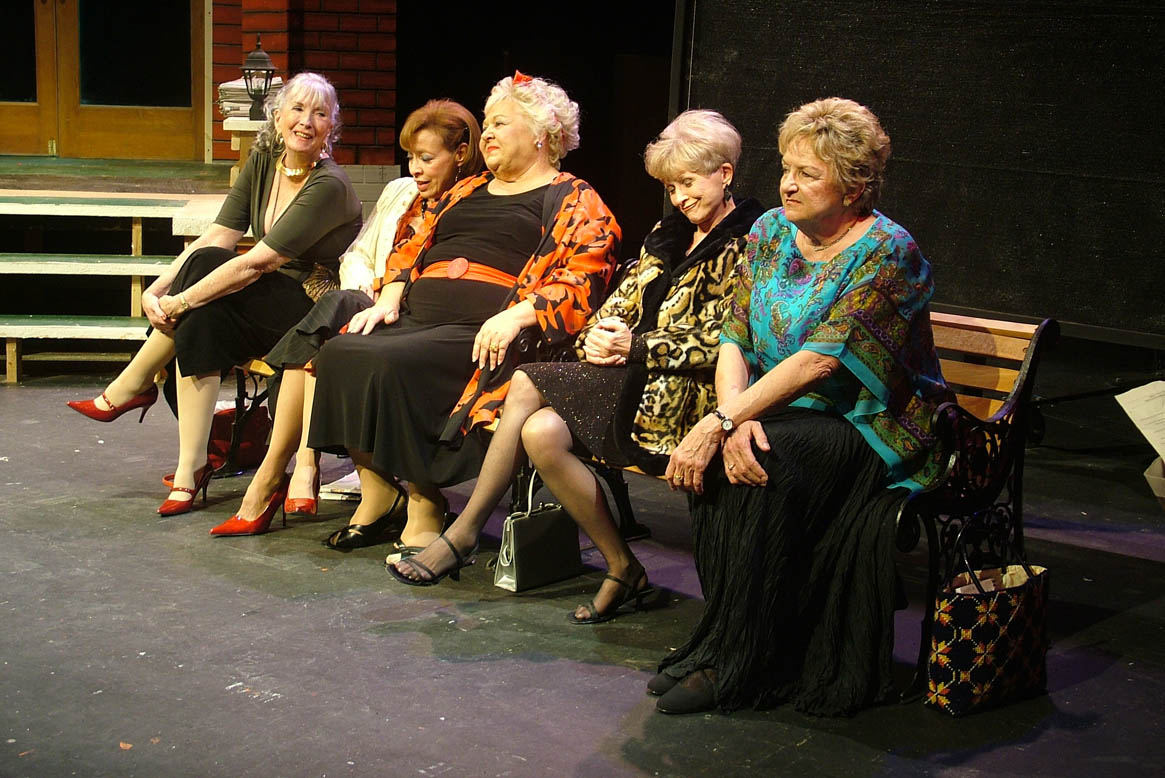 Jacqueline remembers … "I thought I was auditioning for a different part. When I learned I would be singing and dancing at my age … well I figured it's my last shot."
2008. DEARLY DEPARTED. Chyro Arts. Raynelle.
When the patriarch of a Southern family dies, the clan gathers to do a little prospecting and back-stabbing. Jacque was Raynelle, the widow who gives as good as she gets. (Does this remind you of Dividing the Estate? Yep. But it was just as funny.)
Wrote Kerry Lengel in the Arizona Republic: "A a superb Jacqueline Gaston, as the widowed Raynelle, skillfully displays the appropriate restraint that makes comedy funny, as well as the plausible depth of emotion that gives this play a dash of soul. "They call to tell you how sorry they are for you and end up telling you how sorry they are for themselves," she tells her distraught son. It's a brilliant insight for anyone who has ever had to deal with an unplanned trauma. Raynelle then sums up the last few decades of her lifeless marriage, using the analogy of a long-lost pair of sewing scissors. As if lifted from a literary novel, it's a beautiful scene and you wish all of the preceding scenes better supported this epiphany."
Said Robrt Pela in the New Times: "Something hilarious happens within the first few minutes … Jacqueline Gaston reads a wickedly amusing letter to her husband, who suddenly falls over in a dead heap just after she finishes. It's a moment that's shocking and witty and holds a good deal of promise that what's about to follow will be comedic and inspiring and entertaining."
FEBRUARY 2006. KIMBERLY AKIMBO. Stray Cat Theatre. Kimberly.

Jacqueline played a young woman suffering from a disease that caused her to age much faster than normal in David Lindsay-Abaire's black comedy. Although her body looks older, Kimberly is actually celebrating her 16th birthday. It was a tour-de-force performance. Wrote critic Mark Turvin: "Gaston does an excellent job of capturing that special je ne sais pas of a sixteen year old girl's attitude. Each 'whatever,' and every curse is carried with the power of Gaston's innocence. When she and Sean Rhys Gilyeat move tentatively toward each other, it's simply true."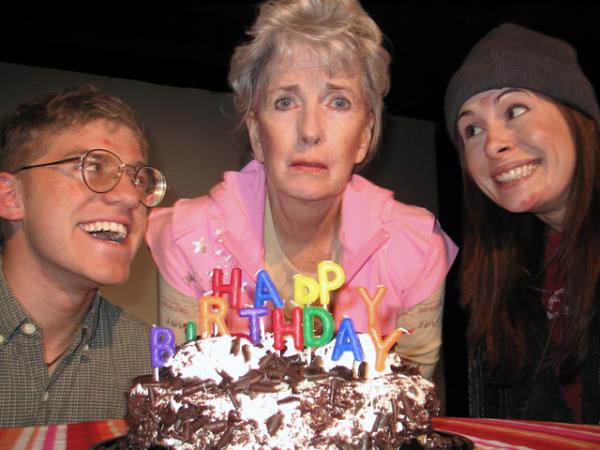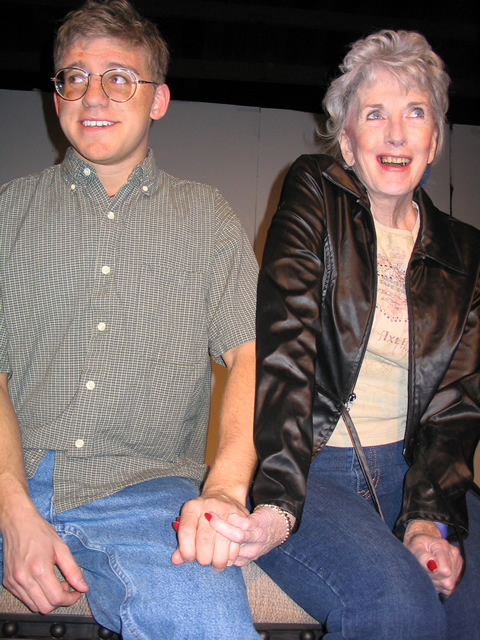 MAY 2005. THE LOVE COURSE. Is What It Is Theatre. Miss Carroway.
Jacque played Miss Carroway in A.R. Gurney's short play about teaching. It was produced by the now defunct Is What It Is Theatre.
2001. Possibly the best interview ever done with Jacqueline appeared in the Aug. 9, 2001 Phoenix New Times, under the byline of Robrt Pela.
"I hate the idea that I've been resurrected," says actress Jacqueline Gaston. "I hear people say I've inspired them, that if I can come back after what I've been through, they can do anything. It all makes me sound so noble, like I'm a much better person than I actually am."
Local playhouses are crowded with folks who'll happily dispute Gaston's humble claims. The actress, who opens this week in a local production of On Golden Pond, is — according to some of our best-known stage names — an inspiration. Against her will, Gaston has been cast as the heroine of her own story; the theater doyenne who overcame a debilitating illness and returned to the stage to collect great notices — not long after she'd been written off as dead.
"It's a horrible thing to say, but a lot of people really did think Jackie was dead," according to actress and theater publicist Laura Durant. "Everyone knew she had this horrible illness, and then no one heard from her."
"I have to curtail the rest of my life to be in a show," says actress Jacqueline Gaston, who stars in Theater Works' production of On Golden Pond beginning this week. "But acting is what I do. It's worth it."
Durant is referring to Gaston's ongoing battle with lupus, a chronic autoimmune disease that brings on seizures, swollen joints and extreme fatigue. In the early 1990s, Gaston — whose CopperState Players helped launch the careers of big-deal thespians like Bob Sorenson, Linda DeArmond, Robyn Allen and Cathy Dresbach  — was diagnosed with the disease, which she'd been battling for two years.
"Doctors tend to be unsympathetic to the symptoms of lupus," Gaston says, "and by the time they figured out what was wrong with me, I was pretty much incapacitated." She spent the next two years flat on her back; once she was able to get up, the actress had to learn to walk again.
"It was pretty dicey there for a while," admits Gaston, who's amused at the rumors of her death. "I certainly hadn't heard I'd died," she says with a throaty laugh. "I stayed away from everyone in the theater scene, because the thought of being seen in a wheelchair was daunting. I had to learn to walk all over again. I didn't want anyone to witness this."
Eight years after her diagnosis and well into her recovery, Gaston heard that friend and fellow actor Robyn Allen was preparing to direct a smallish production of The Lion in Winter. "I thought, 'Oh, God. If I'm going to die on the stage, this is the show I want to die in!'" Gaston says. Despite the risk to her health, Gaston convinced Allen she was well enough to work again, and her acclaimed appearance as Eleanor of Aquitaine was followed by leads in three other shows, none of which led to her demise. She's pleased (and a little surprised) to be in demand again, but admits that stage appearances exhaust her.
"I have to curtail the rest of my life to be in a show. There's a danger with lupus; if you go beyond certain limits, you can trigger a flare-up, and end up very sick again if you're not careful. But acting is what I do. It's worth it."
Gaston's lupus is in remission but still has an impact on her life. "It's still there, but I can live with it," she says. "There's pain and fatigue, and it's hard to get through rehearsals sometimes. The cast babies me." She admits to having had "a couple of seizures along the way, but never onstage during a performance. On the other hand, I've come off stage and fallen off a six-foot platform because I was going into a seizure. But I got my scene done!"."
After On Golden Pond, she'll reprise her much-admired performance in a remount of last season's Dear Liar — but doesn't much like references to her "comeback."
"When I did Lion, I was uncomfortable with all this talk about 'the veteran returns to the stage,'" she says. "It's nice that people took some inspiration from my return [to theater], but I came back because I love what I do. I'm tough, but I don't think I'm particularly remarkable. I was off the stage for a long time, and it felt like I didn't exist. Now I'm back, and I feel differently. That's all."
2004. Lost in Yonkers. Playwright: Neil Simon. Director: Randy Messersmith. Cast: Susan Sindelar, Maria Amorocho Weisbrod, Jacqueline Gaston, Bruce Laks, Cale Keadus Pascual, Paul Thomson.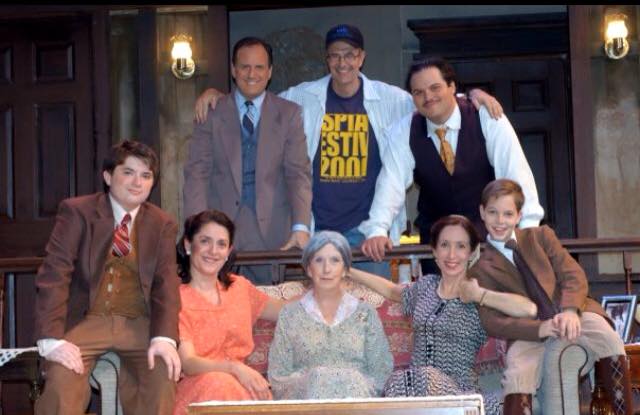 1990. THE ODD COUPLE (Female Version). CopperState Players at Max's Dinner Theatre. Olive.
There are some who say the female version is funnier than the original. This one was.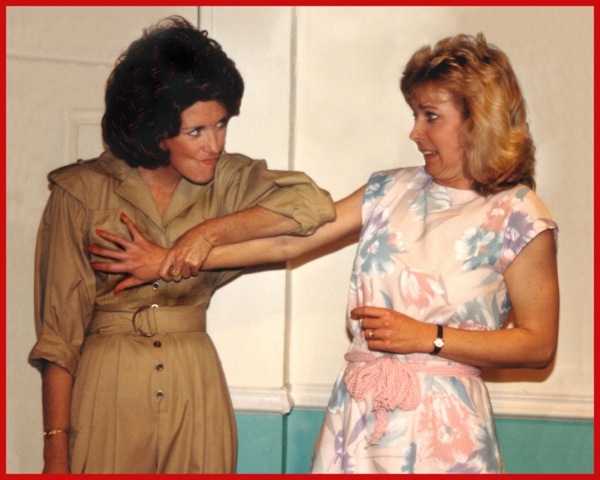 1988. WALLY'S CAFE. CopperState Players at Max's. Louise.

I recall seeing this play. I confess I don't remember what it was about. From the cast, though, I have no doubt it was very funny. Watching Ben Tyler, Cathy Dresbach and Jacqueline would be like having Bob Hope, Lucille Ball and Eve Arden in the same show. Heck, I'm laughing just thinking about it.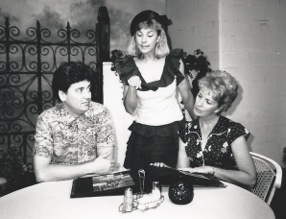 1984. ACCOMMODATIONS. CopperState Players at Max's. Lee.

I don't remember seeing this one. My wife says she's sure she would remember if we did. Wonder why?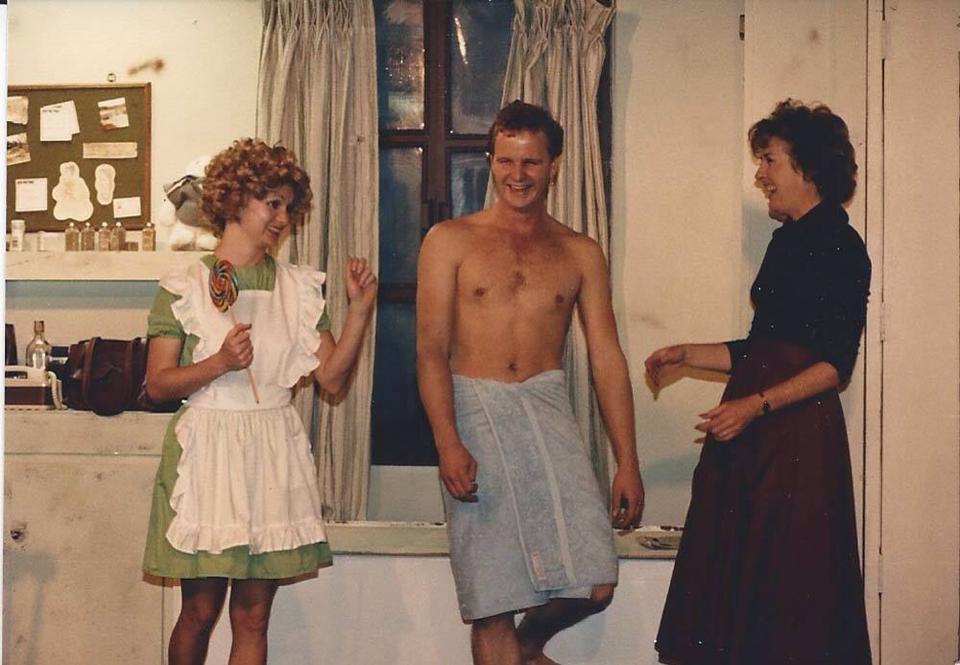 *****
1977.  Interview with the Scottsdale Daily Progress
This is the first interview I did with Jacqueline. It was the beginning of a life-long admiration society. I watched her son grow into a fine young man. Sometimes, sticking around has its perks.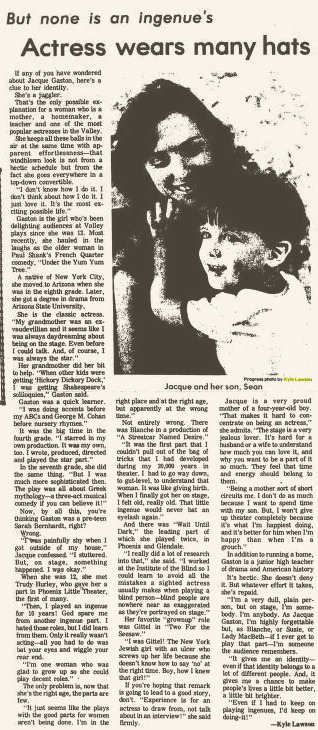 (Text of the article)
By Kyle Lawson
If any of you hae wondered about Jacque Gaston, here's a clue to her identity.
She's a juggler.
That's the only possible explation for a woman who is a mother, a homemaker, a teacher and one of the most popular actresses in the Valley. She keeps all of these balls in the air at the same time with apparent effortlessness – that windblown look is not from a hectic schedule but from the fact she goes everywhere in a top-down convertible.
"I don't know how I do it," she says. "I don't think about how I do it. I just love it. It's the most exciting possible life."
Gaston is the woman who's been delighting audiences at Valley theaters since she was 12. Most recently, she hauled in the laughs as the older woman in Paul Shank's French Quarter comedy, "Under the Yum Yum Tree."
A native of New York City, she moved to Arizona when she was in the eighth grade. Later, she earned a degree in drama from Arizona State University.
She is the classic actress.
"My grandmother was an ex-vaudevillian and it seems like I was always daydreaming about being on stage. Even before I could talk. And, of course, I was always the star."
Her grandmother did her bit to help.
"When other kids were getting 'Hickory, Dickery Dock,' I was getting Shakespeare's soliloquies," Gaston said.
She was a quick learner.
"I was doing accents before my ABCs and George M. Cohan before nursery rhymes."
It was the big time in the fourth grade.
"I starred in my own production. I wrote, produced, directed and played the star part."
In the seventh grade, she did the same thing.
"But I was much more sophisticated then. The play was all about Greek mythology – a three-act musical comedy if you can believe it!"
Now, by all this, you're thinking Gaston was a pre-teen Sarah Bernhardt, right?
Wrong.
"I was painfully shy when I got outside of my house," Gaston confessed. "I stuttered. But, on stage, something happened. I was okay."
When she was 12, she met Trudy Hurley, who gave her a part at Phoenix Little Theatre, the first of many.
"Then I played an ingenue for 10 years! God spare me from another ingenue part. I hated those roles, but I did learn from them. Only it really wasn't acting – all you had to do was bat your eyes and wiggle your rear end.
"I'm one woman who was glad to grow up so she could play decent roles."
Only now that she's the right age, the parts are few.
"It seems like the plays with the good parts for women aren't being done. I'm in the right place and at the right age, but apparently the wrong time."
Not entirely wrong. There was Blanche in a production of "A Streetcar Named Desire" at Phoenix Little Theatre.
"It was the first part that I couldn't pull out of the bag of tricks that I had developed during my 20,000 years in theater. I had to go way down, to gut level, to understand that woman. It was like giving birth. When I finally got her on stage, I felt old, really old. That little ingenue would never bat an eyelash again."
And there was "Wait Until Dark," the leading part of which she played twice, in Phoenix and Glendale.
"I really did a lot of research into that," she said. "I worked at the Institute of the Blind so I could learn to avoid all the mistakes a sighted actress usually makes when playing a blind person – blind people are nowhere near as exaggerated as they're portrayed on stage."
Her favorite grown-up role was Gittel in "Two for the Seesaw."
"I was Gittel. The New York Jewish girl with an ulcer who screws up her life because she doesn't know how to say 'no' at the right time. Boy, how I knew that girl!"
If you're hoping that remark is going to lead to a good story, don't.
"Experience is for an actress to draw from, not talk about in an interview," she said, firmly.
Gaston is a very proud mother of a four-year-old boy.
"That makes it hard to concentrate on being an actress," she said. "The stage is a very jealous lover. It's hard for a husband or wife to understand how much you love it, and why you want to be a part of it so much. They feel that time and energy should belong to them.
"Being a mother sort of short circuits me. I can't do as much because I want to spend time with my son. But I won't give up theater completely because it's what I'm happiest doing, and it's better for him when I'm happy than when I'm a grouch."
In addition to running a home, Gaston is a junior high teacher of drama and American history. It's frantic – she won't deny it. But whatever effort it takes, she is repaid.
"I'm a very dull, plain person but, on stage, I'm somebody. I'm anybody. As Jacque Gaston, I'm highly forgettable but, as Blanche, or Susie (from "Wait Until Dark") or Lady Macbeth – if I ever get
to play that part – I'm someone the audience remembers.
"It gives me an identity – even if that identity belongs to a lot of different people. And it gives me a chance to make peoples' lives a little bit better, a little bit brighter.
"Even if I had to keep playing ingenues, I'd keep on doing it."
1976. A STREETCAR NAMED DESIRE. Phoenix Little Theatre. Blanche.
Newcomers sometimes look at an established star like Jacqueline Gaston and wonder "How did she get to that place?" In Jacque's case, it's simple. Powerful performances in powerful plays. Blanche is one of the Holy Grails pursued by actresses. Jacque did her profession and Tennessee Williams proud with her interpretation of the role. (Actually she did that twice; 10 years earlier, she played Stella to great acclaim). Her Stanley, Rick Grove, also turned in a memorable performance in the Phoenix Little Theatre production.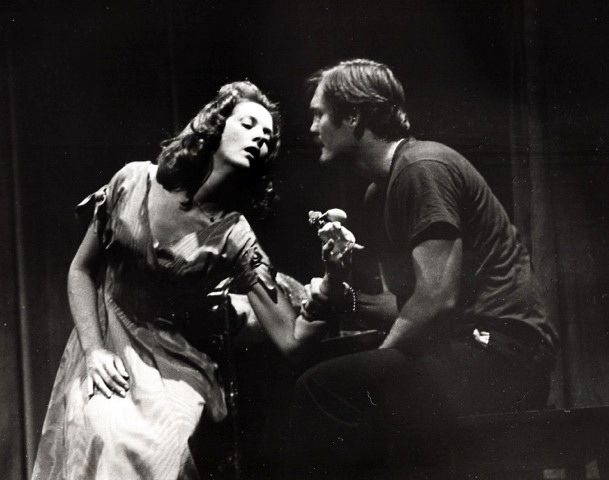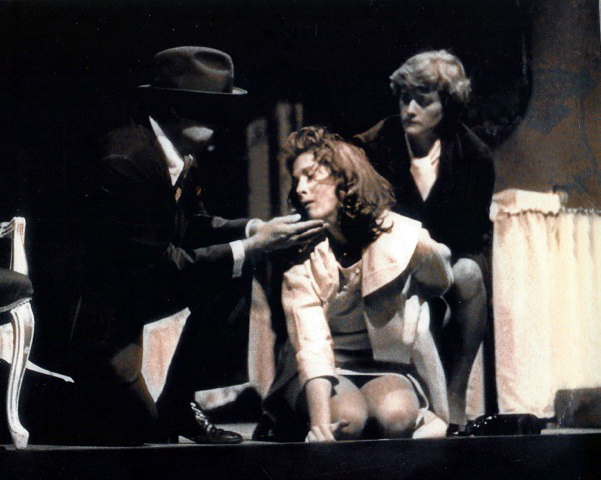 *****
1976. "Two for the Seesaw." Phoenix Little Theatre.
Jacque was Gittel in this mounting of the William Gibson comedy that follows two lonely New Yorkers through a winter of discontent.
*****
AUGUST 1970. "Two's Company." ASU Lyceum Theatre.
Jacque was never so busy that she didn't find time for her friends. Carol Tomas and Daniel Witt lured her to ASU for this night of one-acters.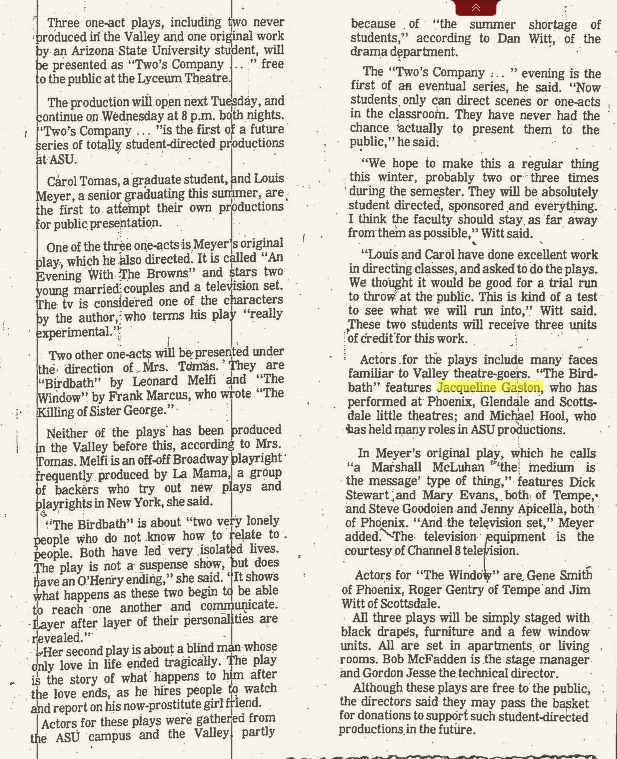 *****
JANUARY 1969. "Wait Until Dark." Phoenix Little Theatre.
It's often called the greatest thriller in American theater. Maybe. It does have one of the most electrifying scenes ever created for the stage (pun intended). At its heart is a blind woman in jeopardy. Jacqueline aced the part, helped by two really evil villains (played by Steven Mastroieni and James Matz).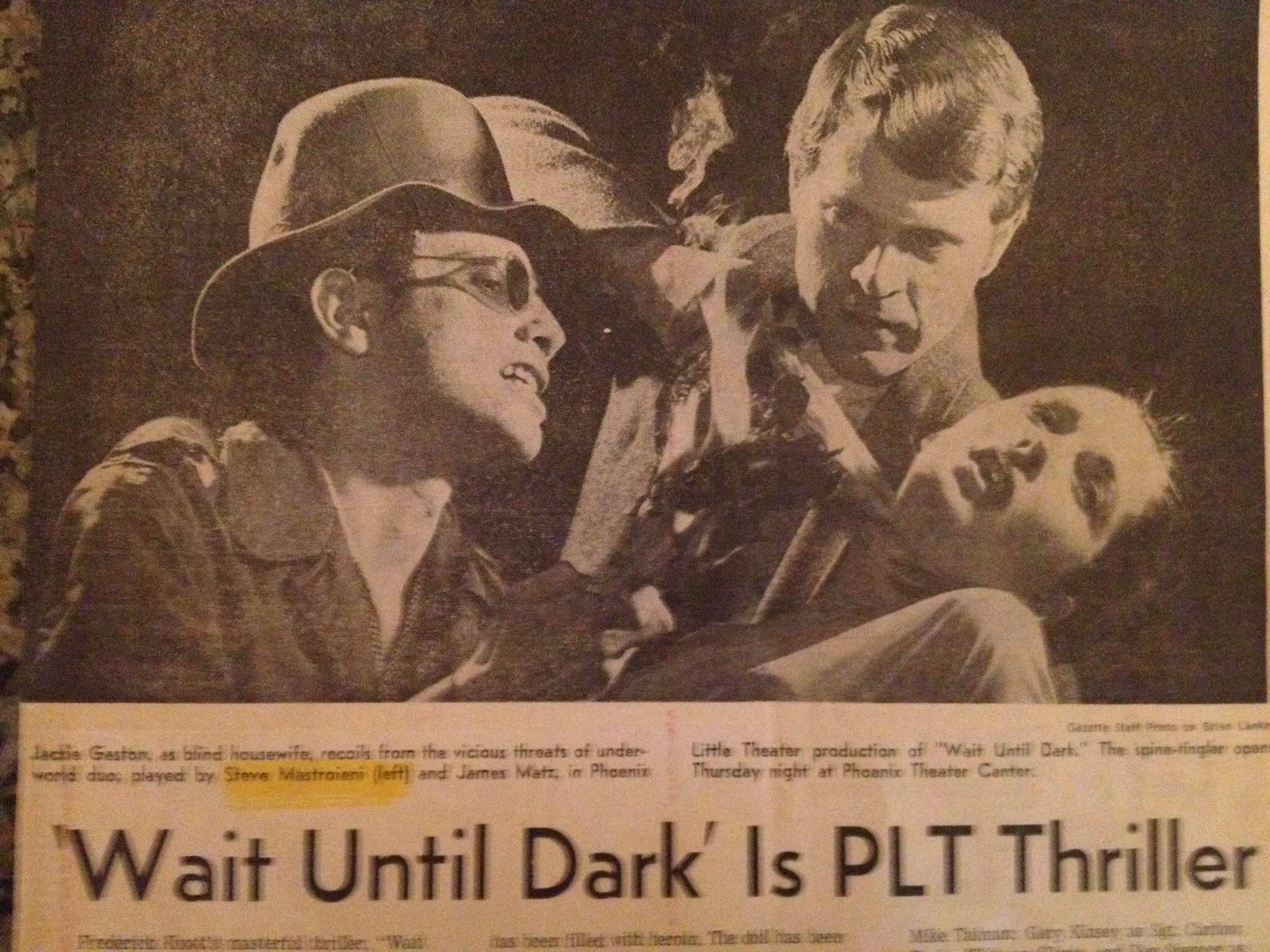 *****
AUGUST 1969. "He Done Her Wrong: Or Wedded But No Wife." Scottsdale Community Players. Director: Al Wyatt.
Jackie was one of a large cast in this melodrama that featured vaudeville-style acts as well as hissing and booing.
*****
MAY 1968 "Bus Stop" Director: Trudy Hurley.

Early in her career, Jacqueline became the protege of veteran director Trudy Hurley. Trudy steered her through a number of productions, including this well-received mounting of William Inge's comedy at Scottsdale's Stagebrush Theatre.
REVIEW by Nancy Bennett, The Arizona Republic, May 4, 1968
*****
OCTOBER 1968, "You Can't Take It With You."

Wish I had a better copy of this clipping from the Arizona Republic but here's want I have. At least it shows four talented actors: Jim Christopher, Jacqueline, Carol Tomas and F. Lincoln D. Holmes.
Many outstanding thespians have worked on Valley stages over the years. Holmes was one of them. Today, he is all but forgotten. But not by Jacqueline. He was the "dearest, sweetest man!," she says. "He personified the word 'gentleman.'"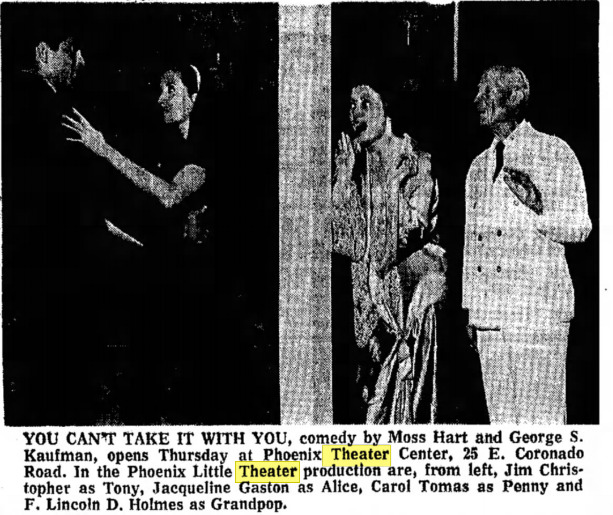 *****
DECEMBER 1967 "The Tinder Box." Phoenix Little Theatre.
In December 1967, Jacqueline was cast in a children's play at Phoenix Little Theatre. The Tinder Box was an adaptation by Nicholas Stuart Gray of the Hans Christian Andersen tale. Kit Carson, then a resident director at PLT, took the role of Mommet the Witch, a part originated by Peter O'Toole when he was a drama school student.  Joining Jacque in portraying cats and dogs, royalty and soldiers were Richard Alexander, Robin Milne, Roy Edward Sutherland, Nancy Johnson, Fred Reed, Jo Spencer, Danny Newton, Terry Lake, Barbara Stinson, Larry Fearneyhough, John Starkey and Kirwin Theriault.
*****
SEPTEMBER 1967 "Barefoot in the Park." Phoenix Little Theatre. Director: Olan K. Carson. Scenic Design by James Edmondson.
It's a rule of thumb that every actress with half a chop of comedy talent in her handbag will end up playing Corie, the young wife in Neil Simon's comedy. Jacqueline was no exception. She got her chance in PLT's '67 production. Donald Spencer was her husband, Audrey Kastensmith her mother and Ralph Norton the man upstairs. John Fife repaired the phones but F. Lincoln D. Holmes, who had co-starred with Jacqueline in PLT's You Can't Take It With You, stole the show as the Bloomingdale's delivery guy who collapses after climbing the stairs to the couple's apartment.
*****
JANUARY 1965 "A Far Country." Scottsdale Community Players. Director: Trudy Hurley
Jacqueline was Elizabeth von Ritter in this production of Henry Denker's story of a young Sigmund Freud caught up in battles against antisemitism and the prejudice against psychiatry. It was directed by her mentor Trudy Hurley and co-starred Burke Rhind, one of the most popular local actors of the time.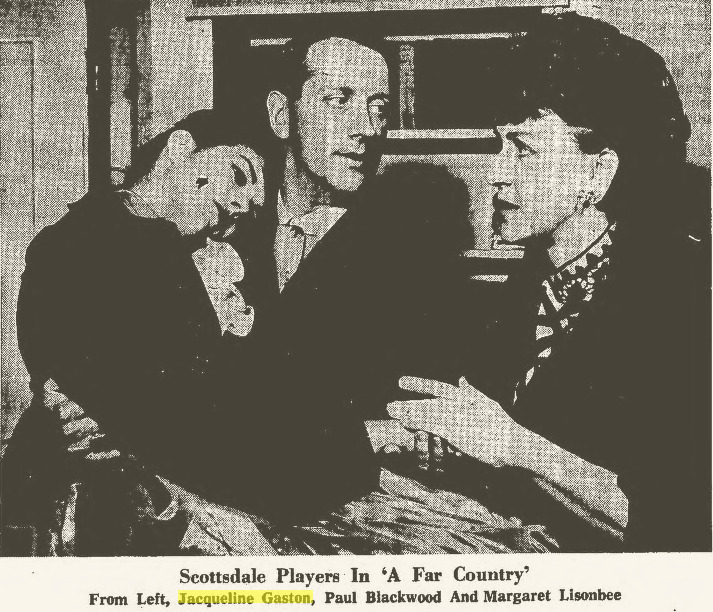 *****
JUNE 1963 "Curse You, Jack Dalton" Apacheland
Jacque, who liked to try her hand at everything, took on hoary melodrama in this "curse you, you dirty villain" tale for a new company formed by Michael and Anita Bryon along with a group of ASU students.  It was staged at Apacheland, one of several old West "towns," most notably, Rawhide, that have provided work to local actors. Along for the fun was James Seeman (billed as "Jim" here), who became one of the Valley's top directors.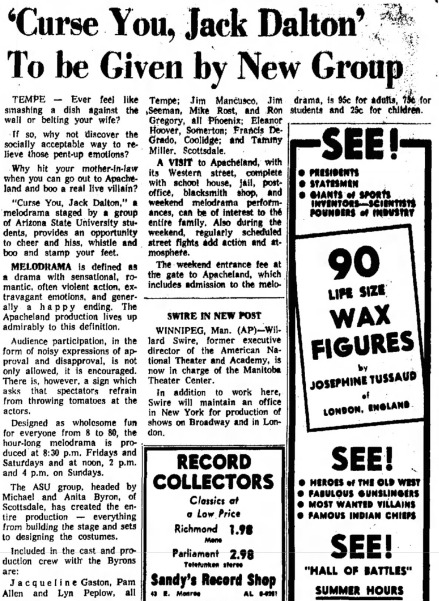 *****
JANUARY 1961 "The Happiest Millionaire" Phoenix Little Theatre.
Although Jacque was regarded as a purveyor of serious drama and comedy, she occasionally ventured into musicals. One of the better ones was Phoenix Little Theater's The Happiest Millionaire, again under the direction of her mentor, Trudy Hurley.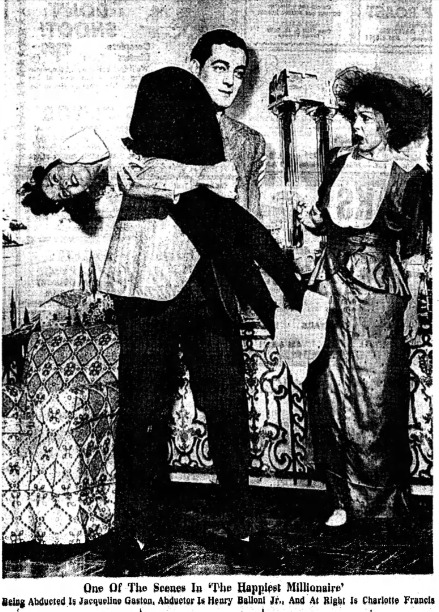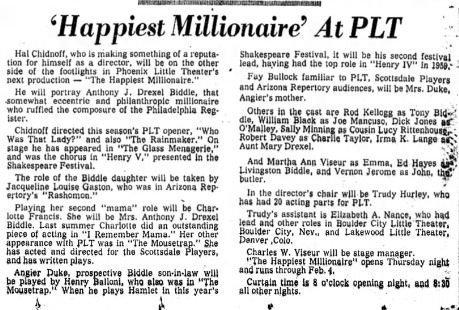 *****
APRIL 1961. "Royal Gambit." Scottsdale Community Players.
You might say this was a strange play. A tale of Henry VIII and his six wives, Henry remained in Renaissance regalia throughout the play, but his mates progressed from Tudor days to the present in their costumes. Jacqueline was Kathryn Howard in the list of those Henry bedded and beheaded (well, some of them, anyway).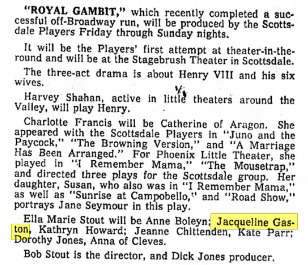 *****
1960. "Roshomon." Arizona Repertory Theatre. Cast: Jacqueline Gaston.
"It was the most prestigious theater in the Valley then. I was awed to be in the presence of the best."  — Jacqueline Gaston.
*****
1959 'Highly Talented' Woman gets her start in college

November 14, 1959 Clipping from the Arizona Daily Sun, Flagstaff.

*****
1955. "Mr Barry's Etchings." Scottsdale High School.
All I know about this is that it was Jacque's second appearance on stage. The first was "Meet A Body," also at the high school.
*****
YEAR UNKNOWN. "Forty Carats." CopperState Players at Max's.
Haven't been able to attach a date to this one, but it was a fine opportunity for Jacqueline and David Weiss to show why they were among the Valley's most appealing – and sexy – actors.