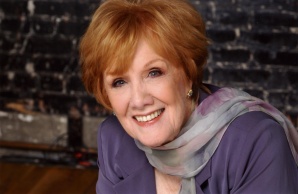 Marni Nixon was a frequent visitor to Arizona, including this national tour of My Fair Lady, which played Gammage Auditorium.
Below is my interview that appeared in the Arizona Republic in 2008.
By KYLE LAWSON
Movie buffs rejoice. One of your favorite people is coming to ASU Gammage in the touring production of My Fair Lady.
Not that younger filmgoers will necessarily recognize the actress playing Mrs. Higgins. After all, it's been a few years since The King and I, West Side Story and the film version of My Fair Lady dominated the cineplexes.
Wait, you say. The stars of those movies were Deborah Kerr, Natalie Wood and Audrey Hepburn.
They're dead.
Ah, but Marni Nixon is not. At 78, she's trouping the country in the Lerner and Loewe classic, performing eight shows a week, talking to reporters and generally having a high old time of it.
And maybe even a moment of deja vu.
Nixon was the singing voice of Kerr in 1956's The King and I and 1957's An Affair to Remember, Wood in 1961's West Side Story and Hepburn in 1964's My Fair Lady.
She also sang for Margaret O'Brien (in 1949's The Secret Garden) and Marilyn Monroe (the top notes in Diamonds Are a Girl's Best Friend from 1953's Gentlemen Prefer Blondes). She also provided the voices of the angels that Ingrid Bergman heard in 1948's Joan of Arc, was one of the trio of geese in 1964's Mary Poppins and did the vocals for Grandmother Fa in Disney's 1998 full-length cartoon feature, Mulan.
Don't look for her credits at the end of the films. She didn't get any (though she did snag one decent film role, Sister Sophia in The Sound of Music). The studios didn't want the public to know their stars were less than proficient in the vocal department. Her only satisfaction came when audiences sighed with pleasure as Hepburn mouthed the ecstatic finale to My Fair Lady's "I Could Have Danced All Night."
It was late afternoon when Nixon answered the phone in the production manager's office at the Toronto Centre for the Arts in Canada. Her initial remarks made it obvious that she was anxious to get to Arizona, where she has appeared on numerous occasions.
"I love your state," said the mother of singer-songwriter Andrew Gold (Thank You for Being a Friend).
In just a hour or two, Nixon would be standing in the wings, watching Lisa O'Hare singing Wouldn't It Be Loverly? and, later in the evening, she would share the stage with O'Hare in the legendary Ascot number and the conservatory scene where Henry Higgins, the musical's misanthropic hero, gets his comeuppance.
Question: Does it seem a little odd to hear someone else singing Eliza? After all, you not only sang those songs in the film but, later, you played Eliza on the stage.
Answer. In the beginning, I think so. It was a little bit like seeing two sides of myself.
Q: And now Henry is your son, not the object of your affections.
A: Oh, I'm still affectionate toward him. Mrs. Higgins is a very intelligent woman who realizes that it is her own sense of perfectionism that got Henry into his muddle and now she wants to get him out. She sees Eliza as the best opportunity for that, and she's grateful. She wants both of them to be happy.
Q: You've been quoted as saying that working with Audrey Hepburn on the film of My Fair Lady was one of the most enjoyable experiences of your life. Was that regal image she projected the real Audrey?
A: In every way. She was very professional about having me on the set. She wanted only what was best for the film. It was interesting because neither of us knew how much of her vocals would be used and how much of mine. Of course, she wanted to do as much of it as she could. She would give a big sigh and say "I could do that better" and go back to the recording studio. She never complained though, at least not to me, when they decided to use my voice. Wouldn't It Be Loverly?, for example, was actually filmed using her tracks but, after the filming ended, it was decided to bring me back. I put on a set of earphones and redubbed the scene.
Q: Deborah Kerr also had a reputation for being a generous person.
A: And, again, it was true. I probably worked closer with her than anyone I dubbed. We would rehearse about a week on each song. We'd sing the numbers side by side; she would take nuances and expressions from me that helped her perform on screen, while I gained an insight into her character's emotions that enriched my vocals. It was a delightful experience.
Q: What about Natalie Wood?
A: West Side Story was different in that the studio didn't want to let Natalie know that I would be doing the vocals. We never rehearsed together and the filming was done entirely to her tracks. I would hang around and listen to her work sessions, then come back later and put on the earphones and get to work.
Q: The studios were serious about keeping you in the background, weren't they?
A: Indeed they were. I was sworn to secrecy. They even threatened me. One executive said, "If anyone finds out, I'll see to it that you don't work again." I was scared to death. I was raising my kids and I needed the money. But at the same time, a part of me said, "This is silly. The whole orchestra knows that it's me. There's no way this will stay a secret."
Q: And it didn't. Once the movies were released on video, you were fully credited.
A: They made a mountain out of a molehill. In the end, everyone knew.