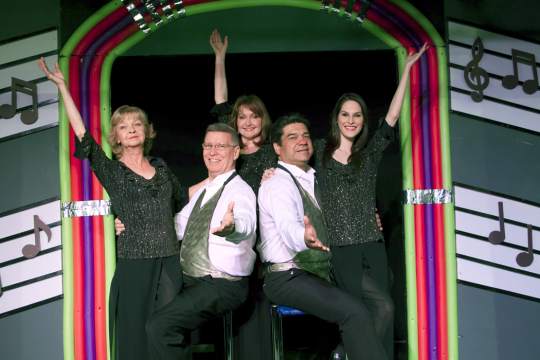 A CRITIC REMINISCES
Lauren Bacall, the short version.
Well, I'm sorry – but anyone who has heard this delightful actress, singer and dancer deliver a line, is going to think of Bogey's Baby. She's not as tall, but she's just as willowy and possesses a vocal instrument that can be called husky but is best described as a whiskey sour.
Her dancing? That's a bit harder to capture in print. Try a little Bob Fosse, leavened by a smidge of Jerome Robbins, touched around the edges by Agnes deMille and, oh hell, throw in some Gene Kelly and Ann Miller. Let's cut to the chase. No one dances like Noel. She's unique. And, if she's not dancing, there are few styles she can't choreograph. Laplander folk dances, maybe. Actually, I'm not too sure about that.
The first review I wrote as a Valley critic included Noel, even then making herself felt in musicals at the French Quarter Dinner Theatre at the Safari Hotel in Scottsdale. I have lost count of how many reviews followed that one. She is rarely off stage.
I've always suspected Noel would be quite good as a purveyor of serious drama but who's going to cast her as Desdemona when they can turn her loose on a comedy script and be rewarded with the sound of audiences falling out of their seats from laughing so hard?
She's a pint-sized dynamo when it comes to delivering quips and punch lines. And let me be blunt, no one, no one ever in Phoenix in my memory, does a better drunk. She rolls her eyes, throws her arms out and – hey, it's priceless.
I know its not fashionable, or politically correct, to use the word helpmate to describe a woman.  Can't avoid it with Noel. She's been the right hand (and frequently the left, and maybe a foot here and there) of her husband, actor/producer/director (or as I once called him, "hyphenate king") Peter J. Hill.
She's acted for him, she's choreographed for him, I suspect she's even cleaned the theater's toilets for him. When Peter was managing director at Phoenix Little Theater, artistic producing director for CopperState Players and, now, managing artistic director of Fountain Hills Theatre, she has been there for whatever he needs.
It must be satisfying work, for you seldom see Noel without a smile.
Kind of like her audiences.
A FACEBOOK ENTRY FROM NOEL DATED AUG. 21, 2014
I just realized that a lot, or most of the theater folk don't know how long I've been kicking around. My first show in Phx was "South Pacific" at the Sombrero Theatre. ( not sure what year, too long ago) from there I went on to play at Phx. Little Theatre, Stagebrush Theater, Theater Works, Glendale Parks and rec Summer Theater, A La Carte Players, a dinner theater at the French Quater in The old Safari Hotel in Scottsdale, Valley Youth Theatre, several high schools, Copperstate Dinner Theater and of course Fountain Hills Theatre and I've worked with Tempe. Little Theater (when they were still producing) and in the past couple of years I got to work with Mesa Encore Theatre. Can you guess…I really love theater…lots.
P.S. Getting ready to choreograph "Oliver" for Mesa Encore and finishing up "Cats" for FHT. Also doing "Peter Pan and Wendy" for FountainHills Youth Theater. God I love this stuff. I may whine and moan on occasion (ok sometimes a lot) but I wouldn't know what to do with myself……I figure that when I can't dance or perform anymore I want to be a Walmart greeter when i grow up
PHOTOGRAPHS, REVIEWS & THE KITCHEN SINK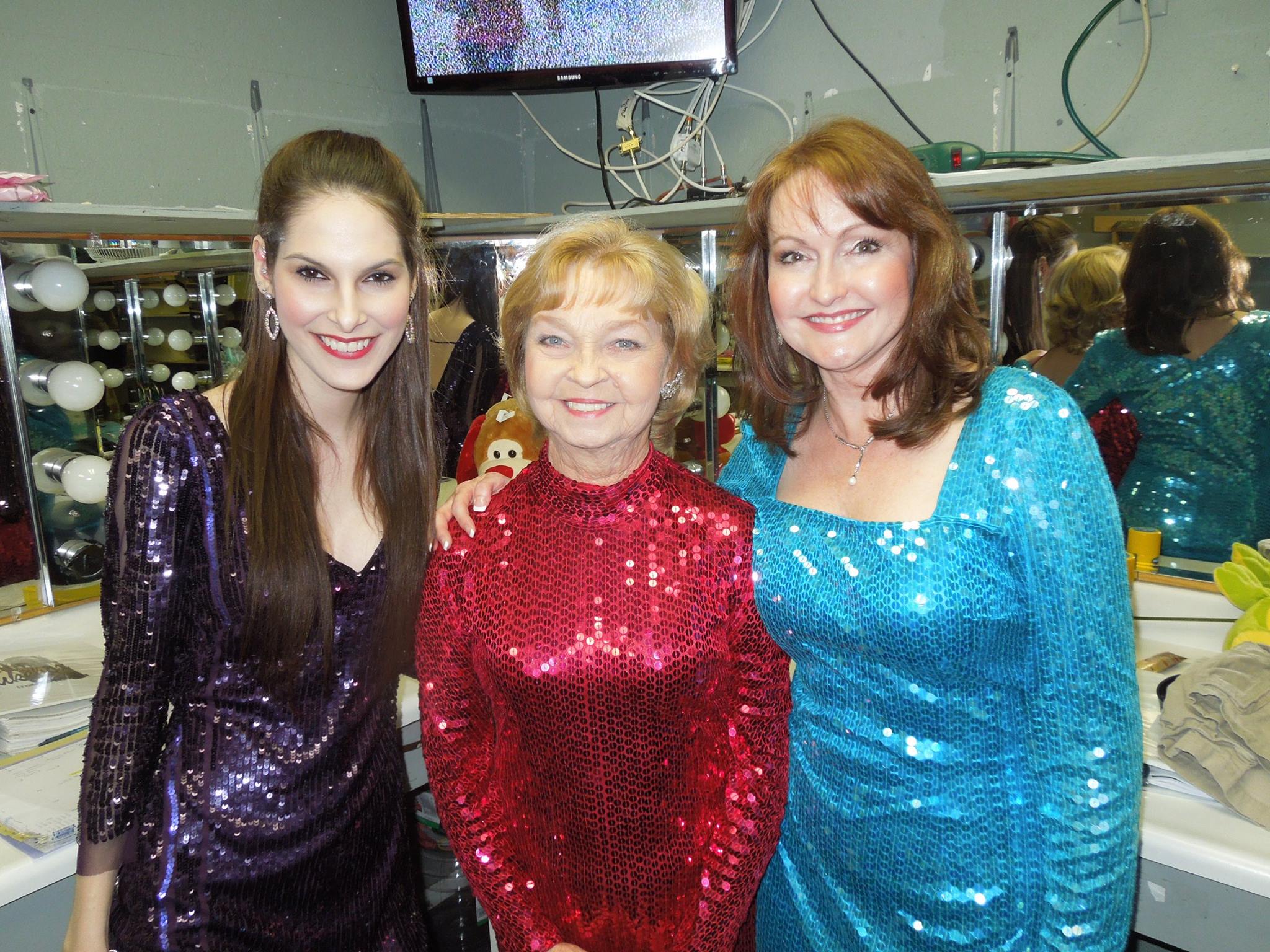 1980 (?) "Destry Rides Again." Phoenix Little Theatre. Choreography: Noel Irick.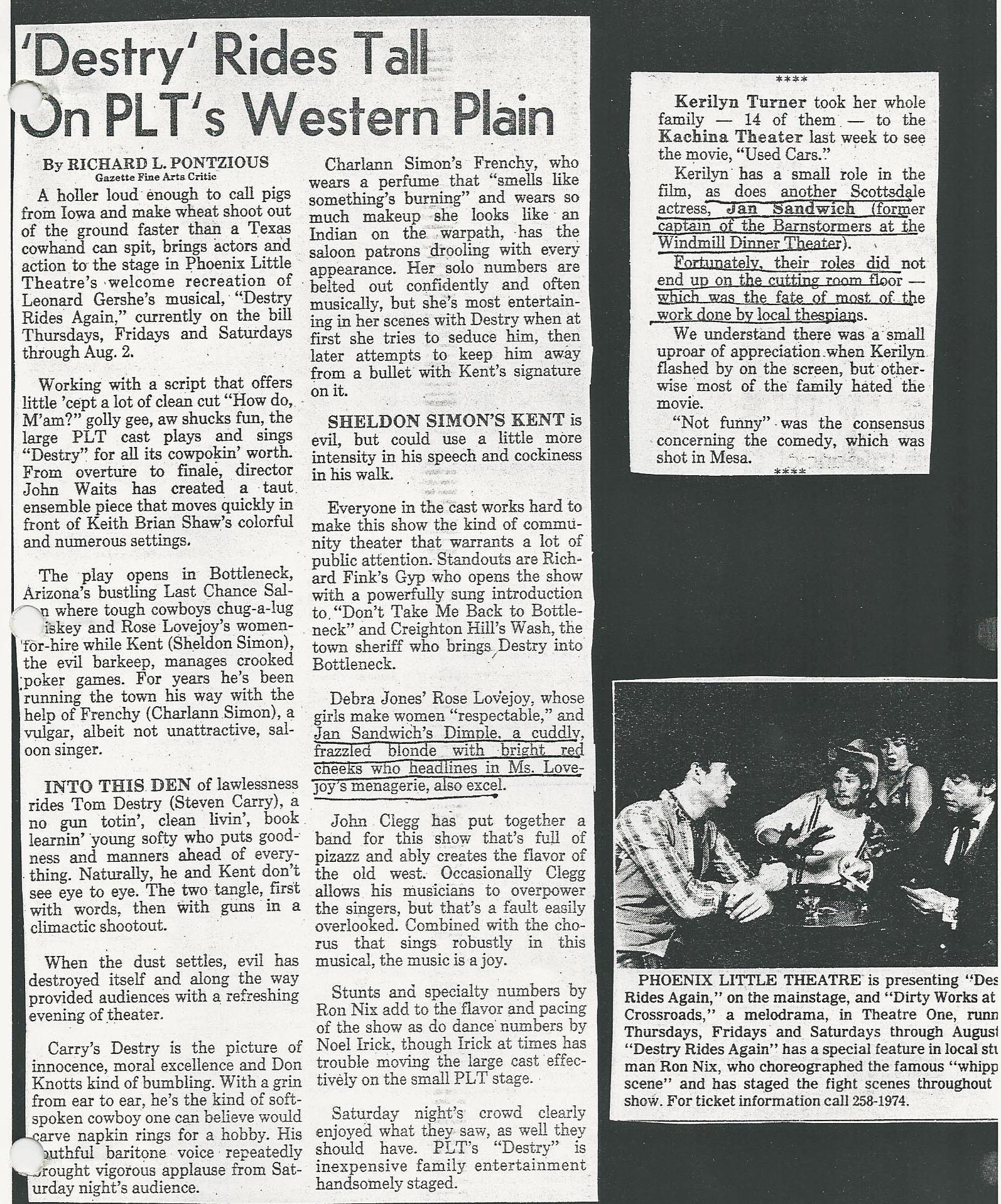 *****
1978 "Brigadoon," Scottsdale Community Players. Director: Kyle Lawson. Choreographer: Lesley Collis. Music Director: Joshua Missal. Cast: Richard Fink, Marlene Saens, Paty Lombard, Jerry Hansen, Noel Irick, Larry Collis, Sheldon Simon, Hillary Hirsch, Mark Henle, Margie Ghigo, Jim Servis.
*****
JULY 1977. "Under the Yum Yum Tree." French Quarter Dinner Theatre, Safari Hotel, Scottsdale. Cast: Jim Servis, Jacqueline Gaston, Noel Irick, Bill Estes.
REVIEW by Kyle Lawson, Scottsdale Daily Progress, July 15, 1977. (Note: This is the first review I wrote as a critic of Valley theater.)
*****
CLIPPING from the Scottsdale Daily Progress, Dec. 30, 1977. Director: Ray Cavaleri. Cast: Noel Irick, Anne Peck, Anne Healey, Carolyn Pain, Margie Ghigo, Craig Loucks, Eric Gillette, Barry Garber.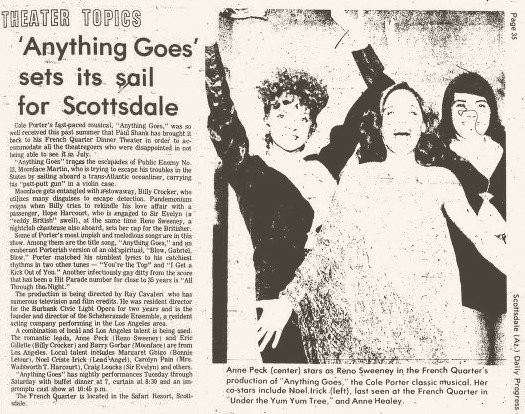 *****
JANUARY 1977. "South Pacific." French Quarter Dinner Theatre at the Safari Hotel, Scottsdale. Director: Larry Liff. Choreography: E. Carolyn Liff. Cast: John Clegg, Cecilia Allen, Sylvia Godfrey, Noel Irick, John C. Dahl, Chuck Walker, David Thompson, Margie Ghigo, Carol Ann Sattenspiel, Randy Post.