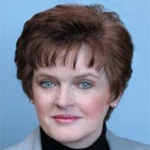 PLEASE HELP
This page is in development. I would be grateful if you would share any memories, anecdotes, photographs or other memorabilia. Please use the button at top right to contact me and I will give you the details on sharing. Thank you, Kyle Lawson, page manager. (PS: It would help if you could provide the IDs of those pictured, the name of the production, the year, the company and the photographer credit. If you know them, that is.)
BIOGRAPHY
Patricia Kennedy joined the Department of Theatre and Drama at Indiana University (Bloomington) as Arts Administrator in July 2008. She was actively engaged in strategic business, marketing and development planning throughout her career, and was a passionate advocate for arts education and its connection to academic achievement and personal development.
Pat's experience in theatre administration included positions at the Springer Opera House (Managing Director – Columbus GA); Theatre League (Western Regional Manager, General Manager, Producer – Kansas City MO); Phoenix Theatre (Managing Director – Phoenix AZ), Musical Theatre of Arizona (Associate Producer – Phoenix AZ) and Gabriel's Dinner Theatre (Producing Artistic Director – Denver CO).
On behalf of employers, clients, and as a volunteer, she has written successful grants and bond initiatives, coordinated and scripted fundraisers, and served as political advocate. She served on the Phoenix Arts and Culture Commission, the Downtown Council of Kansas City, and as a peer review consultant for the Arizona Commission on the Arts.
As an independent consultant, Pat provided marketing, development, and custom crafted entertainment services to not for profit organizations, and presented keynote speeches and seminars throughout the nation and Canada on management, marketing, and graphic design. Among her contributions, she spoke to case workers from the Georgia Department of Labor on "The Gift of Laughter."
Pat helped found the Arizona chapter of Actors" Equity Association, and performed in or directed more than 100 productions in Phoenix, Denver, Chicago, and New York. Her favorite performances included Nunsense (Mother Superior), The Rivals (Mrs. Malaprop), Hello Dolly (Dolly Levi), and Sweeney Todd (Mrs. Lovett) for which she received the Colorado Critic's Choice Award. In 2005, she produced the first non-Disney national tour of Elton John and Tim Rice's AIDA for Theatre League.
PHOTOGRAPHS, REVIEWS & THE KITCHEN SINK
JULY 1992, "Nunsense," Theater League. Cast: Patricia Kennedy.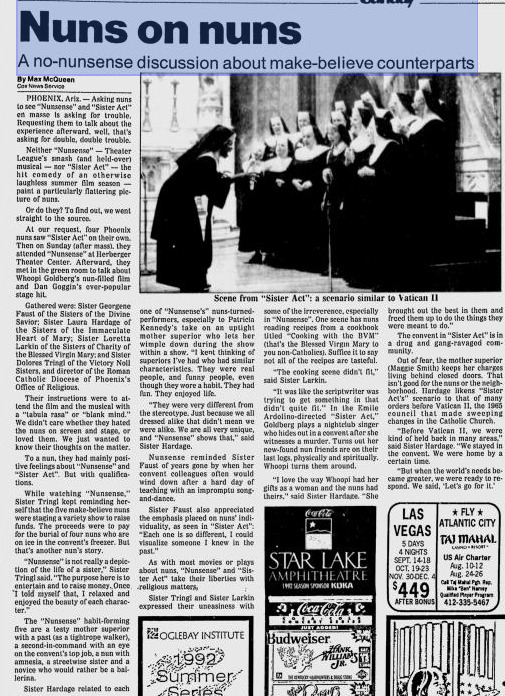 SEPTEMBER 1976. "The Pajama Game." Cast: Marlene Saens, Joe Mahar, Patricia Kennedy. Choreography: Suzanne LaRousch. Review: Sept. 24, 1976, by Paul Perry, Scottsdale Daily Progress.
ARTS ADMINISTRATOR
Degree in Theatre Management – University Without Walls – Loretto Heights College -Denver, Colorado
Undergraduate Studies – English and Theater – Arizona State University. Business Operations – Lamson Business College.