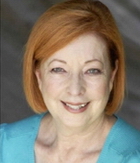 Skye has performed in theaters throughout the Valley, including Theatre Artists Studio, Fountain Hills Theatre, Don Bluth Front Row Theatre, Theater Works, Space 55, Ghostlight Theatre, Desert Stages, Arizona Women's Theatre Company, Matlin Studio for the Arts, Chryo's Voice Theatre and Central Community Theater.
She has also appeared in productions for the Improbable Theatre Company, New Carpa Theater, New Edge Play Festival, MasterPeace Productions and Tempest Productions.
Skye has been behind the scenes as stage manager, crew, lighting and sound tech Theatre Artists Studio. She has also acted in student films.
PHOTOGRAPHS, REVIEWS & THE KITCHEN SINK
2014. Barking at Butterflies. Playwright: Joe Bardin. Cast included Skye Ayers.