Actors Inner Circle was founded just in time for the 1966-67 season. The leaders of the new company included some of the most important theatrical personages of the day, including Mel Weiser, who served as resident artistic director; Michael Byron, who both produced and acted for the company, and Burke Rhind, who performed as an actor and handled the public relations.
Others involved were Byron's wife, Anita, a prominent actress, and a young couple, Nick Nolte and Sheila Paige. (Nolte, of course, would go on to achieve fame as a film star. In 1966, he also would marry  Paige, who had two young children from a previous union. It was one of the Valley's great theatrical romances but it was not destined for longevity. The couple divorced in 1970, their parting coinciding with the demise of AIC. Nolte would also figure in another local love story. When his best friend, actor Jim Matz, fell in love with and married actress Angela Giron, Nick was their best man.)
The company got off to a rousing start, producing four plays during its first season, including Harold Pinter's "The Caretaker," Sophocles' "Antigone," Arthur Miller's "After the Fall" and Jean Anouilh's "The Waltz of the Toreadors."
It was an uncertain time in Phoenix theater history, but AIC's quartet were moneymakers. Surprisingly, they achieved that distinction almost entirely through box-office revenues. Instead of seeking out funding from local government or large donors, the troupe relied on the quality of the work to attract audiences and build anticipation for the next play.
Ironically, that method worked so well that the Arizona Commission on the Arts and Humanities, wanting to be part of a going concern, came knocking on AIC's door, offering its support.
The second season was even more impressive. Through personal contacts with playwright Peter Shaffer, AIC was able to secure the rights to stage "The Royal Hunt of the Sun," a lavish rendition of the Spanish conquest of Central America.
It was one of the first regional theaters in America to be granted production rights by Shaffer, who demanded high standards from anyone who wanted to do one of his plays.
With more than 50 cast members, "Sun" entered the record books as the largest production to play on a Phoenix stage since the turn of the century.
The Arizona Republic announced that "Sun" would be followed by Ionesco's "Rhinoceros," Friedrich Dürrenmatt's "The Physicists" and the breezy comedy, "Ready When You Are, C.B."  But according to an article in the July 17, 1967 Scottsdale Progress, the followup season was "The Physicists," "Ready When You Are, C.B.," and Tennessee Williams' "Orpheus Descending."
The Progress got it right, but, either way, Weiser's selection of shows was consistent with the company's policy of bringing the world's theatrical masterpieces to Phoenix in fully-staged professional productions.
In addition to those already mentioned, the company fielded a staff of highly qualified professionals backstage. Paul Estes signed on as resident scenic designer, Gene Smith handled the makeup, Margaret O'Malley was costume designer, Teddy Giles the wardrobe mistress and Marge Ehlen the production coordinator.
Quite literally, this was the cream of the crop.
The company elected to present its plays at the Phoenix Theater Center at McDowell and Central, home of Phoenix Little Theatre, the city's oldest and best known theater company.
This made sense. Not only was the center one of the the city's best equipped theatrical venues, the association of its name with PLT could only enhance AIC's acceptance among local audiences.
Unfortunately, it was not a marriage made in heaven. There was friction between the companies, the public was often confused as to who was producing what and the continual increase in the cost of making theater led to a crisis of major proportions. (This was not helped in AIC's case when its productions, particularly "Requiem for a Nun," did not achieve the financial success of their predecessors.)
Phoenix Little Theatre had to approach the city for help. If it did not receive it, it would close. The city came to the rescue (see Phoenix Little Theatre's page under Companies for the story), but in the process, Actors Inner Circle was booted from the center. In 1970, the company closed for good.
Its reign may have been brief, but AIC left a lasting legacy. It is remembered as one of the Valley's most exciting experiments in professional theater in the second half of the 20th century, along with Arizona Repertory Theatre and Southwest Ensemble Theatre.
It wasn't until the arrival almost 30 years later of Arizona Theatre Company, Actors Lab Arizona, Actors Theatre of Phoenix and the rebirth of Phoenix Little Theatre as Phoenix Theatre that local theatergoers would see the like again.
LEADERSHIP AT ACTORS INNER CIRCLE

One of the better pieces written on the personalities involved with Actors Inner Circle was penned by playwright/Arizona State University professor Guillermo Reyes for the Dramatists Guild of America. It is reposted below with permission of the guild.
By Guillermo Reyes for the Dramatists Guild of America
"Nick Nolte!"
I jumped the gun with shamelessly blatant name dropping. Angela Giron, Mel Weiser and Joni Browne-Walders sit with me, and I jot down details about a past, when they helped to energize an almost nonexistent theater scene, in what was then a small cowpoke town in the desert, Phoenix, Arizona.
 "For me," Angela says, "it started when Mel Weiser came to my high school and offered us tickets to a play by Tennessee Williams, Orpheus Descending, which starred the then- unknown actor, Nick Nolte."
Mel was founder and artistic director of a local acting company called Actors Inner Circle (1966-1970). Angela accepted a ticket and attended her first professional stage production. This was in 1968, and she could not have imagined that it would lead her to a career in theater and film. She answered a casting call for extras in a film called Chastity (1969), which starred Cher, and was produced by the pop star's husband, Sonny Bono. There, she met another local actor, Jim Matz, who was Nolte's best friend. Not long after, she and Matz married, and Nolte was best man at their wedding.
But Actors Inner Circle shut down in 1970. The renowned MGM movie mogul Dore Schary – also a Tony-winning playwright – asked Weiser to produce his new play, Brightower, in Phoenix. Weiser suggested, instead, that the play go directly to New York. It did, and Weiser went with it. The actors involved in his AIC company, such as Matz and Nolte, migrated to a rival Phoenix troupe, the Southwest Ensemble Theater (SET).
Here is where playwright, publicist and former actress Joni Browne-Walders picks up the tale. She was co-founder of SET, which produced the world premiere of William Inge's The Last Pad, in which Nolte starred, with Joni and Matz in supporting roles. The show was so successful, it inspired a West Coast production. In 1973, the play opened at The Contempo Theatre (now the Geffen Playhouse) in Los Angeles, allowing Hollywood agents to take a first look at a cast of Phoenix actors.
Angela entered the L.A. foray. She rechristened herself Ali Giron and contributed her own chip to this Six-Degrees-of-Kevin Bacon game for a number of years, when she appeared not only with Bacon but with Gary Oldman, as his paralegal assistant, in Criminal Law (1988). She returned to Arizona eventually, where she finished her B.A. and MFA in the Theater Department of Arizona State University. It was at ASU that Angela ran into Joni again. This meeting produced a reconnection with Mel. Soon, Joni and Mel married, and shortly after, they co-authored a play about the Israel-Palestine conflict, in which two American Jewish brothers are torn by sharply differing views. It's called A Tiny Piece of Land, and it has been produced in Ashland, Oregon, Los Angeles, Toronto and at Phoenix Theater in Phoenix.
Meanwhile, Angela received a grant to attend a Cuban "Literary Havana" tour with author Tom Miller (Trading with the Enemy: A Yankee Travels Through Castro's Cuba, 2008.) Inspired by her travels with Miller, she began work on a one-woman show about the famous Cuban chef, the Julia Child of Cuba, Nitza Villapol.
Over the years, Nolte kept in touch with Weiser, even hiring him as his history researcher for the film Jefferson in Paris (1995), something Mel chronicled in his award-winning book, Nick Nolte: Caught in the Act (1999.)
And that is how it all connects and runs full circle: young people in the early days of Phoenix theater, who struggled together and are now playwrights, producers, directors, and, yes, even a famous movie star.
PHOTOGRAPHS, REVIEWS & THE KITCHEN SINK

ARIZONA REPUBLIC ARTICLE, JUNE 15, 1969, BY BINA BREITNER, DRAMA CRITIC
THE NY CRITICS REACT: Arizona Republic, February 1, 1970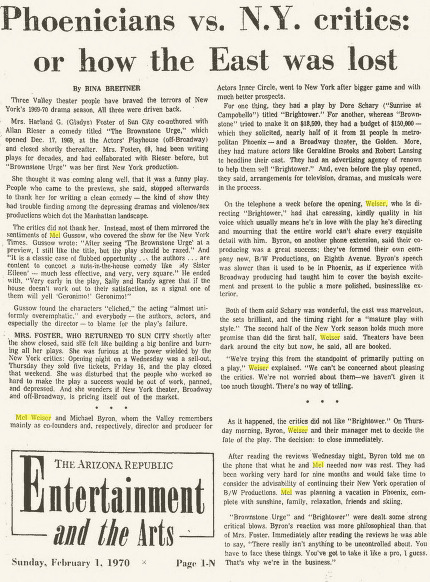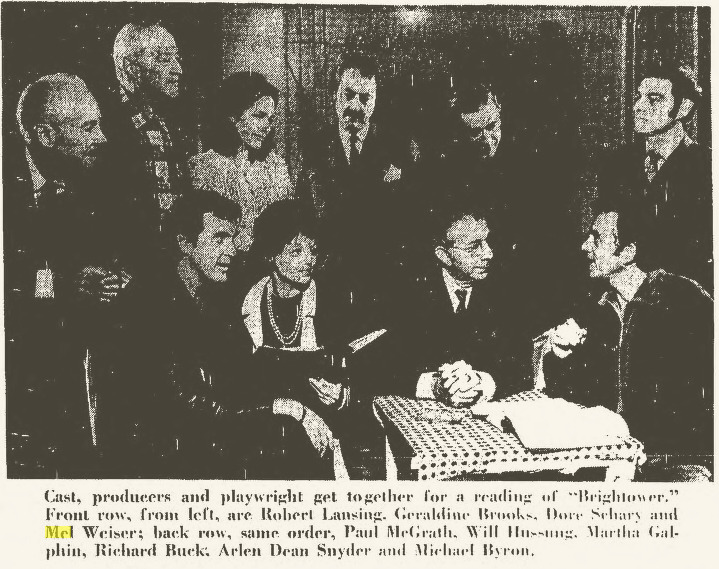 MAY 1969 
THE RAINMAKER 
Playwright: N. Richard Nash.
Director: Mel Weiser.
Producer: Michael Byron.
Set and Lighting Design: Stratton Powell.
Makeup Design: Gene Smith.
Cast: Sheila Paige, Nick Nolte, Phil Haynes, Dirk del Turco, Richard Alexander, Burke Rhind, Gene Smith.
Note: Sheila was Nick's first wife.
If you've wondered why Nick Nolte was considered such a stud in Valley theater circles – and among local audiences, at least the female ones – it was roles like this that set the image. Imagine the young Nick in tight jeans. Need we say more?  Well, we should. In spite of all the stories about his sexy presence (and behavior), Nolte was an accomplished actor who, once he started getting substantial parts, almost always received good reviews.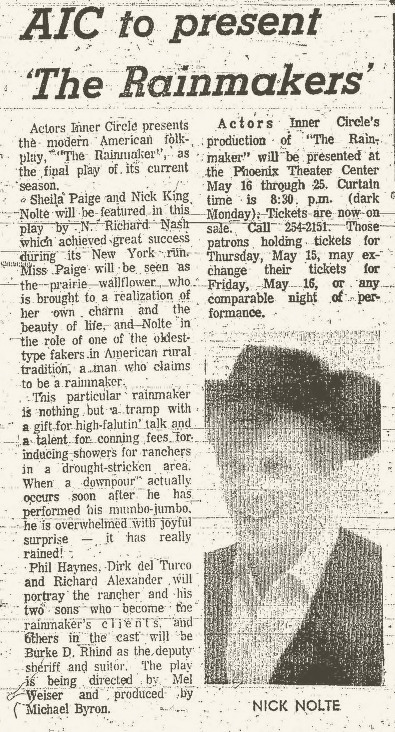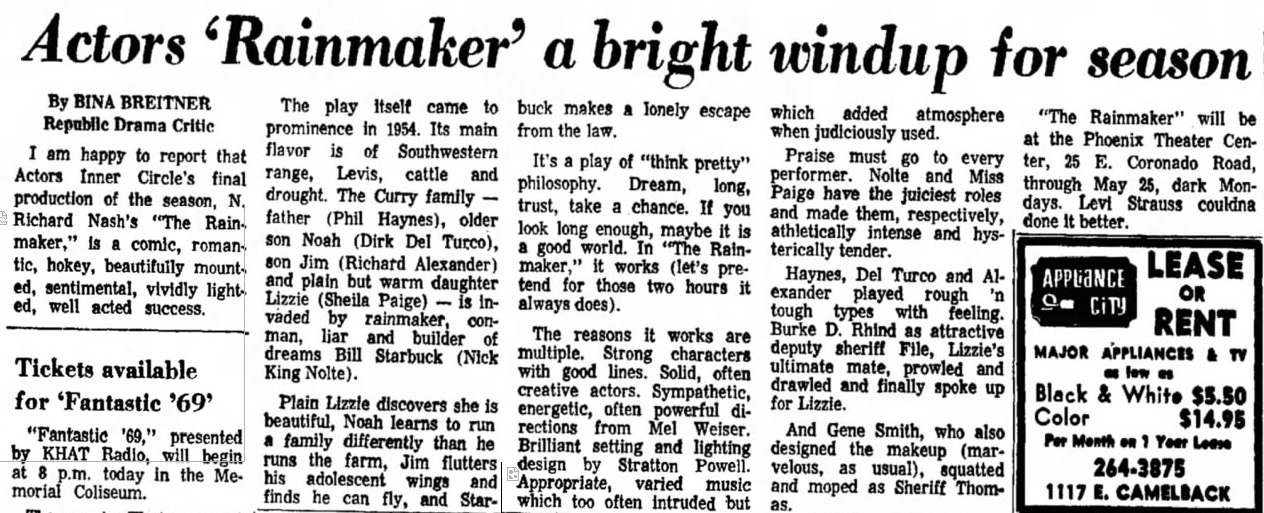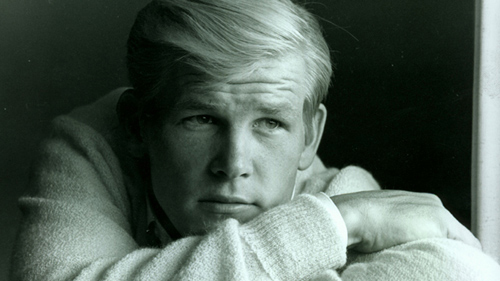 MARCH 1969 
THE FIREBUGS 
Playwright: Max Frisch.
Director: Mel Weiser.
Cast: Gene Smith, Diane Froese.
Notes: This dark comedy takes place in a town beset by arsonists, who con their way into homes and proceed to destroy them. Written as a metaphor for Nazism and Fascism, it shows how normal citizens can be taken in by evil. With its blend of surrealism and Greek choruses, it was hardly normal fare for Phoenix.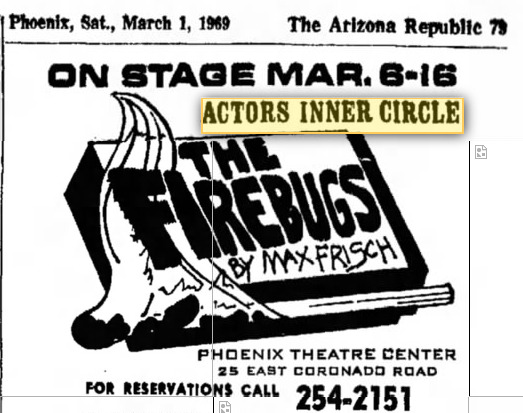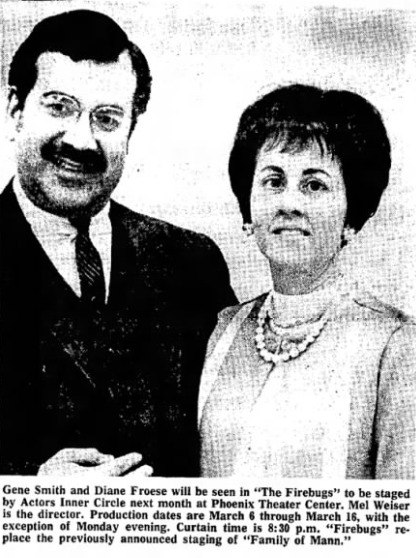 DECEMBER 1968
The Rose Tattoo
Playwright: Tennessee Williams.
Director: Mel Weiser.
Producer: Michael Byron.
Set and Lighting Design: Stratton Powell.
Costume Design: Teddy Giles.
Makeup Design: Gene Smith.
Cast: Anita Byron, Burke Rhind, Lynn Deratany, Nick Nolte (Billed as Nick King Nolte), Sheila Paige, Richard Alexander, Elfriede Silver, Michael Bryon, Shari Godley, Elaine Stein, Jan Murphy, Steve Celniker, Abby Celniker (Abbie Celniker), Dolly Hunt, Lori Stark, Flo Foreman (Florence Foreman), Gene Smith, Diane Froese, Richard Alro, Brenn Weiser, Isabelle Weiser.
AIC originally planned to produce John Whiting's "The Devils" in this slot, but switched to "The Rose Tattoo" because it cost half as much to produce. Two factors entered into that decision: An earlier production of "Requiem for a Nun" had not done well at the box-office and the Arizona Commission on the Arts and Humanities was no longer offering its support.
Nick Nolte, one of the big draws for the company, played the small role of a salesman in this one. He was billed as Nick King Nolte. At least one source jibed that Nolte was indulging in facetious word play, but, in truth, King was his middle name.
Once again, Anita Byron walked away with the reviews. The Republic's Bina Breitner said that she "and Stratton Powell's lighting and set are the keys to the show's undeniable success." Byron played Serafina, an Italian woman whose husband has a rose tattoo on his chest. When she conceives, the rose miraculously transfers itself to her chest. Apparently, not a good thing. Some serious tragedy followed (the husband and baby die). Breitner described Byron's performance as "round, pink, explosive, black-haired, loud, gentle and weepy by turns." She also found Rhind charming as a truck driver who courts the widowed Serafina but noted that his Italian accent came and went – but mostly went.  Breitner spent a substantial portion of her review praising Powell, whose work, she said "brings the production up to a professional level."
OCTOBER 1968 
"REQUIEM FOR A NUN"
Playwright: William Faulkner, adapted by Ruth Ford.
Director: Mel Weiser.
Producer: Michael Byron.
Set & Lighting Design: Stratton Powell.
Makeup Design: Gene Smith.
Cast: Sheila Paige, Nick Nolte, Gene Smith, Ann Alford Taylor, Robert Rosefsky, Richard Armstrong, John Graff, Robin Milne, Charles Young, Dolly Hunt, Flo Foreman (Florence Foreman), Diane Froese, Ray Wyatt, Ray McCready, Judy Chruma.
Notes: This is one of the few times when an AIC production failed to please the critics – or as it turned out – audiences. Sheila Paige, an actress who was generally beloved by all, was not reviewed well, nor was director Mel Weiser, another AIC personage who was used to better treatment. Nick Nolte, however, was praised, though his role was small; as was Gene Smith, an excellent actor whose work was often overshadowed by his brilliant makeup designs.
Review: Bina Breitner, Arizona Republic, June 15, 1969.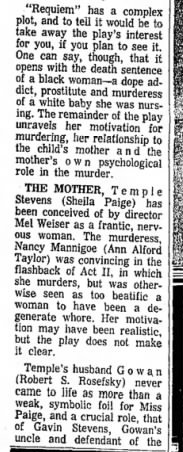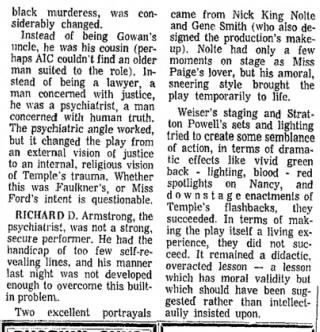 1968-69 SEASON
This was when AIC began its slow descent to closure. Faulkner's controversial "Requiem for a Nun" did not attract the number of patrons that AIC was used to seeing in the seats. In turn, this forced the substitution of Tennessee Williams' "The Rose Tattoo" for "The Devils," because it cost substantially less to produce. "The Family of Mann" was dropped from the lineup and "The Firebugs" moved up to replace it.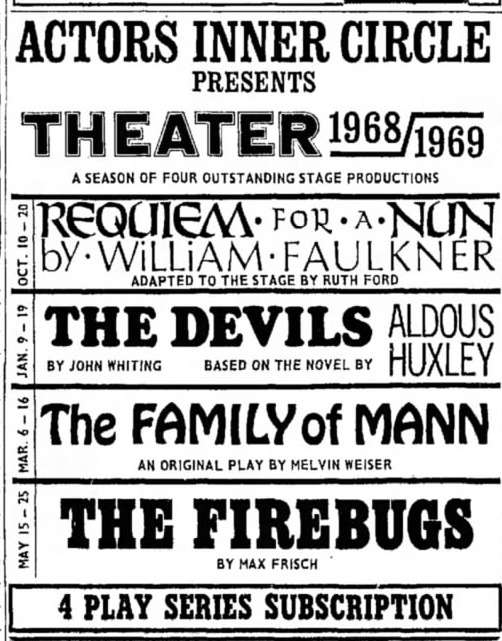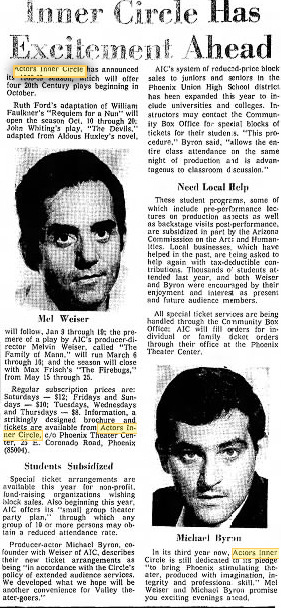 ARTICLE FROM THE ARIZONA REPUBLIC, OCT. 12, 1968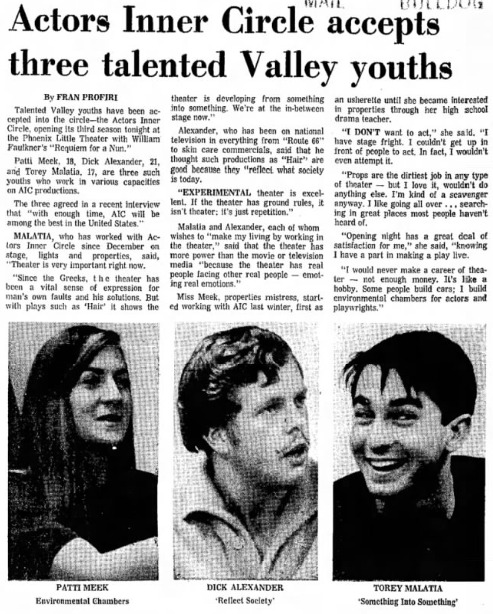 JUNE 1968 
"THE PHYSICISTS"
Playwright:

Friedrich Dürrenmatt

.
Director: Mel Weiser.
Set and Lighting Design: Paul Estes.
Cast: Mel Weiser, Nick Nolte, Michael Byron, Anita Byron, Shirley Fabricant, Gene Smith, Teddy Giles, Bob Gusick, Mary Mizell, John Sharkey, Isabelle Weiser, Judson Scott Lee, Kitty McCutchan, John Graff, Torey Malatla, Steve Ceinicker, Carl Mancini, Len Corte.
Notes: Friedrich Durrenmatt's chilling play involved the residents of a sanitarium who think they are Sir Isaac Newton, Albert Einstein and the recipient of messages from King Solomon.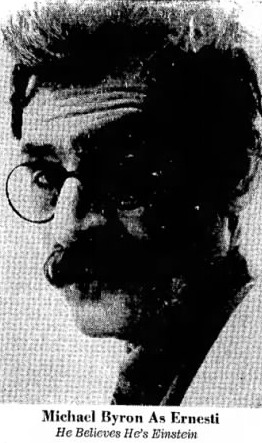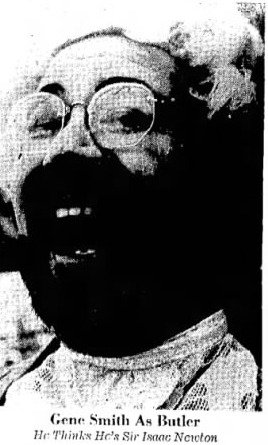 In late spring of 1968, Mel Weiser and Michael Bryon found themselves juggling their time between the AIC stage and film sets. Weiser was co-starring in Walt Disney's "The Feather Farm," a segment of NBC's Wonderful World of Color about ostrich ranchers in the early 1900s, while Michael was appearing in "The Riot," a Paramount film co-starring Gene Hackman, Jim Brown and Mike Kellin and filmed at Florence State Prison.  "The Feather Farm," whose best (and funniest scene) involves Weiser riding an ostrich, also featured several AIC actors, including Nick Nolte, Christine Coates, Tom Basham and Shirley Fabricant. Bryon was the only AIC talent cast in "The Riot." He played a prison psychologist.

1968 MARCH
"READY WHEN YOU ARE, C.B."
Playwright: Susan Slade.
Director: Mel Weiser.
Set and Lighting Design: Paul Estes.
Cast: Sheila Paige, Joan Silberschlag, Bill Estes, Ruth Stone, Anita Byron.
Notes: After several ventures into "high drama," AIC moved into light comedy with similarly successful results. Sheila Paige walked away with the acting honors for this one, while her company rival Anita Byron offered solid support. Prominent in the cast were Joan Silberschlag and Bill Estes, two gifted performers who would continue to beguile Phoenix audiences for many years.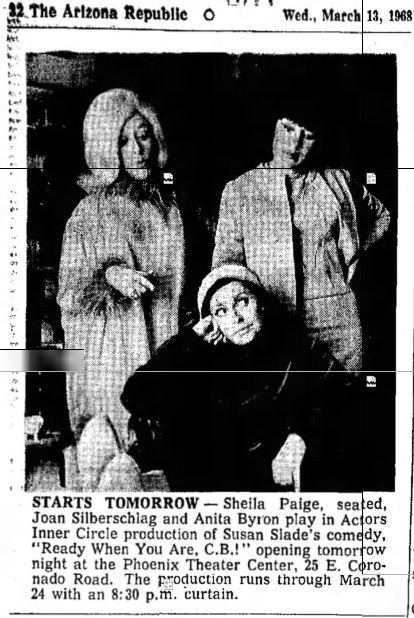 Review: Arizona Republic, March 15, 1968. By Nancy Bennett.

1968 JANUARY 
"ORPHEUS DESCENDING" 
Playwright: Tennessee Williams.
Director: Mel Weiser.
Producer: Michael Byron.
Set and Lighting Design: Paul Estes.
Sound Design: Ellie Rice.
Makeup: Gene Smith.
Cast:  Nick Nolte, Burke Rhind, Anita Byron, Bill Estes, Sheila Paige, Joan Silberschlag, Mary Mizell, Vee Talbott, Shirley Fabricant, Bambi Newland, Gene Smith, Carl Mancini, Irene Minter, Dolly Hunt, Jerre Paine, Alan Robrecht, Michael Bryon, Isabelle Weimer, Ted Apostole, Richard Alexander.
Notes: Nick Nolte received what may have been the best reviews of his Phoenix career for this controversial Tennessee Williams mix of religion and steamy sex, with the Republic's Bina Breitner calling him "flawless." Raves for Anita Byron and Sheila Paige also cemented their reputation as the Valley's preeminent young actresses. It was another in a string of almost unbroken critical successes for director Mel Weiser and, once again, Paul Estes proved to be the most exciting scenic designer in local theater.
Review: Arizona Republic, Jan. 13, 1968. By Bina Breitner.
JULY  10, 1967 BENEFIT FOR ACTORS INNER CIRCLE
 OCTOBER 1967 
THE ROYAL HUNT OF THE SUN 
Playwright: Peter Shaffer.
Cast: Robert L. Johnson, Gary Naylor, Michael Bryon, Richard Alexander, Burke Rhind, Bill Estes, Carl Mancini, Jim Matz (James Matz), Jim Sexton, John Scovern, Shep Weinstein, Paul Grothouse, Clyde Rohrig, Gene Smith, John Graff, Nick Nolte, Tom Basham, Earl Baldwin, Milt Charrow, George Raderstorf, Herb Taylor, Jerre Paine, Rodney Mitchell, Isabelle Weiser, Sheila Paige, Christine Coates, Bambi Newland, Carol Hobbs, Adrianne Wilson, Mike Mitchell, Dale Hobart, Paul Estes, Stan Goldberg, Dan Ochs, Verne Chambers.
Note: There were more than 50 actors, making it the largest cast to appear in a Phoenix play since the turn of the century.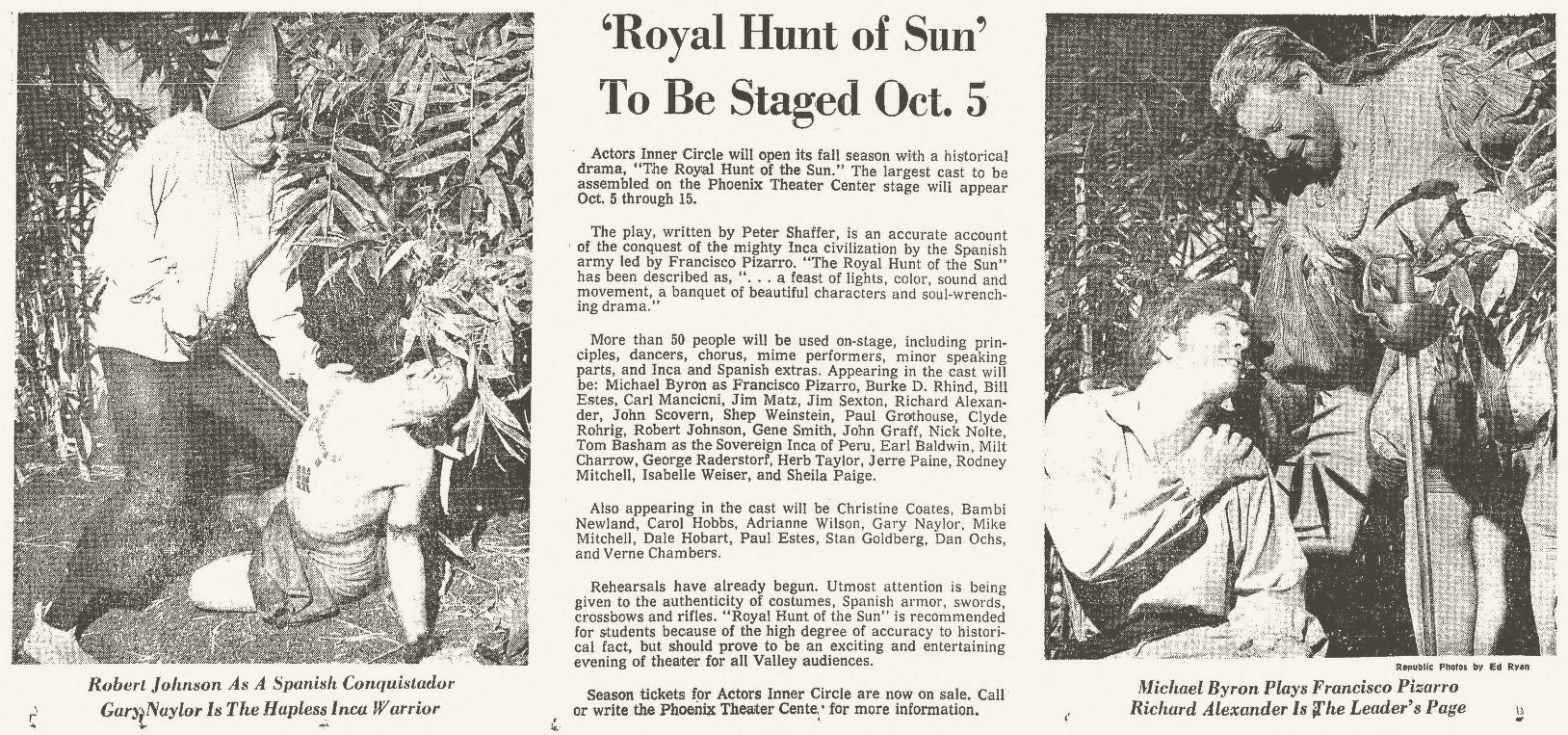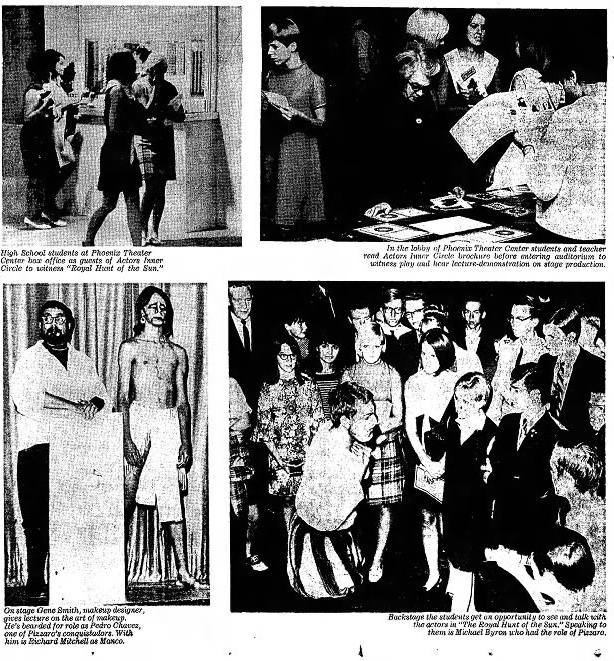 JUNE 19, 1967 ARIZONA REPUBLIC ARTICLE ON '67-'68 SEASON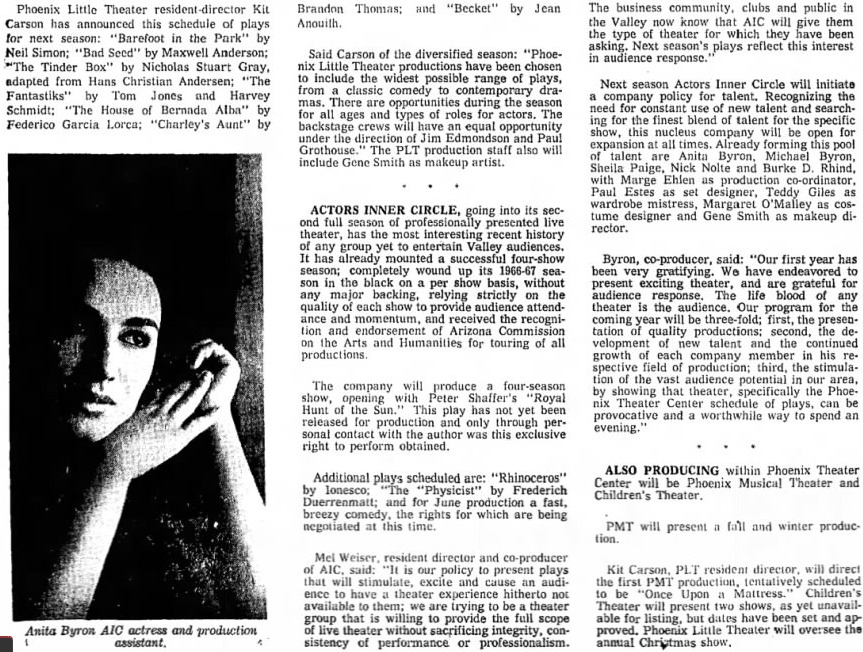 JUNE 1967
THE CARETAKER.
Playwright: Harold Pinter.
Director: Don Doyle.
Set Design: Paul Estes.
Lighting Design: Jim Edmundson.
Technical Directors: Paul Grothouse, Herb Taylor.
Cast: Nick Nolte, Burke Rhind, Michael Byron
Comments: Performed at Phoenix Little Theatre.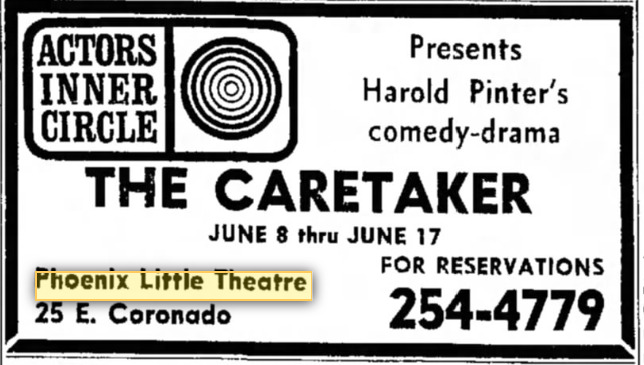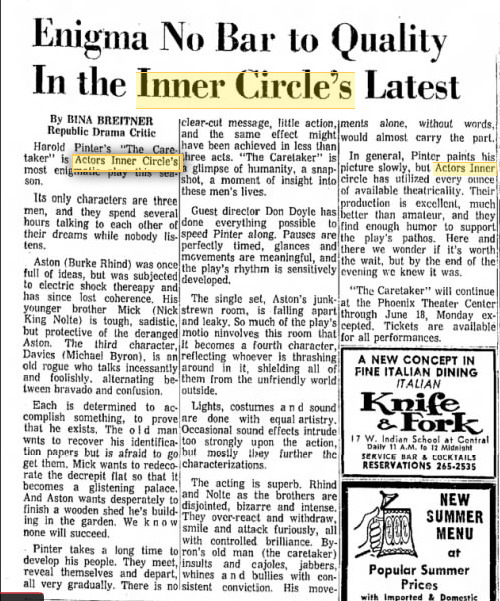 APRIL 9, 1967 ARIZONA REPUBLIC: AIC RECEIVES THE SUPPORT OF THE ARIZONA ARTS COMMISSION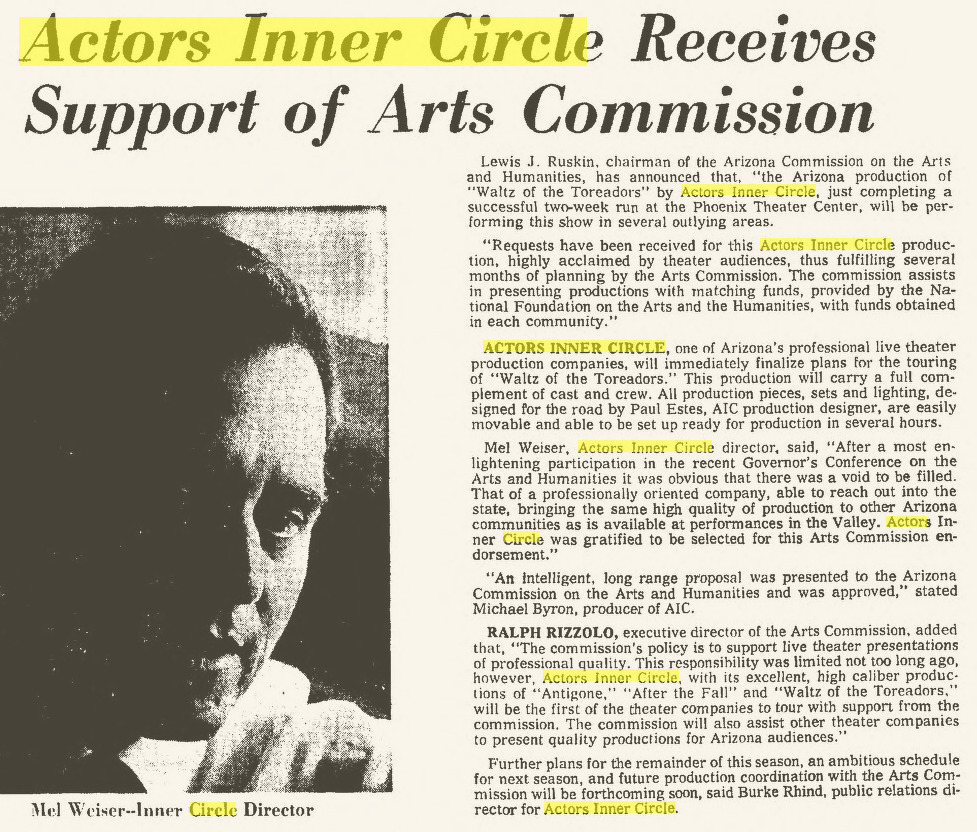 APRIL 1967
WALTZ OF THE TOREADORS
Playwright: Jean Anouilh.
Director: Mel Weiser.
Producer: Michael Byron.
Makeup Design: Gene Smith.
Cast: Carol Tomas, Anita Byron, Rita Ramsey, Carolyn Chriss, Bill Estes, Nick Nolte, Burke Rhind, Sherri Chessen, Jerre Paine, Sybil Davis.
Note: This production toured to Glendale Community College and Sedona.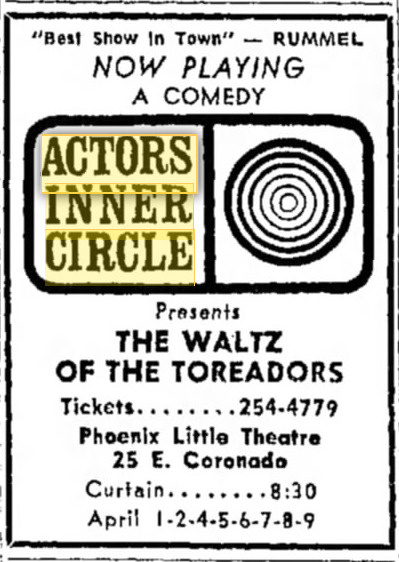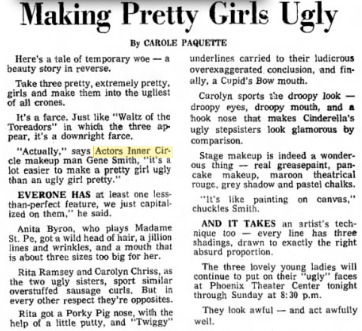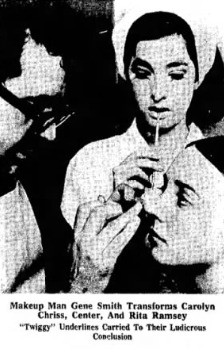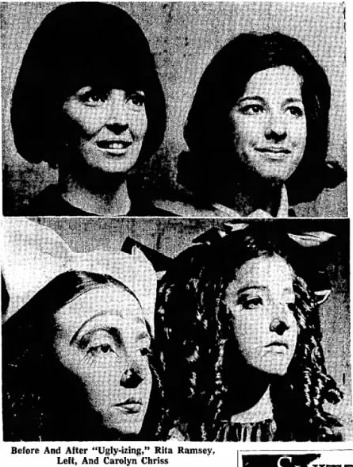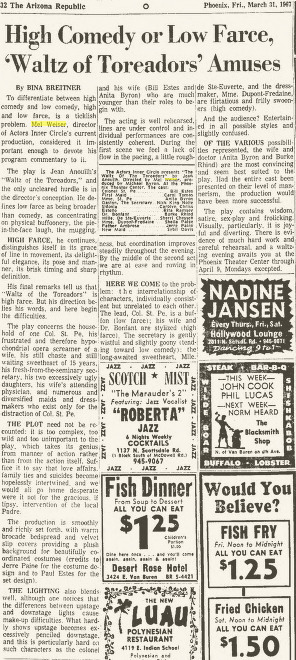 NOVEMBER 1966 
"AFTER THE FALL" 
Playwright: Arthur Miller.
Director: Mel Weiser.
Producer: Michael Byron.
Scenic Design: Mel Weiser and Jerry Weiss.