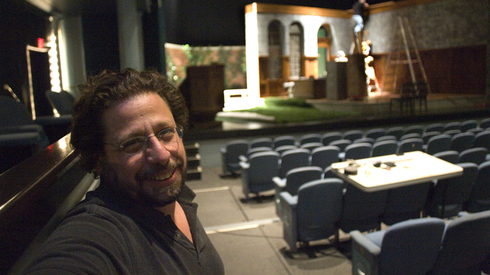 KYLE LAWSON REMINISCES
In 1985, I was only a theater critic per se. That was during my tenure as entertainment editor of the Phoenix Gazette and the bulk of the theater reviews were done by Anne Bendheim.
I still wrote about theater, though, so I was in on the birth of Actors Theatre of Phoenix, not only through Anne's eyes but my own. It has to rank of one of the best experiences of my career.
This was a period when professional companies were sparse on the ground here. The big gun was Arizona Theatre Company. There is a myth that local actors did not work there. Not true. I remember Kathy Fitzgerald, for one, giving a wonderful performance in Minor Demons.
But locals did not work there often, and Valley actors were feeling like orphans that no one wanted to adopt. Then some remarkable people – Carol McLeod, Judy Rollings, Glorianne Engle, Gerald Burgess – said, "OK, if they won't hire us, we will hire ourselves."
Actors Theater of Phoenix was born.
The company's early days were spent in a bank building in downtown Phoenix. You entered the theater space via a long corridor flanked on one side by flowing panels of fabric. Behind them were offices and dressing rooms. Occasionally, if the wind was in the right quarter, you caught a glimpse of actors in various states of undress. Very Judy and Mickey put on a show in the barn.
Inside? Well, I guess you could call it a black box theatre. The walls were painted black at any rate. The seats weren't very comfortable and the equipment could have been better.  The sets, though, were ingenious and the acting …
I have said it many times. Phoenix is second to NONE in its talent. True now, true then. Actors Theatre, because of its concept, attracted the best. Every night was an A-List event.
What I loved most about the company was that it not only gave actors work but it forced them out of their comfort zone. I remember one production in particular. Brendan Behan's The Hostage. Serious drama. In the cast were Bob Sorenson, known primarily as a comic, and Robyn Ferracane, labeled a musical comedy diva. Neither sang a note or cracked a joke. Both were so good, I remember them vividly even as I type this.
That was Actors Theatre. It was the place to see the plays you wouldn't see anywhere else with actors you wouldn't see taking those kind of risks at any other company. That hasn't changed with the years.
Over time, Actors Theatre has benefited from outstanding leadership, Judy Rollings, Jim Pinkerton, Matthew Wiener … each stamped the company with their particular strengths without fooling around with its original goals.
It didn't hurt that all three were excellent directors, and, in the case of Judy, a fine actress as well. They added lustre to their company as well as administrative genius.
The result was consistently exciting theater. The only thing inconsistent was the public's response. Although there have been monster hits in the company's history, by and large Actors Theatre has never attracted the size of audiences that it deserves.
That never affected the choice of plays or the quality of work, but it did create a stressful working environment. At several points, the company stared financial disaster in the face.
It did not blink. Instead, it reinvented itself. In 1989, the company moved from the bank building into the newly built Herberger Theater Center, where it was the principal occupant of the smaller Stage West (rival Arizona Theatre Company held forth on the Main Stage).
By 2010, it became clear that the costs of producing at the Herberger were more than the company could afford. It began discussions with Arizona Theatre Company about the possibility of merging the two. Those talks ended with the realization that it wouldn't work.
In 2013, reluctantly accepting that box office revenues, donor contributions and grants were no longer sufficient to afford the luxury of the Herberger, Actors Theatre transformed itself into a nomadic troupe playing at venues like the Arizona Opera Center, then settling into the Helen K. Mason Performing Arts Center which it shares with the Black Theatre Troupe.
By then, I had retired from journalism. Health issues had precluded me attending theater for a number of years.  In May, 2014, I had enough of that. The play I picked for my first venture into the outer world was Good People at Actors Theatre.
Nothing had changed. This was still a theater that produced plays that wouldn't have been seen elsewhere, with actors who were icons but who blew away any preconceptions I might have had about their work.  It was the kind of theater I had once seen in New York and London. Daring, many layered and, well, damned exciting!
I think the company's founders – and they are all still creating theater here and in other cities – must be shouting for joy.
Actors Theatre isn't just an idea whose time had come, it is a dream that endured.
Sadly, history proved that last sentence was a candidate for "famous last words."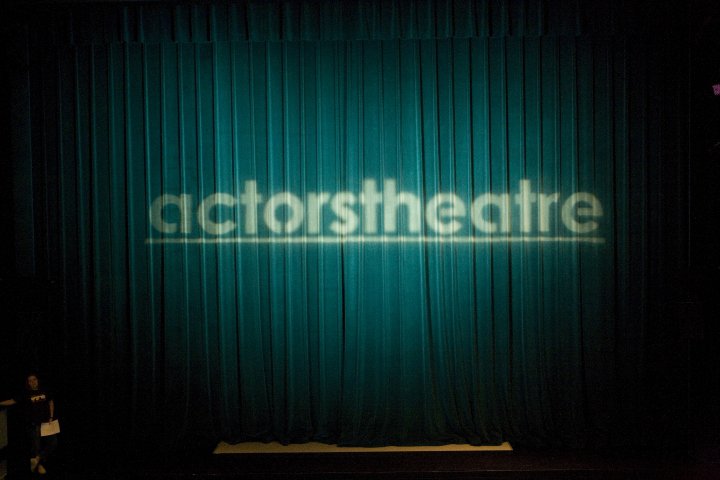 ACTORS THEATRE CLOSES ON DEC. 19, 2014
My reaction upon hearing that Actors Theatre would close.

It is Dec. 19, 2014. The apocalypse came today. It was limited in scope; only one theater company was involved. But that was Actors Theatre. Thirty years of priceless work. Thirty years of memories that will fade.
Leaving what?
The ground between the rock and the hard place is not fertile for the arts. Actors Theatre thrived there longer than most. But live theater comes with a hefty price. More than we were willing to pay. The work was never less than excellent, just as often it was superlative. Yet there were empty seats. The wallets of potential donors remained closed.
These are not good days for our country. We are beset by enemies without and within. Ideology rages, compassion wanes. We proclaim ourselves a religious nation, unaware of the irony that our lives are ruled by greed and bigotry, a travesty of our creed.
Art is the enemy of such ignorance. Why would the ideologists support it? An enlightened electoral base, a knowledgeable consumer community are dangerous. They are not easily led. Brainwashing is almost impossible.
Art is a second opinion. Invaluable. Destroy it.
One cannot blame Actors Theatre for its closing. If there is no money, there is no money. Artists must live, suppliers must be paid. The board and the company's leaders, Matthew Wiener and Erica McKibbern Black, went beyond the extra mile.
One cannot blame the wealthy, either. Where would this community be without the Herbergers and their fellow philanthropists? Or the support that the municipalities have lent, if sometimes begrudgingly.
It is we who have changed. We no longer seem to care that our children are growing up intellectually and emotionally stunted. We no longer fight for what we believe. We let others vote. We let the media define our existence.
Actors Theater is just one casualty. There will be many more.
Until none are left to die.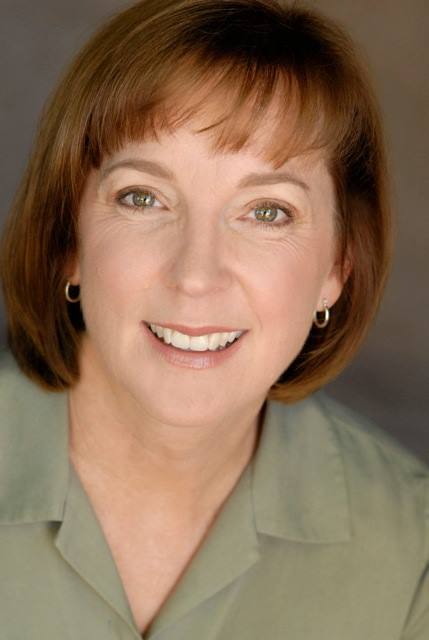 The company's final news release.
Actors Theatre, which has produced compelling, thought-provoking and often edgy plays for nearly 30 years, is closing its doors.
The Board of Directors has unanimously voted to cease operations and liquidate the professional theatre company over the next 30 to 60 days.
"The simple truth is we're out of money," said Actors Theatre Board President Renee Gerstman.  "This was not the result of a single event, but a combination of factors, primarily based on the fact that revenues – both earned and contributed – did not meet expectations and we found ourselves in a cash-flow crisis."
Producing Artistic Director Matthew Wiener said that artists and staff involved the scheduled productions of Annapurna, Stage Kiss and The Year of Magical Thinking started receiving notification of the shut down on Thursday.
"As we were preparing to produce Annapurna, we looked at the situation to determine how best to move forward," he said.  "We realized that what Actors Theatre does and, most importantly, the way we do it is not sustainable in our community at this time.  Among our strongest guiding principles is to pay everyone – and that includes artists and arts workers – a living wage.  The economic dignity of all of our artists and arts workers is one of our highest values, but our donor base and individual and season ticket sales were not substantial enough to provide the financial resources to support the cost structure of professional artists to the degree it needed to be."
Gerstman said the company will "work through outstanding obligations to the best of our ability during the next 30 to 60 days.  We also know we will receive questions about tickets that have been purchased.  Though we would like to say we will refund those tickets, we simply can't.  We're hoping that our patrons and supporters will consider taking the expense as a tax deduction after consultation with their accountants or CPAs."
Wiener, who has been artistic director for 19 years, said that "the company made great strides and many changes over the past two years and we heard from a broad base of individuals that Actors Theatre is important.  Unfortunately, while we agree with those opinions, they did not translate into the revenue necessary to sustain the organization and we were unable to significantly improve our financial position."
In a joint statement, Wiener, Gerstman and Black expressed their "deep and abiding gratitude for the support of our loyal patrons and those individuals, organizations and businesses who stood behind us.  We are also incredibly humbled to have been able to work alongside a remarkably talented group of artists and staff to bring to the stage the type of productions that matter."
"We are incredibly proud of Actors Theatre's legacy over nearly 30 years." Wiener added.  "We know that many patrons left most of our productions affected by and talking about what they saw on stage.  Perhaps we will again see those or similar productions and the high professional quality of what went on both on and behind the stage.  In the meantime, and in spite our deep, deep sadness at this time, we do know that there are many great arts and cultural opportunities in the Valley.  Perhaps we will be part of them again sometime in the future."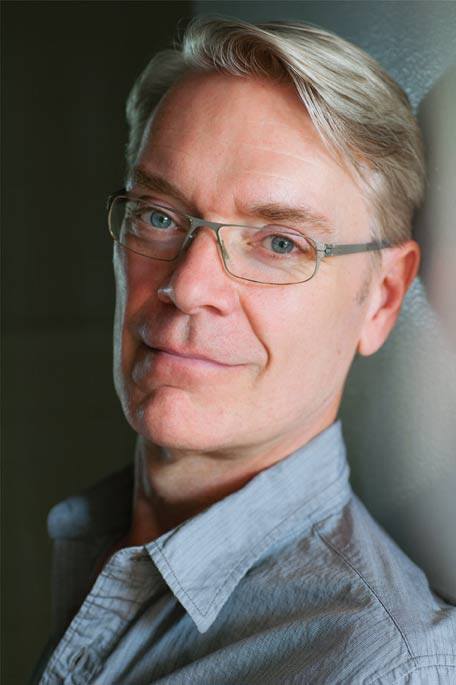 Kerry Lengel reports in the Arizona Republic:
Actors Theatre, one of only a handful of professional theaters in the Valley, is closing, the latest victim of a soft economy that is pressuring non-profit arts groups across the country.
The 29-year-old troupe had been struggling with cash flow in the wake of the 2008 financial crisis. In 2012, it ended a two-decade residency at the Herberger Theater Center in Phoenix and downsized its staff to two full-time employees.
"We made a lot of changes, and some things did improve, but it wasn't enough," said longtime artistic director Matthew Wiener. "When we started putting all the numbers next to each other, it became clearer and clearer that this was a math problem. The cost structure of supporting professional artists is no longer something that Actors Theatre was able to do."
The board of directors voted Thursday to dissolve the company. Tickets already sold for productions planned for next year, including "Annapurna" in January, will not be refunded.
"We are hoping that our patrons will take the cost of those tickets as a tax deduction," said managing director Erica Black.
Wiener said there was no single cause for the company's financial woes, but the most important factor was a decline in "institutional" support, meaning grants from governments, corporations and philanthropic foundations.
"We're still a very young city," he said. "We have very few Fortune 500 companies" headquartered here.
"Those things are very important."
The company was founded in 1985 as Actors Theatre of Phoenix with the goal of presenting professional productions using local talent. That mission continued under Wiener, who took the top job in 1995 after serving as associate artistic director at Arizona Theatre Company.
Actors Theatre specialized in contemporary dramas and comedies, often with an edge. Its slogan was "Off-Broadway — just downtown," in contrast to the more mainstream fare produced by Arizona Theatre Company, the biggest resident company at the Herberger.
In 2001-02, Actors Theatre won widespread acclaim for its productions of Tony Kushner's two-part epic "Angels in America." More recent hits include Sarah Ruhl's "In the Next Room (or the Vibrator Play)" and David Lindsay-Abaire's blue-collar comedy "Good People."
"I think this is tragic not just for Actors Theatre and its audiences but for what it says about the struggle with all professional arts institutions in the sixth-largest city in the country," said David Ira Goldstein, artistic director of Arizona Theatre Company.
"Actors Theatre did everything right. There are no fingers to point and no one to blame. Ultimately they found it impossible to continue to create professional art where the artists are paid. So it's dispiriting news. But artistic organizations have their life spans, and Actors Theatre has so much to be proud of, right up till their last show."
Veteran performer Cathy Dresbach, who had signed on to star in "Annapurna" next month, said the loss of the company will make it all the harder for professional actors to make a living in the Valley.
"Little by little my livelihood is going away, and this is another chunk of it," she said. "I feel like I want to move to Oregon or something, somewhere where there's a livelier theater scene.
"I've seen a lot of theater companies come and go, but this is the first time I've actually cried over it. It's more than just a paycheck. It's a really important part of a fabric of the community. There's nothing out there quite like it, and I don't know if there ever will be again."
A BRIEF HISTORY IN PHOTOGRAPHS
This slideshow was prepared by the staff of the Arizona Republic, and includes photos from this site's archives.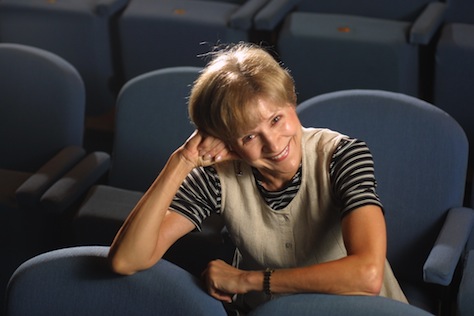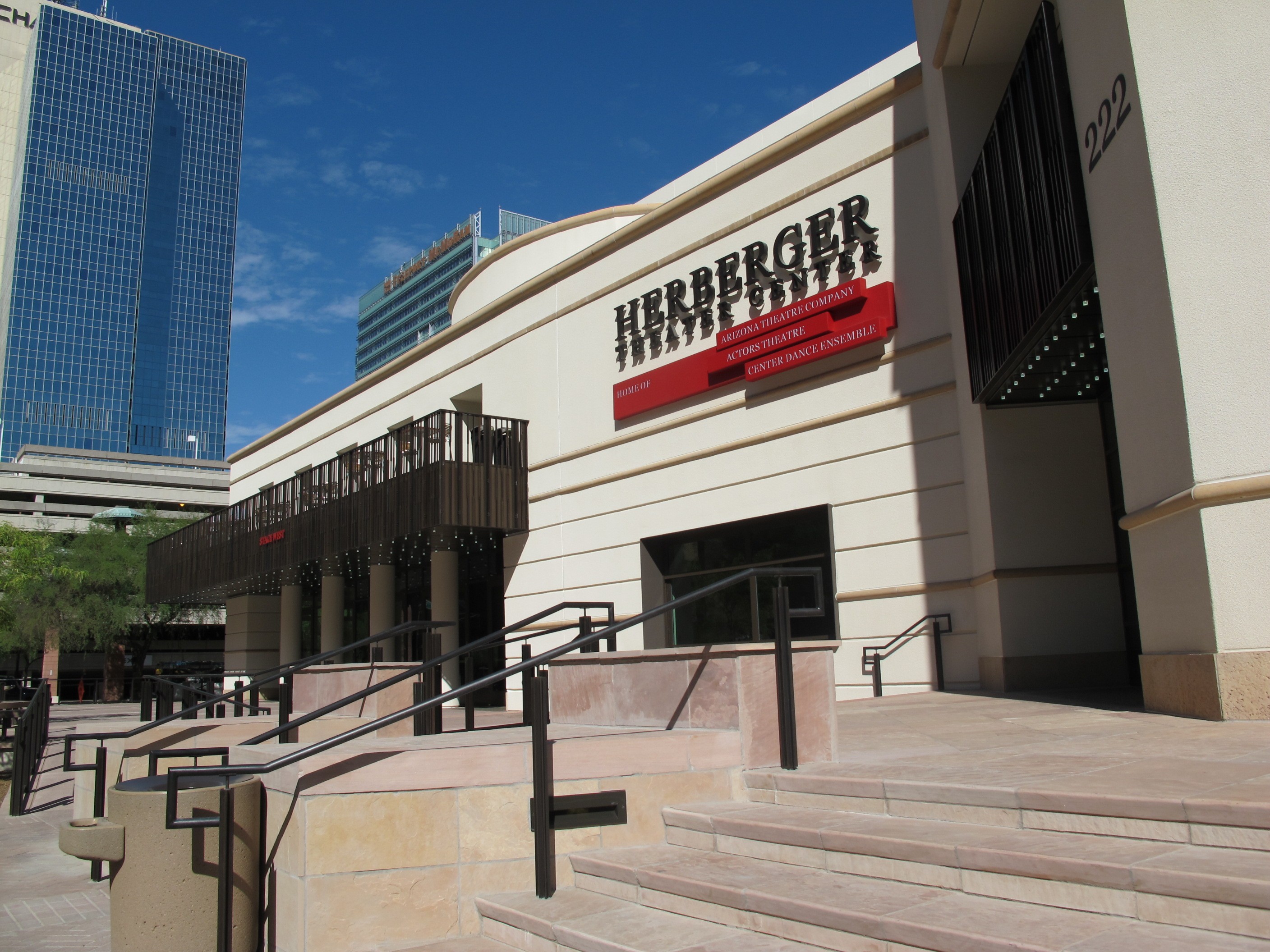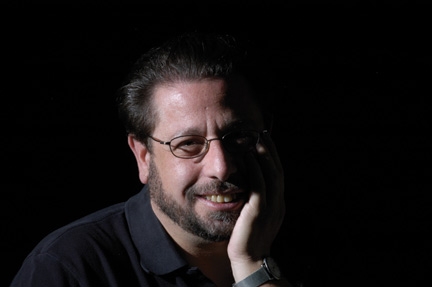 1989. Enter A Free Man. Actors Theatre.  Cast: Mark DeMichele, David Vining, Susan Sindelar, Mike Lawler, Gerald Burgess, Bryn Pryor.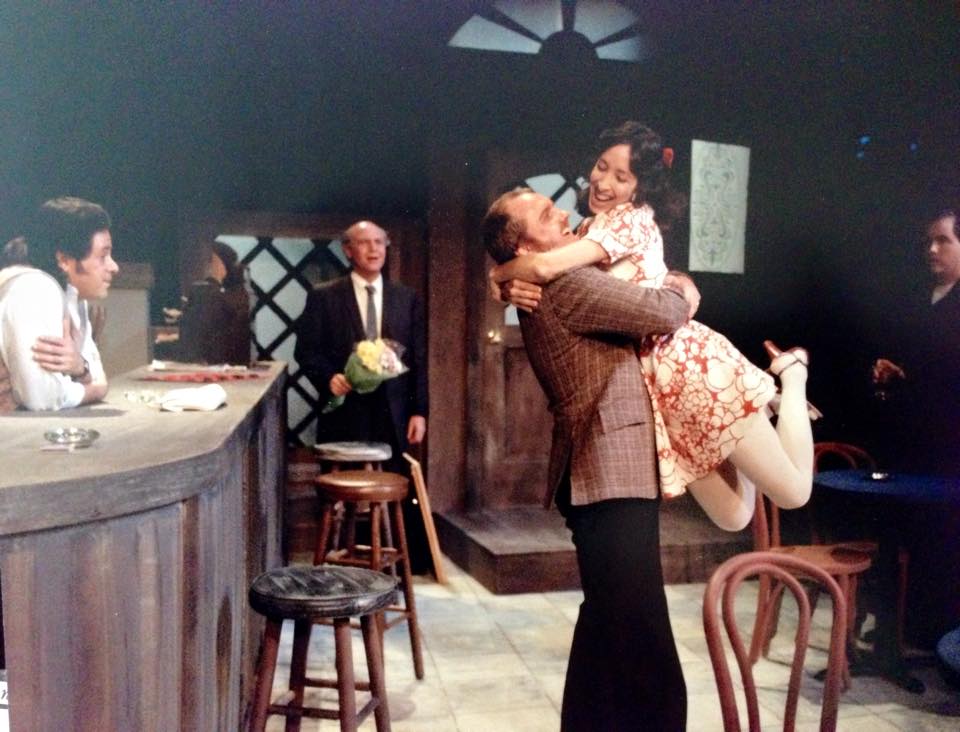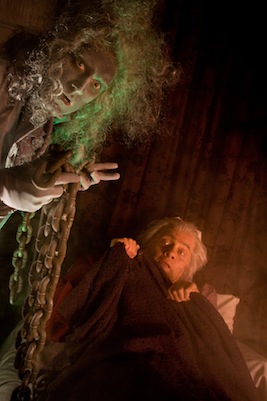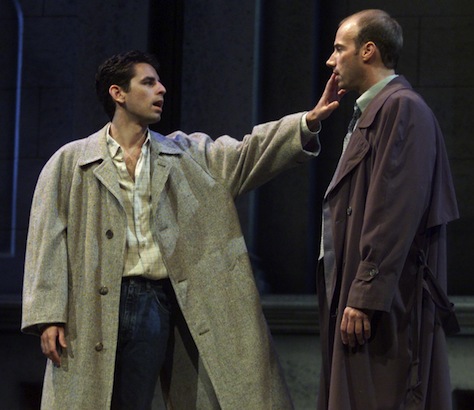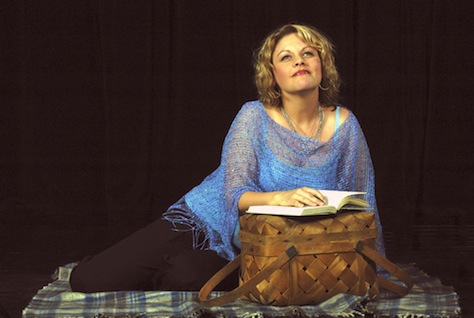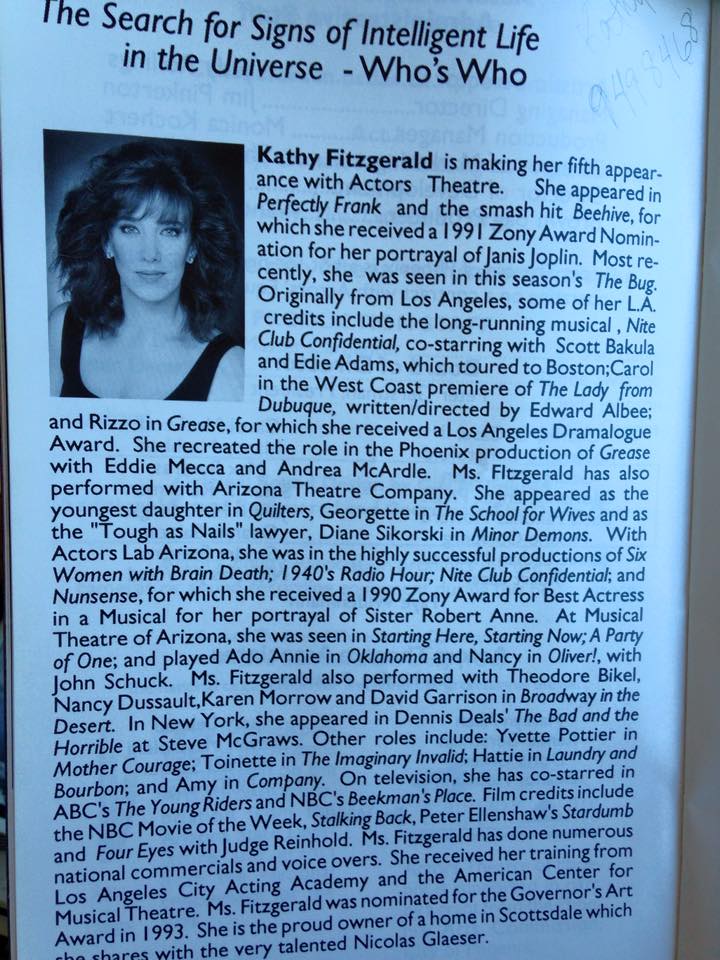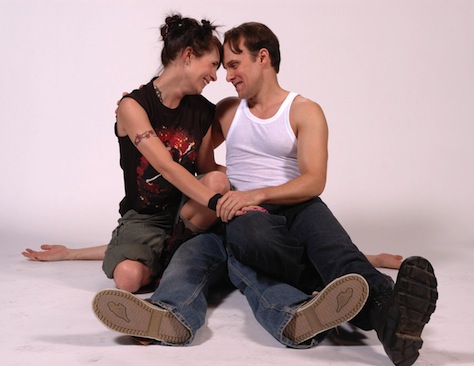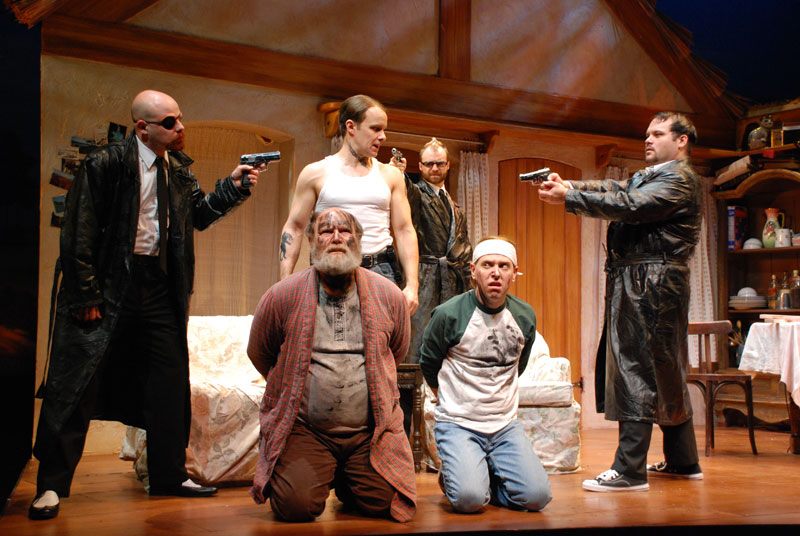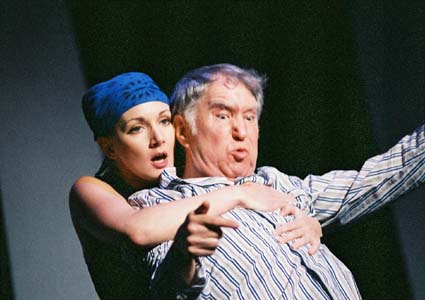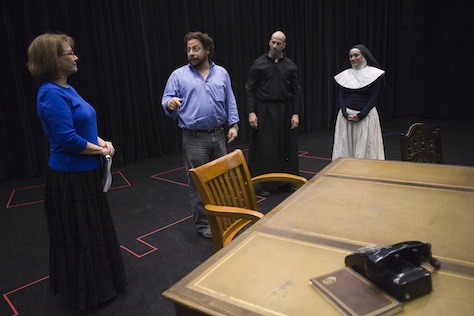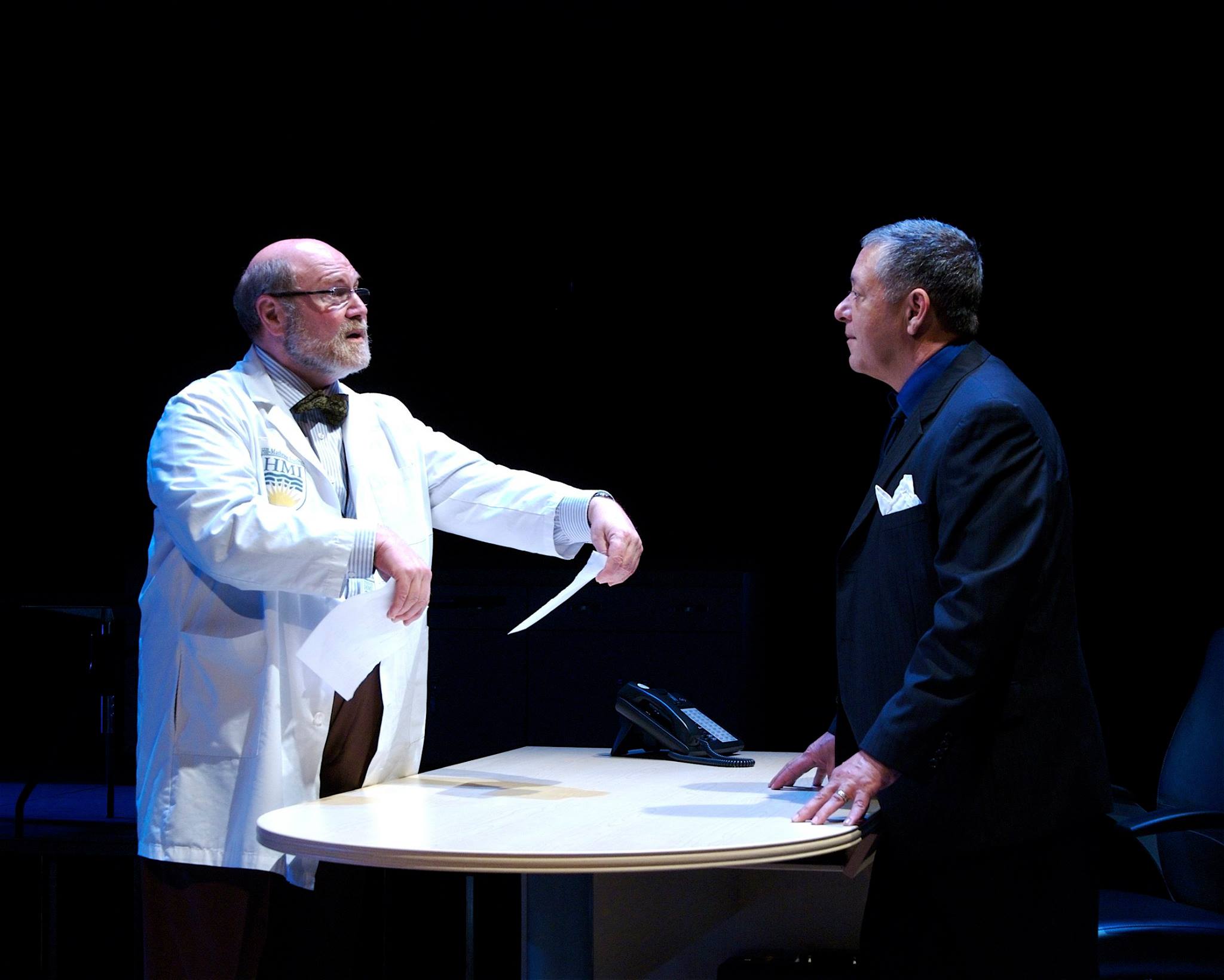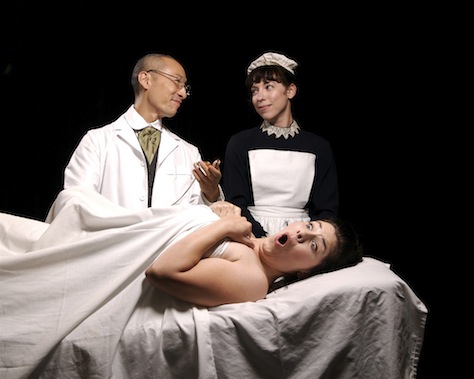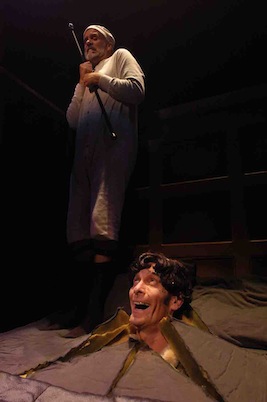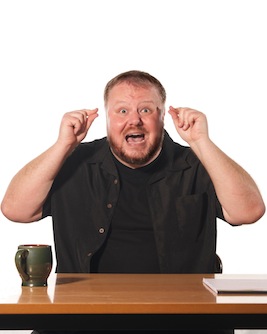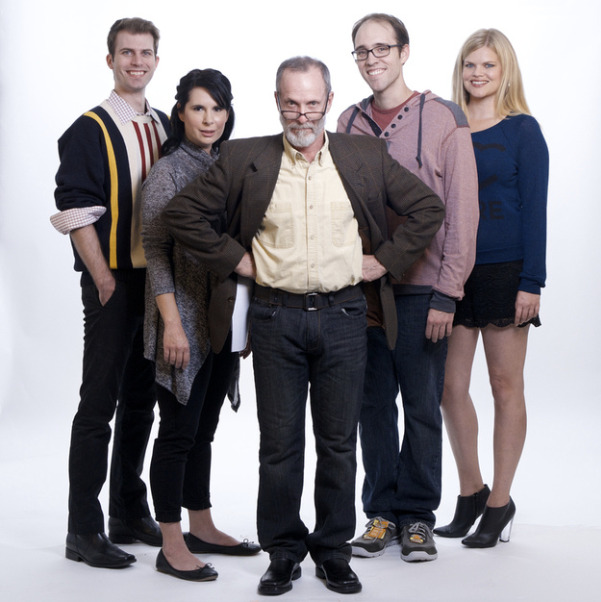 For a more detailed history of the theater, scroll to the bottom of this page.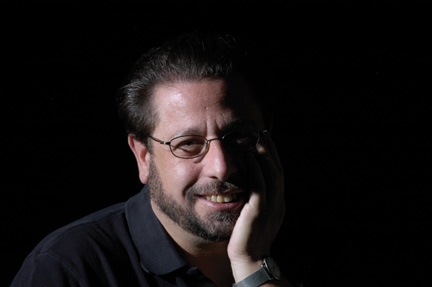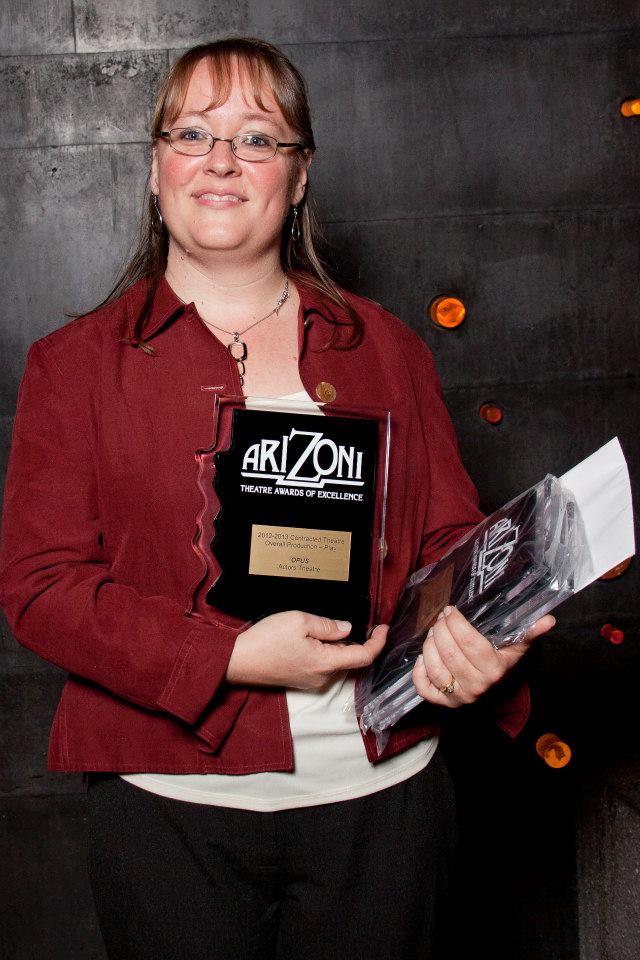 ECHOES OF A CHRISTMAS CAROL
For 19 years, Actors Theatre produced A Christmas Carol as both an opportunity to reach a broader audience and provide a theatrical opportunity for kids and families.  A Christmas Carol also provided increased earned income revenue to help support the remainder of the season.  In 2010, due to a significant decrease in institutional funding and increased holiday competition in the community, Actors Theatre produced the show for the final year.  (Southwest Shakespeare Company now produces Carol annually.)
For a list of every actor who has appeared in Carol, go HERE
NOTABLE PRODUCTIONS

For a complete list of productions, provided by Managing Director Erica Black, scroll to the bottom of this page.
2014. Seminar.  The company's final production. Playwright: Theresa Rebeck. Director: Ron May. Cast: David Barker, Kerry McCue, Andy Cahoon, Will Hightower, Kim Richard. Scenic Design: Jeff Thomson.  Costumes: Lois Myers. Lights: Paul Black. Sound: Christopher Neumeyer. Stage Manager: Aaron Wheeler.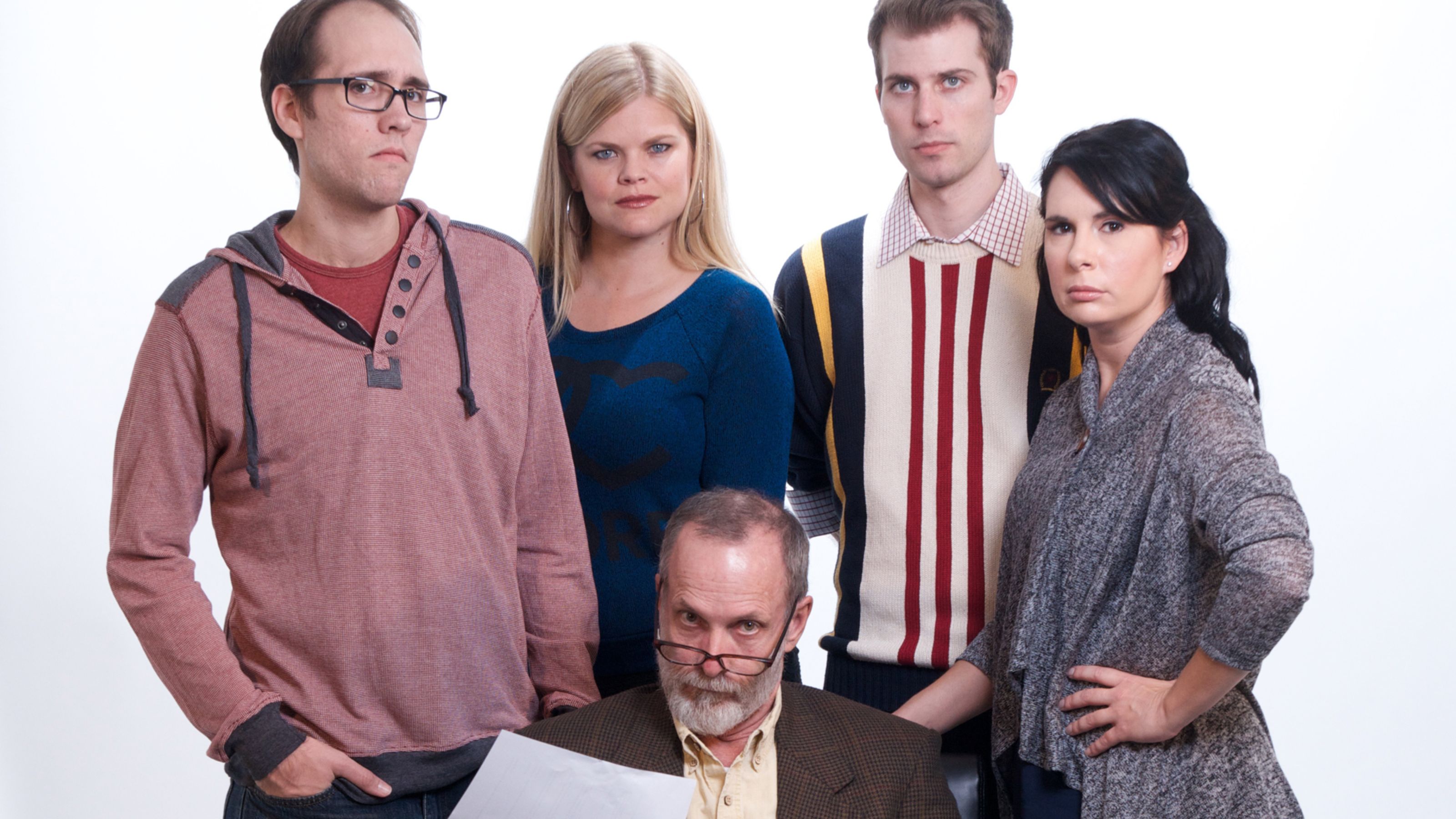 2014. Summer Repertory. The Book Club Play, The Cottage. Director: Matthew Wiener. Cast: Angelica Howard, Joseph Kremer, Maren Maclean, Tyler Eglen, Alexis Green, Ian Christiansen. Note: Performed at the Helen K. Mason Performing Arts Center.
In The Book Club Play by Karen Zacarías, a group of friends welcome a new member to their book club, only to see him tear at the fabric of their longstanding relationships. Structured as a documentary film with "character interviews" interrupting the action and with projected out-takes from the film's final cut, The Book Club Play is a sly examination of social groups, ritual and the true nature of friendship.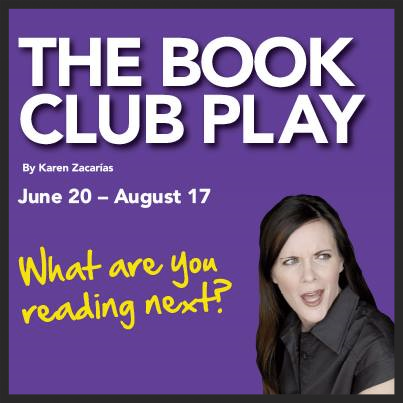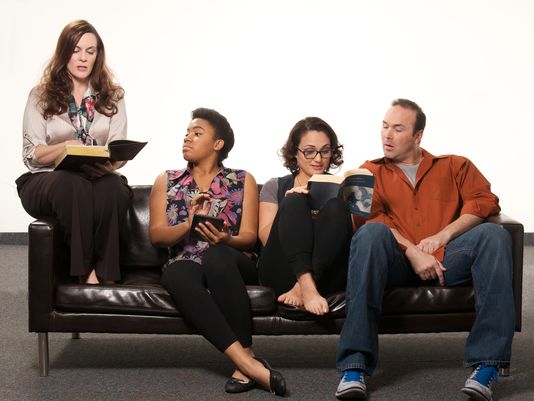 Sandy Rustin's The Cottage is a tale of love, sex and betrayal. The two-act story is set in the English countryside in 1923 where Sylvia Van Kipness decides to expose her love affair with her husband's brother. The true meanings of fate, identity and marriage are all called into question as a surprising and hilarious web of secrets unravel in this ridiculous, potentially murderous and romantic comedy.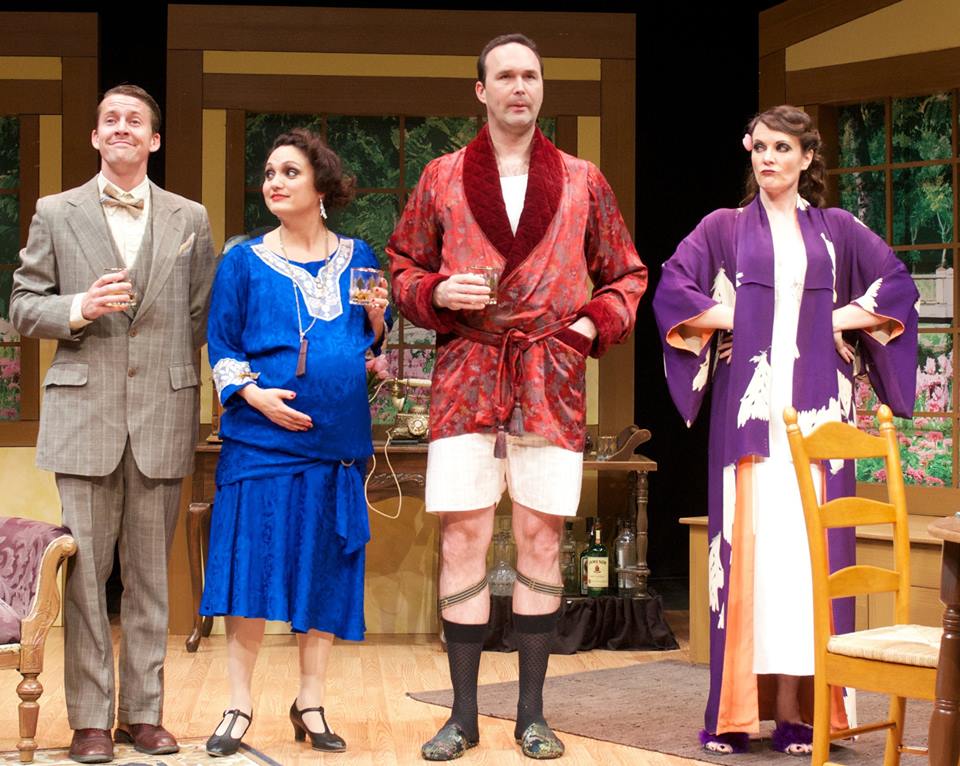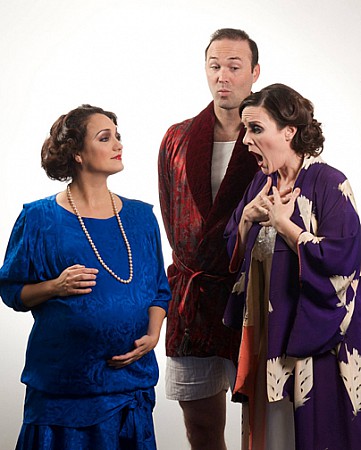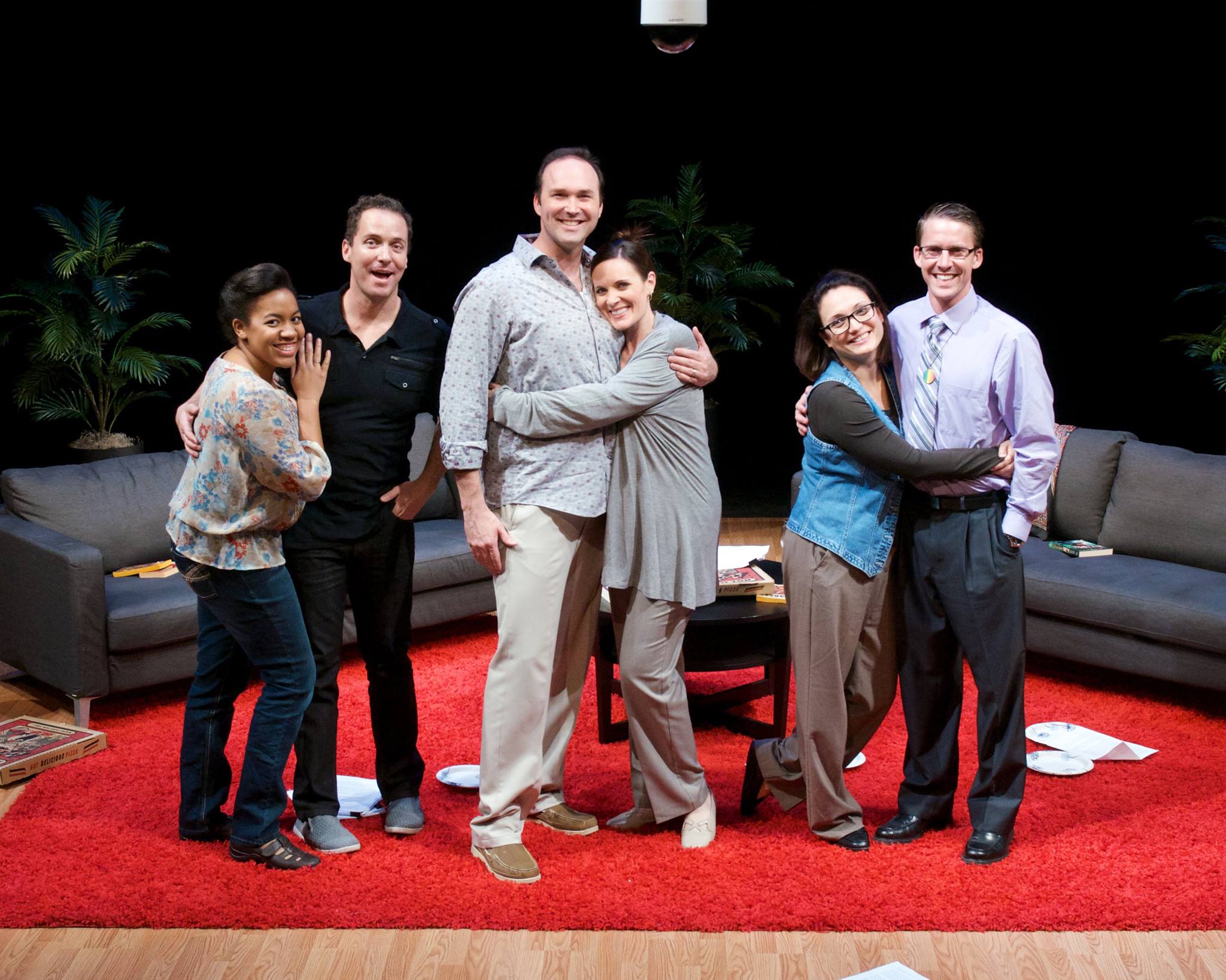 Robrt Pela's review of July 14, 2014, in the Phoenix New Times:  HERE
*****
APRIL-MAY 2014.  Good People.  Director: Matthew Wiener. Cast: Katie McFadzen, Cathy Dresbach, Maria Amorocho, Shanique S. Scott, Rusty Ferracane, Tyler Eglen. Sets: Jeff Thomson. Costumes: Connie Furr-Soloman. Lighting: Paul Black. The Play: Welcome to Southie, a Boston neighborhood where a night on the town means a few rounds of bingo, where this month's paycheck covers last month's bill, and where Margie Walsh has just been let go from her job at the Dollar Store.  Facing eviction and scrambling to catch a break, Margie thinks an old flame who's made it out of Southie might be her ticket to a new start.  With his signature humorous glow, David Lindsay-Abaire explores the struggles, shifting loyalties and unshakable hope that come with having next to nothing in America. Notes: Performed at Arizona Opera Center. Winner of Best Play, New York Drama Critics Circle Awards; nominee, Tony for Best Play, Drama League for Best Play, Outer Critics Circle  for Best Play and Drama Desk Awards for Best Play.  Reviews: Kerry Lengel,  HERE, Lynn Trimble, HERE.
Tyler Eglen on Good People:  Listening to the show each night I hear different things, and what stuck out to me this past week was the play between choice and luck. We can all look at our position in life and try and determine what parts choice and luck played within it. It's as if you could take every event in your life and put in on a Venn diagram with only those two options of choice and luck. And I think if you did that for our characters in the play you would have some vastly different looking diagrams.
Abaire positions two of his main characters, Margaret and Mike, at polar opposites on a class spectrum, but they still share a lot in common. How did it happen? Margaret blames luck, and Mike argues for choice. Who's to say what actually brought them to their current situations? Even if one of them was right (which is not an easy distinction to make) would it change anything for them? Tangibly: No, I don't think so. But for their outlook on life: absolutely.
And it's this outlook, this vantage point that I think the play does such a great job of bringing attention to. Because there are characters from different races, socio-economic status, religion, physical ability, etc. we as the audience are privileged to see the interplay between these divisions. And by representing (or at least mentioning) so many different positions within this community we might be able to see a bit of ourselves in one of these characters and relate to them. And even if you don't find yourself in one of these people, you still might become a little bit more aware of how luck and choice have lead you to where you are, and how you as a free-thinker get to decide how that affects you.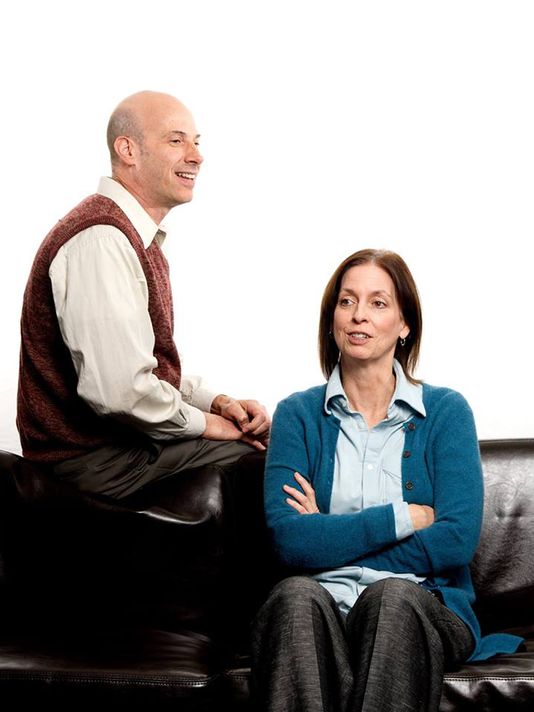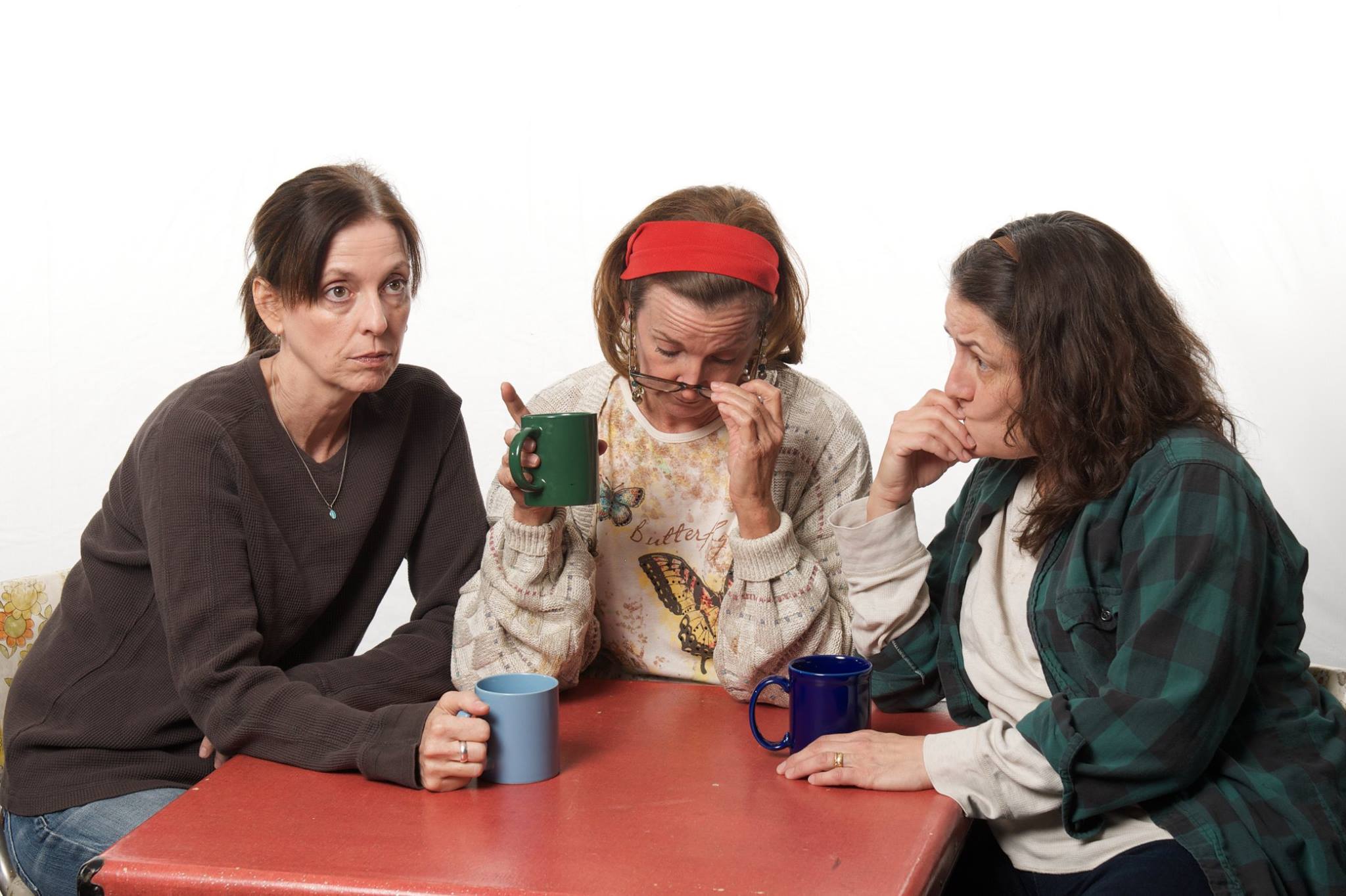 Actors Theatre, "Good People," April-May, 2014. Katie McFadzen, Cathy Dresbach, Maria Amorocho Weisbrod. (Photo, John Groseclose)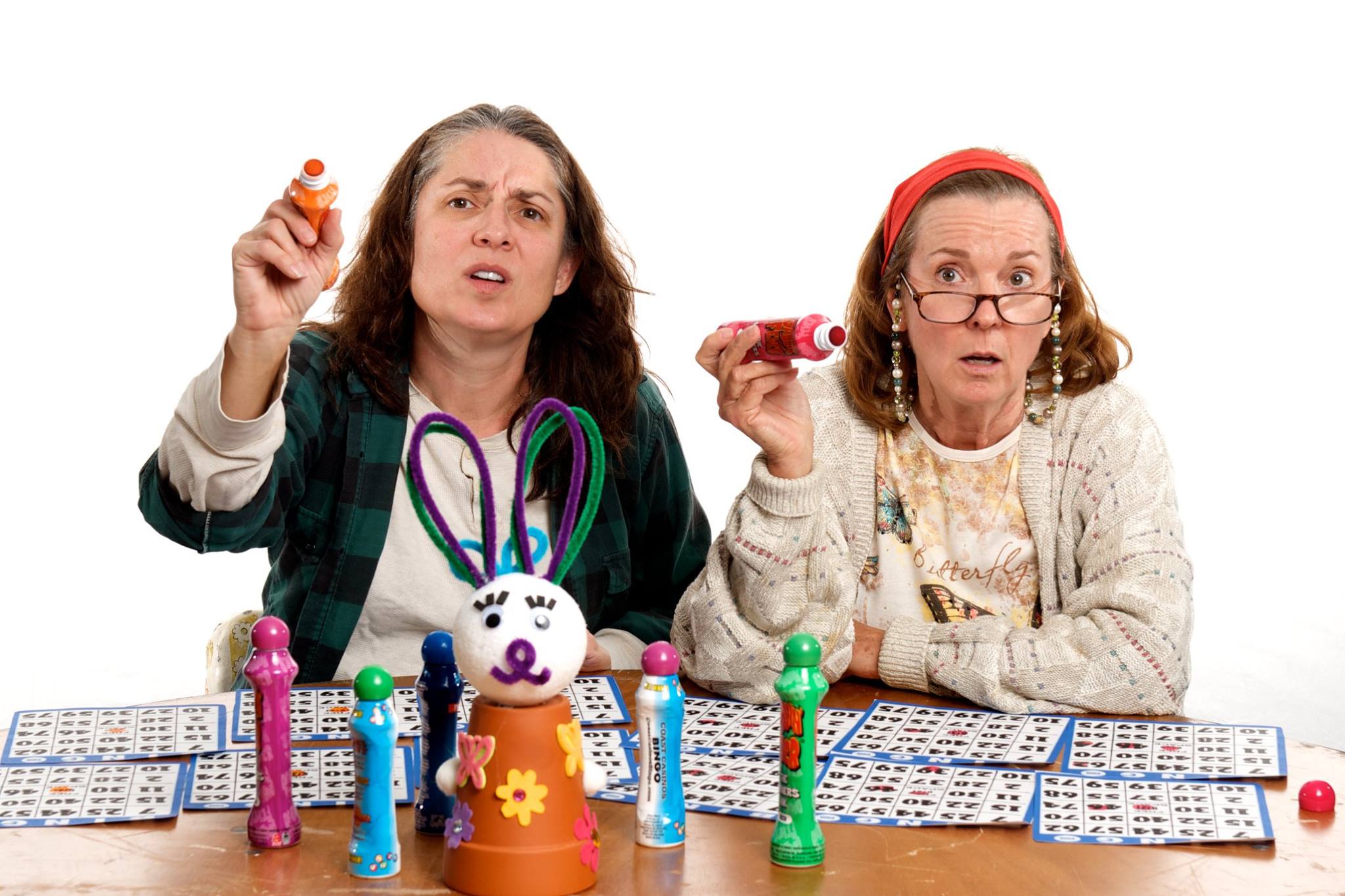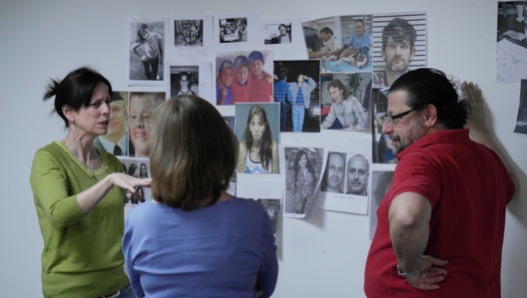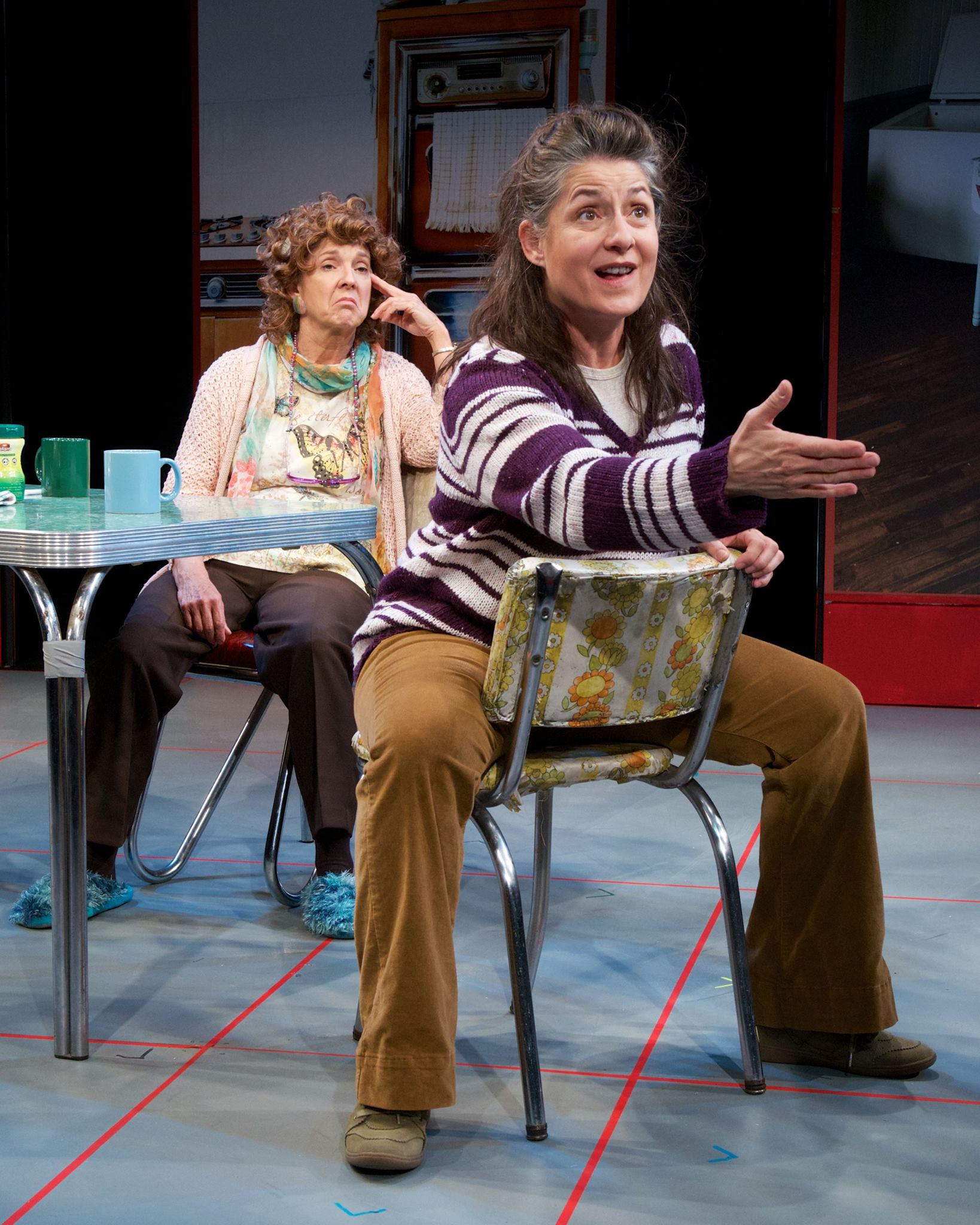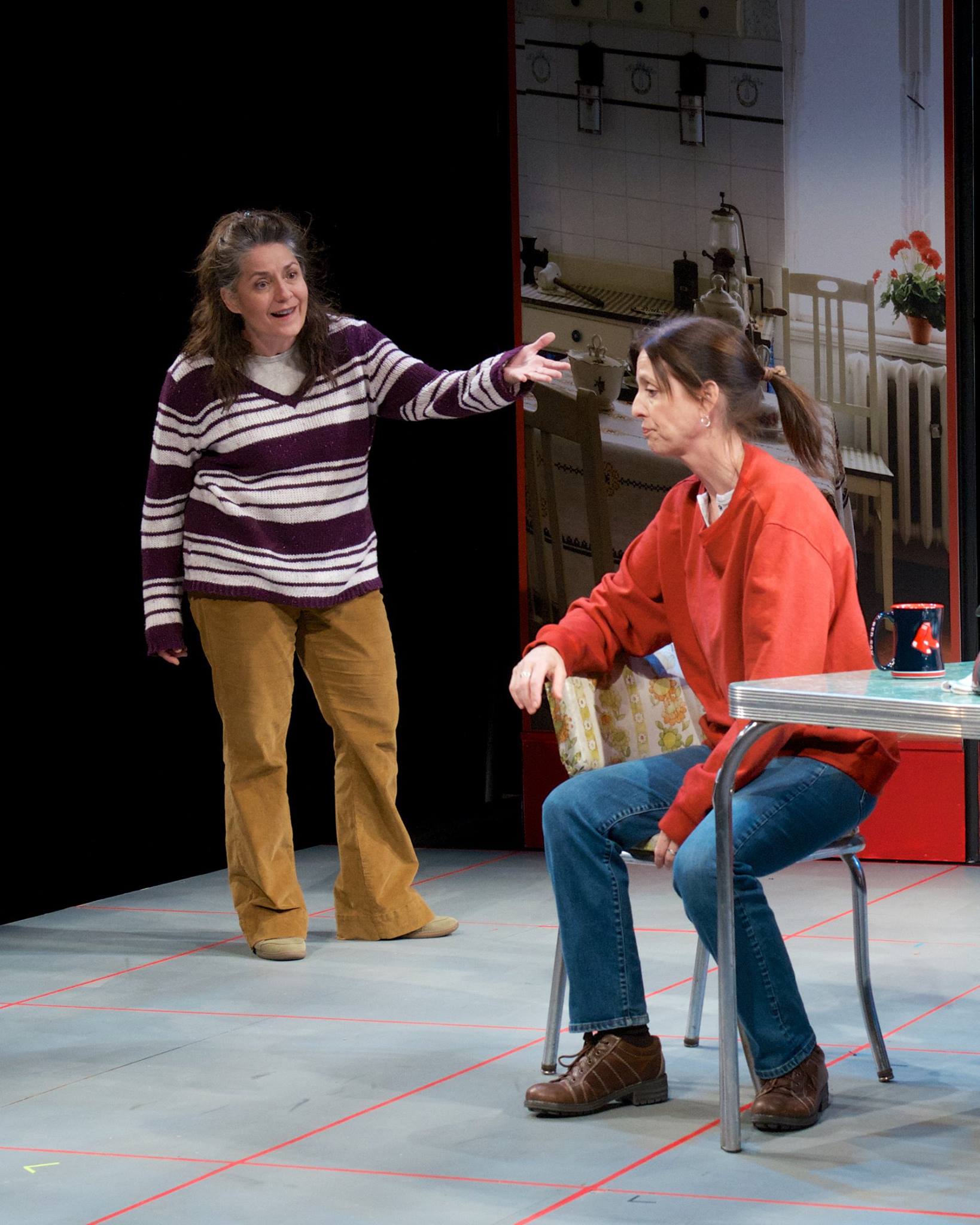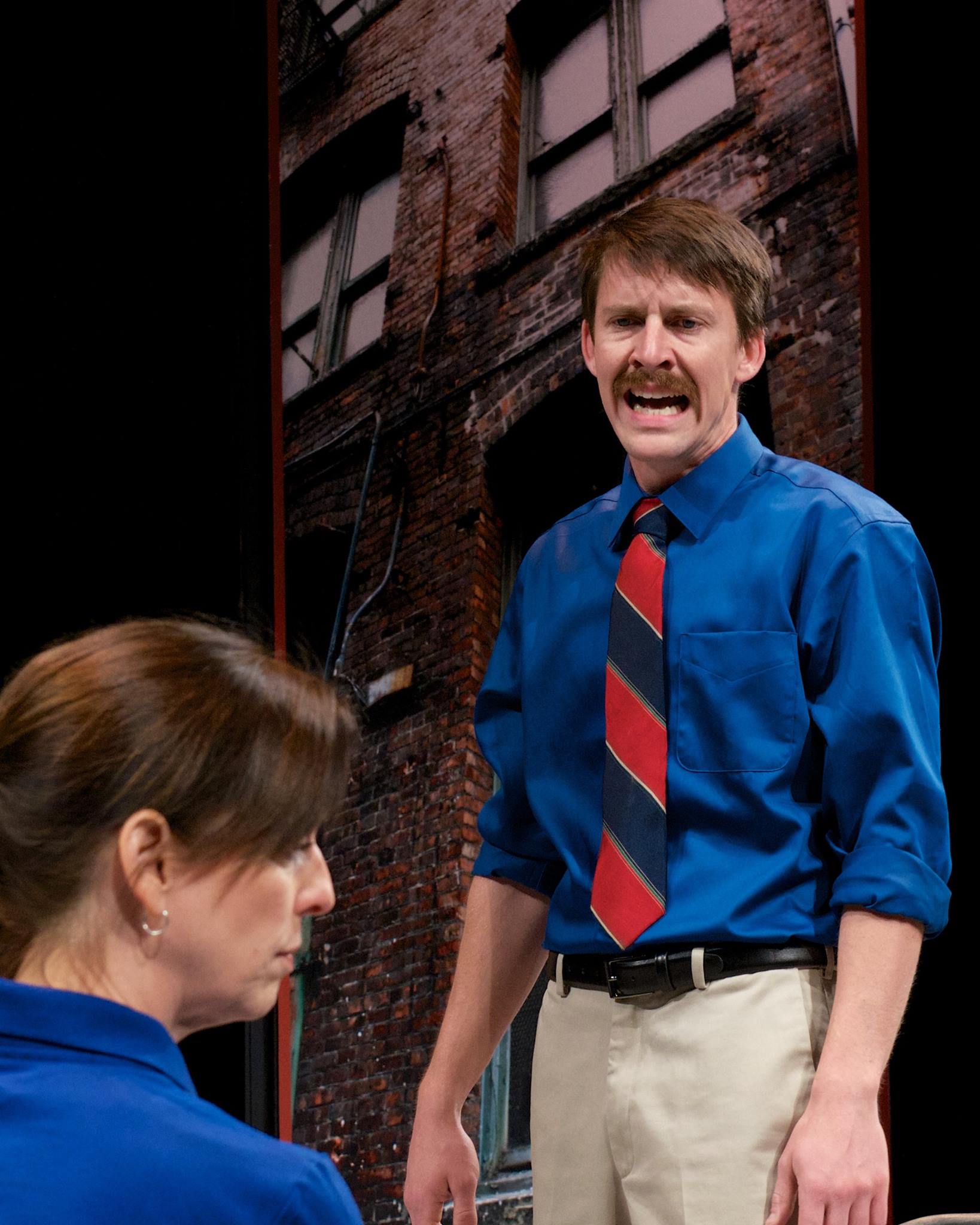 *****
APRIL 2014. Gourmetheatre.
The April, 2014 fund-raiser for Actors Theatre attracted some of the biggest names in the Valley theater community.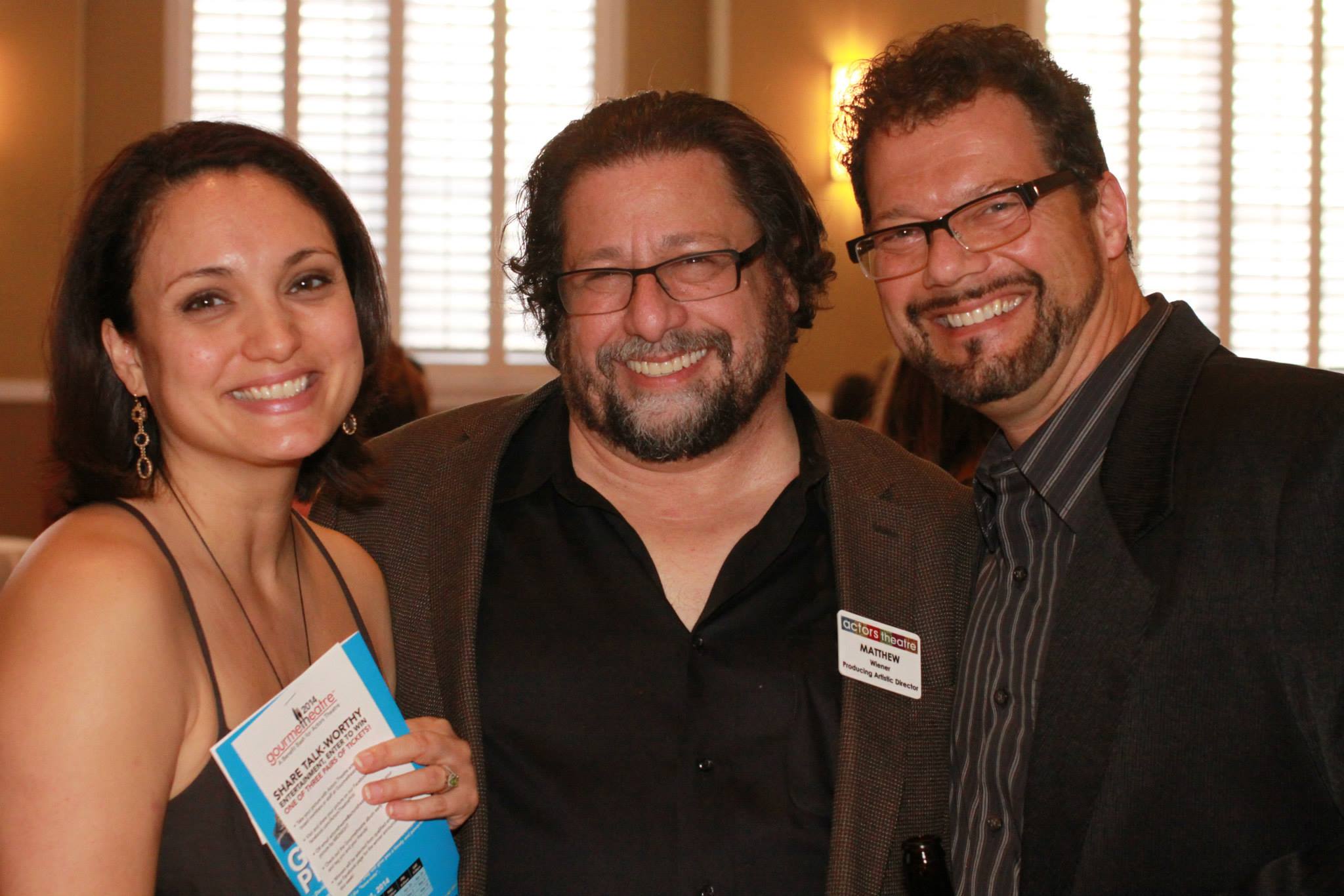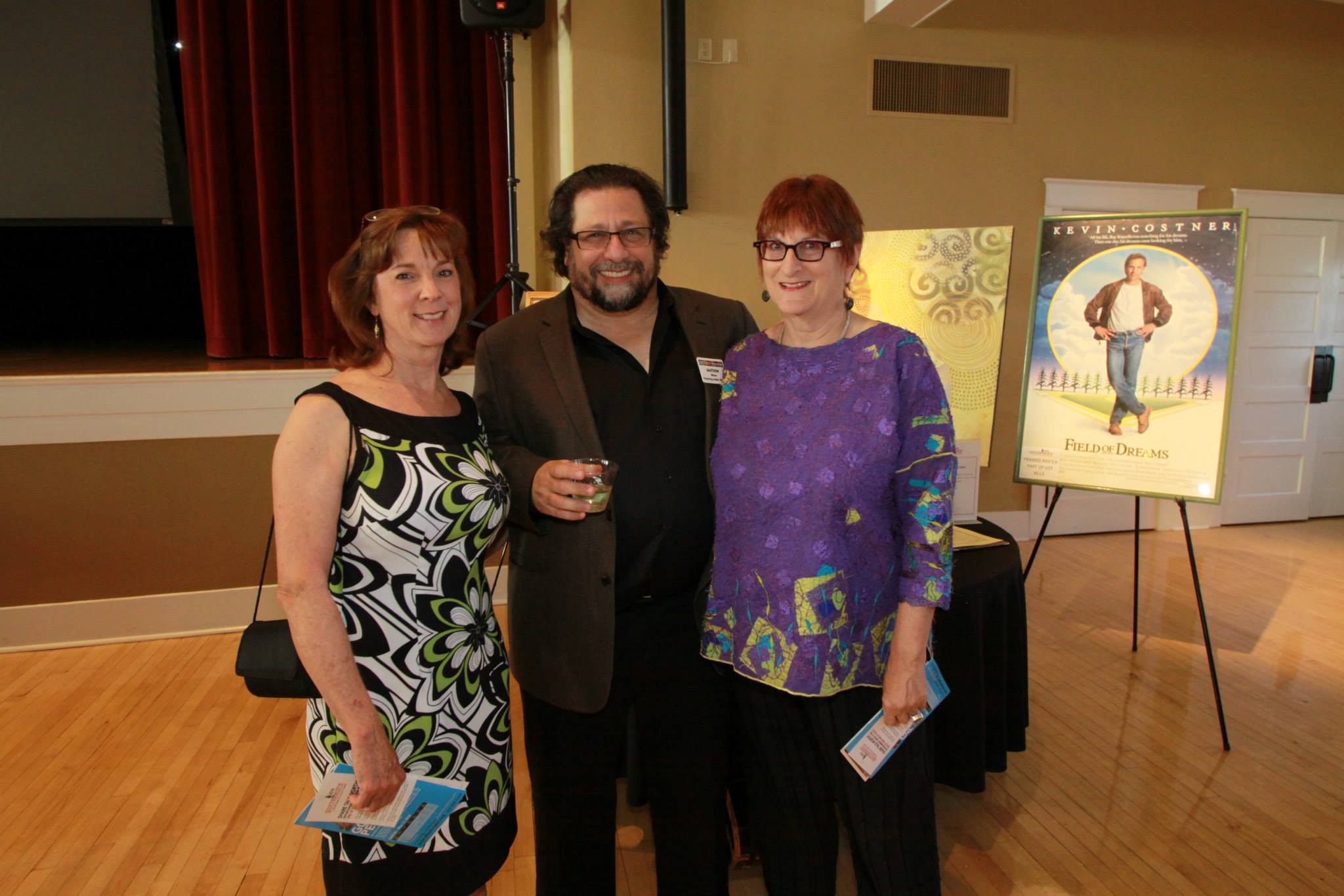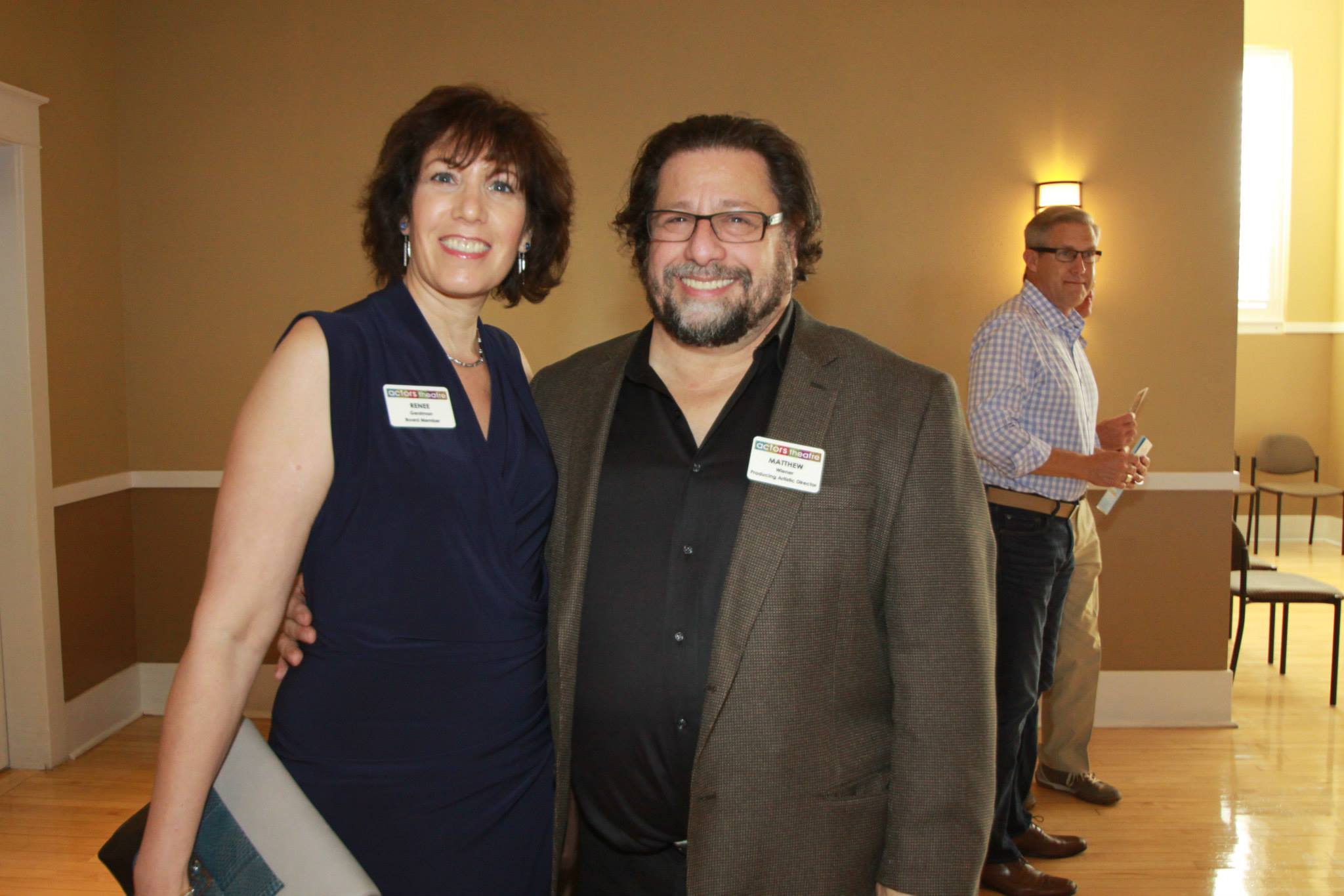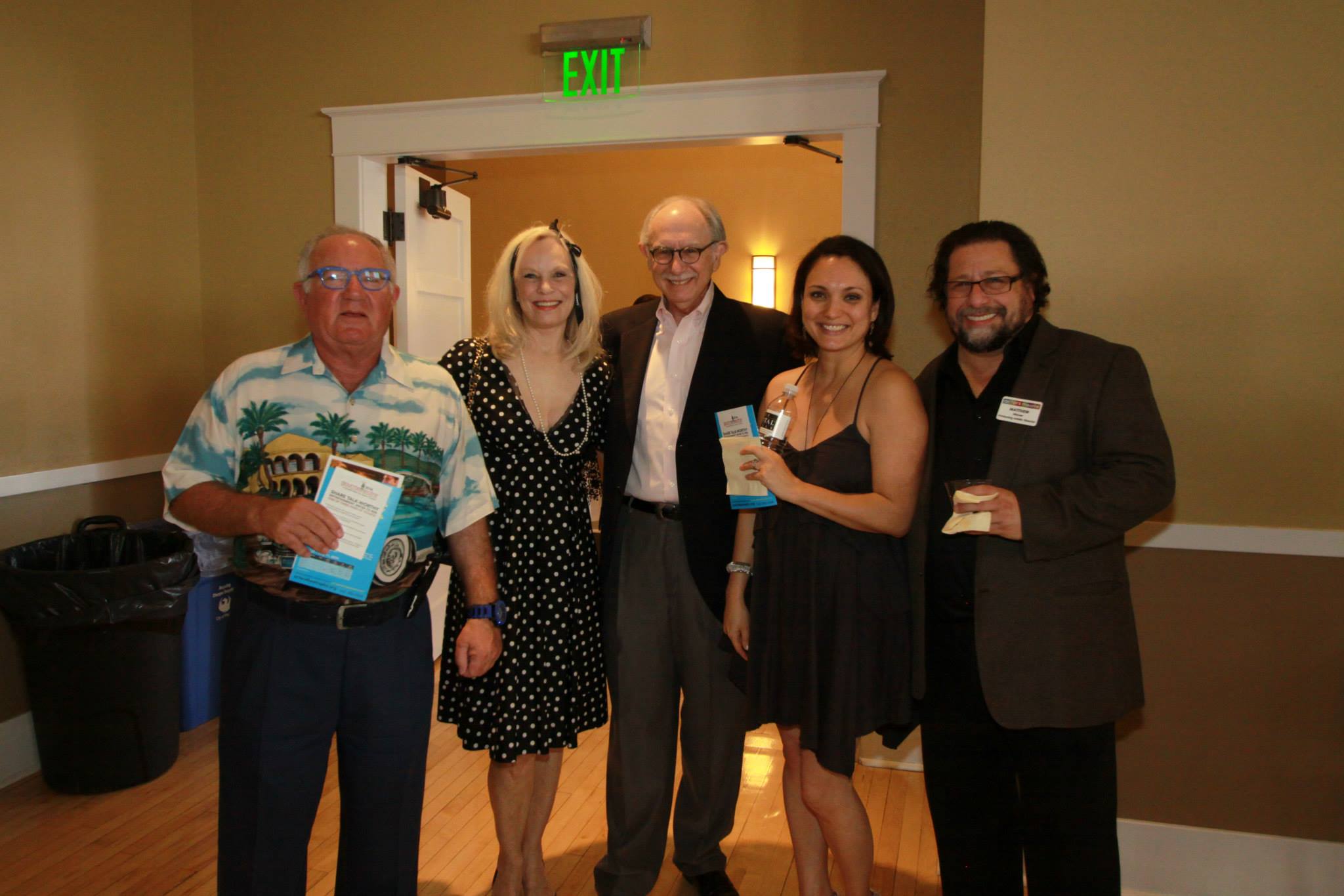 The following photographs were taken at the gala by Dr. Sue Sisley.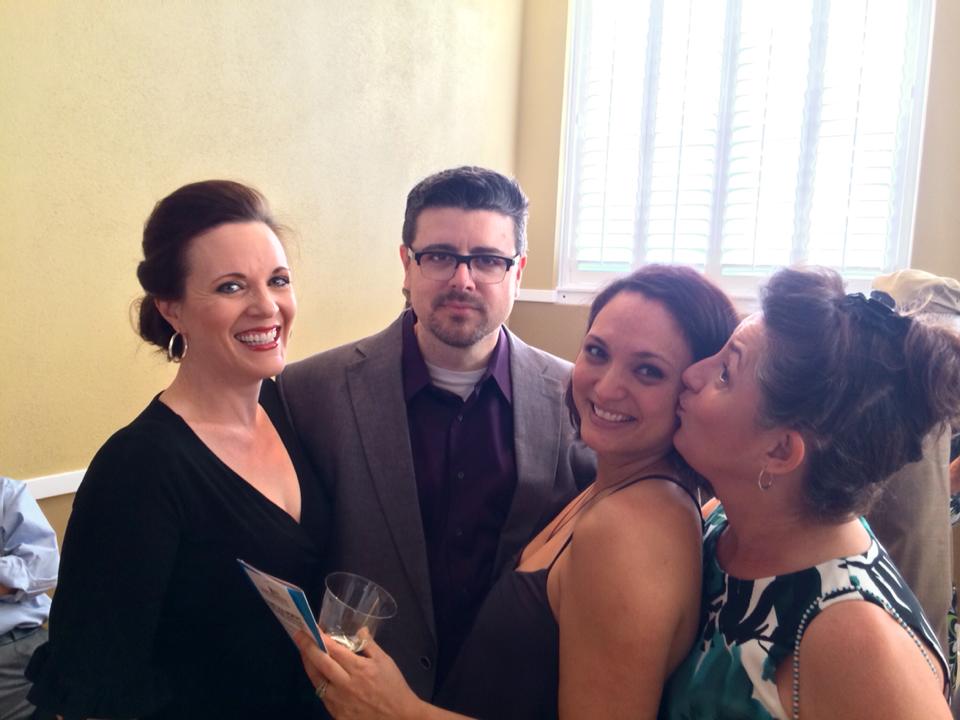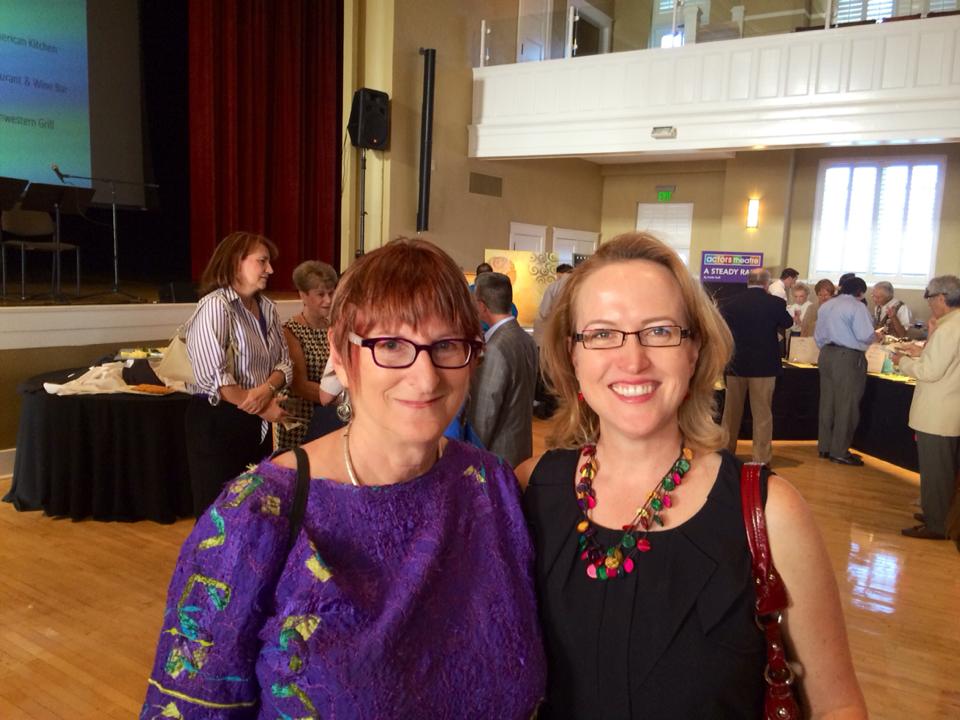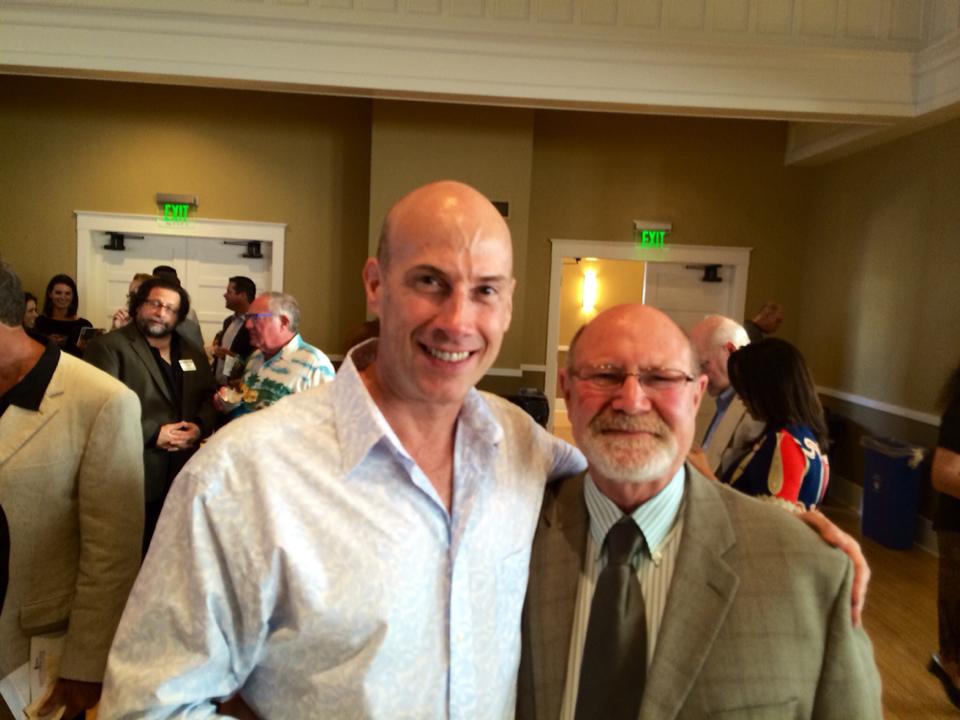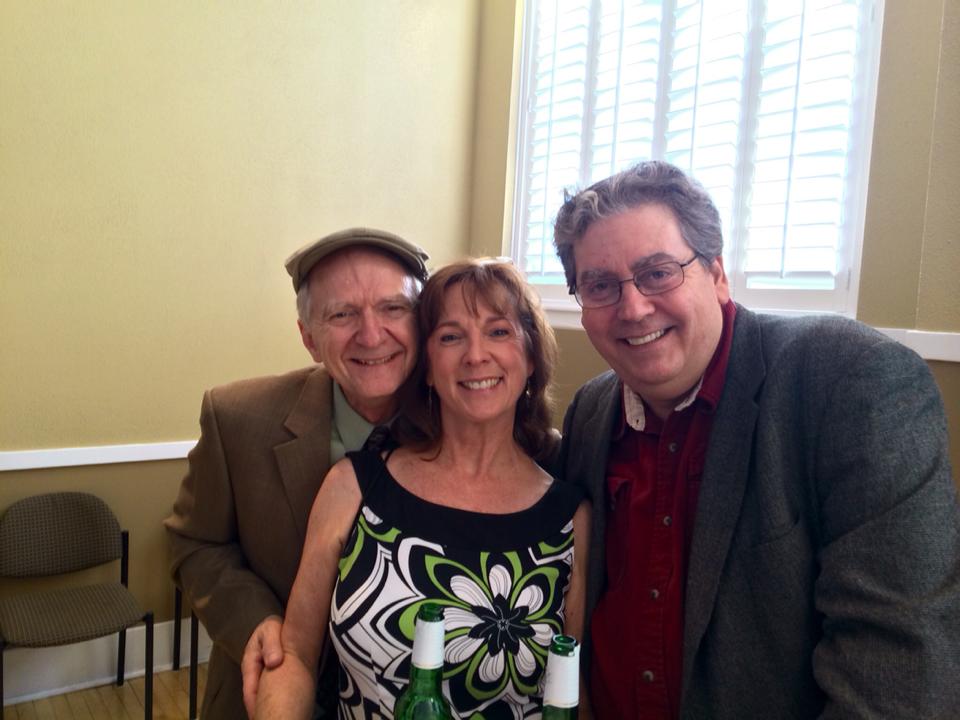 *****
JANUARY 2014. 4000 Miles. Director: Matthew Wiener. Cast: Patti Davis Suarez, Devon Nickel, Courtney Weir, Keilani Akagi . Set Designer: Jeff Thomson. Lighting Designer: Tim Monson. Costume Designer: Lois K. Myers. Stage Manager: Amy Gilbert. Review: Kerry Lengel,  HERE.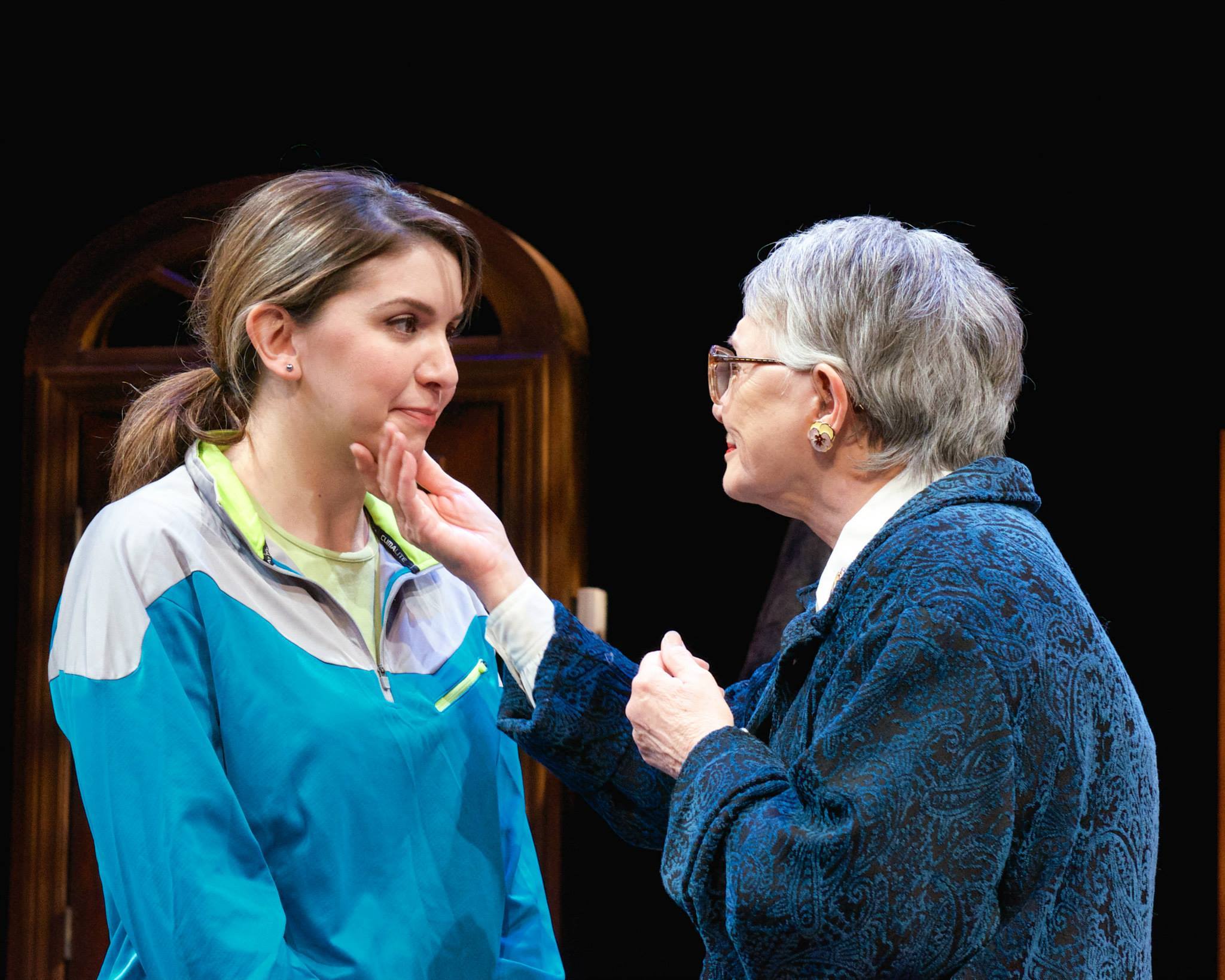 At the end of his cross-country bike trip, 21-year old Leo arrives unannounced at the Greenwich Village apartment of his 91-year old Jewish grandmother, Vera. As an overnight couch-surf turns into an extended stay, this compassionate and unsentimental play explores the funny, frustrating, and ultimately life-changing relationship between a grandson learning to face his life and a grandmother who is starting to forget hers.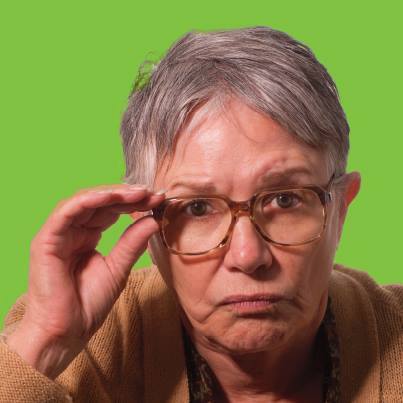 Finalist  2013 Pulitzer Prize for Drama
Winner 2012 Obie Award, Best New Play
Winner 2012 New York Times Outstanding Playwright Award
Winner Time Magazine's #1 Play or Musical of 2012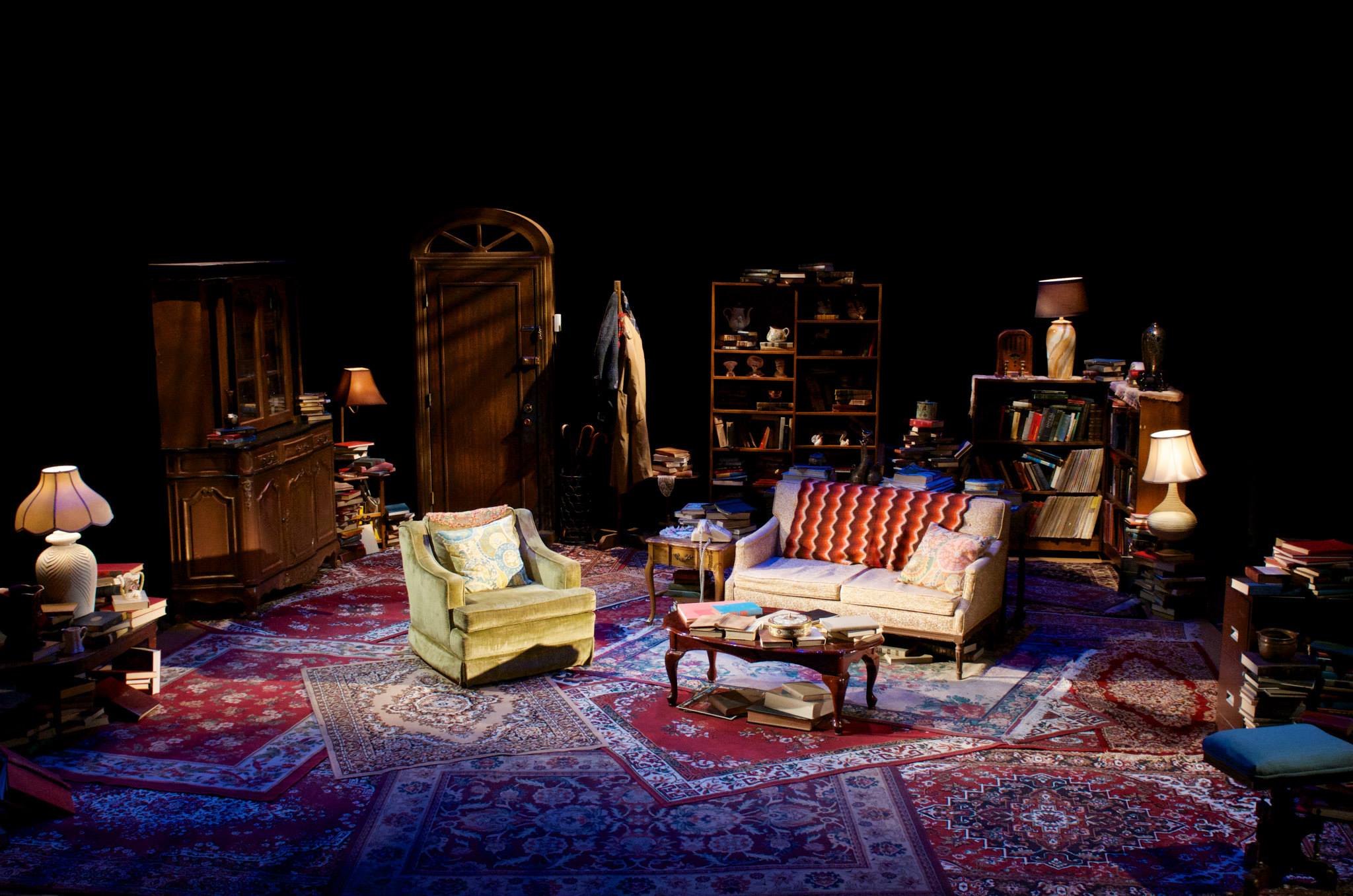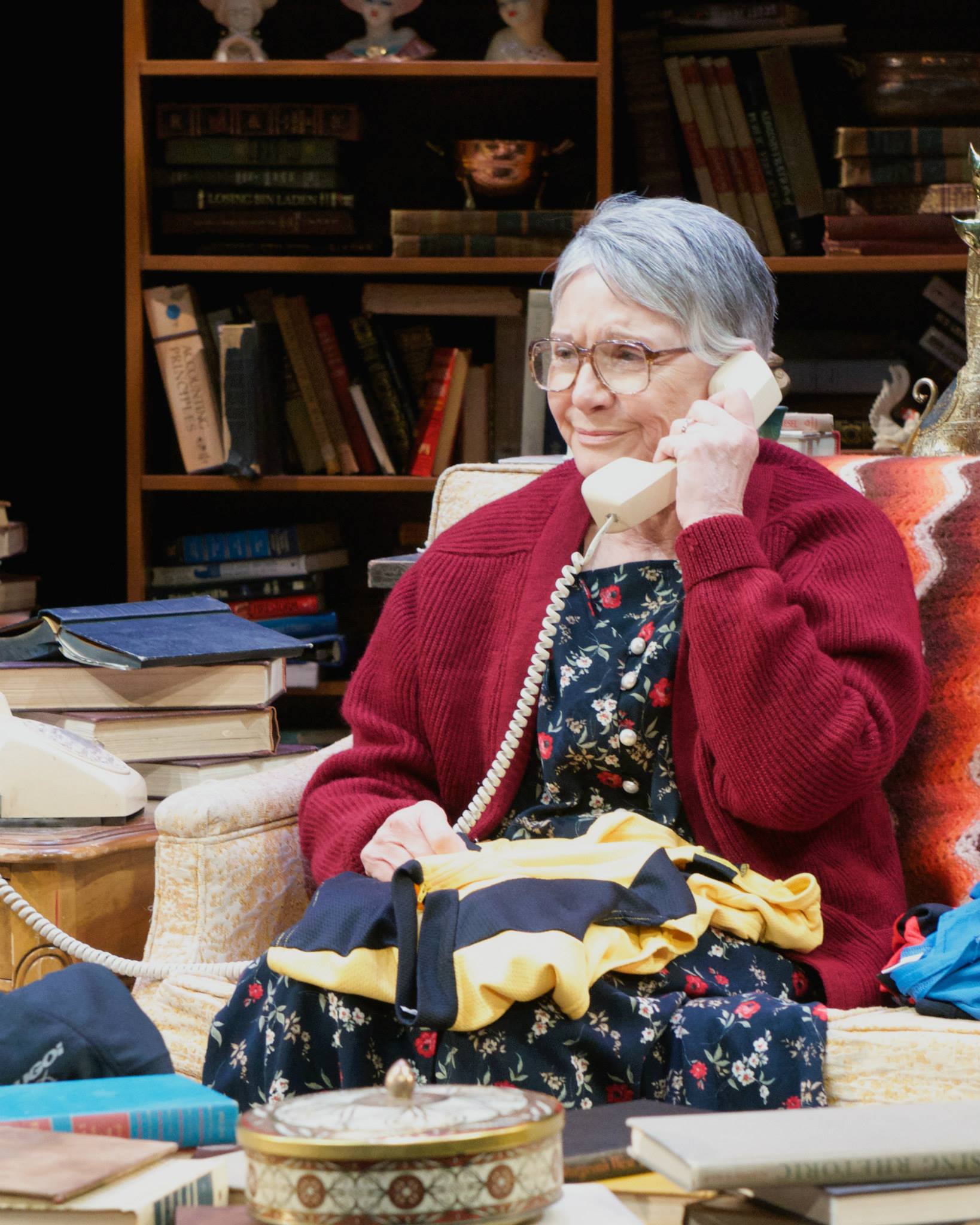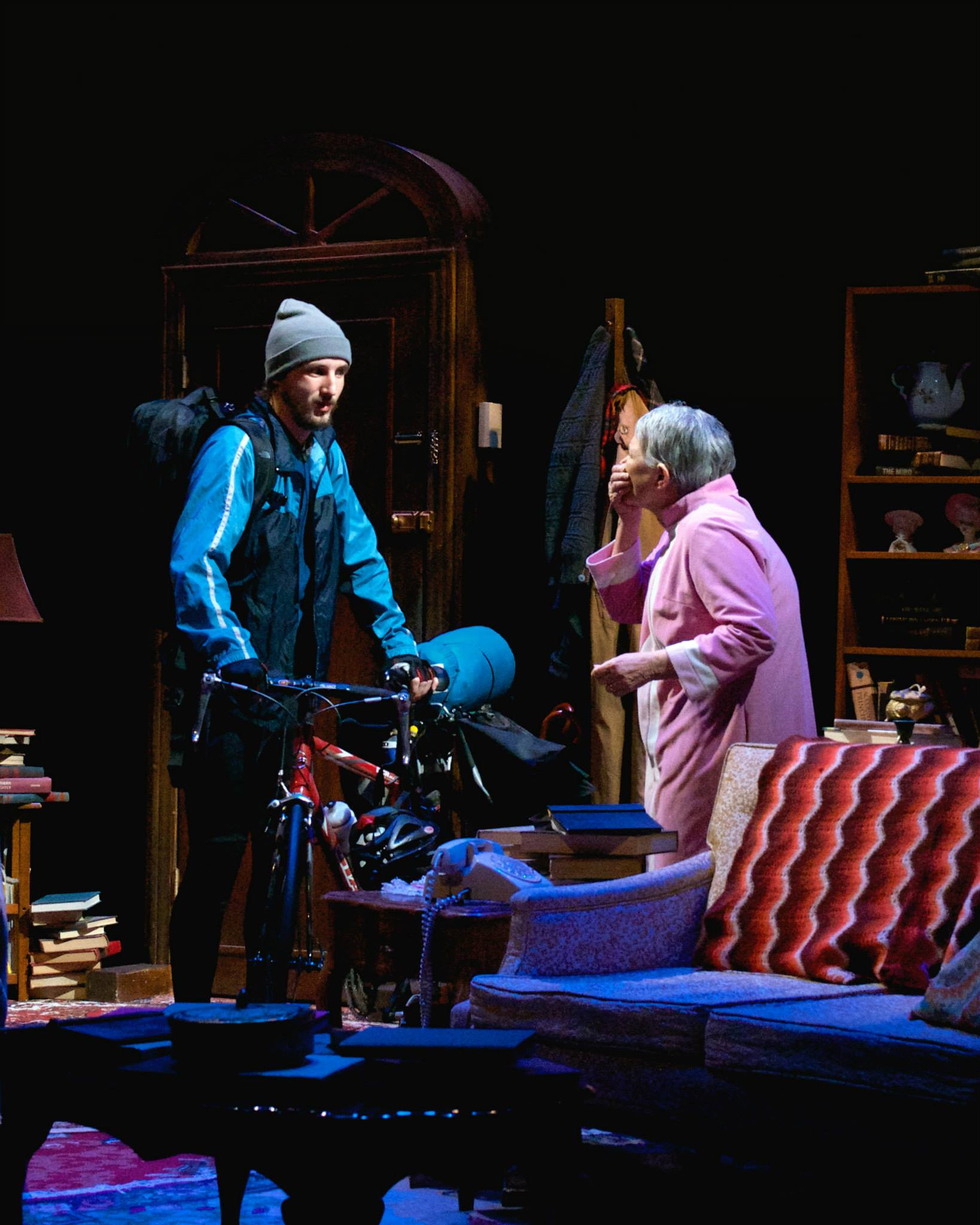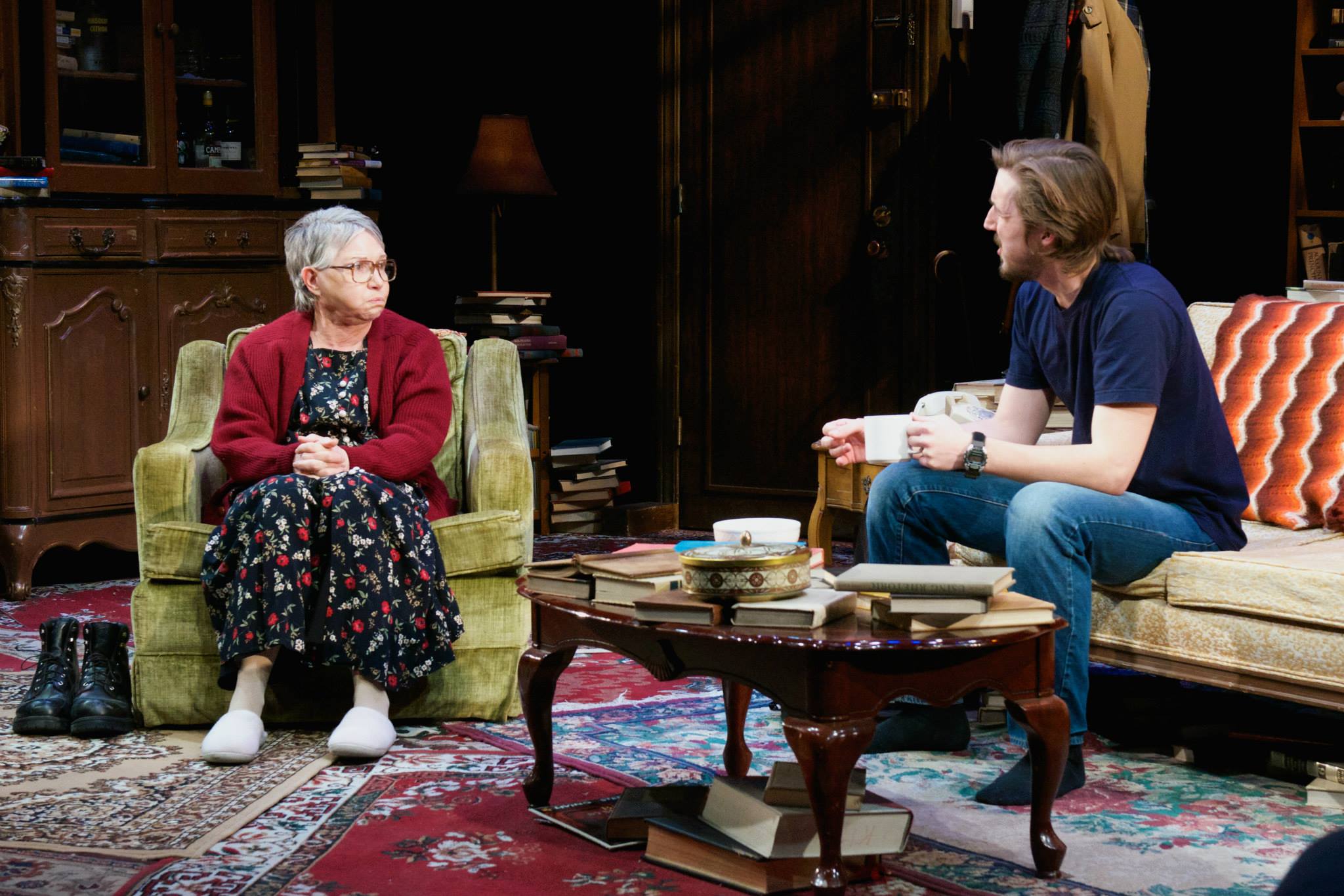 *****
2013. ACTORS THEATRE DOWNSIZES, LEAVES THE HERBERGER
The Republic, azcentral.com,
Feb 12, 2013.
Actors Theatre, one of a handful of professional theater companies in the Valley, has canceled the final two productions of its season and laid off six of eight employees as it takes a "pause" to reinvent its business model.
Longtime artistic director Matthew Wiener said the company will return for the 2013-14 season, but not to the Herberger Theater Center, where it has been a resident company since the downtown Phoenix venue opened in 1989.
"The Herberger was our greatest asset and our greatest liability, but now we're just not able to be successful there anymore," Wiener said.
The city-owned venue was an asset for its central location, its visibility and its facilities, but those advantages came with rental fees and precluded Actors Theatre from adding revenue through such things as food and drink sales.
"It's a great loss to the Herberger Theater Center, and it's a great loss to the community because of the high quality of the work that Actors Theatre has done for many years," Herberger President Richard Bowers said.
"It's very sad that this becomes another one of those consequences of a very difficult economic time for the arts in general, and we hope that in their period of re-examination and rebuilding that they will return both for the good of the public and the good of downtown Phoenix."
One of only five Valley companies that contracts with the Actors' Equity Association, the national union for theater professionals, Actors Theatre was founded in 1986 with a mission of producing contemporary theater and hiring local artists.
"They're doing plays that are new to the Valley and plays that other companies won't do," said Valley actor Joseph Kremer, who last appeared with Actors Theatre in Dead Man's Cell Phone a year ago and was slated to star in A Steady Rain next month.
"They're that special niche of serious theater audiences, and it's going to be a really hard niche for anyone else to fill," Kremer said.
Like most non-profit arts organizations, Actors Theatre was hit hard by the Great Recession. In October 2011, it announced a do-or-die fundraising campaign to keep its doors open, and supporters responded with hundreds of small gifts to make up for a decline in grants.
The company came close to meeting its fundraising goals for the current season, and its most recent production, the golf-themed farce The Fox on the Fairway, was its biggest box-office hit in two years.
A move out of the Herberger was already under consideration, but the loss of two more grants totaling about $200,000 late last year — against an annual budget of $950,000 — forced the decision to suspend operations, managing director Erica McKibben Black said.
In addition to canceling productions and reducing paid staff to just Wiener and Black, Actors Theatre also is giving up its office space, costume and scene shop and production storage.
Most of its stock of scenery, props and costumes has been donated to other Valley theaters.
Wiener said the 2013-14 season will be presented in temporary "pop up" venues as the company searches for a permanent space.
"We are not interested in building a new theater, and we are not looking to move into a performing-arts center," he said.
"This is the next piece of our evolution. … There has been a lightness and optimism — more imagination and hope than we've had in a while. It's very exciting."
*****
2012.  "THE HUNTER GATHERERS"
Playwright: Peter Sinn Nachtrieb. Director: Ron May.  Cast: Yolanda London, Toby Yatso, Cale Epps, Angelica Howland.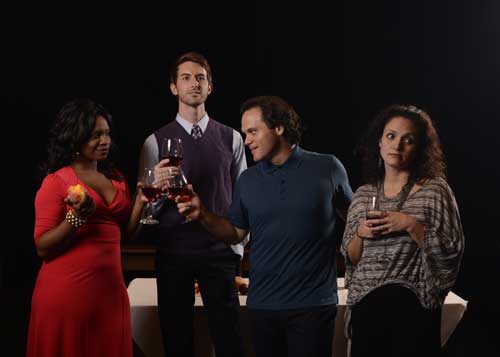 Excerpts from an article by Lynn Trimble, Art Musings:
Playwright Peter Sinn Nachtrieb envisions the evolving relationship of two couples joined in tandem weddings in Hunter Gatherers, being presented by Actors Theatre of Phoenix at the Herberger Theater Centerthrough Jan. 15, 2012. The couples somehow manage to live apart, but have a lovely little ritual of dining together once each year to keep all that beautiful BFF stuff brewing.
Their latest gathering — or hunt, perhaps — is the stuff of Sinn Nachtrieb's work. It's directed by Ron May of Stray Cat Theatre,   who's hailed as "brilliant, very specific, gracious and smart," by Toby Yatso, who performs the role of Tom. "He knows this play really well," says Yatso. "It's been in his heart for a long time." Yatso describes May's work as "the best version of storytelling."
"There's a lot packed into the play," according to Yatso, who uses the word "intense" to describes its content, scenes and relationships. It's fast-paced, absurdist and farcical fare about finding the funny moments in terribly serious lives. "You see yourself in it," reflects Yatso, "even though something like this would never happen to you."
The play's four characters — Pam (Angelica Howland), Richard (Cale Epps), Wendy (Yolanda London) and Tom (Toby Yatso) – have known each other since high school. Hunter Gatherers finds them in their mid-30s, and at a crossroad. "There's something missing for each of them," says Yatso. "Some don't know what it is," he says. "Some do, but they don't know how to get it."
"The nature of the play," observes Yatso, "is like a great Greek tragedy." Our human flaws catch up with us, and become obvious to everyone. Even ourselves. London describes it as "an exploration of what it takes to get people to go back to their primal instincts." Seems her character "doesn't stop until she gets what she wants." Best not to be the person who has it.
London notes that characters Pam and Wendy have actually known each other since grade school. "There's history," says London, "and ties." Plus a connection that could be the reason Wendy keeps coming back. London describes the play as "fast, funny, bloody, awesome and honest." Also unflinchingly and refreshingly honest. "We don't get to see this honesty in everyday life," reflects London.
"We hear these people say things lots of us think," shares London. "Their problems are our problems," she says. "We all want family, loving friends — to matter." London says she's particularly drawn to the "musicality" of the playwright's words, and shares the director's fondness for telling stories about people who are messy. "These people," she says, "are messy."
So too is the world of sustaining a thriving theater company. Actors Theatre reported late last year that it was in danger of closing up shop due to a severe financial shortfall. The lovely red thermometer on their website shows they're raised more than 90% of the funds needed to finish out their season and move ahead to a final fundraising phase.
I asked both Yatso and London what losing Actors Theatre would mean to the community. "They're so talented," Yatso told me. "If they aren't here, there's no one left to do this kind of work." London made a similar observation  — asking "Who else will be telling these stories?"
There are others producing new and edgy adult fare in the Valley – including May's own Stray Cat Theatre in Tempe, but the companies have distinct flavors and a metropolis of our size needs more, rather than fewer, theater companies offering challenging works that raise issues at the very heart of our common humanity.
Actors work for theater companies, of course, so losing a theater means lost job opportunities — and the domino effect that brings for families and communities. "Actors Theatre keeps us working," says London. But there's more, she says. Much more. "Actors Theater is brave and adventurous."
Happily, managing director Erica McKibben Black noted before Sunday's performance that the company's board of directors has voted to finish out the season — so Valley audiences can look forward to Dead Man's Cell Phone and Body Awareness as Actors Theatre continues its fundraising drive for a future beyond just this season.
Sunday's performance of Hunter Gatherers was, by the way, quite well executed. It's full of primal urges, mostly for food and sex, realized in sometimes violent ways — making it appropriate for grown-ups who are comfortable with such things, or those who relish a bit of discomfort for the sake of art or self-reflection.
Physical comedy abounds and it's exceptional. Every actor gives a compelling performance, but Epps is the pivotal player as best laid plans are both realized and unraveled. I'll never look at drumsticks, oven mitts, freezer bags or wall art in quite the same way. Keep tearing down those walls, Actors Theatre. Sometimes we all need a good hard look in the mirror.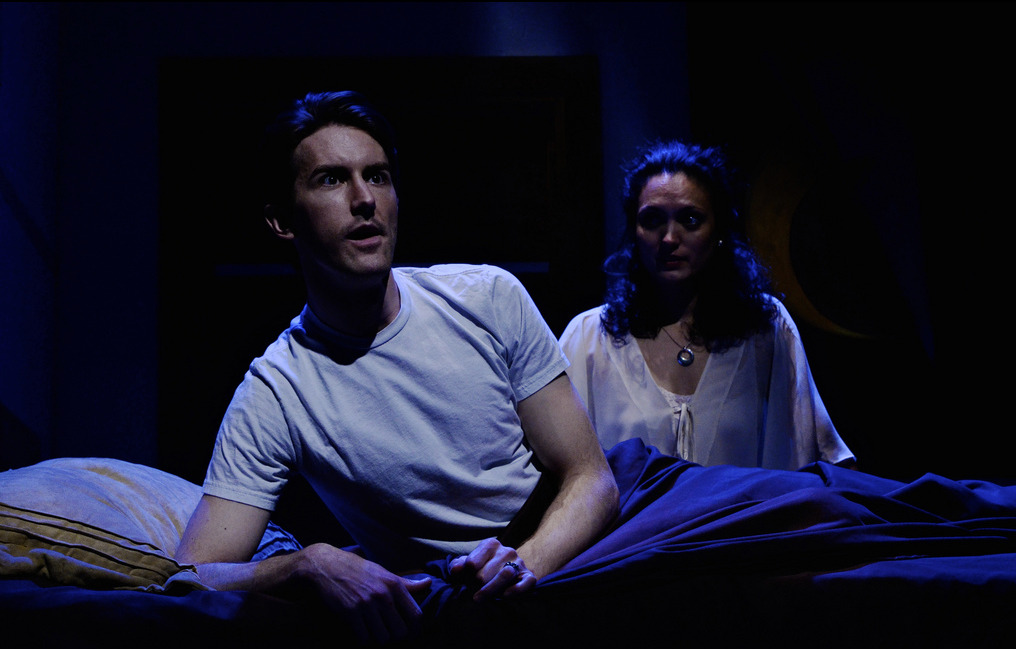 *****
2012.  "DEAD MAN'S CELL PHONE"
Playwright: Sarah Ruhl. Director: Matthew Wiener. Cast: Meghan Malloy (making her Phoenix acting debut), Patti Davis Suarez, Sally Jo Bannow, Joseph Kremer. Scenic Design: Jeff Thomson. Costume Design: Lois K. Myers. Lighting Design: Tim Monson.Sound Design: Christopher Neumeyer. Stage Manager: Amy Gilbert.
Sarah Ruhl's play explores the paradox of modern technology's ability to both unite and isolate people in the digital age.  Jean (unmarried, no children, approaching 40, an employee at the Holocaust museum) is sitting at a cafe when a man's cell phone rings. And rings. And keeps on ringing. The man doesn't answer because, as the title suggests, he's dead. Jean, however, does pick up, and when she discovers that the cell phone owner has quietly died in the cafe, she not only dials 911, she keeps his phone in order to keep him alive in a strange yet significant way. She takes messages from the dead man's business associates, friends, family members, even his mistress. Jean goes to the funeral of Gordon (the dead guy), pretending to be a former co-worker. Wanting to bring closure and a sense of fulfillment to others, Jean creates confabulations about Gordon's last moments. The more we learn about Gordon the more we realize he was a terrible person who loved himself far more than anyone else in his life. However, Jean's imaginative reinvention of his character brings peace to Gordon's family. Ultimately, Jean discovers the truth about Gordon's career: he was a broker for illegal sale of human organs. She flies to South Africa in order to donate her kidney as a sacrifice for Gordon's sins.
For Chris Curcio's review, go HERE
Sally Jo Bannow and Meghan Malloy on YouTube.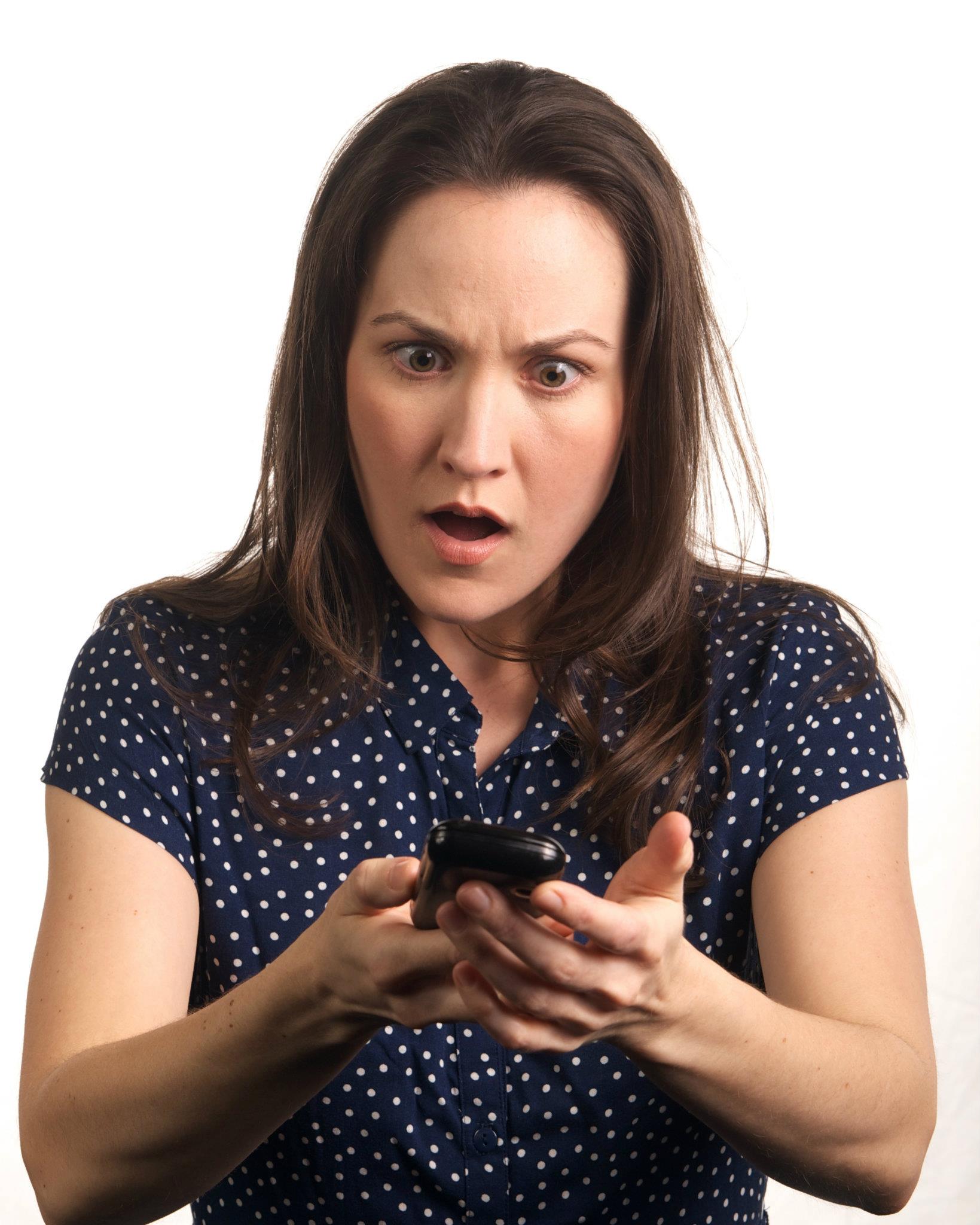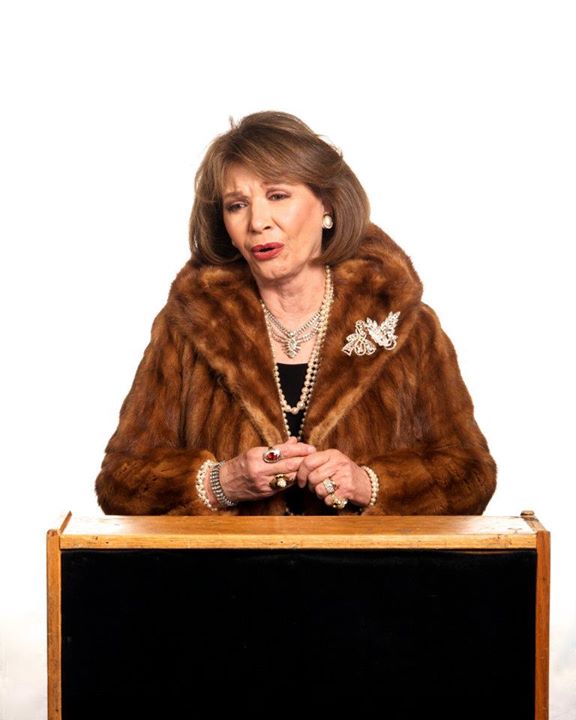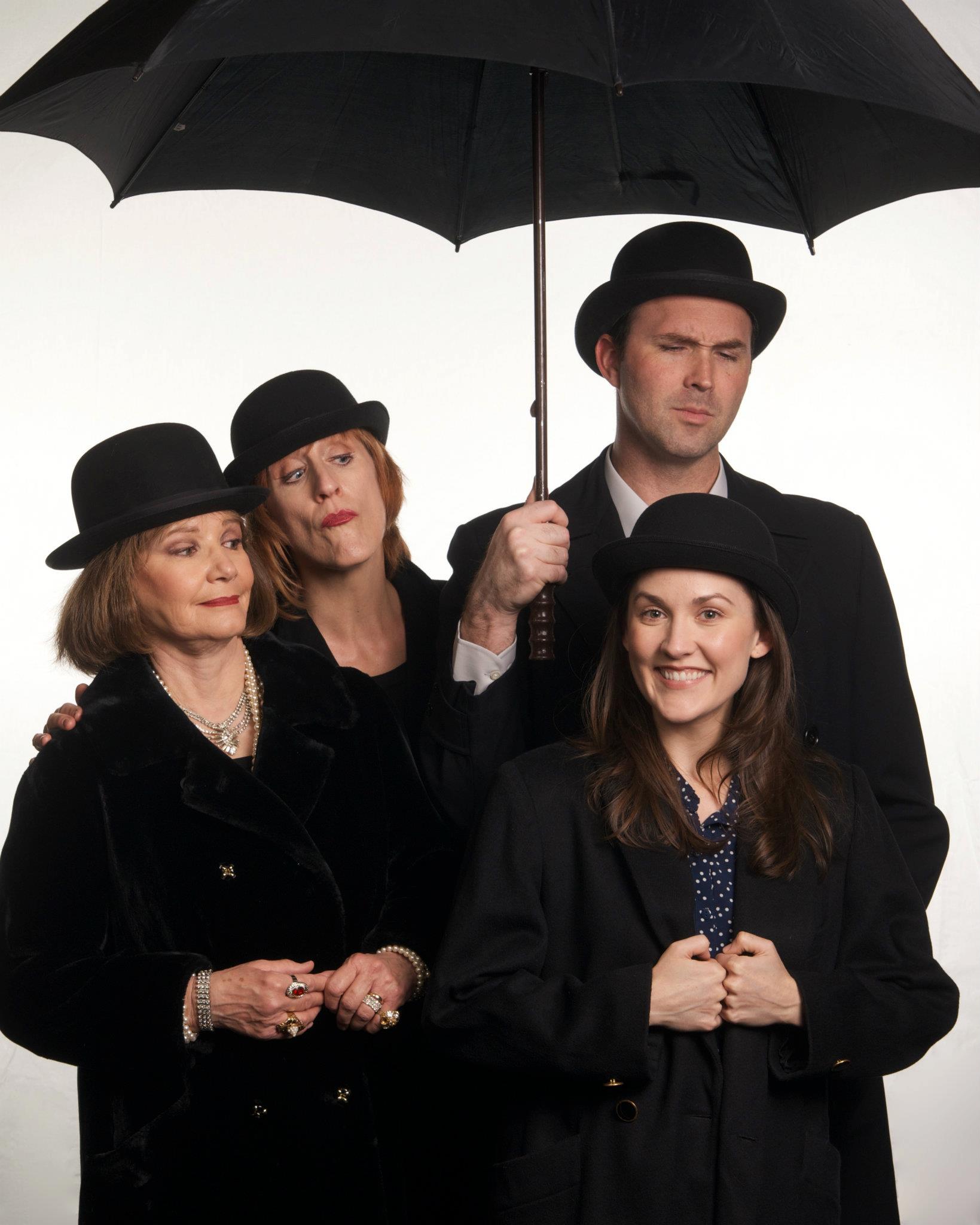 Patti Davis Suarez, Sally Jo Bannow, Joseph Kremer and Meghan Malloy starred in Sara Ruhl's "Dead Man's Cell Phone" at Actors Theatre, 2012. (Photo by John Groseclose).
*****
2012. "OPUS." Playwright: Michael Hollinger. Director: Robert Kolby Harper. Cast: Ian Christiansen, Pasha Yamotahari, Spencer Dooley, Kate Haas, David Dickinson. String Consultant: Jim Apperson.

Favorite tagline for this play came from Variety: "Sex, drugs … and string quartets."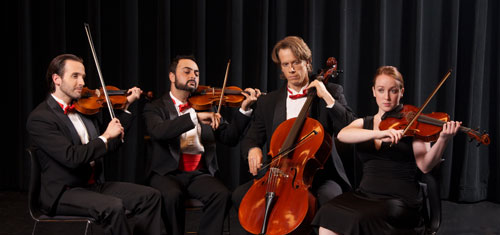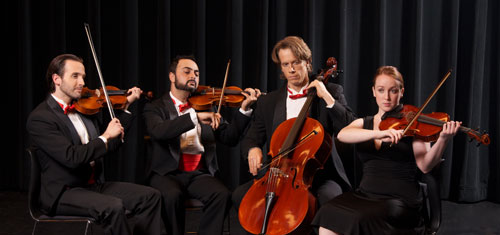 The production wins ariZoni Awards for Best Play, Best Actor (Ian Christiansen), Best Supporting Actor (Pasha Yamotahari), Best Property Design (Scott Wagner) and Best Director (Robert Kolby Harper).
A world-class string quartet has hit a bad note. The musical genius of the group has gone off his medication and his behavior has become completely erratic. The group has fired him and is interviewing for his replacement. They take a chance on a gifted but relatively inexperienced young woman. With only a few days to rehearse a grueling Beethoven masterpiece, the four struggle to prepare their highest-profile performance ever — a televised ceremony at the White House. Their rehearsal room becomes a pressure-cooker as passions rise, personalities clash, and the players are forced to confront the ephemeral nature of their life's work.
Recipient of the Barrymore Award for Outstanding New Play, and nominations for Lucille Lortel and John Gassner Awards for Best New Play.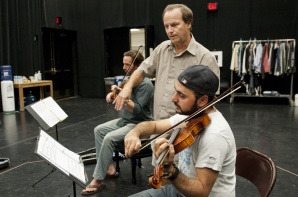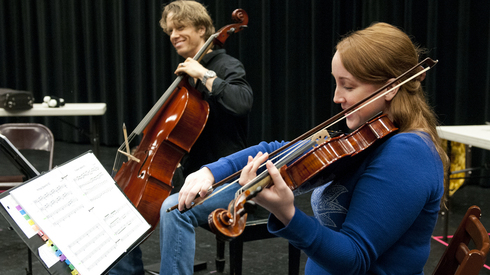 For Kerry Lengel's article on Jim Apperson's coaching, go HERE
Below is Kerry's second story on the actors' special skills:
Valley actress Kate Haas jokes that she's going to add "fake violist," or maybe "bow-syncing," to her resume after starring as a classical musician in Actors Theatre's "Opus."
And who knows, maybe it's not a joke. After all, her castmate Ian Christiansen lists, among other things, "balloon animals," "human fireworks" and "Homer Simpson and Aaron Neville impressions."
These all fall under "special skills," the spot on the resume where actors advertise useful abilities such as stage combat, juggling or regional dialects, along with talents of more dubious utility onstage. For example, Christiansen doesn't include horseback riding just because he's hoping to land the national tour of "War Horse."
"I was trained as an actor that anything interesting like that, you put on," he says.
Nor does Haas list rollerblading with an eye toward "Starlight Express," she adds.
"Even if it's not a skill you would need for the show, it might be a conversation starter with the director, so that they get to see a little bit more of you," she says. "Because auditions are so short, sometimes that extra little bit of conversation might mean the difference between getting a callback or not."
And yes, Christiansen has been asked to break out his Homer Simpson and Aaron Neville impressions at an audition. He even performed his human fireworks once when he was informed that theater did indeed have a supply of bubble wrap handy.
"Opus" actor Pasha Yamotahari's lists a bevy of dialects including Russian, Cockney, Farsi and Galactic Basic Standard (as in "Star Wars" aliens). He no longer mentions his Disney character voices, however.
"I've done 'To be or not to be' in Donald Duck voice" for a casting director, he says. "I took Donald and Mickey off the resume because of that experience. It's like, 'I'm ruining Shakespeare!' "
For Kerry's review of the play, go  HERE
Below is David Dickinson's blog entry dealing with the process of learning to bow an instrument.
During my day off I took the opportunity to watch the movie Copying Beethoven. I was curious how a modern actor, director and writer would flesh out a historical figure we can also feel through the music he left us.
At first when I saw that Ed Harris was playing Beethoven, I admit skepticism. I have images of John Glen in The Right Stuff imprinted on my brain. However Mr. Harris' performance mesmerized me.
The movie was set in Beethoven's late period when he was writing his Ninth Symphony and his late string quartets including the Grosse Fuge, Opus 130, and his fourteenth quartet, Opus 131.
In OPUS we play segments from both of these quartets. It was fascinating to see what Stephen Rivele and Christopher Wilkinson, the writers, interpreted as Beethoven's ideas about these works. Here are two quotes I found poignant:
Of the Grosse Fuge: "Of course it is ugly, but is it beautiful. It is meant to challenge your sense of beauty. I'm opening up music to the ugly, to the visceral. How else can you get to the divine except through the guts of man. [The gut] is where God lives not in the head. Not even in the soul. But in the guts, because this is where the people feel it."
Of the Opus 131: "When does the movement end? It doesn't end, you must stop thinking of beginning and ending. This is not a bridge…it is a living thing, like clouds taking shape, or tide shifting. [But musically how does it work?] It doesn't work; it grows. You see the first movement becomes the second, as each idea dies a new one is born. In your work you are obsessed with structure or choosing the correct form. You have to listen to the voice speaking inside of you. I didn't hear it myself until I went deaf…. The silence is the key: the silence between the notes. When that silence envelops you then you then your soul can sing."
The ideas of the visceral and silence resonate very strongly in Opus. In fact, there are four different types of silence written into the script for the actors to observe almost like rests in a score of music: Beat (shortest), Pause, Long Pause and Silence (longest). Mr. Hollinger, our playwright, accentuates every scene with each of these silences. But perhaps more importantly, the writers were getting to the point that an artist has to shut out the daily noise to listen to inspiration. This is a theme we've been working on from day one in rehearsals. Robbie Harper, our director, pointed out on day one that this play is about life getting in the way of our art. Our challenge as actors and musicians in the play is to get through that noise, deal with it and still arrive at our Opus. In that fight we find the visceral as well, exploring the guts and grit of the creative process.
As for the movie, the passion portrayed moved me…music as life and death. And, yes, I cried. Twice.
*****
2011  "NEXT FALL"
Playwright: Geoffrey Naufft. Director: Matthew Wiener. Cast: Robert Kolby Harper, Chance Dean, David Vining, David Dickinson, Andi Watson, Debra K. Stevens. Scenic Design: Jeff Thomson.

Geoffrey Naufft's play centered on two men in a gay relationship, one very religious ( Chance Dean), the other an atheist (Robert Kolby Harper).  Things change drastically for them when Dean's character is involved in a serious accident. Will he go to hell? It's a subject American playwrights have rarely explored. The play debuted off-Broadway in 2009; two years later Actors Theatre brought it to the Valley in this highly praised production. David Vining and David Dickinson played key supporting roles. There also were women involved: Andi Watson and Debra K. Stevens.  Director Matthew Wiener couldn't have found a finer cast.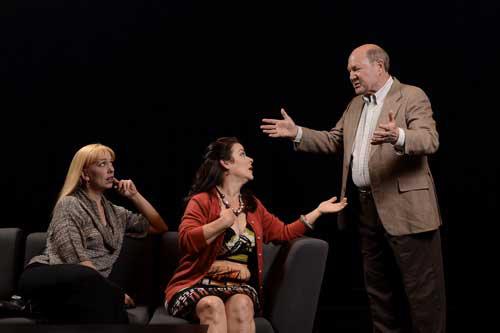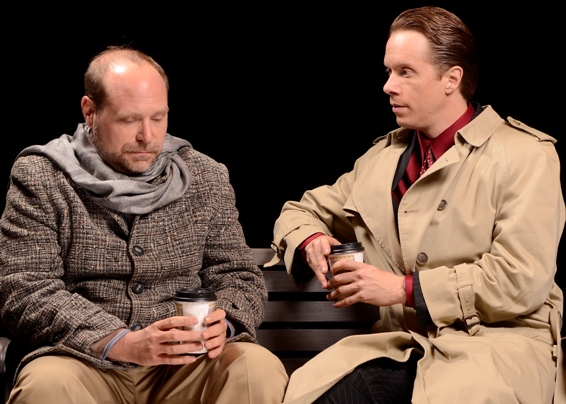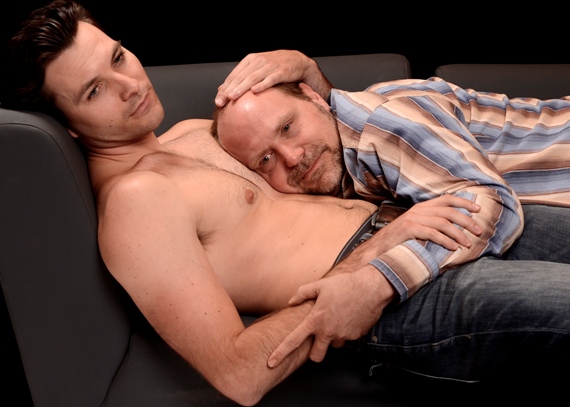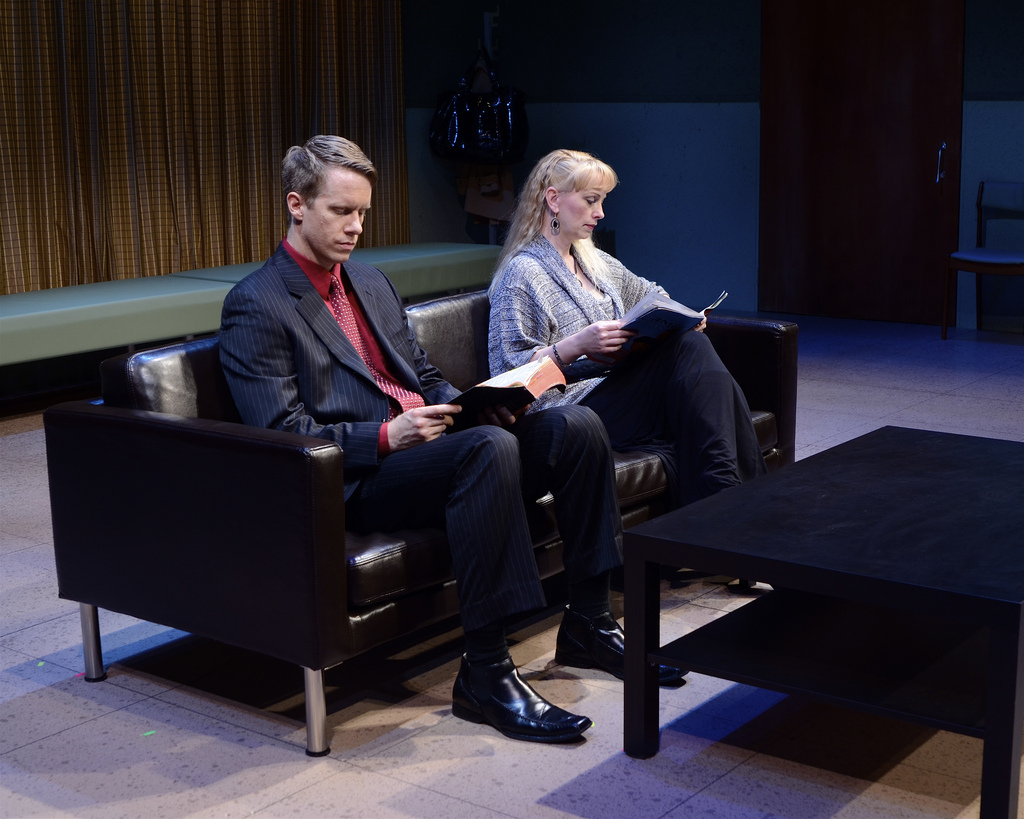 For Kerry Lengel's interview with the playwright in the Arizona Republic, go HERE.  For Kerry's review of the play, go HERE
*****
2011. CIRCLE MIRROR TRANSFORMATION.   Playwright: Annie Baker. Cast: Maren Maclean, David Vining.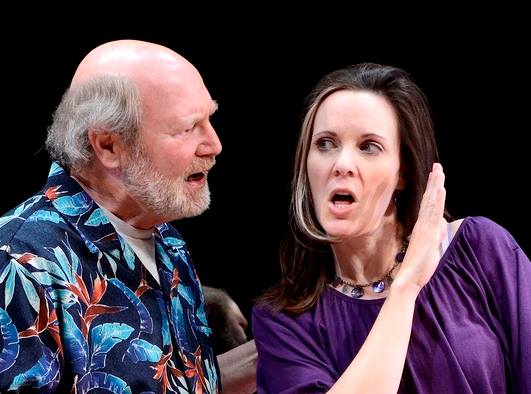 *****
2011. A CHRISTMAS CAROL IN CONCERT.   Cast: Ben Tyler, David Barker, Patti Davis Suarez, David Vining.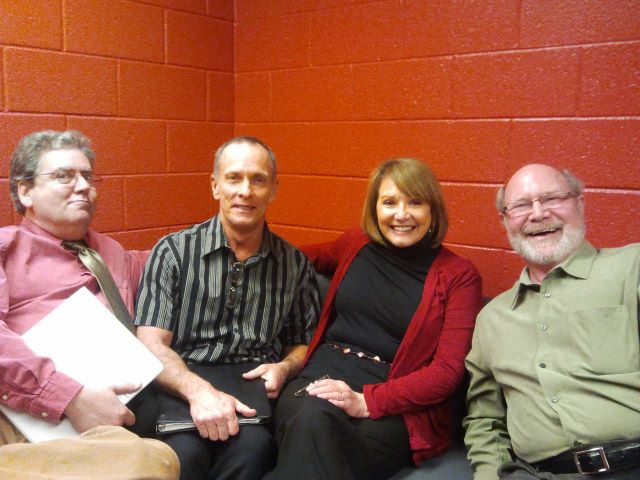 *****
2010. SECRET ORDER. Playwright: Bob Clyman. Director: Matthew Wiener. Cast: Cale Epps, Mark De Michele, Jessica Weaver, David Vining. Set Design: Jeff Thomson. Lighting Design: Paul Black. Costume Design. Lois Harcourt Myers. Sound Design: Christopher Neumeyer.
A bright young scientist, Dr. William Shumway, is on the verge of the most sought-after discovery in medical research today, the cure for cancer. Recruited by a prestigious New York research institution, Shumway finds himself in over his head with pharmaceutical companies, The New England Journal of Medicine, and even the Nobel committee demanding results that he is not ready to share. When his white mice start having trouble, he has to solve the problem before anyone notices or before he has to admit that his theory may be wrong. What unravels is a scientific and moral quandary which tests the will, desire and integrity of all involved. Playwright Bob Clyman crafts a suspenseful bio-medical psychological thriller which leaves the audience questioning how far should we go to alter the landscape of science and improve human life.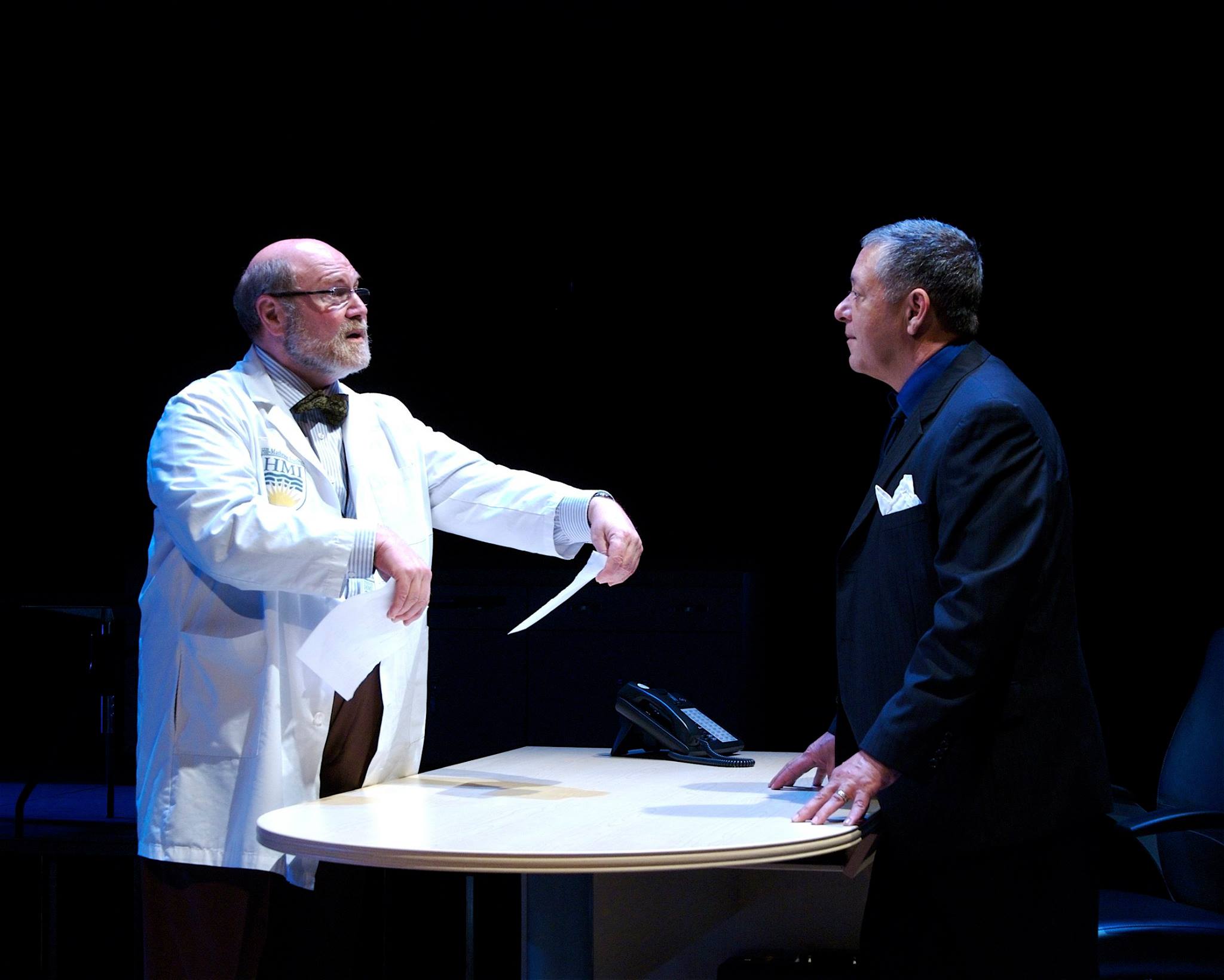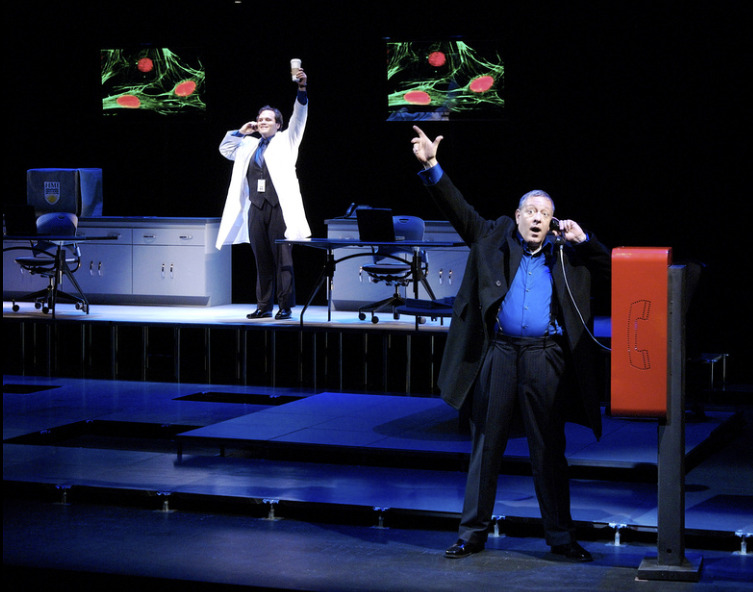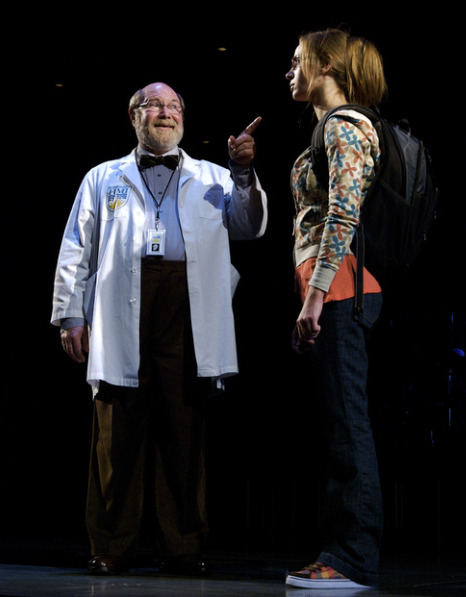 KERRY LENGEL'S FEATURE IN THE ARIZONA REPUBLIC
"The Secret Order" takes place in the offices, lecture halls and laboratories of a medical-research institution. That might sound about as dramatic as a congressional health-care forum, but first impressions can be deceiving.
In the opening scene, a bright young scientist fumbles his way through an impromptu presentation in which he explains, in tentative, rambling circles, that he might have just discovered the cure for cancer. His laboratory breakthrough tips over a line of dominoes – a job offer, a flood of grant money, talk of a Nobel Prize – that will test the wits and the ethics of everyone involved.
"The cure for cancer is like the Holy Grail of medical research right now, and most of the contemporary work in that field is about incremental increases in whatever has happened already," says Matthew Wiener, who's directing the 2002 play in Phoenix for his company, Actors Theatre.
"What this play is talking about is the unexpected piece of genius, the black swan, the thing that comes out of nowhere and changes the game. And it's about how far we will go to achieve that. It becomes about ethics and politics and about the hunger and passion of science to solve problems.
"These are not dispassionate people. They are brilliant people put into high-pressure situations. Then we watch them bend their beliefs in an attempt to do good."
Alfred Hitchcock defined drama as putting ordinary people in extraordinary circumstances, but "Secret Order" is driven by a different sensibility, says playwright Bob Clyman, a practicing psychologist in New Jersey.
"A lot of contemporary plays are about incompetent people," he says. "We're interested in seeing dysfunction onstage. But those often seem to be characters that, even if you don't know how they're ultimately going to fail, you know they're going to fail. They don't have the psychological resources to solve their own problems, so you're waiting to see what it is that's going to push them over the edge.
"I'm interested in characters who are reasonably mature psychologically but encounter these troubles that overmatch them. What is it in human nature that keeps all those abilities and positive emotions from succeeding? There are a lot of idiots in politics, but there are also a lot of really smart people. You get a new president you really admire, and he knows smart people, and it seems really easy to fill government with great minds, but something always happens that keeps people as a group from being as effective as you think they should be individually."
What's at stake in "Secret Order," then, is not just the issues of truth, ethics and money in medical research, but how important social institutions are undermined by human fallibility. A similar play could have been written about the recent flap over climate-change researchers apparently cherry-picking their data, Clyman says.
In science or in politics, "we have a system that pushes you to lead from the worst parts of yourself," he says.
"A lot of drama is about the clash between the clearly right thing to do and maybe self-interest or some other force that stands in its way."
Clyman's psychological training is obviously helpful when it comes to creating believable characters, but it also gave him the background to shed light on the practice of science, a modern institution that is hugely influential on society, even though most folks really don't know that much about it. It's a theme he keeps coming back to.
"I'm writing something now that's about designer babies and the social implications of giving parents the opportunity to choose the genes that are put into their children," he says.
"Science is an interesting area for ethical questions to be asked."
Director Wiener would go even further.
"Science is like our modern religion," he says. "We pretend there's a purity to it," but like any other religion, it's practiced by flawed human beings.
"I like plays that don't provide easy answers," Wiener says. "I like plays that relish the shades of gray."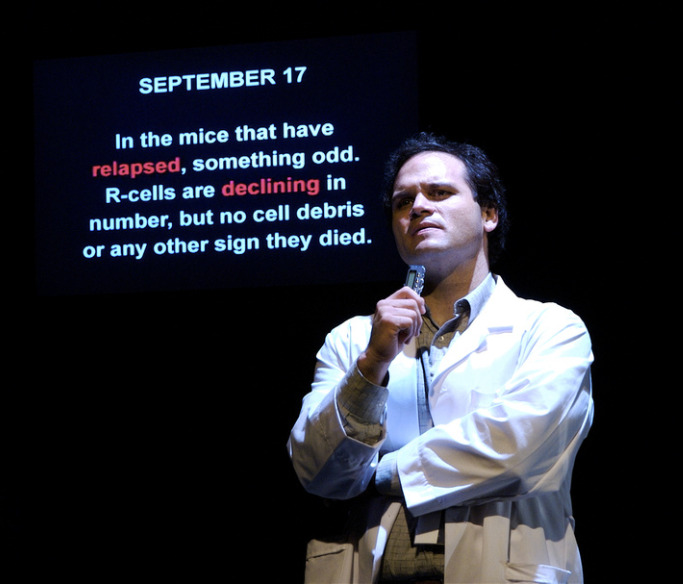 CHRIS CURCIO'S REVIEW FOR KBAQ
Cancer's cure has eluded scientists for years. Discovering that cure is at the heart of "Secret Order," a fascinating new play by Bob Clyman now at Actors Theatre in a supercharged production that is fantastically engaging and thought provoking.
William Shumway, a young researcher, has found a way to get cancer cells to self-destruct. He thinks his experiment is worth pursuing and his research leads him to a job in a prestigious New York cancer research institute headed by the pushy Robert Brock. Ever the entrepreneur, Brock sees a Nobel Prize in the research. Shumway knows his initial work requires more work before he tries it in animals to see if it might work in humans. When word gets out about the research, Alice Curiton, a perceptive Harvard University student, wants to work with Shumway.
Brock pressures Shumway to present his findings at a seminar. Before the seminar, the researchers discover problems with the experiment but Brock still urges Shumway to continue with the presentation by only releasing evidence that establishes the cure.
This plot establishes discussions about medical ethics, how medical research projects are reported, and individual integrity. Clyman's thoughtfully developed script provides fascinating insights into these probing topics. The play's conclusion doesn't resolve the dilemmas but allows audiences to use Clyman's clues to figure out their own resolutions. You will leave "Secret Order" thinking about many possible scenarios.
The Actors Theatre production is tautly staged with galloping pacing by Matthew Wiener and it features four flawless performances. Cale Epps captures Shumway's cautious intelligence as he attempts to slow Brock down and get the time he knows he needs to properly research his findings. No less brilliant is Mark DeMichele who instills Brock with amazing energy and drive as winning the cure at any cost becomes his sole goal.
In smaller roles, Jessica Weaver gets Alice's intelligence and this character's ability to guide Shumway into new ways to look at the research. David Vining outwardly joking Saul Roth, a research institute scientist whose discovery days and energy are closing down, still possesses amazing insight into reality. Jeff Thomson's harsh set provides the multiple locales so that the play's action can move swiftly and efficiently.
 Actor Mark DeMichele blogs about "Secret Order"
OK I have been acting for a while now but I have never blogged about the process so here are some thoughts after two weeks of rehearsal on Secret Order…Working on this play is rewardingly difficult…came home from rehearsals on Saturday and Sunday had dinner with my family and then went to bed exhausted.I have been reading and thinking about this play for the past six months. As part of my homework I deliberately learned some of the script sequences while only becoming familiar with the rest of the text. I then improvised the human, emotional aspects of the character (Bob Brock) in my daily life (I am lucky to have a wife that has so good-naturedly put up with my acting behavior for 29 years now) so that I can meld into the playwright's character. I don't do a lot of character research as ultimately every character I play is some aspect of me, with a beard, with an accent, with glasses, sometimes physically fit but more often just a chubby 50-ish man.I tend to be very technically oriented as an actor, working from the top down; how should the line be phrased, where do I stand, where's my light, where are the laughs etc… an actor that views the rehearsal process as a tunnel with a light on at each end and a great stretch of darkness in the middle. I generally prefer to eschew the rehearsal chit-chat of meaning or intention or whatever in favor of doing it again, and again, and again until it comes together in the room and then ultimately in front of an audience. At this point in the process I am trying to move the performance from my head and into my body and in several scenes, mostly in Act One, I am feeling the electric, visceral connection of text and performance with Cale, David and Jess.I am struck though by the level of focus and energy required to lift this text toward performance—our Chihuahua Chester gets very concerned when I try to work on the role at home. I look forward to week three.
*****
2007. The Lieutenant of Inishmore. Director: Matthew Wiener. Cast: Cale Epps, David McCormick, Beau Heckman, David Vining, Oliver Wadsworth, Colin McFadden, Tim Shawver, Kerry McCue. Scenic Design: Jeff Thomson. Costume Design: Connie Furr-Soloman. Lighting Design: Paul Black. Sound Design: David Temby. Special Effects: Cory Starr. Stage Manager: April Miller.

Bitterly blood curdling and breathtakingly funny. A brazen and unapologetic farce. The Lieutenant of Inishmore tells of a ruthless Irish Liberation Army enforcer and the one thing he loves more than anything else in the world . . . his little black cat, Wee Thomas. Think Monty Python meets Quentin Tarantino. The Martin McDonagh script builds to a stunning surprise that had audiences around the world laughing in disbelief – when they weren't cringing from the gore!
Tim Shawver (Davey) remembers …  What an experience this rehearsal process has been! There is nothing quite like hearing things from your director like, "We'll have a dowel rod in that fake arm so when you cut it off we hear a snap." or "Which of these tools do you think you would use to decapitate this dead body?"
I shouldn't focus so much on the gore. As much as the blood is a big part of the show, it is not the MAIN thing. And gory as it is, the comedic (even farcical) tone of the piece keeps it from becoming morbid.
So what is the MAIN thing, if not the gore? FUN! I don't think I have ever had such a good time on stage. I love being funny. The sound of laughter that I helped create makes me want to explode inside. And this play is so very clever, so very surprising, so very everything that a good comedy should be that it takes me hours to wind down after rehearsal to get some sleep.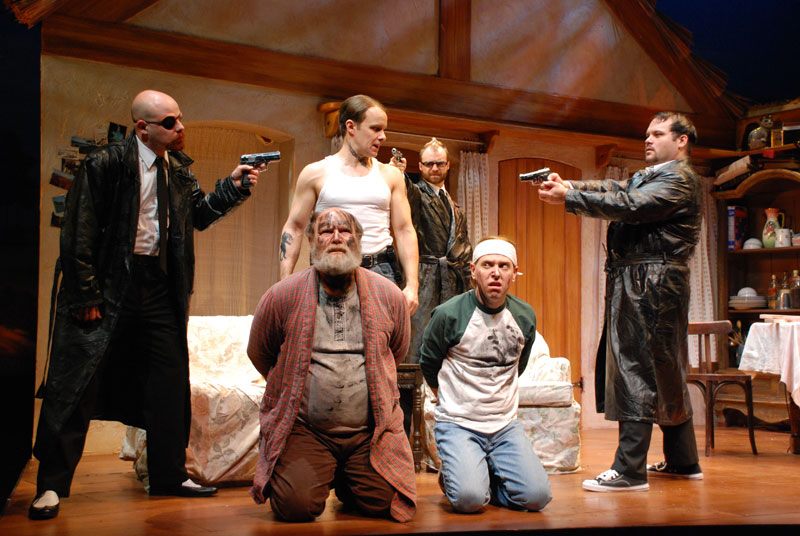 *****
2007. Augusta. Playwright: Richard Dresser. Director: Ron May. Cast: Richard Trujillo, Patti Davis Suarez, Kerry McCue. Scenic Design: Kimb Williamson. Lighting Design: Linda Essig.
Review. Kerry Lengel, Arizona Republic, March 12, 2007:
Augusta is a semi-dark comedy about the American dream. It follows two maids pursuing happiness on something less than a living wage, but if you're expecting a John Edwards campaign ad, the script may not be going where you expect. It's more nuanced and ambiguous than any political agenda – and a heck of a lot funnier.
The characters, created by Richard Dresser as part of a trilogy of plays on happiness, may feel trapped by circumstance, but life is never that simple. They've had choices to make, and they have more to come. What they do with those choices will keep the audience guessing in between the laughs.
Augusta, first performed just last year, is having its Arizona premiere at Actors Theatre. In a rarity for a top company, it features all local actors, and all shine.
Richard Trujillo is hilariously over-the-top as Jimmy, the women's insecure boss. Oozing with the sourness of curdled testosterone, he lords it over the ladies, or tries to, brandishing his disappointment like a king's scepter.
It's a stagey performance, but somehow it clicks with Patti Davis Suarez's more lifelike act as Molly, a middle-age enigma who brags to her young co-worker that, as Team Leader, she makes more than $10 an hour. Suarez is a subtle charmer, as always, and makes a nice foil for Kerry McCue, as party girl Claire.
Making her Actors Theatre debut, McCue easily holds her own with the two veterans. Filled with both vitality and anxiety, she skitters around like a puppy. Making no bones that she'd rather be smoking pot than scrubbing floors in some stranger's summer palace, Claire seems shallow, but this actress knows how to suggest depths that belie her party-girl facade.
Also making his debut with Actors Theatre is director Ron May, who runs the alternative troupe Stray Cat Theatre. An actor's director, he wisely keeps the focus on the cast, although the technical aspects of the production, including the beautiful but unassuming set by Kimb Williamson, are top-notch.
It all adds up to make Augusta one of the highlights of the theater season.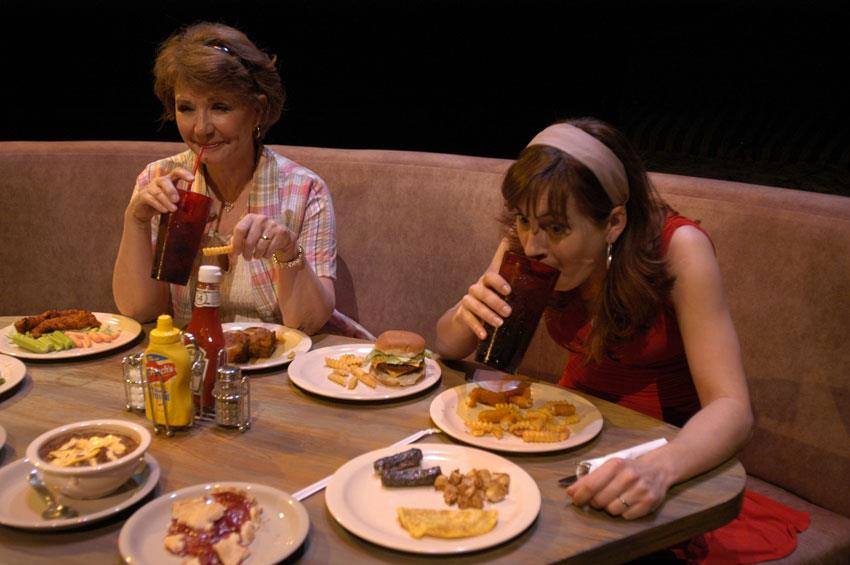 *****
THE 2006-2007 SEASON
An article by Kyle Lawson from the Sept. 3, 2006 Arizona Republic
In local theater, the word "innovative" is as ubiquitous as Lindsay Lohan's name in the gossip columns. Everyone claims it. Some even deserve it.
No one would disagree that Stray Cat Theatre and Nearly Naked Theatre Company live far out on the limb. Arizona Theatre Company asks a lot of its subscribers when it stages How I Learned to Drive, a sympathetic look at a child abuser; or I Am My Own Wife, the story of one of the world's great transvestites.
Still, if anyone owns the bragging rights, it is Actors Theatre.
For 21 years, the Phoenix troupe has thumbed its nose at convention. Plays about boys obsessed with raccoons, astringent political satires, brash exposes of religion, conspiracy-theory brouhahas and pieces lashed with sexual innuendo (and not so innuendo) have abounded from the get-go.
Last season, Actors Theatre earned a place of sorts in local stage history by presenting Edward Albee's Tony Award-winning The Goat, or Who Is Sylvia?, which confronted its audiences with bestiality and other scary love affairs.
No other Valley company would touch it.
Some patrons left in anger, others in disgust. Matthew Wiener, the troupe's producing artistic director, doesn't hold a grudge.
"This is what we do," he says. "If you don't leave the theater thinking hard about what you've just seen, we've failed in our mission."
Actors Theatre is not one to rest on its laurels.
This season, the company will stage The Pillowman, Martin McDonagh's disturbing treatise on how violence in art affects violence in the streets. The play, which offers no easy answers, has offended liberals and conservatives alike.
The bill includes Will Eno's Thom Pain (based on nothing), a daring attempt to turn a monologue into an epic extravaganza; and Rolin Jones' The Intelligent Design of Jenny Chow, about an obsessive-compulsive agoraphobic who sets out to find her birth mother in China.
Strong stuff, and typical. Even the company's annual production of A Christmas Carol has its moments of Dickens seen through a smudgy glass.
The resident company at the Herberger Theater Center was founded at a time when professional theater was in short supply in the Valley.
Arizona Theatre Company had emerged from its Tucson community theater roots to become the state's official stage, but, ironically, it seldom hired Phoenix performers, directors or technicians.
"They were hiring mostly out of state," recalls Judy Rollings, one of the Actors Theatre founders. "Many good-quality actors were leaving the area because they wanted to work. We hoped that if we provided a healthy environment, they would stay in the state and it would be good for everyone."
Actors Theatre, known for many years as Actors Theatre of Phoenix, or ATOP for short, succeeded beyond its wildest dreams.
Many who would become the Valley's best-known thespians found a home there: Bob Sorenson, Linda DeArmond, Michael Grady, Richard Glover, Kathy Fitzgerald, Cathy Dresbach, Nicolas Glaser, Maria Amorocho and Gerald Burgess gave some of their greatest performances in the company's original home, a bank on the site of what is now the Phoenix bus terminal, and, later, the Herberger.
Today, the company is under the artistic leadership of Wiener, a graduate of the Yale School of Drama and former associate artistic director at Arizona Theatre Company. It opens its 21st season Sept. 15 with Completely Hollywood (abridged), the latest effort by the Reduced Shakespeare Company.
The production reflects what is perhaps the greatest change in Actors Theatre's mission: The show will be performed by the California-based founders of RSC; in years past, RSC comedies were mounted using local actors.
Gerald Burgess, head of the theater program at Phoenix College, was one of Actors Theatre's founders and, for many years, one of its principal performers. He portrayed Scrooge for eight years in A Christmas Carol and returns to the fold in October in Jenny Chow.
"I'm aware that some people are unhappy with the change in mission, but I'm still a big supporter," Burgess says. "Theater is a living organism; it changes with the times. If Actors Theatre is to maintain its spot on the cutting edge, it has to up the ante."
The company faces challenges. It continues to carry a heavy debt load and, like many other troupes, it has discovered that contemporary audiences aren't as interested in purchasing season tickets as their predecessors.
But some things are constant.
"Over the years, Actors Theatre has produced some of the best theater I've seen," says Rollings, who was the troupe's artistic director from 1987 to 1995.
"I hope that never changes."
*****
2005. The Last Five Years. Director: Dennis Courtney. Cast: Stephanie Likes, Jared Bradshaw. Musical Director: Jonathan Ivie. Lighting: Paul Black. Set Design: Desiree Maurer.
Review, Kyle Lawson, The Arizona Republic, Mar. 8, 2005
The Last Five Years, the excellent Actors Theatre production at the Herberger Theater Center, begins as it intends to finish, though you might say the same is true in reverse.
Jason Robert Brown's elegantly crafted two-character musical is unique, at least for now. It not only tells its story in a straightforward chronological manner, it tells it from ending to beginning. Both accounts occur simultaneously. There's no dozing
off during this one.
Cathy (Stephanie Likes) opens the show by revealing that her marriage to Jamie (Jared Bradshaw) is over. A few minutes later, Jamie relives their first encounter.
And so it goes, Cathy moving backward in time to that meeting, Jamie moving forward to the crash. Only once, at their wedding, are they on the same track.
It sounds confusing, but it's not, thanks to the meticulous direction
of Dennis Courtney and Brown's expressive songs. Once the audience understands the process, the framework becomes a metaphor for the relationship between two people who love each other deeply but never are in the same place at the same time.
The heart tugs for Likes and Bradshaw, who couldn't be better in their portrayals of the ill-fated couple. She has the harder time of it chronologically, moving from despondent to optimistically cheerful. He has the task of making the audience understand why Jamie finally gives up on the relationship. Both succeed admirably.
There is strong support from a five-member combo led by the show's musical director, Jonathan Ivie. Paul Black's lighting design is invaluable in keeping the audience aware of time and place, and Desiree Maurer's setting is a metaphor in its own right, a wall that soars into the rigging but crumbles into broken bricks at its
base.
But the lynchpin here is Brown. He's been called the heir apparent to Stephen Sondheim. On the evidence of The Last Five Years, that seems fair. He shares Sondheim's ability to express complex human emotions in music that challenges the heart as well as the intellect. Nowhere is this more apparent than in Jamie's If I
Didn't Believe in You, given a show-stopping performance by Bradshaw. The lyrics not only encapsulate what went wrong but express a bittersweet yearning for what might have been.
Brilliant is not too strong a word.
*****
SEPTEMBER 2003. "Cat on a Hot Tin Roof."
Playwright: Tennessee Williams. Director: Matthew Wiener. Cast: Natalie Messersmith, Benjamin Stewart, Jason Kuykendall, Pamela Fields, Gene Ganssle, Debra K. Stevens.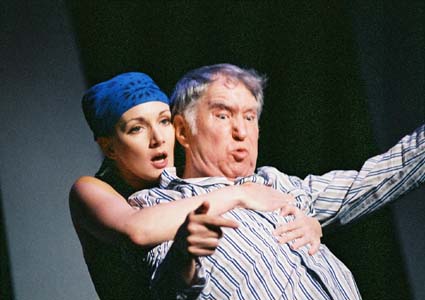 Here is Kyle Lawson's review from the Sept. 15, 2003 issue of the Arizona Republic.
Unrequited love is a festering sore. It leaves a wife empty, a husband lost, a father frustrated, a brother envious. Too much of it? Too little? It makes no difference. Love denied is malignant. It infests a family, rotting the ties that should bind.
Such is the cancer that is destroying the clan inhabiting "28,000 acres of the finest land this side of the Nile Delta" in Tennessee Williams' drama, Cat on a Hot Tin Roof, which opened Friday in a powerful Actors Theatre revival at the Herberger Theater Center.
A tumor is draining the life from Big Daddy, the family patriarch. Other lesions, just as deadly, are eating away at Brick, his alcoholic son, and Maggie, Brick's sex-starved wife.
Why has Brick denied Maggie his bed? Did he commit sodomy with his friend Skipper? Is it necessary to lie to Big Daddy about his condition? The days on the play's Mississippi plantation are filled with questions and the nights with no answers.
Scarily, the infection is spreading. Gooper, Brick's older brother, is soured after years of feeling unwanted and second best. Mae, Gooper's brood mare of a mate, is fearful her progeny will be cheated of the family wealth. She pours forth bile with each afterbirth.
Even Big Mama, the matriarch, is at risk: she is in terminal denial, refusing to believe that Big Daddy has slept with her for 40 years but never once loved her.
These people sound like monsters. They are monsters. But try ignoring their relentless march to self-destruction. Death, physical death, the death of the soul, hovers over the piece like a miasma from the low-lying fields just offstage — and death demands that attention be paid.
Although it has a reputation for sexiness, Cat is graphic only in terms of language and innuendo. It has more on its mind than rutting; it is an almost surgical dissection of mendacity, the lies that people tell each other to get from one day to the next.
It takes uncommon actors to make something so formidable work, and director Matthew Wiener has filled his cast with uncommonly good performers.
Who is best? The Maggie of Natalie Messersmith or the Big Daddy of Benjamin Stewart? It's a close call as each delivers a career-defining performance. The edge must go to Stewart, whose every speech reveals a life-engorging man brought low by fate and his frustrated ambitions for his son.
That is not to deny the power of Jason Kuykendall's Brick, Pamela Fields' Big Mama, Gene Ganssle's Gooper or Debra K. Stevens' Mae, each of whom delivers the emotional goods.
For all its overwrought drama, Cat is funny and Wiener carefully orchestrates the laughs, just as he has structured the action in a series of visual compositions that tell as much about the characters as the words they deliver. He, too, can claim this as a career high.
*****
2001-2002. Angels in America; then, the following season, Angels in America:  Millennium Approaches and Perestroika. Playwright: Tony Kushner. Director: Matthew Weiner. Original Music: Alan Ruch. Cast: Oliver Wadsworth, Rusty Ferracane, Christopher Williams, Cathy Dresbach, Jon Gentry, Lillie Richardson, Natalie Inglish Nesbitt, Alvin Keith, Regi Davis, Natalie Messersmith, . Set Design: Jeff Thomson. Costumes: Susan Johnson Hood. Lighting Design: Paul Black. Sound Design: David Temby. Hair and Makeup: Manuela Needhamer. Stage Manager. Erica McKibben Black.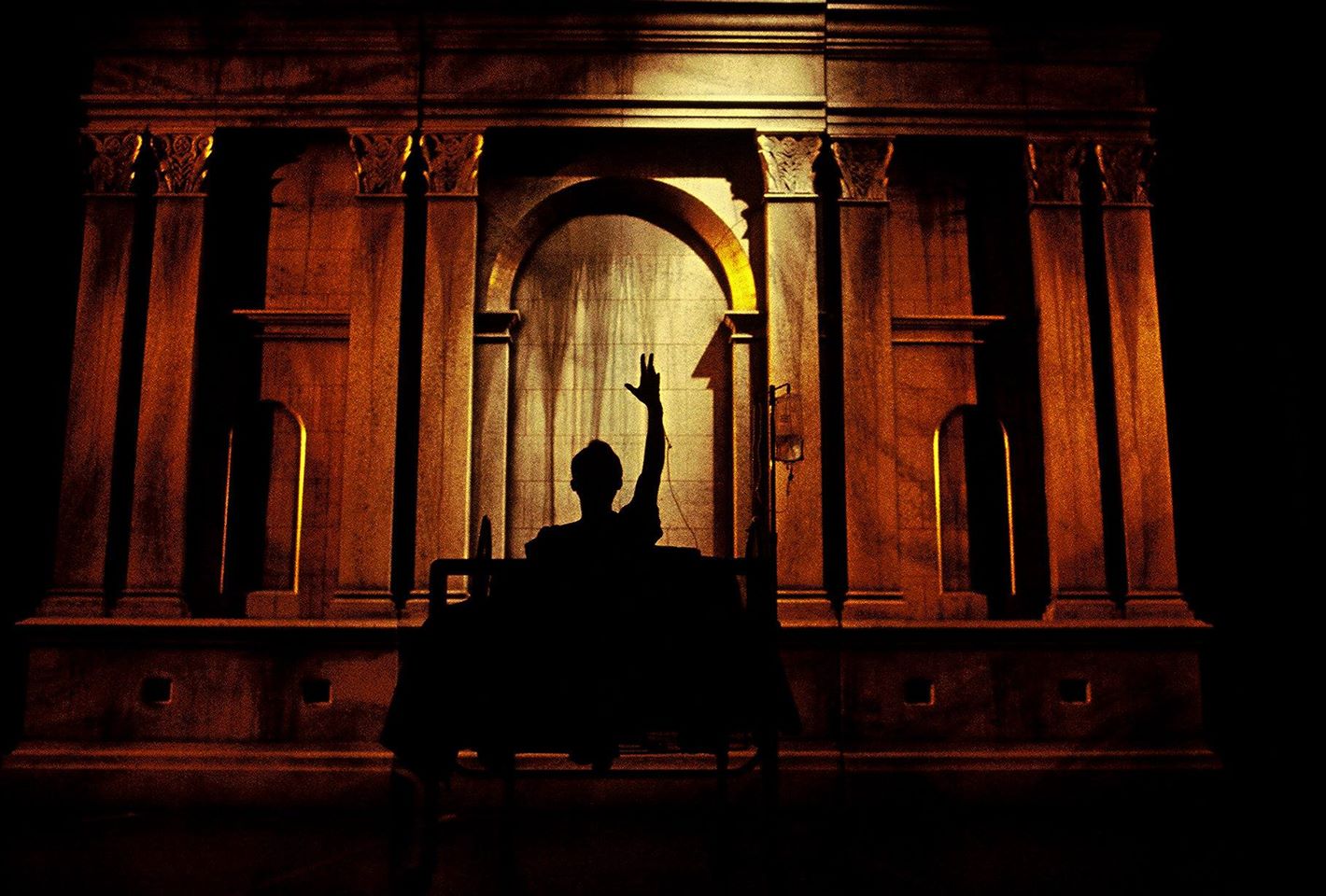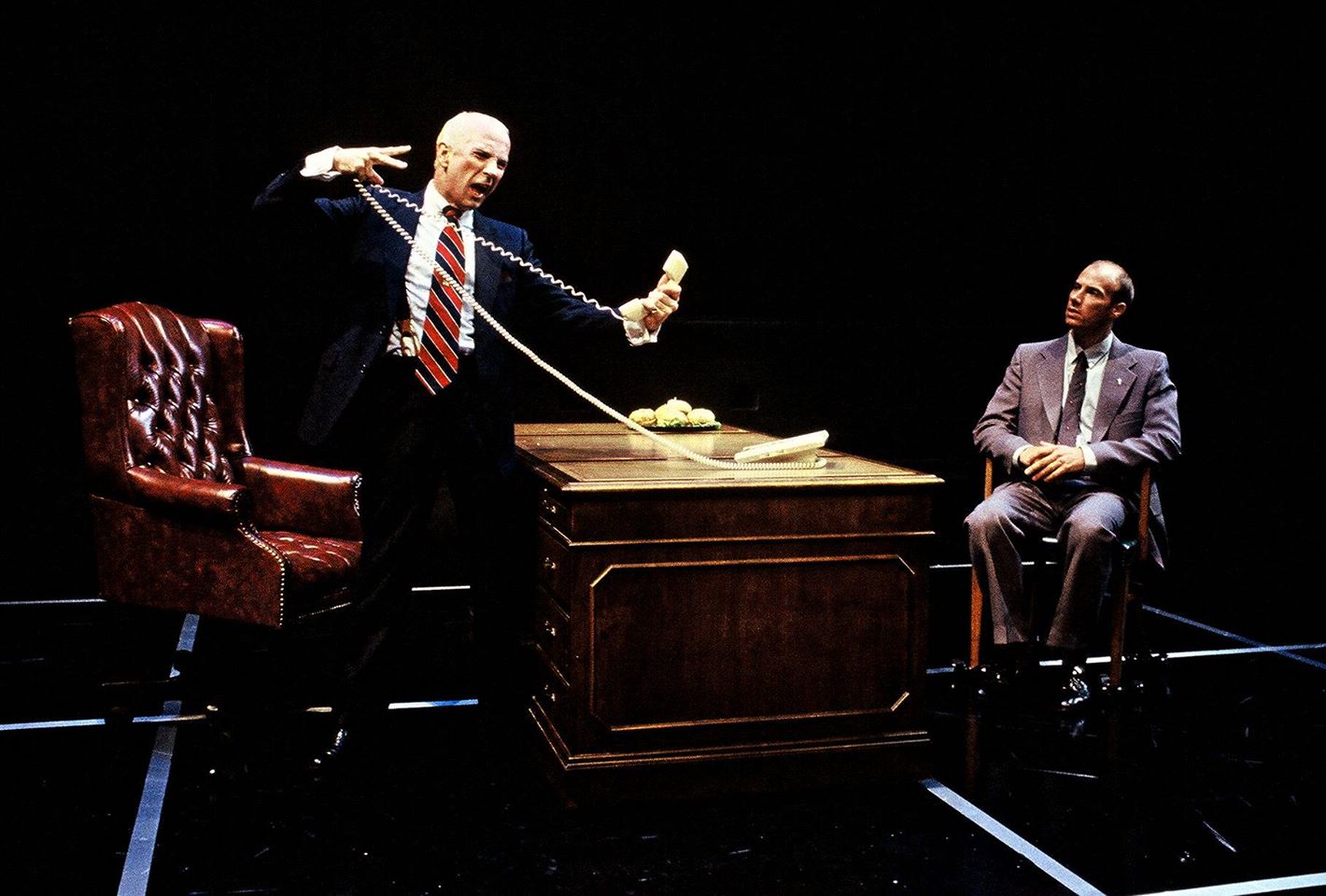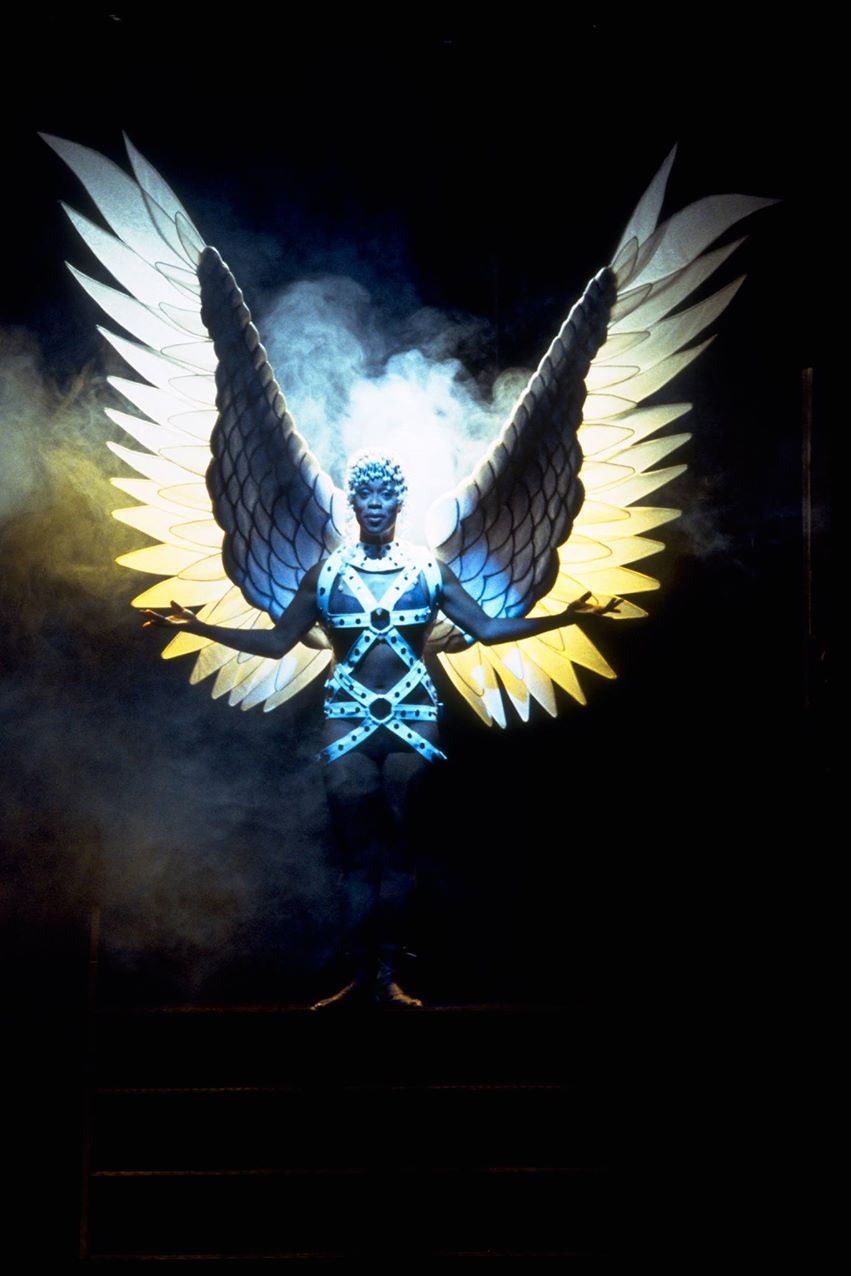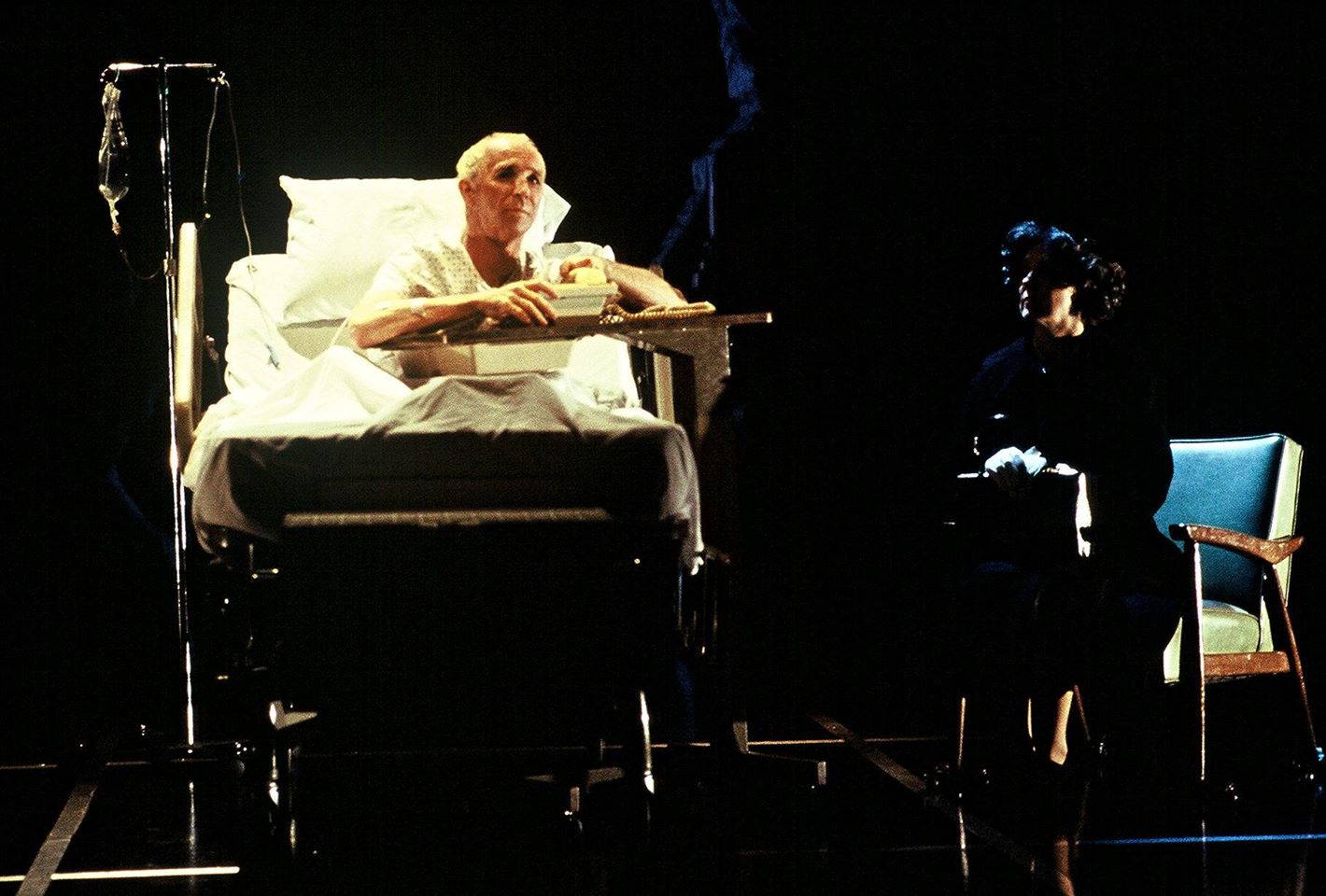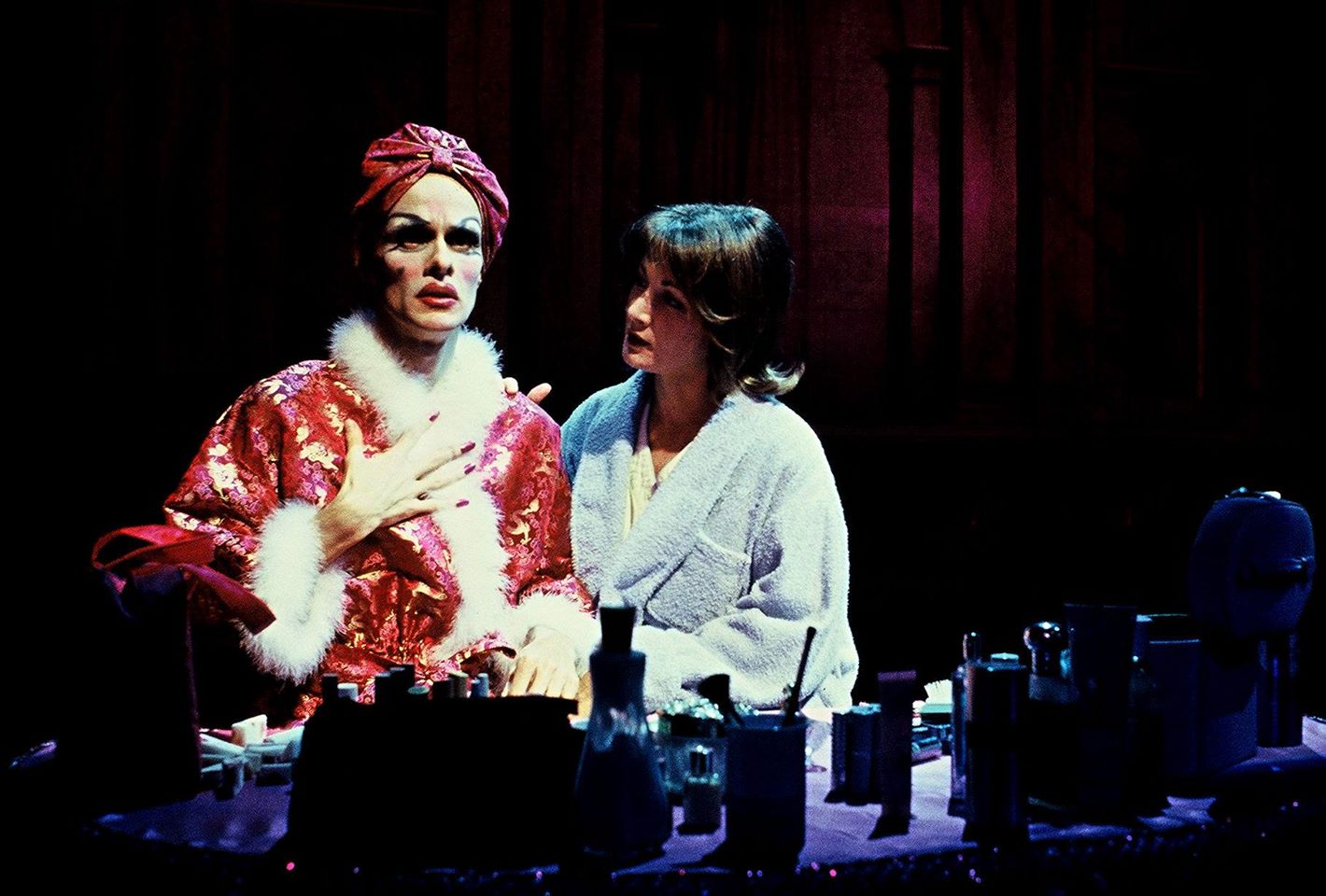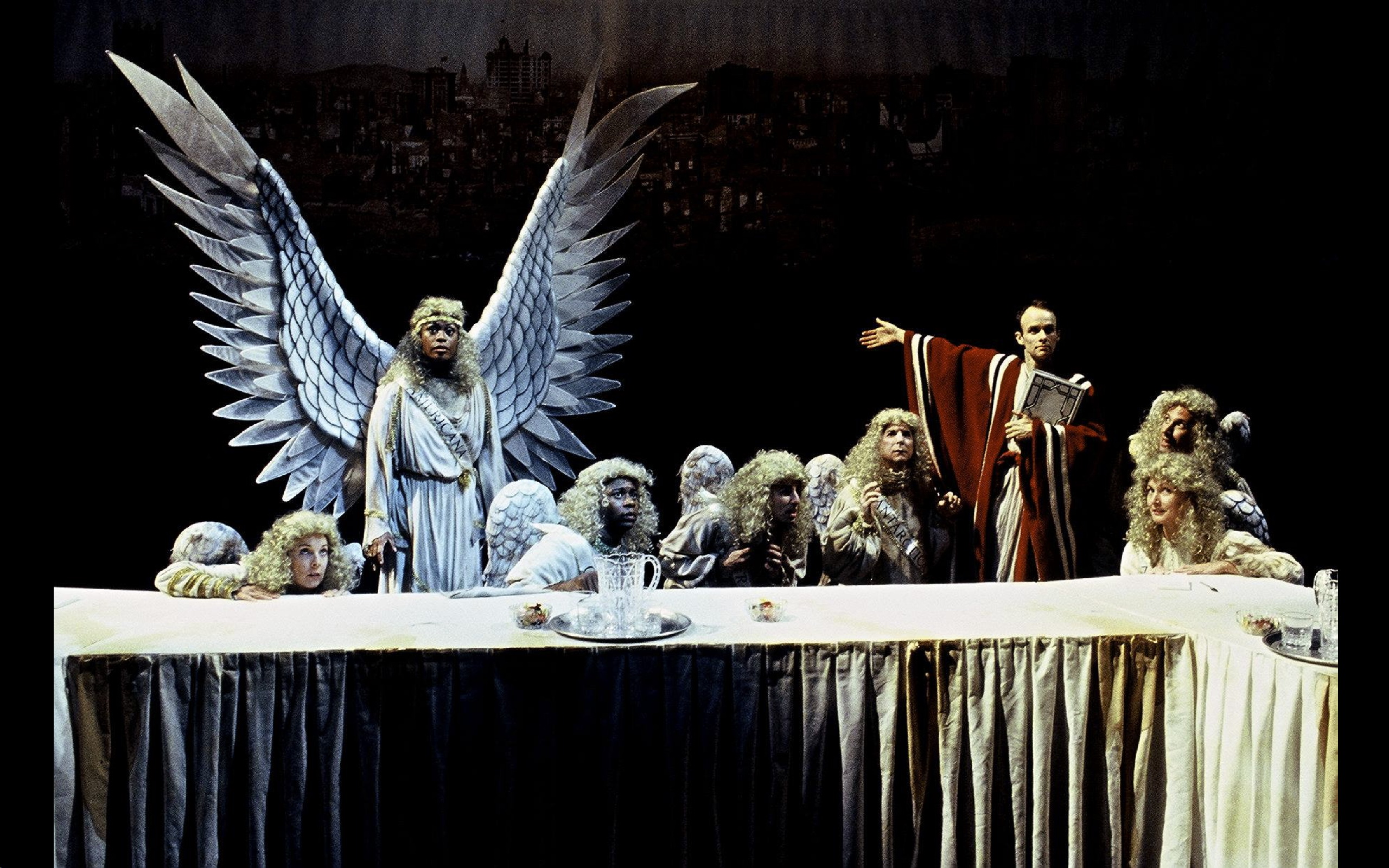 *****
JANUARY 2001. American Safari. Director: Tony Brown. Cast: Tony Brown, Kari Margolis. Note: Production imported from Minneapolis.

I remember liking this production. I did an interview with Tony that appeared in the Arizona Republic.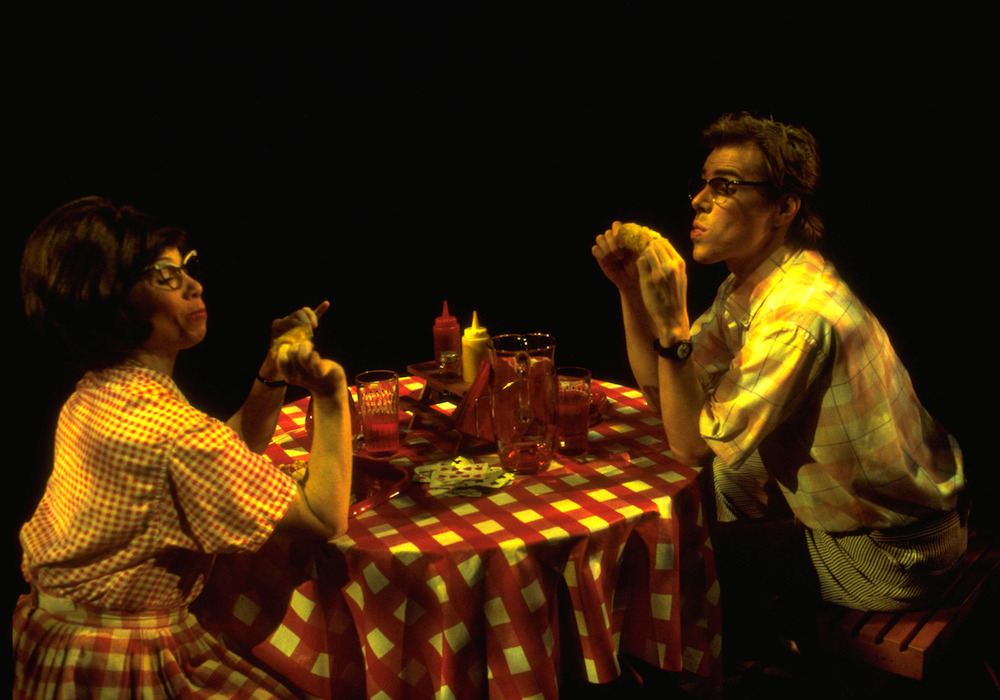 INTERVIEW: Kyle Lawson, The Arizona Republic, January 25, 2001
Not many guys from Broken Arrow, Oklahoma become rock idols. Tony Brown didn't. He tried. God knows, he did that.
When he was 18, the star of American Safari at Actors Theatre of Phoenix was frontman for Gladys Bucket, some Los Angeles rockers in desperate need of a gimmick. Every night, a band member rolled Brown out on a gurney and whipped off the sheet that covered him. Up popped … Rooster Man. Brown rolls his eyes. It was worse than you're thinking.
"I did rooster-like movements on stage," he says, letting the humiliation wash over him.
True confessions here. "Deep down inside, I actually liked being the rooster," he sighs. Not everyone was thrilled. "I wanted the band to be more theatrical, but I could never get the other guys to do anything," he says. "With them, it was like, 'Why can't we just play the music.?'"
Ultimately, Brown faced his obsession. He didn't want to rock out, he wanted to make funny faces, do strange things with his elbows and pass the hat for coins. He hit the streets. "I was terrified at the idea, but once I got out there, I loved it," he says.
At this point, we need to sum up a somewhat lengthy tale. Brown's clowning took him to Paris, where he met Kari Margolis, another performance artist. They married, returned to New York, formed their own troupe, then moved to Minneapolis, where they cook, wash bottles and clean latrines for the Margolis Brown Theater Company. Oh, yeah, they're actors, writers, directors and composers, too.
The couple mounts one production a year, usually something on the scale of Godzilla. A Minneapolis critic speaks in awe of the "acting, dance, music, video and huge technical whirligigs" that populate their shows. American Safari, which previewed at Minneapolis' Red Eye Theatre before moving to Phoenix, required a 24-foot truck to transport its various goodies.
The piece is an affectionately satiric look at American suburban life in the '50s and '60s. Arthur Peterson, a mild-mannered sort, sets off for Disneyland in a '57 Chevy (bright aqua and it really tools around the stage, thanks to an electric motor).
"It's better to see it than try to describe it," Brown says, after several attempts to cram the plot into a sentence or two.
Margolis directs Safari. Her husband performs it. No egos here. After 25 years together, they're two halves of the same comic idea. "We've always thought alike," he says. "In Paris, she was looking for a French boyfriend and I was looking for a French girlfriend. I'm from Broken Arrow, she's from Brooklyn. We decided that was exotic enough for us."
The couple's street career was briefly interrupted when a French drunk pinched Margolis on her derriere. Brown beat him up, then Margolis took a turn. They had to lay low until the gendarmes stopped looking for those "crazy clowns."
Although they possess a company, a theater school and other institutional accoutrements, the couple still think of themselves as performance artists. Their public doesn't always get the distinction. "The worst misconception that people have about what we do is that we put mud on our bodies and crawl around on chocolate chip cookies," he says. Interrupting him, she adds, "But not when anyone is looking."
In truth, reality almost lives up to misconception. "Remember when you pulled that 100-foot mermaid out of the ocean at Coney Island?" Margolis asks, referring to an actress in an excessive costume who was featured in one of their "happenings." "Yeah," Brown says. "Her top came off and she didn't even know it. Now that was wild."
*****
2000. The Arizona Project. World Premiere. Playwright: Michael Grady. Cast: Bob Sorenson, Jon Gentry, Richard Trujillo.
"In this funny and timely tale, set in 1991, a couple from New York discover the postcard beauty, roughshod politics, lofty aspirations and gaudy contradictions that weave through the fiber of modern Arizona." – TheatreMania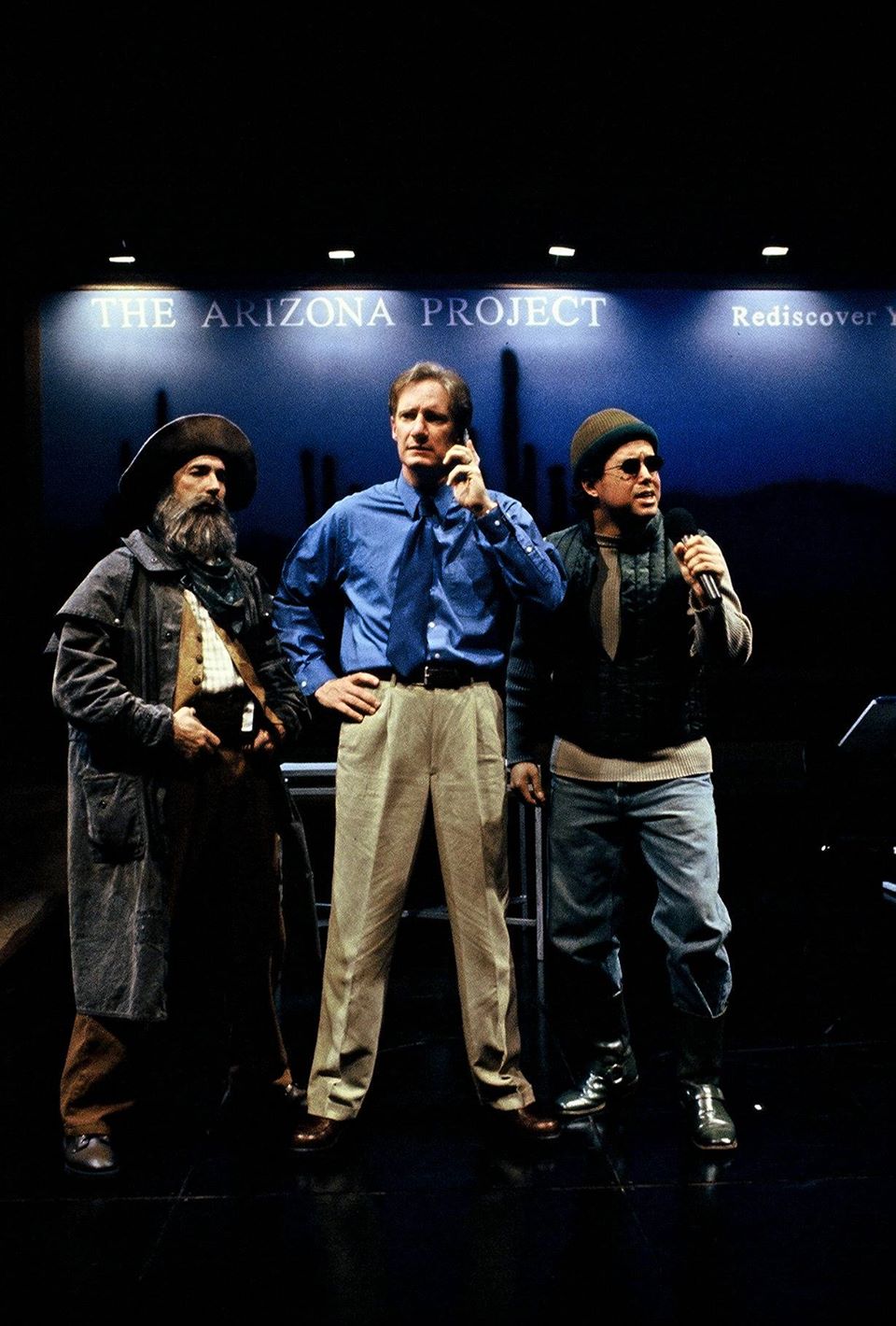 *****
1999-2000. THE BALTIMORE WALTZ. Playwright: Paula Vogel. Director: Victoria Holloway. Cast: Jon Gentry.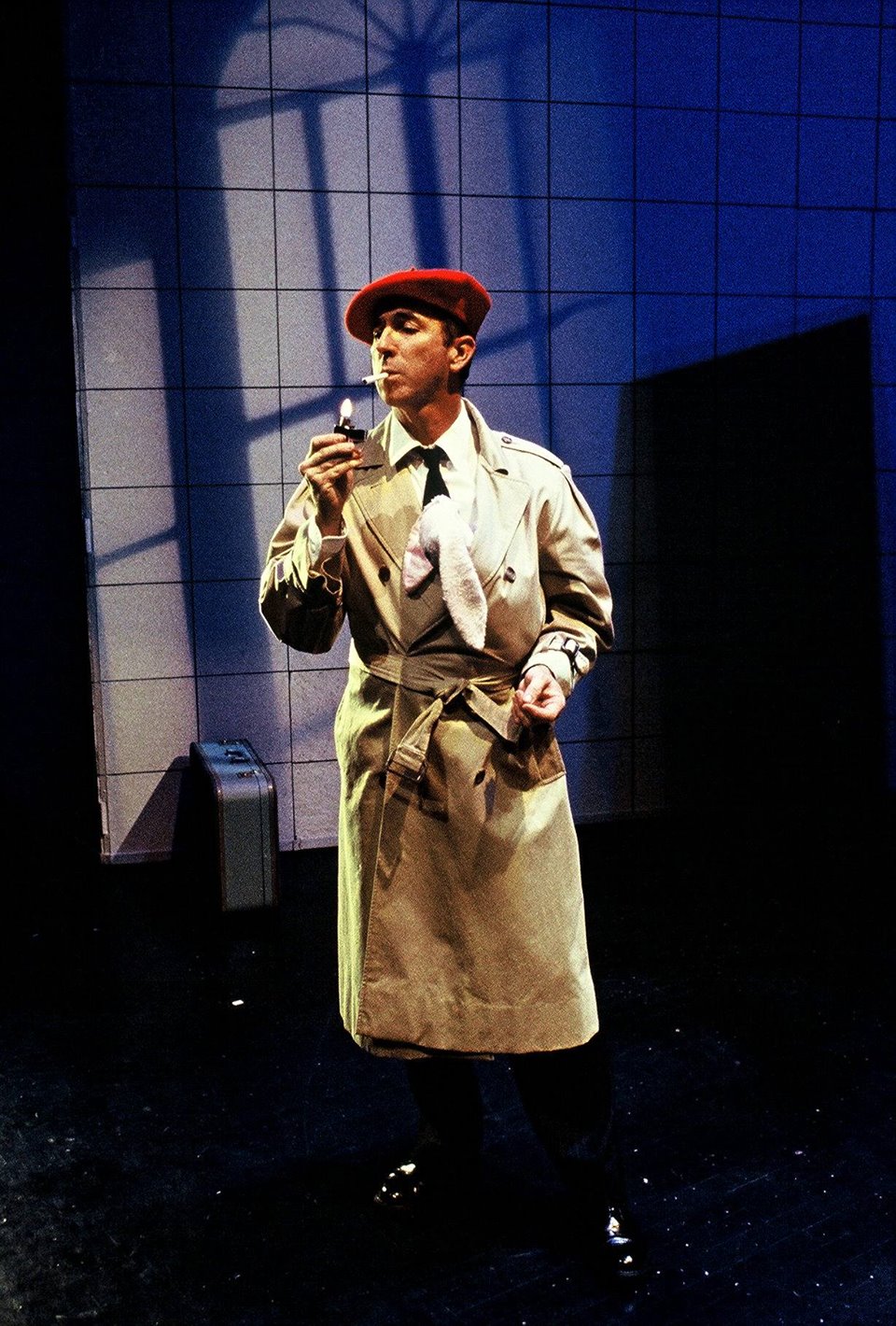 *****
1999 was a  very good year for Actors Theatre. Not only did it give Valley audiences  Victoria Holloway's brilliant re-shaping of "The Baltimore Waltz," it staged Richard Dresser's acerbic tale of divorce, "Gun Shy." A powerhouse cast – Cathy Dresbach, Richard Glover, Christie Klein and Nicolas Glaeser: if you don't know their work, you are seriously deprived – combined with a director at the top of his form – Matthew Wiener – and a string of one-liners and gasp-inducing zingers that might have been written by Neil Simon if he had gotten strung-out in a Shanghai opium den.
I'm talking funny, disturbingly dark, yet somehow optimistic. That's Richard Dresser in a relatively few words. Well, few for me, anyway.
"Gun Shy" was a serendipitous meeting of playwright and company, a melding of creative minds  that would continue into the 2000s as Dresser became what was, in reality, the theater's comic-in-residence.
In April of '99, I tracked the writer down to his Los Angeles home for a telephone chat. After a bit of male posturing, where we figured out where we stood in terms of mutual respect –  I'm not saying I would go on a double date with the guy, but I liked him; I sure as hell thought he was a damn fine cup of playwright – we got down to business. The results I herewith present:
"Three minutes into a phone conversation with playwright Richard Dresser and you want to go back and check the script.
Where's the Stygian humor that made audiences squirm even as they laughed at last season's corporate satire Below the Belt? Or the cynical irony that makes divorce a joking matter in Gun-Shy, which opens Friday at Actors Theatre of Phoenix, where the Los Angeles writer is starting to be regarded as comic-in-residence?
The voice at the other end of the wire positively vibrates with gung-ho optimism. The writing's good. Life is on the upside of the curve. Yeah, the new play's about divorce, but it's not his. After 17 years of marriage, he still dotes on the woman he married.
Call him Charlie Brown.
OK, maybe not that. He confesses, early in the conversation, that he "likes to write about people in rather dire circumstances. For me, that's where the laughs are." And he observes that "the only way you can get through some situations is to laugh at them."
On the whole, though, Dresser wants to make it clear that "these plays aren't autobiographical, you know? I've got a good imagination."
So tell that to his wife.
"It was a little dicey the first time she saw Gun-Shy. Three hundred and 50 people in the theater and every one of them was laughing except the woman I was with. My wife. She was not having a good time. She likes it now. It just took her some time to get used to the concept."
Basically, Gun-Shy is the story of a couple who divorce, then meet again for their son's birthday party. Each is with another partner; both decide that what they had is better than what they have. It gets crazy from there.
"You know what Woody Allen said. Most people think comedy writers should sit at the kids' table. I want to sit with the adults," Dresser says.
"To, me comedy is an opportunity to write more seriously than straight drama. When people are struggling, they are surrounded by absurdities. I try not to diminish these things by writing about them jokingly but in a serious way."
If Gun-Shy's plot reminds audiences of Noel Coward's Private Lives, Dresser gleefully embraces the inspiration. But he points out that, unlike Coward, he did not write his play while holed up in a luxurious hotel in Shanghai.
"How about a medium-dingy office in Los Angeles?"
Moving from the corporate spin in Below the Belt to the merry-go-round of divorce in Gun-Shy wasn't all that difficult.
"It seems perfectly natural to me. It's the same set of emotions, isn't it? The game-playing, the struggle to survive, the manipulation. It's all there in a marriage. I was interested in what drew people together, what kept them together, what sent them flying apart. As I see it, couples have two options: break up or endure. I wanted to write a play where both would happen."
That the Gun-Shy couple rediscover each other can be interpreted as a happy ending of sorts, but there's a typical Dresser stinger in the tale. Their partners are left with nothing but each other.
"There's a suggestion that the other two will engage in a relationship," the playwright says, then laughs happily.
"It probably will be temporary and very unsatisfactory."
*****
KYLE LAWSON'S REVIEW, ARIZONA REPUBLIC, MAY 5, 1999
How good is Gun-Shy, Richard Dresser's new comedy at Actors Theatre of Phoenix? So good, a pair of sophisticated theatergoers found the show too rich for their taste. They left at intermission.
Don't feel sorry for them. They missed one of the tastiest meals dished up this season. Yet their departure midfeast is understandable. Dresser's cooking is not for the faint of palate. He takes a raw subject, in this case divorce, skewers it, then sticks it on the grill and turns up the heat. The result is delicious: crisply seared humor but with the blood still oozing when forked.
In fairness, Dresser's barbecues should carry a warning: Sensitive tongues may be burned, tender stomachs churned. But most audiences don't need the label. They're content to laugh themselves sick.
The urban malaise tickles Dresser, that's for sure. Last season, Actors Theatre audiences were convulsed by his corporate satire Below the Belt. He has the knack for taking things that scare Americans – their jobs, their romantic relationships and (not necessarily the same thing) their marriages – and finding the jokes. His artistic motto is simple: If you can laugh at it, you can survive it.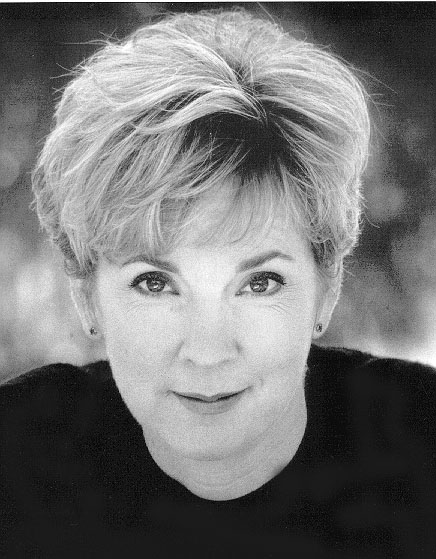 In Gun-Shy, Evie (Cathy Dresbach, giving the season's finest comic performance) and Duncan (Richard Glover) are trying to put their divorce behind them. They've begun new relationships – she with the uptight, accident-prone Carter (Nicolas Glaeser), he with the upwardly careerist, commitment-shy Caitlin (Christie Klein).
To their dismay, it's proving as difficult to teach an old couple new tricks as it is to train new lovers to adapt to old habits.
This hilariously off-track quartet collides at a birthday party for Evie and Duncan's son, Jack, who has skipped the festivities because of his involvement in a juvenile crime spree at his snowed-in prep school in New Hampshire.
If Gun-Shy sounds like a sendup of one of those Noel Coward comedies in which formerly marrieds find themselves presently engaged, Dresser must accept the blame. He has shamelessly concocted a Private Lives for the end of the millennium, an updated screwball comedy with something to say about modern alliances – if only audiences could stop giggling long enough to hear it.
The message? It's not enough to say, "I love you." Occasionally, it's necessary to demonstrate it in a meaningful way.
Dresser has found a soulmate in director Matthew Wiener, who also helmed last season's Below the Belt. The playwright's characters have a desperate need to connect; the fun comes in seeing how narrowly they miss the linkup. Wiener stages Gun-Shy at breakneck speed, with the performers ricocheting off one another with awesome timing.
Not only is Dresbach at the peak of her considerable talents, but her co-stars keep pace. Glaeser especially is a hoot. Often cast as a leading man, he proves here that he is at his best as a physically deft character actor.
Adding to the hilarity is Mark Collver, who plays several roles, most memorably as a masseur privy to everyone's secrets.
Wiener and his actors aren't solely to credit for the good time. Jeff Thomson's scenic design, based on paintings by Piet Mondrian, possesses a wicked sense of humor, as does Susan Johnson-Hood's costumes, Paul Black's lighting and Cat Dragon's character-defining properties.
Like the folks on Seinfeld, the people in Gun-Shy don't bear scrutiny. Their personal foibles are off-putting and Dresser refuses to gloss over them. One suspects that's why the couple left at intermission. Between the giggles, the playwright slices to the quick. But seeing Evie's and Duncan's controlling tendencies, not to mention the manipulativeness of Carter and Caitlin, the audience understands its own deviousness a little better. Laughter is the best psychiatrist. Cheaper, anyway.
*****
1997 (Possibly). A CHRISTMAS CAROL
Hamilton Mitchell didn't forget Actors Theatre when he went to Hollywood.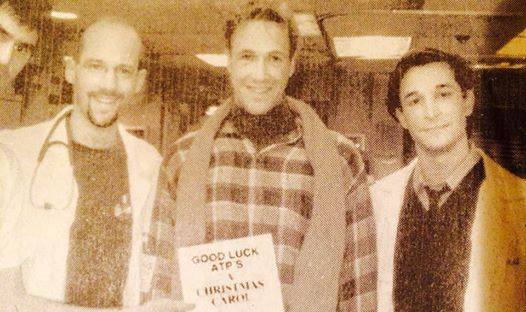 *****
FEBRUARY 1995  LONELY PLANET.  Playwright: Steven Dietz. Director: Jim Pinkerton. Cast: Michael Grady, Michael Barnard. Scenic Design: Gro Johre. Lighting Design: Paul Black. Stage Manager: Cat Dragon.

There are moments in every critic's career where life conspires to bring together everything you like – and then challenges you to say something meaningful about it without prejudice.
This show was one of those moments for me. I am not overstating the case to say it nailed just about every aspect of theater: the directing, acting, costuming, lighting, set design, stage managing, everything, were about as flawless as it can get.
But none of it was there to call attention to itself. It was there to bring the audience into Steven Dietz' world, which for me is the ultimate goal of theater. This world, in particular, was difficult to inhabit. I lost too many friends and mentors to AIDS. Marshall W. Mason describes the actions of the play in his review, reposted below, but I can honestly say that, as each chair was added to the pile on that stage, a new crack opened in my heart.
The best theater changes you, sometimes in a small way, sometimes in a way that is catastrophic. This was a piece of theater that will always remain, for me, the very best. I feel its impact even today. —Kyle Lawson
Review by Marshall W. Mason, Phoenix New Times, Thursday, Feb 9, 1995
Hosanna! Hallelujah! Hooray! The Herberger has a hit!
We have been told that by acquiring a major league baseball franchise, Phoenix will become one of America's premier cities. Until now, sunny Phoenix has languished in the shadows of New York, Chicago, Los Angeles, San Francisco, Seattle, San Diego and Minneapolis–not only because these urban centers field teams, but also because they are principal hotbeds of artistic creativity. Even more than their sports clubs, great cities can be measured by the quality of their artistic production.
The cheers you hear from downtown may be the harbinger that we've arrived, for a major new play has come to town. At Herberger Theater Center, the Actors Theatre of Phoenix is giving us the chance to see Steven Dietz's hilarious and mysterious comedy Lonely Planet several months before it premieres in New York, albeit two years after its debut in Chicago.
The curtain rises on darkness. A light reveals a simple chair, then a man contemplating the empty chair's existence. Upstage, through slatted shutters that flank the entrance to the room, a neon light flashes a red alert from a dangerous world outside. On a steeply raked platform are somberly arranged (in neat rows four across and three deep) 12 massive walnut desks, laid out like silent coffins. They contain, we discover, maps–for this strange room is a map shop.
Looming above the door and shuttered windows, three contrasting maps cast an eerie glow. The central one is the familiar blue planet (photographed from space on the Apollo 17 mission) that has become the accepted image of our world.
To the left is the old Mercator projection, named after Gerhardus Mercator, the 16th-century Flemish geographer. This is the map we may remember from grade school: latitudes and longitudes parallel, producing a flat image that distorts sizes, so that Greenland becomes a behemoth, larger than South America.
On the right is a conical projection map, the Peters' version, correcting Mercator's distortions, but introducing new warps of its own. Here the sizes are accurate, but the land masses are twisted into unfamiliar shapes.
Maps, we are told, are a picture of what is known. The distortions speak for themselves.
In this landscape, we meet two post-Beckett clowns, aching to understand the world they inhabit. Mindful of their own distortions, they play games to enliven an existence filled with dreaded questions.
The empty chair that begins the play becomes an eloquent metaphor. One by one, Carl brings chairs to the ordered world of Jody's map shop, until by the second act, the chairs compose a mountain of cultural detritus.
At first the source of the chairs is a mystery that Carl deflects with inventive lies. Incrementally, we begin to understand that each chair is a legacy of another of Carl's friends who has prematurely died of AIDS complications.
To distract themselves from grim reality, Jody and Carl play a series of games that become as much fun for the audience as for the participants. This is life in the Nineties.
Jody, who owns the map store, relates a series of dreams, each more desperate and frustrating than the last. A compulsive habitue of thrift stores, Jody keeps buying items that trigger extravagant dreams.
First, he buys a firefighter's shirt, and this gives birth to a dream in which he is a firefighter, with people begging to be rescued from the flames.
Next, he finds a silky pair of Everlast trunks, and in his dreams he becomes a boxer, feebly protesting that he's not a hero, as the crowds demand a champion.
Finally, a leather jacket engenders a dream in which he is a rock singer, belting out a paean of longing that will lead his fans to freedom.
Okay, so the metaphors fly as thick as Van Gogh crows, choking out the sun. Still, the images resonate in our own experience, and Michael Grady plays Jody with such an endearingly modest warmth that we reluctantly accept the metaphors as they pile up. With fears of uncertainty pulsing just below the skin, Grady paints the portrait of an uncommonly civilized man.
Carl, his ebullient friend, is an inveterate liar who improvises spontaneous and spurious employment. He is by turns a lowly man who waters plants for a huge corporation, an art restorer for the museum, a glass-shop glazier, a reporter for a supermarket tabloid, a bartender, a barber. He has the energy of eight and the patience of none.
As played with enormous charm and aplomb by Michael Barnard, Carl is a laughable, lovable goofball who can pitch lines like: "I'm happy; take my picture," and make us smile as broadly as he.
The most telling scene occurs near the end of the play, when Carl calls Jody on the telephone, then, bearing his cellular phone, enters. "I wanted to call and talk to you on the phone, but I didn't want to be alone, so I came over." So the two platonic friends seek intimate communication by way of electronic separation. I have seen no other metaphor that so painfully and powerfully suggests the awkward dilemma posed by the necessity of making love with a condom.
This evocative play has been given a lively and loving production under the expert direction of Jim Pinkerton. The scenic design by Gro Johre fulfills the high standard of excellence we have begun to expect from her. But the most outstanding element of the production is the superlative, masterly lighting by Paul Black, who also provided the Technicolor illumination for Southwest Shakespeare Company's Julius Caesar. Black is the best evidence I've seen that Phoenix already is playing in the artistic big leagues.
Lonely Planet generously acknowledges its debt to Ionesco, and on the heels of In Mixed Company's stunning revival of Exit the King, Actors Theatre has given us an opportunity to understand how the future of dramatic literature stands on the shoulders of the past only to see the present more clearly.
AIDS is now the largest cause of death for Americans between the ages of 25 and 44. What are we to do? What can any one of us do?
We can see Lonely Planet. We can refuse to be comfortable with the world as we see it. We can collectively ache for a cure.
COMMENTS REPOSTED FROM FACEBOOK
Paul Black:

That show changed my life. I have forgotten most of the shows I have done but not that one.

Gro Johre: 

I know I was given more than my fair share of trust when we did that one . . . loved to work on it!

Shoot! I miss theatre! I'm gonna save these kind words.

Michael Grady:

I felt so privileged doing that show. Everyone–Michael B., Jim, Paul, Gro, Steven Dietz's script–everybody cared so much about the production, it was just a wonder to take the stage every night.

Cat Dragon: I stage managed Lonely Planet. I can say the hours spent with Jim Pinkerton, Michael Grady and Michael Barnard were priceless.
*****
1990-1991. BEEHIVE. Director-Choreographer: Michael Barnard. Music Direction: Jerry Wayne Harkey. Cast: Maria Amorocho, Kathy Fitzgerald, Robyn Ferracane, Ellen Benton, Ehran Patton, Katherine (KT) Todd.  Hair and Makeup: Heather McDonald. Costumes: Rebecca Yapp Powell. Lighting: Luetta NewNam, Devin Quince, Aimee Quince Bolenbach. Dresser: Jolie Coggins. Stage Manager: Monica Kochert. There is some confusion over who did the scene design. Some references credit it to Jeff Thomson.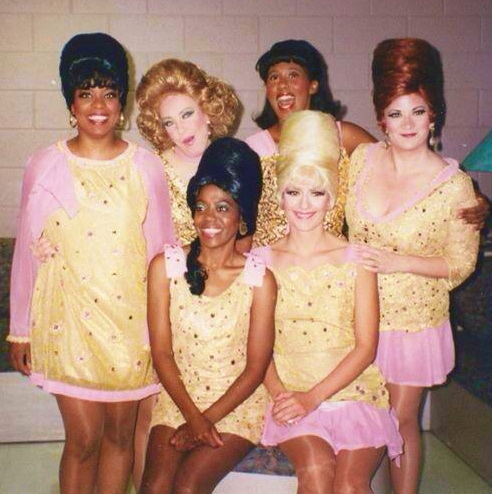 Facebook comments:
Saw this show more than a dozen times…my first intro to the AMAZING KT! And the rest of this wonderful cast…dead solid perfect! — Dennis Ford.

I worked this show too as a dresser and stagehand and had the best time ever!!— Jolie Coggins.

It was Actors Theatre's first huge, over the top hit. I remember going all over town trying to find a space where we could keep it running. Was a landmark production for our "then" little theater company! — Judy Rollings.

The original production was in Stage West; the basic costumes were blue with pink. This was from the remount the following summer in Center Stage at the Herberger. We are in the Center Stage green room in this photo.– Maria Amorocho Weisbrod.

I remember hand beading Robyn Ferracane's dress with a bazillion little sequins with rhinestones on top. I also spray painted gold onto Ellen's shoes through lace. Perfectly cast. Luetta's lights, Heather's wigs & make up, Monica Kochert, we were such a strong female production team. — Rebecca Yapp Powell.

Katherine Todd became KT instead of Kathy when we did "Beehive" at ATP because Kathy Fitzgerald was also in the cast and we used our first names in the show, starting with "The Name Game" number. — Maria Amorocho Weisbrod.

******
1990. MORE FUN THAN BOWLING.  Playwright: Steven Dietz. Cast: Michael Grady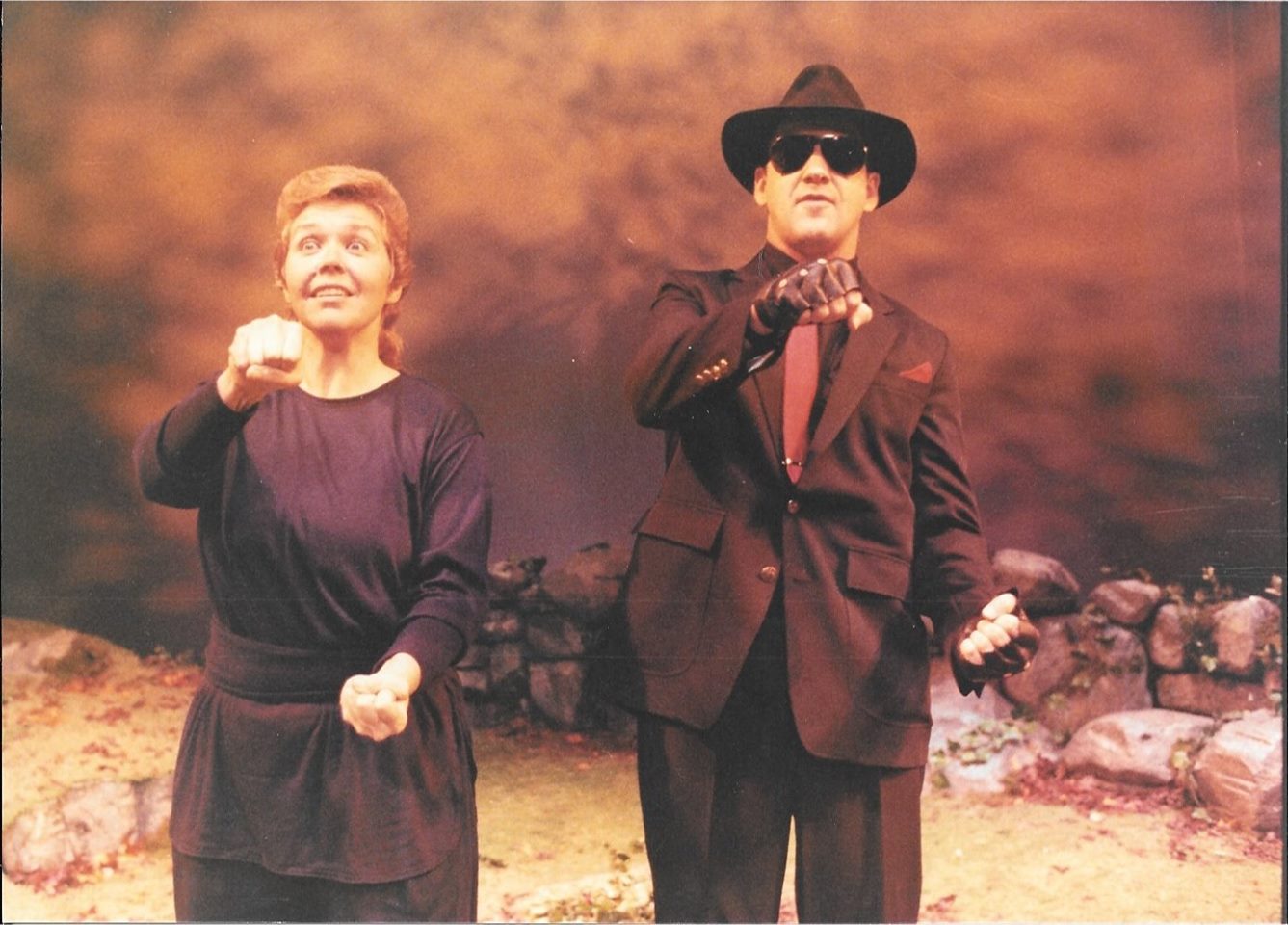 *****
1989. Enter A Free Man. Actors Theatre.  Playwright: Tom Stoppard. Director: Judy Rollings. Cast: Mark DeMichele, David Vining, Susan Sindelar, Mike Lawler, Gerald Burgess, Bryn Pryor.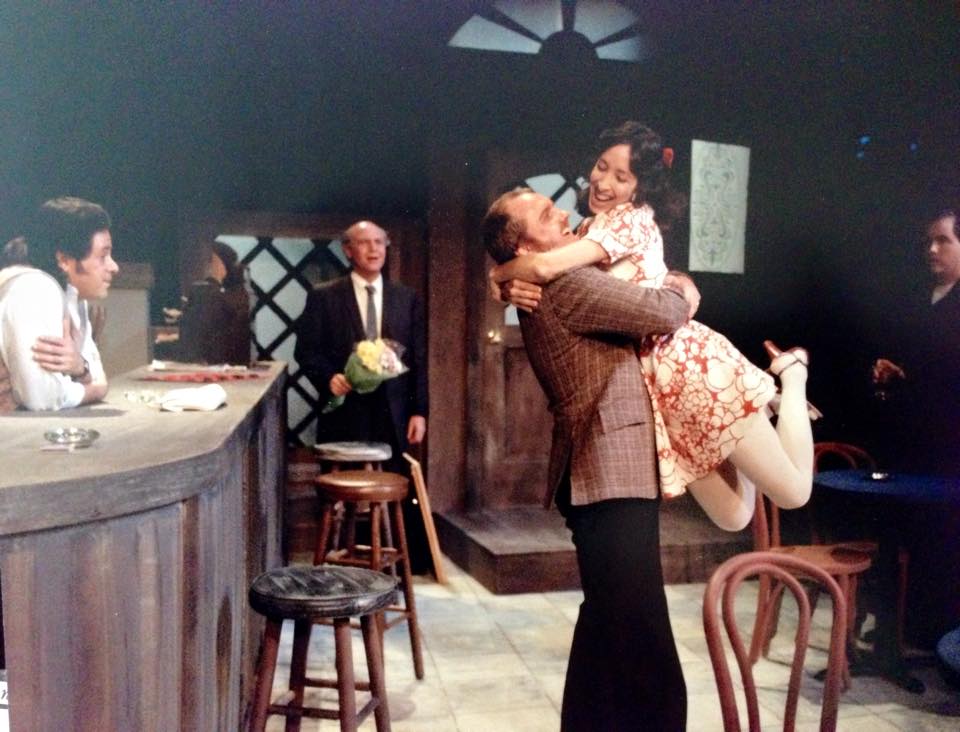 *****
1987. ORPHANS. Playwright: Lyle Kessler. Director: Judy Rollings. Cast: Steven Mastroieni, Bob Sorenson, Richard Glover. Note: Performed in the Metropolitan Bank Building theater.
Over the years I have lost count of the memorable experiences in the theater that were provided by Actors Theatre. This certainly was one of them. Directed by the company's artistic director Judy Rollings, Lyle Kessler's black comedy is the story of two brothers, orphans, who kidnap a gangster, also an orphan. The three are forced to confront the hard things they've done to survive. The play requires powerhouse performances from its three men and Richard Glover and Bob Sorenson, as the brothers, and Steven Mastroieni as the gangster, delivered them. Judy directed with her usual attention to detail, which helped audiences understand the complex emotional situation. You left the theater knowing you had seen a minor masterpiece deftly rendered by masters of their craft.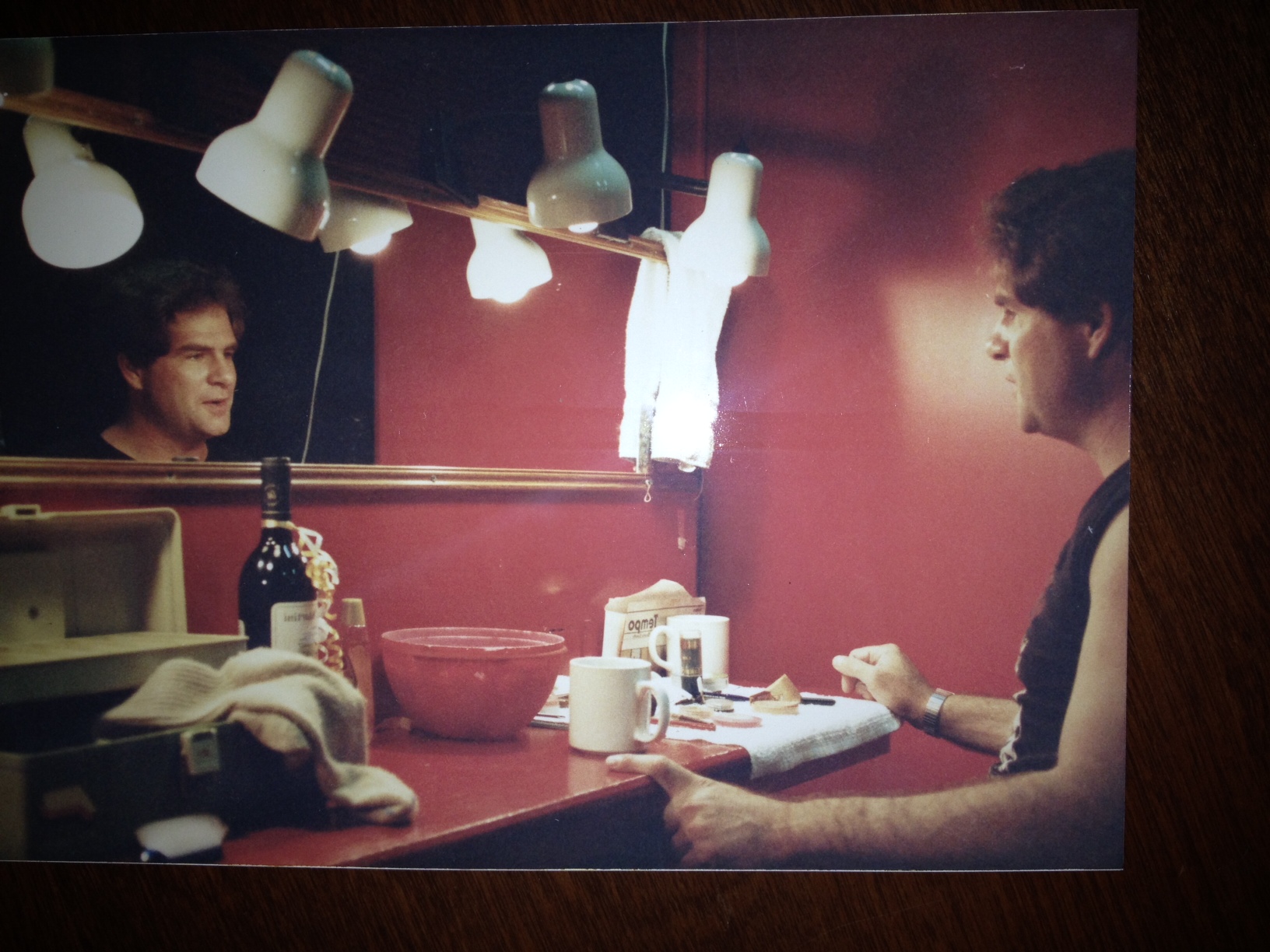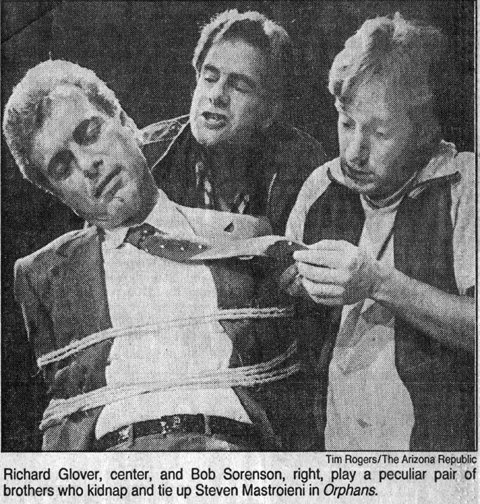 A BRIEF HISTORY OF THE COMPANY, PUBLISHED IN 2014
Actors Theatre History
KEY MOMENTS FROM OUR PAST:
Founding
In 1985, a group of local theatre artists concerned with the absence of professional theatre for them to   in their hometown of Phoenix at which they could hone their craft, created Actors Theatre of Phoenix.  It was, at that time, primarily a volunteer driven organization with artists taking key roles as both staff and board leadership.  One unique characteristic of this new company was that it immediately starting hiring professional actors using contracts from Actors Equity Association.
Herberger Theater Center
In 1989 Actors Theatre was invited to become a Resident Company and the anchor tenant of the newly opened Herberger Theater Center.  This created tremendous new financial stressors on the Company along with great artistic and audience development opportunities.  Over the next five years the Company grew in professional administrative and production capacity. The Board also evolved, as the original Board – made up primarily of artists – was replaced primarily with professional and business community leaders.
Change of Leadership
In 1994 the existing leadership of Actors Theatre, the artistic and managing directors, announced they were leaving for personal/professional reasons.  The Board undertook a limited national search and selected Matthew Wiener, who was currently the Associate Artistic Director of Arizona Theatre Company, to lead the Company.  Mr. Wiener assumed both artistic and administrative leadership of the Company in July 1995 and started making significant changes to the organizational structure and community participation.
The Booming 90's
Maricopa County's population grew by 40% between 1990 and 2000.   With the growth in population and a strong economy, the arts community in Phoenix was expanding and thriving.  Actors Theatre of Phoenix saw a growth in earned income, but more importantly started to receive substantial six figure multi-year gifts from several local foundations that were investing in arts and culture.  During this time the operating budget for Actors Theatre increased from about $500,000 to $1,200,000.  Actors Theatre expanded its professional staff by hiring a full time Development Director, Marketing Director, and Production Manager.
The Turn of the Millennium
Due to the growing complexity of the organization, Matthew Wiener asked the Board to consider hiring a Managing Director to oversee the administrative activities of the Company. After much discussion of leadership structure the Board returned to a model consisting of artistic and managing directors.  The Company engaged a well know national search firm with experience. Defining the ideal candidate led to a time of great introspection on the part of the Company. In the summer of 2002 a Managing Director with extensive marketing and audience development experience was engaged to join Matthew in running the Company.
2002 – 2004
During this period the Company operated under the combined leadership of the Managing Director and Artistic Director.  The Company experienced significant growth in community outreach/participation, increased and diversified the Board of Directors, and adjusted the programming to allow for increased audience growth.   In the spring of 2004 the Managing Director resigned to pursue other professional opportunities.  The financial situation of the company deteriorated during this period.
2004-2007
The three years after the departure of the Managing Director was the beginning of a very challenging chapter for Actors Theatre.  Due to a variety of factors, including a shift from funding of arts and culture to funding of bio-tech, Actors Theatre experienced a noticeable decline in foundation support.   At the same time, the Company's annual budget reached its highest level at $1,750,000.  Actors Theatre needed to readjust to the lack of foundation and private company support for arts and culture.
2007 – 2012
Economic Forces
The Phoenix economy started to decline in 2007 due to the housing and mortgage crisis.  The country as a whole was in a recession that lasted longer and hit harder than anticipated.   In Fiscal Year ("FY") 2013, the arts community of Phoenix, including Actors Theatre, is still feeling the impact of the economic crisis.  Government funding has been drastically reduced or eliminated, foundation support has been channeled towards social services and away from arts and individuals have less disposable income from which to attend theatre and donate to arts organizations. From 2008 – 2012, Actors Theatre lost 80% of foundation and corporate support.
Personnel Issues
In 2008, the sudden loss of the Director of Development to a stroke and 5 months later, the Director of Marketing created a hole in leadership.  The recession had just begun and the leadership, lay and staff, chose to not fill these positions immediately, working under the belief the recession was not going to last.  As the recession continued, the need to fill these two positions grew, but the ability decreased.  The Producing Artistic Director assumed each of these responsibilities in addition to current responsibilities.
Banking Problems
In 2009, due to the failure of the bank with which Actors Theatre had its credit line, Actors Theatre lost its line of credit, dramatically changing the way in which the Company did business.  Historically, the line of credit allowed the Company to manage the peaks and valleys of cash flow through the season.  The loss of the line of credit made managing cash flow an increased priority and daily challenge.
Programming Changes
For 19 years, Actors Theatre produced A Christmas Carol as both an opportunity to reach a broader audience and provide a theatrical opportunity for kids and families.  A Christmas Carol also provided increased earned income revenue to help support the remainder of the season.  In 2010, due to a significant decrease in institutional funding and increased holiday competition in the community, Actors Theatre produced the show for the final year.  The Company recognizes the need to replace this income and opportunity. In the summer of 2012, Actors Theatre began exploring a summer season to see if there would be an audience for summer programming.  Actors Theatre put on The Wallace and Ladmo Show.  
Merger Exploration
In the fall of 2010, at the direction of their respective Boards of Directors, Actors Theatre and Arizona Theatre Company applied for and received a grant from The Virginia G. Piper Charitable Trust to explore a merger between the two companies.  Facilitated through an outside consultant chosen by Piper, the two companies met multiple times to discuss the pros and cons of a merger.  Each company was represented by select Board Members and senior staff.  The conversations took place through most of 2011 with the mutually agreed upon decision to not merge.
Here and Now
In the fall of 2011, the Company hit a financial crisis point. The Board chose to go public with a need for support to keep the Company operating.  The Company ran a very successful grassroots three phase fundraising campaign ending in June 2012, tripling its individual donor base and allowing the Company to continue operations. In addition to going public, the Board returned to a two person executive leadership of the Company.  It promoted the General Manager to Managing Director with the task of focusing on fundraising, finance, administration and human resources.  The Producing Artistic Director continues to oversee artistic, production and marketing. Recognizing the reduction in corporate, government and foundation support available to it and the arts, Actors Theatre reduced its budget from a high of $1.7M in 2008 to less than $1M for FY 2013.
In January 2013 the Board decided that it must take the bold move of canceling the last 2 shows of the 2012-2013 season and sever its relationship with HTC/PPAG.  Actors Theatre, like many other theatre companies has utilized season tickets subscription dollars for the next season to complete its current season.   With the loss of the grants that had been budgeted and relied upon, the Board was unwilling to move forward with a new season based on this old model. Instead, it chose to place the Company in a "pause, "a quiet moment where it could focus on creating a new business model that will support its mission moving forward.
The Company is in the process of planning programming for FY 2013-2014 at other theatre spaces in the Valley. It anticipates putting on 4 shows including the 2 shows originally scheduled for the 2012-2013 season.
A COMPLETE LIST OF COMPANY PRODUCTIONS
2013-14 productions are showcased at the top of this page.