PLEASE HELP
This page is in development. I would be grateful if you would share any memories, anecdotes, photographs or other memorabilia. Please use the button at top right to contact me and I will give you the details on sharing. Thank you, Kyle Lawson, page manager. (PS: It would help if you could provide the IDs of those pictured, the name of the production, the year, the company and the photographer credit. If you know them, that is.)
PHOTOGRAPHS, REVIEWS & THE KITCHEN SINK
MAY 1967. The Arizona Republic ran an article on the company's involvement with high school thespians.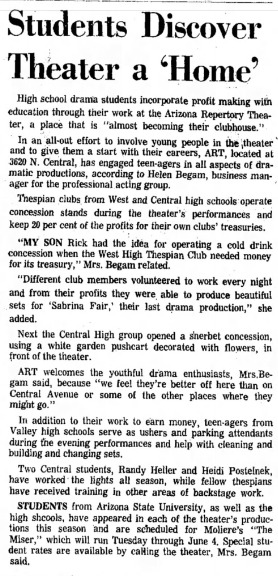 *****
APRIL 1967. "The Lower Depths." Playwright: Maxim Gorky.  Director: Robert Aden. Cast: William Edmondson, Joseph Jenckes, Carolyn Allhands, Sarah Jane Miller, Barbara LeCocq, Norman MacDonald, Malcolm Dick, Mark Adams, Sandy Gibbons, Helen Begam, Leon Black. Scenic Design: John Retseck.
ART brought another theater classic to the Valley with this production of Gorky's vivid depiction of turn-of-the-century Russia.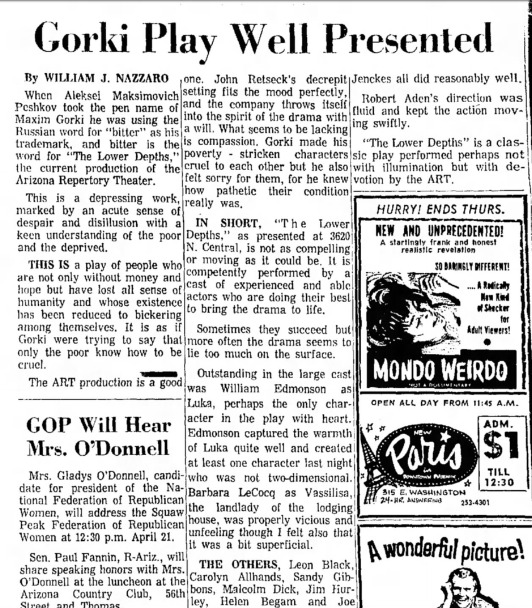 *****
1967. "Nude With Violin." Playwright: Noel Coward. Producer: Robert Aden. Director: Paula Sobol. Cast: Robert Aden, Paula Sobol, Dolores Clerk, Horace E. Owen, Eric Daws, Mike Freeman, Bob Baird, Sarah Jane Miller, Barbara Lea, Barbara LeCocq (Are these the same woman; the archives fail me), Carolyn Allhands, Norman McDonald, Sandy Gibbons, Dennis Qualtire, Leah Munson, Elfrida Silver, Francoise Gaton. Set & Lighting Design: John Retsek.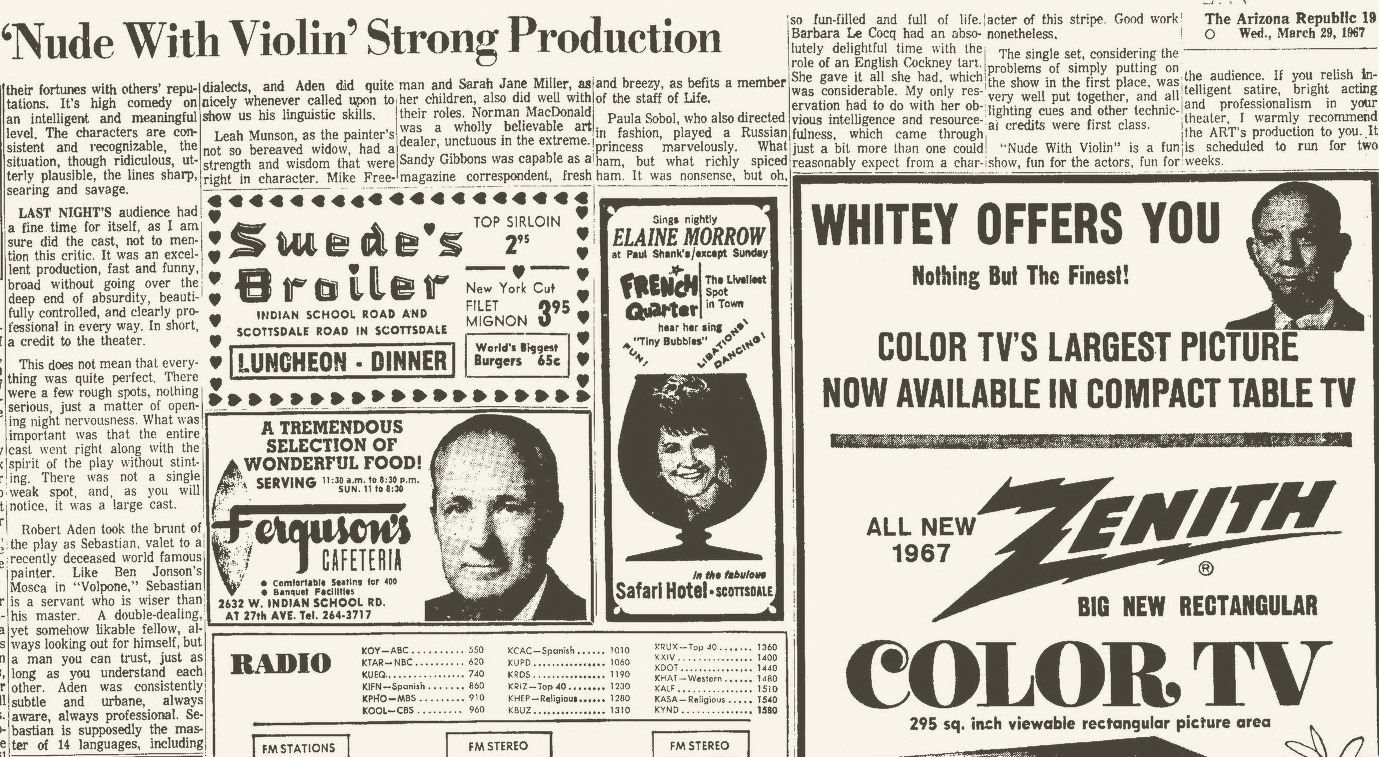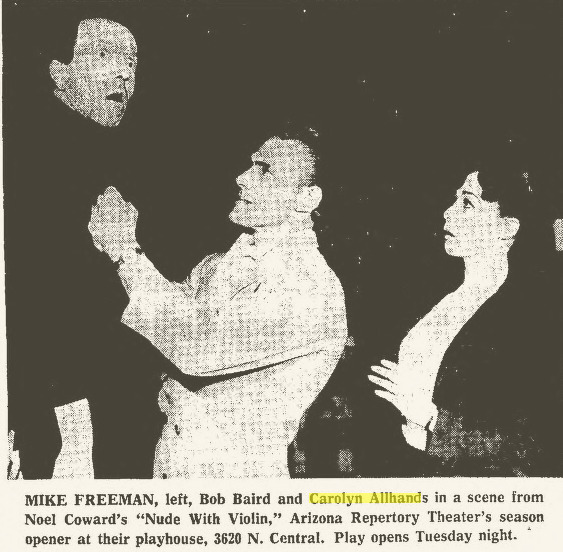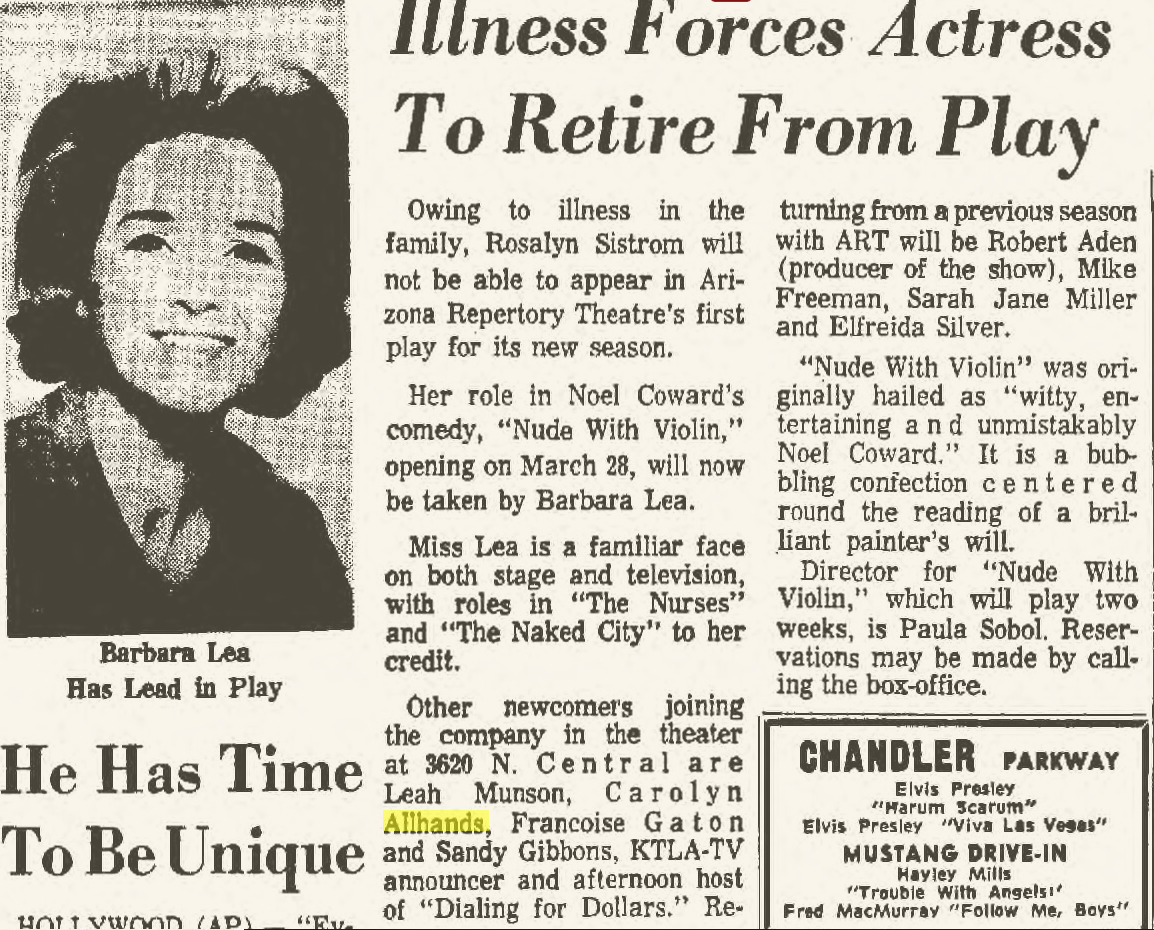 *****
JANUARY, 1966. "Volpone." Playwright: Ben Jonson. Director: Phillip Pruneau. Cast: Victor Thorley, Henry Balloni Jr., Helen Begam, Everett King, Harvey Shahan, Kathleen Quillen, William Whitman, Joe Jenckes, Michael Freeman, Bill Black (William Black), Jim Hurley, Alan Jeffrey, Eric Thomas, Richard Kish, Danny Nielfeldt. Scenic Design: John Retseck. Stage Manager: Jim Hurley. Costume Designer: Roberta Trujillo. Technical Director: Jerry Gorrell.
One of the most frequently heard complaints over the years was that local theaters hired out-of-town actors. Not much you could say. They did. Even Arizona Repertory Theatre, which, in every way, was a home-town troupe, was guilty. For this production, the leading man and a key supporting player were imported from New York.
How much of that was due to the influence of "guest director" Phillip Pruneau is unknown. But the play's Volpone, Victor Thorley, was more familiar with Broadway than he was with Phoenix's Central Avenue. A graduate of the  Royal Academy of Dramatic Arts in London, he had appeared on Broadway with Lunt and Fontanne and Maurice Evans.
William Whitman, who played Corbaccio, had appeared on Broadway in Jane and As You Like It and in productions with Dame Judith Anderson, Sir Cedric Hardwicke, Basil Rathbone and Peggy Wood.
The rest of the cast came from the local talent pool, so there was recompense for the "foreigners." Helen Begam, rightfully crowned as queen of Valley theater, had the role of Canina. Everett King, later known for his association with Arizona Theater Company and backer of the long-running New York hit, The Fantasticks, was Mosca. The role of the young, greedy lawyer Voltore went to Henry Balloni Jr., who many compared to the young John Barrymore,  Kathleen Quillen, the production's Columba, made her name with the Star Theatre (now the Celebrity) and Harvey Shahan (Corvino) was a frequent participant in ART productions as both actor and director. Joe Jenckes (Leone), another ART regular, had just returned from two seasons in the off-Broadway hit, The Trojan Women.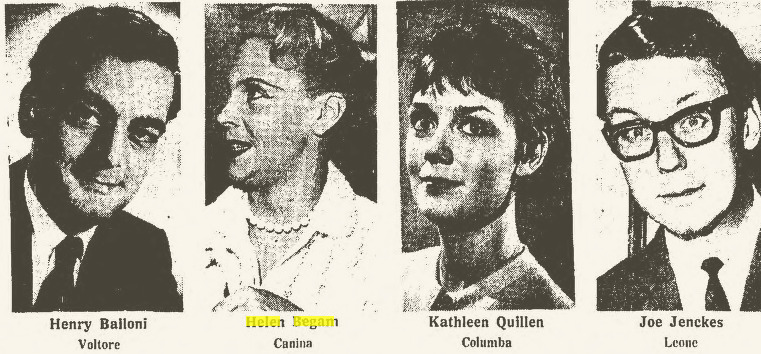 *****
1966. "Who's Afraid of Virginia Woolf?" Playwright: Edward Albee. Cast: Helen Begam.
*****
SEPTEMBER 1963 "Counterpoint West" Arizona Repertory Theatre. Cast: Jackie Qualman, Joseph Jenckes, Vic Figarelli, Antonio Cesario, Sarah Jane Bluemle, Earl Baldwin.

*****
APRIL 1963 "Anthony and Cleopatra." Co-Production by Phoenix Little Theatre and Arizona Repertory Theatre Company. Director: Robert Begam. Cast: Bob Aden, Fran Tolleson, Joseph Jenckes, Ted Fitz, Harry Balloni Jr., Royce Wyers, Bob Pollard, Sarah Jane Blumele, Jackie Qualman, Mel Pollack, Bob Gusick, Tom Burns, Jim Caddick, Lawrence Berscheld, Harry Mitchell, James Flanagan, Walter Burritt, Rod Kellogg, George Winship, Angelo Cesario. Set Design: George Pettit, Van Peterson. Stage Manager: Joan Plencner. Lighting Design: Dick Shoemaker, Clare Calvert.

Fran Tolleson was an actress of patrician looks and elegant bearing who nevertheless turn could turn on the sultry vamp when required. She received fine reviews for her Cleopatra as did Joseph Jenckes for his Octavian and Robert Begam for his direction. Bob Aden was cast as Mark Antony in another classic directed for PLT by Begam. This was a co-production between PLT and Arizona Repertory Theatre and the multi-level set was co-designed by the companies' technical directors, George Pettit and Van Peterson. Joan Plencner, from the Scottsdale Community Players, was in charge of things backstage as the stage manager. After a couple of seasons where PLT's annual Shakespeare festival had run out of steam, this production put it back on the rails, drawing large and enthusiastic audiences.

Review by Helen Backer of the Arizona Republic, April 10, 1963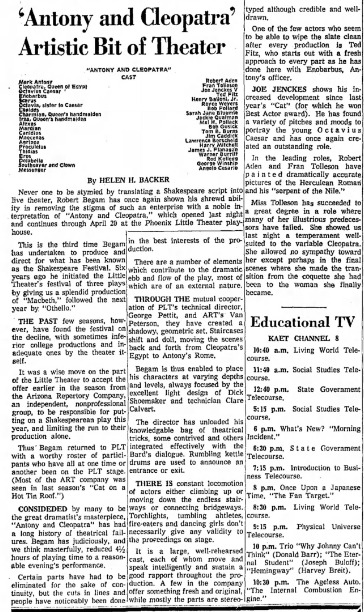 *****
MAY 1961. "Oedipus Rex." Playwright: Sophocles. Director: Helen Begam.
No one can say ART didn't tackle the big ones. Helen Begam, usually an actress for the company, sat in the director's chair for this production of Sophocles' tragedy.
*****
1960, Revived in 1961. "Waiting for Godot." Playwright: Samuel Beckett. Director: Norman McDonald. Cast: Robert Aden, Jim Hurley (James Hurley), Eric Karson, Jack Lang, Rick Begam.
Two characters (Aden, Hurley) wait endlessly for Godot – who may, or may not, be God. Beckett says in no uncertain times that he is not. In spite of the playwright's declaration, the script contains numerous references to Christian scriptures and religion in general. This ambiguity has led to widely varying interpretations of the play, which was first produced in 1953. McDonald's version for PLT, which erred more toward traditional staging than the controversial, still evoked strong responses in the critics and audiences of the day. It was such a hit in its first production that it was revived with the same cast a year later. Not without reason, Godot has been voted "the most significant English language play of the 20th century".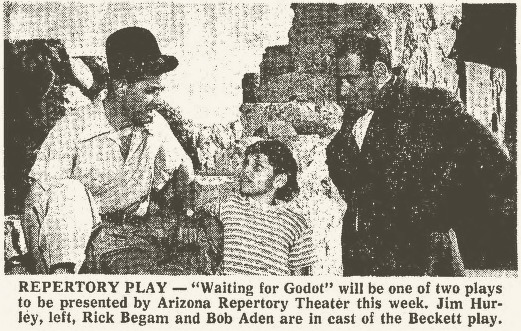 Helen Backer's review of the 1961 revival, Arizona Republic, March 31, 1961.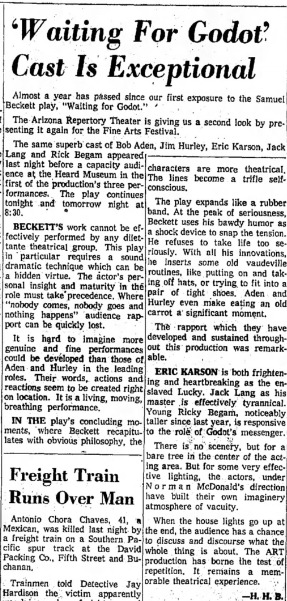 *****
1960  ROSHOMON   Director: E. Lee Tolleson. Producers: Robert Begam, Helen Begam. Cast: Jacqueline Gaston.
"It was the most prestigious theater in the Valley then. I was awed to be in the presence of the best."  — Jacqueline Gaston.
*****
MAY 1959  LOVE OF FOUR COLONELS.  Director: LeRoy Gainter.
Cast: Michael Ivor, Fred Cahill, Jim Stone, Henry Balloni Jr., Fran Tolleson, Stan Lambe, Elfriede Silver. Choreographer: Ruth Sussman.
Scenic Design: Scott Mitchell, Millie Hildebrand.
LeRoy Gainter ranked among the era's most popular supporting players, but he also was a fine director. One of his plum assignments was Peter Ustinov's play, a reworking of the Sleeping Beauty theme that presented four officers – British, American, Russian and French – attempting to make the Beauty fall in love with them. Michael Ivor, Fred Cahill, Jim Stone and Henry Balloni Jr. were the military men. Fran Tolleson was Beauty. Stan Lambe had the role of the Wicked Fairy and Elfriede Silver was the Good Fairy.