THEATER ON CAMPUS
Theatre activity was part of campus life at ASU as early as 1908. The University, then named Tempe Normal School of Arizona, had a Drama Society made up of women only. The first drama teacher at the school was Barbara Lee Reavis, who began in 1929. The earliest documented production activity of what is now called the ASU Department of Theatre was a workshop effort by students of the re-named Arizona State Teachers College at Tempe in 1932.
Throughout the years, the Department has operated under several names. Before the Department was officially instituted, students participating in productions were students of "dramatics", often directed by professors from the English Department. From the late 1940's through 1950's production activities were billed under the name "Drama Workshop"; the name "University Players" was applied beginning in 1963. That year, Henry A. Bruinsma became the founding Dean of the College of Fine Arts. During this period theatre students were enrolled as majors in Speech and Drama in the Communications Department. In 1978 the University gave theatre its separate department status.
When theatrical activity first began on campus, students performed in a generic college auditorium, which was demolished in 1955 after 46 years on campus. Theatre venues then included a lecture hall in the Business Administration building, the Lyceum Auditorium, the Payne Lab School Auditorium, the Phoenix Little Theatre, and the ballroom of the student union.
In 1962, the Lyceum building was remodeled into a 150-seat theatre with a backstage area, dressing rooms, and space for scenery construction and storage. The Lyceum Theatre was sometimes billed as the University Playhouse. Students used the Payne Lab School for projects, calling it "An Alternate Space." In 1982, however, the building was condemned and burned in a controlled exercise for local fire departments. Formerly a Tempe Elementary School, the 68-year-old building served as the principal and only classroom building for the Department of Theatre. After Grady Gammage Memorial Auditorium was erected in 1964, the University Players often co-produced large musicals with ASU's Lyric Opera Theatre in the new space. In 1981, the Lyceum Theatre was renovated on a $1.8 million budget. The Nelson Fine Arts Center, which houses the Paul V. Galvin Playhouse, was opened in 1989.
In addition to its mainstage seasons, the Department has hosted a number of series over the years that were created to showcase work exclusively by students in alternative venues. Reader's Theatre, the ASU Mime Troupe, the Prism Series, the Scholarship Series, and Second Stage Series are a few of the names under which these productions have fallen.
The Department has progressed under the leadership of four key individuals since the early 1970's. Dr. James Yeater served as Director of the University Players, Theatre Coordinator, and Director of Theatre until William Akins took over as Director of Theatre in 1976-77. When theatre was given Department status in 1978, Akins was appointed its first Chair. Dr. Lin Wright, who had been teaching and directing for the Department for many years, was appointed Akins' successor in 1984. Her retirement in 1996 lead to the appointment of Dr. Bonnie J. Eckard.
In 2003, the Department offered a Bachelor of Arts degree in Theatre with optional focus in Acting, Directing/Stage Management, Playwriting, Film, History, Theory and Criticism, Theatre Education/Theatre for Youth. The B.F.A. in Theatre for Youth was disestablished for incoming students as of the 2001-2002 catalog year. Graduate degrees included a Master of Arts in Theatre; Master of Fine Arts with concentrations in Theatre for Youth, Performance, and Scenography; and a Doctor of Philosophy with concentration in Theatre for Youth.
PHOTOGRAPHS, REVIEWS & THE KITCHEN SINK
2014.  "NATION" 
Playwright: Mark Ravenhill. Director: Megan Weaver.  Cast: Jose Martinez (Mau), Jessica Cochrane (Daphne), Heidi Hearter (Milton), Adriano Cabral (Locaha), Owen Kneeland (Foxlip), Walter Boyea (Polegrave), Tyler Eglen (Cox), Alli Villines (Grandmother), Julio Partida (Ataba), Chavez Benally (Milo/RaiderChief), Jorge Sanchez-Barcelo (Pilu), Sarah Stansbury (Cahle), Teresa Simone (Marisgala)
Chad Palmer (Captain Roberts), Taylor Couture, Mandy Nielsen, Mia Passarella, Sarah Zorman, Andrea Dilizia, Fernando Perez (Islanders)
Cory Woodrow (Percussionist)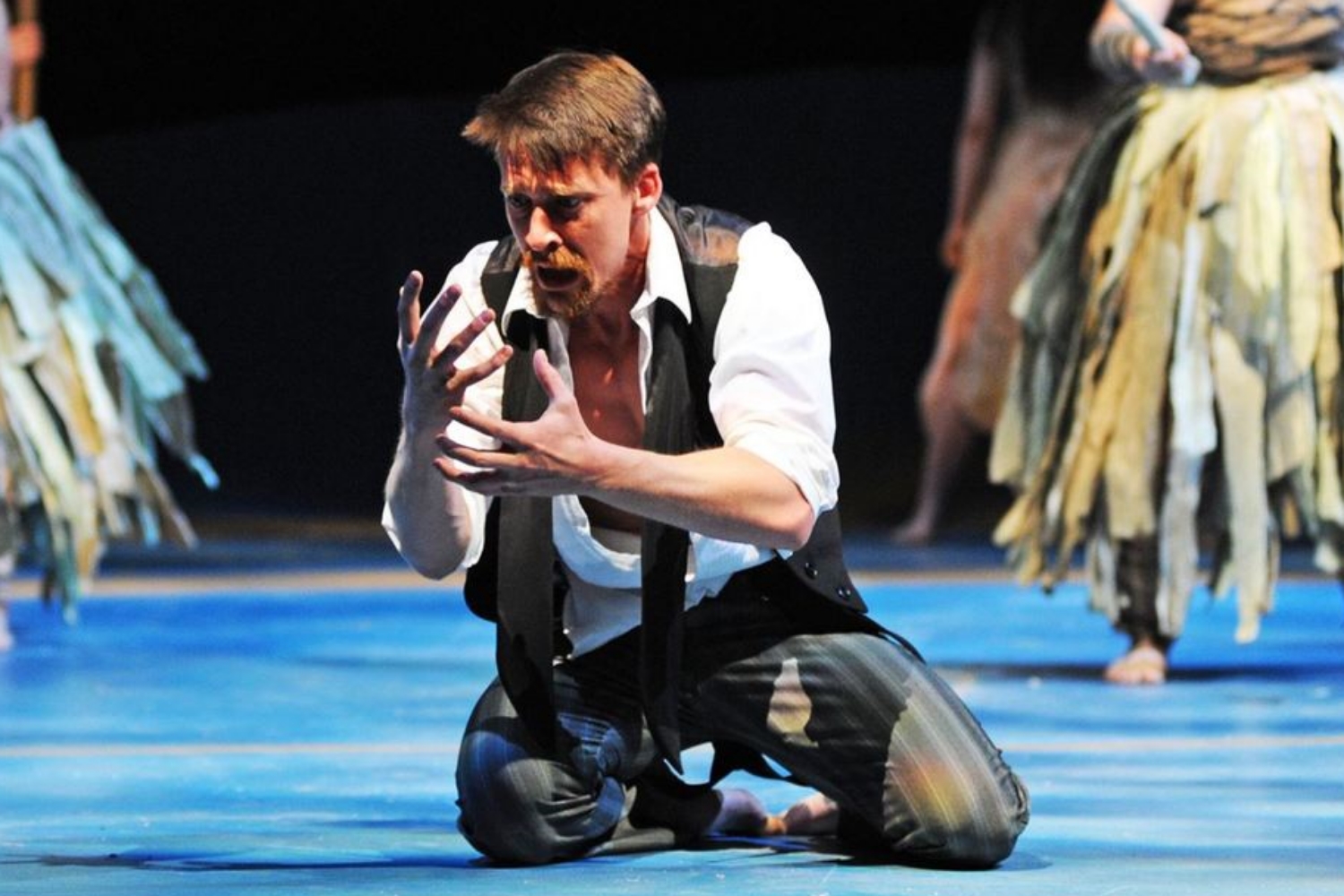 2003.  "A CERTAIN RELEASE"
Jeff MacMahon Projects, ASU. Cast: Steven Mastroieni.
1994.  "THE ADDING MACHINE"
ASU Drama City. Playwright: Elmer Rice.  Cast: Steven Mastroieni, Chris Danowski, D. Scott Withers.
1979.  "ASHES"  Cast: David Vining, Janice Robillard, Steven Mastroieni.
CLIPPING FROM THE ARIZONA REPUBLIC, SEPTEMBER 3, 1967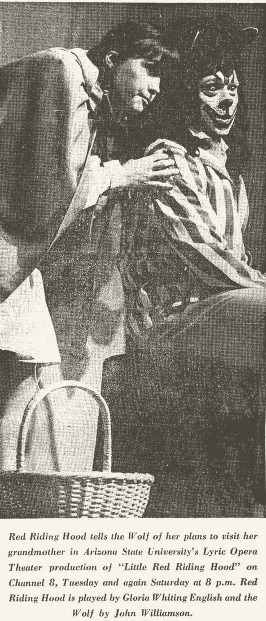 CLIPPING FROM THE ARIZONA REPUBLIC, AUGUST 12, 1967

CLIPPING FROM THE ARIZONA REPUBLIC, MAY 17, 1964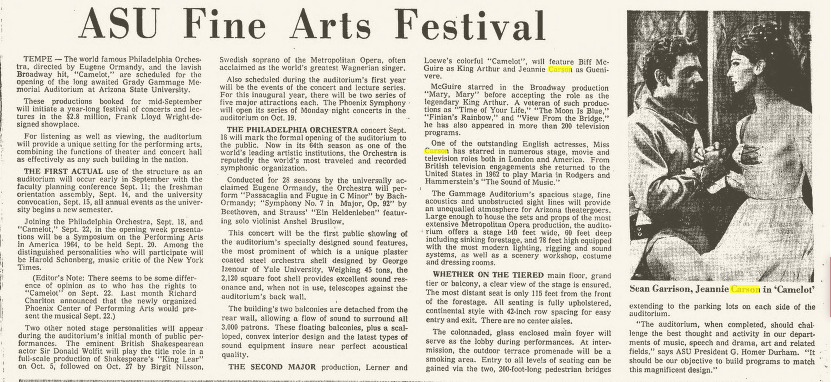 1963.  "CURSE YOU, JACK DALTON"
Cast. Jim Mancuso (James Mancuso), Jacqueline Gaston, Anita Byron, Michael Bryon, Pam Allen, Lyn Peplow, Jim Seeman, Mike Rost, Ron Gregory, Eleanor Hoover, Francis DeGrado, Tami Miller.