2014-2015 SEASON
ASU Symphony Orchestra – Salute to ASU Gammage
7 p.m., Sept. 23, 2014
Tickets $20 (Students $10)
The ASU School of Music commemorates the 50th Anniversary of ASU Gammage with a blockbuster concert celebrating the dedication of the building in 1964. The ASU Concert Jazz Band welcomes patrons before the Wind Orchestra performs music by Ingolf Dahl and other leading American composers. The ASU Symphony Orchestra and combined choirs offer music by Bach, Beethoven and Richard Strauss, whose music was played by Eugene Ormandy and The Philadelphia Orchestra at the grand opening concert in 1964.
Daniel Roumain – with the Arizona High School All-Star Symphony
7 p.m., Sept. 27, 2014
Tickets $20 (Students $10)
Equally at ease conducting a symphony orchestra or sampling Hip Hop alongside a DJ, composer/violinist Daniel Roumain returns to ASU Gammage for the second time after serving as the ASU Gammage Residency artist from 2003-2006. Roumain's acclaimed work as a composer and a performer has spanned more than two decades, and has been commissioned by venerable artists and institutions worldwide. Roumain is also perhaps the only composer/performer whose collaborations span the worlds of Lady Gaga, Philip Glass, Cassandra Wilson, Bill T. Jones and Savion Glover. Roumain will collaborate with some of Arizona's most talented high school musicians from around the state in a very special concert honoring ASU Gammage's 50th Anniversary.
Dance Theatre of Harlem
7 p.m., Oct. 25, 2014
Tickets $35 (Students $10)
ASU Gammage is proud to welcome back Dance Theatre of Harlem, an iconic American dance company. The company will perform an eclectic mix of new and traditional dances that will highlight the brilliance of this one-of-a-kind American dance treasure. Shortly after the assassination of Martin Luther King, Jr., Dance Theater of Harlem was founded with the goal of starting a school in Harlem in which students could learn about dance and other art forms. In addition to encompassing the performance group and education center, Dance Theatre of Harlem also has a national and international education and community outreach program, Dancing Through Barriers. Each piece commits to bringing the arts to the lives of adults and children alike. Dance Theatre of Harlem is an unparalleled institution in the world of dance not only in this country, but around the world.
Philip Glass
7 p.m., Feb. 28, 2015
Tickets $35 (Students $10)
Philip Glass is one of the world's most influential composers whose works are included in major motion picture, opera, theater and dance, and are routinely performed around the globe. Glass has written music for experimental theater directed by celebrated director Robert Wilson and for Academy Award-winning motion pictures such as "The Hours" and Martin Scorsese's "Kundun." ASU Gammage has a longtime partnership with Glass, having presented his Robert Wilson collaborations "Monsters of Grace" and "Dracula," as well as his "The Hours" piano concerto and other works. Glass will perform newly written work and his complete set of piano etudes along with two guest pianists.
Kota Yamazaki/Fluid Hug Hug Dance Company
7 p.m., April 11, 2015
Tickets $20 (Students $10)
ASU Gammage will be the world premiere site for Kota Yamazaki's OQ. OQ is the sound for "palace" in Japanese, and this new work will include aspects of architecture and Japanese poetry to evoke Eastern and Western ideas and rituals around the idea of the palace. Kota Yamazaki makes dances that you can't take your eyes off of through his unique and singular style. Yamazaki's Fluid Technique seamlessly fuses the physical with the spiritual and emotional, and defies what we would think is possible of the human body. Yamazaki has worked with dance companies in Africa, Japan, New York and other places around the globe to great critical acclaim, but perhaps his true gift is the ability to excite non-dancer and dancer audiences alike.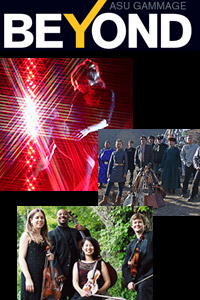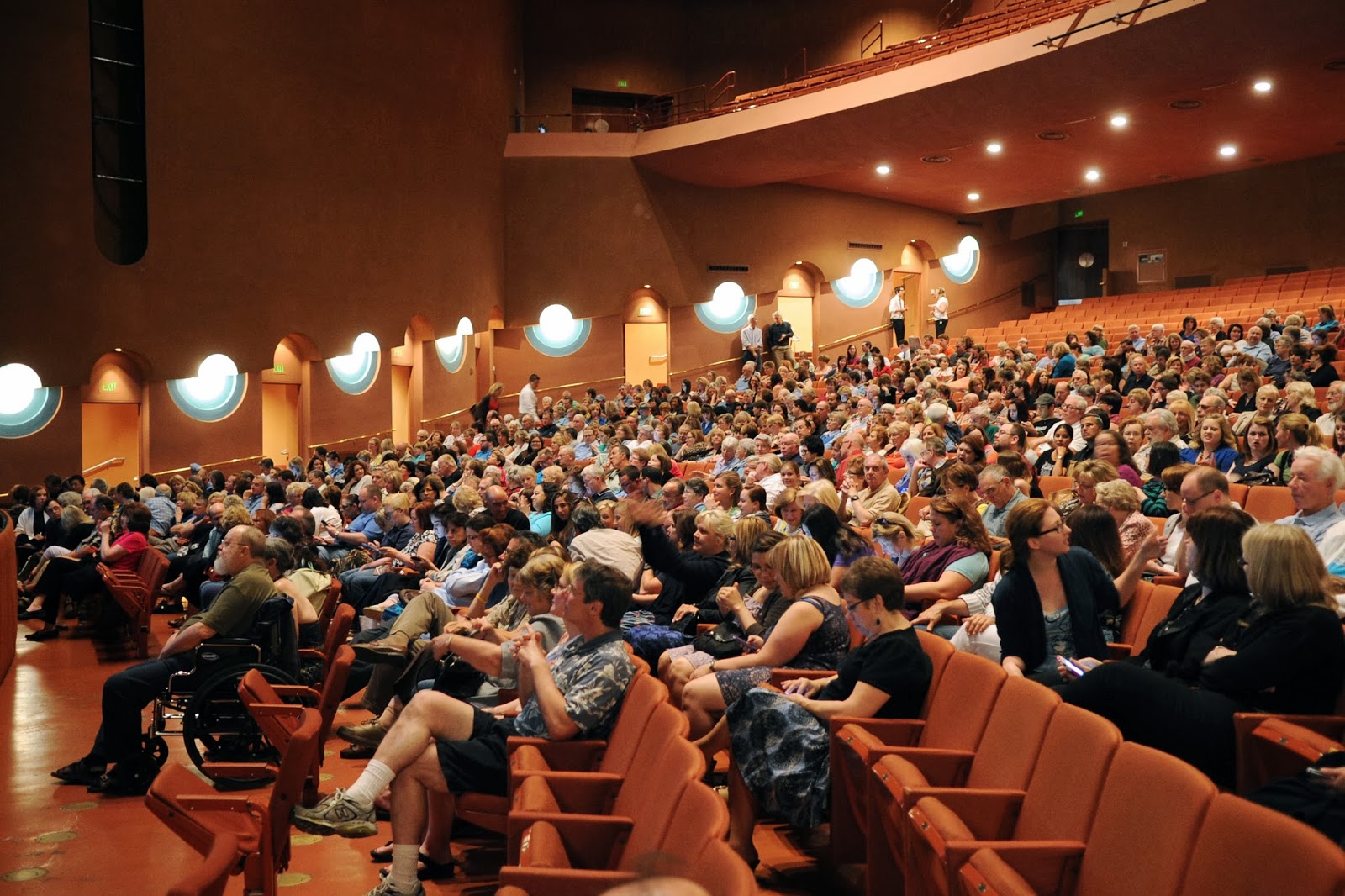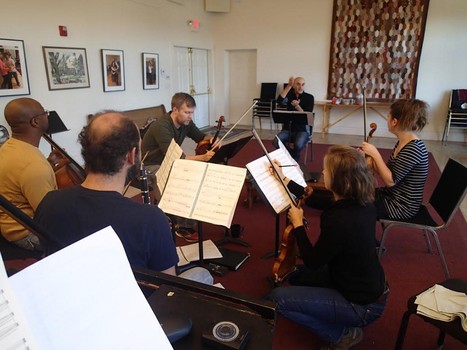 HISTORY
ASU Gammage's BEYOND Series, which began in 1991, has no precedent in Valley theater so it would be justified in calling itself unique. Actually, it calls itself a "carefully curated boutique arts series (that) brings world-class performing artists who immerse themselves into (the) community by presenting evocative and compelling work along with connecting to Valley residents through engaging Cultural Participation programs." Whew! Quite a mouthful! But the series has lived up to its promise.
 2012-13 SEASON
LEMON ANDERSEN
COUNTY OF KINGS: The Beautiful Struggle
Saturday, October 6, 2012 at 7 p.m.
ASU Gammage On Stage seating
COUNTY OF KINGS is a visceral and emotional coming of age memoir by playwright/performer Lemon Andersen that moves
audiences through a jarring and poignant narrative. Weaving hard-edged drama with urban poetry, Anderson's performance touches on everything from a life of crime, prison, young love,
addiction and ultimately personal triumph.
CITY COUNCIL MEETING
AARON LANDSMAN/
MALLORY CATLETT
Saturday, February 16, 2013 at 7 p.m.
ASU Gammage On Stage seating
CITY COUNCIL MEETING is a creation of writer Aaron Landsman, director Mallory Catlett and designer Jim Findlay. The team visited local City Council meetings in Bismarck, San Antonio, Portland, New York and now Tempe to create an engaging and participatory theatrical adventure. The competing agendas,
alienating rules, tedium and temper often let adversaries occupy the same room and antagonize each
other constructively.
For 18 months, ASU Gammage worked with Landsman, a long-time member of New York's critically acclaimed Theater Company Elevator Repair Service, and Catlett to involve Tempe City Council members, community leaders, Arizona residents, ASU students and local artists in a creative process that led to
performances of CITY COUNCIL MEETING. Audience members became actors in the piece.
EMILY JOHNSON
NIICUGNI
Saturday, March 2, 2013 at 7 p.m.
ASU Galvin Playhouse
Celebrated director, choreographer, curator Emily Johnson (Native Alaskan Yup'ik) presented a new performance installation of dance, housed within a light and sound installation made of
hanging fish skin sculptures. The sculptures were produced locally during her residency at ASU Gammage and hung from the ceiling, covering the entire stage.
2012-2014 SEASON
Susan Marshall & Company
"Play/Pause."
Oct. 5, 2013
Marshall embraced the collisions of high art and pop
culture to create the ultimate mash-up: postmodern dance-theater meets indie rock on both real and virtual stages. Marshall coupled her intimate, structured choreography with the seductiveness of pop culture to explore our complex
relationship with the media we consume. The performance was counterpointed by original online music videos, aspects of which were incorporated into the live work. PLAY/PA– USE featured an original score by Pulitzer Prize-winning composer David Lang, performed live by the members of the electric guitar
quartet Dither and Mantra Percussion, that merged the iconic pop sound of electric guitar with abstract rhythms.
AnDa Union
Oct. 10, 2013
AnDa Union made their return to Gammage after a world tour showcasing the power and magic of Mongolian traditions and culture. AnDa Union's inspiration lies within old and forgotten songs, drawing on a repertoire of music that had all but disappeared. AnDa Union's fusion of traditions and styles from Inner and Outer Mongolia created innovative and magical music previously unfathomable.
Sally Pinkas/Apple Hill String Quartet/Kinan Azmeh
"Playing for Peace"
Feb. 15, 2014
As part of the PLAYING FOR PEACE program, founded by the Apple Hill Center for Chamber Music in 1998, Gammage brought together world-renowned artists that used music to bridge the divide between cultures in conflict. The centerpiece of the project was a new commission by Syrian composer Kareem
Roustom that used the unique sound of Apple Hill String Quartet and combined them with Syrian clarinetist Kinan Azmeh and Israeli pianist Sally Pinkas.
Eiko & Koma
"Regeneration"
March 29, 2014
Eiko & Koma returned to Gammage to present REGENERATION, a three-part retrospective looking at some of their most acclaimed and celebrated work. Characterized by bold, highly theatrical strokes, Eiko & Koma's performance focused on the elemental, with works that transcended everyday notions of time and space.
With REGENERATION, the works RAVEN, NIGHT TIDE and WHITE DANCE gave audiences a look at more than 40 years of unique theater of movement out of stillness, shape, light and sound.
The show contained nudity.
Aaron Landsman
"Appointment."
April 11-12, 2014
APPOINTMENT was a series of intimate works that were presented in office spaces by Gammage Resident Artist Aaron Landsman in collaboration with local artists and the audience. Using the rituals and environment of the workplace as a departure
point, APPOINTMENT took a situation that can seem beneath examination and turned it into a cause for pleasure and surprise. APPOINTMENT was developed in partnership with theater and dance companies as well as individual artists and the result pushed the concept of theater to unpredictable places.