Desert Foothills Theater is an award-winning theater that has been presenting work in the far north valley since 1975.
The following is from the company's website, http://www.dftheater.org
For over 39 years Desert Foothills Theater has been providing theater experiences to the Northeast valley. It was founded in 1975 by Anne and Carl Nussbaum. They had grease paint in their veins, and wanted to share their deep love of live theater with everyone in the Desert Foothills.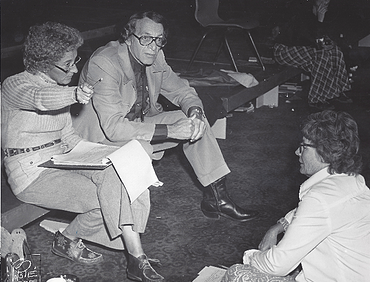 Starting under canvas, they began their plays and musicals wherever it was possible to set up the tent. After the tent was destroyed by a storm, they moved to the Carefree Inn, then to Pierre's Playhouse (later destroyed by a fire), then to El Pedregal and finally to the Cactus Shadows Fine Arts Center.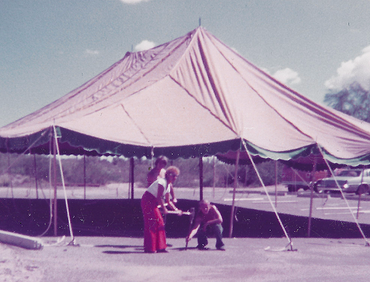 Our high-quality shows are produced with the help of extensive volunteer support. We pride ourselves on being a true community-supported theater that also provides support to the community through performances, education and outreach.   With a focus on participation, we encourage everyone to not just attend, but to be part of, our productions.
In 1996, Desert Foothills Theater was invited to join the umbrella of the Foothills Community Foundation (FCF). The foundation supports organizations that provide community service to the Desert Foothills area. FCF provides 501(c)(3) conduit support as well as general administrative support.  Desert Foothills Theater is the largest program of FCF with an annual budget of over $322,000.  In the summer of 2009, DFT was able to move, along with FCF, into the new FCF-Holland Community Center. The facility provides new rehearsal, classroom and office space, but not a performing location.
 In the fall of 2005, DFT collaborated with Black Mountain Elementary School and with support from Carefree Kiwanis and BMES PTO, created a small 50-seat black box theater which became home to a fledgling youth theater program.  The first production in the black box, Rats! featured 35 young performers in grades two through five and initiated the start of our youth theater program.
 In the fall of 2006, Ms. Brenda Waffle joined DFT as youth theater director, a position she held until her passing in July of 2008.  In the summer of 2007, Ms. Waffle provided the first DFT summer class which was expanded in 2008 to a two-week camp for students in grades three through eight which was very successful.
 In 2008, the youth-focused programs of DFT continued to grow and DFT expanded to having an education program (providing consistent training for interested artists ages 8-adult) and a youth theater performing arm.  By 2012-2013, the education program consisted of a fall session, winter break session, spring session, spring break camp, summer class session and four summer camps.  In 2015, DFT offered winter break camp, spring break camp and six summer camps with 128 young people participating.  DFT also provided fall and spring classes and a multi-week summer drama intensive.
  In the fall of 2009, DFT provided its first fully produced youth theater production and Desert Foothills Youth Theater was "officially" born.  Since then the season has expanded to three youth productions each year offering performance opportunities for more than 100 young people.
DFT's adult theater has continued to expand as well—adding a fourth adult show to the season allowing for a multi-faceted series that includes a family-friendly musical,  a contemporary or edgy musical, a non-musical comedy and a non-musical drama or mystery.  Each year DFT's performances draw thousands of attendees and allow hundreds to participate in hands-on theater work. Desert Foothills Youth Theater provides performing opportunities for over 100 young actors and Desert Foothills Theater provides performing opportunities for over 100 adults each season.
 DFT has also received many ariZoni Award nominations and awards and Desert Foothills Youth Theater has received numerous ariZoni nominations and National Youth Arts Awards and nominations.
2015-2016 SEASON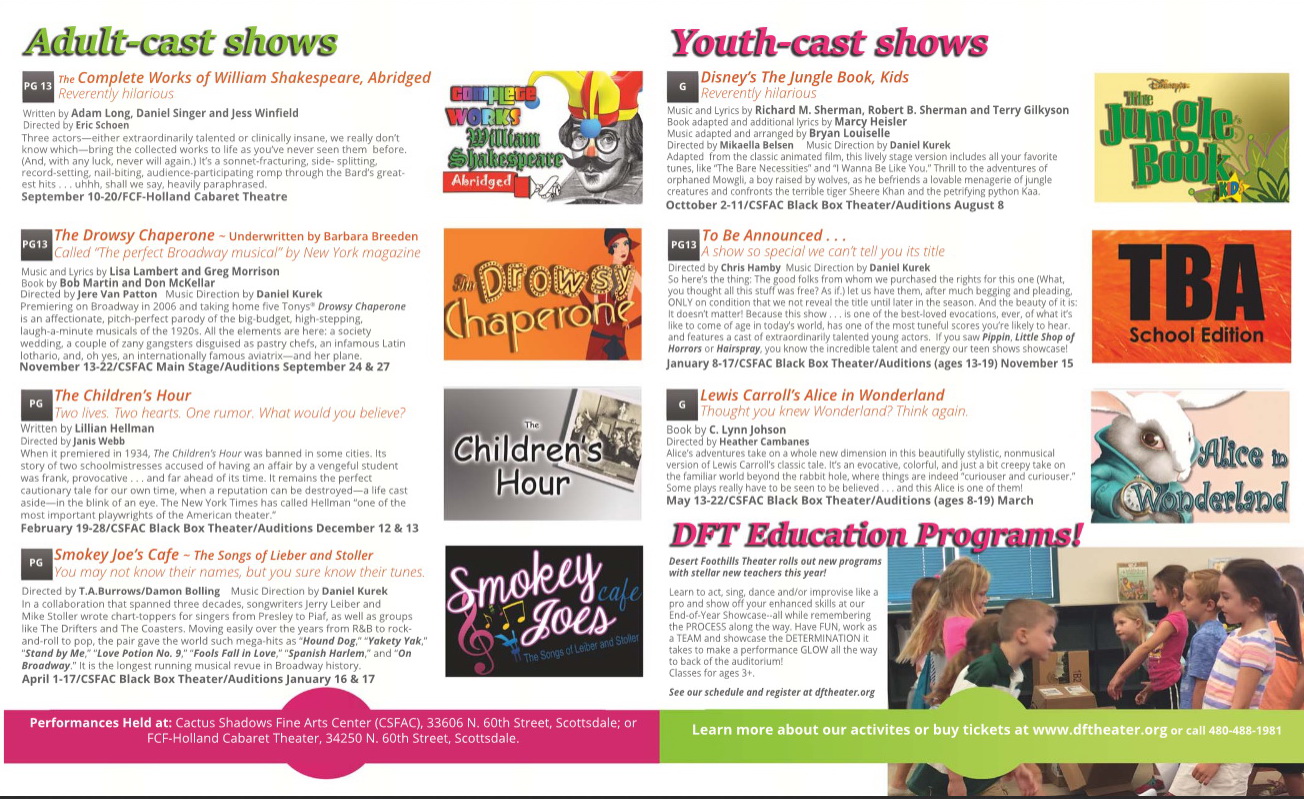 *****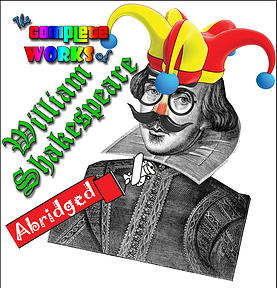 2015. THE COMPLETE WORKS OF WILLIAM SHAKESPEARE ABRIDGED.  Book: Adam Long, Daniel Singer and Jess Winfield.
Director: Eric Schoen. Cast: Ari DeVriend, Bradley Beamon, Ryan Wentzel. Set Design: Michael Blaney. Costumes, Hair, Makeup: Isabella Ronda. Props: Wendy Claus. Stage Manager: Shannon Zavesky. Lighting Designer: Dillon Girgenti.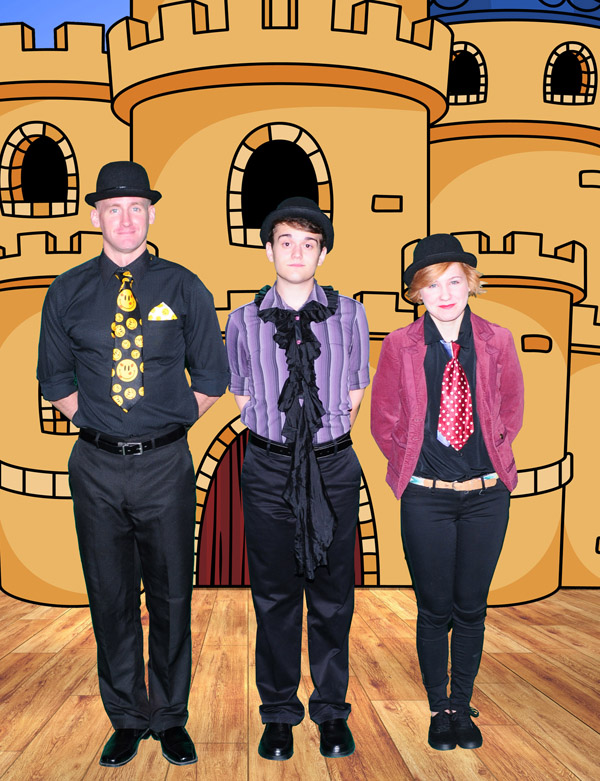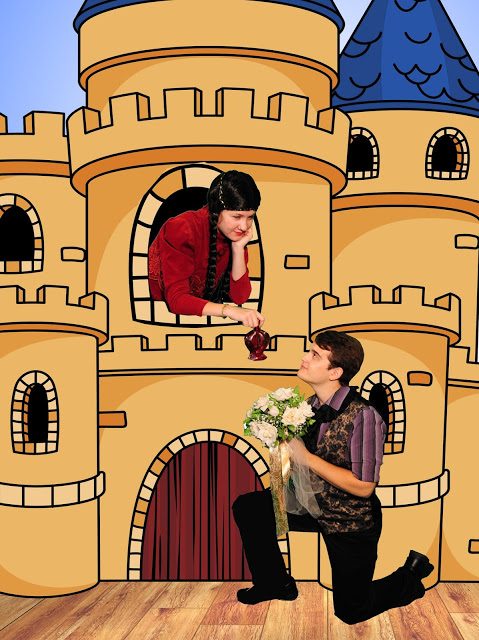 Gil Benbrook's Review, talkingbroadway.com
William Shakespeare's vast body of work is impressive. He wrote dozens of comedies, histories, tragedies and sonnets, and back in the late 1980s Adam Long, Daniel Singer, and Jess Winfield of the Reduced Shakespeare Company decided to attempt to condense his entire body of 37 plays into an abridged 90-minute comedy. The result, the irreverent and witty The Complete Works of William Shakespeare (abridged) has gone on to long runs and worldwide acclaim, eliciting hilarity and hijinks along the way.
Desert Foothills Theater presents a lively production of the show with a fine cast and hilarious results. Starting with a highly bastardized, but very funny, biography of the Bard, cobbled together from a misdirected Google search, the play includes varied condensed versions of his plays that parody, poke, and prod at the absurdity of Shakespeare's works. From delivering Othello as a white man's rap song, since the three white actors in the cast feel it isn't PC for any of them to play the African-American main character (or is that African-Italian, since the play is set in Venice?), to turning all of Shakespeare's history plays that focus on the many Kings in Europe into a Battle of the Kings football game, the fast and fun show is contemporary and relevant, full of improvisation, bawdy jokes, and references to pop culture. While not every moment works, with a few that barely get a chuckle, some highlights include taking the numerous repetitive situations and themes that Shakespeare used in many of his plays, including the use of twins, shipwrecks, and drag, to condense all sixteen of his comedies into one play, delivered as a radio melodrama. Also, turning Hamlet into an Evelyn Wood speed-version of the classic tragedy that runs just over 40 seconds is humorous, even more so when they decide to deliver it backwards. A few references to "Game of Thrones" adds a current spin to the production, while getting the entire audience involved to represent Ophelia's ego, id, and superego brings an inspired lunacy to the whole affair.
The cast of Desert Foothills Theater's production includes Bradley Beamon, Ari DeVriend and Ryan Wentzel, and all three are skilled in the improvisation elements that are required, with the fourth wall completely nonexistent. Beamon uses numerous funny voices to portray the many characters he plays, with great results, while Wentzel manages to achieve a funny yet smart delivery of his many roles. Ari DeVriend is a joy, from her propensity to have all of her downtrodden and dying characters end up mock vomiting on the front row of audience members to a stunning, dramatic, delivery of Hamlet's "What a piece of work is a man!" monologue, she brings plenty of spunk and sensitivity to the show.
Director Eric Schoen keeps the production moving along at a brisk pace, though the beginning falters just a bit, as do some of the quicker line deliveries that get lost, even in the small space. Creative elements are simple but smart, with Michael Blaney's set bright, colorful, and functional and the combination of Isabella Ronda's costume, hair, and makeup designs and Wendy Claus' fun props adding plenty of laughs.
Charming and slightly bawdy, The Complete Works of William Shakespeare (abridged) is a fun romp through the Bard's plays that a Shakespeare scholar or novice will enjoy, though if you know nothing about any of his plays you may be a bit lost at the many laughs coming from the audience. While not everything in the play works, DFT has a young, fun cast that turn their production into an inspired, witty, and delightful time.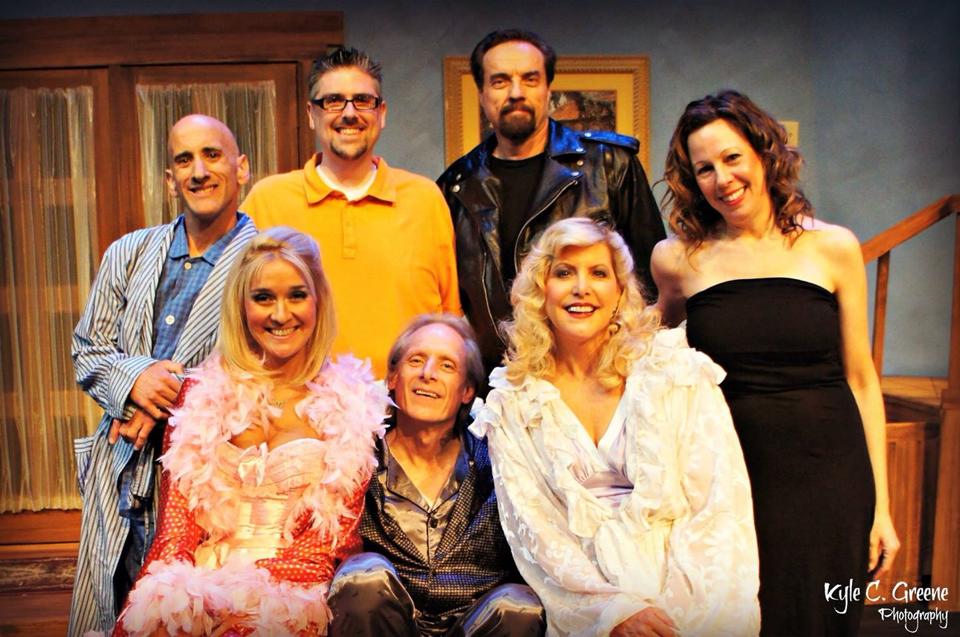 Cast: Glenn Parker, Melissa Powers, Roger Prenger, Mark Hackmann, Diane Nieman Senffner, Deborah Weissman Ostreicher, Patti Jones, Kyle C. Greene and Emma Hosler.