Hale Centre Theatre Arizona is one of five theatres in three states that are all owned and operated separately by family members. The Gilbert location was founded by David Hale Dietlein in 2003 and prides itself on providing the community with Broadway caliber productions at an affordable price while remaining family friendly. The Hale Centre Theatre has a legendary heritage as the longest continuously running, privately owned and operated theatre company in America.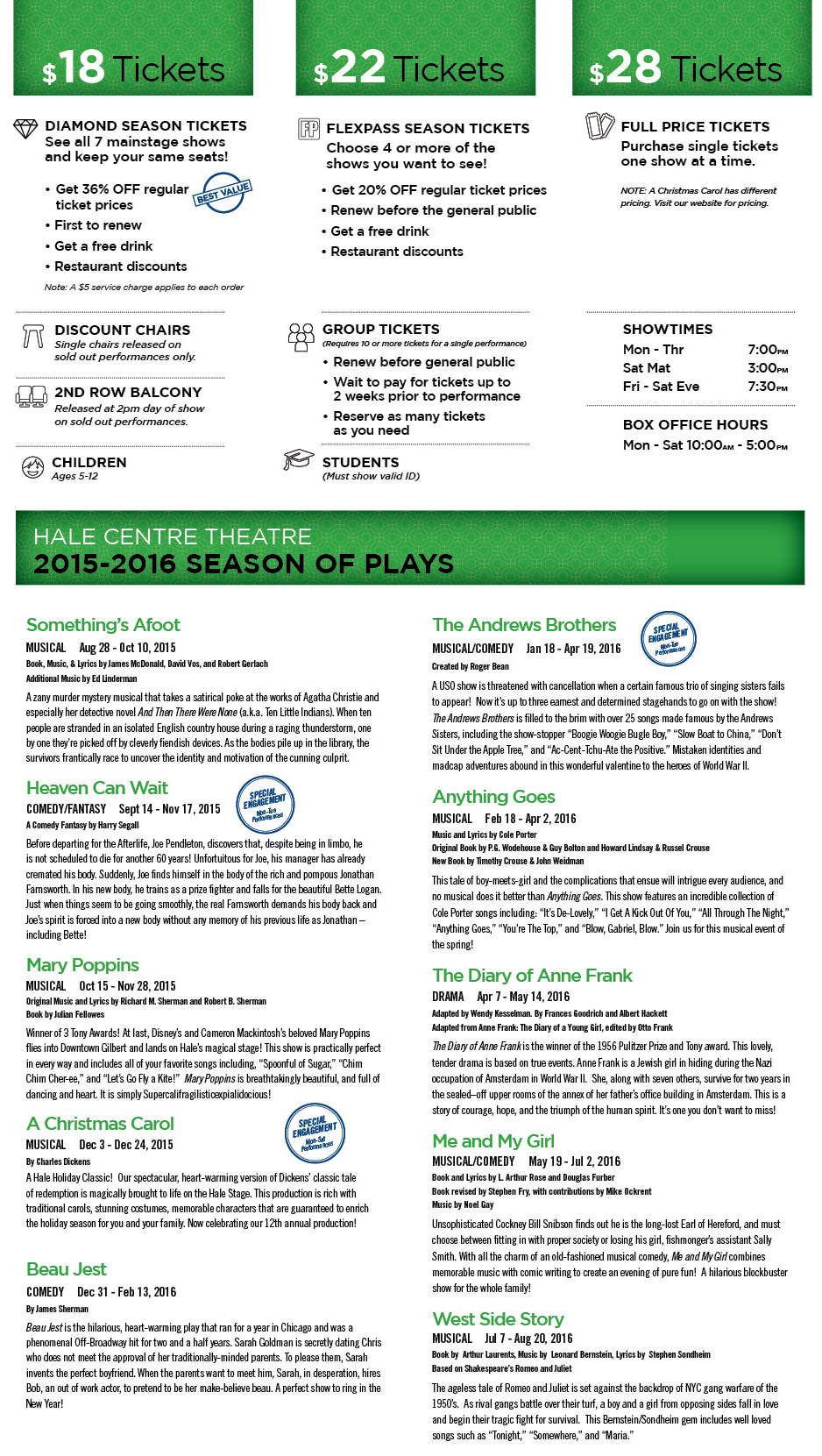 2015. SOMETHING'S AFOOT.   Book, Lyrics and Music: James McDonald, David Vos, and Robert Gerlach. Additional Music by Ed Linderman. Director, Choreographer: Cambrian James. Music Director: Lincoln Wright. Cast: Janis Webb, Stephen Serna, Ami Porter, Matthew Ryan Harris, Jacqueline Brecker, Curtis Lunt, Mark Kleinman, Heidi Liz Johnson, Geoffrey Goorin, Malcolm Hooper. Set Design: Brian Daily, Alex Fogle, Monica Christiansen. Props: Monica Christiansen. Costumes: Mary Atkinson. Lighting Design: Jeff A. Davis.
* All Photos for "Something's Afoot" are by Nick Woodward-Shaw.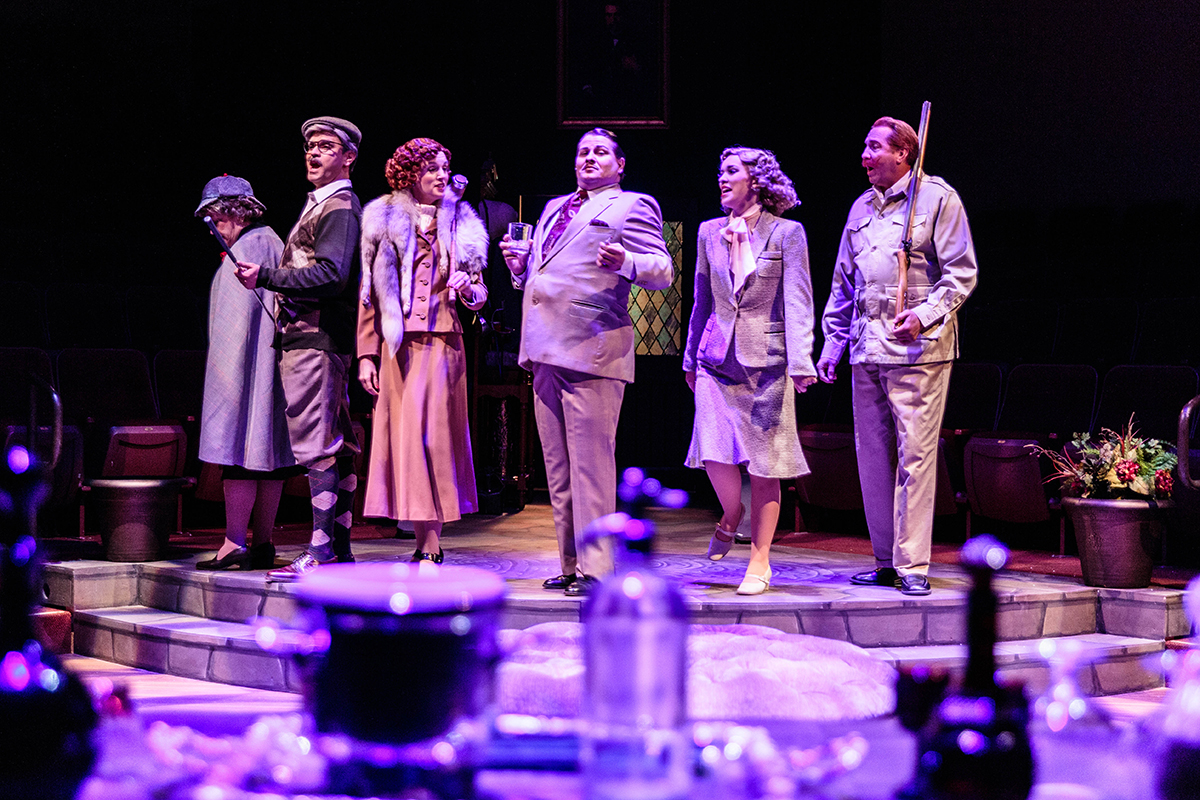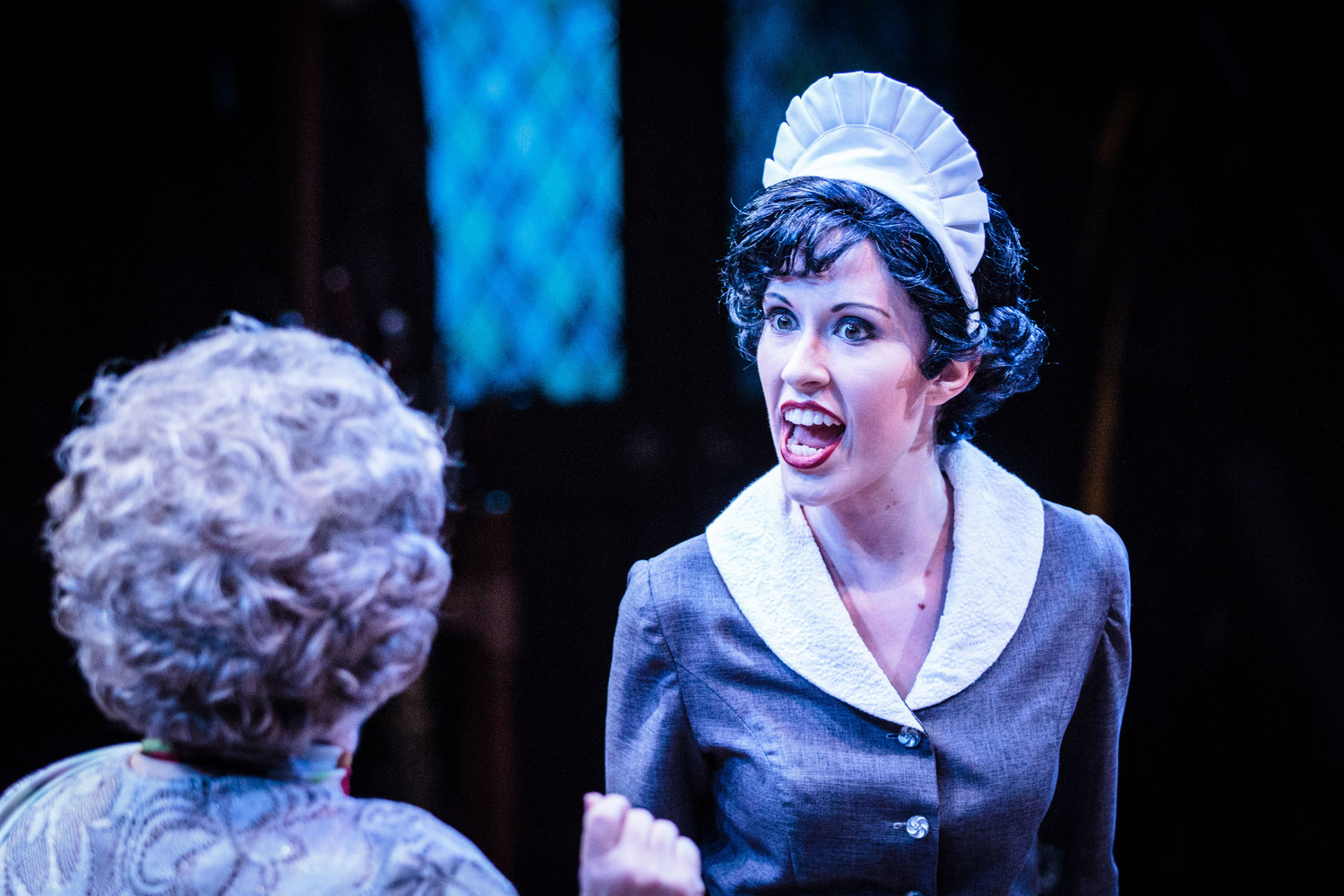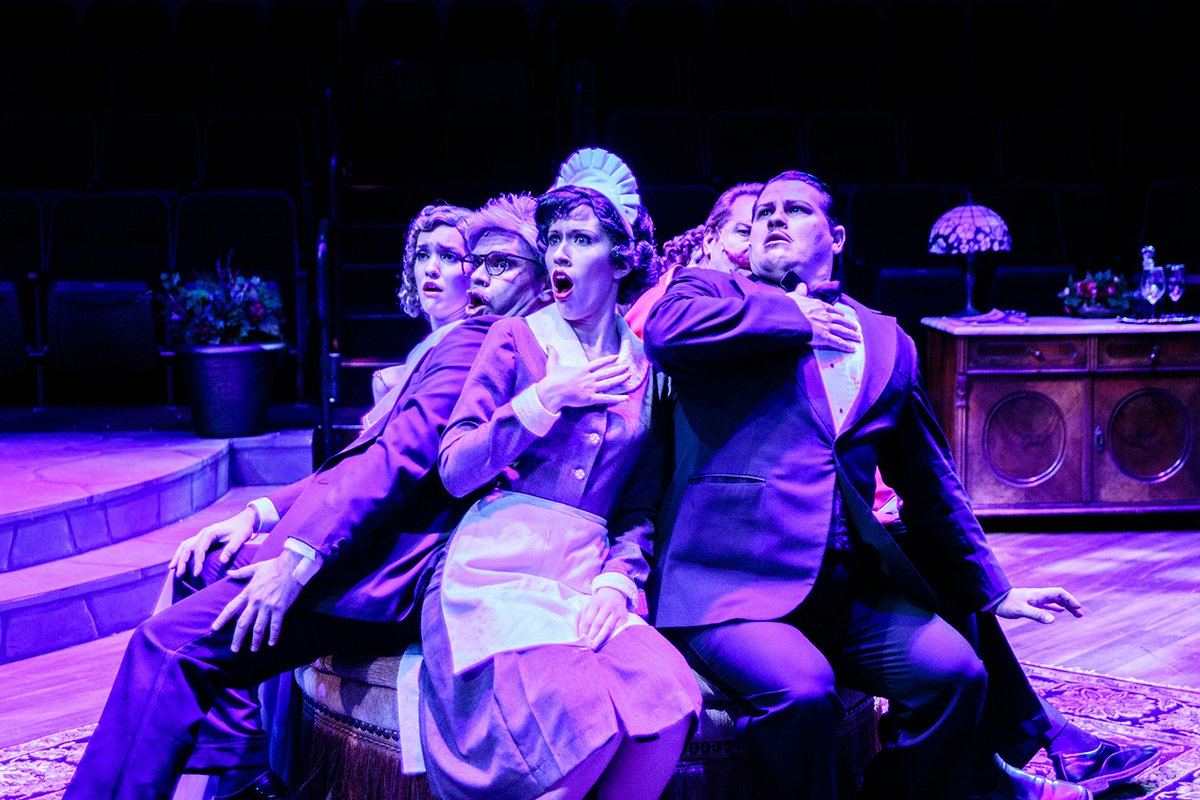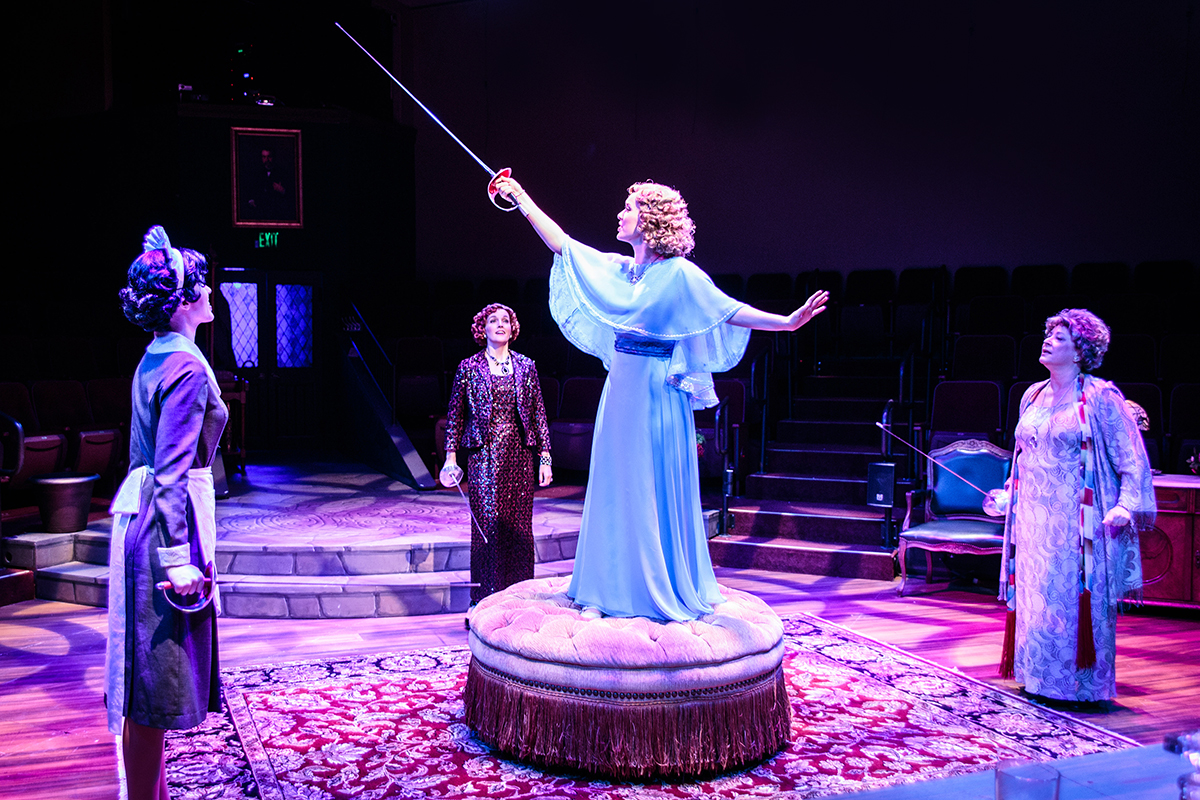 Gil Benbrook's Review: talkingbroadway.com
The musical Something's Afoot…is a spoofy homage to the murder/mystery genre, specifically the mysteries of Agatha Christie, that centers on ten murder suspects stranded in a remote house. Hale Centre Theatre's production has a sublime cast and bright and inventive creative aspects. Even though the score is particularly weak, it still amounts to a fun and enjoyable show.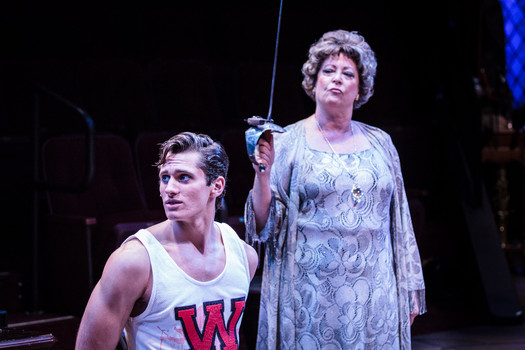 Loosely based on Christie's "Ten Little Indians," the show is a spoof consisting of standard mystery characters. Written over forty years ago, Something's Afoot has found some success in regional theatre. I have to believe that's more to do with how popular the mystery genre is and the fun aspect of trying to figure out just who the killer is, rather than the score, which is fair at best…most of the songs don't add much to the drama and occasionally get in the way of the unfolding mystery; in fact, most of the score could be removed without any loss to the narrative.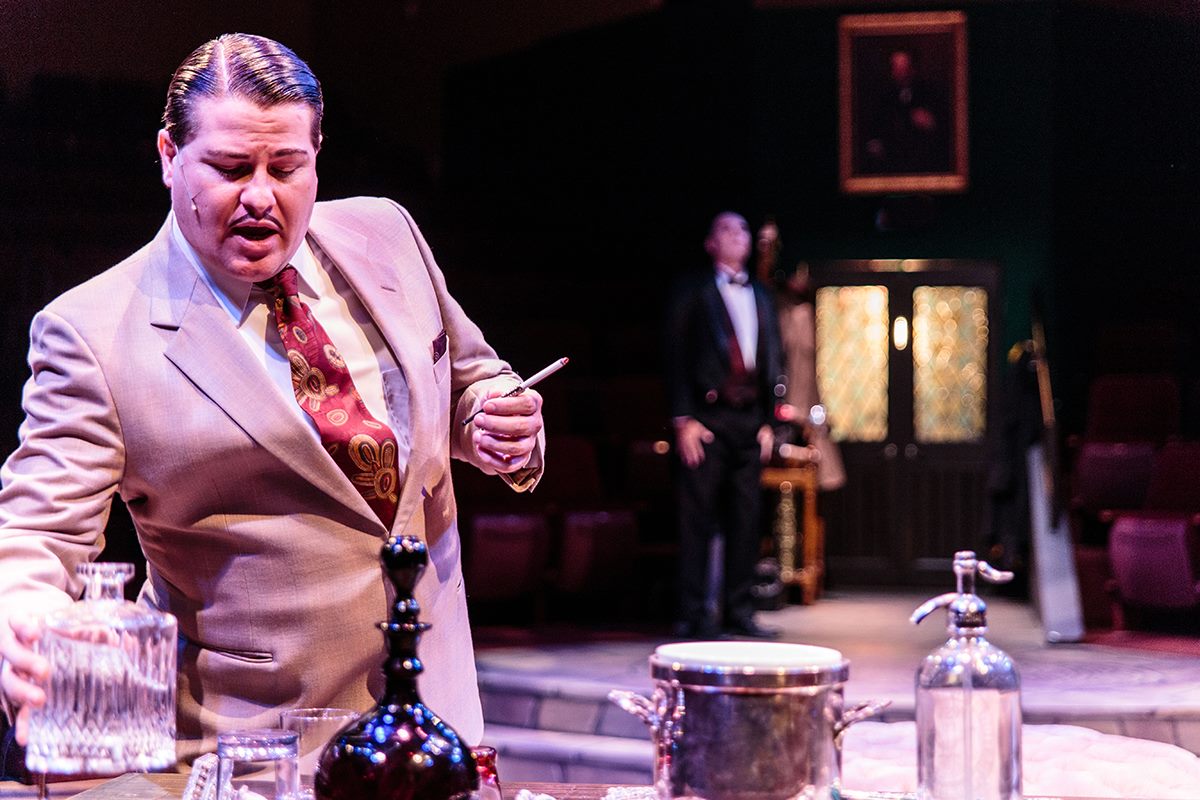 Fortunately, the plot isn't completely predictable, so it does keep you guessing, and Hale has a cast made up of many Hale veterans who go a long way, with the gifted contributions of director and choreographer Cambrian James, to inject the production with a sense of playfulness within the suspense.
A true ensemble show, the cast is led by Janis Webb as Miss Tweed. Webb brings the right amount of sensibility and smarts to the determined amateur sleuth. Matthew Ryan Harris is a hoot as the penniless conniving nephew up to no good. His delivery of the witty "The Legal Heir" is full of fun and funny gymnastic movements and gestures, nicely staged by James. Jacqueline Brecker and Curtis Lunt are charming as the constantly sunny, young lovers while Heidi Liz Johnson and Geoffrey Goorin are delicious as the flirty maid and the randy groundskeeper. Both Goorin and Johnson have great Cockney accents and hilarious facial expressions, bringing a nice bit of jaunty double meaning to their duet, "Problematical Solution,"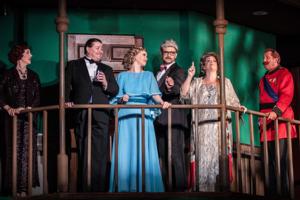 James' staging and choreography play up the fun, silly, spoofy nature of the musical, with some superb movement that uses the entire in-the-round stage area Brian Daily, Alex Fogle, and Monica Christiansen are to be commended for their lovely set designs, which include a spiffy grand entry hall. Daily and Fogle's crafty special effects and Christiansen's fun prop designs combine to contribute an abundance of items situated around the theatre, including family portraits, secret compartments, and booby traps to do in the guests.Mary Atkinson's costumes accentuate the characteristic traits of each role with plenty of pops of color and smashing, elegant dresses for the women and dashing coats and suits for the men. Jeff A. Davis' lighting is impeccable, full of suspenseful shadows and lighting effects.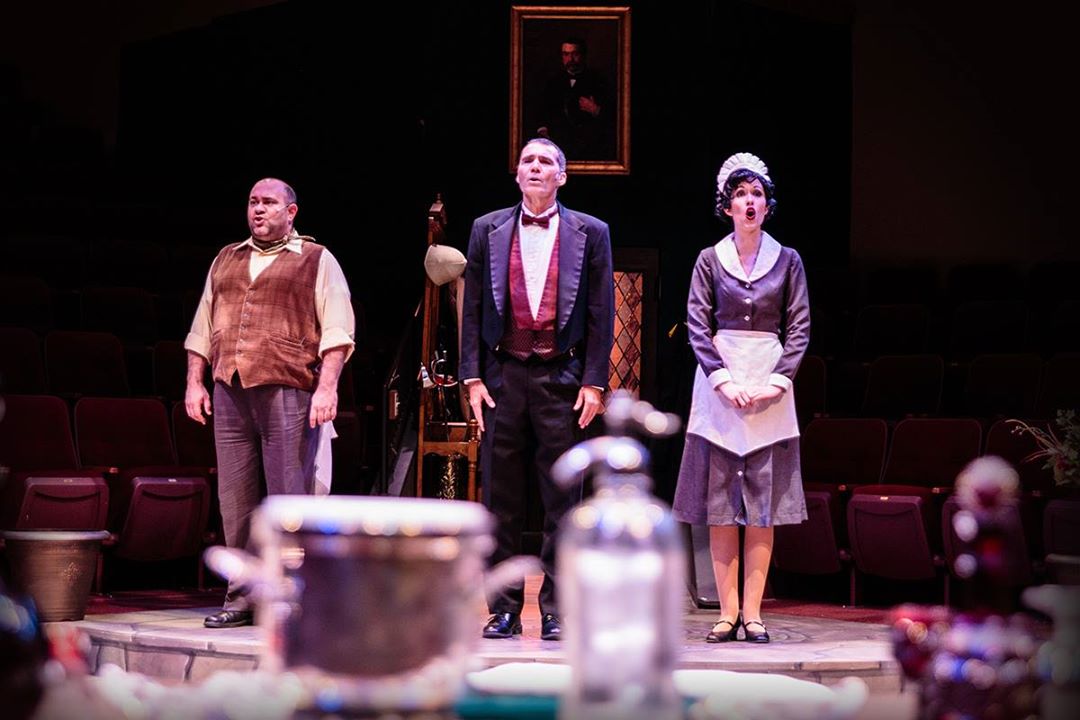 There is definitely a lot of silliness in Something's Afoot and the score leaves a lot to be desired. Fortunately Hale's top-notch cast, spirited direction and exceptional creative aspects outweigh the negatives and turn the whole affair into a fun and funny affair of mystery, suspense, and plenty of comical intrigue.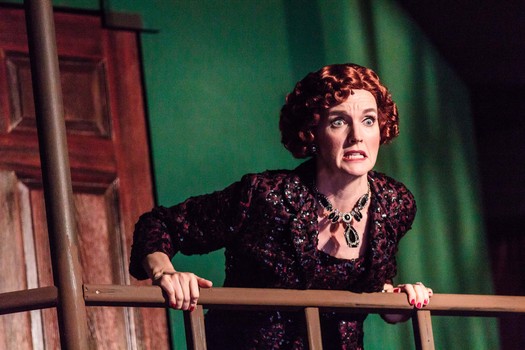 2015. THE WIZARD OF OZ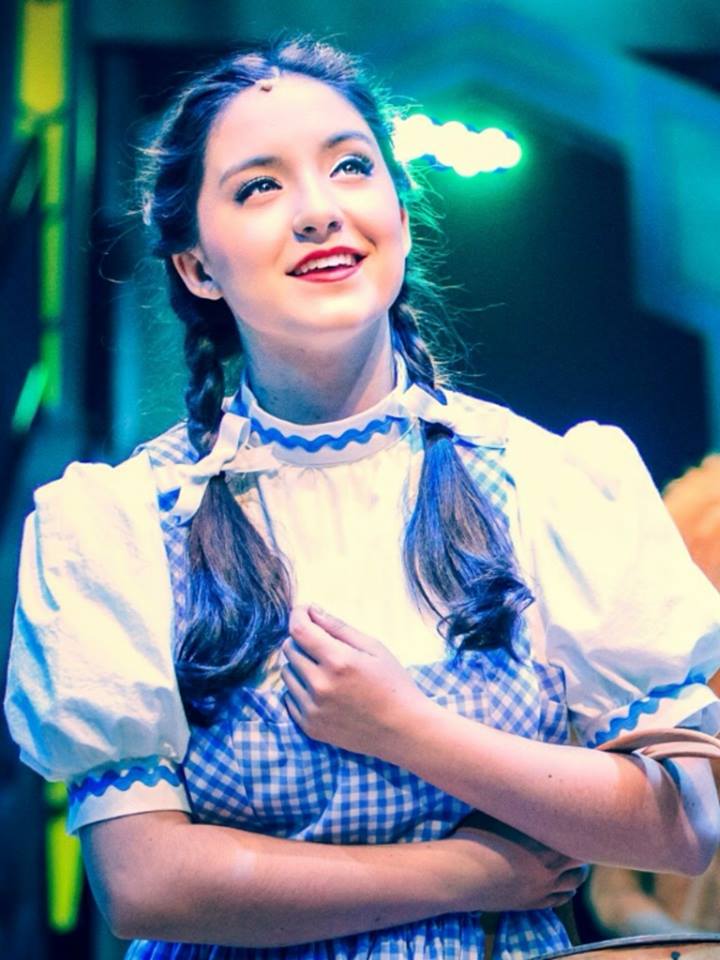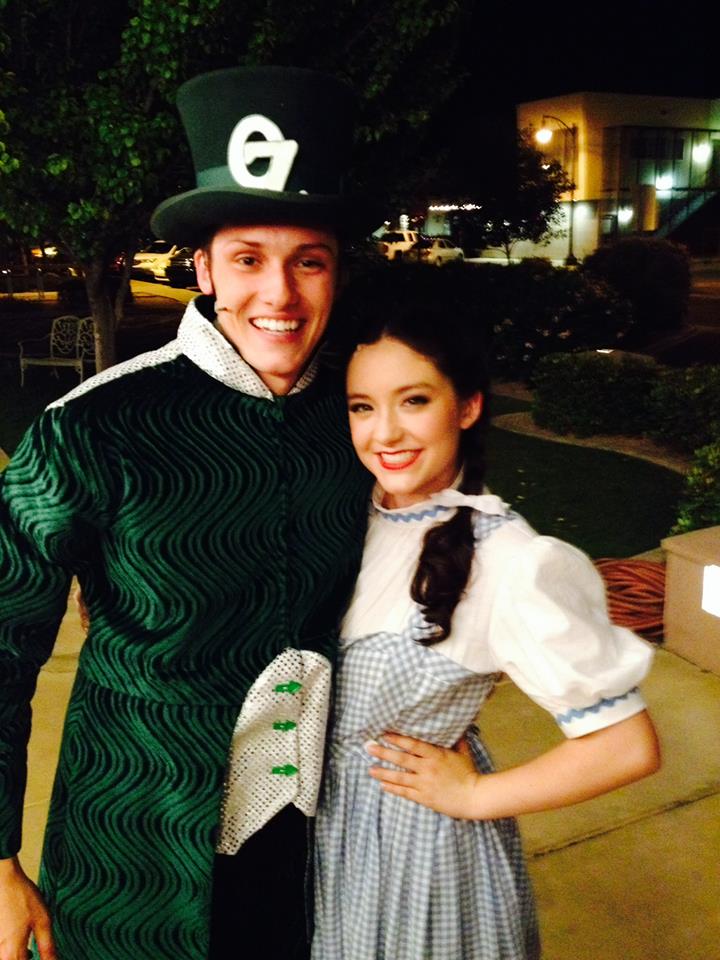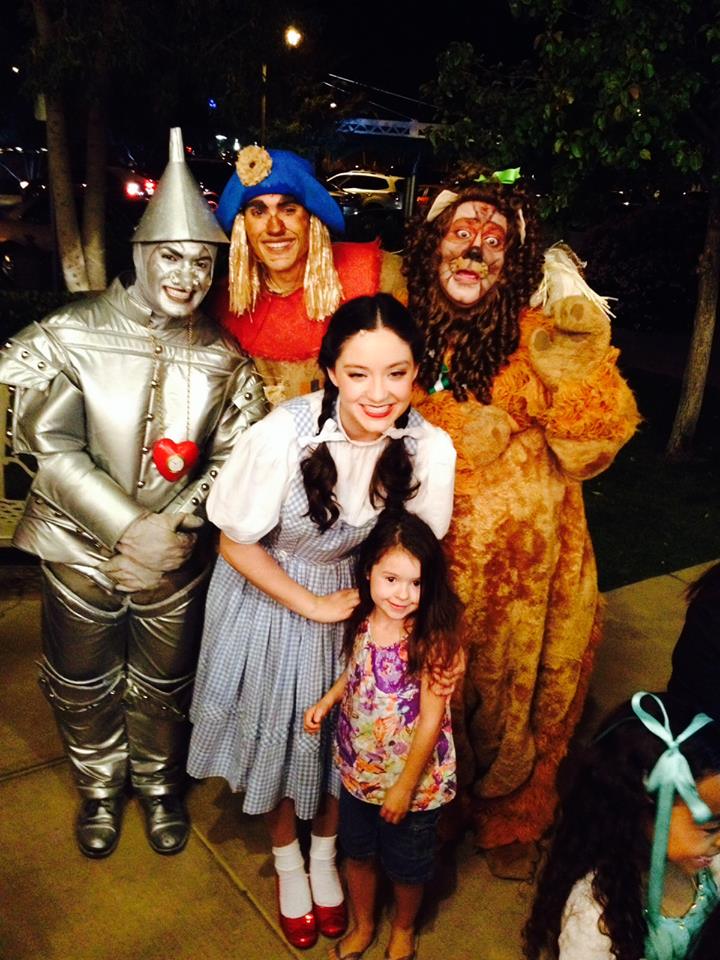 MAY 2014. "9 to 5." Cast: Nellie Liston, Corey Gimlin, Harley Barton, Tim Oakes, Heidi Johnson, Kate E Cook, Hector Coris, Tracy Payne Black, Michael Schwenke, Brandi Bigley, Justin Peterson, Emmy Ant, Chelsea Janzen, Nate Dutson, Emily Giauque Evans, Lizzie Baggleman, Matthew Ryan Harris, Scott Lane, Tina Khalil, Shelby Jensen, Vinny Chavez, Lee Pitts, Cambrian James and Kelly Crews.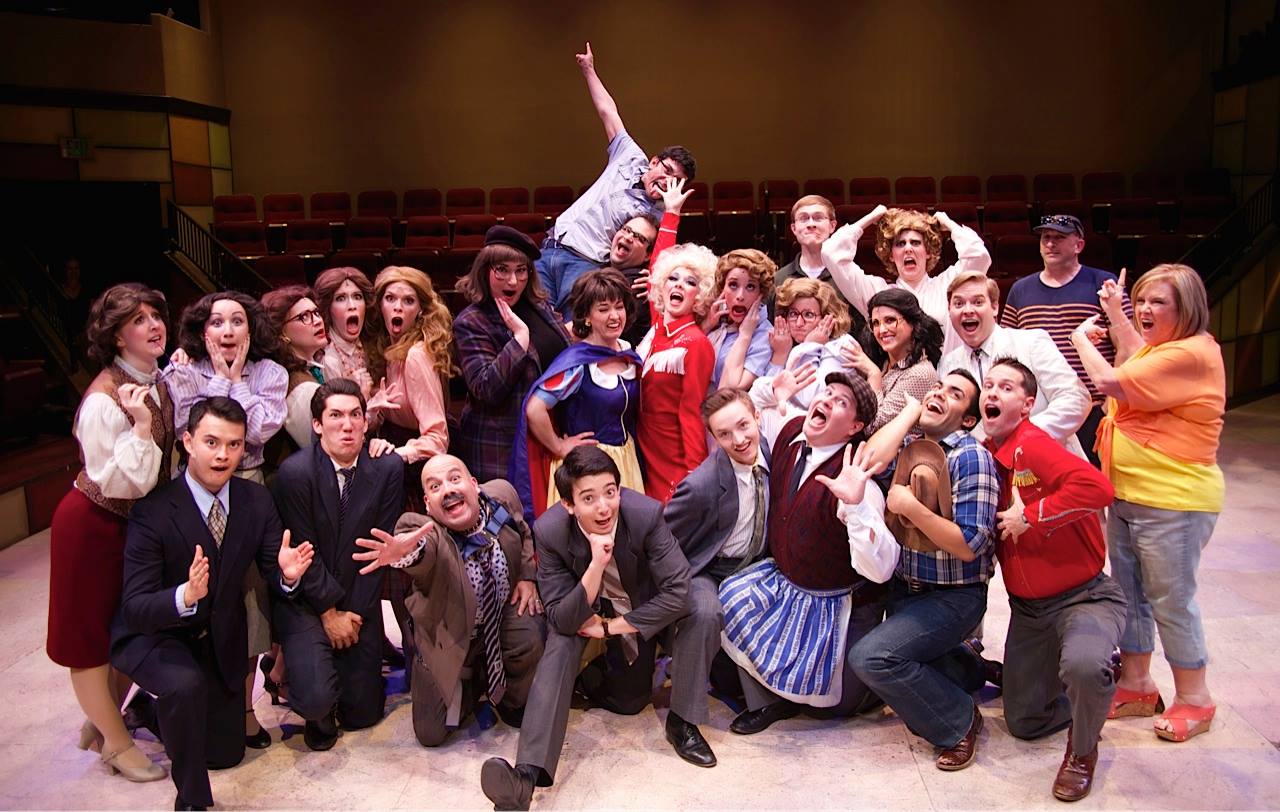 *****
APRIL 2014, "Dames at Sea." Director: Cambrian James. Cast: Kate E. Cook, Emily Giauque Evans, Laura Pyper, Tedd Glazebrook, Vinny Chavez, Julian Pena.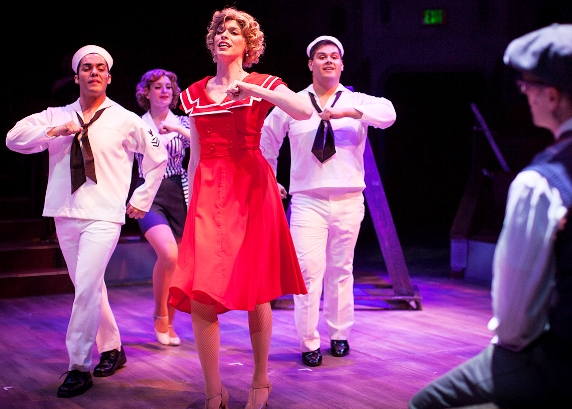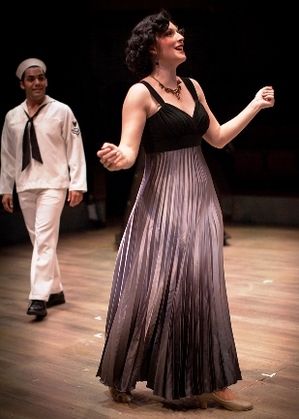 April 2014 review of "Dames" by Julie Petersen, New Times, photography by Sam Miller. Republished on Facebook.
The setup: Before sometime in the 1940s, American musical theater consisted of just a buttload of singing and dancing, reasons to look at women's exposed legs, and no particular attempt at character or storytelling. During the Great Depression, movies were an affordable, diverting novelty, and the more implausibly cheerful and uplifting the plots, the better we liked them. So the Busby Berkeley style of extravaganza (which did add a tiny bit of narrative, conveniently about show business, generally) filled the silver screen like implausible giant cupcakes in a glass case. Flash forward to the mid-1960s in Manhattan. Rodgers and Hammerstein have changed everything. Fiddler on the Roof is somewhere in the middle of what will be its first 3,242 performances. We're mere months or a couple of years out from shows like Hair, Jesus Christ Superstar, and Oh! Calcutta! Counterculture sentiment and avant-garde expression are erupting everywhere. But a team of spunky troupers in a Greenwich Village club put together a literally cheap, six-person parody of those '30s tuners called Dames at Sea. It starred newcomer Bernadette Peters, it became a bona fide off-Broadway hit, and you can see it now at Hale Centre Theatre on Mondays and Tuesdays only — not your usual theater nights. The execution: The music, lyrics, and book of this show (by Jim Wise, George Haimsohn, and Robin Miller, who never really did anything like this again) are simple perfection, and the cast mostly has to belt, tap, and get out of the way — which is actually supremely challenging. Director Cambrian James and musical director Lincoln Wright are two of the best at what they do, and Mary Atkinson's costumes and Jeff A. Davis' lights subtly punch up both the cast's heavy lifting and the atmosphere of the understandably low-key settings: Act I, an empty theater (so far, so good); Act II, the deck of a battleship (you'll just have to trust me). The silly and adorable parts, all entirely intentional, are emphasized with the appropriate wide-eyed innocence coexisting with sassy tongue-in-cheeky awareness of the joke, an attitude that's absolutely necessary for a show like this. As a 20-ish woman who's still stretchy, along with being tall and lithe, Kate E. Cook (Damn Yankees) nails Joan, the tough-as-nails, heart-of-gold hoofer who doesn't want to see anyone's dreams dashed even while her own are in peril. When Cook sits on a ladder and kicks, you worry that the ceiling might indeed come down. And it's impressive. The dames probably should be the focus here, and along with Emily Giauque Evans (also Yankees), who can apparently do no wrong, as fresh-off-the-bus Ruby, we have the delightful Laura Pyper as the slinky, slightly older, manipulative closest-thing-to-a-villain, diva Mona Kent. She gets to be sultry and soignée, trying to lure our hero out to her Packard and penthouse, really just to steal his fresh new songs, and then she gets to pretend to be an anonymous chorus girl in every other production number. (Because, remember, there are only half a dozen actors.) Pyper's voice really grounds the show in the lower register of female yearning and deliciousness, and when she's playing Mona, in an assortment of outfits that are all floor-sweeping opulence, she personifies the glamor that all the work and sweat and blisters are alleged to lead to. The three guys (Tedd Glazebrook, Vinny Chavez, and Julian Peña) are also great. I used to wonder why performers at Hale wear body mics, because I'm kind of a blockhead — it's really pretty obvious, because the audience surrounds the cast on all sides and when you're singing or speaking, you're always facing away from someone. If I could, then, I would raise the volume on Chavez during his big Act I solo, "Broadway Baby." He's all alone out there with the prerecorded soundtrack (very good and well-played-back, as it always is at Hale, though a little fast, as it also often is), and the thing is he has to dance like a fiend while singing a love song. He'd be getting paid a lot more if that were easy for him. We lose just a few words of Pyper's opener, "Wall Street," when her chorus of four starts tapping. It's not perfect, which means it's a bit louder than a more precision execution would be. But the song's a segue into a fiery opening scene, and it's all uphill from there. In less than 24 imaginary hours, the Dames at Sea find love, stardom, and marriage, and you will find a show that uses only the fun-loving part of your brain. Is it possible that four of the cast are also in 9 to 5 at Hale on their off nights? Possible and true. Wow.