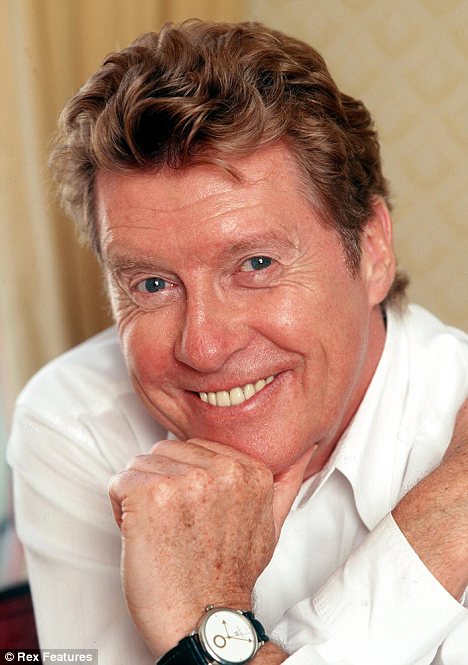 Michael Crawford (Hello, Dolly!, The Phantom of the Opera) headlined the opening gala for the Mesa Arts Center in September of 2005.
Kyle Lawson
The Arizona Republic
Sept. 11, 2005
Physically, it's hard to put a label on Michael Crawford. There's something of the teddy bear about him. The curly hair. The soft edge to the voice. Masculine, but not quite machismo, more cuddly. You want to hug his Cornelius in Hello, Dolly! and give his Hero a kindly pat in A Funny Thing Happened on the Way to the Forum.
Only that doesn't take into account the cragginess of the face. Rugged almost, and there's the wiry, athletic body, at least in his younger days. The lines about the eyes (there from birth, apparently) suggest – no, shout – that this fellow can get up to plenty of mischief if the situation is right.
Of course, age tempers everyone, even stars. Audiences at the Mesa Arts Center's opening gala Saturday will be confronted with a 63-year-old man who fits the image of "Papa" (which is what his grandchildren call him) more than the randy bloke from such hippie-era flicks as Hello-Goodbye, The Games and The Knack.
A few more pounds, then, a little less bounce, but still with charisma to spare. When he walked onstage at Gammage Auditorium several years back, there was a gasp of recognition, then a thunderous ovation. Crawford is an icon of international pop culture who lives up to the billing.
No thanks are due to his many films for that, but rather to one stage part – the title role in Andrew Lloyd Webber's musical The Phantom of the Opera. The show catapulted the English actor into the entertainment ether. No matter how gorgeous Gerard Butler was or how finely crafted his performance may have been in the recent movie version of Phantom, it could never satisfy the die-hards. To them, there will be only one masked man.
Crawford knows it. His Mesa concert, one of only four he's doing this year, will offer the fans what they want to hear – The Music of the Night, Point of No Return and other hits from the Lloyd Webber score. There will be selections from other musicals that Crawford likes, including Jesus Christ Superstar and Barnum. And, of course, the stories.
These vary from show to show, as something anecdotal crosses his mind. He might share memories of rooming with John Lennon during the filming of How I Won the War. Or recall his audition for Hello, Dolly!, after which director Gene Kelly told him, "What we are looking for is an attractive idiot. My wife thinks you're attractive, I think you're an idiot."
Whether Crawford will bring in a number from his latest stage hit, Lloyd Webber's The Woman in White, remains to be seen. When reached recently, Crawford revealed that he was cutting his connection with the show. An attack of viral colitis forced him from the London production and he will not follow the musical to Broadway.
The forced rest hasn't been easy on Crawford. He's the physical type.
"When I was making The Games, in which I played an Olympics runner, I trained and trained and trained," he says, with just a hint of bragging in his voice. "At the end, I could run the mile in four minutes and 20 seconds."
He had almost as much fun making Forum, which was directed by Richard Lester, the man behind the Beatles' films.
"Richard was completely cool," Crawford says. "He gave me a crew and let me go off and shoot these gags I wrote for the scene with the runaway chariot. We tried everything. I look at that scene now and I think, 'You idiot! What were you thinking?' "
It's impossible to have Crawford on the phone and not ask him his opinion of the Phantom film. After all, for years, producers assured fans that Crawford would repeat the title role, then they dumped him for a younger, hunkier actor.
"I didn't see the film," Crawford says. "It's too close to me. I was with the show almost right from the beginning and I don't think I could have watched someone else do it, no matter how good they were. . . . But it's not as if I'm picking on the film. I don't go see other stage versions, either."
Still, he's not surprised that a Las Vegas casino is spending millions of dollars to build a special theater to house a 90-minute version of Phantom.
"It's inevitable. . . . There are very few shows out there with the impact of that one," he says.
Crawford acknowledges with a chuckle that he can't help being fascinated by accounts of the lavish scenery being devised for the Vegas show.
"I would expect no less," he says. "Vegas is a town that has the money to enable dreams to come true. What better place could there be for boys and their toys?"