A BUMP IN THE ROAD
Kerry Lengel, Arizona Republic, June 9, 2014. News Item.

Nearly Naked Theatre Company has cancelled its season-closing production of "Falsettos," James Lapine's groundbreaking 1992 musical about a gay Jewish New Yorker's family life.
The show had been scheduled for June 14-28 at Phoenix Theatre, but on Sunday, June 8, theater founder Damon Dering sent an e-mail to his "Wonderful 100" donors explaining that the alternative troupe was short on cash.
"Funding from an alternate source (much like a corporate sponsor, but not so 'corporate') … fell through," Dering wrote. "Very suddenly and very unexpectedly. And there was nothing we could do."
Instead of "Falsettos," Nearly Naked will present a fundraising concert highlighting tunes from past musicals, including "Spring Awakening," "The Who's Tommy" and "Bat Boy: The Musical," as well as a preview of "Falsettos," which Dering hopes to be able to produce in the future.
PHOTOGRAPHS, REVIEWS & THE KITCHEN SINK
2014. "Valhalla." Revival of 2006 production. Playwright. Paul Rudnick. Director: Damon Dering. Cast: Portia Beacham, Vinny Chavez, Pat Russel, Cole Brackney, Suze St. John, Jacob Gentile.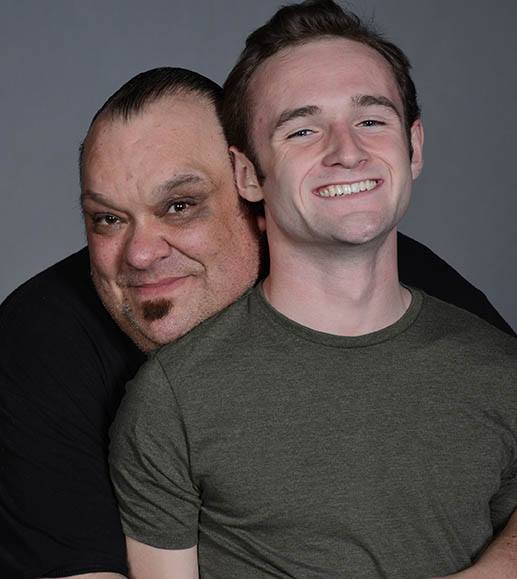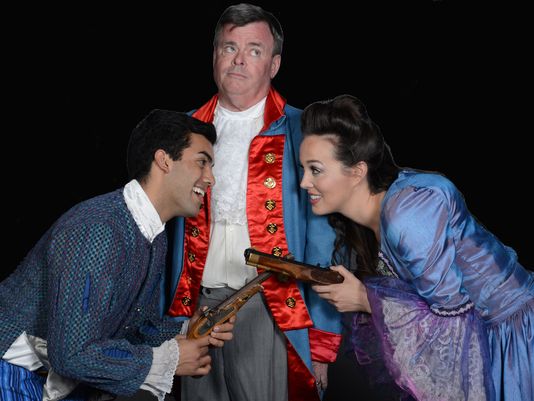 Kerry Lengel, Nov. 10, 2014. Review of "Valhalla."
Sometimes a plot synopsis is paltry preparation for what a play is all about.
A case in point is Paul Rudnick's "Valhalla," which Nearly Naked Theatre Company is reviving after scoring a hit with it when it was hot off the presses a decade ago.
The playwright, known for gay-themed comedies such as "The Naked Eye" and the Kevin Kline film "In & Out," weaves together two disparate tales. The first follows James Avery, a free-spirited teenager in 1940s Texas who is a misfit for reasons that go beyond his sexuality. The second is about the real-life Ludwig, 19th-century prince of Bavaria, whose fascination with opera and all other things fabulous make him a dicey prospect for a successful stint on the throne. (Trigger warning: The play's adult content includes full nudity.)
It sounds high concept, and in the end it kind of is, but that's not how it plays out onstage. Mostly it feels like a madcap farce that toys with stereotypes but leaves you no time to unpack the cultural baggage amid the barrage of witty zingers.
The Ludwig half is by far the more cartoonish. As played by a breathless Vinny Chavez, the young prince is a petulant flibbertigibbet obsessed with visual glamor, which gets in the way of his search for a suitable princess to marry. "Inner beauty is tricky," he opines to his long-suffering mum, "because you can't prove it."
Born a century later, he might have grown up to be a drag queen impersonating Madonna or Marilyn Monroe. But with an entire country's bank account at his disposal, he sets to work making his daydreams into reality by building fairy-tale castles like the one at Neuschwanstein that's now instantly recognizable from countless calendar covers.
There's a bit more grit to the story of James, portrayed with an irresistible mix of innocence and devilishness by Cole Brackney. He also has an eye for beautiful things, some of which he can shoplift, while others, such as his childhood friends Henry and Sally, require more persistent strategies.
After a stint in reform school, James is drafted into World War II and finds himself reunited with the love of his life, also in uniform, and wandering the hills of Germany. Guess what they happen upon?
Director Damon Dering keeps the antics flying at a lunatic pace, with a quartet of actors juggling all the supporting roles. Here the ladies get the lion's share of the laughs, from Suze St. John's stalwart Queen Marie ("Butch it up, Betty!") to Portia Beacham's winsome and hilarious turn as the hunch-backed Princess Sophie.
As is often the case in amateur productions, there are moments that make you wish for a more fully realized performance, whether it's the painfully bad accents of indeterminate provenance or the scenic reveal that's supposed to be a wow moment but isn't. But "Valhalla" nonetheless gets valiant efforts from the cast, particularly from Brackney, who, in a surprise dance break late in the play, lets loose with some jaw-dropping physical stunts.
Far more important, the actor's roguish charm has a genuine quality that gently tips the over-the-top comedy back down to Earth, which is just what "Valhalla" needs when all the fabulousness and tomfoolery fades into a disarmingly poignant denouement.
In a word? Beautiful.
2012 "Spring Awakening" Co-Production with Phoenix Theatre. Directors: Damon Dering, Robert Kolby Harper. Cast: David Weiss, Suze St. John, Matthew Cordon, Cooper Hallstrom, Katrin Murdock, Devon Nickel, Maxx Schau, Cassie Chilton, Lindsey Geroux, Bethany Lorentzen, Alexandra Ncube, Sean Mullaney and Evan Tyler Wilson. Show Band: Mark 4Man.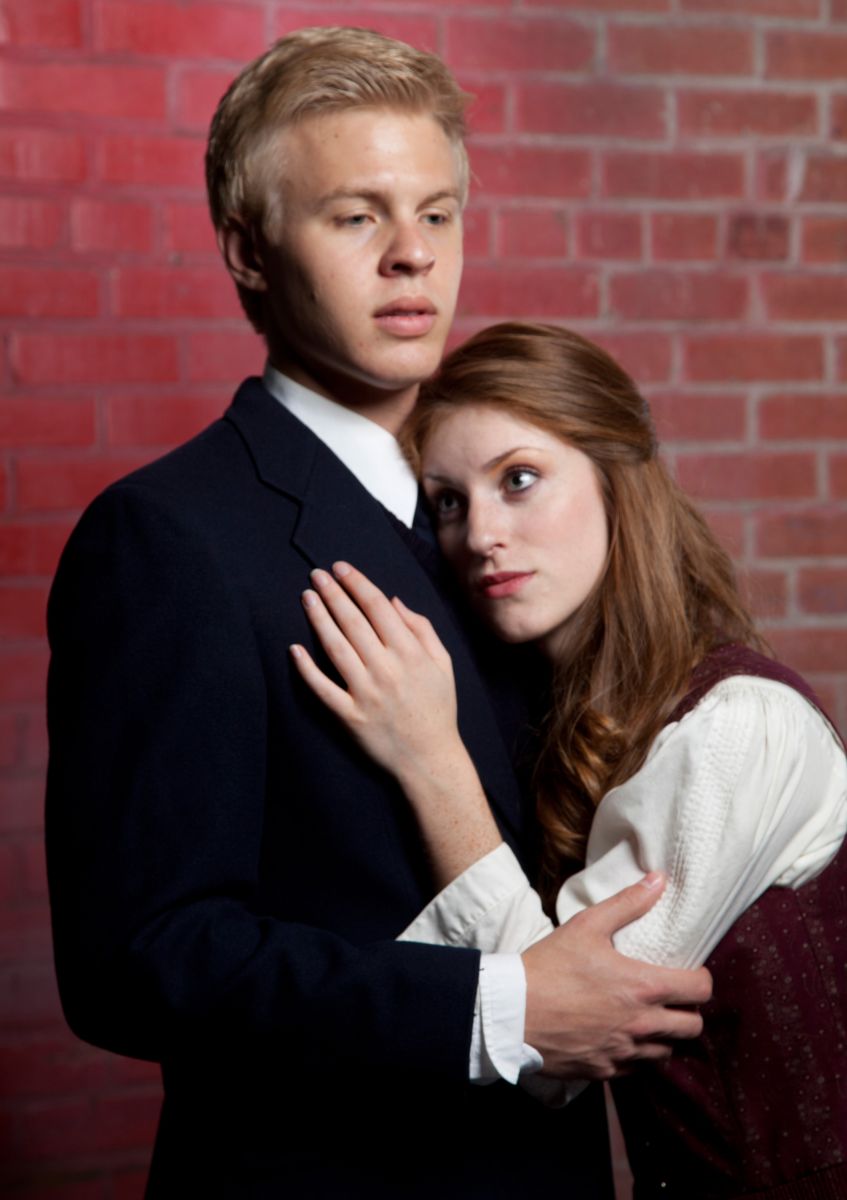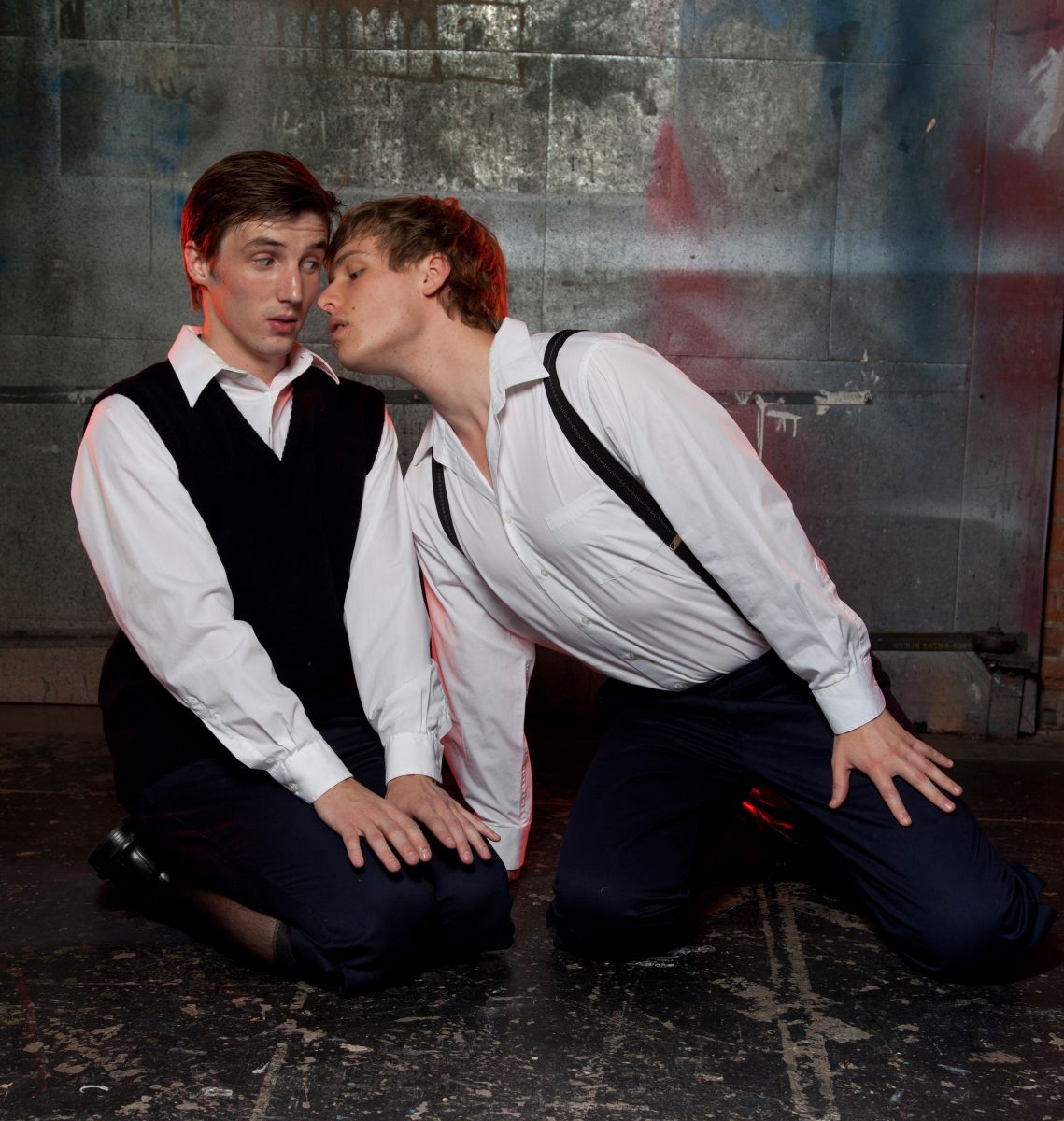 2010. "Fuddy Mears." Playwright: David Lindsay-Abaire. Director: Andres Alcala. Cast: Debra K. Stevens, Jacqueline Gaston, Kerry McCue, David Weiss, Devon Nickel, Joseph Kremer, Ron May.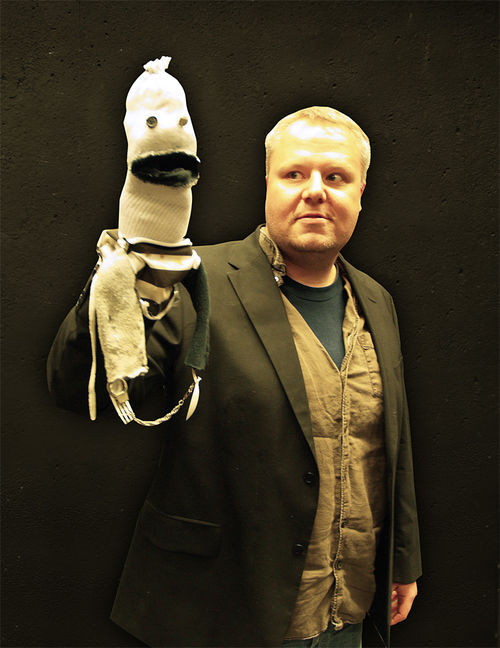 2002-2003 Season "Equus." Directed by Damon Dering. Cast: Charles Sohn, Rebecca Siegel, Daniel Sykes, Laura Durant, Heather Massie, Joseph Kremer, CJ Mascarelli.
One of the defining productions in Phoenix theater history.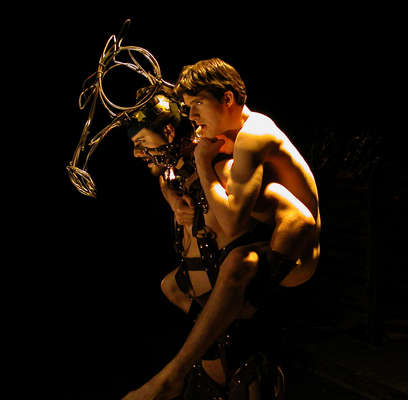 Review by Kyle Lawson, Arizona Republic, Nov. 27, 2002
Something extraordinary happened in a Valley theater
Saturday.
After the cast of Equus completed its curtain calls and retired backstage, the audience at the Little Theatre at Phoenix Theatre continued clapping. Even after the actors failed to return, the
theatergoers applauded the empty stage.
They knew what they had seen, they may never see it again.
The combination of cathartic words, superb acting, brilliant direction and innovative design produced an experience that approached perfection – a moment for which no other word but "transcendent" applies.
To explain more than the bare bones of Peter Shaffer's plot would deny future audiences the chance of this impact. Martin Dysart (Charles Sohn), a psychiatrist, is persuaded to take the case
of Alan Strang (Daniel Sykes), a 17-year-old stablehand who has blinded six horses.
The assignment couldn't come at a worse time for Dysart. He's gripped by a spiritual and moral crisis fully as terrible as that suffered by the youth.
As Dysart investigates Alan's family – an atheist father (Joe Kremer) in conflict with a fiercely Christian mother (Laura Durant) – and uncovers a tragic affair with a girl (Heather Massie), he
discovers the truth behind the boy's horrific act.
The psychiatrist comes to realize that, like the boy's mother, he worships an old and dogmatic god (in his case, his profession) – one that cannot compete with the terrifying and seductive deity
Alan has created in his mind and whom the teenager worships to the point of madness.
To save the boy's sanity, Dysart must destroy this new god. He must take away the very thing that makes Alan a unique human being and replace it with – what?
Sohn, a regular with Peoria's Algonquin Theater Company, gives the finest performance of his long career. Despite the part's enormity (he is never offstage) and Shaffer's overwhelming torrent
of words, the actor doesn't falter. His compassion is never in doubt, his spiritual conflict never far from the surface.
If Sohn is good, Sykes is his equal, though he's only 18 and making his professional debut at a Valley theater. A graduate of the programs at Valley Youth Theatre and Childsplay, Sykes' portrayal of the tormented Alan is so delicately shaded, so potently realized, that it borders on the impossible for one so young. This is a major career in the making, and Phoenix is fortunate to
see it at the start.
The rest of the actors (Kremer, Durant, Massie, Rebecca Siegel as a magistrate, Kara Eldridge as a nurse, Rick Shipman as a stable owner) are uniformly excellent – though special mention
should be made of Christopher Mascarelli's Nugget. Although he portrays a horse, the actor creates a believable, ultimately frightening creature that is crucial to the tale.
Gregory Jaye's symbolic setting of cloth panels and wooden slats is transformed by Nykol De Dreu's atmospheric lighting into a stable, Dysart's office, Alan's home and a hospital. Bryan Schlegel's sound design is at its most dynamic when Alan blinds the horses.
It is all melded brilliantly by Damon Dering, Nearly Naked Theatre Company's founder and artistic director. He has shown promise in previous productions, but Equus marks his arrival as a
defining force in Valley theater.
It's unlikely that everyone will agree with Shaffer's scathing attack on conformity, religious dogmatism and the medical profession. Others will be disturbed by the actors' frontal nudity and
the seething, palpable sexual tension that underlies every moment of the play.
Yet nothing about Equus is gratuitous. If Shaffer offers few answers, he asks profoundly terrible questions. Audiences will find it an unforgettable evening.
*****
2003. "Baylin's Monster." Playwright: Michael Grady. Director: Damon Dering.
This article on Michael by Kyle Lawson appeared in the Arizona Republic on March 16, 2003, during a time when he and his wife, actress Linda DeArmond, had left the Valley for a sojourn in LA. Thankfully, they are now permanent residents of the Valley.
Michael Grady was never a hometown boy. He just felt like one.
The Valley embraced the young actor and playwright when he moved here from the Midwest in the early '90s. Both he and his plays proved popular additions to the schedules of Actors Theatre, Arizona State University Theatre, Black Theatre Troupe and other companies. In the late '90s, he married Linda DeArmond, one of the pre-eminent local actresses.
Keeping Grady in the Valley proved impossible. When his interest turned to writing screenplays, he felt it would be best to base in Los Angeles. In spring 2001, he and DeArmond moved west.
This past week, Grady returned to the Valley, but in name only. On Thursday, Nearly Naked Theatre Company opened its production of his 1989 comedy, Baylin's Monster, at the Little Theatre at Phoenix Theatre, 100 E. McDowell Road. The play is vintage Grady, mixing social comment, satire and just plain fun.
The plot is wild. A swamp creature is feeding on the residents of Baylin, a small Mississippi town. When the media descend enmasse, the town fathers worry that the tourism trade will suffer. They turn from damage control to spin control. How can this be made to work for them? We checked with the playwright.
QUESTION: A bizarre story, for sure. What kind of mood were you in when you wrote Baylin's Monster?
ANSWER: (Laughing) Mood? Do I have to be drug-tested or something? I wrote Baylin's Monster because I had a whole lot of downtime. I had been cast in a production of A Christmas Carol at a regional theater. I expected to play the part of Bob Cratchit but ended up as the Fifth Londoner. Basically, I was paid to move furniture around. That was at night. I had all day to knock around in an unfamiliar city, so I started writing.
Q: What inspired you?
A: I wrote the play in 1989. That was just around the time serious cracks began to appear in the whole facade of corporate responsibility. You were hearing stories of large corporations moving their manufacturing operations south of the border to take advantage of cheap labor. The small communities that had built themselves around these factories were left holding the bag.
At the same time, there was something new in the papers about the Loch Ness monster. New photographs or a new way of looking at old photographs that found the body covered with sequins, I don't know. In any case, these ideas converged in my brain. I thought it would be interesting to explore a situation where a community makes an industry out of its own curse of Egypt by redeeming it for cash.
Q: What possessed you to make it a musical?
A: I had never done a musical and, as an actor, no one in their right mind would cast me in a musical. But I still love them. A musical is like being in overdrive; there's an extra gear to engage the emotions. So, I decided to make Baylin's Monster a musical for people like me who couldn't sing very well.
Q: But there's no musical score, just lyrics.
A: I have a small musical background, just enough to know I shouldn't compose melodies. At most theaters, there are actors and directors who play the piano or the guitar and have a grass-roots sense of music. So, I go to them and say, "Let's come up with something." They take it and mess around with it and create music that usually serves the lyrics pretty well. Better yet, they feel a sense of ownership because they composed it.
Q: How's life in Los Angeles?
A: It's fine, it's fine — only there's a lot more traffic. When you're starting over, which is basically what Linda and I did, you ask yourself a lot of questions about what you want to do. In my case, the question was, "What kind of stories do I want to write?" Los Angeles is a very competitive town. You can't afford to get behind something you don't really believe in. It's making me a better writer.
Q: Are you concentrating on screenplays?
A: It's been a while since Baylin's Monster was done … it has such a large cast and a lot of theaters can't afford that. When Nearly Naked contacted me about doing the play, I did some retooling of the script and wrote a new song. That was fun. It was like going back in my old diaries.
For now, though, I'm working on screenplays. I've written a couple and put them out there. I'm just waiting to see if they hit.
*****
2002. Article by Kyle Lawson from the Arizona Republic
Bad pun, but Nearly Naked Theatre Company has been feeling exposed. No place to hang its costumes, such as they sometimes are.
"Not having a home of our own is incredibly frustrating," says Damon Dering, founder and artistic director of the alternative troupe, where the staging frequently lives up to its name.
"How can you choose a play when you have no idea of where you're going to produce it? How can you build an audience when no one knows where you're going to be next week?"
Such is the plight of the Valley's smaller companies as, one after another, black-box theatres fall victim to redevelopment, escalating rents or sale to new owners who aren't interested in the arts.
"Everywhere you look, someone's building a theater that seats 1,000 or 5,000 people," Dering says. "But what about those of us who only need a space with 100 to 150 seats? No one's building anything for us."
Dering may have solved his problem, at least for next season. He's in negotiations with the management of Phoenix Theatre for use of that company's 150-seat Little Theatre.
Nearly Naked will use the space for its next production, Harold Pinter's surreal comedy The HotHouse. Opening night is Friday, with performances continuing through June 30.
It's the tale of an asylum where the caregivers are far crazier — and much more dangerous — than the inmates.
"It's probably the funniest thing Pinter has written," Dering says. "I laughed out loud while I was reading it, and I don't ever recall doing that with Pinter."
The HotHouse is a return to the outrageous material that has made Nearly Naked's reputation. In recent seasons the company tried its hand at mainstream theater, but its productions of 'Night, Mother and The Torch Song Trilogy failed at the box office. Conversely, shows such as Salome's Last Dance and The King of Infinite Space were packed, thanks to their provocative themes and out-there staging.
"Last season was rough on us," Dering says. "Things were already recession-oriented, and then September 11 happened. We really have debated whether we should play it safe and go for audience-grabbers, or whether we should stay true to our mission and go with riskier stuff."
Risky won. Next season the company will stage The Shape of Things, by film director Neil LaBute (In the Company of Men); Equus, by Peter Shaffer, a 1973 shocker that Dering thinks is ripe for revival; and Michael Grady's Balin's Monster, about a swamp creature that terrorizes a Mississippi town.
There will be a fourth production, but Dering acknowledges that he is in "grave indecision" as to what it might be.
"Our audiences have come to expect a certain kind of show. That makes us nervous, because we like to think of ourselves as undefined and able to do anything we want.
"On the other hand, we like the fact that people feel they will see something different when they come to us. It keeps us from becoming stagnant."
He breaks into a grin.
"We're not going to be doing Annie, that's for sure."