Phoenix Musical Theater, which evolved from the Phoenix Civic Light Opera Company, and its hard-working guild were major influences on Valley theater in the 1960s and '70s. Not only did the company produce critically acclaimed, sold-out productions, but the guild raised money for dozens of scholarships.
That good deed garnered it almost as much attention as its productions. (For more information on the Guild's good works, scroll down to the Oct. 11, 1967 On Stage column by the Arizona Republic's Bina Breitner.)
Note: Although the two organizations really were only connected by their choice of material, people often tell me that Musical Theatre Arizona evolved from Phoenix Musical Theater. It would be more accurate to say MTA was a successor to PMT. What is true is that they were both devoted to that great American art form, the musical comedy. No doubt about that.
PHOTOGRAPHS, REVIEWS & THE KITCHEN SINK

2012. Dorothy Elton "Happy" Jennings-Davis died May 28, 2012. A gifted seamstress and milliner, she put her talent to good use with the Phoenix Musical Theatre Guild, making the costumes for many of its productions.
*****
1973. "Mame" Director: James Seeman. Cast: Elaine Morrow, Barbara Walker McBain, Betty Heisley, Robert Sella, John David, Marc Roma. Choreography: Gary Naylor. Scenic Design: Paul Estes. Musical Director: Robert Miller. Costume Design: Nancy Boemendaal.

This was one of the biggest hits of the early 1970s on every level. The critics loved it. So did the public. It was a personal success for Elaine Morrow, who played the title character. Still, Barbara Walker McBain stole the show from everyone with her Gooch. Even if all we have left are the photographs, she still manages to convince you that this was one hell of a performance. Robert Sella, or Robbie as he was known then, played the young Patrick, Mame's nephew. He went on to become one of the brightest stars on Broadway and in regional theater. Most recently he was seen in the Broadway revival of Chitty Chitty Bang Bang and the movies, Sleepy Hollow and The Astronaut's Wife. Paul Estes was still designing sets when I arrived in the Valley. As I remember it, his work was exceptional. And I miss Gary Naylor. His choreography was always unique.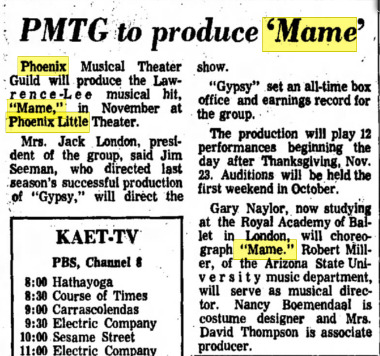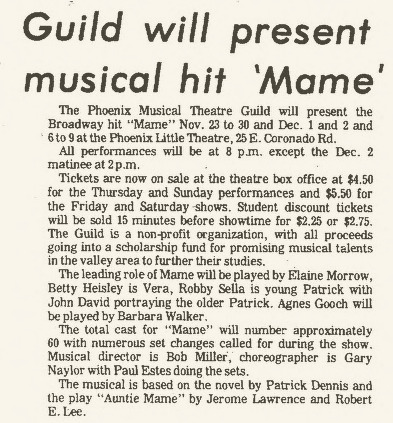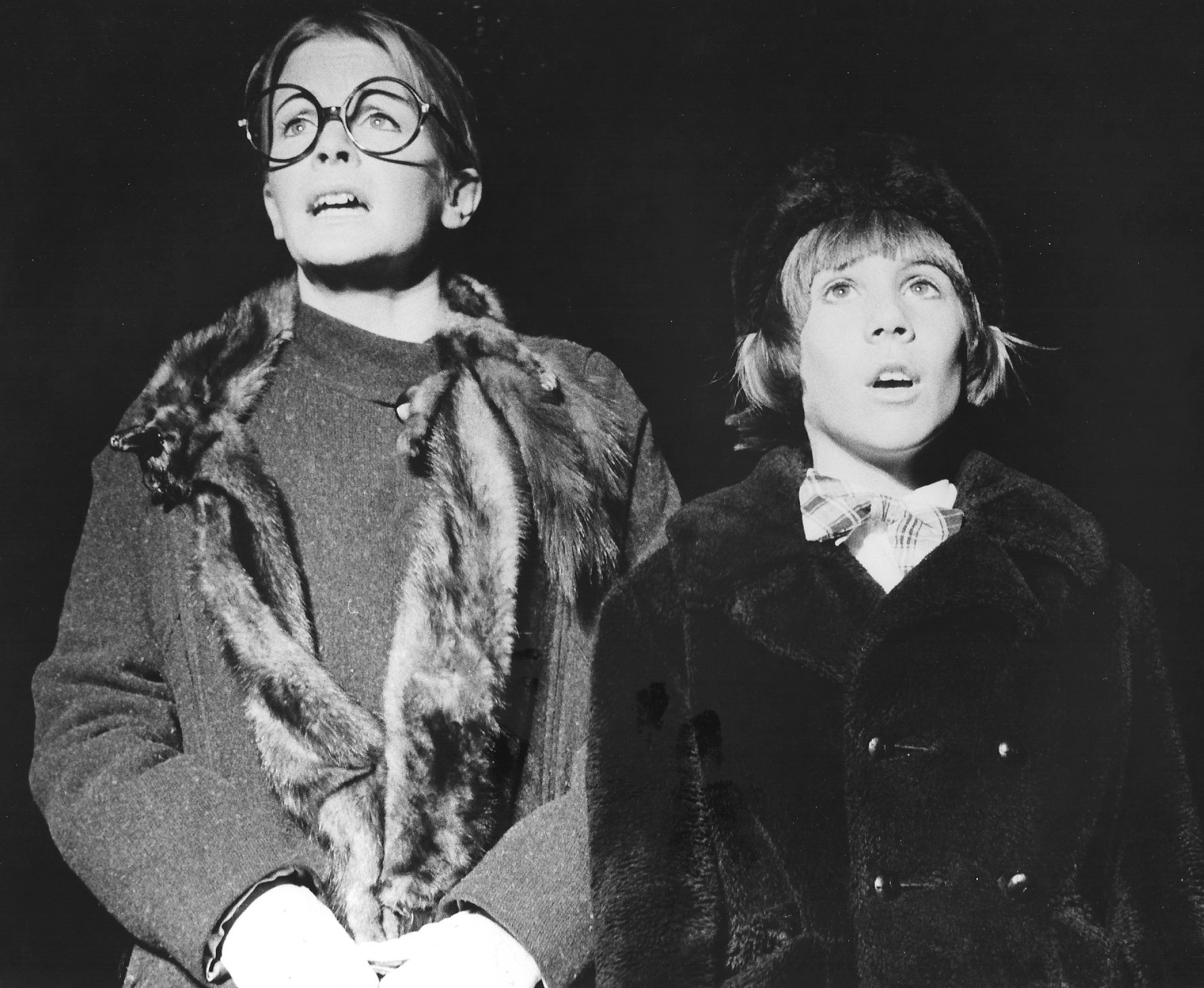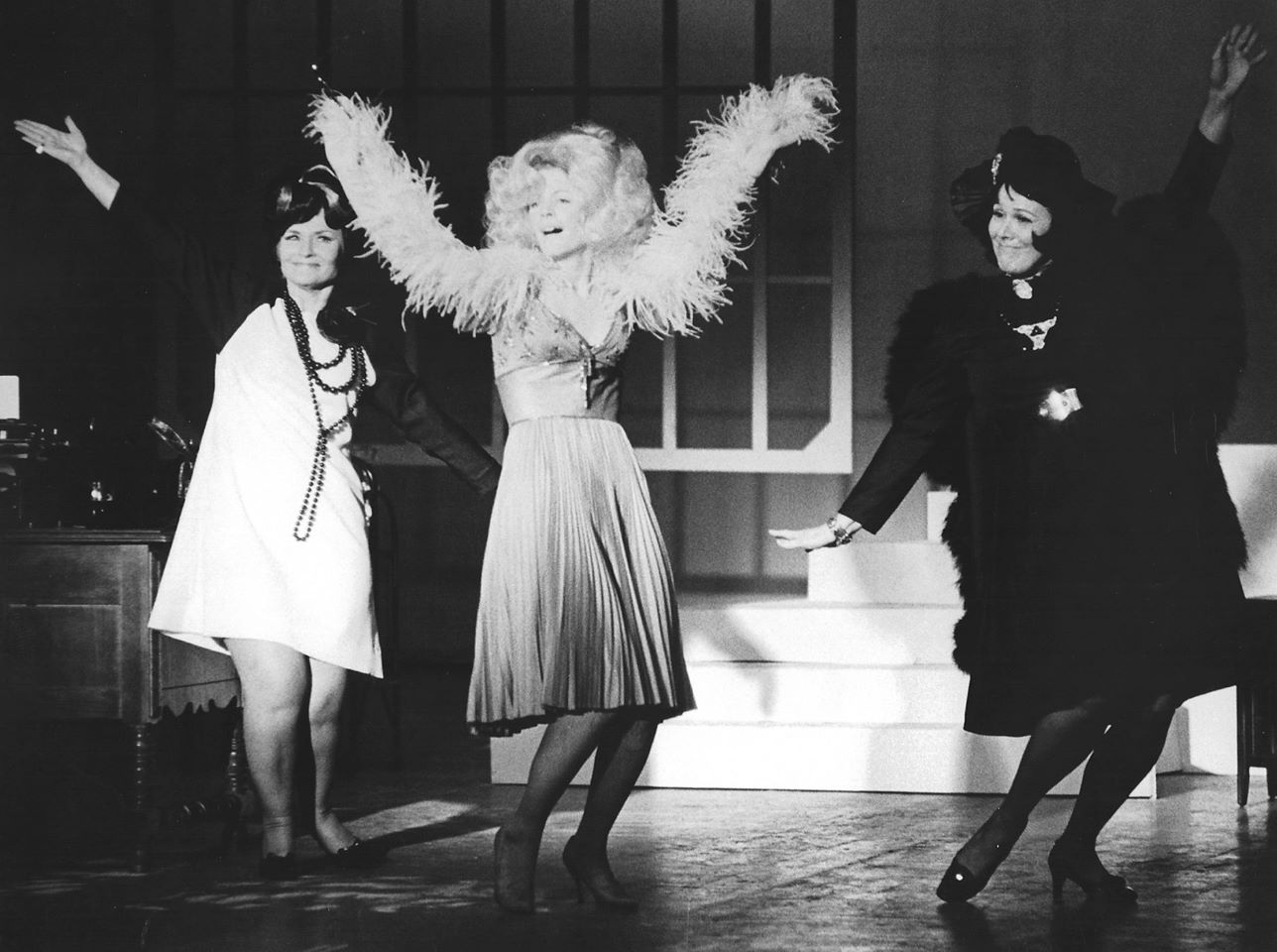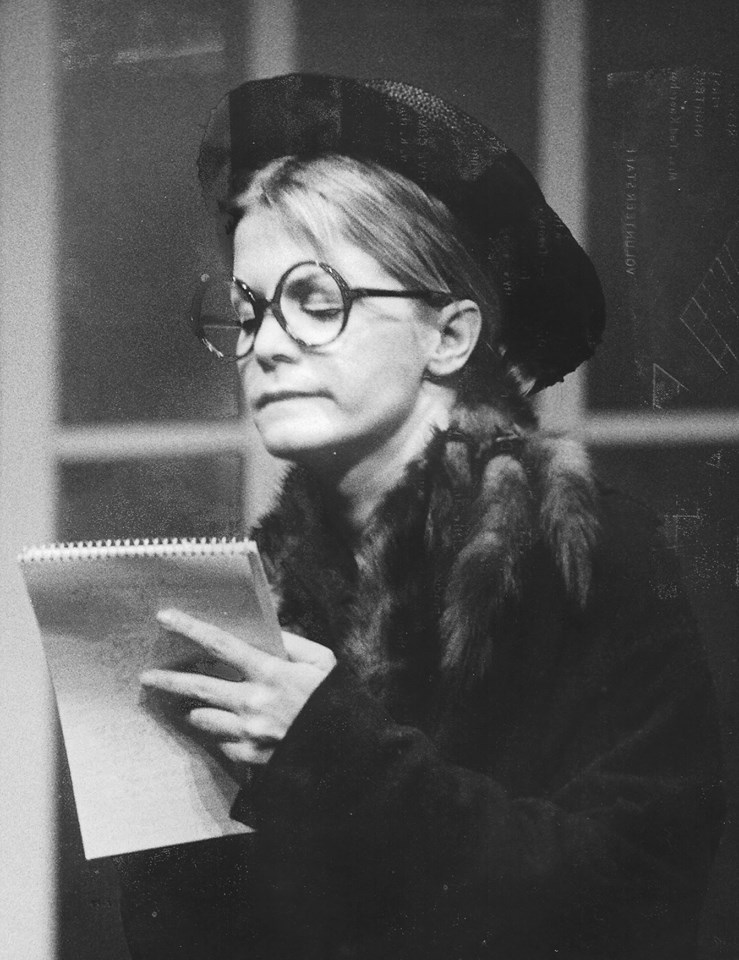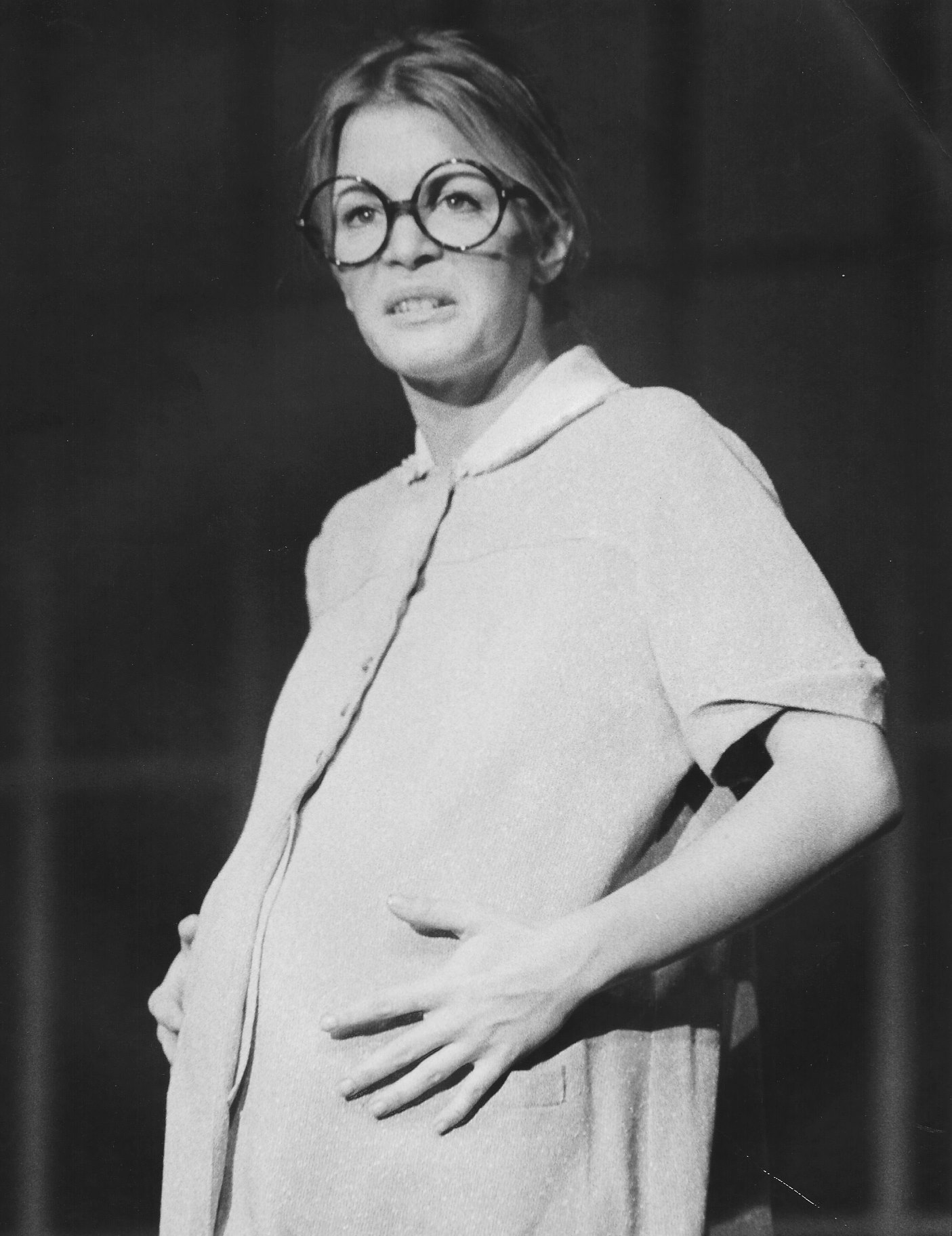 Hardy Price's review of "Mame" in the Arizona Republic, from the collection of Barbara Walker McBain.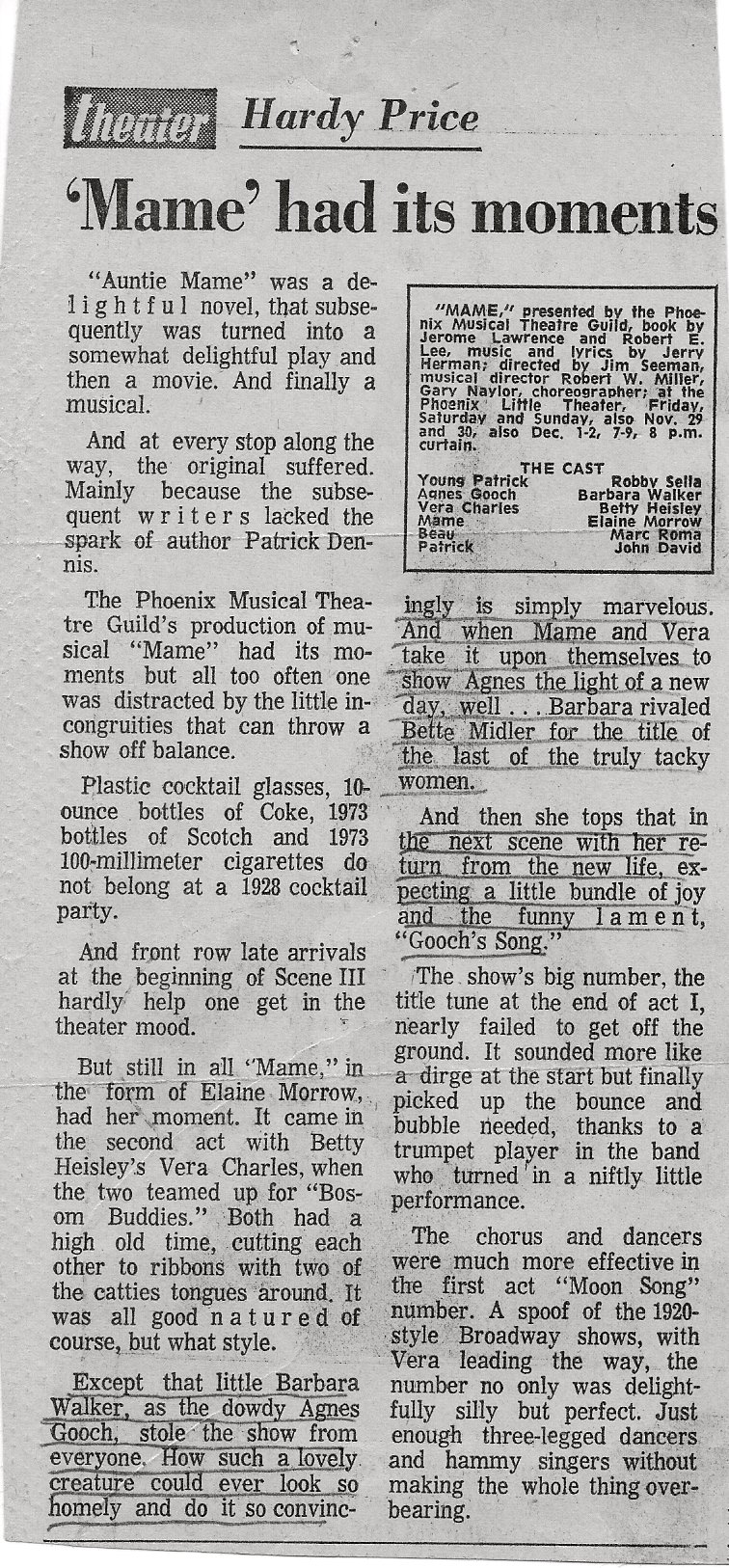 *****
JANUARY, 1971. "Hello, Dolly!" Director: James Seeman. Musical Director: Robert Frazier. Choreographer: JoAnn Yeoman. Cast: Cecilia Allen, Gary Naylor, Elaine Morrow, Bill Wolcott, Dennis Decker, JoAnn Yeoman, Trish Kinney, Tim Sullivan.
Note: JoAnn Yeo later changed her professional billing to JoAnn Yeoman.
I don't know if Elaine Morrow and Cecilia Allen considered themselves rivals but it seems as if one or the other was in every big musical of the 1970s. Hello, Dolly! decided to go for broke, casting both of them. Elaine played Dolly and Cecilia was Irene Molloy. Audiences must have left dazzled.
Note: In his review, Jack states: "'Dolly' cost director Jim Seeman his job at Phoenix Little Theatre." No explanation, and I haven't been able to find out anything. Hmmm.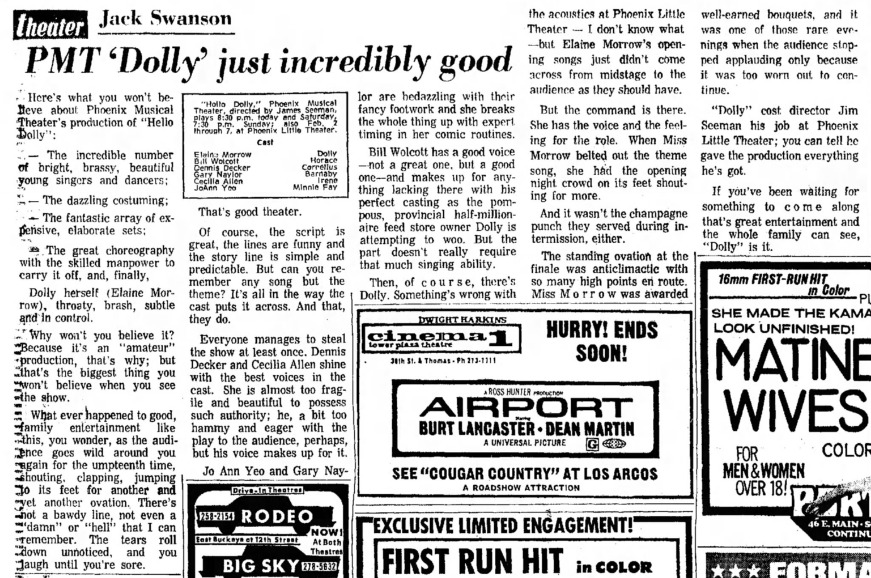 *****
ARIZONA REPUBLIC, SEPT. 28, 1969: BINA BREITNER REPORTS ON THE STATE OF VALLEY THEATER



*****
April 21, 1968.  "The Unsinkable Molly Brown."  Producers: Jean Rehfeld, Priscilla Prather. Directors: Olan K. Carson (Kit Carson), Bill Holland, Richard Erdman. Musical Director: Jerry Harris. Choreographer: Gary Naylor. Makeup Design: Gene Smith. Costumes: Barbara Van Ess. Scenic Design: Jim Edmondson, Don Titchenal. Cast: Jean Halderman. Note: Kit had to leave the production early and was replaced by the team of Holland and Erdman. The production team was largely borrowed from Phoenix Little Theatre, including Smith, Van Ess and Edmondson. Diamonds and expensive furs were loaned to the production by local merchants.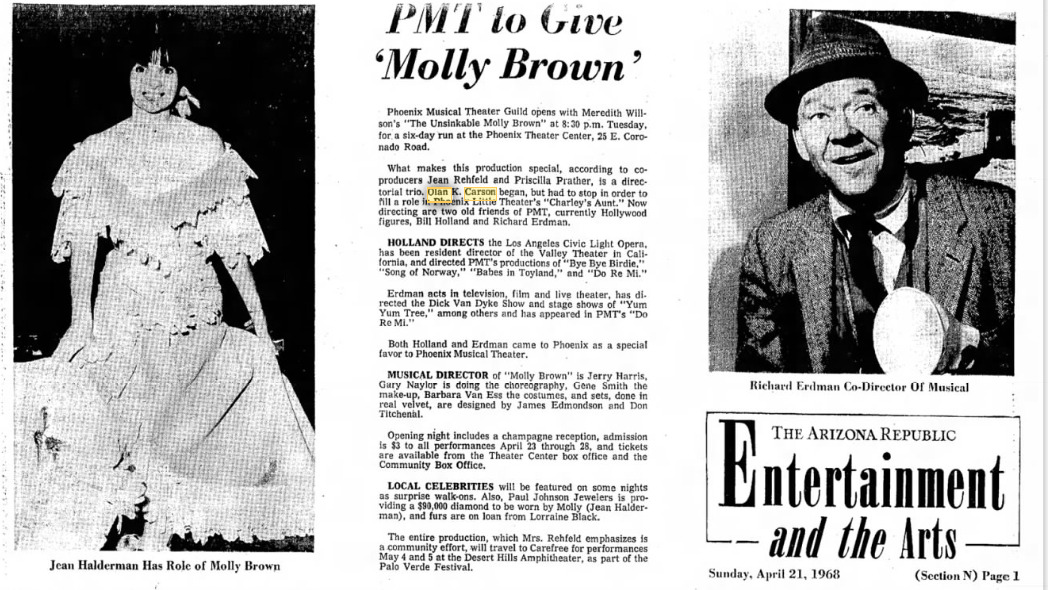 *****
NOVEMBER 1967
ONCE UPON A MATTRESS
Book: Jay Thompson, Marshall Barer, Dean Fuller.
Music: Mary Rodgers. Lyrics: Marshall Barer.
Director: Olan Carson (Kit Carson).
Music Director: E. Lowell Rodgers.
Costume Design: Barbara Van Ess.
Scenic Design: James Edmundson.
Choreographer: Kelly Brown.
Producers: Jean Rehfeld, Priscilla Prather.
Cast:  Joanne Yeo (Joanne Yeoman), David Thompson, Sol Resnick, Jill Gillesrog, Mary Beth Ames, Zona Rowand, Paul Grothouse, Gene Smith, Gary Naylor, Jack Culver, Jan Clemmer, Dixie Lee Patterson, Connie Farber.
*****
Arizona Republic, Oct. 22, 1967. Bina Breitner's On Stage Column

 JUNE 19, 1967 ARIZONA REPUBLIC ARTICLE ON '67-'68 SEASON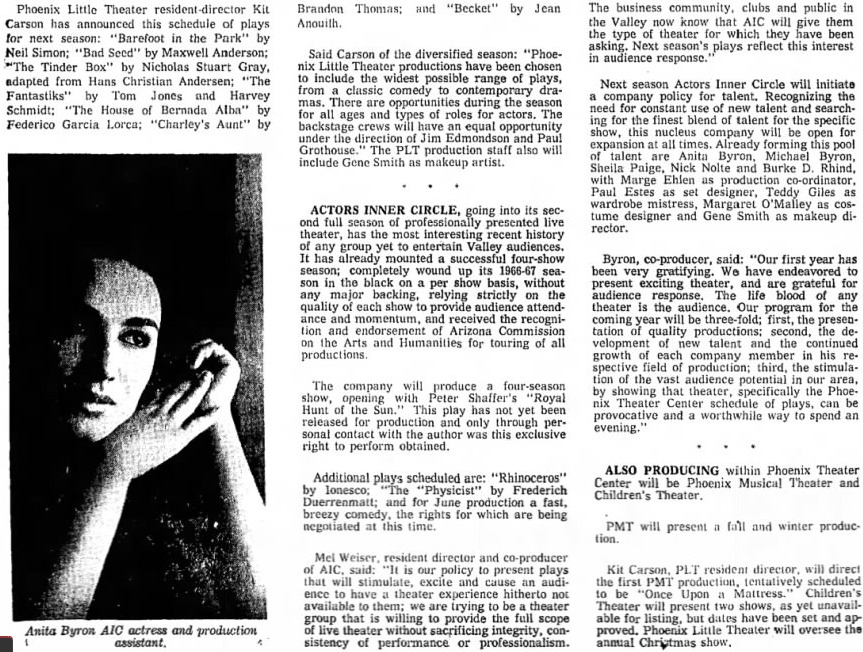 *****
MAY, 1965. "A Funny Thing Happened on the Way to the Forum." Directed and choreographed by Neal Kenyon.  Starring Iggie Wolfington, Jon Silo, Al Checco, Paul Secrest, Norma Yeary, Jean Halderman, Frank Sorello, Mel Shelton, Phil Burk, Spencer Chapman, Gary Miller, others.
None of these names strikes my memory. As usual, the web is no help. Very few archival records exist for Valley theater, even fewer of them have been committed to digital. We do have a clipping of a review from the Phoenix Gazette. Who wrote it is a mystery, too.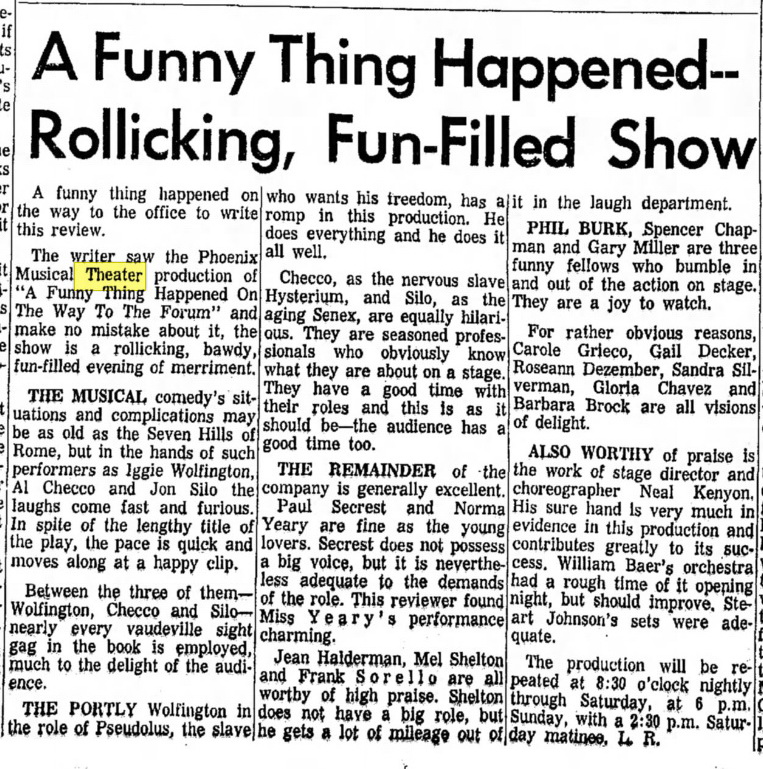 *****
1963. "Little Mary Sunshine." Cast: Eric Thomas, Carol Ann Harris, Sol Resnick, Allan Jeffory, Dan Niefeld.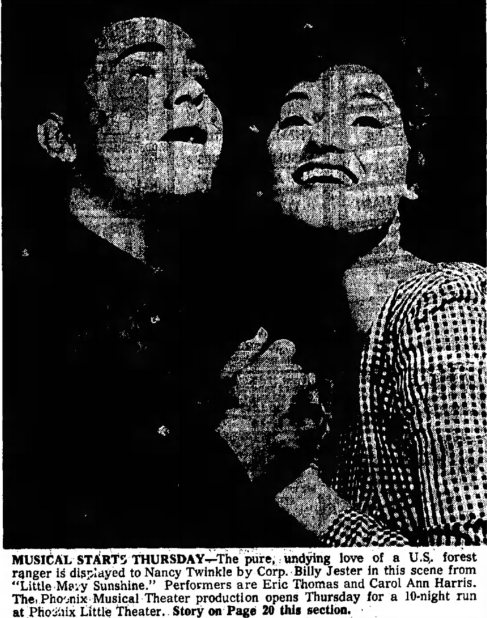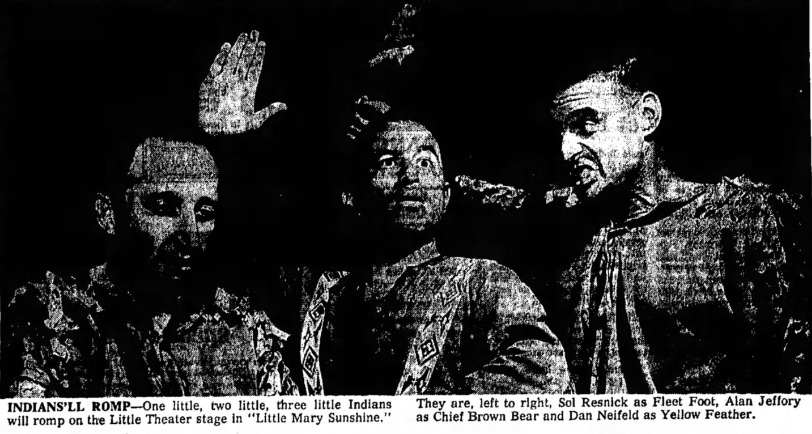 *****
SEPTEMBER 1960. "Silk Stockings." Book: George S. Kaufman. Music: Cole Porter. Based on the film, Ninotchka. Music Director: Bill Baer (William Baer). Cast: Elfriede Silver, Earl Burrows, Jay Fineberg, Nathan Rafsky, Dr. Sam Mackoff, Patti Dale, Alan Gibbons, Ronnie Cowan, Lynn Blair, John Rejebian, Roger Bigelow.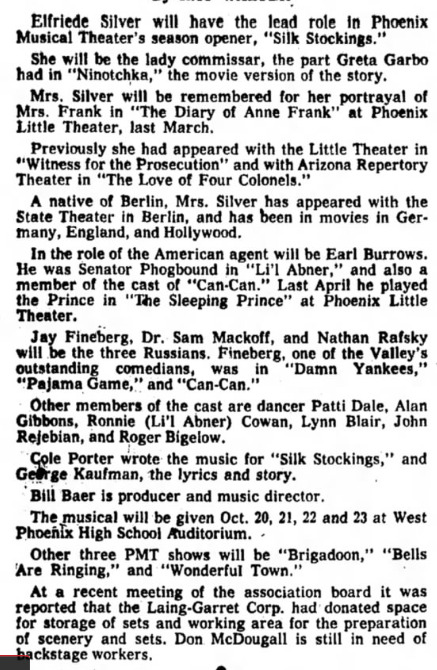 *****
1959. "The Pajama Game." Cast: Betty Moore, Michael Ivor, Jay Fineberg, Allan Jeffory, Patti Dale, Jan Wood, Clare Folk. Musical Director: William Baer.
There have been a long line of sopranos who dominated Phoenix's musical stages, dating back to Julia McCormack in the 1890s. In the 1950s, the spotlight was on Betty Moore who had the leads in the best musicals of the era. It was only natural that she would work for PMT. She earned great reviews for this one, which had her singing "I'm Not At All in Love" and other tunes from the Richard Adler-Jerry Ross score.