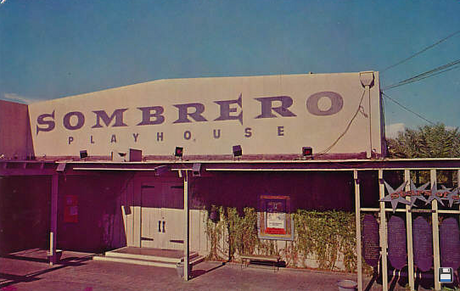 Sombrero Playhouse opened 1949 and continued operations until 1968.
The Sombrero Playhouse, founded in Phoenix, Arizona, in 1949, was for many years a popular venue for touring productions featuring prominent performers, including a number of Hollywood luminaries.
Founded by artistic director Richard Charlton and actress Ann Lee Harris, the Sombrero became during its heyday perhaps the major performing arts center between Dallas and Los Angeles, attracting celebrity players such as Groucho Marx, Tallulah Bankhead, Ginger Rogers, Gloria Swanson, Bob Cummings, Celeste Holm, Shelley Winters, Margaret O'Brien, ZaSu Pitts, Pat O'Brien, Walter Pidgeon, John Raitt and others.
These actors usually toured in established works, but new plays were occasionally tried out at the Sombrero, such as William Inge's Natural Affection, which premiered in Phoenix in 1962, a year prior to its Broadway run.
PHOTOGRAPHS, REVIEWS & THE KITCHEN SINK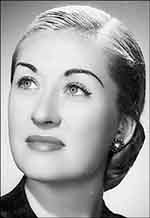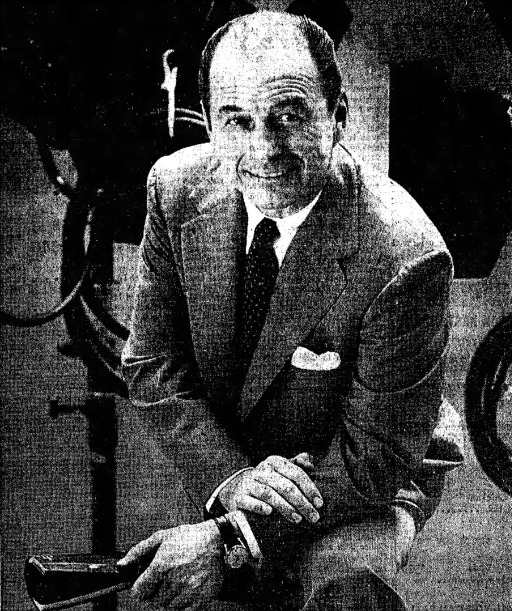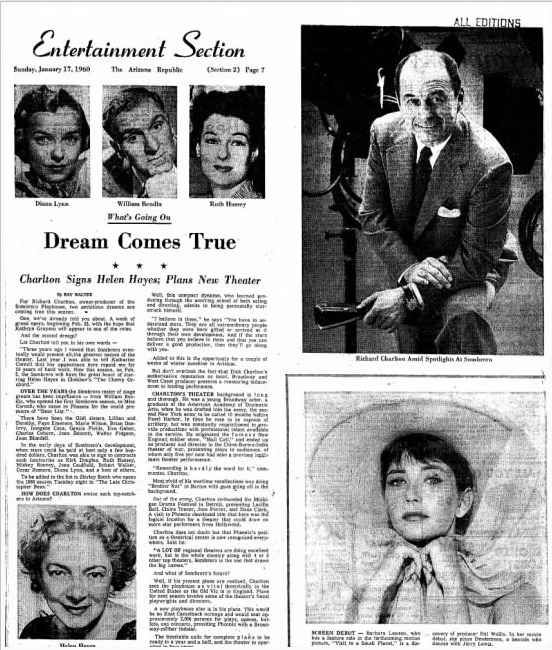 *****
March, 1968, The Owl and the Pussycat. Pat Suzuki, Robert Reed. Scenic Design: Robert D. Soule. Music: Toby Payne.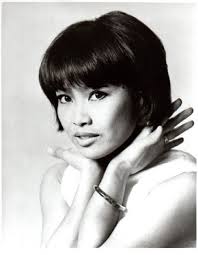 Nancy Bennett's Review in the Arizona Republic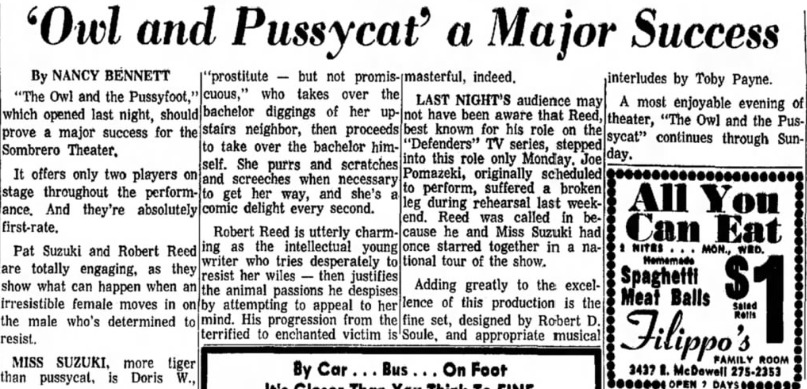 *****
JANUARY 1968. "Generation." Cast: Bob Cummings.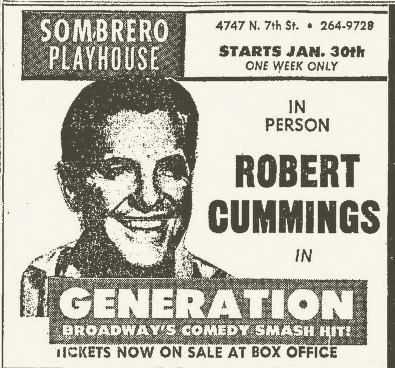 JANUARY 1967. "Any Wednesday." Cast: Gene Raymond.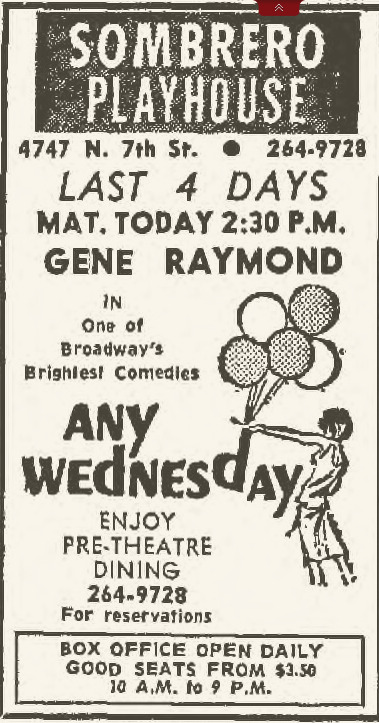 JANUARY-FEBRUARY 1965 "Never Too Late" Milton Berle; "Absence of a Cello," Hans Conried.
Clipping from the Jan. 24, 1965 Arizona Republic
*****
APRIL 1963. "Can-Can."
Patrice Munsel visited town to star in Cole Porter's "Can-Can" in 1963. Her leading man was Russell Arms, best known for his long stint as the star of NBC's "Your Hit Parade" in the 1950s.
And there was "…a cast of 30." Can you imagine the cost of putting 30 people on stage today? You probably will never see it in Phoenix, except maybe at the opera. New York and London, yes, but even those towns are tending toward smaller cast shows. smaller cast shows.
*****
APRIL 1963. Carol Channing Concert.

*****
FEBRUARY 1962. Shelley Winters and Ralph Meeker co-starred in the world premiere of a play by William Inge, "Natural Affections."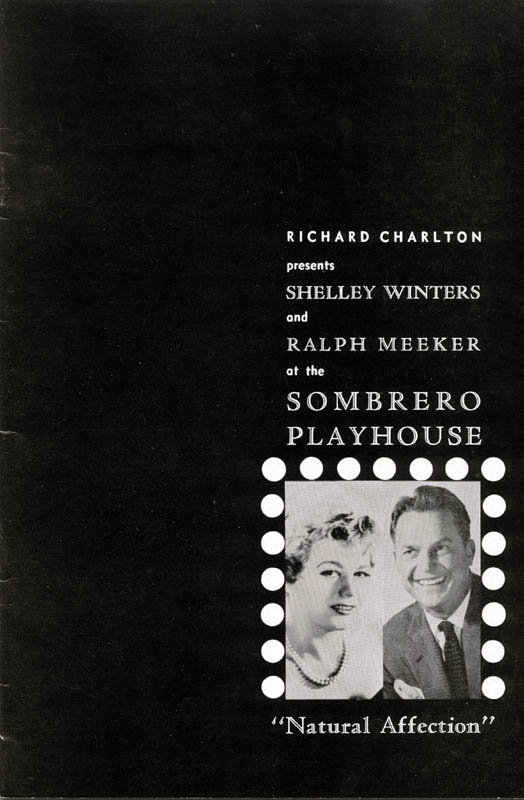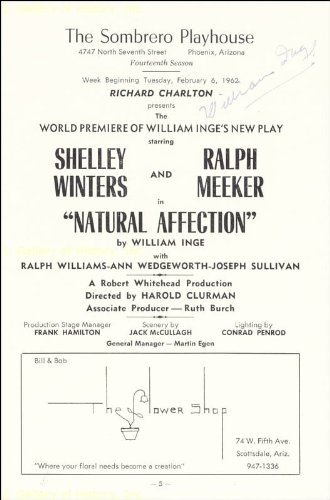 *****
APRIL 1961 "The Most Happy Fella" Cast: Robert Weede, Lucille Norman.
Robert Weede was the original Tony in Frank Loesser's The Most Happy Fella. In 1961, he recreated his role in Phoenix for Richard Charlton and  Ann Lee Harris at the Sombrero. Like Ezio Pinza, Weede was an operatic baritone who dabbled in musical comedy.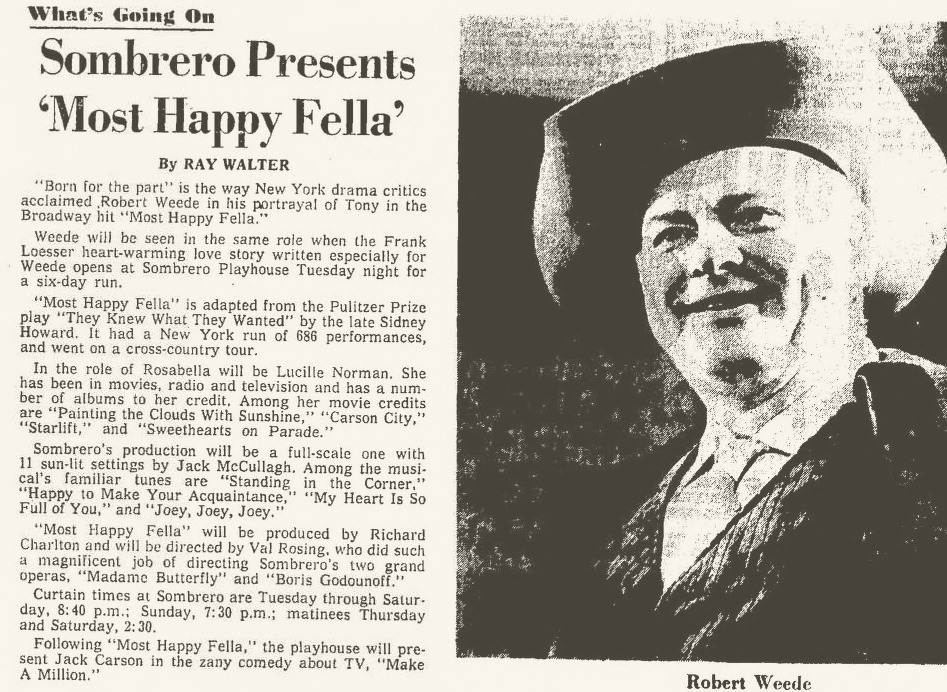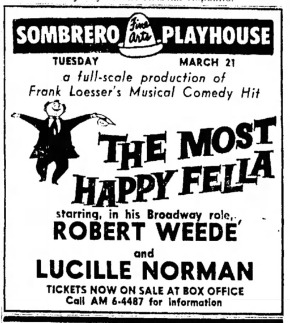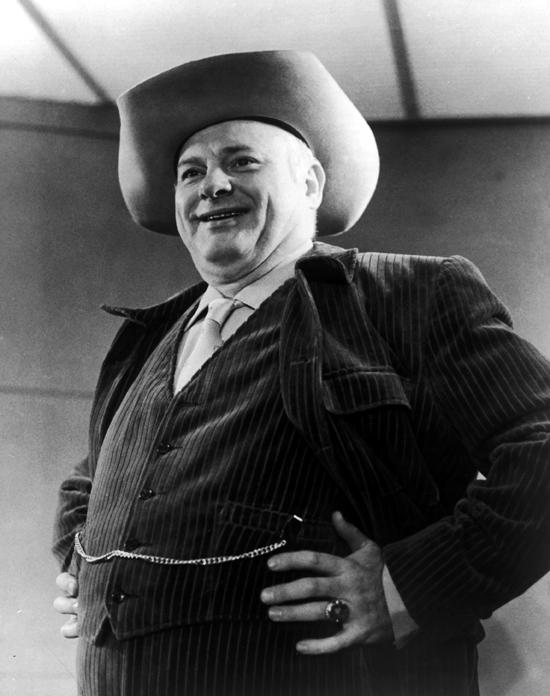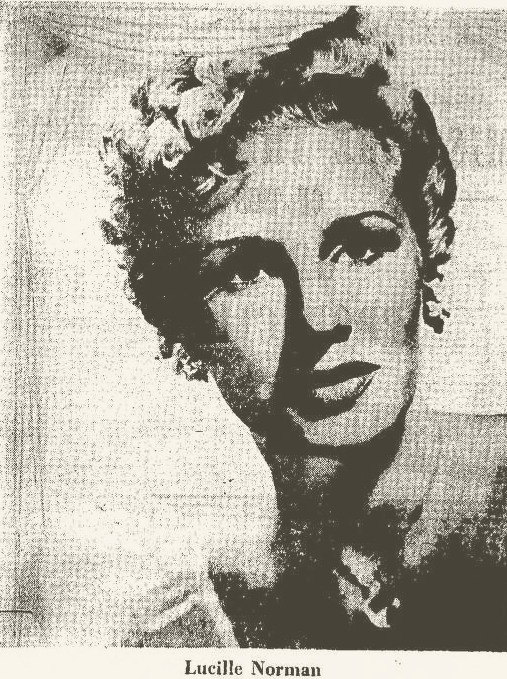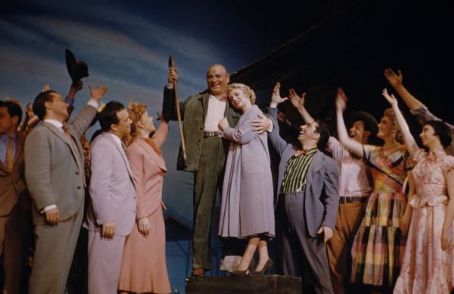 *****
APRIL 1961. "Goodbye My Fancy." Cast: Margaret Truman, Conrad Nagel, Maureen Cookson.
Note: Conrad Nagel was a prominent silent screen star who played leading man to Garbo, Norma Shearer and other luminaries of the era. He was a founding member of the Motion Picture Academy of Arts and Sciences. and served as president of the organization from 1932 to 1933.[1] He was also a founding member of the Screen Actors Guild.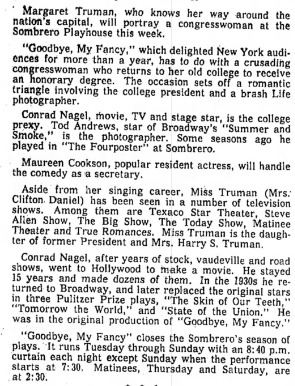 *****
FEBRUARY 1961. Candida. Director: Guthrie McClintic. Cast: Jane Wyatt, Gene Raymond, Burt Brinckerhoff, Reginald Denny.
Though she was a movie star (Lost Horizon), Jane Wyatt was best known for her role as the mother in TV's Father Knows Best. Gene Raymond also had a fling at the movies (Red Dust) but he was best known for being Jeanette MacDonald's husband. Reginald Denny had more than 100 films to his credit by the time he appeared at the Sombrero, including Rebecca and Cat Ballou. Guthrie McClintic was one of the most famous stage directors of the '30s, '40s and '50s. His wife was the equally famous actress Katherine Cornell. This was the last play he directed before dying in October of cancer.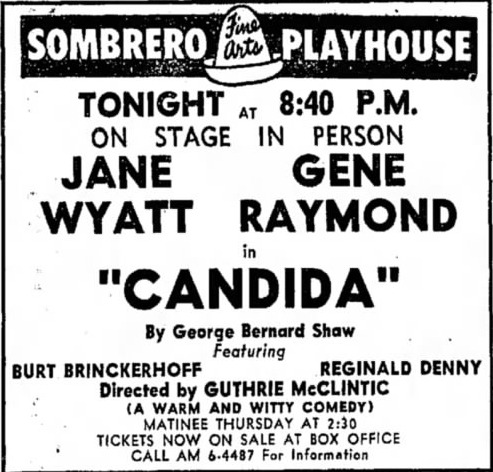 *****
MARCH 1960 "Two for the Seesaw." Playwright: William Gibson. Cast: Ruth Roman, Hugh Marlowe.
It had been five years since Ruth Roman survived the sinking of the Italian superliner Andrea Doria. Separated from her four-year-old son during the chaos that followed the collision with the Swedish liner Kungsholm, a distraught Ruth waited on the dock in New York for news of whether her son survived and was on another rescue ship. He was and the world celebrated with her when they were reunited. Ruth's film career had been in the doldrums, but this restored her to the public eye and she began a series of stage tours to capitalize on her increased popularity. This one co-starred Hugh Marlowe, best known as the playwright in All About Eve, filmed 10 years earlier. He, too, was a movie star no longer in demand by the studios. (The clipping is from the Arizona Republic of March 20, 1960.)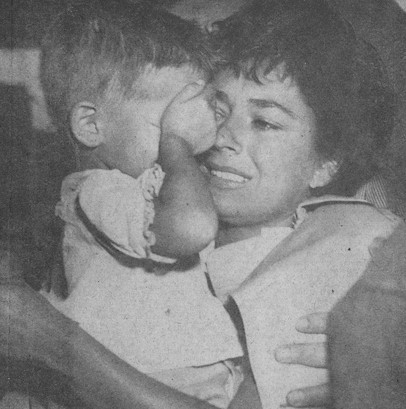 *****
1959 "Best Of …" Winners
The Sombrero's 11th season included Joan Bennett and Donald Cook in Kind Sir, Ruth Chatterton in Jane, Walter Pidgeon in The Happiest Millionaire, Barbara Ruick and Holly Harris in The Boy Friend, Joan Blondell in Happy Birthday, Jan Sterling in The Bad Seed, Katherine Cornell and Brian Ahern in the world premiere of Jerome Kilty's Dear Liar, Nancy Walker and Margaret Phillips in Fallen Angels, Edward Everett Horton in the pre-Broadway tour of Not for the Book and Francis Lederer in The Dairy of Anne Frank. Dear Liar set a Phoenix record for highest weekly box-office gross ($22,000, big money in 1959).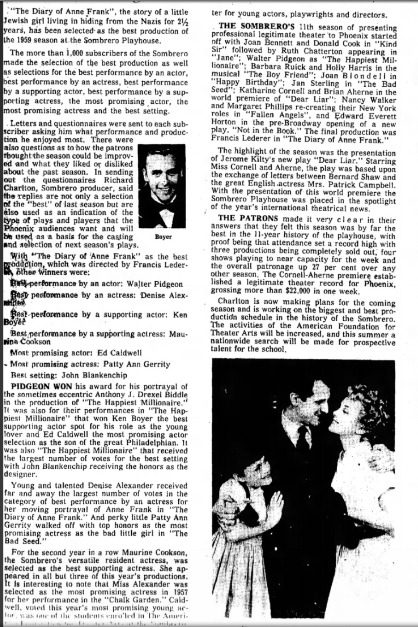 COMMENTS
Paula Heckman Schroeder I remember seeing Ray Walston (My Favorite Martian) and Jesse White (the Maytag man) in The Odd Couple.