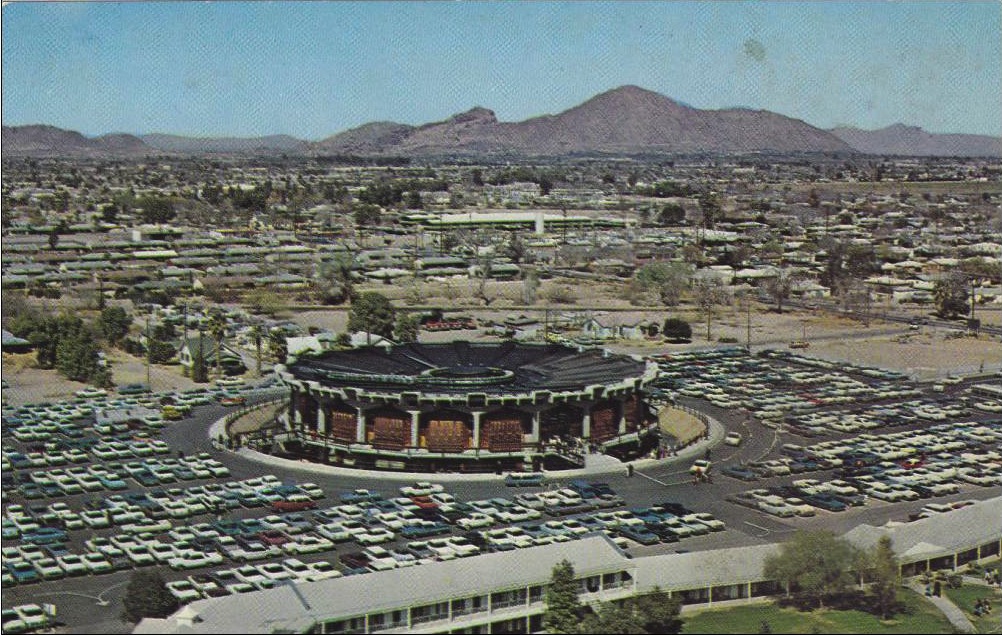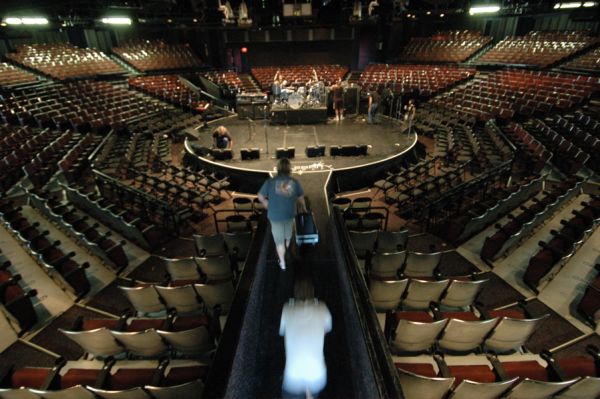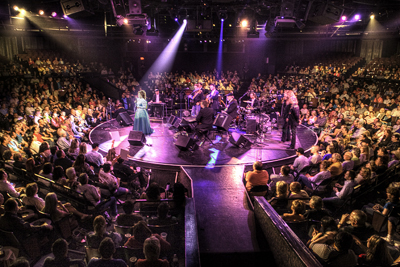 HISTORY
You couldn't ask for a better history of the Celebrity / Star Theatre than this one written by my friend and former Republic cohort, Randy Cordova.
By Randy Cordova, The Arizona Republic/azcentral.com, Jan 4, 2014
Celebrity Theatre will celebrate its 50th birthday this month. And like for most people who hit the half-century mark, life hasn't always been easy. Financially, there have been some bumps in the road. There were periods when it felt as if the theater in the round was behind the times. And, of course, there has been a face-lift or two along the way.
After all the ups and downs, the theater still survives. It even got an early birthday present in September, when the Phoenix City Council voted to give the theater historical designation.
"That means a lot, because the theater means a lot to a lot of people," says Rich Hazelwood, who has owned the theater since 2002. "This is a part of history."
The venue near 32nd and Fillmore streets is known for offering concerts, and the list of acts who have performed there is breathtaking. But that wasn't the original intent of the 196-foot-diameter building, which architect Perry Neuschatz designed as a convention center. The facility was part of the now-defunct HiwayHouse Hotel; the idea was for the hotel to lure large conventions and host the attendees.
It was an ambitious plan and one the owners soon realized couldn't succeed. That's when Buster Bonoff came into the story.
"Phoenix was not that big a city back then," says Larry Bonoff, Buster's son. "There wasn't really this need for this big convention center."
Buster Bonoff successfully ran the Warwick Musical Theatre in Rhode Island, known by locals as the Tent. It was a theater-in-the-round that presented musicals on the summer-stock circuit. The Tent opened in 1955 and quickly entrenched itself as something of an institution. Bonoff thought he could do the same thing in Phoenix at the Celebrity. There was also an ulterior motive, his son admits.
"You can't make a living three months a year, no matter how well you do," says Larry Bonoff, 64. "So we spent the winters in Phoenix and the summers in Warwick."
The theater was christened the Star Theatre. It opened its doors on Jan. 13, 1964, with a production of South Pacific that starred Betsy Palmer. A pretty, outgoing blonde, Palmer was an actress who gained fame as a panelist on TV's I've Got a Secret; later, horror-movie buffs would recognize her as the killer in the original Friday the 13th. On that night in Phoenix, however, she wowed 2,300 people as Nellie Forbush: "Hoot at anyone who tells you this gal doesn't fit the part well," Phoenix Gazette reporter Larry Rummel raved. "She's a delight and is to be highly praised."
There were also cheers for the theater. Though now it may bring to mind a '60s-era flying saucer, it was pretty avant-garde at the time.
The roof stands on top of concrete pillars shaped like Y's. The outer walls were a spectacular mix of glass and copper; the copper was sold by a later owner, according to Larry Bonoff.
"The copper siding was just magnificent," he says. "Back then, the theater was really sort of new wave. It was funky and cool."
That could also describe Buster Bonoff, who died in 2000 at age 75. He had a friendly manner and a shaved pate; commonplace now, but pretty daring in 1964. He carried himself like a showman and became a celebrity in the Valley; the press loved to compare him to Daddy Warbucks.
"People would see my dad walk through the audience and they'd talk to him, and he knew them all by name," Larry Bonoff recalls. "He was a classy guy and treated everybody the same."
He also guaranteed that the shows that came through the Celebrity had a similar kind of class. There were productions of Carousel with John Raitt; Guys and Dolls with Gordon MacRae; My Fair Lady with Ray Milland; and On a Clear Day You Can See Forever with Shirley Jones. Before becoming Mrs. Neil Simon, Oscar-nominated actress Marsha Mason starred in a 1965 production of Cactus Flower.
The talent extended behind the scenes. Michael Bennett, who would go on to win seven Tony Awards and direct A Chorus Line on Broadway, served as Bonoff's choreographer in the early years. James Hammerstein, son of Oscar, directed most productions.
Bonoff seasons would begin in January and run through March, interspersed with concerts. In 1964, Nat King Cole played the theater for a run of shows. One performance had to be evacuated after a bomb threat was phoned in. Cole, ever the gentleman, politely signed autographs while police swept the theater. No explosives were found.
Gradually, as the '60s wound down, musicals and plays began losing their appeal. It wasn't simply in Arizona; the same trend happened at the Tent in Rhode Island.
"There were no more Rodgers and Hammersteins, no more Sounds of Music," Larry Bonoff says. "And how many times could you do Oklahoma? So Dad thought let's try something else."
Soon, the musicals gradually disappeared from the seasons as singers and comics began to increase. Performers would sign on for six-day runs; Tennessee Ernie Ford and the King Family were in the first wave, in 1966. The following year, Dinah Shore, Jack Benny, Liberace and Wayne Newton filled the season, with only one play in the lineup.
"Lee was always fun to work with," Toby Payne, who handled sound and technical for Bonoff, recalls of Liberace. "We went to see him at Radio City Music Hall once, and he said hi to us from clear all the way across stage."
Payne worked with the big stars that filled the theater: Sammy Davis Jr., Vikki Carr, Engelbert Humperdinck and Eddy Arnold were some of Buster Bonoff's favorites. Others who passed through include Rowan and Martin at the peak of their Laugh In fame; Victor Borge; and Robert Goulet.
Because of the long runs, the Bonoffs got to know most of the acts well. The family had a membership at the Phoenix Country Club and would take the stars there to relax. Other favorite spots included Durant's on Central Avenue and the now-long-gone Green Gables restaurant at 24th Street and Thomas Road.
Larry Bonoff recalls one evening spent over dinner with his father and Benny, a notorious tightwad. He was amazed to see the comedian pick up the tab.
"I looked at my dad and said, 'I thought he was cheap?' I was young and dumb, I guess, but that's when I learned that people aren't always the way they are on stage."
Larry Bonoff still has a signed violin that Benny presented to his parents.
There were few rock acts among the performers who played the theater in its early years. Buster Bonoff didn't lean toward rock stars, something that wasn't lost on Larry, who tended not to listen to the Vegas-style stars his father dealt with.
"Now, as I get older, I get really mad at myself," he says. "I remember going to John Raitt's house in Beverly Hills, and Bonnie Raitt was a little kid. I've got pictures of my sister at Liberace's costume Christmas party. I went to dinner with Totie Fields. Mac Davis was like a big brother to me when he came to town. I didn't appreciate it all until I got older."
That's not to say rock acts never performed there. A 1971 article in The Republic says the theater banned hard rock shows, but "folk music, soft rock or Western music" were OK, according to Edward Colson at the time. He was general manager of TraveLodge, which had taken over the Hiway House and thus the theater.
The change resulted in an awkward situation when it came to the venue's name. When Bonoff shows were presented, it was known as the Star Theatre. For non-Bonoff shows — which included Linda Ronstadt, Gordon Lightfoot, Van Morrison and Miles Davis — it was called the TraveLodge Theater in the Round.
In 1972, the theater was purchased by Max Wexler, who changed the name to the Celebrity Theatre. Buster Bonoff stayed through 1977 before moving to Symphony Hall. His last season at the theater in the round featured favorites Carr, Liberace and Mac Davis, plus Danny Thomas and Sergio Franchi.
By that point, the emphasis of the theater began to shift, just as the country's tastes in entertainment had begun to evolve. George Carlin taped an HBO special there in 1978. New Year's Eve concerts by rocker Jerry Riopelle became staples for the venue.
Riopelle, a gravel-voiced singer-songwriter, was at first put off by what has become the theater's signature: A stage that slowly rotates, giving the audience a chance to get a good look at the performer. It was installed in 1969 and can rotate at different speeds. If you've never been to the theater, imagine someone singing from atop a Lazy Susan.
"When I first got there, I told them, 'I don't want this stage turning around,' " recalls Riopelle, who estimates he's played at Celebrity 30 times. "They said, 'Let us just do it for a minute. We've got a feeling you'll like it.' And you know, once you got on it and it started moving, it was pretty cool."
He thinks the revolving stage is what makes the theater so special (though not for Tom Waits, whom he reports seeing tumble off the stage): "You can really see the people in the first four rows very clearly, so as the stage moves, there's maybe a couple of hundred people you're really close to, instead of what you get in a normal theater."
Additionally, because of being in the round, the audience surrounds the performer on all sides.
"When everybody is stacked in one direction, like a regular theater, that can be loud," he says. "But when everything is focused on the center of the stage and people are yelling at the same time, it's overwhelming, like a jet engine."
"It's my favorite place to play in the world."
Though the '70s marked Riopelle's favorite time in the theater, the decade also ushered in one of the theater's darker periods. The theater aged as the stars kept coming through. Among the acts: Bruce Springsteen, B.J. Thomas, Conway Twitty, Exposé, Billy Joel, Robert Palmer, Jane's Addiction, K.T. Oslin, Lisa Lisa, Deep Purple, Guns N' Roses and, in 1990, Brooks and Dunn: Not the "Boot Scootin' Boogie" duo, but a bill consisting of Garth Brooks in his early years with country crooner Holly Dunn.
There were also a lot of owners, some short-lived. And there were periods in which the theater simply sat dark.
"I used to be able to name all the owners and I can't anymore," sighs Alycia Klein, who started at the theater in 1989 at the box office and now works as talent buyer and general manager. "I have seen some changes."
Things took a turn in 1995 when Bill Bachand purchased the theater.
"Honestly, it was pretty much a wreck," he says. "It had been closed for nearly a couple of years and had gone through some bankruptcies. Nobody had put any real money into it for maybe 10 years. The air-conditioning didn't work. It was a mess."
So why buy it? At that point in his career, Bachand was booking shows for the Arizona State Fair and ran Toolies Country, arguably the Valley's most popular country nightclub and a venue that was honored by the Academy of Country Music.
"I thought it was the next step in my growth as a concert promoter," says Bachand, who spent more than $750,000 refurbishing the venue. "It was another way to do something else and grow. If an act was too big for Toolies, we could move them to the Celebrity."
It was a learning curve for Bachand. Comfortable with country music, he initially booked such acts as Chris LeDoux, Mark Chesnutt and the Oak Ridge Boys before expanding into other genres.
"I had the advantage of having gone in there and done it with Toolies, so to me it was really the same," Bachand says. "But then it was a little hard for me to transition from all country to comedy and rock and urban and Latin. But we had a great staff, and within a year or two, we grew into other genres and events."
Latin shows were big for Bachand. The first Valley show by Alejandro Fernandez apart from dad Vicente was held at the Celebrity under Bachand's reign. So were concerts by singers Rocio Durcal, Alejandra Guzman, Lucero and Cristian Castro.
"Nobody else had been doing Latin (on this scale)," Bachand says. "We figured, 'Why is no one serving this community?' The response was just overwhelming."
In Mexico, most performers usually will play in-the-round venues known as palenques that double as cockfighting rings. Klein thinks that is one reason Latin performers enjoy the venue.
"It's common in Mexico, so they know how to work the stage and they like the format," Klein says. "They adapt to it very easily."
On the other hand, it's not always easy to pitch the idea to artists unfamiliar with the concept. Humperdinck joked on stage about the audience having to look at his rear for half the show. Ellen DeGeneres initially balked at playing in the round, Klein says. Diana Ross wasn't a fan, either. It could be such an issue that one former theater employee reportedly wouldn't tell artist managers that the stage was round until the show was booked.
"Selling it in-the-round is really hard to most people," Klein acknowledges. "Artists that have played here before like it. But it is a hard sell, so you have to make sure you have a nice backstage and nice amenities."
Alice Cooper's annual Christmas Pudding shows launched at the Celebrity during the Bachand era. Bill Cosby sold out two shows in 1999, which Bachand says probably was his highest-grossing event. The Vans Warped Tour, held inside and outside the venue, brought an audience that was new to the owner.
"Having 3,000 tattooed and earringed people in the parking lot was quite interesting," Bachand says slyly. "Those were good days."
He sold the venue in 2002 but is proud of what he did with it.
"We did resurrect it," he says. "We did bring it back to life. It was in kind of a seedy way for a number of years, and there was so much excitement when it reopened. People in the Valley love that venue."
Current owner Hazelwood is in that group. An Arizona native, he grew up in the neighborhood. As a child, he delivered newspapers and remembers riding his bike past the theater while it was under construction.
"I thought to myself, one day I'm going to own that building," he says.
An entrepreneur who also owns a bar on Indian School Road that bears his name, he bought the Celebrity Theatre from Bachand. "I'm probably the person who has owned it the longest," he says.
He admits that he's not a heavy-duty music fan.
"I'm not a big musical guy," he says. "I am a big business guy. My wife calls me a serial entrepreneur."
He invested more than $1 million in the theater, recovering chairs, painting surfaces and adding video screens. He is constantly updating; it's a common sight to see him before an act takes the stage, asking audience members to buy a beer so he can buy another gallon of paint.
"When I can do the openings on stage, I want people to know there's a human being that cares. I let them know that putting in new chairs and painting and carpeting I don't necessarily need to do, but I do it because I love this theater."
On stage, he is usually accompanied by his 10-year-old Terrier mix, Jackie Onassis, who calmly wanders around her owner. Hazelwood got into the habit of auctioning off signed guitars by artists. He estimates he has raised more than $250,000 from the sales for charity.
Through his work at the theater, he has become friends with Chris Isaak and the band Chicago. He's less fond of Bill Maher, who wasn't enthusiastic about meeting Jackie, and Anita Baker, who was so persnickety about sound that she kept a sold-out New Year's Eve audience waiting outside in the cold for the show to start.
He acknowledges things aren't always easy at the theater. Live Nation, which handles the lion's share of major concerts, usually will send most of its shows that would play a Celebrity-sized venue to Comerica Theatre in downtown Phoenix. There is also competition from Mesa Arts Center and casinos such as Wild Horse Pass and Talking Stick.
"We have to rely on things like incredible marketing and staying current with things like Facebook and Twitter," he says. "And I believe in having a savvy crew of people around me who know what they are doing, and I know to stay out of their way."
The team is also looking ahead. They are hoping to go green and want to use solar power. The first three rows will be redone, increasing seat width from 17 to 21 inches — "people are getting bigger" general manager Klein says. Those should be in place by March and eventually will be followed by the rest of the theater.
Klein says that about 25 percent of shows are presented solely by the theater. Another 25 percent is handled completely by outside promoters. Remaining shows are put on by a combination of the venue and partners such as Rigo Entertainment (Latin shows), UrbanAZ (R&B) and Danny Zelisko (pretty much everything else).
The shows continue to go on. Louis C.K. filmed an HBO special that aired in 2013. Pepe Aguilar spoke out against Senate Bill 1070 during a concert. On the opposite end of the spectrum, comic Katt Williams went on a tirade about Mexicans that went viral and for which he later apologized. The 2014 slate sees bookings by Jackie Evancho, Gavin DeGraw, Gloria Trevi and old favorite Humperdinck.
Klein thinks there's a reason people love the theater.
"The intimacy is just incredible," she says. "Everybody says it, but it's true. There's really not a bad seat. Plus, it's a place where most people have some kind of memory."
Hazelwood agrees, sharing an R-rated anecdote. He recalls asking a man why he kept returning to the theater. The man replied that he had his first sexual encounter in the parking lot.
"That's a mystique," he says, laughing. "People have seen things here, whether it's music or something else, and it brings them back. And now that we have a lot of young shows here, hopefully we're cultivating the future of the theater."
PHOTOGRAPHS AND POSTERS FROM THE 1964 SEASON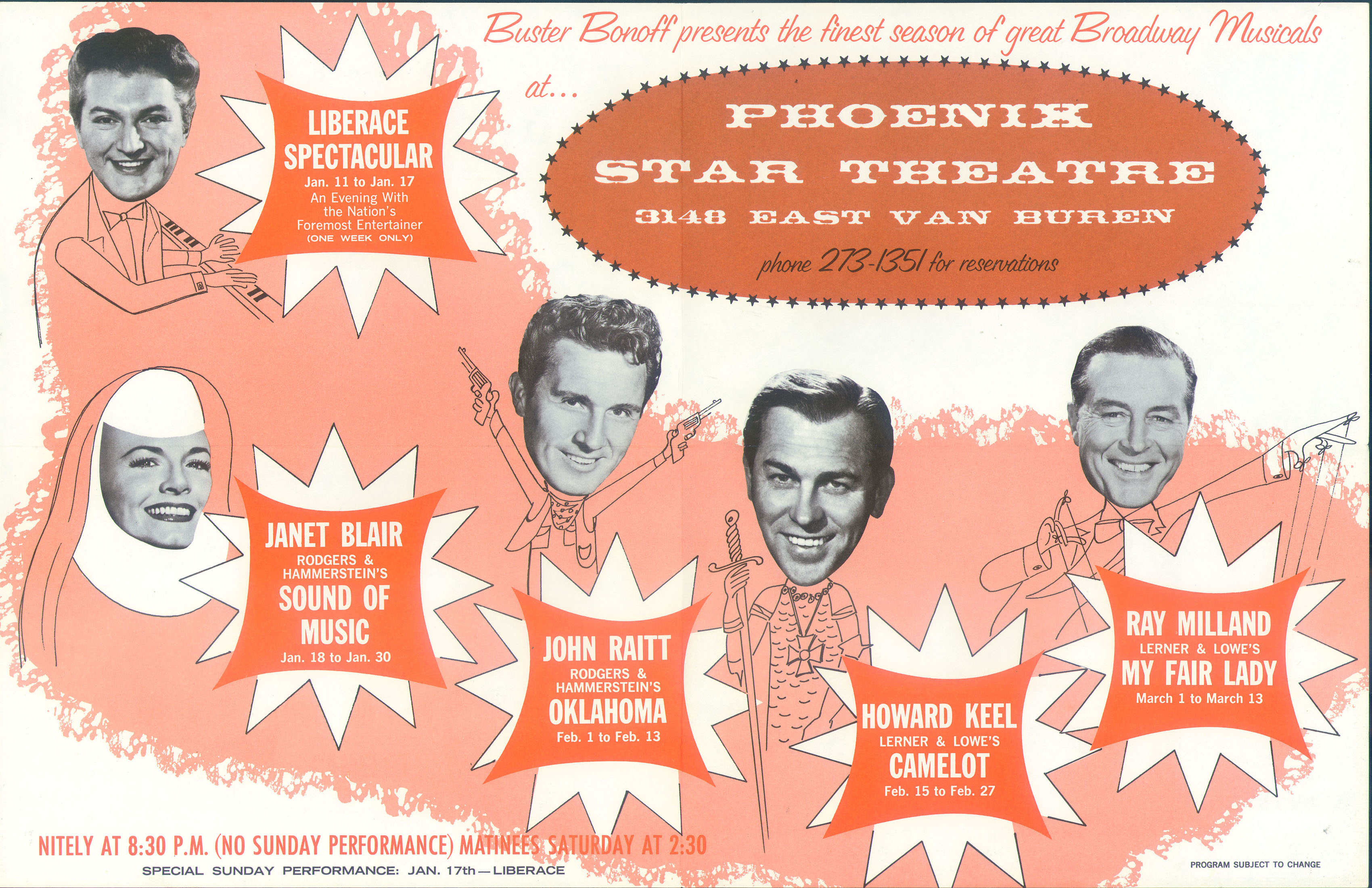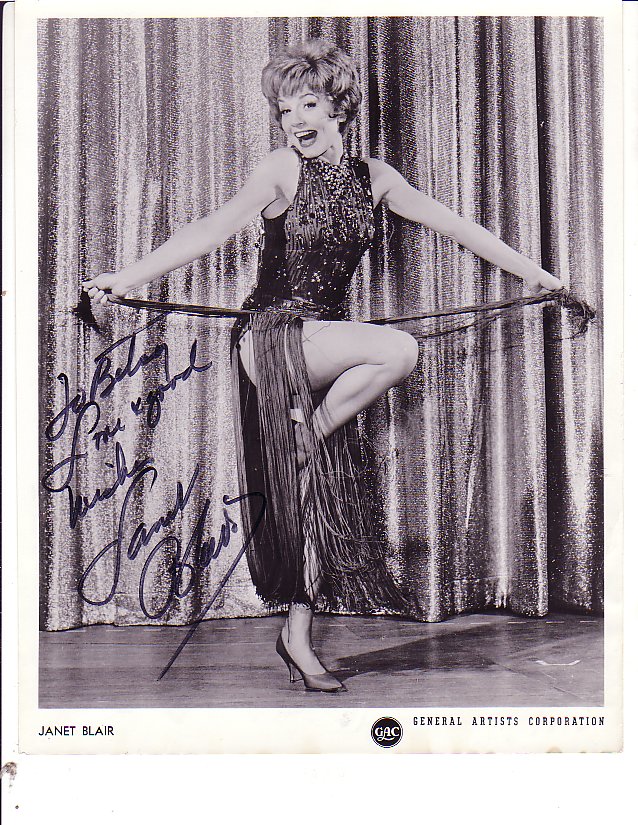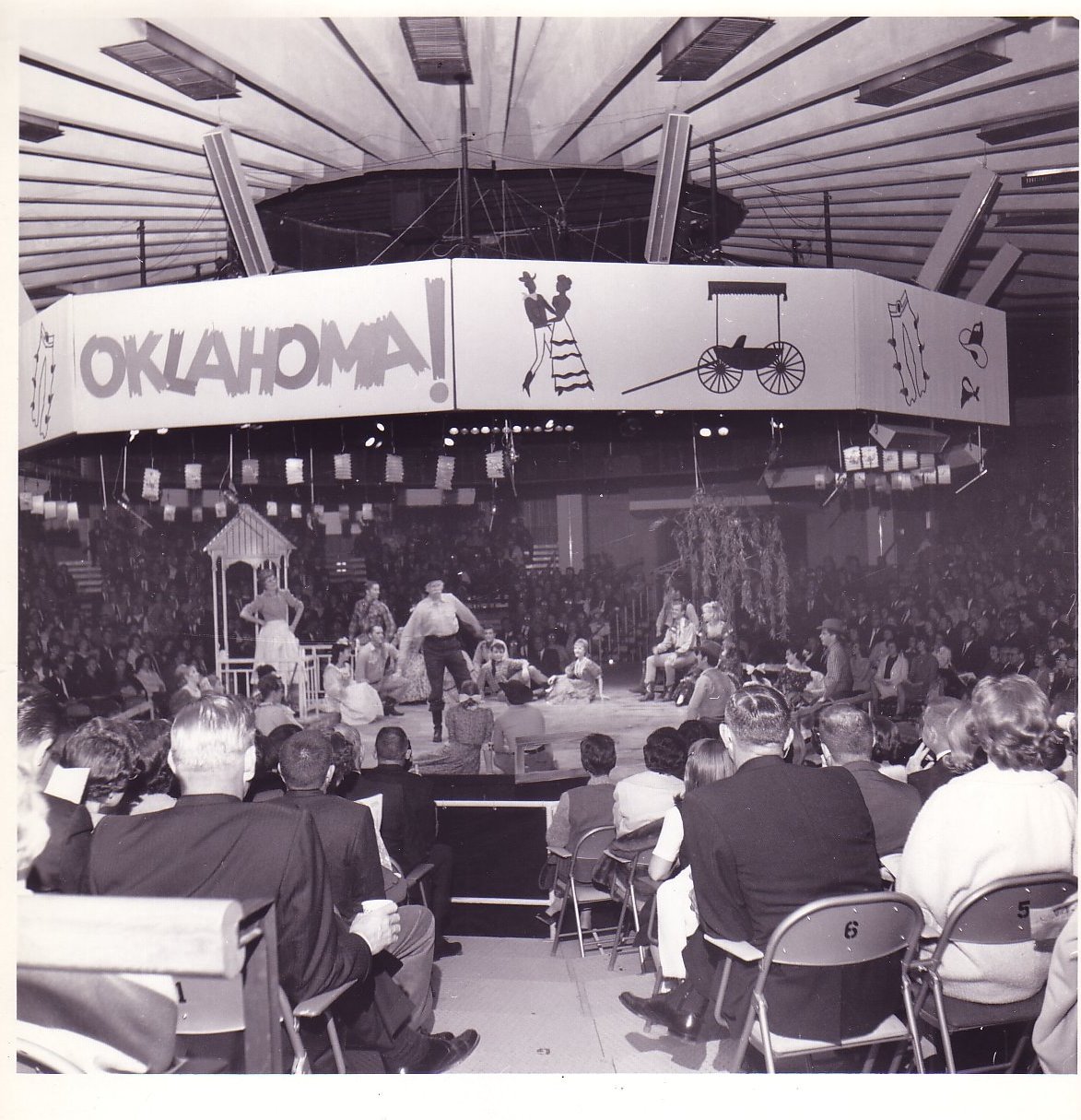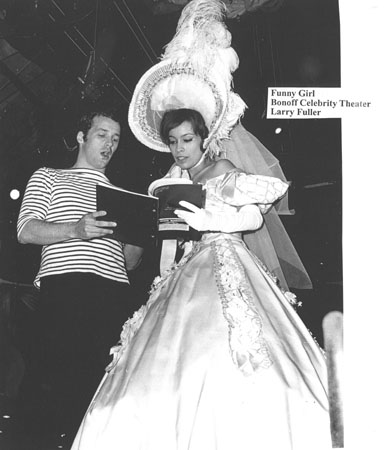 "The King and I," Star Theatre, starring Betsy Palmer.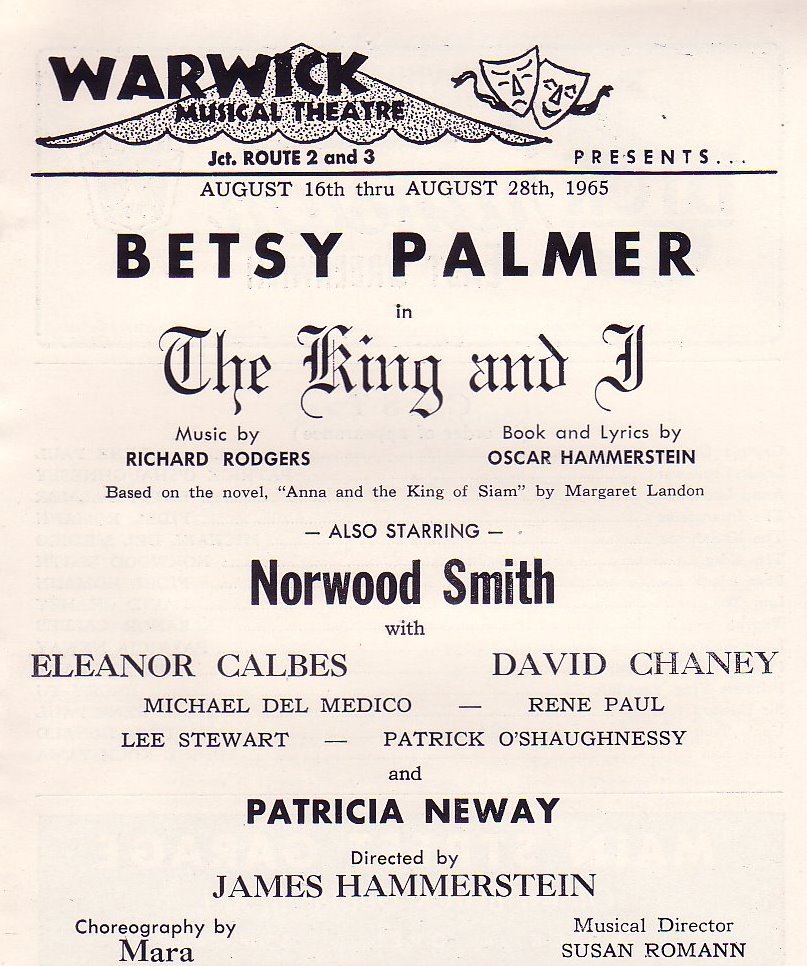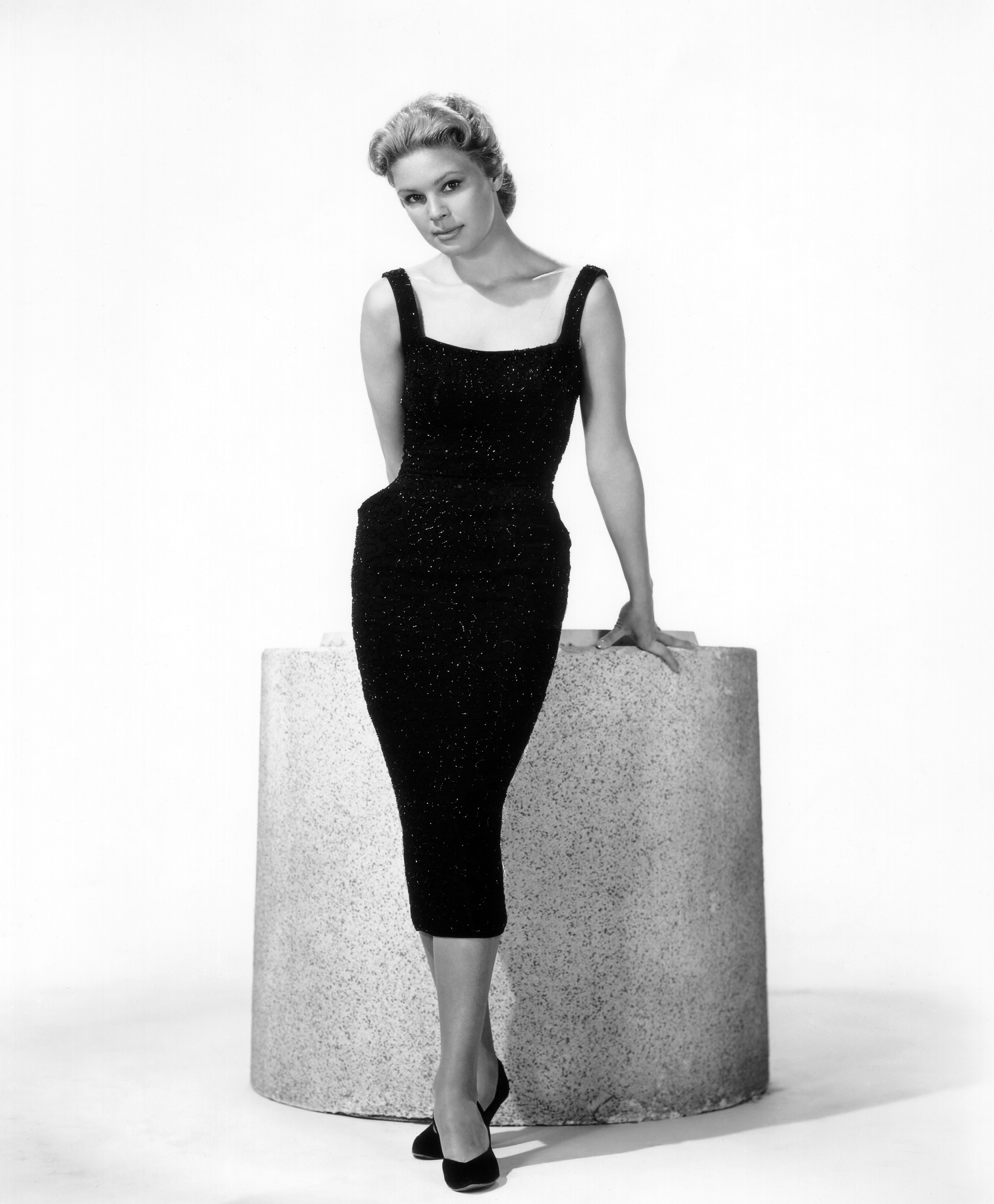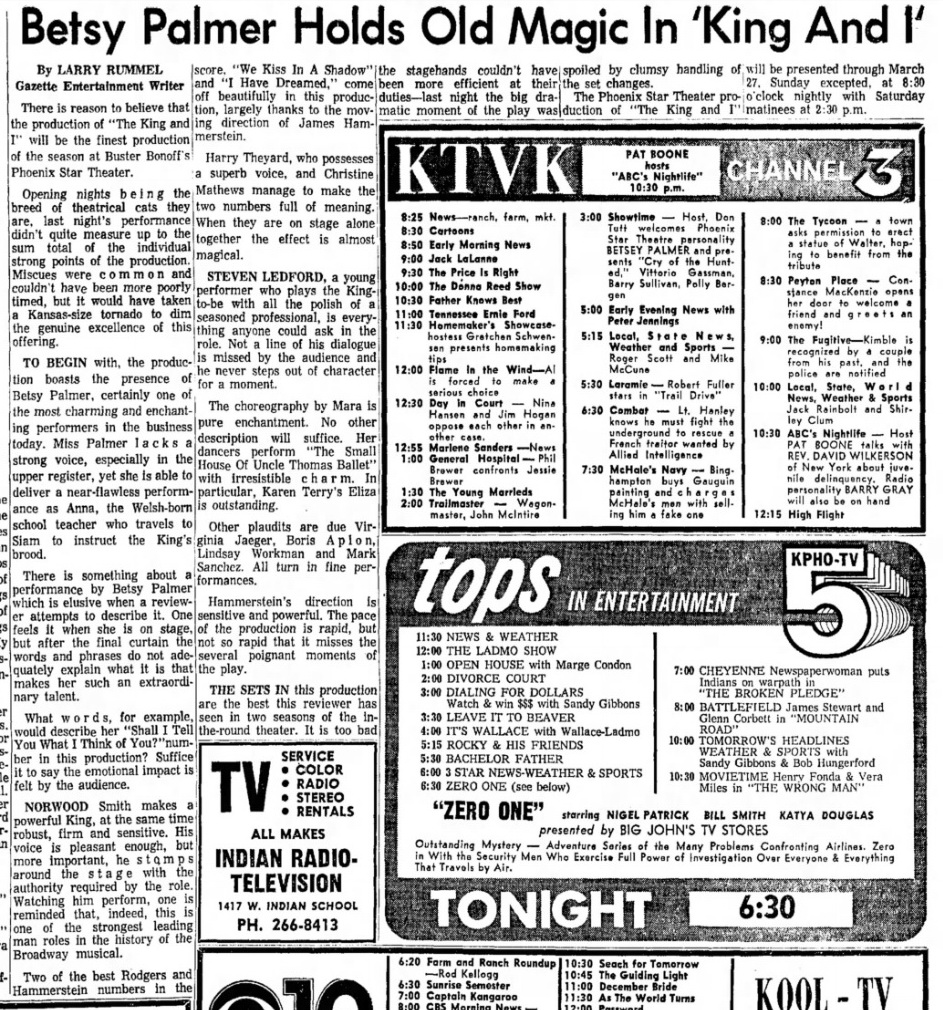 FEBRUARY 1968. "On a Clear Day, You Can See Forever "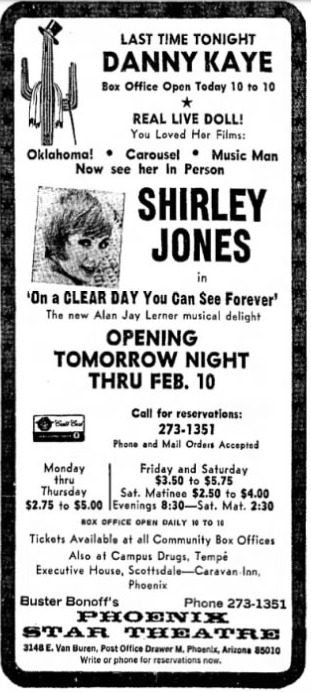 Academy Award-winner Shirley Jones and Ron Husmann were two of the stars who played the Star Theatre (now the Celebrity) for Buster Bonoff.
Jane Korner wrote me that Shirley stayed at the Arizona Biltmore, or at least ate there. Jane and her husband were having lunch in the Biltmore restaurant when Shirley made her entrance in the wake of an obviously star-struck maitre d'. "She didn't act like your typical star," Jane recalls. "No one bothered her that I could see, but, naturally, they did stare – and if she noticed it, Miss Jones gave them a gracious smile. We were so excited by seeing a real movie star that we bought tickets to her show. I thought she and the man who was playing opposite her was very good – but I didn't think much of the musical or the music."
The man was Ron Husmann, who was in one of my classes at Northwestern University. Even then, we all thought he was destined for something big. He had this really great voice and, of course, he was very good looking. A babe magnet, as they would say today.
A year after he graduated from Northwestern, he was cast in Tenderloin on Broadway, garnering a Tony Award nomination for Best Featured Actor in a Musical and winning the Theatre World Award. Later, he appeared in All-American, Lovely Ladies, Kind Gentlemen, On the Town, Irene, and Can-Can.
He also co-starred with Carol Burnett in the 1972 telecast of Once Upon a Mattress (he was the hapless prince) and appeared on the soaps, General Hospital and Days of Our Lives.
The last time I saw him on TV, I think, was a guest appearance in Cheers.
In my mind, Ron's greatest achievement was as author, narrator, and co-producer of the 10-hour video series Broadway! A History of the Musical.
Ron, who would be 76 now, retired after being stricken with multiple sclerosis.