AUGUST 2005, "The Wonder Bread Years," Orpheum Theatre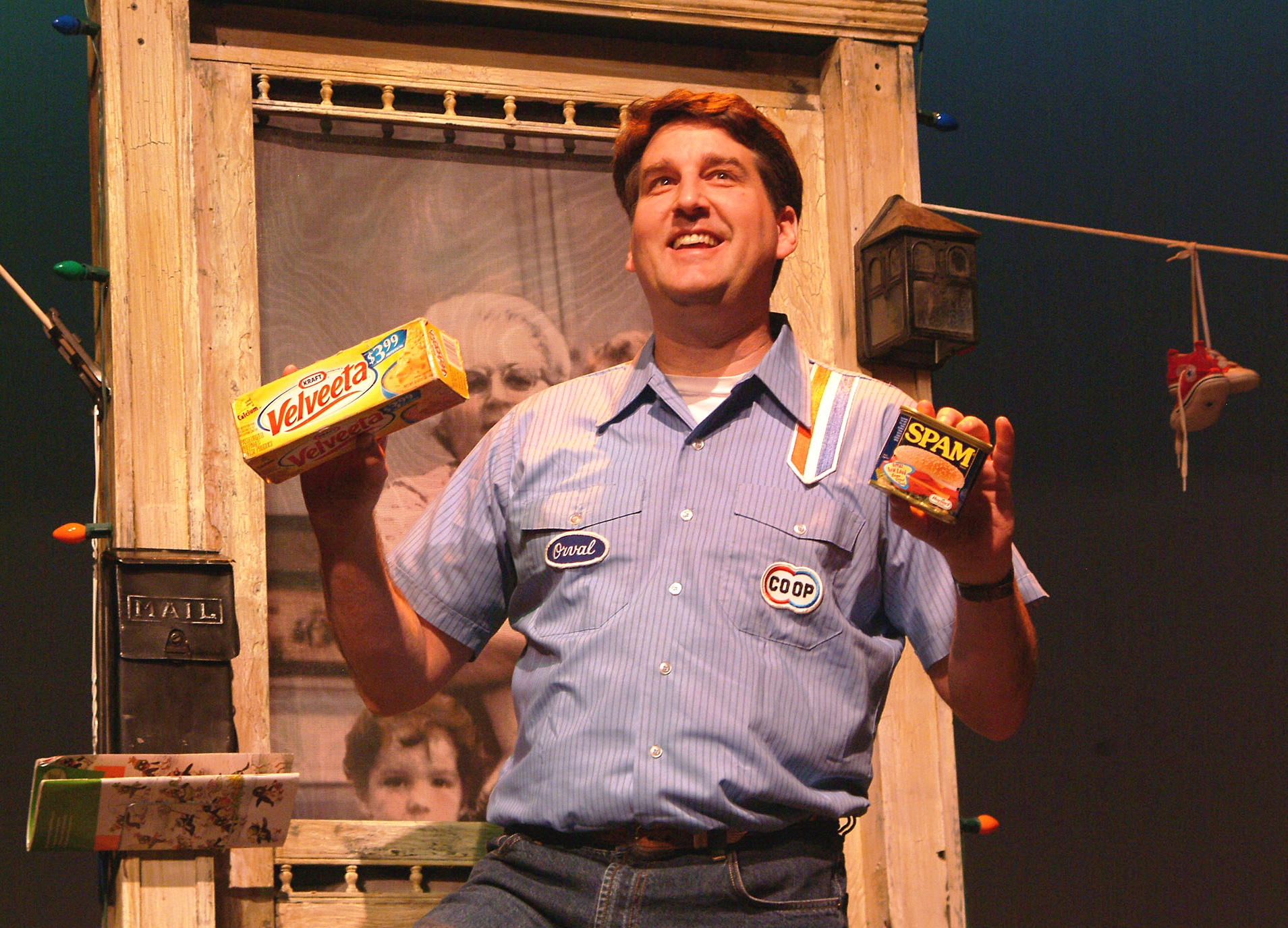 INTERVIEW:  Kyle Lawson, The Arizona Republic,  Aug. 7, 2005
The good ol' days. Big in legend, but in reality? No Paris Hilton to make fun of, no Steven Spielberg summer movies, no wardrobe malfunctions to liven up the game. How good is that?
Pat Hazell would have you believe that they were times to remember. The stand-up comic and former writer for Seinfeld, Lois & Clark and other television shows has put it all down in The Wonder Bread Years, a one-man ramble through a baby boomer's childhood.
The play, which stars John Mueller as Hazell, opened mid-July at the Herberger Theater Center for an indefinite run. Hazell, who is in his 40s, called recently to promote the engagement.
Question: Why The Wonder Bread Years?
Answer: It's a throwback to those grilled cheese sandwiches and tomato soup on sick days when I didn't go to school. I grew up in Omaha and, like every kid, I ate Wonder Bread. I don't think there was a choice. It lasted a week longer than any other bread, so every parent bought it. It's instant nostalgia for those of us who grew up in that period.
Q: What inspired you to delve into your past?
A: I wrote a play called Bunk Bed Brothers about two brothers who spend the night in their old childhood bedroom (which eventually morphed into NBC-TV's 1996 American Pie). It struck a chord with audiences, who caught all the references to the pop culture of the day. There seemed to be an interest in remembering a simpler time, so I wrote this play, which is about how we lost our wonder and got it back. I had a great time researching the toys, games and jingles and buying props off eBay. The response has been across the board. It doesn't matter if you're 65 or 25, there was a time when you were 5.
Q: After breaking into the stand-up comedy field in the '80s, you appeared with Johnny Carson and Jay Leno. But you're best known for your connection to Jerry Seinfeld. How did that come about?
A: Jerry saw my act at the Comedy and Magic Club in Hermosa Beach, California, and liked it. He asked me to open for him around the country. When he and Larry David were planning the series, they asked me to submit a sample. I sent them Bunk Bed Brothers, which was all that I had at the time. I was one of the first guys to get a job on the show.
Q: You toured with Seinfeld, then worked with him on the set. Did Seinfeld's success change him?
A: Not really. Jerry always plays himself. He grew with the series, but he's still a guy who enjoys delivering comedy to an audience more than being a star. He's very private about his time offstage. You won't seem him playing that Hollywood game. He's a consummate craftsman who took what he did best – making people laugh – and learned how to do it in a new medium.
Q: So much for Seinfeld. We really want to know about Teri Hatcher of Desperate Housewives and the star of Lois & Clark when you were writing for the series. Is she as fabulous as she seems?
A: She is more fabulous than you can possibly imagine. When I first moved to Hollywood, she was my next-door neighbor. She had just got a dancing part on The Love Boat or something and she was so excited. We became really close friends.
Q: She has always been supportive of you. We saw in the gossip mags where she attended a performance of The Wonder Bread Years.
A: She's been more than supportive. She's really the reason I got to write for Lois & Clark. She had an idea for a story and the producers suggested she find a writer to work with her in developing it. She's a very loyal person. She knows how fickle this business is, and she's very appreciative of the people who have been there for her. You couldn't find a more homespun person in Hollywood.
JANUARY 2005. "Aida" National Tour cancels & Theater League creates its own version.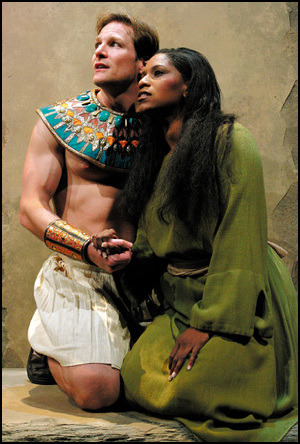 (Taken from the web) What do you do when the big Broadway show you booked cancels its national tour?
Why, stage your own version of the show, of course.
That's what Theater League did when the national tour of Elton John and Tim Rice's Aida, a pop-culture version of the Giuseppe Verdi opera by the same name, fell through. But rather than faithfully reproduce the Disney production, the company's producers went another way, while keeping the book and score the same.
"It's normally up, and light, and the producers wanted to make it real and classic," said director Andy Ferrara. "We've gone back to the pageantry (of Verdi's opera). Egyptians are dressed like Egyptians. We're making a definite effort to get away from the all-American look."
According to producer Patricia Kennedy, the new staging, which includes towering statues of Egyptian gods, and costumes taken from the San Francisco Opera, did not put off audiences, which was a comfort to nervous producers.
Still, had the audience not been so positive, Ferrara said he would have nonetheless taken on the challenge of making Aida his own.
The Northern California native started as a performer, doing shows at theaters and theme parks including Disneyland. He has directed many musicals over the past 10 years, big and small, including Joseph and the Technicolor Dreamcoat, Forever Plaid" and Barry Manilow's Copacabana. But he truly enjoys the big ones, saying he likes finding the subtle moments in the grander spectacles.
Aida, for instance, may be a huge show, with huge sets and a huge cast, but, boiled down, it's about a love triangle between three good people.
"The show itself is a tragedy," he said. "However, it's such a beautiful love story."
Aida tells the story of the Nubian princess Aida, who gets captured by the Egyptians during the war between their two countries. Fortunately for her, the Egyptians don't know who she is, or else she would have been killed instantly, but she winds up being enslaved with a large group of her people.
The man who captures her, Egyptian general Radames, first finds her difficult to deal with, but later, the two fall madly in love. Aida also catches the eye of the pharaoh's daughter, Princess Amneris, who likes her enough to make her her personal servant. Amneris becomes Aida's protector and friend, a dilemma for the Nubian princess, since Radames is Amneris' fiance. Even without Amneris, however, the romance is doomed because of Aida's family ties.
Since the female leads in the show are such strong characters, Ferrara had to look long and hard for the right actresses.
"We saw over 500 people for the entire show, and 20 Aidas in L.A. and New York," said Ferrara.
He wound up choosing Melodye Perry, who had been an understudy for the Aida role in the Broadway production. Well, actually, she was understudy to the understudy, which meant that she never got to play the part, though she played Nehebka throughout. So when Theater League offered her the role, she didn't hesitate to take it, even though it had a different look from the Broadway show.
"The set is different, it's cool, actually," she said. "Some things are probably more true."
The Los Angeles native has been performing professionally since she was 8 years old. She studied at the Hamilton High School Academy of Music, and has done background vocals for groups including the Eurythmics, Chicago and U2. Working with the Irish rockers proved especially amusing.
"Bono and Edge came to church with us," Perry said. "And only certain people knew who they were."
Playing Aida is really special to Perry.
"I fell in love with Aida, the story and the music. She's very strong. She has a lot to live up to," Perry said.
So does Perry. Her family has had quite a few musical successes. Her uncle was one of the writers on the 1961 hit "Please Mr. Postman." Her aunt is singer Darlene Love. Her father worked with Etta James.
"She's so me, it's ridiculous," said Perry of her character.
Perry even had an experience of star-crossed love, dating a man whose family didn't approve of interracial relationships. Incidentally, this relationship ended shortly before she started work on Aida, and, Perry said, inspired her to understand the princess's tortured relationship with Radames.
Perry's experience didn't include a fiancee like Amneris, but she and her co-star, Lesli Margherita, met when they both made the final callbacks for the Broadway Aida.
Like Perry and Ferrara, Margherita is a California native. And apart from almost working with Perry, she worked with Ferrara on A Chorus Line 10 years ago, when he was still a performer.
"I just adored him," said Margherita of Ferrara. "I've kept up with his career, and when I found out he was directing Aida, I auditioned."
Though the look of this production is quite different, Margherita said she was happy to see that some of the original show's campy aspects, particularly Amneris' big runway number where the fashion-obsessed princess indulges her addiction, remain.
"She really only cares about clothes," said Margherita. "It's not often you get to be that self-absorbed and get away with it."
The wonderful thing about Amneris, however, is that she goes from a shallow character to a complex one, Margherita said. Her friendship with Aida, and her disappointment in love bring out the best in Amneris, Margherita said, and the princess matures into a worthy leader by the end of the show.
This transformation makes the role interesting for Margherita, who said she usually gets to be the comic relief in shows, though she has worked in a number of television dramas, including The District and NYPD Blue.
Like Perry, Margherita drew inspiration for her character from real life. Margherita said she found out that John wrote one of Amneris' numbers, "I Know the Truth," for Princess Diana, who was a friend of his. In the song, Amneris' heart is broken when she realizes her fiance loves someone else.
"I think she's the best-written character in the show," Margherita said.
REVIEW of Aida from the Los Angeles Times. Jan. 13, 2005. Philip Brandes.
The populist reworking of star-crossed triangles and pyramids that is Aida returns to several Southland venues with a new look and feel, courtesy of an original production from Kansas City-based Theater League. It's a capable though rarely magical effort, best approached on its own terms rather than with Broadway-caliber expectations.
Tackling the epic Elton John-Tim Rice romance musical without recourse to the producing umbrella (and deep pockets) of the Walt Disney Co. was a gutsy move for Theater League, a presenter of civic light opera-level road shows. Seizing the opportunities afforded by its new Equity touring contract to amortize costs over a wider range of locations, the company's sizable investment is apparent in the production values and solid lead performances on display first at the Thousand Oaks Civic Arts Plaza, then moving to the Long Beach Terrace Theater and on to the Pasadena Civic Auditorium (and to the Orpheum Theatre, Phoenix).
Still, it's immediately apparent that this Aida isn't in the same theater league (sorry) as the megabuck spectacle that played the Ahmanson Theatre in 2001. In place of slyly modernist stylistic flourishes, this one takes a more straightforward approach to its costumes and scenic design, drawing on the traditional scholarly wellsprings that have shaped our images of ancient Egypt: The Ten Commandments, touring King Tut exhibits, the Luxor Hotel in Vegas.
Dazzling special effects like the famous floating bathers in the swimming pool as seen from above in "My Strongest Suit" have been cut back to more budget-friendly scale (in this case, a fashion show runway parody).
Visual inventiveness, however, isn't the primary objective here. Amid the requisite quasi-biblical breastplates, tunics and portable painted flats of temples, palaces and tombs, Andy Ferrara's staging focuses on telling the story, whose operatic roots entail far more maturity and depth than other theatrical offerings from the Disney dream factory.
In the title role, Melodye Perry brings smoldering confidence and a lovely singing voice to the Nubian princess torn between loyalty to her people and love for Radames, the handsome Egyptian warrior who has enslaved her.
In a case of life imitating Broadway legend, understudy Craig Cady ably covers the part of Radames for Jaymes Hodges, sidelined for the time being by an onstage injury. His portrayal hits the right mix of compassion without sacrificing virility.
Sobering issues of interracial taboos, domination and submission, and class conflict all shape the characters' destinies in this sobering show, which has more thematic affinity with The King and I than with The Lion King — especially in its celebration of the human capacity for self-transformation in the face of adversity.
Radames' growing recognition of the injustice and oppression inherent in the system he represents movingly parallels Aida's ability to go beyond her hatred for the Egyptian conquerors to see the heroism in her lover.
Covering the greatest distance is Egyptian Princess Amneris (Lesli Margherita), the would-be rival for Radames' affections, who evolves from self-absorbed fashion plate to wise ruler.
Supporting cast standouts include Jeffrey Rockwell as Radames' traitorous father and Ron Kellum as Aida's fellow slave and stalwart confidante. In his brief stage time, Marc Cedric Smith's dignified presence as Aida's father is undermined when he pushes his escape raft away from Aida even as he's supposed to be reaching for her (surely there's a more convincing way to stage this).
The greatest limitation, however, is inherent in the show itself — John's bland pop score and Rice's cliched lyrics do not further the substantive currents of the exposition-heavy book by Linda Wolverton, Robert Falls and David Henry Hwang. When characters achieve their pivotal recognitions during song rather than through song, that's never a good thing in a musical.
OCTOBER 2004 "Tea at Five," Theater League, Orpheum Theatre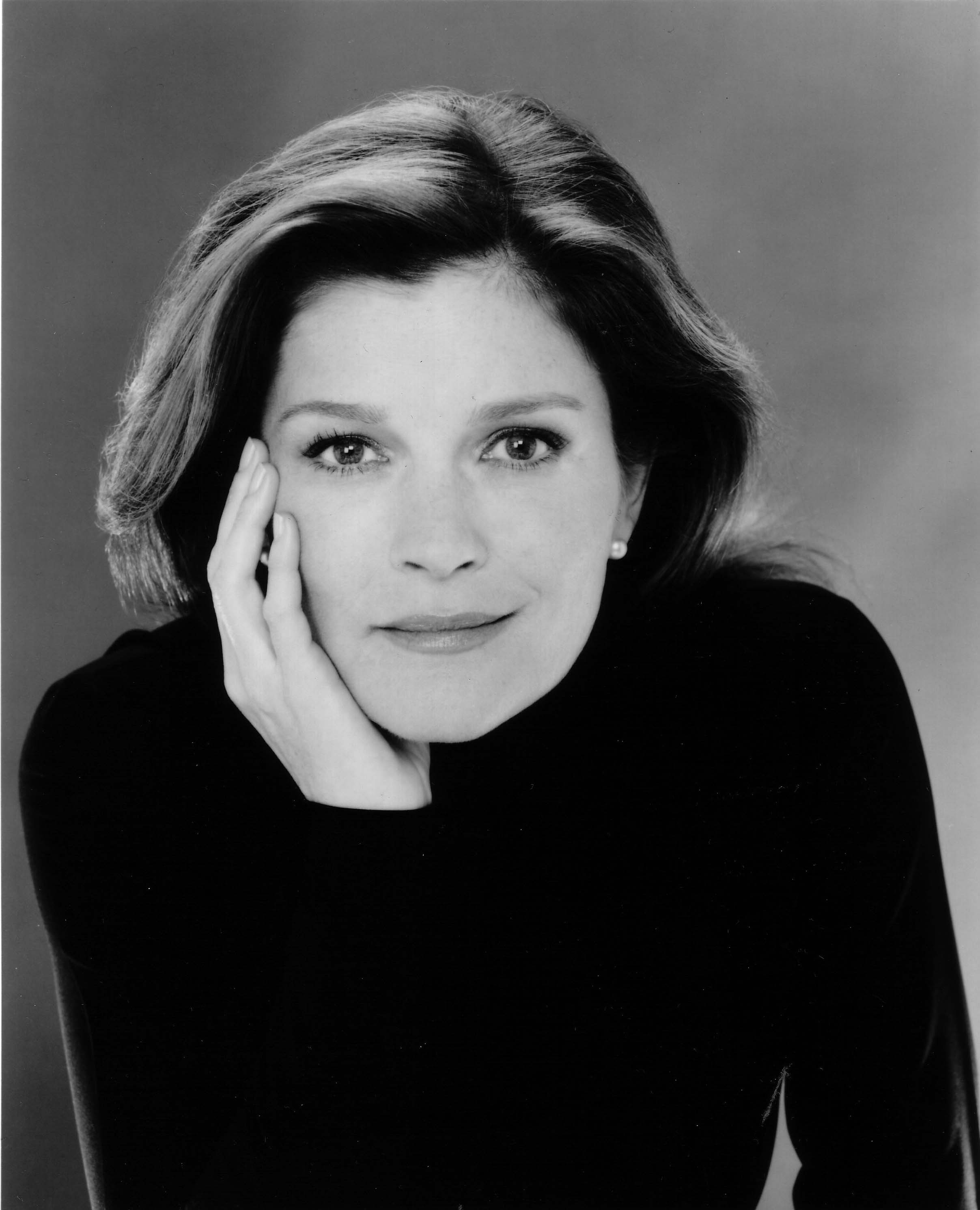 INTERVIEW: Kyle Lawson, Arizona Republic, Oct. 3, 2004
She was made for making an entrance.
Not tall, really, but with a carriage her mother would have insisted upon as proper posture, contradicted by a slight, angular lurch that brings a coltish eccentricity to her gait.
The hair, abundantly auburn, tumbles about the edges of her face, softening cheekbones etched with a harsh geometry. The voice is flinty, overlaid with a touch of huskiness that, when she chooses, she can use to devastating effect.
Katharine Hepburn?
No. Kate Mulgrew.
When Theater League announced that Mulgrew would appear at the Orpheum Theatre in Tea at Five, a play about Hepburn, the initial reaction was "Of course."
Few viewers of TV's Star Trek: Voyager have failed to notice Mulgrew's resemblance to the legendary film star. Certain camera angles make it seem as if Hepburn has taken over the body of Capt. Kathryn Janeway. It might be disconcerting if it weren't for the fact that Hepburn would have made a dandy starship captain.
In Mulgrew's early career, an interviewer would have brought up her resemblance to Hepburn at his peril.
"Growing up, my feelings for Katharine Hepburn were less than affectionate," Mulgrew says. "That can be put down to frustration over being so often compared to her. To a young girl who wanted to be an actress in her own right, such off-the-wall comparisons were odious."
The years have mellowed that girl.
"Now that I'm older, I love them," says Mulgrew, 49.
Because the cheekbones and the voice were gifts of birth, she's not above using them in her portrayal of Hepburn.
"On the stage, the lighting takes over," Mulgrew says, on the phone from her home in Cleveland. "Even I must admit the likeness is startling."
It stops there. Mulgrew says she was never interested in doing a literal impersonation of Hepburn.
"That's been done by every drag queen from here to Texas," she says. "I never met the lady, but I have done a great deal of research. My Hepburn is a mixture of reality and my imagination."
For Mulgrew, the key came when she finally understood what drove Hepburn.
"Underneath that Yankee grit was a great vulnerability, almost sadness," Mulgrew says. "There were terrible things in her life."
The greatest tragedy was her brother's death when she was 13. Hepburn found her sibling hanging from the rafters. She cut him down. Her father forbid her to talk of it. Hepburns did not commit suicide.
"She buried it deeply, but she never escaped the grief," Mulgrew says. "It is why she took such a direct aim on Hollywood. What could she lose that she hadn't already lost? She spent the rest of her life trying to understand why her brother killed himself, but she never did."
A new film, The Aviator (due in December), deals with Hepburn's affair with Howard Hughes in the 1930s. Tea at Five mentions it but concentrates on Hepburn's union with Spencer Tracy. That relationship lasted more than 30 years, although Tracy's Catholicism kept him from divorcing his wife and marrying Hepburn.
"Spencer Tracy was the love of her life – he was her life," Mulgrew says. "Howard Hughes wasn't important to her. His eccentricities drove her nuts – though, God knows, she was the queen of eccentricities herself."
Mulgrew is never surprised when Hepburn's name pops up on lists of all-time great role models for women.
"She wouldn't take 'no' for an answer, and when she got a 'no' it didn't bother her at all," Mulgrew says. "Her attitude was, 'I'm going to do it my way,' and she injected herself straight into Hollywood and broke down the old boys' club. Any woman would respond to that strength and keen intelligence. Katharine Hepburn was not a bimbo, that's for sure."
But would she have been a starship captain?
Mulgrew thinks not.
"In all my research, I never came across any indication that Hepburn had the slightest interest in space or the future. She was very much about the here and now. Happily, I get to keep the starship for myself."
JULY 1992, "Nunsense," starring Patricia Kennedy.