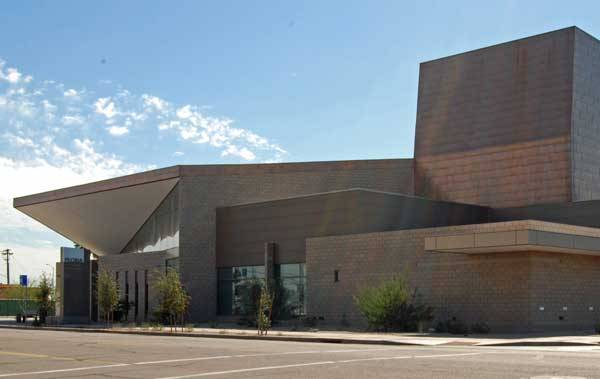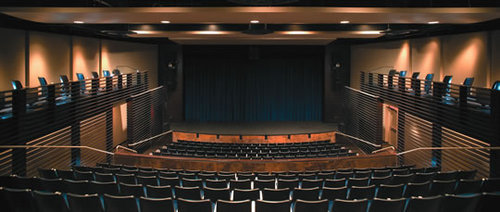 Theater Works was founded in September of 1986 as a non-profit community theater by a group of theater patrons who believed that the northwest area of suburban Phoenix needed and was ready to support, a community theater.
David Wo was the driving force behind the start of Theater Works. He was aided in this endeavor by parents of participants of children's programs put on by David and other lovers of live theater.
It took less than four months to secure financial backing, lease a facility, and organize a board of directors to oversee various volunteer committees. The first year featured seven Main Stage productions, a high school production and a nine-week children's workshop saluting the work of Rodgers and Hammerstein.
For a time, just like in the Judy Garland-Mickey Rooney movies, David and his talented band of artists performed in a barn converted into a theater.
More than another other person and company, David and Theater Works carved a niche for the musicals of Stephen Sondheim in the Valley. Their production of Assassins was esteemed so highly that it was brought downtown to the Herberger Theater Center.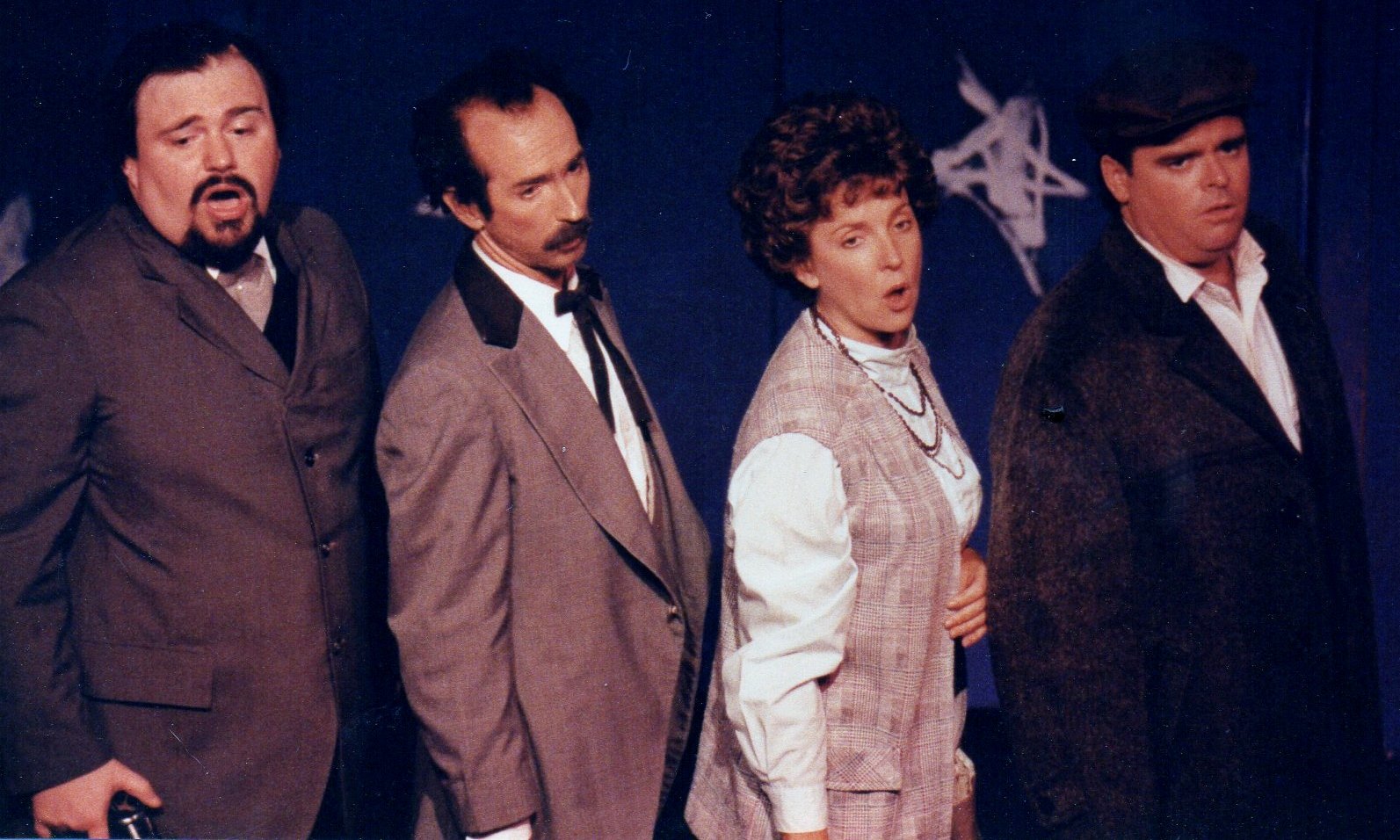 Kids Alive, was the first flagship outreach program for children between the ages of 6 and 18, was created in 1987, with a variety of learning and performing opportunities. September of the second year saw the introduction of a season of shows especially for children called Wonder Works. In 1990, Theater Works expanded its children's program by creating a touring program named Wonder Works on Tour.
In September of 1997, at the beginning of the 1997-98 Main Stage season, founder David Wo died. With David's death theater in the Phoenix metropolitan area lost a great teacher.
"Don't ever doubt there are giants in the land. We lost one of them recently. As much as any individual, and more than most, David Wo was theater in this town. He loved the art passionately. He strived to make it available and accessible – not the same thing by a long shot. He worked hard to develop and nurture the next generation of artists."
FOOTLIGHTS, Kyle Lawson, Arizona Republic
Following David Wo's death, Theater Works went from an organization run primarily by the founder to an institution surviving through the continued efforts of its staff and board.
In February 2007 ,Theater Works moved to a new permanent venue, Peoria Center for the Performing Arts, a $13 million facility and signed a 20-year facility management agreement with the City of Peoria.
Theater Works new home has a 270-seat state-of-the-art Main Stage theater and an 80-seat Black Box theater, classrooms, set construction and costume shops and dressing rooms.
In recent years, under the direction of Robyn Allen, Theater Works has returned to its earlier position as one of the premier theaters operating in the Valley. However, she recently left the company, reportedly due to budgetary reasons.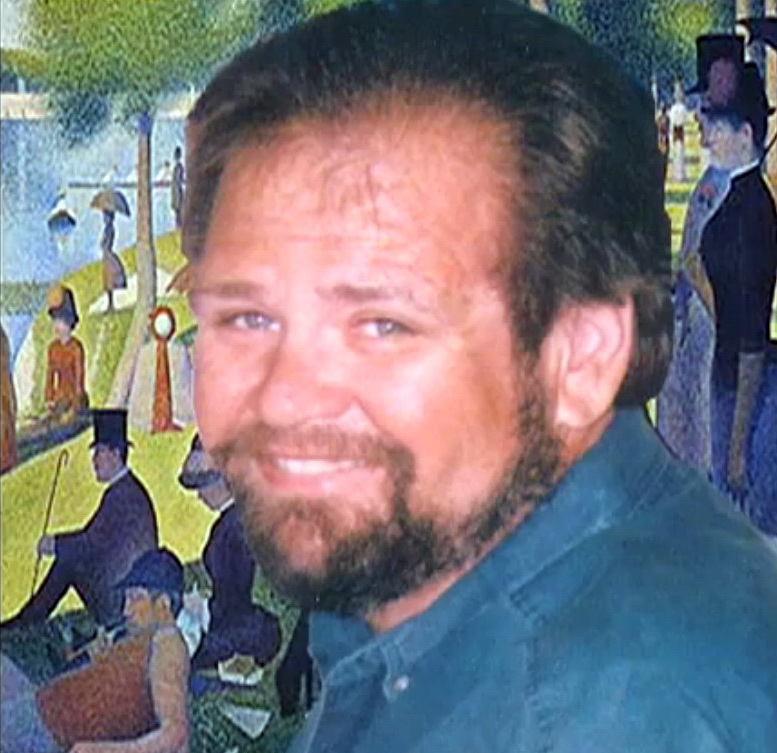 You Tube tribute to Daniel Wo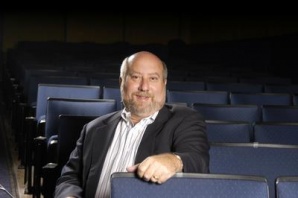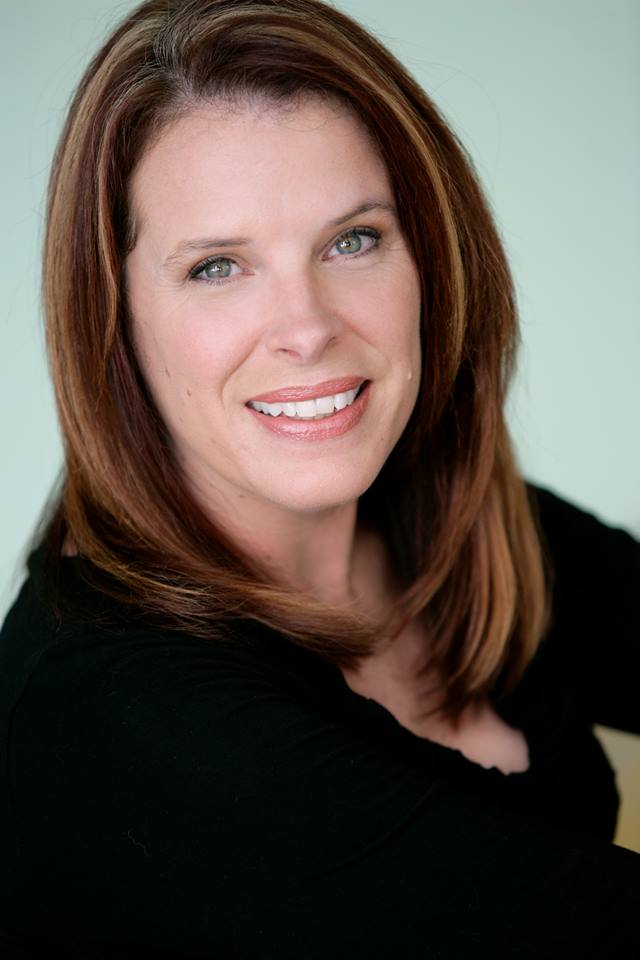 2014-2015 SEASON
I Get a Kick out of Cole
Music and Lyrics by Cole Porter; Adapted by / Musical Director- Steve Hilderbrand
September 5, 2014 – September 28, 2014
The Tales from the Arabian Nights
September 12, 2014 – September 28, 2014
YouthWorks Production
Night of the Living Dead
by Lori Allen Ohm. Based on George Romero and John Russo's original film
October 10, 2014 – November 2, 2014
YouthWorks Production
How to Succeed in Business Without Really Trying
Music and Lyrics by Frank Loesser, Book by Abe Burrows, Jack Weinstock and Willie Gilbert
October 17, 2014 – November 9, 2014
The Quiltmaker's Gift
Based on the Book by Jeff Brumbaugh, Adapted by Alan J. Prewitt
Lyrics by Steven Mark Kohn, Music by Craig Bohmler
December 6, 2014 – December 21, 2014
Shifting Gears
by Richard Warren
January 9, 2015 – February 1, 2015
13, the Musical
Music and Lyrics by Jason Robert Brown
Book by Dan Elish and Robert Horn
January 16, 2015 – February 1, 2015
YouthWorks Production
Follies
Music & Lyrics by Stephen Sondheim, Book by James Goldman
February 20, 2015 – March 15, 2015
One Flew Over the Cuckoo's Nest
by Dale Wasserman
March 27, 2015 – April 19, 2015
A Year with Frog and Toad
Music by Robert Reale, Lyrics and Book by Willie Reale
Based on the Frog and Toad children's stories by Arnold Lobel
May 8, 2015 – May 24, 2015
YouthWorks Production
PHOTOGRAPHS, REVIEWS & THE KITCHEN SINK
FACEBOOK, SEPT. 16, 2015: RICHARD POWERS-HARDT
I have an amazing cast for "Almost Maine" at Theater Works Live, Peoria, Az. BJ Garrett, Amanda Melby, Amy Garland and Scott Hyder.  Along with my amazing Stage Manager, Jean Goettertz,  and my tech support crew  Brett Aiken, Tamara Diersen Treat, Matthew Sanders, and my lovely, talented wife Kimberly Powers-Hardt, this is going to be a great show!
2015. VIVA DIVAS. Cast: Kathleen Berger, Julie Wyma Furlong. Pianist: Steve Hildebrand. An evening of Italian opera and wine.

2015. FOLLIES. Music: Stephen Sondheim. Director: Philip Fazio. Cast: Patti Suarez, Kelli James, Scott Hyder, Rusty Ferracane. Beth Anne Johnson, Laura Pyper, Jacqui Notorio, Kathleen Berger, Heather Fallon, Marty Merger, Ken Goodenberger, Sky Donovan.
2014. I GET A KICK OUT OF COLE. Music & Lyrics: Cole Porter. Musical Adaptation/Direction: Steven Hilderbrand. Conceived by Steve Hilderbrand and Gary Gallner. Cast: Roger K. Nelson, Steve Hilderbrand, Kathleen Berger, Dominik R. Rebilas, Marie Gouba, Van Katz, Alanna Kalbfleisch, Tony Blosser, Alberto Allende, Brenda Goodenberger, Alexandra Utpadel and Ken Goodenberger. Lighting Designer: Tim Monson. Costume Designer: Tamara Diersen Treat. Hair and Make-Up Designer: Jean Tanton.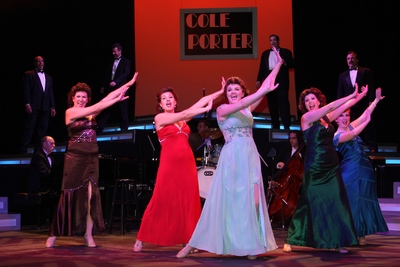 Roger K. Nelson, Steve Hilderbrand, Kathleen Berger, Dominik R. Rebilas, Marie Gouba, Van Katz, Alanna Kalbfleisch, Tony Blosser, Alberto Allende, Brenda Goodenberger, Alexandra Utpadel and Ken Goodenberger. Photograph by Skye Fallon.
* Talkin' Broadway review by Gil Benbrook.Known for his lush music and lyrics that are both romantic and witty, American composer Cole Porter wrote a string of hit songs in the first half of the 20th century and found great success on Broadway as well as in Hollywood, writing dozens of scores for the stage and screen. While he is best known today for writing the music for Anything Goes and Kiss Me, Kate, he also composed a non-stop stream of songs that are part of the American Songbook, including many from his lesser known musicals such as "Night and Day," "Love for Sale," "True Love" and "My Heart Belongs to Daddy." With such a vast catalog of memorable songs, there have been numerous Cole Porter revues over the years and Theater Works in Peoria is presenting the premiere production of a fantastic new cabaret show entitled I Get a Kick Out of Cole.
Conceived by Steve Hilderbrand and Gary Gallner, with Hilderbrand also providing some excellent musical arrangements as well as the staging of the show, I Get a Kick Out of Cole is biographical in nature. Using about fifty of Porter's songs to comment upon his life, both the highs and the lows, the show is a virtual greatest hits collection of Cole's music with nine talented singers providing nicely varied voices to sing the songs and tell Porter's story.
Born in Indiana, then schooled at both Yale and Harvard, Porter moved to Paris after his first show flopped on Broadway. There he met older American socialite Linda Lee Thomas, whom he eventually married, even though he was gay. I Get a Kick Out of Cole touches upon all of these points as well as Porter's return to Broadway in the late 1920s with his first successful show, Paris, which featured "Let's Do It, Let's Fall in Love." This was followed by more shows, writing scores for Hollywood, and his first huge Broadway hit Anything Goes in 1934. While a serious horseback riding accident in 1937 that crushed both of his legs kept Porter wheelchair-bound for the remainder of his life, he still kept writing, with more scores for Broadway and Hollywood and in 1948, the Broadway smash Kiss Me, Kate before his death in 1964.
With a simple yet elegant set comprised of two descending staircases that surround an impressive jazz trio led by Hilderbrand on piano, the cast of nine, dressed in tuxedos and evening gowns, sing the Porter songs and tell his story as if we are all guests at an elegant cocktail party in a large New York penthouse apartment. The sophisticated setting and finely detailed costumes by Tamara Treat work perfectly together, yet don't pull the focus away from Porter's life, lyrics and music.
All nine cast members are skilled vocalists and have no problem in navigating Porter's more tricky lyrics. A true ensemble piece, all nine have numerous moments to shine, both in solos, duets and full ensemble pieces, and, while there are many highlights in the show, here are some of my favorites: Marie Gouba delivers both "Down in the Depths" and "Make it Another Old Fashioned Please" with perfect diction, becoming the women in the songs and drawing out the meaning from the lyrics. Likewise, Kathleen Berger's "Love For Sale" is perfectly sung, with intense emotions. Her "I Love Paris" and "So in Love" include some lovely moments as well, with Berger's singing in her higher register quite effective.
Brenda Goodenberger delivers a smashing, comical take on Nymph Errant's "The Physician" as well as a funny snippet of Kiss Me, Kate's "I Hate Men." Alanna Kalbfleisch is a comic gem, with her humorous facial expressions perfectly complementing the humorous lyrics for both "Lost Liberty Blues" and "My Heart Belongs to Daddy." She also provides some sexy choreographed movement, perfectly in sync with the drummer, for "I've Got You Under My Skin." Alexandra Utpadel delivers a hilarious take on "Laziest Gal in Town," lazily leaning back against the piano at one point, but also sings a touching "True Love" from Porter's film score for High Society. Utpadel, Kalbfleisch and Goodenberger also provide lush harmonies on "Most Gentlemen Don't Like Love."
Dominik R. Rebilas delivers winning versions of "Take Me Back to Manhattan;" "I'm a Gigolo," which receives a lovely jazzy arrangement; "Dream Dancing," with a nicely choreographed soft shoe moment; and a romantic "I Love You" that segues into a lovely moment with Gouba where they "Begin the Beguine." "I Worship You" gets a soulful rendition from Roger Nelson, and Tony Blosser sings a touching "At Long Last Love." Ken Goodenberger (Brenda's husband) delivers a forceful "I Happen to Like New York" and with his wife sings a spirited version of "It's De-Lovely" that includes some lyrics from the song that aren't often heard.
There are some excellent full ensemble numbers as well as an act one "swanky" New York party sequence that incorporates a parade of Porter songs, an upbeat sung entr'acte, and a winning sequence of Kiss Me, Kate songs. Berger also has a poignant solo take on "Every Time We Say Goodbye" that ends the evening with the entire company joining in a capella to deliver a beautiful moment of lush harmonies.
Hilderbrand's staging is quite effective, with efficient, varied use of the entire stage, the multiple entrances, and those long staircases. There are some nice touches throughout, including a simple yet effective one in "Too Darn Hot" where the women remove the men's red handkerchiefs to wipe their foreheads. Treat's gowns for the women include colorful ones in the first act, and sets of black and white ones in act two, as well as black tuxedos for the men in the first part and white ones toward the end. Tim Monson's lighting design is colorful and lush and fits perfectly with the moods of each song and sequence.
The three-piece band is superb, with Alberto Allende on string bass and Van Katz on drums both providing skilled playing and perfectly supporting Hilderbrand on the piano. Hilderbrand's arrangements fit perfectly with the period of the songs yet add modern touches to make the songs even more universal.
Just a couple of small quibbles—while the show's narration of Porter's life is presented chronologically, there is a slight glitch in the forward thrust of the show at one point. Porter's decision to go to work in Hollywood is talked about after we are told about his accident, but the accident happened two years later. Even though it is stated that the year he went to Hollywood was 1935, a little clarification would help in letting us know that he actually went West before he was wheelchair bound. Also, one song during that sequence, "My Heart Belongs to Daddy," while sung by Mary Martin in a 1940 film, was actually originated by her in Porter's 1938 Broadway musical Leave It to Me. Clarifying the details of the narration would improve the accuracy of the show. Also, an earlier piece of narration that states that Porter was unlike his contemporaries Irving Berlin and the Gershwins, who were Jewish immigrants "exploiting their talents to escape the poverty of the lower East Side," seems a bit forceful, and somewhat inaccurate, in the use of the word "exploiting."
But those are just a few small details that can easily be fixed, as Hilderbrand and Gallner have conceived a thoroughly enjoyable, touching and effective way to honor the legacy of music of Porter and with a few small tweaks I could see this revue having a very long life. With fantastic arrangements and musical direction, a smoking trio of musicians, and a winning cast, to quote a famous Porter lyric, "what a swell party" I Get a Kick Out of Cole is.
2014. THE DARK OF THE MOON

2014. NATIONAL PASTIME.   Director: David Vining​. Book: Tony Sportiello. Music & Lyrics: Al Tapper. Music Direction: Steven or Steve Hilderbrand​, conducting a 7-piece band. Choreography: Hilary Hirsch​. Cast: Alanna Kalbfleisch, Sarah Wolter​, Joseph Kremer​ Ian Christiansen​, Anne-Marie O'Reilly, Tony Blosser, Samantha Isley, Andrea Small, Lee Pitts, Michael Schwenke, Ryanne Sackville-West, Scott Hyder, Alexandra Utpadel, Jason Washburn, Lindsay Newhard. Scenic Design: Thom Gilseth. Lighting Design: Paul Black​. Costumes: Tamara Diersen Treat​. Sound Design: Stephen Christensen. Stage Manager: Paris D Rhoad. Properties: Petey Swartz.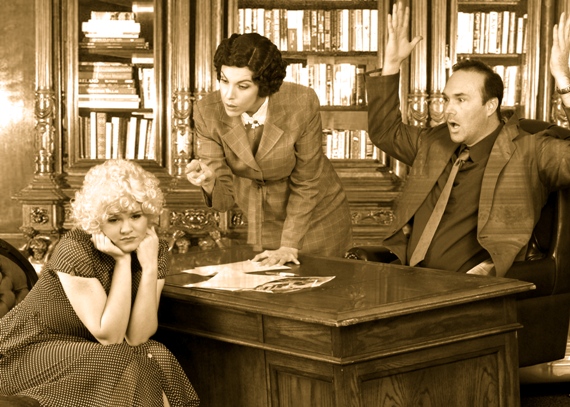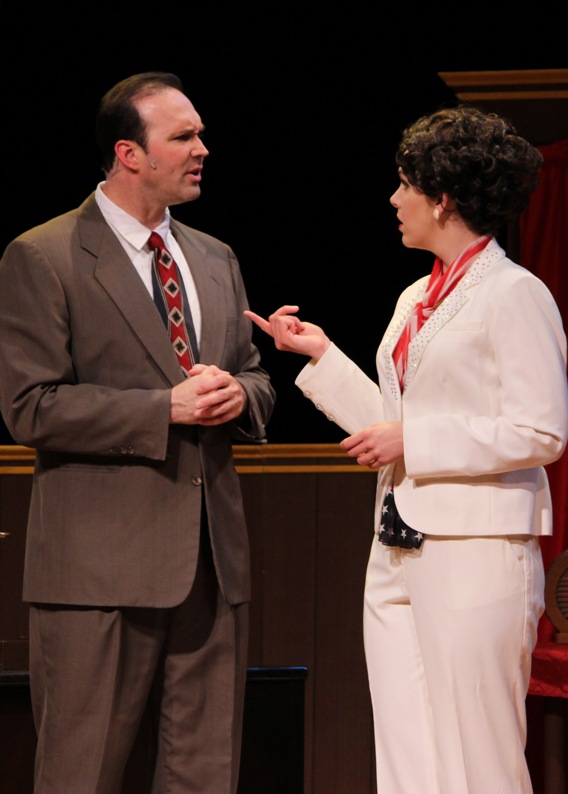 * Review of "National Pastime" by Julie Petersen, Phoenix New Times, published March 28, 2014.
The setup: Three American cities have hosted "tryout" productions this season of National Pastime, a new musical with an interesting little history and a super-adorable, relatively plausible premise. Its creators continue to project optimism about its suitability for Broadway, or at least they did before it opened at Theater Works.
Much better shows than this have closed within days of opening on Broadway, so I think the production team would have to kidnap someone really important to raise the necessary $9 million they estimate needing — but that doesn't mean it isn't fun to watch in its current incarnation.
Al Tapper, a former venture capitalist and/or leveraged buyout specialist, depending where you get your news, has always wanted to write a Broadway musical. He has written some musicals, so that part's in place. His collection of baseball memorabilia would probably attract enough people to fill a theater if a theater could afford to insure it.
Tapper's friends with Tony Sportiello, who wrote a one-act comedy for the Baseball Hall of Fame that has evolved, with years of development and Tapper's score, into National Pastime.
The execution: Hands down, the weak link here is Tapper's lyrics, which is unfortunate since he's the guy with the money and the dream. The show is still obviously a nicely paced screwball comedy with songs dropped into it, but that flow is not as hard to fix as the songs themselves, plentiful examples of Bad New Song syndrome writ large.
Most are melodies with superfluous, vague phrases written to fit them, phrases that often forgo a perfectly sensible word that would have resulted in a satisfying rhyme, almost as though the words were once there and have been replaced. Stress on odd syllables and other awkwardnesses abound. Two or three of the numbers are solid songs that are just in the wrong place in the action. No matter what, they tend to kill momentum.
Then there are the three Act I numbers that get the whole 14-person company spread out downstage for a big finish. These ironically provide unintended momentum — the first one makes you think there's going to be an intermission right afterward, but there isn't. The second is cleverly called "If We Build It They Will Come," and I dry-swallowed my medication after I still saw no house lights on its heels. The third is the money shot, as balloons drop from the ceiling onto the audience. So now you know. (I don't think this is the "rule of three" writers talk about.)
Other critics have mentioned that the music itself is kind of pop-rocky for a show set in a small town in 1933. I was too overwhelmed by listening to the words to be even slightly bothered by that. Steve Hilderbrand's seven-piece pit band plays like champs. And the brisk harmony of the three Jingle Girls — who mostly sing commercials and station IDs just the way they used to sound — give the score its most successful moments.
I had trouble making out what the female soloists were singing over the accompaniment, but when I realized the lyrical content didn't matter, I was able to relax. My companion suggested that turning up the ladies' mics might have solved the problem. I'm not the queen of sound design, so I don't know, but it does seem that if you could fix that, you'd have done so by the third weekend of the run.
The show really is mostly enjoyable, with a juiced-up, talented cast nicely wrangled by David Vining, a well-crafted set from the reliable Thom Gilseth, striking costumes, and a witty script. The manager of Baker City, Iowa's radio station (Joe Kremer) is already having trouble paying its staff when a smooth-talking Chicago lawyer (Sarah Wolter, leggy and fierce) shows up to further endanger WZBQ.
Of course, romantic sparks also fly, leading Kremer's character to deliver one of my favorite lines to Wolter's, consoling her about the dismal meet-cute story of her parents — a woman who bought "invisible fish" 13 times and the charming carny who sold them to her: "Hey, anyone can sell a real fish." (I may be paraphrasing.)
Saving the station and the town involves resurrecting a defunct minor-league team — but only on the radio. WZBQ's exclusive broadcasts of the undefeated Baker City Cougars, conveniently playing "in Europe," are not very different from early airings of real games, which were narrated by announcers based on teletype copy, with live sound effects. It's a super-fun device, even though we see it employed for only a few minutes a couple of times.
Everyone in the cast does a seriously terrific job, and it's definitely an ensemble show, with plenty of stage time and great moments for almost everyone. Singing voices are strong and sure all around, and Ian Christiansen stands out as Joe Miller, a heart-of-gold Windy City gangster recruited to impersonate the Cougars' ace center fielder for photographs and interviews from places like "Portugal" via the dubious magic of radio.
Christensen's unerringly smooth seduction of WZBQ staffer Mary (Anne-Marie O'Reilly, who gets to belt holy hell out of another out-of-nowhere solo that tries to provide backstory but delivers only WTF?) is solid gold. Receptionist Betty Lou (played by Alanna Kalbfleisch, who I hope never changes her name) dreams of Hollywood and gets funnier and bigger and weirder, in an endearing fashion, as the high jinks roll on, nailing a later scorcher, "Watch Me Shine," whose lyrics actually work for her character and situation, marred only by the skid marks left by the plot screeching to a halt so that she can sing it.
The verdict: "Plucky" and "spunky" are the words that come to mind to describe the lovable loons of National Pastime. Unless you are Lou Grant, you will probably laugh and root for them at the same time. It's possible that, if the show's authors never stop dreaming, they will also never stop rewriting. As it is, though, don't tell yourself you're getting in on the ground floor of anything.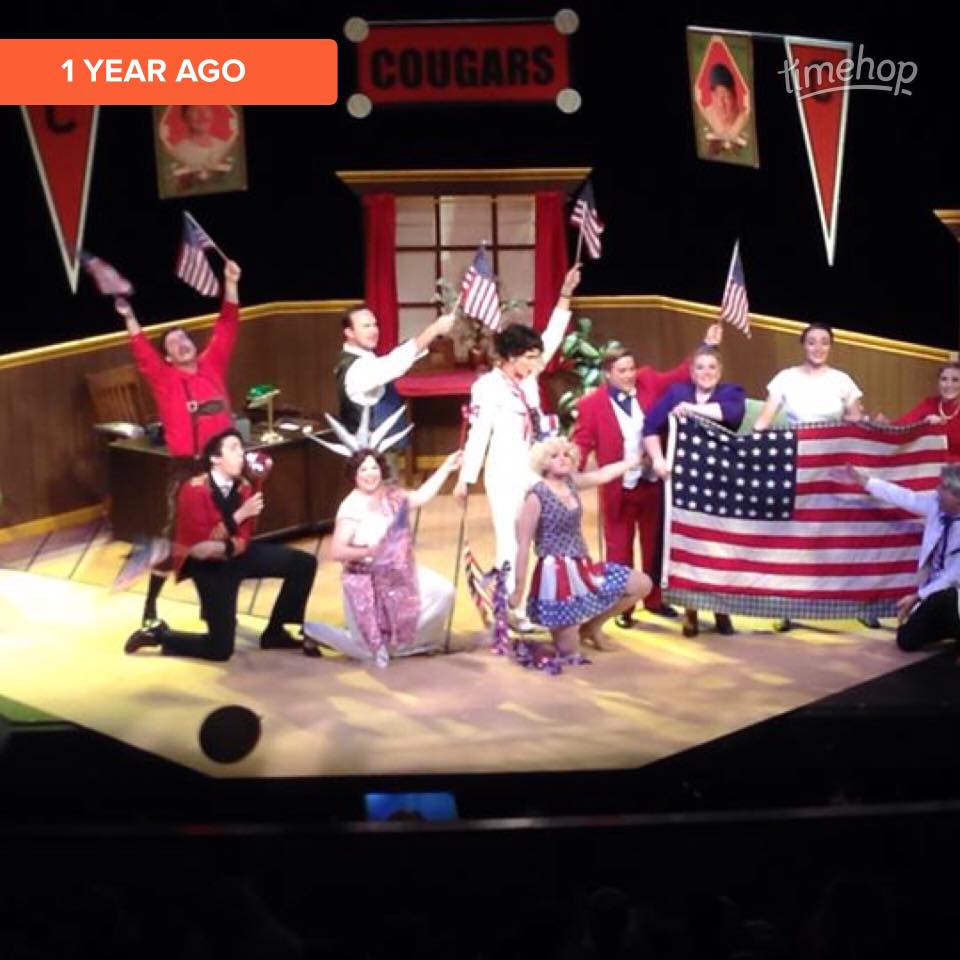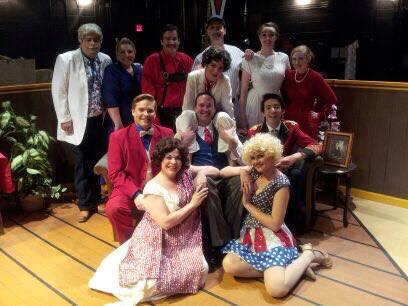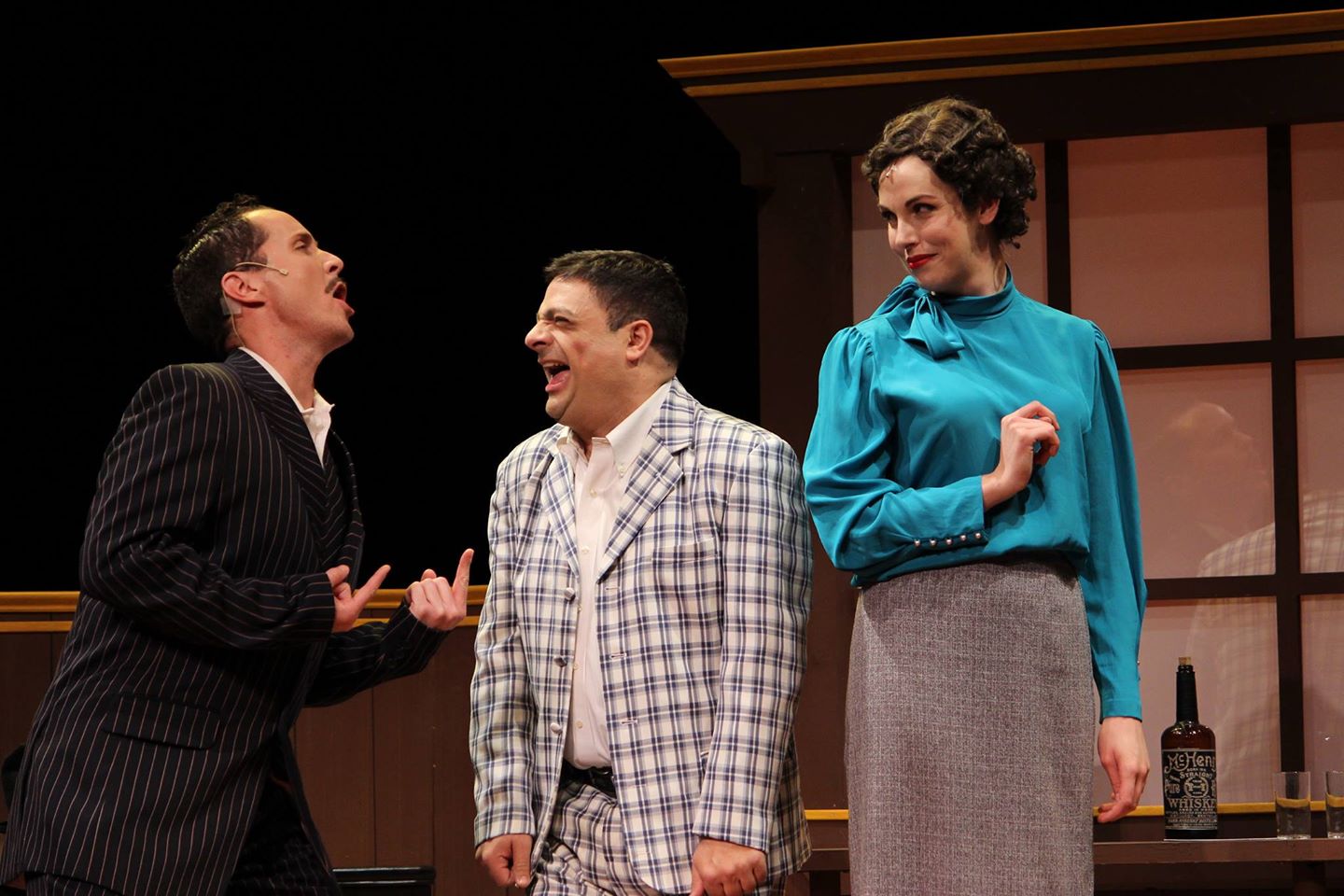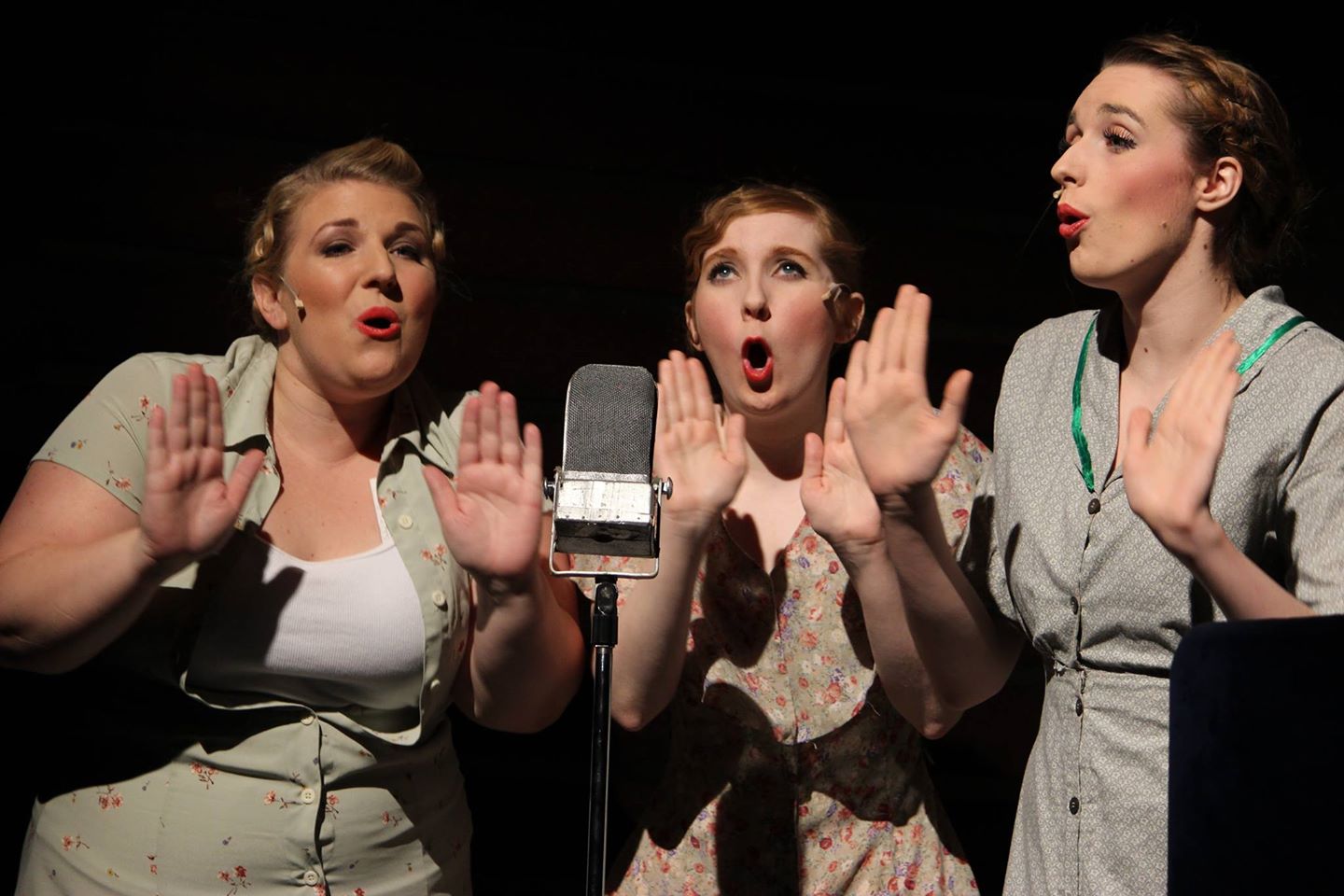 * Review of "National Pastime" by Chris Curcio, Curtain Up Phoenix, March 17, 2014.
Local theaters are presenting more new plays and musicals every season.  Theater Works, the ambitious West Valley troupe, is presenting a winning production of the new musical "National Pastime" that still needs lots of work before it will ever be successful.
Don't be fooled by the title.  The new musical with book by Tony Sportiello and songs by Al Tapper is about baseball but it's also about 1933 American music, styles, and radio, but claimed parallels to those screwball '30s movie comedies never happens clearly.  Set in small town Baker City, Iowa, a fictionalized baseball team is created to save the only local radio station.  Since the team can't be seen, the creators claim it plays only in Europe.  A magazine reporter attempts to do a background story on the new team.
Predictable avoidance keeps the show and the team going but there are major problems with "National Pastime."  The over two dozen songs add little to the show and rarely capture the period's musical sound.  Most of the tunes add little clarification to the frail plot and many songs slow "National Pastime" to a dastardly crawl adding unnecessary squirmy time to an already draggy show.
Originally a play, the best way to fix "National Pastime" would be to eliminate the bland songs and focus on the silly plot so the show could become a zingy period comedy slam.  It's not a good musical.
The show aside, Theater Works' production is performed by stalwart talents.  Forceful Sarah Wolter plays Karen, one of the team creators, with pushy gusto.  She's paired with Joseph Kremer's funny Barry who's only goal is to make the radio station viable again.  Scott Hyder's Vinnie and Ian Christensen's Joe are the baseball team's stars who never hit a ball but act out team activities with fervor in the studio.  Tony Blosser and Michael Schwenke are aggressive local announcers who call the fake games cleverly to rally the locals.  Alanna Kalbfleisch is funny as the station and the team's receptionist.
Director David Vining's sharp staging squeezes malarkey out of the weak script by crafting several cute comic moments and Steve Hilderbrand leads the small orchestra through the blah score with zest.  "National Pastime" doesn't provide the talented performers or stagers with enough truly funny material.
"National Pastime's" wacky and silly ideas need to be stated quickly before audiences realize the slender inanities that are occurring and the music should be eliminated.  As it is now "National Pastime" won't make it on Broadway where it aspires to play.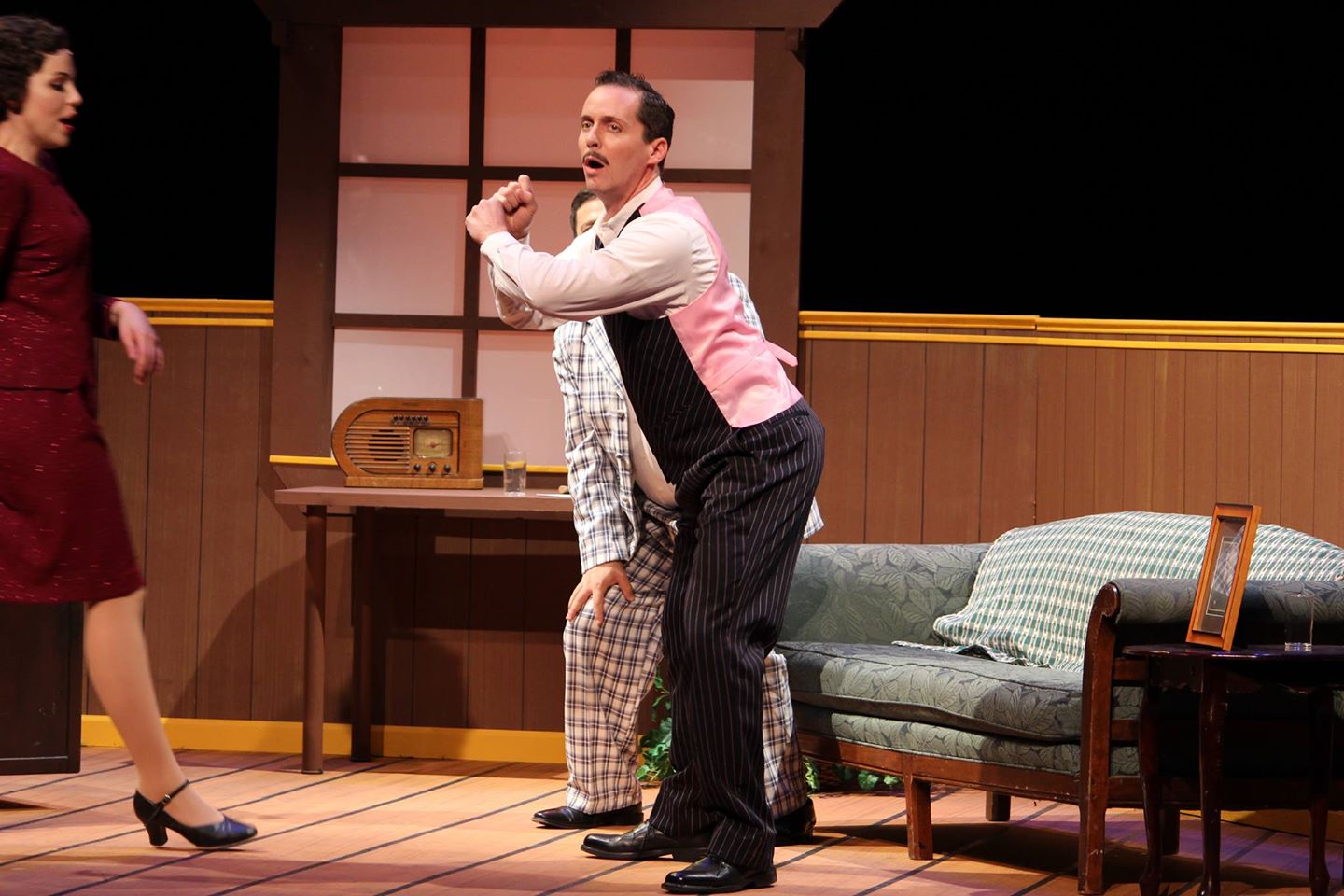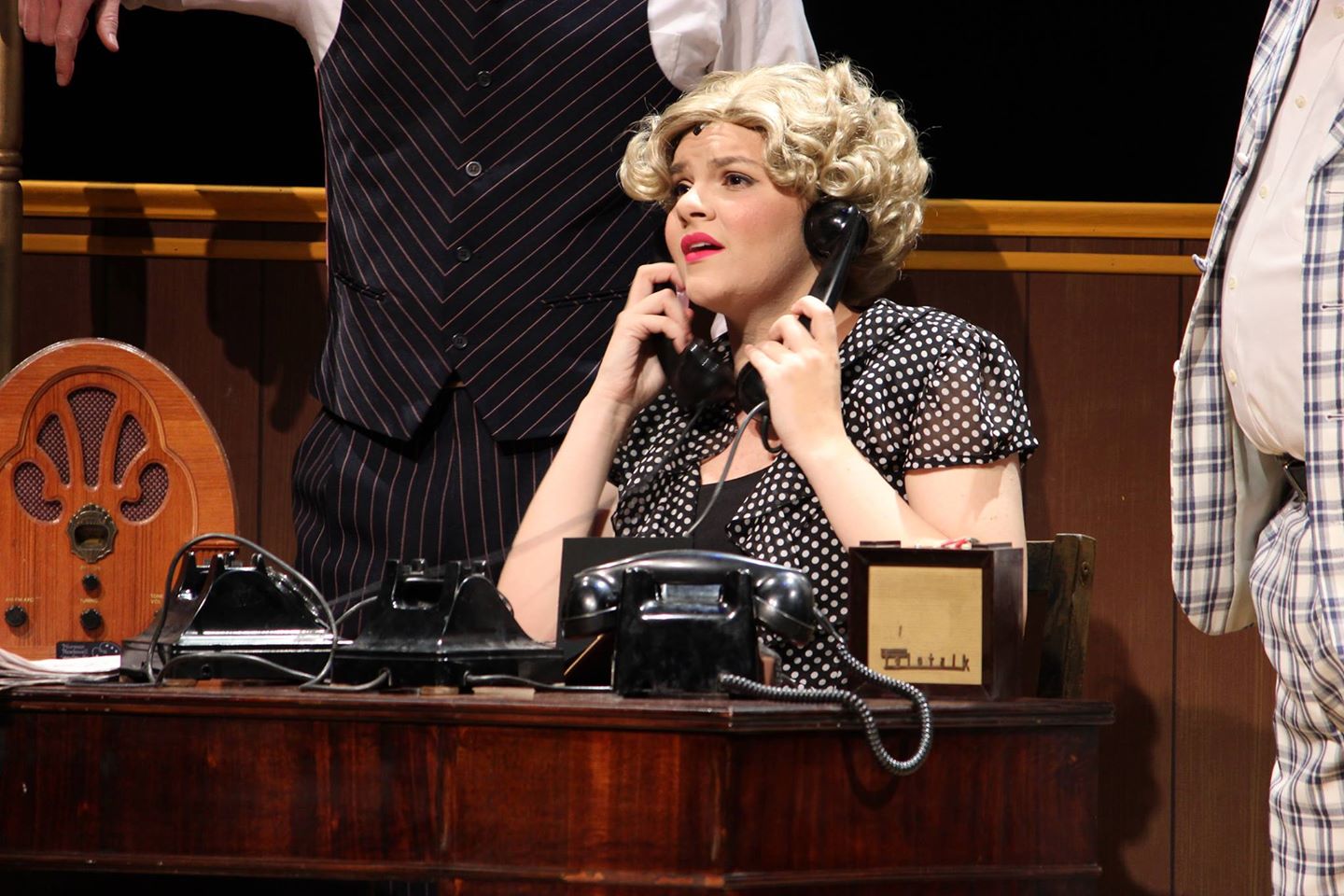 * Interview with Tony Sportiello by Kerry Lengel, Arizona Republic, published March 3, 2014.
Baseball has inspired an impressive lineup of Hollywood movies — "Bull Durham," "The Natural" and "Field of Dreams" just for starters. But what about musical theater? Well, there's 1955's "Damn Yankees," of course, but after that you're pretty much scraping the bottom barrel of obscurity.
Now, stepping up to the plate to take another swing at this all-American topic is "National Pastime," a new tuner with an old-fashioned sensibility and ambitions to score a hit on Broadway.
Set in Iowa during the Great Depression, it's about a small-town radio station that decides to shore up its flagging ratings by broadcasting the games of a minor-league team that doesn't actually exist.
"It was hard to come up with anything baseball-related that took place on the field," explains New York playwright Tony Sportiello, who's been developing the musical for the better part of two decades.
The latest version of the show is being produced by Theater Works at the Peoria Center for the Performing Arts from Friday, March 7, through Sunday, March 30, set to coincide with Cactus League spring-training games around the Valley.
"We thought this would be an opportunity to get baseball fans who are in town seeing games during the day to come into the theater and see how they respond to a baseball musical," says Sportiello, whose Algonquin Theater Productions is chipping in on the production costs as it continues tuning up the script in hopes of a run on the Great White Way.
A lifelong fan of the game, Sportiello first wrote the story in the '90s as a 20-minute one-act that was performed as part of the induction ceremony at the National Baseball Hall of Fame in Cooperstown, N.Y. Then his friend Al Tapper, a songwriter who had collaborated with him on the off-Broadway musical "Sessions," suggested the lighthearted tale would be perfect for a musical comedy. And it just so happened he already had a couple of baseball-inspired numbers in the drawer.
"My inclination is to write more rock-and-roll, pop-oriented music, but this play takes place in 1933, so I had to do a decent amount of research not only into the music but into the words," Tapper says.
A not-so-risque number called "Slip Me Five," for example, was built almost entirely out of catchphrases from the period.
"I literally went to Google and typed 'expressions created in the 1930s,' " Tapper says.
Musically, he took notes from a trio of real all-stars, Richard Rodgers, George Gershwin and Irving Berlin, along with a few other early-century sounds. The girl-group harmonies in "Watch Me Shine," to take one example, started out with too much of a Supremes vibe, so he dialed it back to the Andrews Sisters, which was at least in the ballpark.
The result is a musical version of the screwball comedies from the 1930s. Like many a farce, it starts with a little white lie that spirals out of control.
The action takes place inside the studios of WZBQ in Baker City, Iowa, a radio station on the verge of bankruptcy. The last time it had any ratings success was when it broadcast the games of the local minor-league team, the Cougars, but they've long since hung up their cleats. So naturally, someone gets the idea to resurrect the franchise using only sound effects and a scripted play-by-play. But when the imaginary team wins a few too many games and attracts the attention of Life magazine, the station has to go to extraordinary lengths to keep up the ruse — even going so far as to hire a couple of shady characters from Chicago to impersonate the Cougars' star players.
Sportiello and Tapper brought the full-length musical back to Cooperstown for a workshop production in 2010, and the show got its first full staging in Washington, D.C., in 2011, followed by an off-Broadway run in 2012.
"The show has changed dramatically since then," Sportiello says.
"Al and I sat down and we knew we wanted to have it out of town to work on the script and songs, even though the show was successful in New York. We were very pleased with the reaction that we had, but it's very expensive in New York so we felt we needed to take it to other cities and tinker with it and see how audiences responded."
Subsequent productions took place in Austin and Wilkes-Barre, Pa., last year, followed by this latest outing in Peoria.
"One of the things that's unusual for us, aside from doing a new work that's still finding its final form and has ambitions to get to New York, is there's something about the style of this show," says Theater Works executive director Daniel Schay. "It reminds me of good old-fashioned '30s screwball comedies, but it was clearly written by someone with the viewpoint of today. Maybe the characters are a little sharper, a little more cynical than they might have been in the 1930s. And that adds a little dash of modern lemon to the sweetness of the story."
So, what will it take for "National Pastime" finally to get to Broadway?
"About 10 million dollars," Sportiello says, completely deadpan.
"You have to have someone that believes in it that can raise money and is aggressive and won't let it die. So that's what we need."
* Excerpts from David Appleford's review for "National Pastime," posted March 9, 2014.
When bumbling broadcasters, young Marty (a funny Michael Schwenke) and Lawrence (a bow-tied Tony Blosser who does prissy well) complete their first fictional play by play it's obvious the pair have no clue what they're talking about, having devoted most of their radio conversations to more pressing local matters, such as the origins of the green bean, a subject they can stretch for hours on end "A Long Drive has nothing to do with an automobile," lectures the station manager. "And an SS has nothing to do with the Nazi party," adds Karen.
Both Kremer, who plays the station manager in the way Kevin Spacey might have looked in His Girl Friday, and Wolter, who plays her fast-talking female protagonist in the manner Rosalind Russell might have played her in the same film, elevate the Theater Works production to a level other payers might have had trouble achieving. Under David Vining's able direction, both actors are fun to watch as sparks fly between them as well as around them, with great support from Alanna Kalbfleisch, a standout as the bubble-headed blonde receptionist who has aspirations of heading further west beyond the surrounding cow fields of Baker City.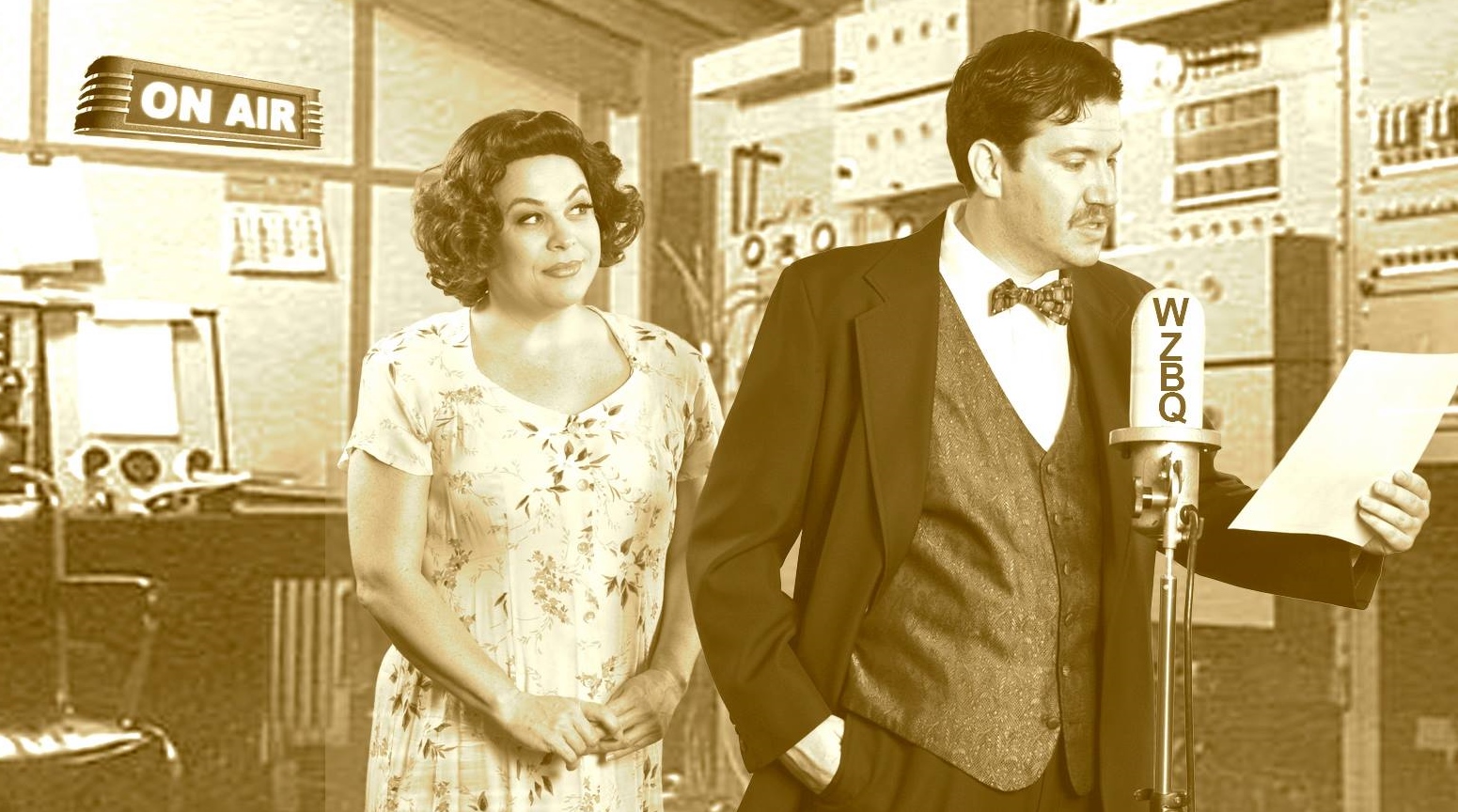 For more photos, check out Paris D Rhoad's Facebook page HERE
2013  BIG. Cast: Dennis J. Clark, Aaron Zwieback, Maria Amorocho.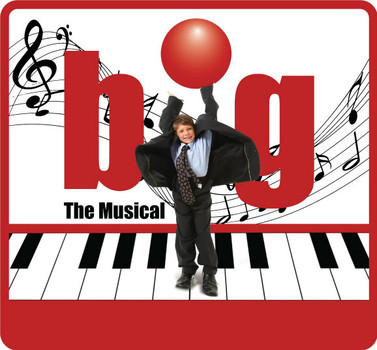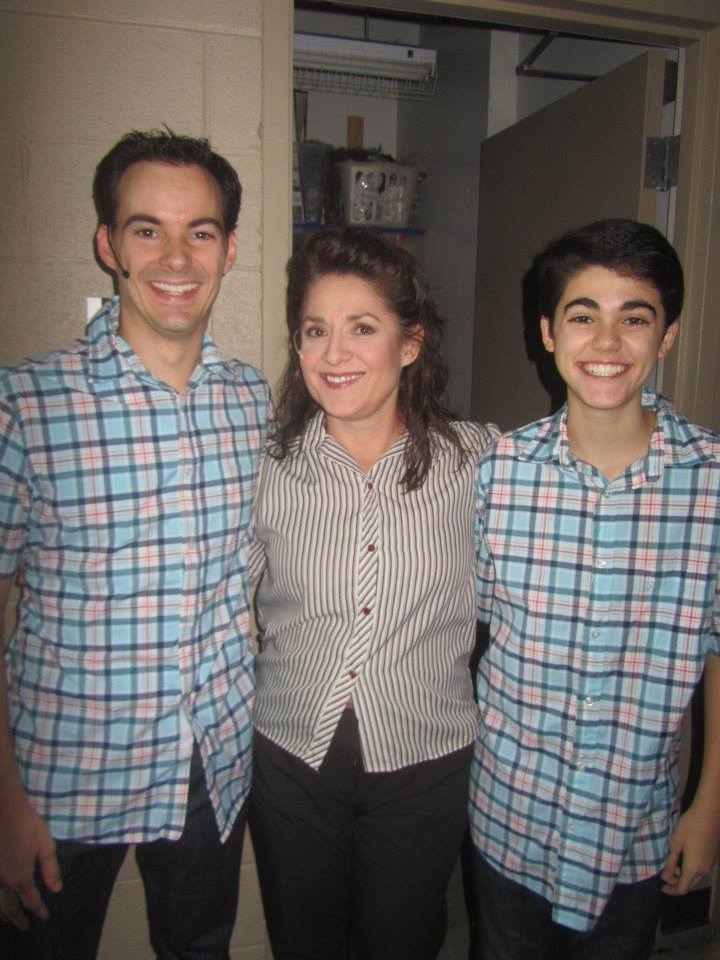 2013. RAGTIME. Book. Terrance McNally. Based on the Novel by E.L. Doctorow. Director: Phillip Fazio. Musical Direction: Steve Hilderbrand. Cast: Matt Zimmerer, Sarah Wolter, John Haubner, Alanna Kalbfleisch, Emilio Cress, Krystal Pope, Miguel Jackson, Tony Blosser, Morgan Goldberg, Glenn Parker, Lee Pitts, Petey Swartz. Properties: Petey Swartz.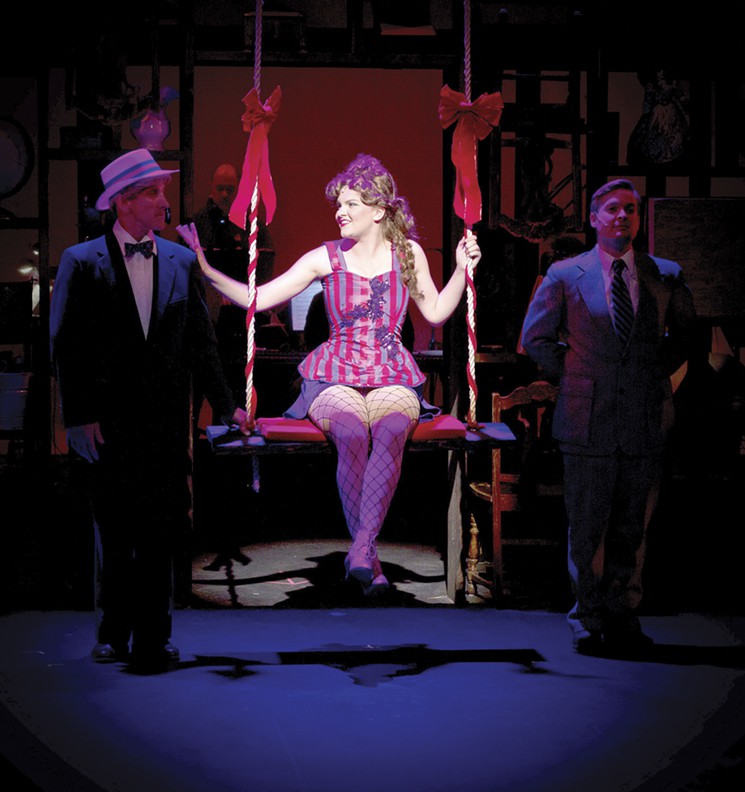 * Review of "Ragtime" by Robrt Pela, Phoenix New Times, published on Nov. 14, 2013.
An old friend who knows theater phoned me last week. "I've just seen the most perfect production of Ragtime," she said. "At Theater Works. You should go!"
Oh, dear, I thought. A community theater production of Ragtime. No.
But I went — fortunately. This well-crafted production of Terrence McNally's musical about the reshaping of America in the early 20th century surprised me with its more ample qualities: a live orchestra, rather than the prerecorded tracks that many smaller companies use these days, some innovative choreography from director Phillip Fazio, and a harmonious ensemble cast with a couple of real standouts.
Adapted from E.L. Doctorow's 1975 novel, Ragtime offers a panoramic sweep of America just after the turn of the last century. Its original Broadway production, subsequent road companies, and a later New York remount were all of mammoth scale, with vintage automobiles and a full-size locomotive dwarfing the stage and often trumping its performers and its lovely score. Its current publication, known officially as Ragtime Version 2, is a pared-down, less bombastic edition that allows its players to shine.
The tragic drama behind Ragtime's stories seem apocryphal but, are, for the most part, true. Its story of America is told by three families: Father (Matt Zimmerer), Mother (Sarah Wolter), Mother's Younger Brother (local favorite John Haubner), and her Little Boy (an engaging Emilio Cress) whose complacent life in New Rochelle, New York, is upturned when Mother finds an abandoned black baby in her garden. The infant's mother is an unmarried maid named Sarah (Krystal Pope); his father, Coalhouse Walker Jr. (Miguel Jackson, in a star turn), is a Harlem piano player whose presence is a challenge to both families. Both cross paths with Tateh (Tony Bolsser) and his daughter (Morgan Goldberg), Russian immigrants who come here to better themselves. Wedged between their stories are nonstop references to game-changing historical figures: showgirl Evelyn Nesbit; radical Emma Goldman; industry tycoon Henry Ford.
Both high-minded and elegantly somber, the music and lyrics are never preachy about America's less-glorious early days. And although that live orchestra sounded sometimes sluggish, it was perhaps because someone — maybe musical director Steve Hilderbrand — has adapted the original Broadway arrangements, written for belters like Audra McDonald, who originated the role of Sarah, for more subtle singers.
Fazio's production commences neatly but really gets going about halfway through Act One, when Father returns home from a long journey to discover black people living — and playing ragtime music — in his home. This Ragtime begins then, when Wolter confronts Zimmerer in a stunning non-musical moment filled with, as Doctorow wrote in his novel, "texture, moods, character, despair."
From there, it's all uphill for this Ragtime, which crosses that usually uncrossable bridge between history lesson and musical theater, leaving us well entertained and perhaps even a little enlightened.
2013. THE MUSICAL OF MUSICALS (The Musical). Book, music and lyrics: Eric Rockwell, Joanne Bogart. Director, Music Director: Steven Hildebrand. Cast. Steven Hildebrand, Sally Jo Bannow, Camille Gribbons, Brian E. Sweis.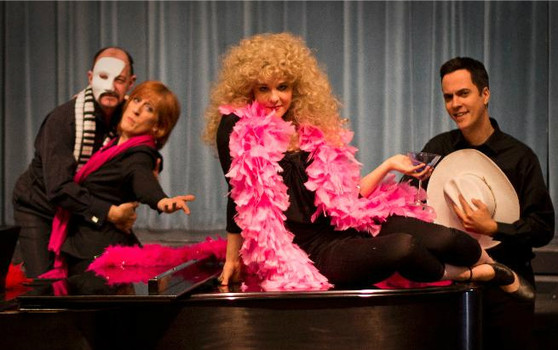 * Review of "The Musical of Musicals" by Kerry Lengel, Arizona Republic, published on March 26, 2013.
If you haven't seen at least three of these Broadway hits — "The Phantom of the Opera," "Sweeney Todd," "Cabaret," "Oklahoma!" and "Hello, Dolly!" — then you might want to take a pass on "The Musical of Musicals (The Musical!)."
If, on the other hand, you are already chortling over the abuse of exclamation points, then you just might be Great White Way geek enough.
"The Musical of Musicals," now in production by Theater Works, is actually five mini-musicals spoofing iconic Broadway composers and/or lyricists. It's the same plot each time: Ingenue can't pay the rent, creepy landlord makes threats, wise woman gives advice, strapping young man saves the day. But that simple story plays out very differently in "Corn," a Rodgers & Hammerstein sendup that turns the hick volume up to 11, from the way it does in the Stephen Sondheim-"inspired" "A Little Complex," in which the loony landlord plots to murder his tenants and turn them into paper-mâché sculpture.
Theater Works' spare production probably would play better in the black box than it does on the main stage at the Peoria Center for the Performing Arts. But director Steve Hilderbrand — who also stars in the landlord role, Jitter, and serves as music director — mines the play's enforced minimalism for laughs. One running joke has him using his hand to mime a "Phantom"-style mask, and he gets admirable mileage out of it.
Hilderbrand is at his funniest in "Corn" and in his very "European" imitation of Joel Grey in the Kander & Ebb segment, "Speakeasy" (halfway between "Cabaret" and "Chicago"). His less-than-operatic vocal chops make him less effective spoofing Sondheim and Andrew Lloyd Webber, however, and the same could be said for 18-year-old Camille Gribbons, who's just a tad too green in the ingénue role of June.
Brian E. Sweis gives the best all-around performance as leading man Billy, showing off impeccable comic timing to go with lilting tenor voice. Meanwhile, if Sally Jo Bannow's Carol Channing impression is somewhat under the top in the Jerry Herman bit ("Dear Abby"), she makes up for it with a great Julie Andrews and some of the best physical comedy in the show.
"The Musical of Musicals" premiered off-Broadway in 2003, and it's clear that the creators, Eric Rockwell (music) and Joanne Bogart (lyrics), are true aficionados, because their spoofs strike directly at their targets' distinctive qualities (or lack of quality): Sondheim's intellectualism, for example, or Lloyd Webber's grandiosity — "The audience applauds the set change out of habit" is one on-the-nose stage direction, read by accompanist Bill Moore.
Yet to tell the truth, most of the yuks come in the form of lowbrow wordplay that serves as a test of the audience's musical-theater knowledge. "Life is a Cabernet" is easy enough to get, but you'll also have to know that Sondheim wrote a show called "Pacific Overtures" to understand a punning punch line about "specific overtures," and if you're not an opera buff, the old saw about "this wretched recitative" will buzz right over your head.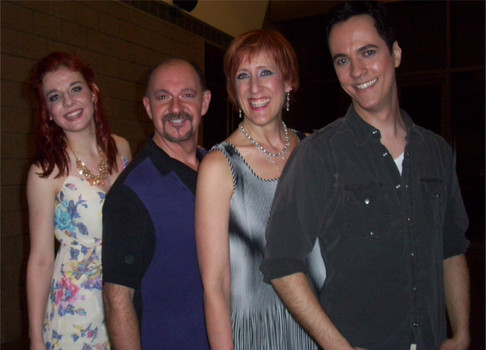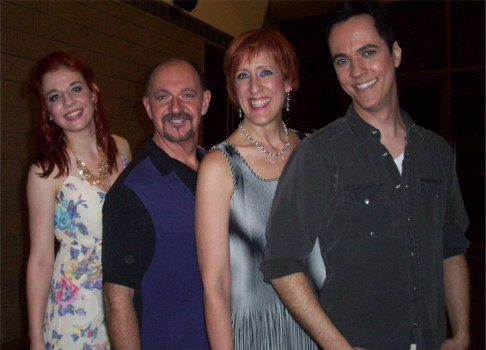 2012. A LITTLE NIGHT MUSIC.   Music & Lyrics: Stephen Sondheim. Musical direction: Steven Hildebrand. Cast: Patti Davis-Suarez, Patty Nieman, Ken Goodenberger.
2011  DIVIDING THE ESTATE.  Cast: Jacqueline Gaston, Charles Sohn, Marshall Glass, Hilary Hirsch, Samantha Brannoch, Donna Georgette and He'ther Brady.

Stella Gordon, a Texas matriarch, is dead-set against parceling out her estate in Horton Foote's comedy. Her dysfunctional family has other plans. The confrontations are, to say the least, hilarious.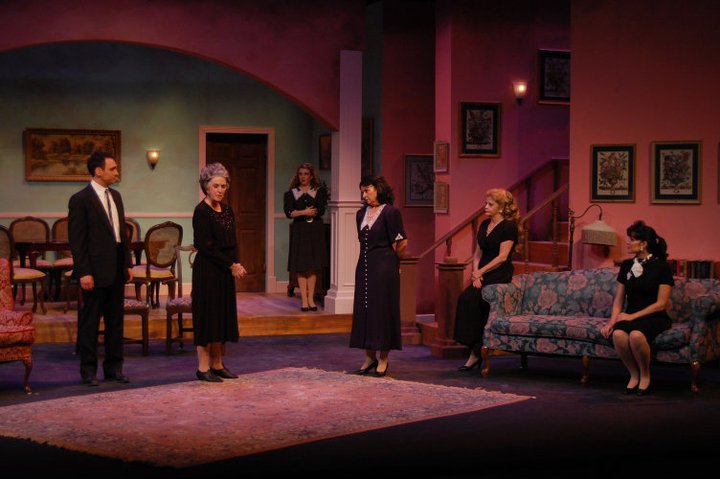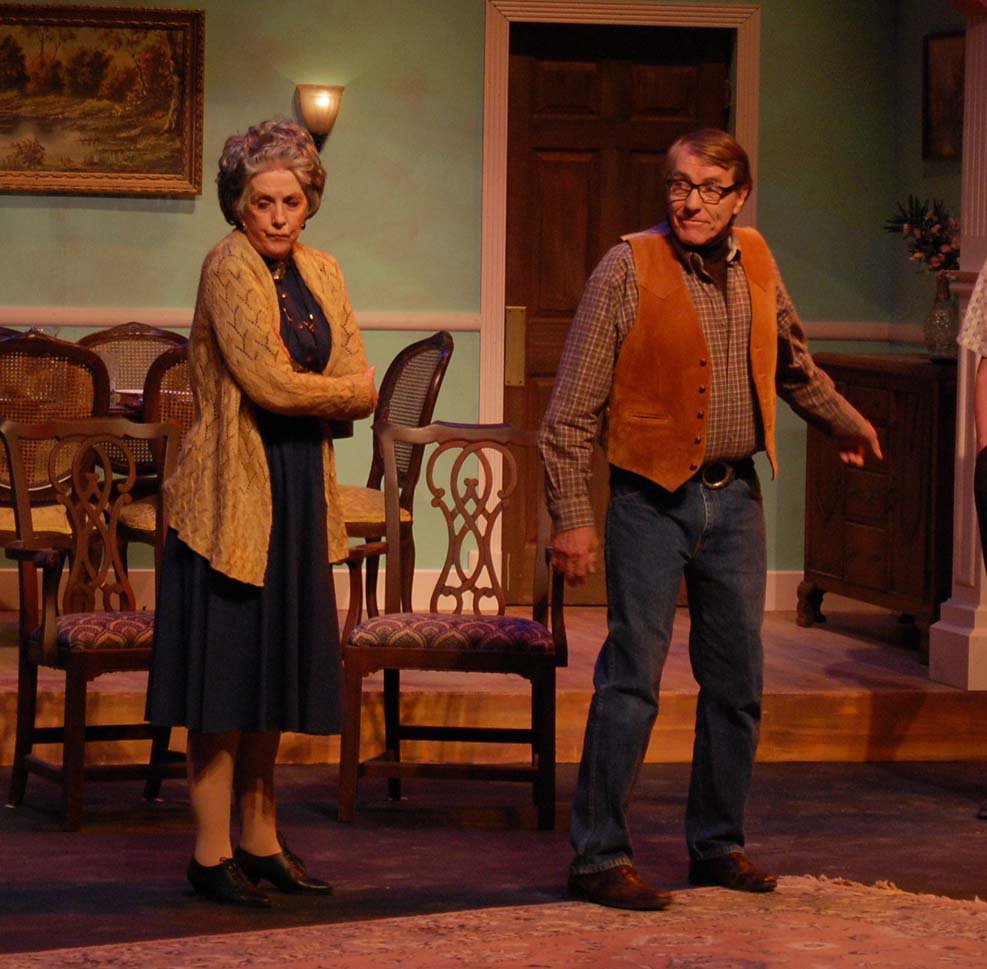 2011   ROMEO & JULIET.  Cast: Meg Sprinkle, Phillip Herrington, Collette D'Antona, Matt Zimmerer, Amy Serafin, Sam Wiseman, Joseph Cannon.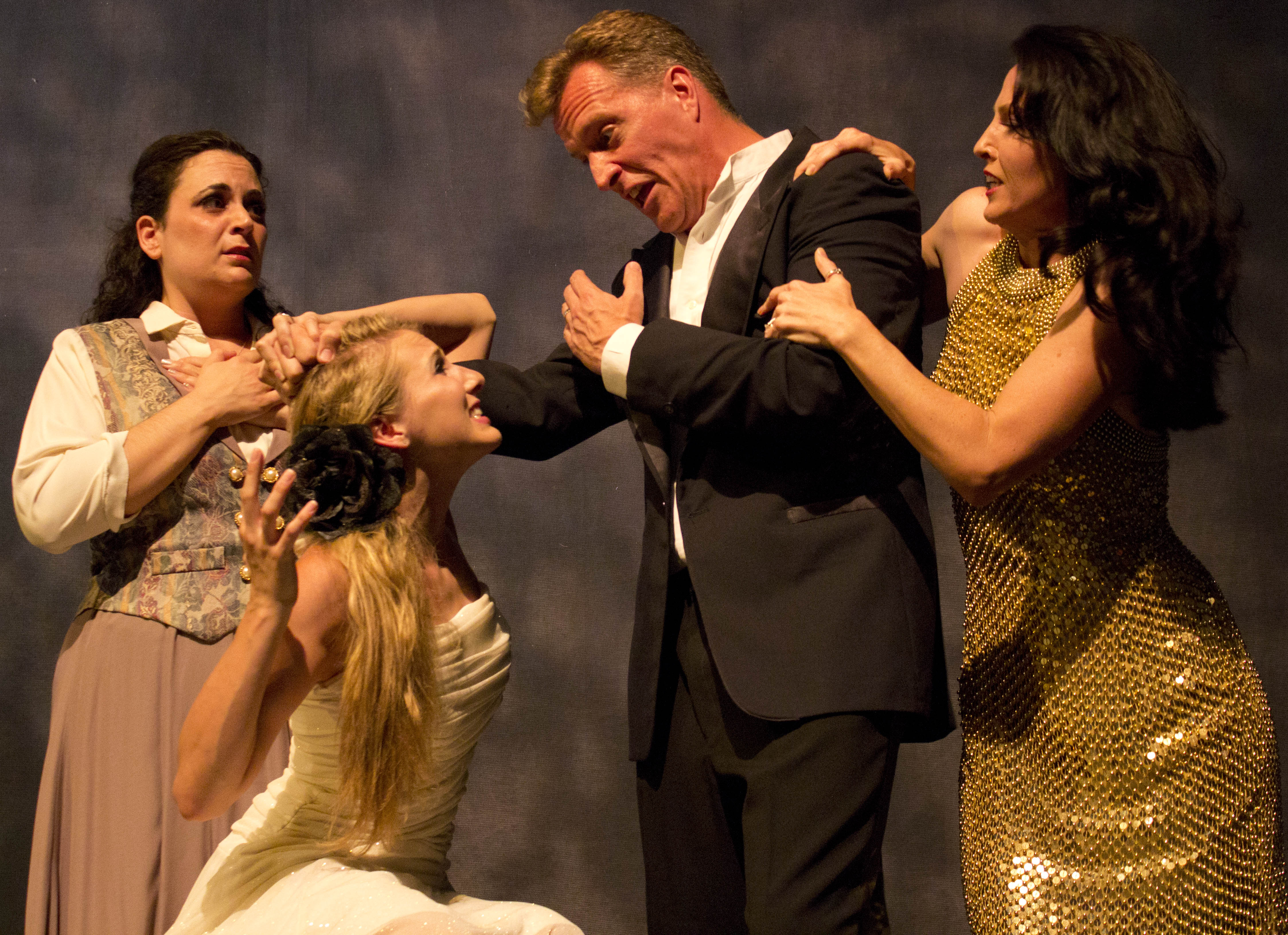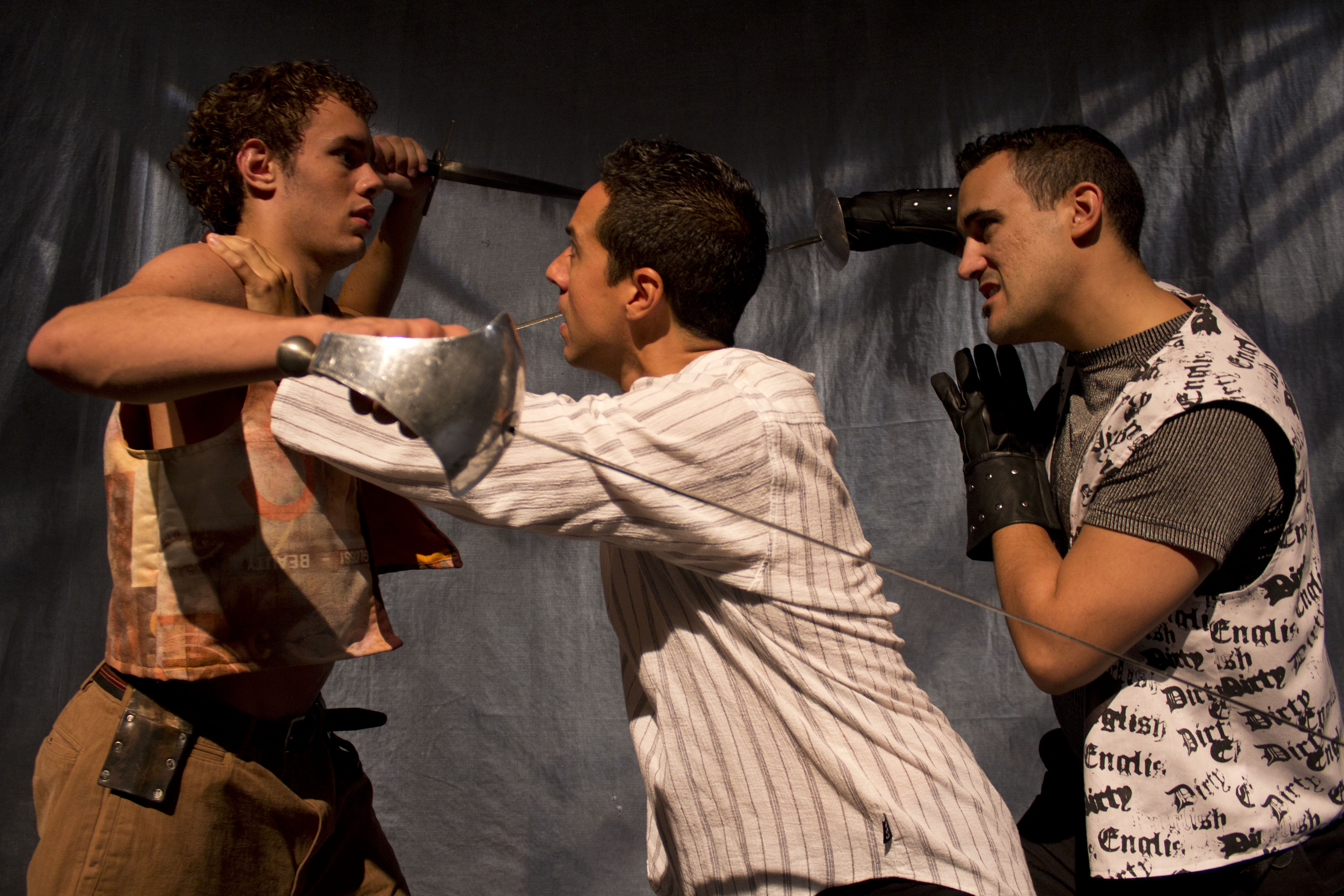 1998  LUCKY STIFF. Music: Stephen Flaherty. Lyrics and Book: Lynn Ahrens. Director: Greg Jaye. Choreographer: Robert Kolby Harper. Assistant Director: Wanda McHatton. Cast: Cris Wo, Shana Rebilas Bousard, Clayton Peterson, Dominik Rebilas, John Haubner, Dina Kay Mountcastle, Joe Marshall, Jacque Howard Hemstreet, David Pischke and Johanna Carlisle. Notes: The show was based on the 1983 novel The Man Who Broke the Bank at Monte Carlo by Michael Butterworth. It was created and performed at Playwrights Horizons off-Broadway in 1988, and won the Richard Rodgers Award for that year.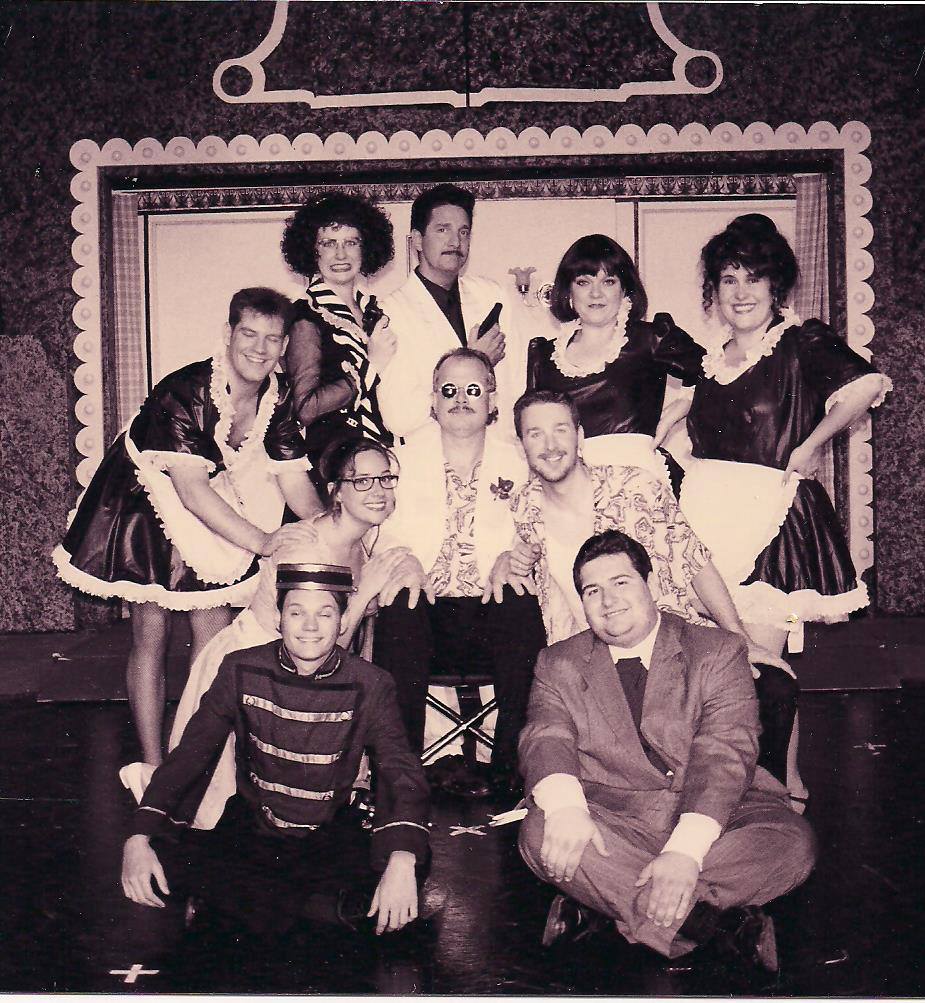 1996. HMS PINAFORE. Music: Arthur Sullivan. Book and lyrics: W. S. Gilbert. Cast: Kathleen Berger. Notes: This celebrated comic opera is also known as "The Lass Who Loved A Sailor." It ran for 571 performances after its premiere, the longest run of any theatrical production up until that time. It was Gilbert & Sullivan's first international sensation, although it marked the fourth time they had worked together.