---
Theatre Artists Studio is a community of artists—actors, directors, playwrights, producers, singers, dancers, musicians, designers and technical wizards—practicing their chosen crafts in a professional, challenging environment that fosters collaboration and mutual growth through Studio membership.  As a result, The Studio is also a unique venue for theatre entertainment, communication and interaction between our members and our public community, with opportunities to work on innovative projects, mentor emerging talent and maintain a valuable educational resource, promoting a deeper understanding of the power and imagination of theatre.
The Studio facility comprises 8,000 square feet with two stages. The production stage (top left and center) is a circular thrust designed to capture the imagination of our audience.  Seating for public productions is limited to a total of 96 persons, divided into three sections, each tiered in four rows. This intimate design and setting allow audience members to feel they are a part of the story unfolding onstage.
Workshops and member group activities are held on the rectangular thrust stage (top right). Seating is informal and flexible, designed to meet the needs of acting classes, voice instruction, writers group meetings and other activities.
*****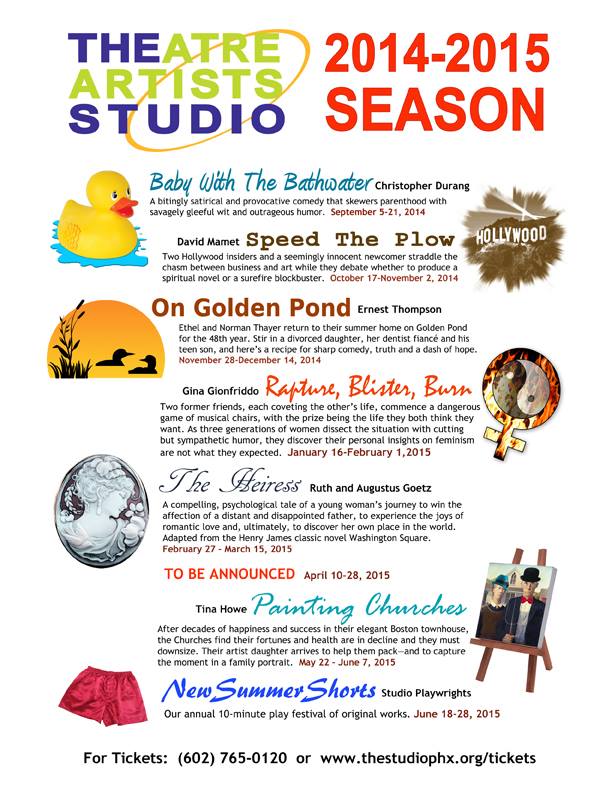 2013-2014 SEASON
For the season, go HERE
*****
PHOTOGRAPHS, REVIEWS & THE KITCHEN SINK
MARCH 2015. "The Heiress." Playwrights: Ruth & Augustus Goetz. Based on the novel, "Washington Square," by Henry James. Director: Carol McLeod. Cast: Steven Mastroieni, Heidi Haggerty, Alexandra Erario, Kent Welborn, Steven Fajardo, Judy Lebeau. Set Design: Deborah Mather Boehm.  Costume Design: Jean Aiken, Dolores Goldsmith, and Marney Austin.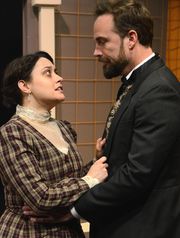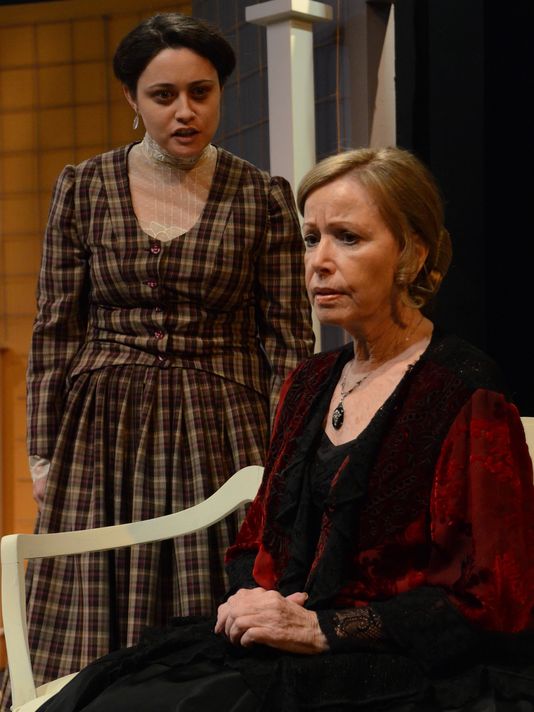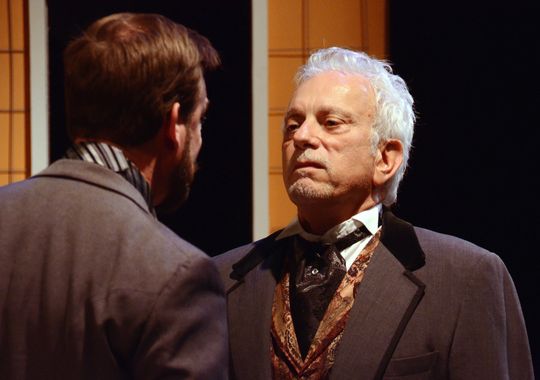 Review by Michelle Hoffman, Arizona Republic, March 5, 2015
Welcome into the lair of familial dysfunction with Theatre Artists Studio's fantastic production of "The Heiress," based on Henry James' 1880 novel, "Washington Square."
How quaint, 1880. That was a billion years ago. Times were simpler. The world more innocent. We told stories around the fire. Families were closer, children happier.
Wrong.
With a top-shelf cast under the tight direction of Studio founder, Carol MacLeod, "The Heiress" is a wincing portrait of parental missteps.
Even if you know the ending (because, of course, everyone has seen the 1949 film), this production will keep you rooting and guessing right until its final moments.
Dr. Austin Sloper (a superb Steven Mastroieni) is a successful surgeon and a distant father to Catherine (Heidi Haggerty), the sole heir to his fortune. Austin's beloved wife died giving birth to Catherine and now he resents Catherine.
Dr. Phil would have a heyday here.
Dad thinks his daughter is dull, mediocre and defenseless. He not only thinks this, he tells her this. Each time an acerbic jab rolls from his elegant tongue, the audience audibly groans. This might come as a surprise, but all Catherine's confidence could fit in a bug's coffee cup and there'd still be room for all the coffee.
We begin when Catherine's pretty cousin, Marion (Alexandra Erario) and her fiance, Arthur (Steven Fajardo) pay a visit to the Sloper household. Arthur brings along his hot cousin, Morris (Kent Welborn). Morris, by the way, is in the know about Catherine being an heiress. And, by the way, he doesn't have a job — he sponges off his widowed sister and her five kids.
Welborn, playing Morris, brings his Slick Willie A-game. He could charm the white off rice. Enabled by Catherine's silly Aunt Lavinia (Judy Lebeau), Morris sets his treasure-hunting sites on Catherine.
Of course, dad has a cow when he learns they are to marry and forbids it. But Mastroieni doesn't play a stock villain. He makes his Austin terrifically complex. When it all hits the fan, we get a glimmer of tenderness and concern. Austin's instincts about Morris are right and every parent in the audience roots for dad even while despising him.
The genius of the novel/film/play is Catherine's evolution. Haggerty slides effortlessly over her character's arch, making for an entirely believable transition. So why the "Night of the Living Dead" makeup? The smudges under her eyes distract from Haggerty's fine performance.
The entire story plays out in the wealthy doctor's sumptuous living room. But Deborah Mather Boehm's abstract-ish set with its stark-white furniture and lack of anything soft (draperies, area rugs, upholstery) seems at odds with Jean Aiken, Dolores Goldsmith, and Marney Austin's rich period costumes.
MacLeod's swift pacing burns through a nearly three-hour run time and "The Heiress" is perhaps the Studio's strongest production this season.
MAY-JUNE 2014. "An Old Fashioned Love Song."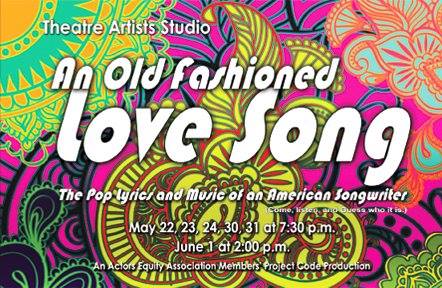 This revue explored the music and lyrics of Paul Williams, who wrote everything from Kermit the Frog's song to the Carpenters' biggest hits.
*****
MAY 2014. "Hart to Heart." Director: Hilary Hirsch. Musical Director: Joe Bousard.
A celebration of the Lyrics of Lorenz Hart. During the 24-year association between Richard Rodgers and Hart, they wrote more than 550 songs, 28 Broadway shows and eight movie musicals. Hart to Heart explores the magical composition of what a "Larry" Hart lyric was like: Its rapier wit, unexpected rhymes and sparkling content. More than 40 songs by this talented pair were presented in a cabaret setting.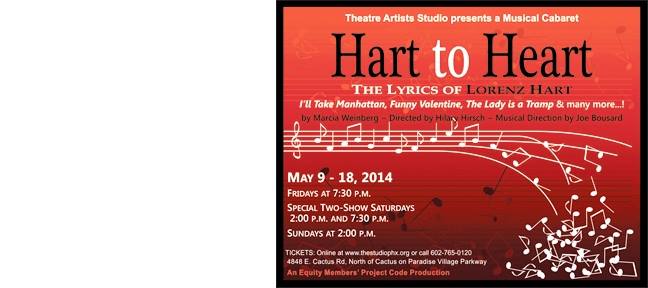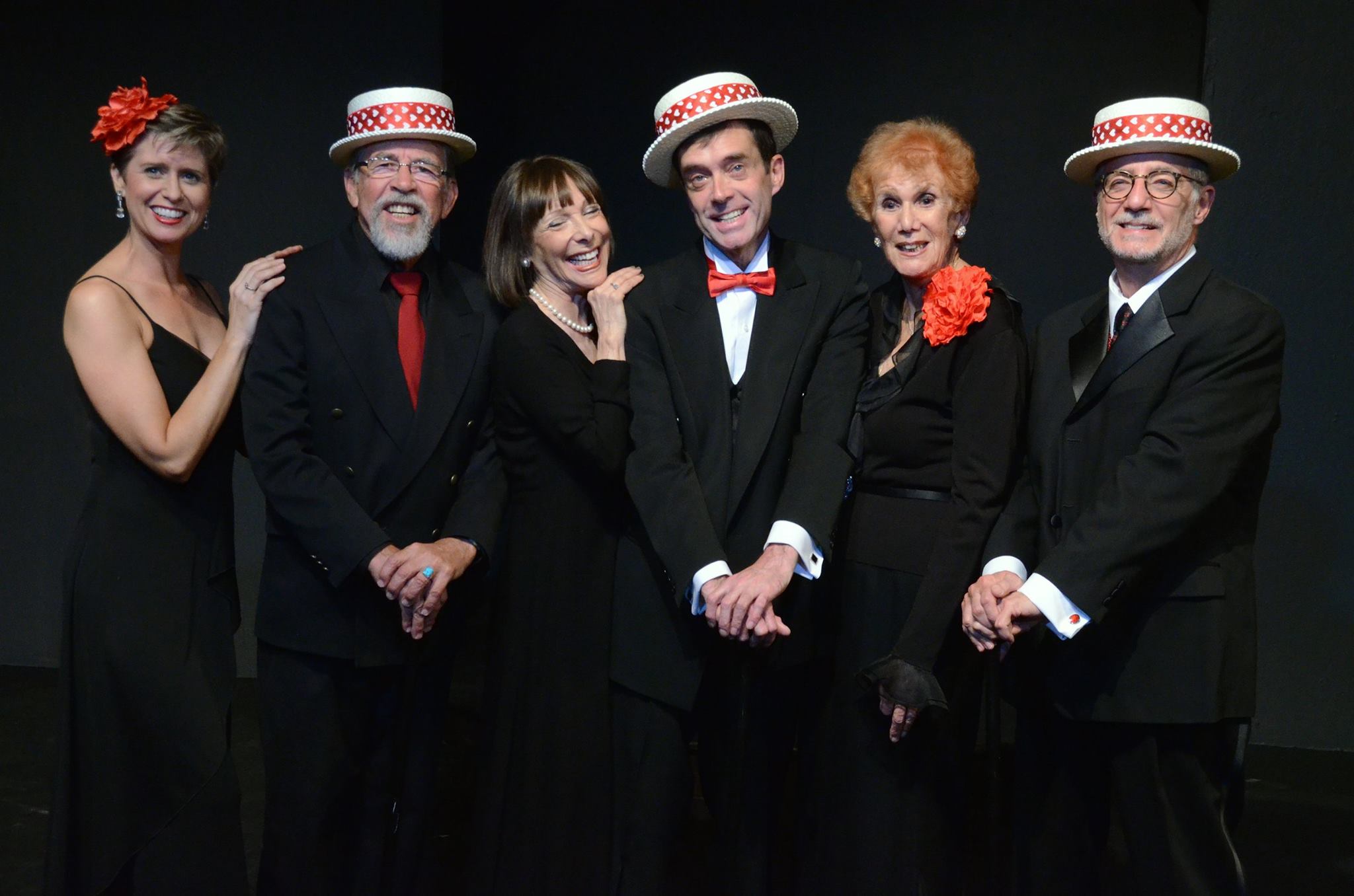 *****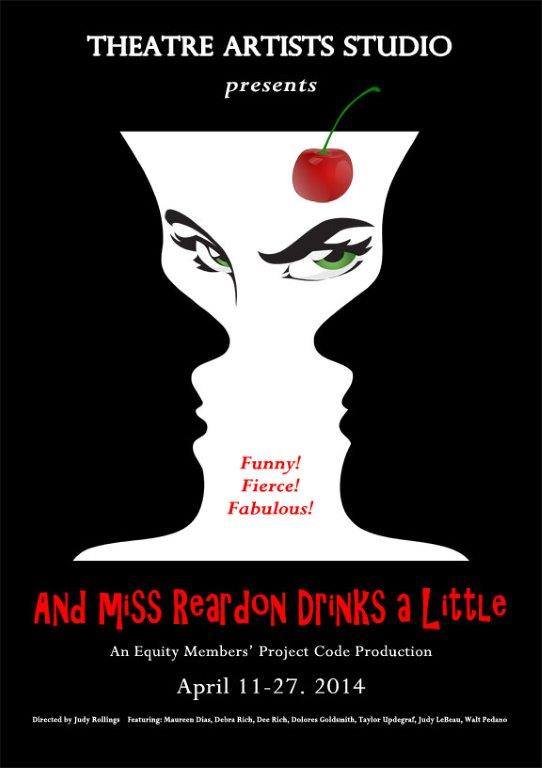 APRIL 11-27, "And Miss Reardon Drinks A Little," play by Paul Zindel. Director: Judy Rollings. Cast: Maureen Dias Watson. Debra Rich, Dolores D'Amore Goldsmith, Judy Lebeau, and Walt Pedano, along with Dee Rich and Taylor Raine Updegraff.
This biting, touching and often wildly funny play examines the tortured relationships of three sisters whose lives have reached a point of crisis following the death of their dominating mother. One sister has married and cut herself off; another has begun to drink, and the third is on the brink of madness. When the married sister comes to dinner to push to have her sibling committed to an institution, the smoldering resentments of many years burst alive. The unexpected arrival of a neighbor couple exacerbates the confrontation and propels the action to its shattering conclusion.
First produced in Los Angeles in 1967, And Miss Reardon Drinks a Little has been produced across the country almost every year since its Broadway debut, and was the first play produced by the Steppenwolf Theatre Group.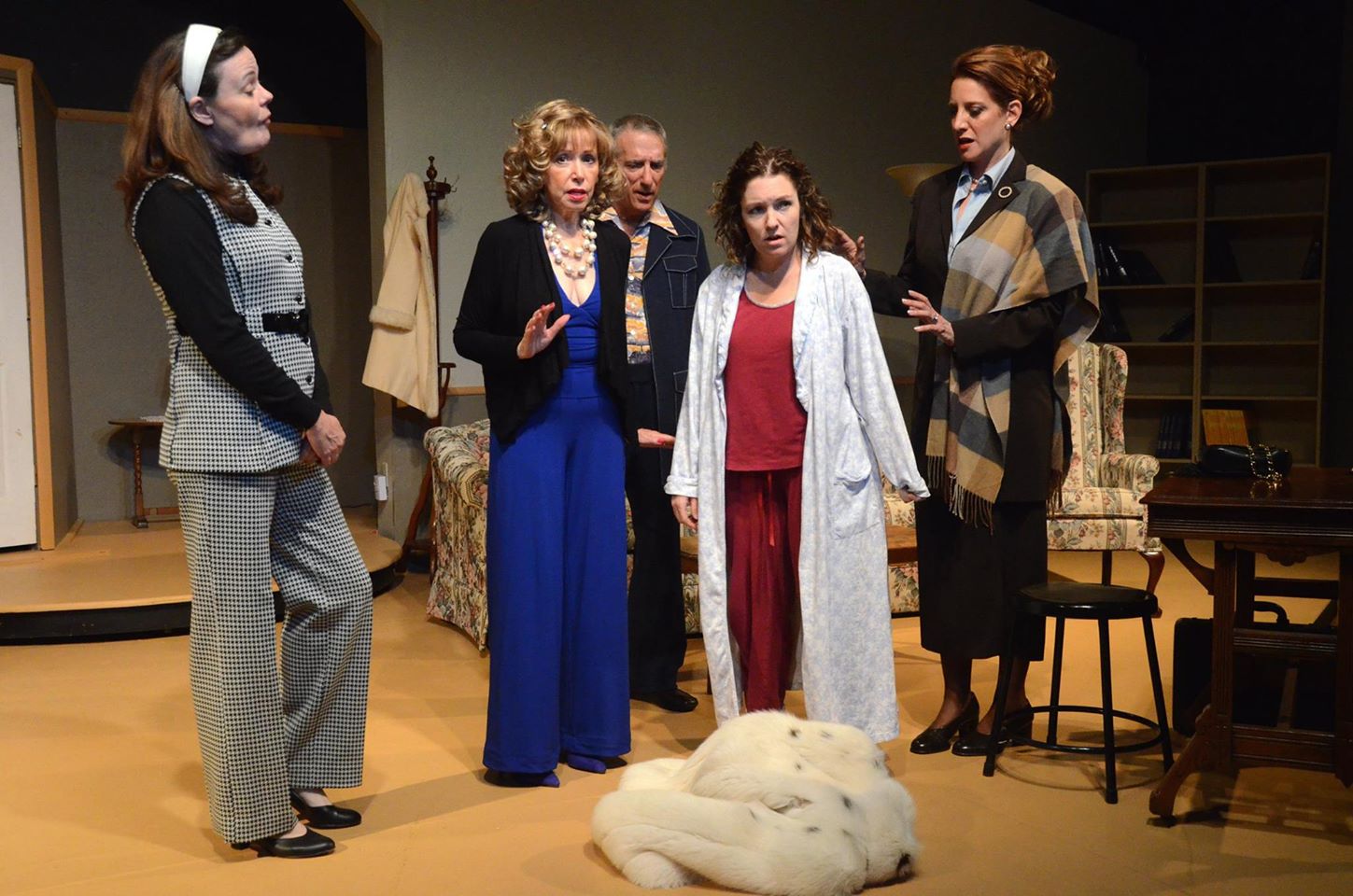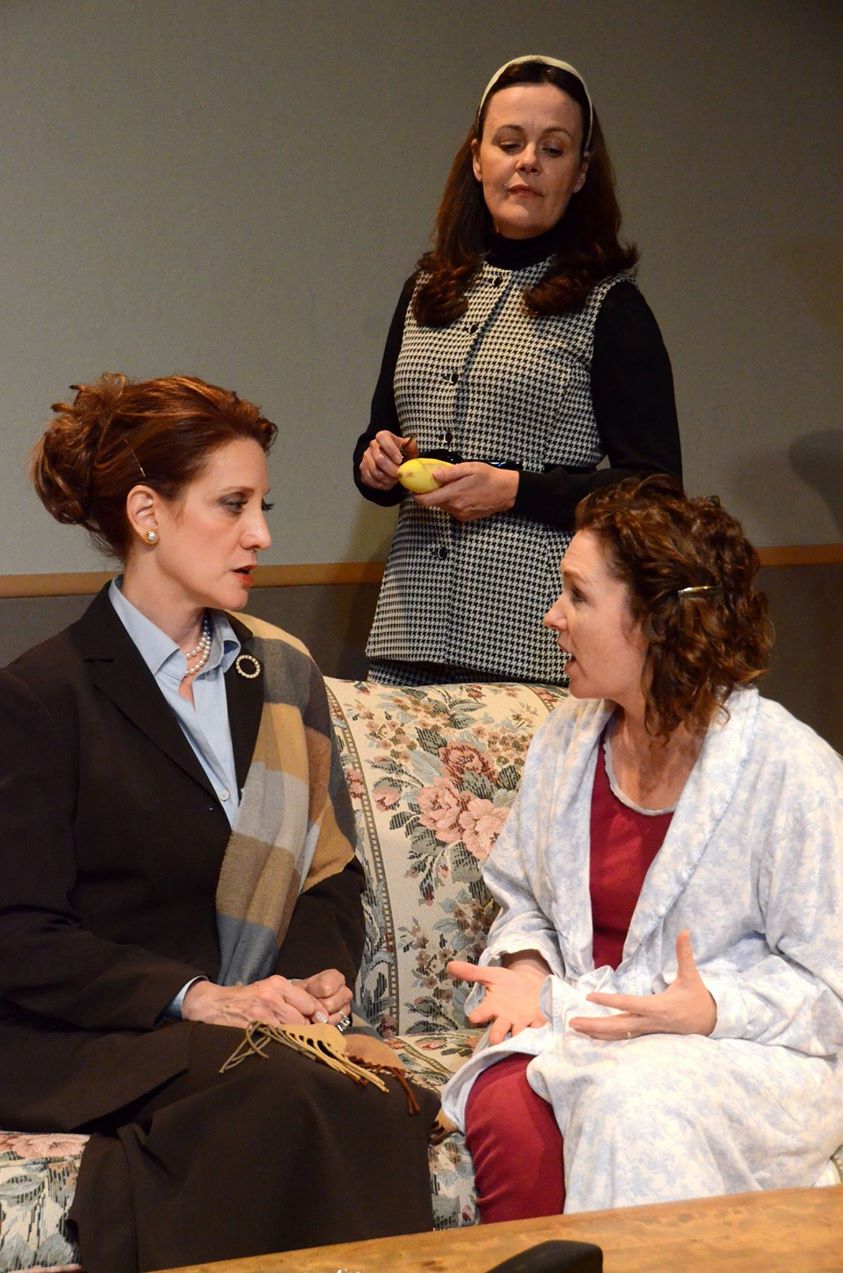 *****
MARCH 2014. "The Last Romance." Playwright: Joe DiPietro. Director: Pamela Fields. Cast: Judy Lebeau, Dolores D'Amore Goldsmith, Michael Fleck, Jason Lee McDonald.
This romantic comedy by the writer of Over the River and Through the Woods takes a look at the possibilities of second chances and the triumphant power of love. An unlikely couple finds that love's final round comes with its own set of obstacles as they seek to take the romantic plunge one last time.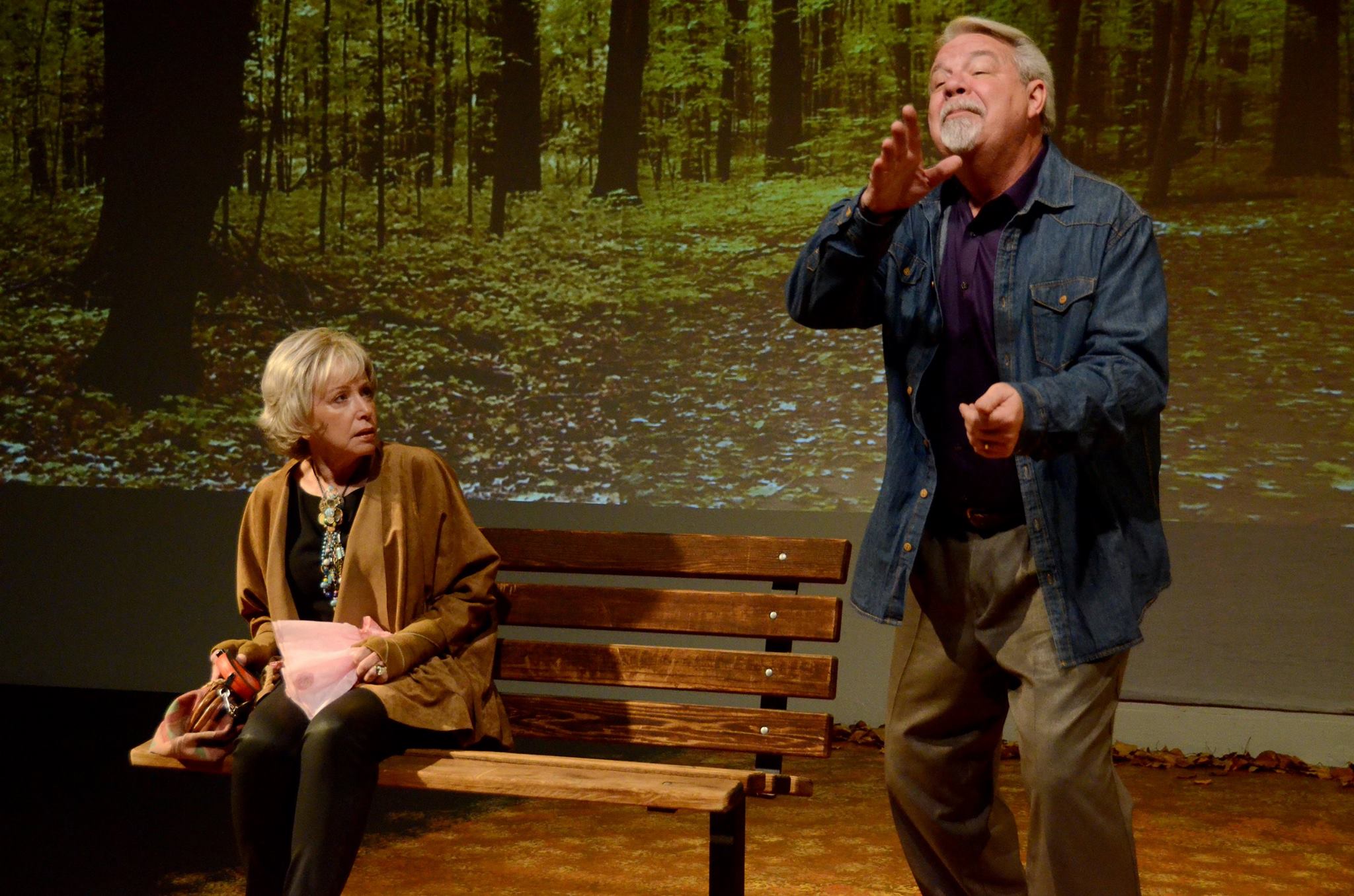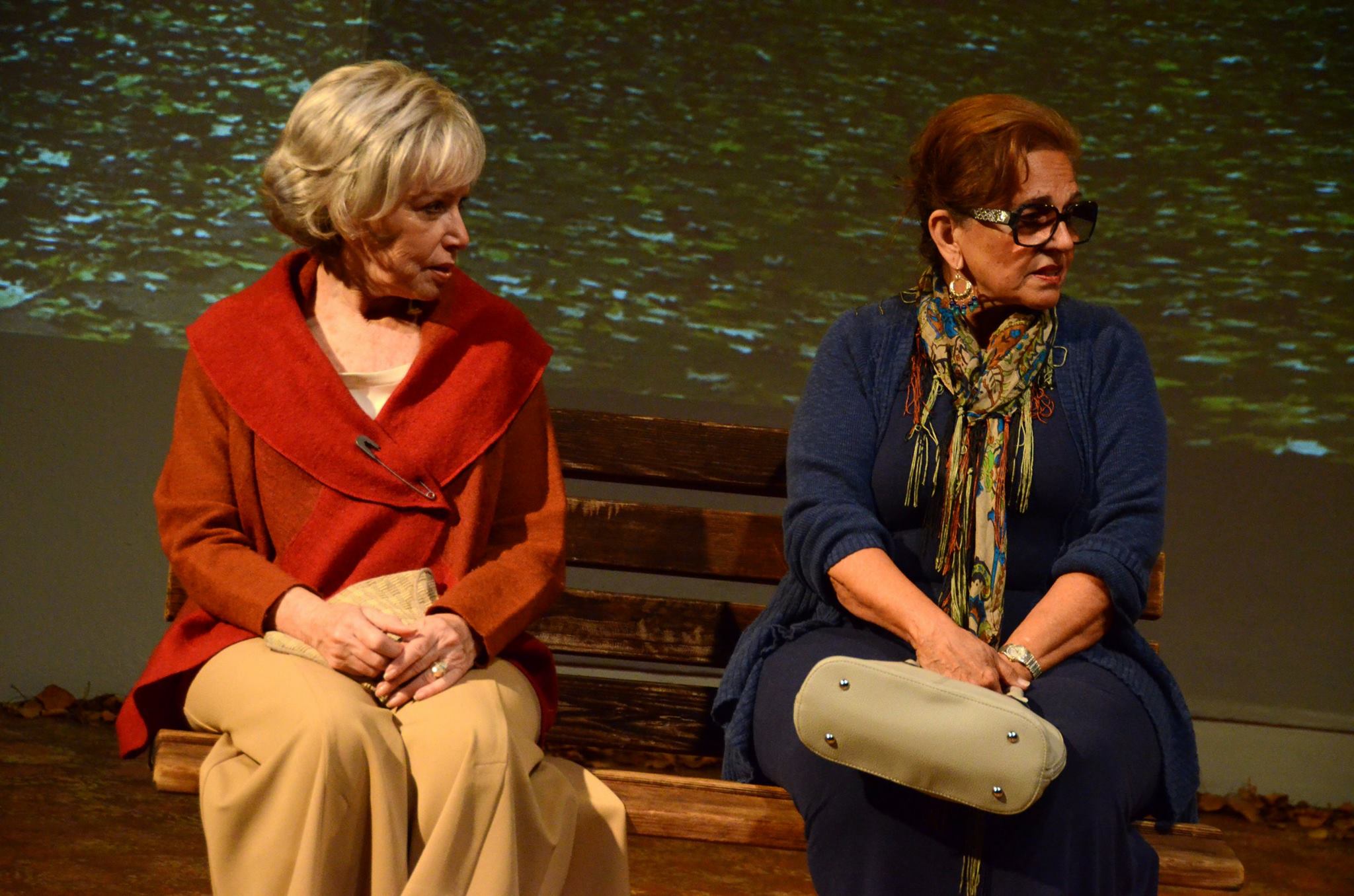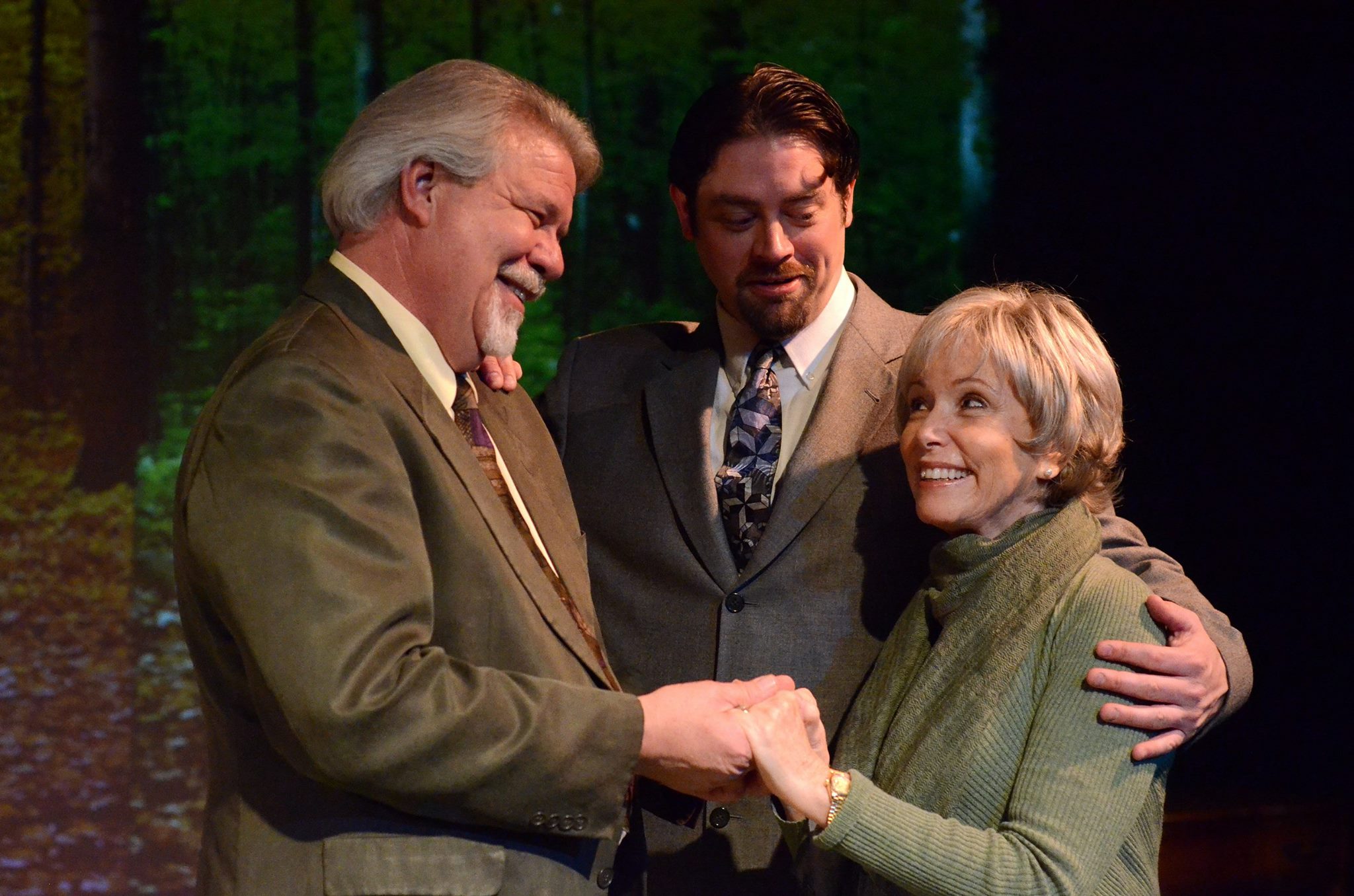 *****
JANUARY 2014 "Mary's Wedding" Playwright: Stephen Massicotte.  Cast: Kent Welborn, Heidi Haggerty.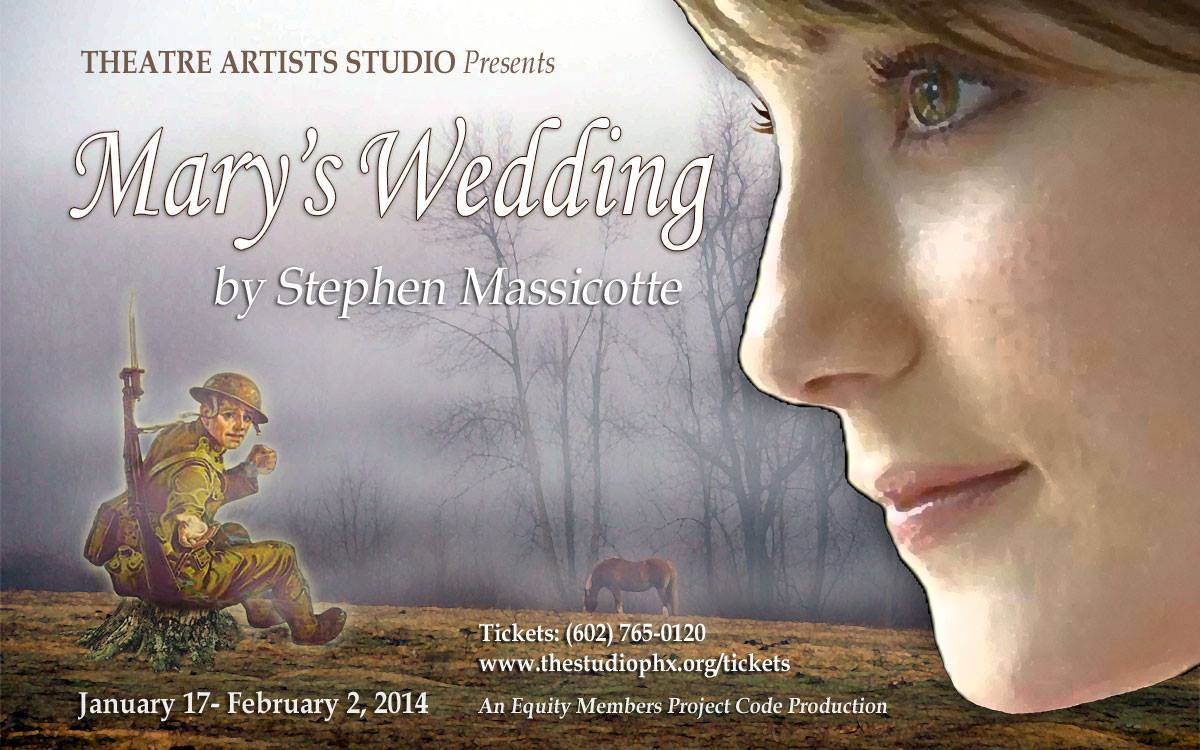 It is the eve of Mary's wedding to the soldier she loves, but the night is full of dreams—of young love, of war, of horses—of what might or may not be.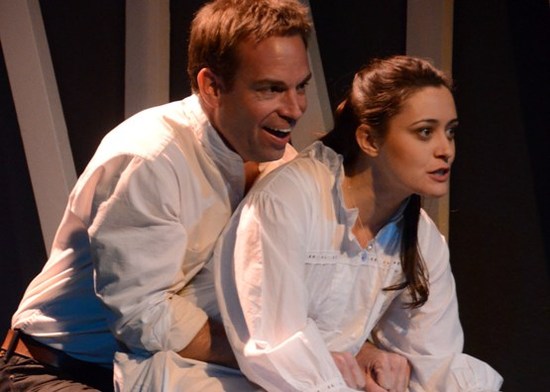 *****
 2014, "Barking at Butterflies," play by Joe Bardin. Director: Judy Rollings. Cast: Leslie Tutnick-Machbitz, Kent Welborn & Skye Ayers.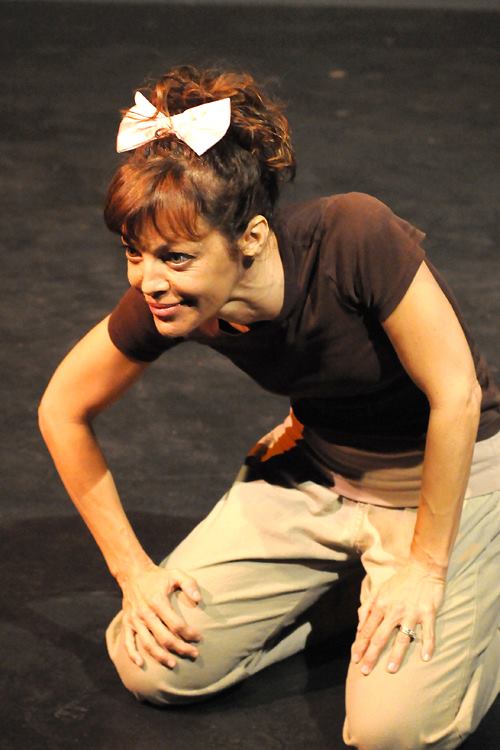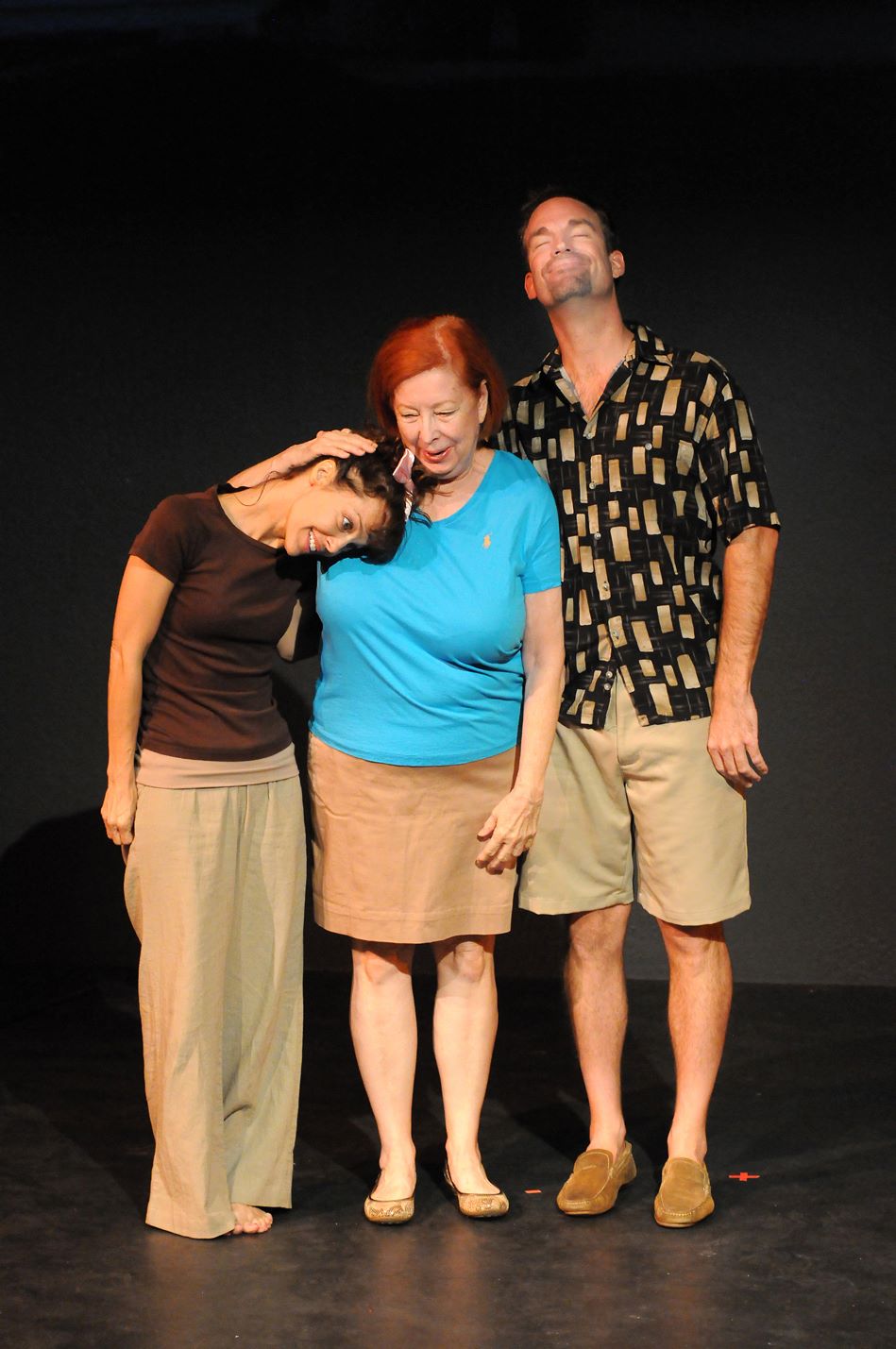 *****

2013 "Cabaret" Director: Shana Rebilas Bousard. Music Director: Joe Bousard. Cast: Brad Allen, Cynthia Elek, Tony Hodges, Matt MacDougall, Shana Rebilas Bousard, Tina Khalil, Diana Thompson, Dorothy Gaynor, Tina Khalil, Joe Bousard, Scott Hay.
Set in Berlin in 1931, Cabaret focuses on the nightlife at the seedy Kit Kat Klub and revolves around the relationship of a young English Cabaret singer, Sally Bowles, and a young American writer, Cliff Bradshaw. We also see the poignant romance of the elderly Herr Schultz and Fraulein Schneider, and a few other colorful characters. Overseeing the action is the Master Of Ceremonies at the club, who acts as a metaphor for the threatening rise of the Nazi regime in Germany. Cabaret is a story about survival, and how each character chooses to withstand the changes they face.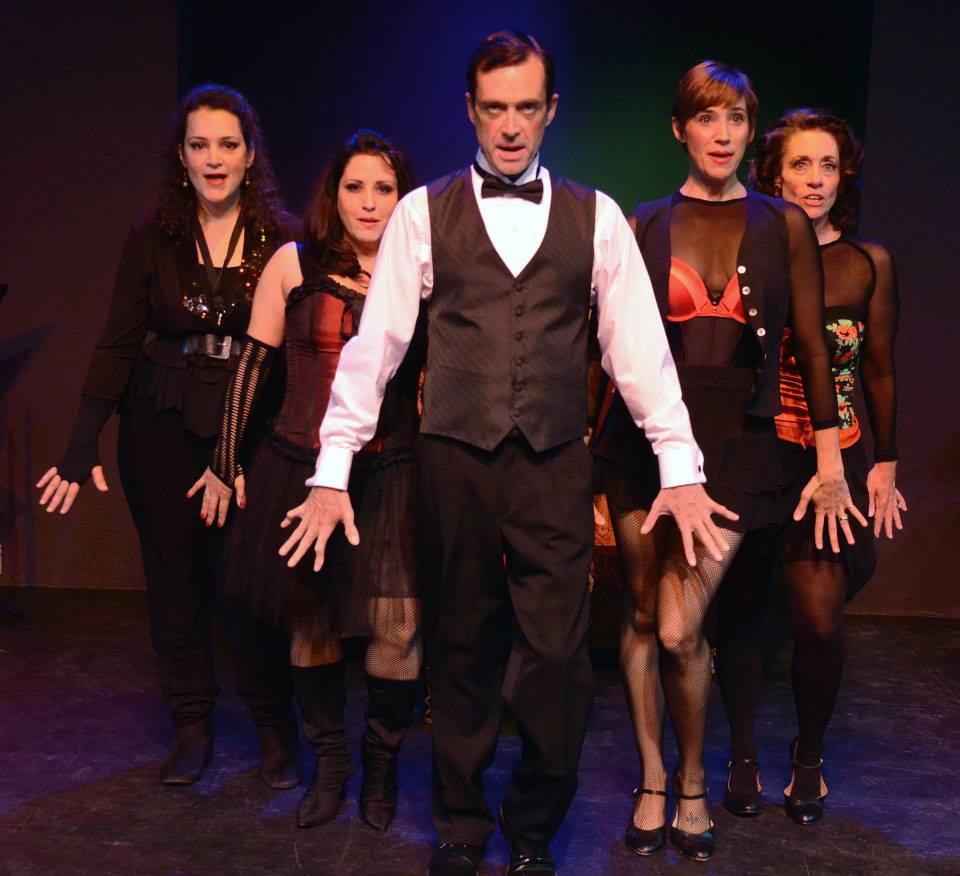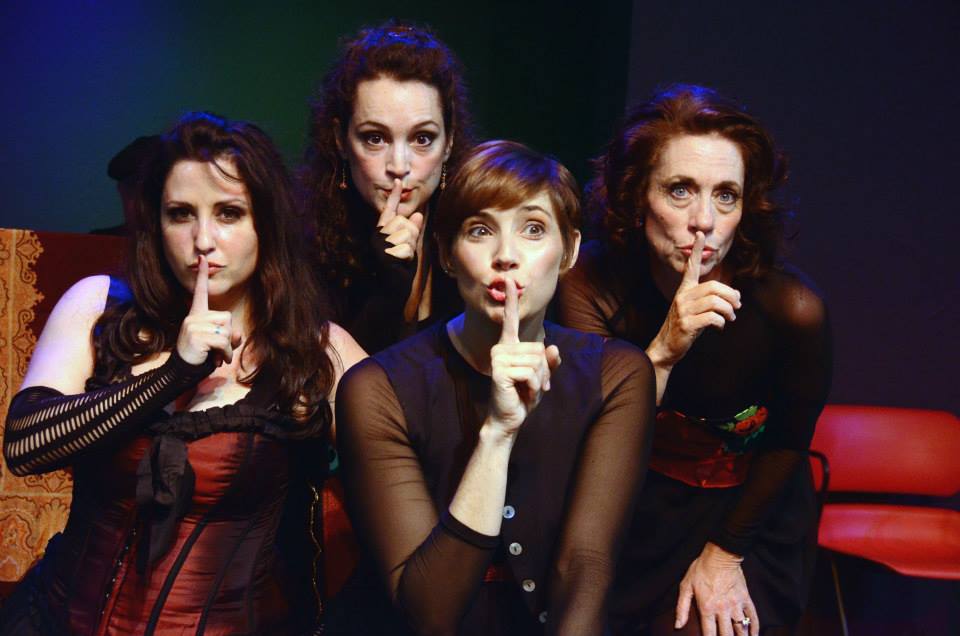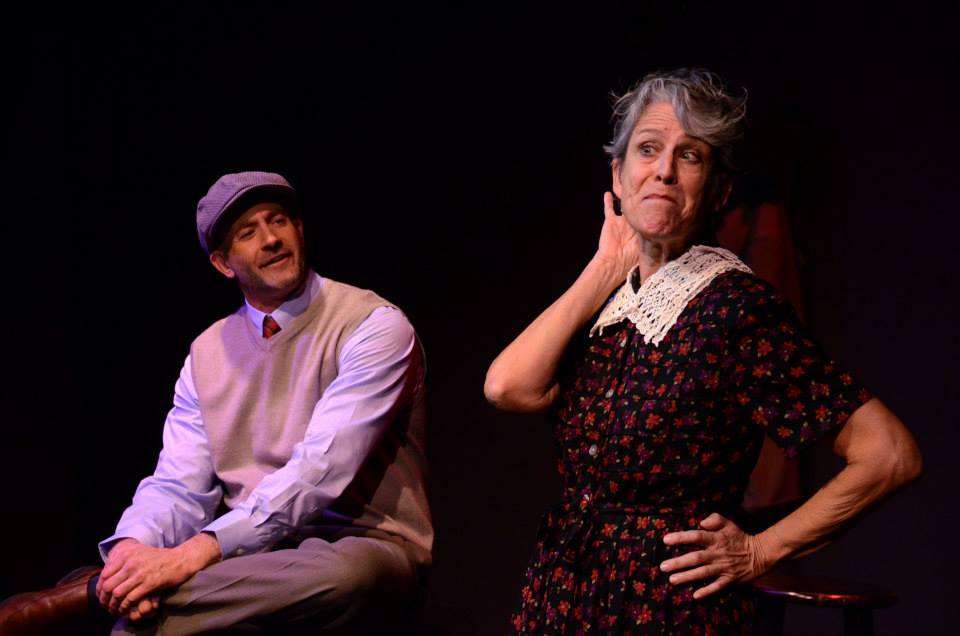 *****
2013. "Mrs. Klein." Cast: Amanda Noel Trombley and Barbara Acker.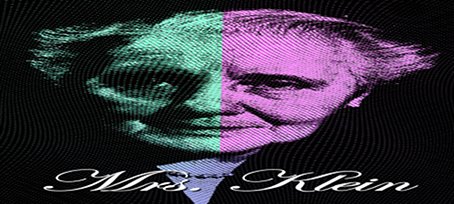 Compelling, suspenseful and deeply rich in psychological insights, the play tells the story of a brilliant and unorthodox woman whose single minded behavior threatens to destroy those closest to her. In 1934, at the peak of her career, psychoanalyst Mrs. Klein is shattered by news her son has died in a climbing accident. Her daughter, also a psychoanalyst who publically challenges her mother's theories, thinks he committed suicide to defy their overbearing mother.  When the battle between these two women spills over into their professional lives, the childhood events that lie at the heart of the conflict are exposed.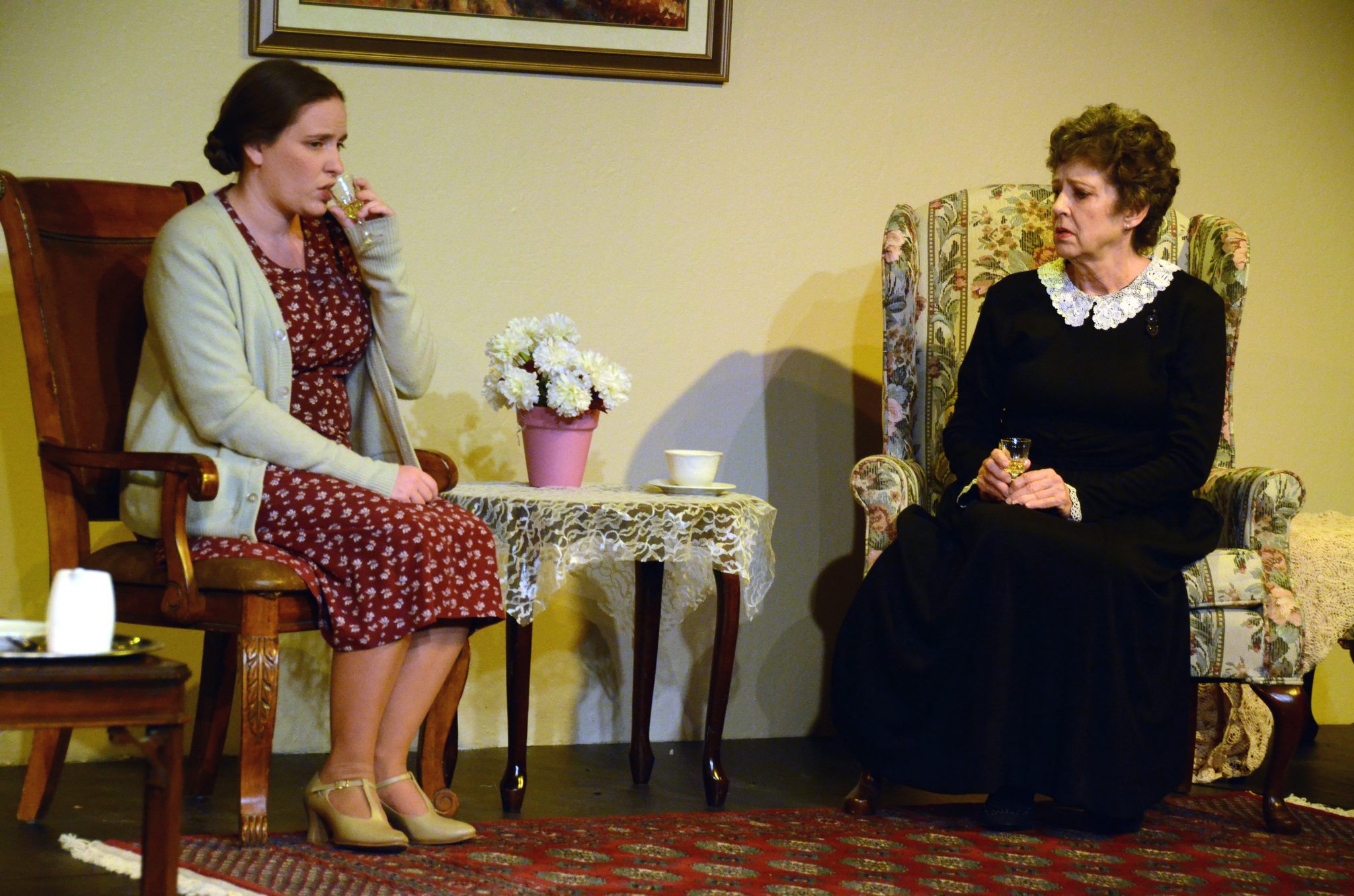 *****
2013 "Becky Shaw." Director: Dominick Rebilas. Cast: Brian Sweis, Shana Rebilas Bousard, Patti Davis Suarez, Lesley Tutnick-Machbitz, Dominik Rebilas.
In Gina Gionfriddo's comedy, a newlywed couple fixes up two romantically challenged friends: Wife's best friend and husband's sexy and strange new co-worker. When an evening calculated to bring happiness takes a dark turn, crisis and comedy ensue in this wickedly funny play that asks what we owe the people we love and the strangers who land on our doorstep.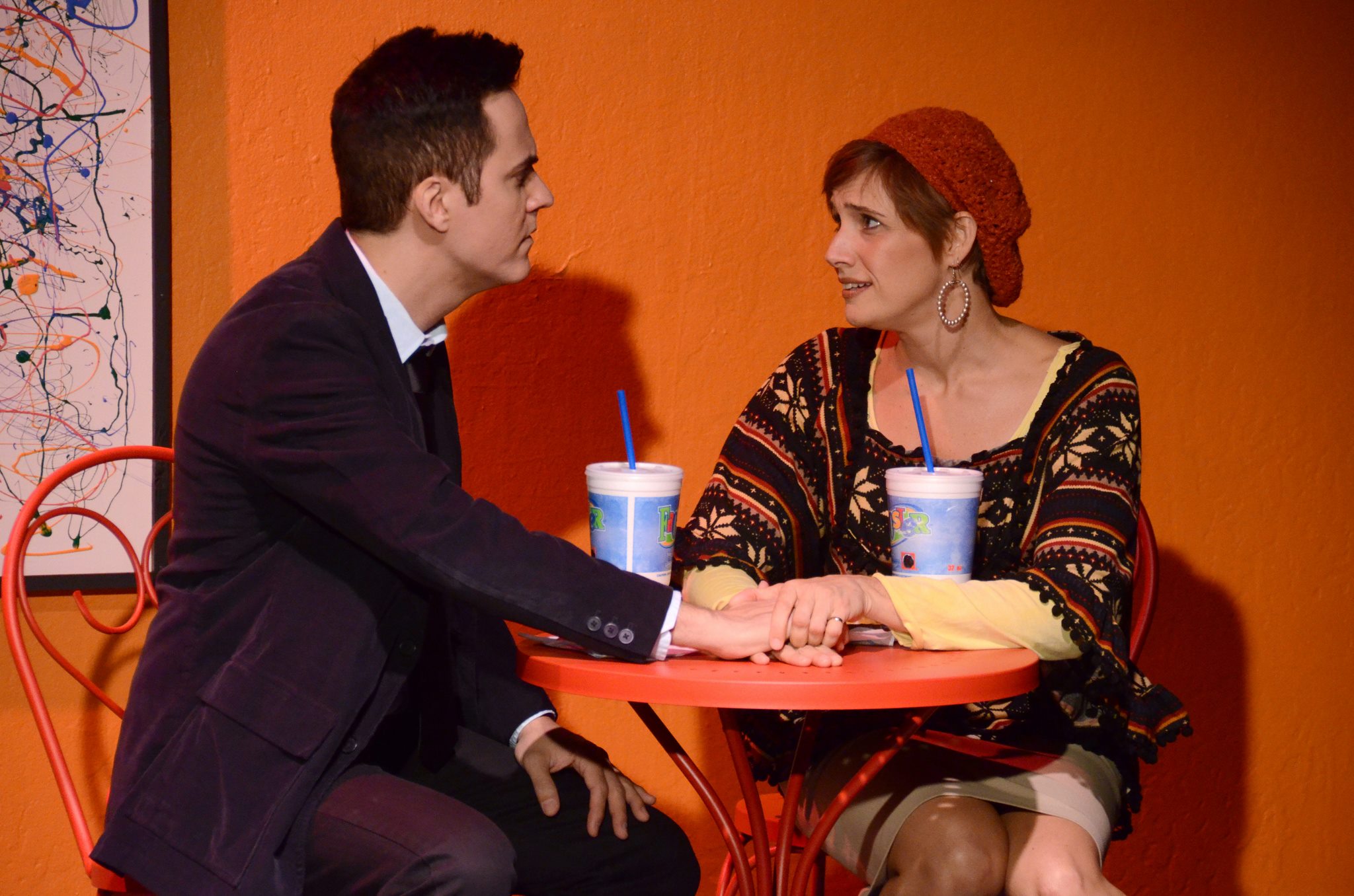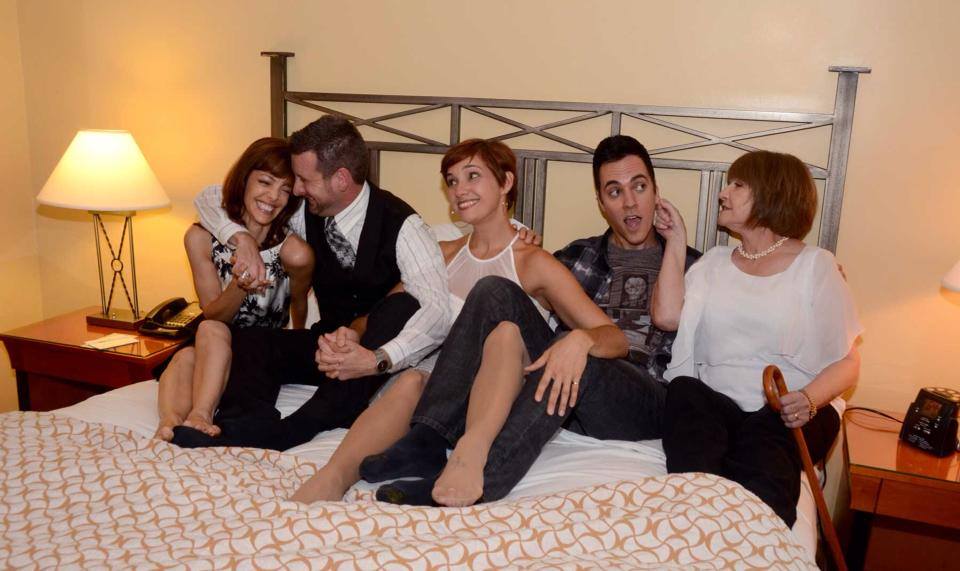 ""Becky Shaw" might just be one of the most brutally entertaining pieces of theater to hit the stage this season." – Kerry Lengel; Arizona Republic
Michelle Hoffman (Arizona Republic): "Theatre Artists Studio's 'Becky Shaw' is match made in theater heaven"
*****
2013. "Great Falls." Theatre Artists Studio. Directed by Judy Rollings.
Judy Rollings directed the local premiere of Lee Blessing's drama about a man (Greg Lutz) and his step-daughter (Heidi Haggerty) driving across the West, looking for meaning in their lives.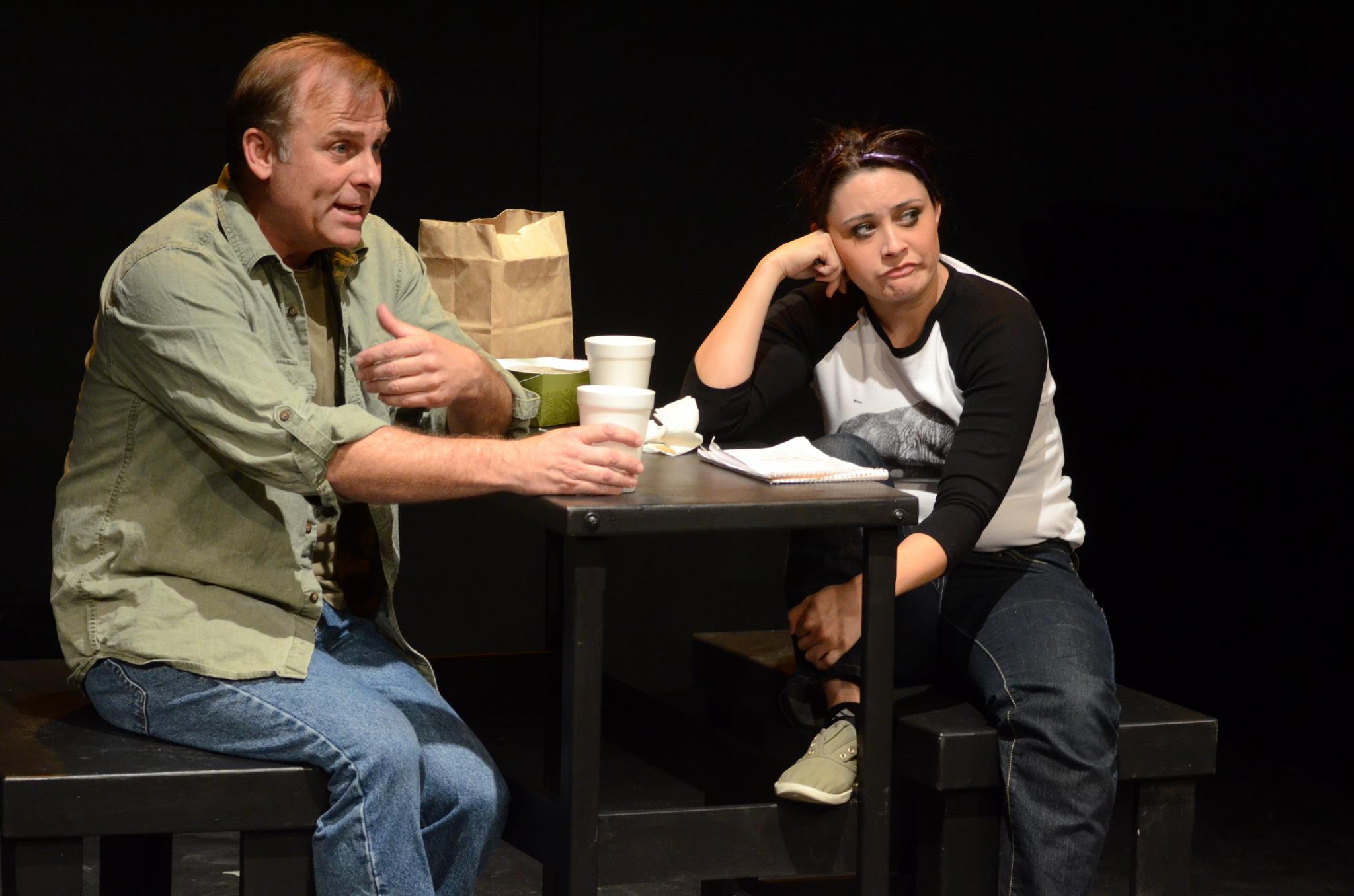 *****
2013. "Over the Woods." Playwright: Joe DiPietro. Director: Pamela Fields. Cast: Bob Barr, Michael Fleck, Dolores D'Amore Goldsmith, Scott Hyder, Judy Rollings, Shana Rebilas Brousard. 
Two sets of Italian-American grandparents are concerned that their beloved grandson might move to another city so they introduce him to a nice Catholic girl.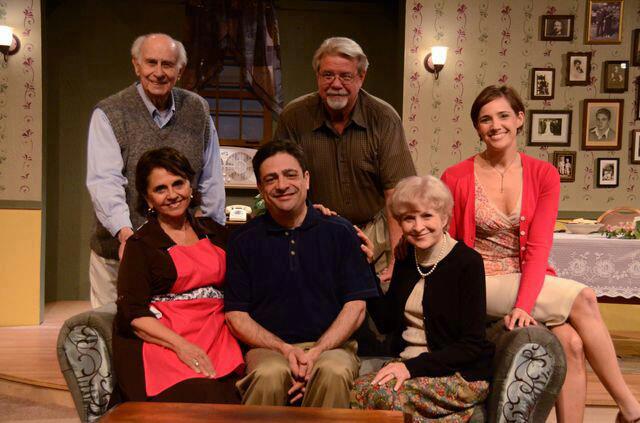 *****
2012. The Unexpected Man. Playwright: Yasmina Reza. Director: Carol MacLeod. Cast: Steven Mastroieni, Drea Pruseau. Note: Named one of 10 best plays of 2012 by the Arizona Republic.
Yasmina Reza's The Unexpected Man, written in 1995, presents audiences with a man and a woman sitting across from each other in a train compartment. The train is traveling from Paris to Frankfurt. She is carrying a book which she intends to read on the train. He wrote it. She wonders, "Should I read it in front of him?" That sets off a series of monologues in which the two talk of the past and their philosophies of life. At the end, they speak to each other. In the last line of the play, she calls the man by his name, revealing that she knew who he was all along. As with all of Reza's works, this one sparkles with wit and subtle meaning. Steven and Drea Pruseau were excellent as the couple.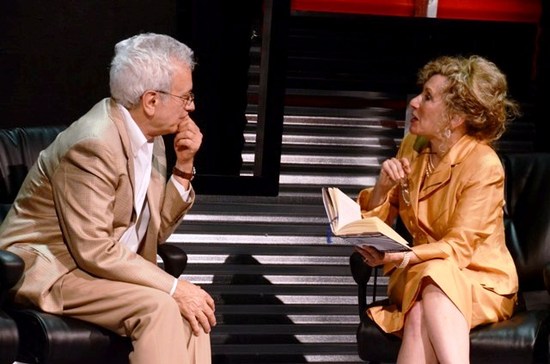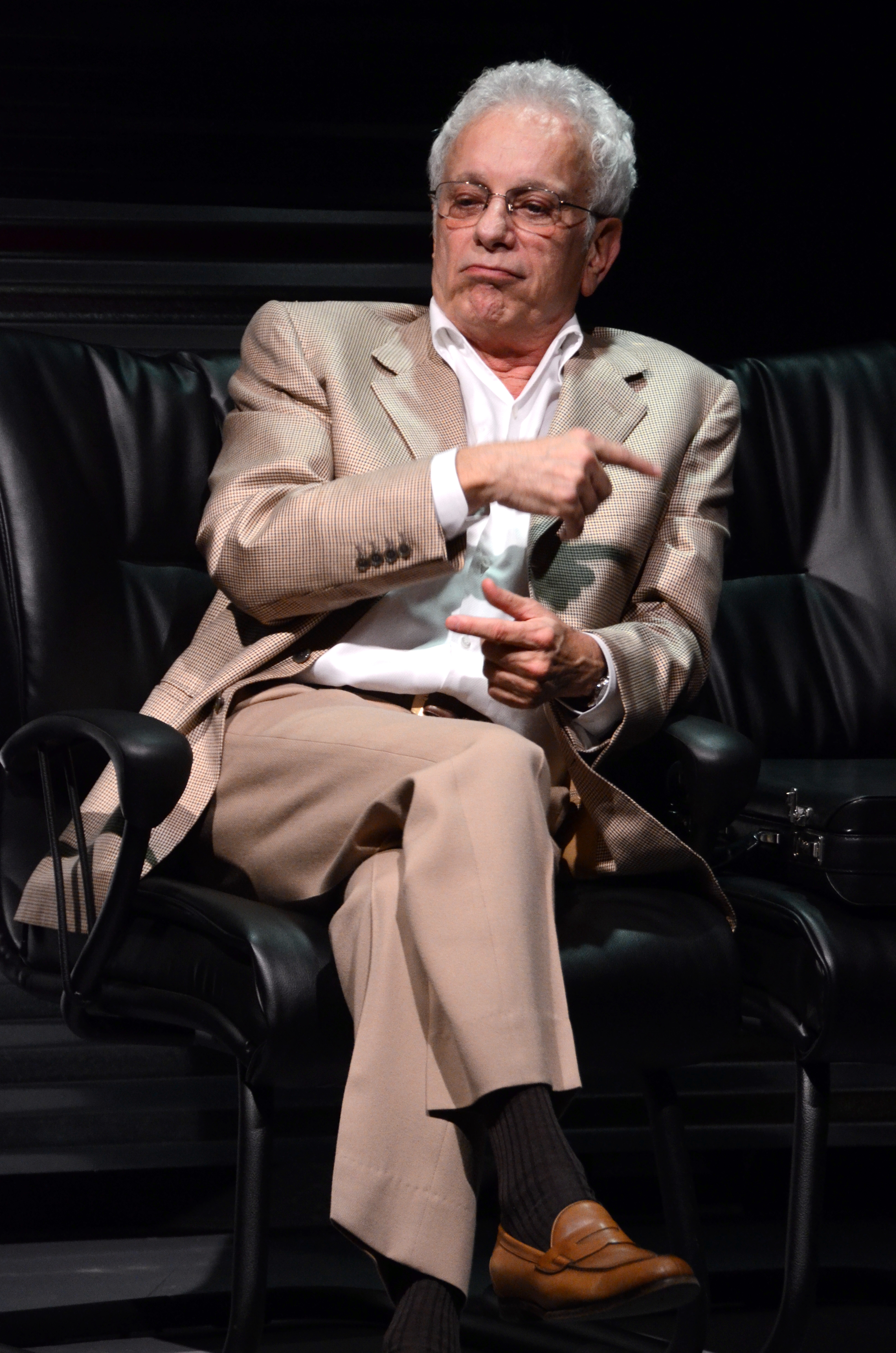 *****
2012. "The Road to Mecca." Playwright, Athol Fugard. Director: Judy Rollings. Cast: Judy Lebeau, Debra Rich, Don Erickson. Set Design: Patti Davis Suarez, Dolores D'Amore Goldsmith. Lighting Design: Dale Nakagawa.
Fugard's play, set in South Africa, is the story of the fight between a pastor (Don Erickson) and a young teacher (Debra Rich) over the fate of an elderly woman (Judy Lebeau) who has turned her house into a work of art. The title comes from the fact that all of Miss Helen's sculptures face toward Mecca. The play is based on the life of Helen Martins, who committed suicide in 1976 but left her home behind as a memorial. Special mention was made in the reviews of the scenic design by Patti Davis Suarez and Dolores D'Amore Goldsmith, which suggested Miss Helen's artworks.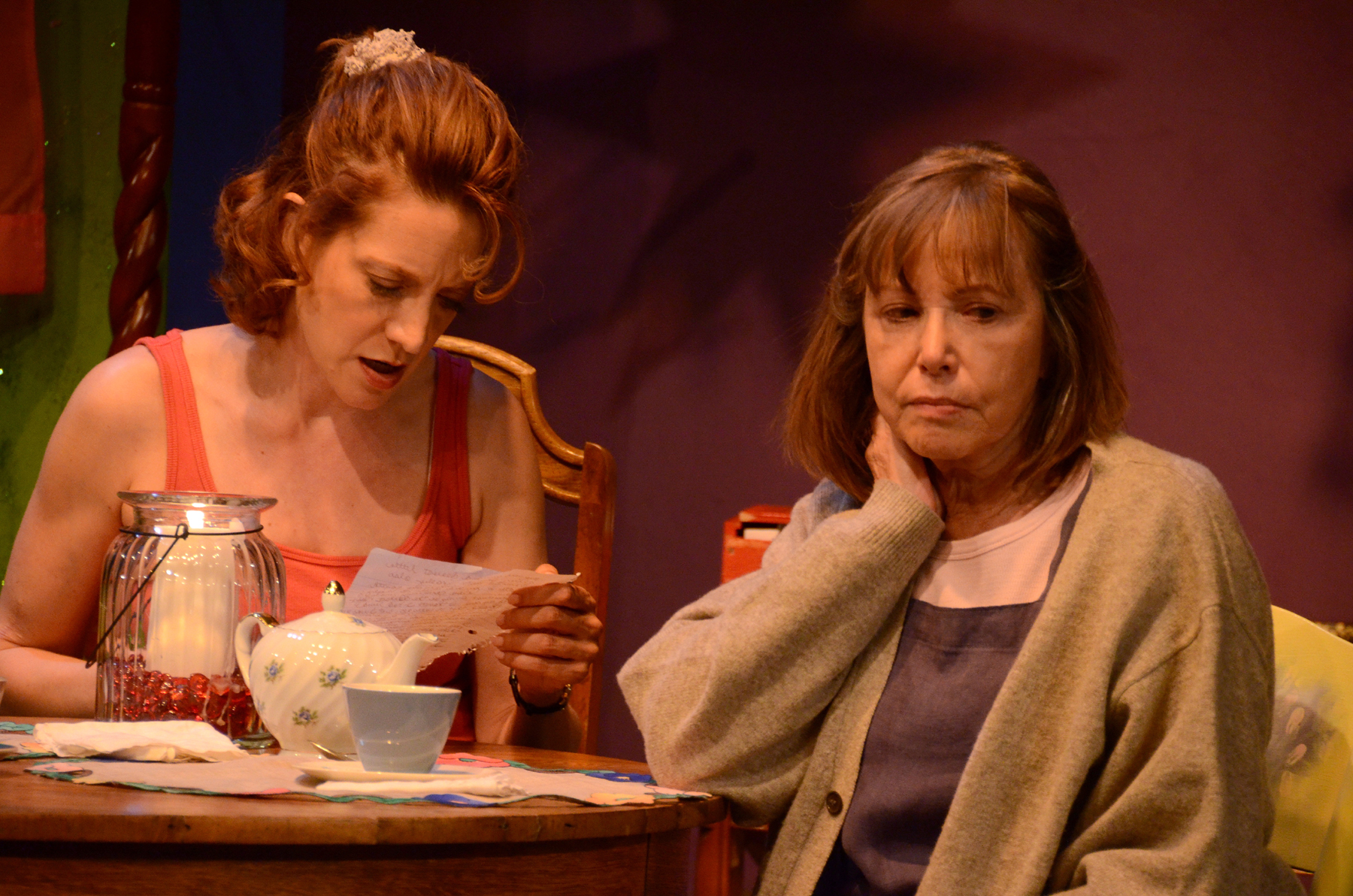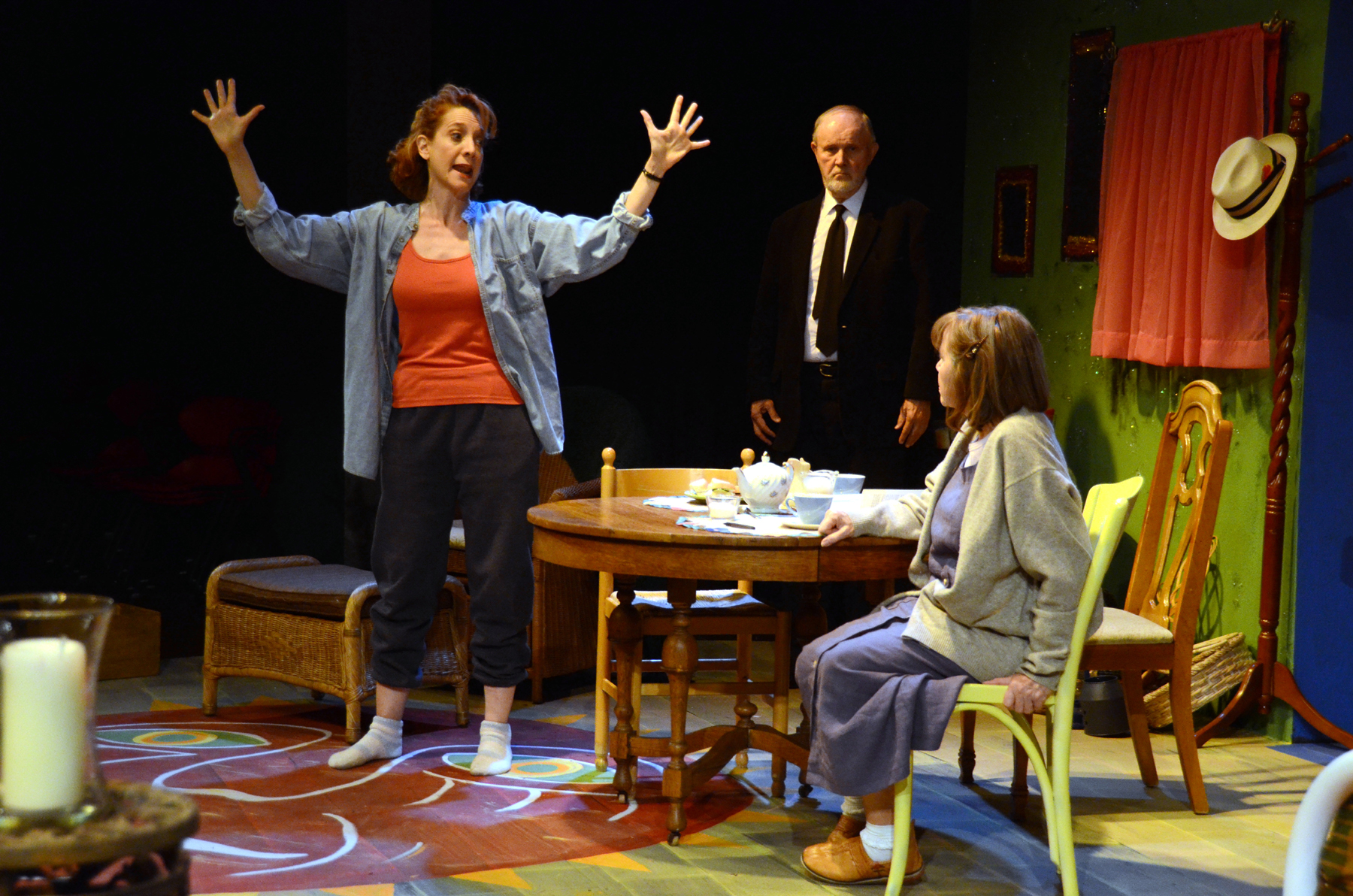 *****
2012. "Proof." Playwright: David Auburn. Director: Dominik Rebilas. Cast: Dominik Rebilas, Lesley Ariel Tutnick, Tony Hodges, Andrea Dovner.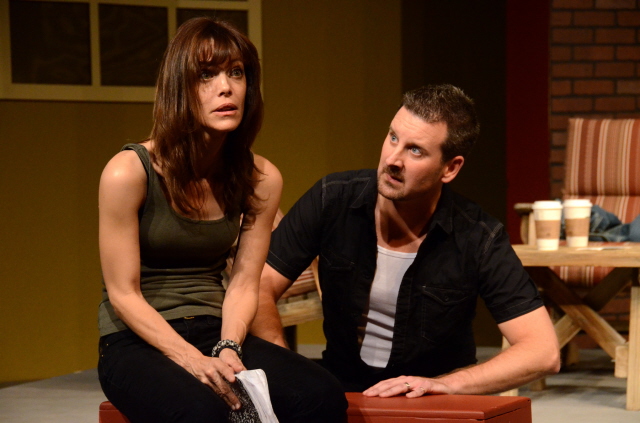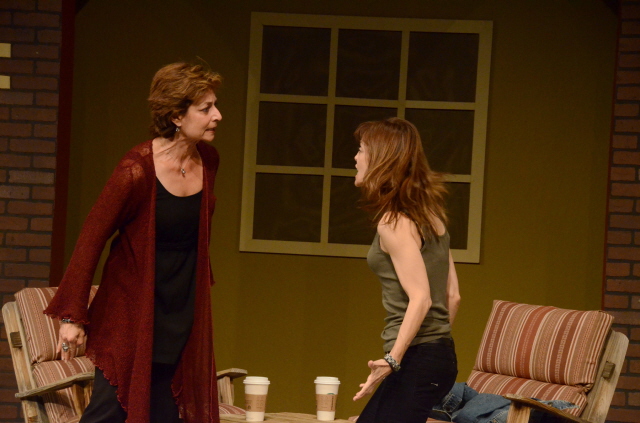 *****
2012. Summer Shorts. Various directors and casts.
Every year, the company produces a summer season of short plays.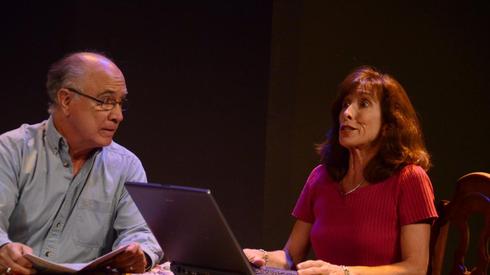 *****
JANUARY 2011. "Mama & Jack Carew," "Suocera." World premiere of two short plays by Hal Corley.  Cast: Debra Rich, Tom Noga, Gabe Rodio, Judy Rollings, Jeff Clevenger.
The company produced the world premiere of these short plays by Hal Corley. In Mama and Jack Carew, a Southern mother (Debra Rich) introduces her son (Gabe Rodio) to her new lover (Tom Noga). In Suocera, which means mother-in-law in Italian, a woman (Judy Rollings) has an excruciating reunion with her son-in-law (Jeff Clevenger) after checking her daughter into the hospital with appendicitis.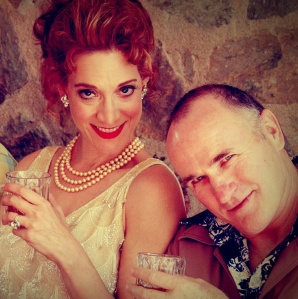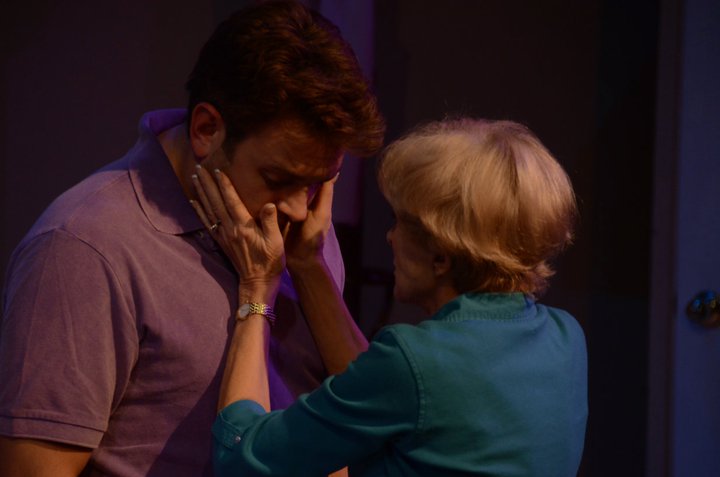 For Kerry Lengel's review in the Arizona Republic, go HERE
*****
2010. Father Christmas and the Snow Queen.   Cast. Susan Sindelar, Lesley Tutnick-Machbiz, David Vining.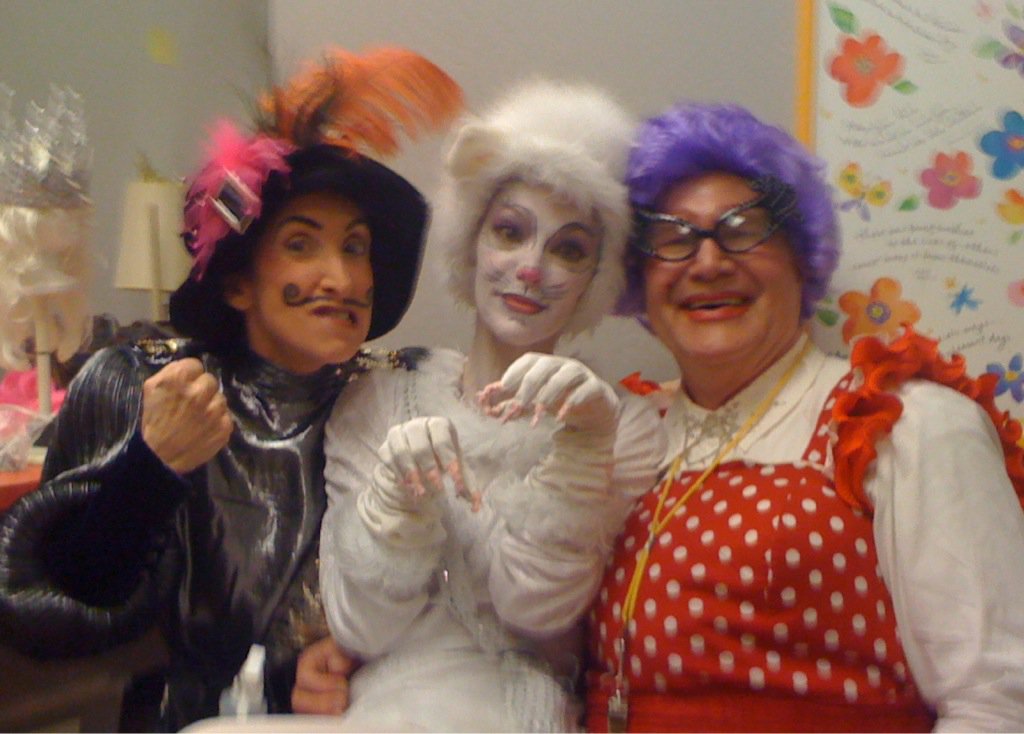 *****
2009. Trio With Flute. Playwright, Richard Warren. Director: Robert Caisley. Cast: Angelica Howland, Mary Clare Coleman, Brian Gibbons.
Richard Warren is a local playwright whose work has been gaining popularity in world theater for the past several years. In 2009, the company produced his Trio With Flute, which has a war crime at its center, the raping of women by Serbian soldiers in 1999. At the production's center were three outstanding performances by Angelica Howland, Mary Clare Coleman and Brian Gibbons.
FEBRUARY 2007. "The Death Bite." Playwright: Hal Corley. Director: Dominik Rebilas. Cast: Patti Davis Suarez, Judy Rollings, Danielle Mess, Dolores D'Amore Goldsmith.