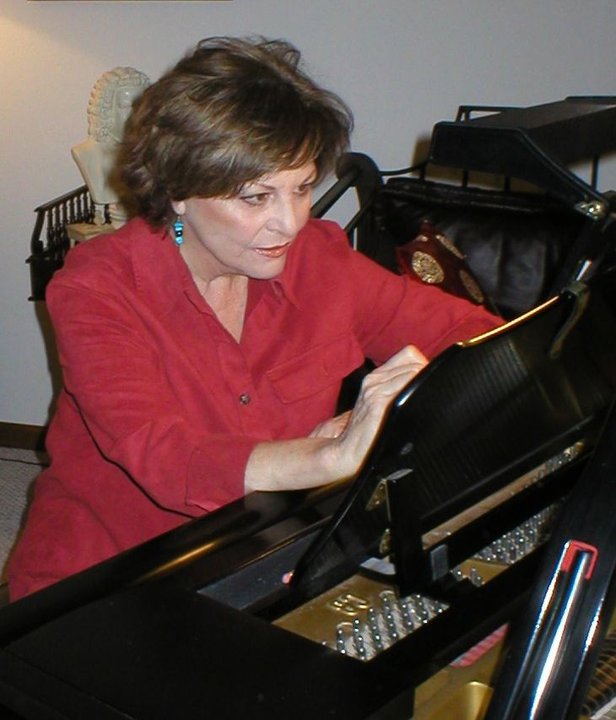 Andrea Jill Gersten Higgins (who was known as Jill Obrand for much of her theatrical career here)  was born in New York City. By the age of 4, she was improvising on her grandmother's piano. She began classical studies at age 7 and was offered a scholarship to the Juilliard School at age 11. At age 12 she was featured at Steinway Hall as an example of a gifted student in a John Schaum teacher's workshop.
Later the same year her family moved to Tucson, Ariz. Her musical training continued in high school. Besides taking piano lessons, she studied music with the conductor of the Tucson Symphony, Frederick Balazs.
Ms. Higgins earned a Bachelor of Arts in composition from Mills College in Oakland, Calif., where she studied with the famed French composer Darius Milhaud. While at Mills, she won the Flora Boyd Memorial Piano Competition. She studied piano with Alexander Libermann and chamber music ensemble with Bernard Abramowitsch. During her senior year she wrote a musical produced in Berkeley, Calif., called The Two-Inch Pedestrian.
Ms. Higgins went on to earn a Master of Music degree in musical theater direction from Arizona State University. During that time she became associate musical director of Lyric Opera Theater at ASU. In that position she coached, accompanied and conducted many acclaimed productions for the opera and theater departments.
In the 1970s, Ms. Higgins served as musical director of several hit productions at Phoenix Little Theatre, including Paint Your Wagon, A Funny Thing Happened on the Way to the Forum and The Music Man.
She was the musical director for the Barnstormers at the Windmill Dinner Theatre.
For 29 years, Ms. Higgins served as music director of Temple Solel, Paradise Valley, Ariz. She also has found time to direct more than 100 musical theater productions and to accompany many fine musicians and singers in the Phoenix metro area. She travels throughout the United States and Canada conducting her own compositions and commissioned work, as well as giving workshops on Jewish liturgical music.
Ms. Higgins is a member of the American Society of Composers, Authors and Publishers (ASCAP) and is on the board of the Guild of Temple Musicians. (Source: http://www.andreajillhiggins.com)
Andrea is on Facebook: https://www.facebook.com/andrea.j.higgins?fref=ts