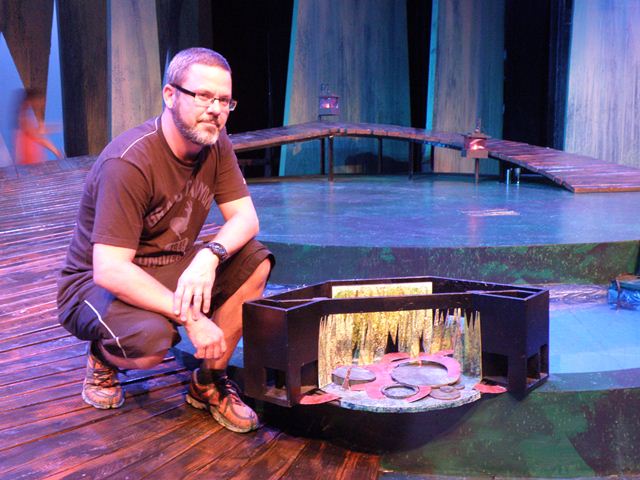 PHOTOGRAPHS, REVIEWS & THE KITCHEN SINK
SEPTEMBER/OCTOBER 2014. "Charlotte's Web." Childsplay.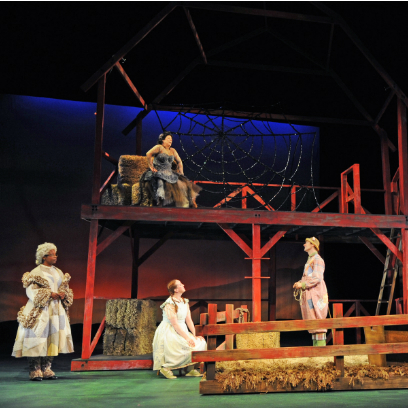 2013. "Twelfth Night." Grand Canyon University.
By Doug Carroll
Grand Canyon University News Bureau. Aug. 28, 2013.
The best-looking productions in Arizona college theatre will look even better this year, and Grand Canyon University audiences won't have to wait long to see for themselves.
The scenic design for the Shakespearean comedy "Twelfth Night," which kicks off the 2013-14 Ethington Theatre Series this weekend, represents a "conceptual leap" for the theatre program, according to Assistant Dean Bill Symington.
He should know: Symington and his full-time technical assistant, Jeff Jann, have built every set since the program was brought back to campus in the fall of 2010.
Much of their work has been spectacular, and it would be difficult for Ethington regulars to choose a favorite. Who can forget the moody, industrial look of "Dracula" two years ago? Or the use of the campus swimming pool for "The Frogs" in the spring of 2011? Or the clever saloon and jail pieces involved in a Western-styled "Much Ado About Nothing," last fall's opener?
Symington is "incredibly professional and intelligent and adept at creating an environment that speaks clearly for the play," says Claude Pensis, dean of the College of Fine Arts and Production. "And he does that all the time."
Symington, 45, who came to GCU after years of doing much the same work for Arizona State University, has a simple philosophy that governs such complex assignments.
Never mind that he has done "Twelfth Night" twice before. It doesn't matter. If anything, that makes it more difficult.
"We approach each show as a blank page," he says. "We don't want to re-create anything. We're in the business of creating something new."
The "Twelfth Night" set has been designed to reflect the topsy-turvy nature of the mistaken-identity story. Virtually nothing is level. A steel bender was acquired in order to create the curves and tilts in the flooring, and the hand-cut planks seen onstage are intentionally odd-sized and jagged. There's even a small, eight-inches-deep pond at center stage.
"In terms of material, this is a massive amount of lumber and steel," Symington says. "This is our most ambitious (design) in terms of artistic scope. We took more risks with this.
"It's adventurous. It's like a sculpture brought to life."
That's not all. Ethington productions this year will be lit by a new high-tech LED system, which required the aging theatre to be rewired over the summer. And the second show of the season, "Ah, Wilderness!" by Irish-American playwright Eugene O'Neill, which opens on Oct. 11, will see the debut of an immense revolving stage that took Symington and Jann eight weeks to build.
The turntable stage is 31 feet in diameter — almost twice as large as one that was borrowed for last year's production of "A Christmas Carol" — and it weighs 2½ tons. It has nearly 200 wheels, and it is run by a two-horsepower motor and a computer system. For storage, it needs to be broken down into 16 pieces.
Symington says that he and Pensis long had kicked around the idea of having a revolving stage. The obstacle was finding adequate time for its construction.
And so, for much of this summer, with student helpers gone from campus, the task fell to Symington and Jann to build the revolve — and then turn around to start on "Twelfth Night."
With that kind of workload, it's not surprising that Symington initially blanked on a concept for "Twelfth Night" that would capture the vision shared by Pensis and director Michael Kary. When he finally hit on one, he says he pulled his first all-nighter since college to see it through and begin work on a scale model of the design.
"I was in 'Twelfth Night' in college, and it's one of my favorites," Symington says. "The question is how to create a world of so many places (onstage). We went into it thinking of the themes: a shipwreck, the ocean, water, mystery, romance. We want those things to be not so literal. It needs to have an exotic sense about it."
From the look of things already, the new Ethington season will have exotic in abundance.