PLEASE HELP
This page is in development. I would be grateful if you would share any memories, anecdotes, photographs or other memorabilia. Please use the button at top right to contact me and I will give you the details on sharing. Thank you, Kyle Lawson, page manager. (PS: It would help if you could provide the IDs of those pictured, the name of the production, the year, the company and the photographer credit. If you know them, that is.
PHOTOGRAPHS, REVIEWS & THE KITCHEN SINK
CLOSE CALL (After the article below was written, circumstances changed and David Ira remained at ATC)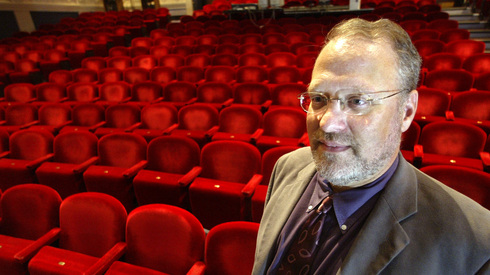 DAVID IRA GOLDSTEIN TO LEAVE ATC
By Kerry Lengel, The Arizona Republic, June 4, 2013
David Ira Goldstein, artistic director of Arizona Theatre Company, will step down in December after leading the state's largest and most influential theater for more than 21 years.
Goldstein's long tenure represents nearly half the history of the company, which was founded in Tucson in 1967 and expanded to Phoenix in 1978. Serving both communities has been challenging, from a programming and a logistical perspective.
"I've driven the equivalent of 17 times around the world between Tucson and Phoenix," he said.
Goldstein will remain in Phoenix and continue his career as a freelance director for major regional theaters. He said he hopes to direct shows for other Valley companies, but he also is looking forward to having more time to spend with his family.
"I just turned 60," he said. "This is the time."
During his 21 seasons as artistic director, Goldstein expanded the company's audience as well as its national profile. He commissioned and directed several world-premiere plays that have gone on to multiple productions around the country, including Jeffrey Hatcher's Ten Chimneys and Steven Dietz's Inventing Van Gogh and Sherlock Holmes: The Final Adventure.
"Finding someone to replace David will be difficult. He really is very unique," said John Rawicz, president of the company's board of directors and a lawyer with the Phoenix firm Lewis and Roca. "He has tremendous relationships with people in the theater world. He's been able to bring certain plays to our theater that wouldn't have come otherwise."
Goldstein came to Arizona Theatre Company in 1992 from A Contemporary Theatre in Seattle. With roots in the Midwest, he has racked up directing credits at the Children's Theatre Company of Minneapolis, Seattle Repertory Theatre, Florida Stage, Pasadena Playhouse and San Jose Repertory Theatre. At the latter company, he directed the world premiere of The Kite Runner, based on the novel by Khaled Hosseini.
Former ATC managing director Kevin Moore, who holds the same title for Theatre Communications Group in New York, praised Goldstein's "artist-focused approach."
"By hiring the best designers and the best actors and the best directors, he really put (the theater) on the national map," he said.
Goldstein has directed more than 40 main-stage productions for the ATC, ranging from Shakespeare classics to slapstick farces (The Mystery of Irma Vep) to cutting-edge rock musicals (Next to Normal). His versatility has impressed both colleagues and critics.
"His gift is communication," said Kyle Lawson, a longtime theater writer for The Arizona Republic who retired in 2008. "Communication to the actors but also communication to the audience. He can make a play come across that fourth wall into the laps of the audience. And because the audience felt involved, that's why the company grew."
Goldstein's departure, which the theater announced on Monday, comes at a time of transition in the Valley's performing-arts community. Phoenix Symphony music director Michael Christie conducted his farewell concert last month, while Arizona Opera's general director, Scott Altman, left the company in April in a surprise announcement after the close of the opera's 2012-13 season.
By staying on through December, Goldstein gives the ATC's board time to organize a search for his replacement. But that's not the only reason. He's also sticking around to direct Xanadu, which will open at Phoenix's Herberger Theater Center on New Year's Eve.
The 2007 Broadway musical is an adaptation and a spoof of the 1980 film. "I can't wait for that," Goldstein said.