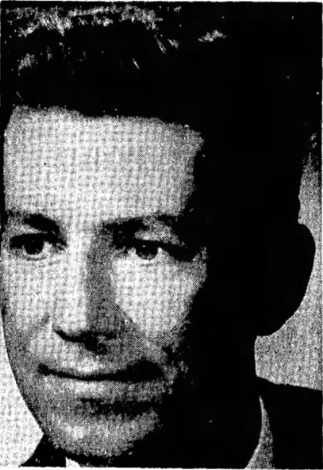 Olan K. "Kit" Carson, Resident Director, Phoenix Little Theatre
Olan K. Carson, popularly known as Kit, took up his duties as resident director of Phoenix Little Theatre on Aug. 1, 1963. He hit the ground running. During his first season, he directed five productions and conducted one workshop.
Kit had his BS degree from Mount Union College in Alliance, Ohio. He was a graduate assistant in drama at the University of Washington, Seattle, and studied drama with Herbert Shumlin in New York City.
While at Mount Union, Kit was named best actor. In 1961, he received the best actor award from the Tacoma Little Theatre. In 1963, he received the best actor award from the University of Washington.
Prior to coming to Phoenix, he was resident director of Tacoma Little Theatre and resident actor at Cirque Playhouse, Seattle.
At PLT, Kit directed and acted, often in the same show. He guided himself to acclaim as the British husband bedeviled by the ghost of his first wife in 1967's Blithe Spirit; as Mommet the Witch (the role that gave Peter O'Toole his first break at stardom) in Hans Christian Andersen's The Tinder Box; and as a gentleman marooned on a tropical island in The Little Hut.
Working most often in collaboration with scenic and lighting designer Jim Edmundson, his range was considerable: from Neil Simon's Barefoot in the Park (featuring rising star Jacqueline Gaston) and Brandon Thomas' hoary farce, Charley's Aunt, to Jean Anouith's Beckett (with Edmundson alternating the roles of King Henry and Thomas Beckett with William McLaughlin). Showing his versatility, Kit designed and sewed the elaborate costumes for Beckett.
Carson was more than competent at helming the classics. His 1969 production of Shakespeare's Twelfth Night was highly regarded. And he was a dab hand at musicals, which he proved with 1968's The Fantasticks.
During the mid-1960s, Kit hosted "Collector's Choice" on KTAR-FM.
In 1965, PLT hit a financial pothole. The Arizona Republic's Bina Breitner attributed it to "a misguided association" with Phoenix Children's Theatre and Arizona Repertory Theatre, which closed its doors.  In the spring of 1969, the PLT board decided that the paid staff would have to go. Kit moved to Tucson where he started work on a master's degree in theater at the University of Arizona and the PLT board went hat in hand to the Phoenix City Council. After weighing what the loss of PLT would mean to the community, the council came through with emergency funding.
The only bright side of this for Kit was that he and his wife became the parents of a baby girl during the height of the crisis – though some might think losing one's job shortly after the birth of a child was hardly a bright side.
A better feel for Kit's time at PLT can be gained by going HERE
PRESS CLIPPINGS AND OTHER MEMORABILIA
PLT TRIES ON A DINNER THEATER FOR SIZE
Arizona Republic, Aug. 27, 1968
Under Kit Carson's direction, PLT tries its hand at a dinner theater. It was an experiment of short duration.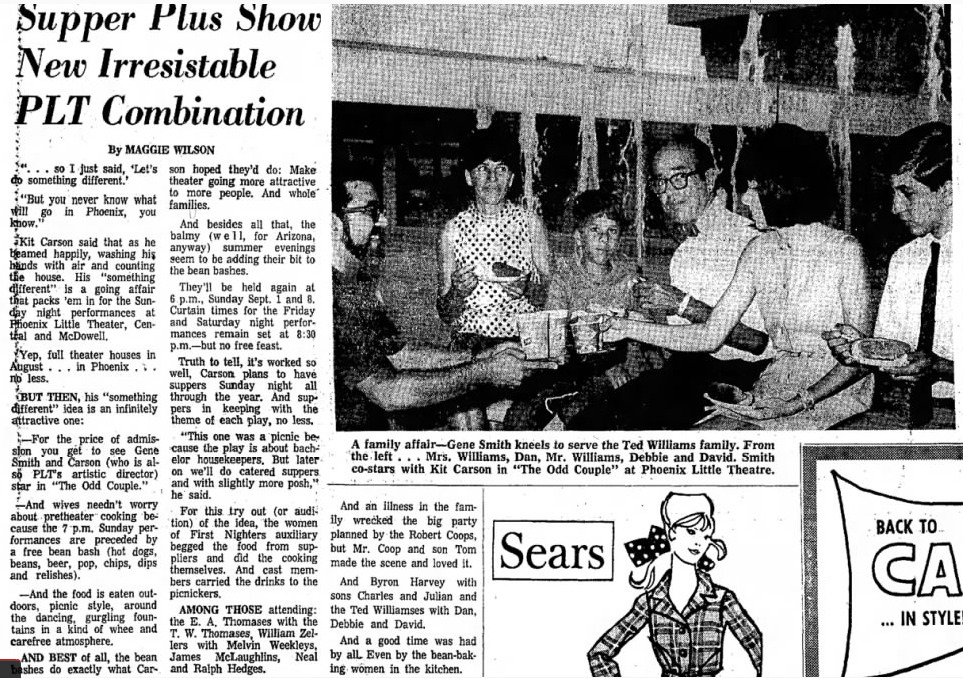 APRIL 1968 "CHARLEY'S AUNT"  Director

JANUARY 1968  "LITTLE MARY SUNSHINE"  Director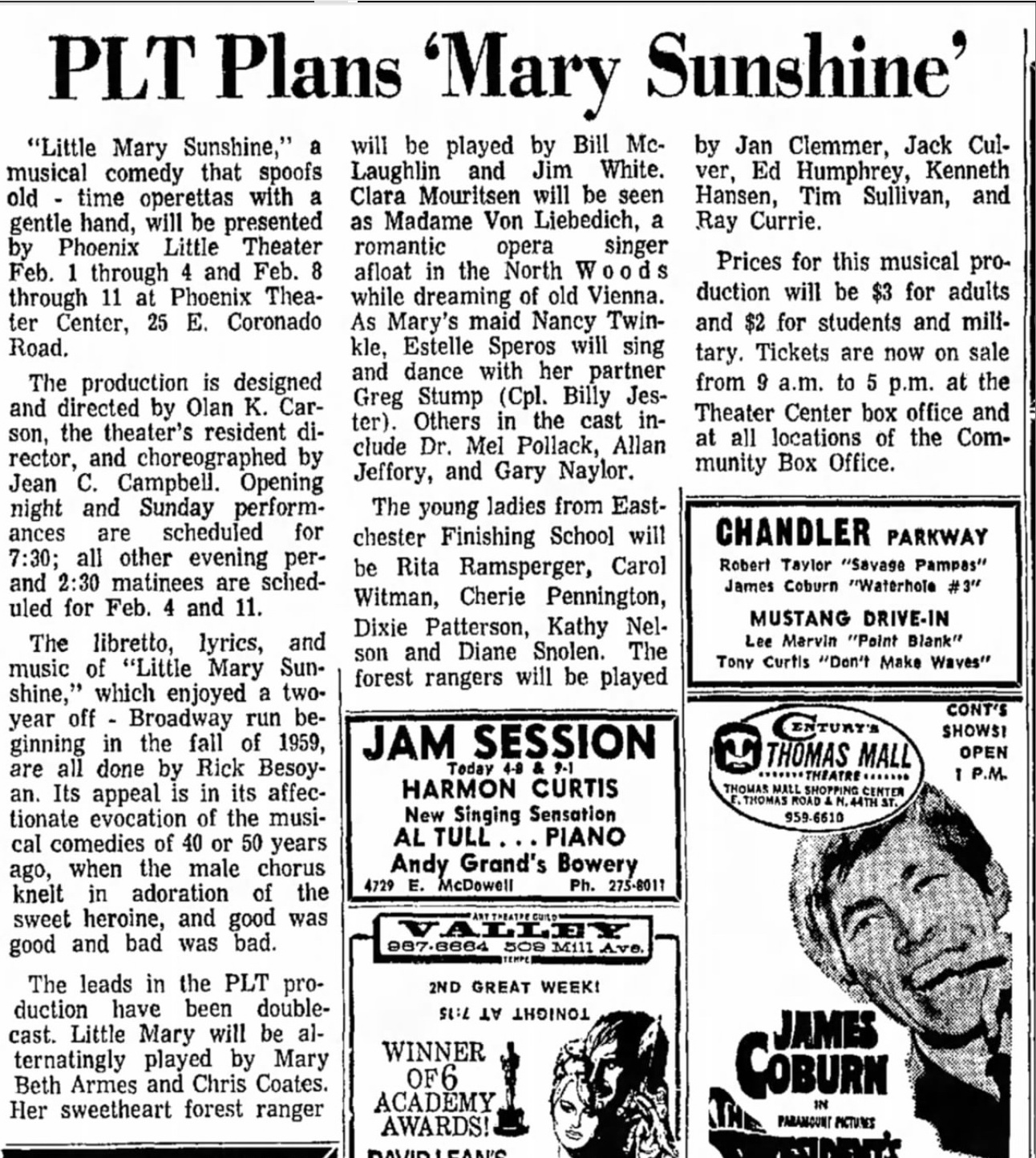 JUNE 19, 1967 ARIZONA REPUBLIC ARTICLE ON '67-'68 SEASON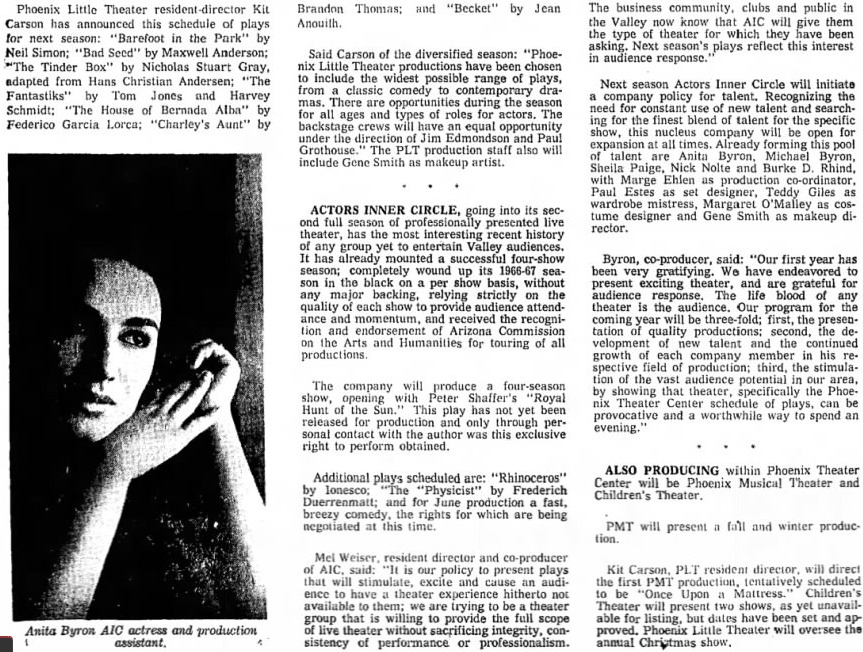 DECEMBER 31, 1967 .  ARIZONA REPUBLIC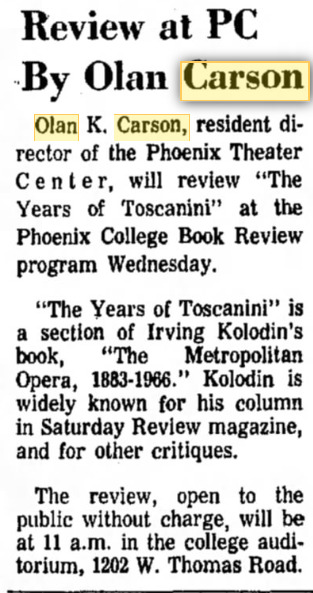 DECEMBER 1967  THE TINDER BOX
In December 1967, PLT cast adult actors in a children's play designed to celebrate the holiday season. The Tinder Box was an adaptation by Nicholas Stuart Gray of the Hans Christian Andersen tale. Kit Carson, then resident director at PLT, directed and took the role of Mommet the Witch, a part originated by Peter O'Toole when he was a drama school student.
Review: Bena Breitner, Arizona Republic
Arizona Republic, April 14, 1967