Larry Liff was a director best known for his association with Arizona Repertory Theatre but he directed for several other companies, always to critical acclaim. His wife, Carolyn, was his frequent partner, usually as choreographer.
PHOTOGRAPHS, REVIEWS & THE KITCHEN SINK
JANUARY 1977. "South Pacific." French Quarter Dinner Theatre at the Safari Hotel, Scottsdale. Director: Larry Liff.

Like most directors, Larry found the French Quarter's long, shallow stage a challenge. It wasn't as if South Pacific had only a handful of characters. But he and choreographer Carolyn Liff managed to squeeze it all in, palm trees and all. It helped that he had John Clegg, music director at Phoenix Little Theatre, and Cecilia Allen, one of the era's musical comedy divas, to sing the leads. But it was Sylvia Godfrey's Bloody Mary who walked away with the show. By all accounts, she was sensational. Also in the cast were David Thompson, Noel Irick and Margie Ghigo, on their way to becoming stars in their own right.
*****
APRIL 1977. "The Music Man." Phoenix Little Theatre. Director: Larry Liff.

Noted for her winsome beauty and sterling upper register, Cecilia Allen (as Marian the Librarian) topped the cast list of many of the decade's best musicals, including this lavish Broadway remake helmed by Larry at Phoenix Little Theatre. Larry Collis, who was excellent as Meredith Willson's con man hero, was her opposite on the male charts. Distinguished in looks, with a megawatt smile and a powerful baritone, he, too, prevailed on marquees.
*****
MAY 1976: "1776". Phoenix Little Theatre. Directors: Larry Liff, Robert Davis.

I'm not sure why Larry, one of the most accomplished directors in the Valley, had a cohort (Robert Davis) on this. Perhaps because the American Revolution was a big act to manage. Nevertheless, he managed to pull off one of PLT's biggest hits of that year, helped in part by the fact that America was celebrating its 200th birthday. Also helping was a Who's Who cast. Consider his leading ladies. Marlene Saens, Cecilia Allen, Virginia Lee. All the show lacked was Elaine Morrow to corner the market in that category.
*****
NOVEMBER 1967. "The Importance of Being Earnest." Central High School.
Larry stepped away from local theaters to helm a production of Oscar Wilde's comedy at Central High School, where he was the drama teacher.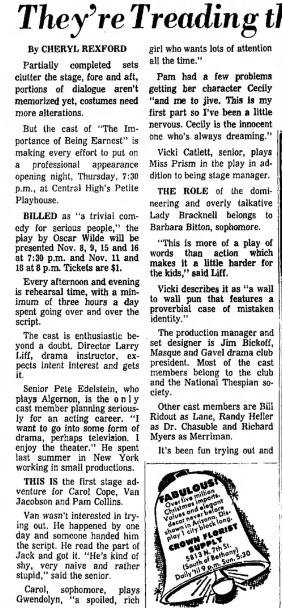 *****
JUNE 1970 "Oliver." Directed by Larry Liff. A benefit for Phoenix Little Theatre, staged by students at Central High School.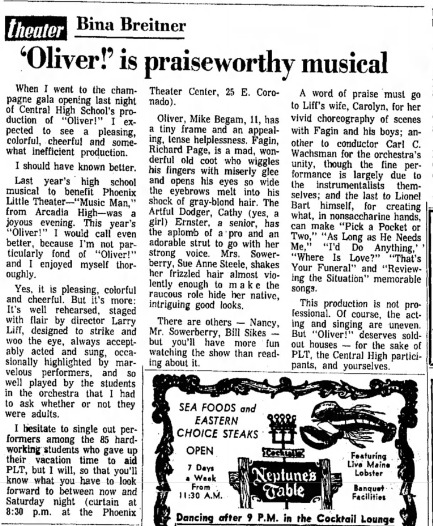 *****
NOVEMBER 1970. "The Lion in Winter." Phoenix Little Theatre. Directed by Larry Liff.

It's funny how some productions have an apparently endless shelf life. I'm writing this in 2014, 43 years after Phoenix Little Theatre staged James Goldman's comedy-drama, The Lion in Winter, and still people are talking about it. Although she was dismissed (albeit favorably) in three lines in Larry Rummel's review, it is Helen Begam's performance that seems to linger longest in the memory. Apparently she was magnificent. John Sankovich fans (they are legion, legion, I tell you) still recall his King Philip with a smile and, in any discussion of Larry, this play always seems to poke its nose into the conversation.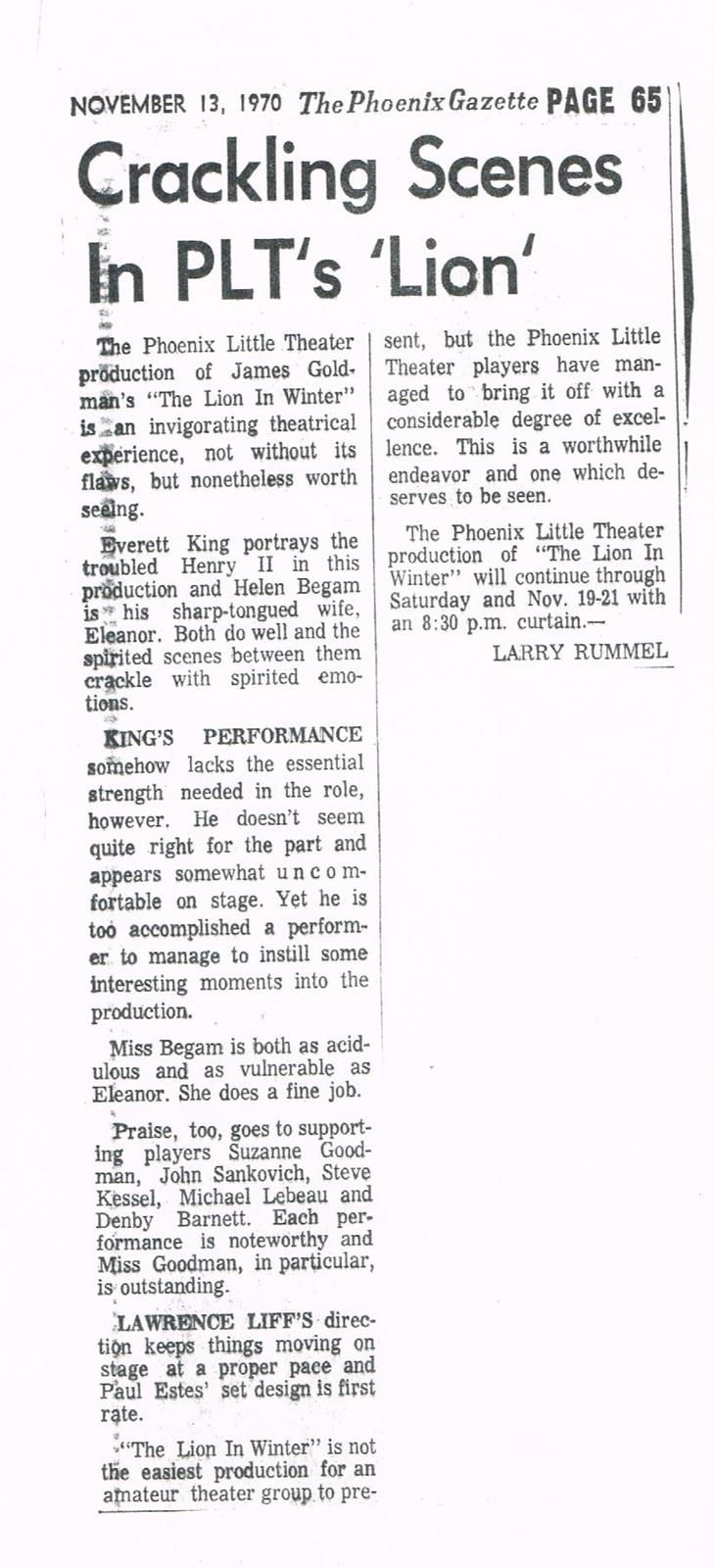 *****
JULY 1963. "Aria da Capo," "Hello Out There." Performed in the Round. Director: Larry Liff.

Circle 16 Playhouse didn't have a long run, but while it was around, it produced some of the finest theater in the Valley. How often do you get to see Edna St. Vincent Millay and William Saroyan on the same bill?