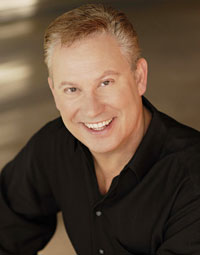 In 1999, one of the true geniuses in Valley theater took over the reigns at Phoenix Theatre. I was lucky enough to nab an interview, which was published in the Arizona Republic on May 9. It says a lot about the man, and something about his art. Happily, he is still at the helm today.
By Kyle Lawson, The Arizona Republic
Michael Barnard is the new producing artistic director at Phoenix Theatre. That ought to inspire a bustling trade in cliches. Trot out those bromides about the prodigal son and how you can't go home again.
Why not? He's the one who got away, and he's back. Although it's dicey calling him the prodigal son. There's nothing very scandalous about the fleshpots of Disneyland, or if there is, he isn't telling.
Barnard, senior show director at the California park and responsible for such blow-your-mind, damn-the-budget spectaculars as The Spirit of Pocahontas, The Hunchback of Notre Dame's Festival of Fools and Fantasyland's AniMazement, is a Valley native. His roots in local theater go back nearly a  quarter century; he left his imprint on some of the most successful shows in the record books, particularly musicals.
He has come home to head the city's oldest theatrical institution, which also happens to be one of the five oldest continually operating little theaters in the nation.
That's worth a bromide or two.
Barnard doesn't take over the reins of Phoenix Theatre until July 1. Officially. Unofficially, he's in town every weekend serving as a consultant, furiously revamping the season he inherited from Michael Mitchell, who left in April to take over a Pennsylvania company.
"Don't ask – because I don't know," Barnard says. "We're keeping two of the shows Michael planned: the musical revue Beehive and Robert Fulghum's Uh-Oh, Here Comes Christmas. Beyond that? Well, I hope you'll be pleasantly surprised."
Why the change?
"Don't ask that either," he says, laughing, then adds, "No, I'm kidding. The reason is pretty simple. I have a vision for the theater, and neither I nor the board really want to wait a year to put it into practice. People may think the changes are a criticism of Michael's choices, but that's not the case."
Barnard says his five years at Disney have given him some ideas he wants to try on the local level.
"Modern thinking says that one-third of your budget should be spent on marketing, but we don't have that kind of money at Phoenix Theatre," he says.
"We have to find another way to make the public aware of us. Disney has had considerable success with theming, and I'm looking for a way of theming our season. I want to give it a hook so that, when individuals are looking for something to do, that hook will transform itself into something that might sound exciting to them."
The approach may work at Disneyland, but Phoenix audiences have a history of rejecting things that have been successful elsewhere. Barnard understands that, which is one reason why he's hanging on to that pair of shows.
His production of Beehive for Actors Theatre of Phoenix was one of his biggest hits. Phoenix Theatre commissioned Christmas after the runaway success of another Fulghum play, All I Really Need to Know I Learned in Kindergarten.
Call it a bit of security balanced against a modicum of risk.
Reading scripts is only one of the things occupying Barnard's weekends. He is hiring a slate of directors and actors, working on a season brochure, looking at ways to finance a new lighting and sound system.
"I keep telling myself I'm not here yet, but I don't believe it," he says, chuckling.
Barnard's arrival coincides with the theater's appointment of a new business manager, Noel Kevin Daniels, former finance director of Michigan's Grand Rapids Symphony. Together with the already-in-place development director, Robert Meza, Barnard believes he has a team destined for great things.
Barnard can use the help. As the theater approaches its 80th birthday, it is struggling to hold its own in a fiercely competitive environment. More than 60 troupes are bidding for audiences, actors and directors. ("That might make some people nervous," Barnard says. "It makes me excited. That means there are an awful lot of people out there who want to see theater.")
Known for most of its history as Phoenix Little Theatre, the company has made significant strides in recent years in terms of financial stability and attendance. In spite of that, it still cannot claim a comfortable margin for error in either area. One of its greatest problems is an aging subscriber base.
The theater's reputation as a bastion of Neil Simon-style comedies and war-horse musicals is a two-edged sword, Barnard admits, especially with those ages 30 to 55 who have a lot of entertainment options. The recent staging of Who's Afraid of Virginia Woolf? earned rave reviews and attracted younger people to the theater, but older audiences found its language and sexual situations offensive and the production was a financial disappointment.
"We walk a very thin line," he says. "There are limits to what our audiences will accept, and we go beyond them at our risk."
However, he doesn't view that as a negative.
"It leaves plenty of intelligent, witty things for us to do," he says. "The classics, for example. There's an opportunity to present them to a whole new generation of playgoers. And, loving musicals as I do, I can see us bringing a fresh look to the older shows, something along the line of what was done with Carousel. New work? Absolutely. One of my goals is to make Phoenix Theatre a home for local artists, and that includes playwrights."
If truth be told, Barnard is more frustrated with the theater's market penetration in terms of public awareness.
"Someone once told me that 50 percent or more of the Valley population has lived here less than five years," he says. "We have 79 years of history at this company, but that doesn't mean much to someone who's just moved in from Chicago. We need to market that history. We need to tell people, 'We've been around for 79 years. Come see what we have to offer.' "
Returning to the concept of theming, one of the things he is considering is "a sort of retro look at the way we were. A lot of wonderful plays have been done here, and so many wonderful people have come through these stage doors. Everyone from Clare Boothe Luce to Nick Nolte, and then there are all the local actors the theater has nurtured, people like Bob Sorenson and Robyn Ferracane. To me, that's something to bank on, to explore and celebrate. We are the mother theater of Phoenix. It's time to live up to that."
That means offering something more than lip service in terms of commitment to local talent.
"We have a breadth of talent here that is underutilized," Barnard says. "We call ourselves Phoenix Theatre. It should stand for something more than a name on a building."
The theater operates from a two-stage complex at 100 E. McDowell Road, just east of the Phoenix Art Museum. At the moment, the smaller stage is used for performances by the Cookie Company, Phoenix Theatre's children's troupe, or is rented to other organizations. Barnard has his eye on it for something more.
"It's definitely not feasible right now, but what a wonderful place to do those cutting-edge plays that attract maybe 100 people a night," he says. Barnard is realistic about the challenges facing him today. He knows that he is under pressure to restore Phoenix Theatre to a prominent role in local arts, and he is aware that there are those who expect him to accomplish that goal sooner rather than later.
He's game but cautious about rushing his bridges.
"You wouldn't be human if you didn't want it all and want it all right now," he says, "but the resurrection of Phoenix Theatre isn't going to happen in a day. I remember coming into Disney five years ago with all these great ideas and realizing very quickly that there was a process and patience was a virtue. We have a board that is prudent. If it all goes down the tubes, what's the point? But it also is a board with a real passion for theater.
"What that means to me is that we have to concentrate on doing what's possible, and that we must take it one step at a time. After that – well, after that, I believe the board is giving us a mandate to dream – to dream big!"
BIOGRAPHY
This bio of Michael was published in 2006, just as he was about to present the world premiere of Unbeatable, a musical about a woman with breast cancer.
Michael Barnard enters his 10th season as Phoenix Theatre's Producing Artistic Director, concentrating his efforts on continued growth of the theater, both in production, education and new work development.
Michael is world premiering the musical: Unbeatable, a musical based on the story of a courageous woman's survival of breast cancer. Unbeatable is scheduled to open off Broadway at the New World Stages in New York this October for Breast Cancer awareness month.
His third world premiere project, Dream a Little Dream, (the highest grossing production in Phoenix Theatre's history) continues its evolution this year finding new productions throughout the U.S. and Canada., including a production running at the Florida Stages summer and fall of 2008. Michael is currently under development for another new musical based on life seen through the eyes of an autistic child named Joey, called Waiting for Y.
Michael received his training at Northwestern University, with a master's in Theatre, with an emphasis in directing. He received his Bachelor of Fine Arts from Arizona State University. Native born, Michael grew up in Glendale and returned to Phoenix after receiving his degree.
Formally Director of Theatre for the City of Phoenix and Associate Producer of Musical Theatre of Arizona, Michael has directed more than 550 productions from New York to Los Angeles, working for such prestigious firms as The Walt Disney Co., Universal Studios Japan,  Ashland Cabaret, Utah Shakespeare, San Jose Rep, Florida Stages, Santa Barbara CLO, Webster University, Forestburgh Playhouse, NY, and PCPA Rep.
Here in Arizona Michael has directed and/or choreographed for Actor's Theatre of Arizona, Arizona Jewish Theatre, Phoenix Symphony, Black Theatre Troupe, Herberger Theatre Center, Valley Youth Theatre and Childsplay.
Michael's history with Phoenix Theatre dates back to the early '80s when he was their first production manager from 1979 to 1982. He then continued as a resident director/choreographer until 1985. Prior to arriving back in the Valley in 1999, Michael was a senior show director for the Disney Corporation in Anaheim. He worked for Disney for six and half years directing over 300 corporate events and the highly noted stage shows Pocahontas, Hunchback of Notre Dame, Festival of Fools and Animazement. Most recently, he created the new Toto and Friends and The Emoticons (atmosphere show) and Snoopy Action Stage Show, for Universal Studios, Osaka, Japan and the Veggie Tales Live national tour for Clear Channel.
As Artistic Director at Phoenix Theatre he has directed and choreographed such hits including Crazy For You, Dream a Little Dream, Thoroughly Modern Millie, Guys and Dolls, Man of LaMancha, Sophisticated Ladies, Into the Woods, Children of Eden, The Quiltmaker's Gift, Chicago, A Funny Thing Happened On The Way To The Forum, Cabaret, The Will Roger's Follies and The Best Little Whorehouse in Texas to name but a few. He has the pleasure of working with such notables as John Cullum, Ray Walston, Donna McKecknie, Teri Ralston, Kathy Fitzgerald, Jenn Culela and Eden Espinoza.
He has directed more than1,000 special events, from the Boys and Girls Club to Herberger Headliners, Phoenix Symphony's Yuletide, Body Positive, The Governor's Arts Awards, ASU Public Events, Heart Ball, Valley Leadership , March of Dimes, American Jewish League, Arizona Highways, SARCC breakfast, Phoenix Children's Hospital, Phoenix Follies, Women Who Care, and Kidney Foundation . He has been the show director for IMTA, the International Models Talent Association, for 22 years.
Michael also remains involved with many other new works. He has written the lyrics for all four of Cookie Company's touring productions including Something in My Kitchen, Taking the Wrath out of Math and Professor Flabberflaps. Michael is continuing work on a new musical revue of the work of Frank Loesser. He also created the Follies Fundraiser for Phoenix Theatre and has directed Woman Who Care Events and Enchanted Evenings for 8 years.
PHOTOGRAPHS, REVIEWS & THE KITCHEN SINK
1984 "Damn Yankees." Phoenix Theatre.