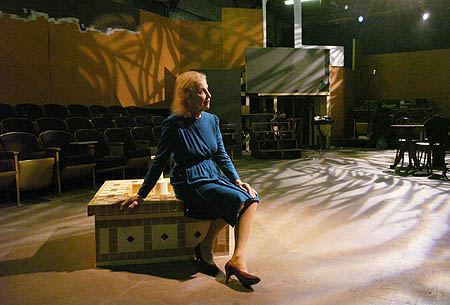 In the late 1970s and early 1980s, the most esteemed theater director in the Valley was a feisty red-head who took on the challenges of bringing playwrights as diverse as Eugene O'Neill and Henrik Ibsen to a popular audience and made it seem like a cakewalk.
Ruth Willis' work at Phoenix (Little) Theatre and Scottsdale Community Players was, in a word, amazing, as passionate as it was coolly literate, as riveting as it was carefully and deliberately paced.
In those days, there were no Equity houses in Phoenix. It didn't matter. Ruth made it seem as if every place she worked was a professional stage. Under her skilled guidance, a generation of actors found themselves essaying roles they never expected to play in Phoenix.
We really didn't expect to keep Ruth. We didn't. She moved to Pittsburgh where she began a long association with, among other companies, the famed Pittsburgh Playhouse and the equally legendary Open Stage, which she founded.
PHOTOGRAPHS, REVIEWS & THE KITCHEN SINK
APRIL 1977. "Hedda Gabler," Phoenix Little Theatre. Director: Ruth Willis. Cast: Sonya Missal, Jim Servis, George Soete, Bill Roberts, Faun Tanner, Marlene Saens, Katherine Michealson.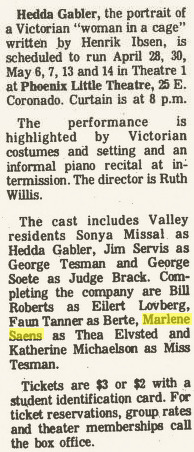 1977 "Desire Under the Elms." Director: Ruth Willis. Cast: Liz Romero, Philip Ashby, Maurice McGill, Jerry Nolan, Chris Macaulay, Robert Frazier, Sol Rudnick.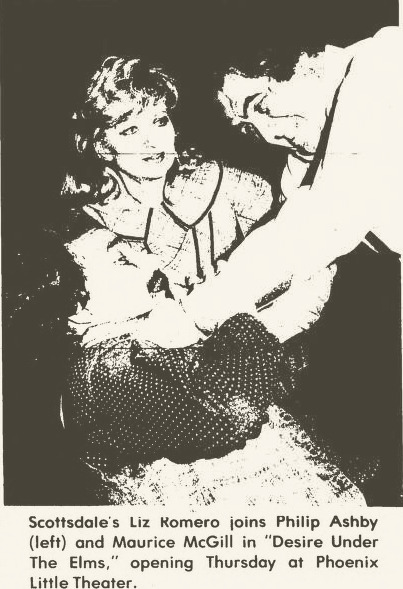 Here is an interview with Ruth, published in the Pittsburgh Post-Gazette of Oct. 22, 2006, on the occasion of her opening a production of Tennessee Williams' Camino Real and receiving the Lifetime Achievement Award from the Pittsburgh New Works Festival.
By Christopher Rawson, Pittsburgh Post-Gazette
"Being shaken up a little bit is good for you — having to shift gears," says Ruth Willis, looking back on the bumpy journey of Open Stage Theatre, of which she is artistic director and co-founder, now starting its 15th year.
She could also have been speaking of her own theater career of more than a half century, a journey shaken up by a series of moves that brought her to Pittsburgh 25 years ago. The career she has carved out here and by extension the experience of those earlier years are being celebrated tonight when the Pittsburgh New Works Festival honors Willis with its 16th Lifetime Achievement Award at its annual gala at Riverwatch.
"I kept getting phone calls," said Willis with quiet amusement. The first brought word she would receive a WQED/Dominion Volunteer In The Arts Award in September for her long work for Open Stage; then came the call from New Works.
"I said to Charlie" (her husband of 50 years), about preparing to be honored, that "this is work! … You have to figure out what to wear; and then you're supposed to say something."
We were sitting in Open Stage's own theater space at 2835 Smallman Street in the Strip District — sitting, in fact, with coffee and sweet rolls at a neat little cafe table, part of the set for Tennessee Williams' "Camino Real," with which Open Stage opens its season this weekend.
With the company more and more settled into its rough but flexible space and enjoying a relationship with Actors Equity that gives it freer choice of acting talent, and with her own awards to contemplate, it seemed a good time for Willis to reminisce.
"You never know what shape it's going to take," she said of the space, now turned into an in-the-round configuration for "Camino Real." "You bloom where you're planted," she added, her eyes sparkling — speaking equally in both cases about Open Stage and about her own journey.
That journey "must have begun in the womb," she says. Her memories don't go back quite that far, but they do go back to "my first casting director," her kindergarten teacher in Toledo, who chose her to play both the queen and the witch in a musical "Snow White." She remembers how the dwarves chased her into the cloakroom "and I met my demise among the boots."
There were backyard plays with her family, and she'd sneak into the University of Toledo theater to watch, "like a blotter." By 12 she was playing child's roles there, and in a city-wide essay contest, she won war bonds and her picture in the paper by shaping her entry as a monologue play. "And here I am!" she beamed, sipping coffee and looking around the Open Stage space. "I love all aspects of theater — it's my bliss."
And she's done it all, from box office and costumes to acting and directing. When she went to the University of Toledo for real, she earned a degree in teaching and taught elementary school for a few years. She was soon married to Charlie Willis, and his career with PPG took them sequentially to Cincinnati, Houston, Phoenix and finally Pittsburgh.
"He knew I was a theater lady when he married me — he's been wonderful support."
In each city she had to start afresh. Often she taught theater. As an actor, she achieved perhaps her greatest visibility in Phoenix, where a favorite role was as Alexandra Del Lago in Williams' "Sweet Bird of Youth" and where, when they moved away, the newspaper lamented the loss of the "queen of the classics."
Freshly arrived in Pittsburgh, her first job was helping another actor study lines. Soon she was acting, directing and teaching. She directed first at Fine Line, "Getting Out." At the Acting Company in Lawrenceville she directed "Salome," and at North Star Players and Glenshaw Players, such musicals as "Brigadoon" and "Man of La Mancha."
For some years she directed Plays for Living, staging one-act plays as motivational tools under Family and Children's Services. She was also busy at the Wilkinsburg Art Theater, directing "A Hatful of Rain," "Purlie Victorious" and "Ceremonies in Black Old Men," drawing on the experience she'd had with black theater in Houston in the 1970s, where she'd directed "Dutchman" for a young black company.
She taught acting, including 14 years at the Playhouse Theater School. And she acted, among much else in "Mobile Hymn" at City Theatre. Her last role was Isadora Duncan in 1985 in "Topsy on the Boardwalk" at the Acting Company.
"I stopped acting because I truly didn't have the time," Willis says. "I needed to put my energy into this theater. But I don't think Dionysius is finished with me yet. Who knows what the future will bring?"
The first Open Stage production, in May 1992, was Ken Jones' "Darkside," about astronauts. Willis likes the symbolism of that, a new company launching itself into space without a net, just a few weeks before an eight-month newspaper shutdown made life difficult for all theaters.
Willis' co-founders were Douglas E. Childs Jr., Doug Stirling and Christine Suhr. A lot of debate went into choosing the theater's name, which declared their openness to collaboration and to new work. That first work was well received, so the next year, they did a three-show season, with a preference for pairing one-acts.
Willis directed most plays those first few years, when they performed in a small social room at First Allegheny Presbyterian Church on the North Side, leading a critic to dub them the Living Room Theater. But in 1997, under an enlightened City Theatre policy to help incubate other companies (including Unseam'd Shakespeare and Pittsburgh Irish & Classical Theatre), Open Stage moved to City's Hamburg Studio.
After five years there, City decided it wanted to reclaim its studio space, and Open Stage was the first of the tenant groups to be cut loose. Willis calls this their "nomad situation." With just a month's time to find a performing space, then board president Brian Bessor persevered. The University of Pittsburgh provided a temporary home, but it wasn't cheap, and the choice of dates was severely limited.
Then in 2002, Open Stage took a greater leap into the unknown. "We found this warehouse," Willis said with a twinkle. It was a fulfillment of the company name, because it was indeed an open space. It was also "dirty and boiling hot or freezing cold, but it was ours! 'A poor thing, but mine own,' as Shakespeare says."
Floors have since been built and heat and a lighting grid installed. Willis looked around with satisfied wonder at the mess of a set being built and an opening prepared, calling it, "this wonderful chaos, where the creative work comes."
Over the years, Open Stage has survived because "so many have helped, some in the nick of time." There was never any huge underwriting, but a steady face and gradual integration of new talent, such as the new managing director, David Maslow. Counting staged readings and special events and both one-acts on a single bill, Willis counts a total to date of 76 shows (many of them new or at least new to Pittsburgh) done by 27 directors using more than 500 actors. She points out that David Crawford acted in that first play back on the North Side, and he's in "Camino Real," too.
Willis is one who believes "Camino Real" is an unacknowledged masterpiece, and she has long wanted to do it. But in the collaborative mode that she says typifies Open Stage, she is designing props while Mark Calla directs. "We have to dust off the classics and hear their language!" she says with fervor. But her life has also taught her that art has another side: "It's called show business," she says, "not show play."
PHOTOGRAPHS & CLIPPINGS FROM RUTH'S PHOENIX PRODUCTIONS