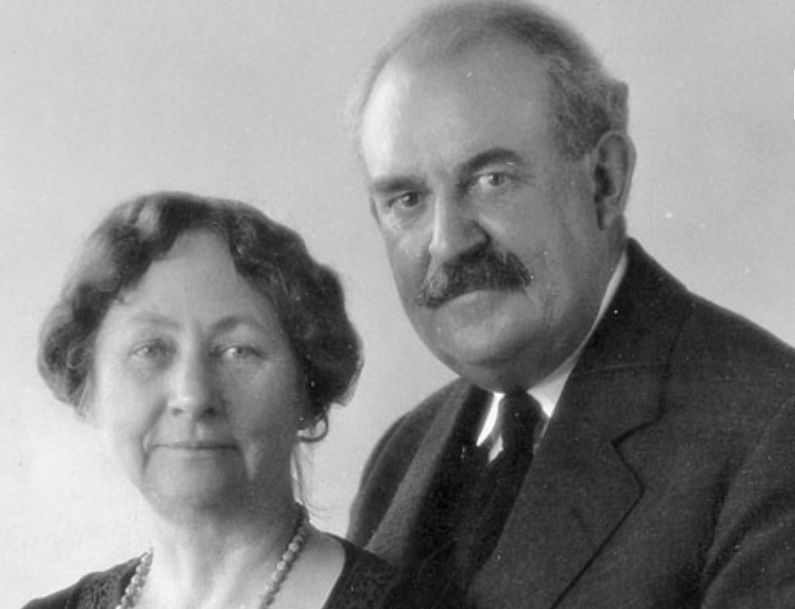 Dwight Heard was working at a department store in Chicago when he met and married the boss's daughter, Maie Bartlett, in 1893. Maie was born June 11, 1868, in Chicago and studied at an elite finishing school prior to her marriage.
When Dwight was diagnosed with a respiratory disease, the young couple moved to Phoenix in 1895. Dwight became an important landowner, raising cotton, alfalfa, citrus and cattle, and he also worked as a real estate developer and bought the Arizona Republican newspaper in 1912 (renamed the Arizona Republic in 1930).
The Heards built a large Spanish Colonial Revival-style home on Monte Vista Road just off Central Avenue in the northern part of Phoenix, and named it Casa Blanca. Active in Republican politics, Maie and Dwight entertained Herbert Hoover and Theodore Roosevelt, as well as prominent local politicians, in their home, which became a showcase for their collection of American Indian art.
Maie was involved in the development of early Phoenix. Her love of books led her to jump on her horse and deliver library books to far-off ranch children and to work with fellow members of the Phoenix Women's Club to build the city's first library, the Carnegie, in 1908. Her interests extended to theater, and the first stage of Phoenix Little Theater, which she co-founded with Harry Behn, was located in her coach house.
She donated land that would become the site for the Phoenix Civic Center, and a gymnasium for the YWCA in downtown Phoenix. She was engaged with St. Luke's Board of Visitors, which raised funds for St. Luke's Home and, later, St. Luke's Hospital, and a founder of the Welfare League, forerunner to the United Fund.

The Maie Bartlett Heard Elementary School at 2301 W. Thomas Road is named for her.
In 1912 Maie became active in the campaign for voting rights for Arizona women. She served as treasurer of the Phoenix Civic League, a volunteer organization that circulated suffrage petitions in July of 1912 to get a suffrage amendment on the ballot in November. Their efforts succeeded and Arizona women won the right to vote.
But collecting Indian artifacts became the center of Maie's life. Most of her original collection came from a Hohokam ruin, La Ciudad, that the couple purchased in 1926. Whenever Maie Heard purchased another Indian artifact, her Phoenix home almost groaned under the weight of the vast assemblage of Indian pottery, paintings, rugs and relics that filled every corner of Casa Blanca. Then Maie's daughter-in-law, Winifred, said to Maie, "You know, you might start a museum, you've got so much." So the couple built a larger space adjacent to their home. The museum opened in June of 1929.
Several months later, Dwight Heard died of heart attack. Maie worked as the curator and director of the museum for twenty years. She often took visitors on tours during the day, then swept the floors at night. She scrutinized every item purchased, greeted guests as if they were visiting her home, and invited everyone to browse the maze of intricately crafted vessels, baskets of every shape and size, and displays of American Indian costumes. She knew the origin and craftsmanship of every piece of jewelry and each kachina. Her mission, according to a plaque displayed at the museum, was "to preserve the cultural heritage of those who have so enriched our lives."
Maie's humanitarian efforts earned her recognition as Arizona's Women of the Year in 1948 by Beta Sigma Phi, a businesswomen's sorority.