FRED B. MUSSEY
In 1897, Fred B. Mussey formed the Phoenix Players Club. He is remembered as the "father of the thespian art form" in the Valley.
Fred came to Phoenix a year earlier as part of a stock company looking for a new home. Unfortunately, the company's productions did not attract enough customers to pay the bills. Most of the troupe left town. Fred stayed.
He directed the club's first offering, something called Tony the Convict. The Arizona Republican liked it. "Altogether, the performance as the best amateur exhibition Phoenix has been favored with."
After that, Fred and the club faded into history. Or at least from the newspaper archives.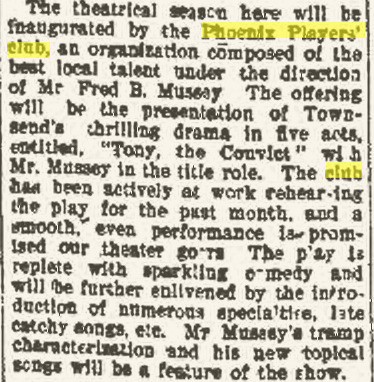 ARIZONA REPUBLIC  Dec. 15, 1899.
Paul Gilmore plays D'Artagnan in a production of The Three Musketeers at the Patton Grand Opera House. The Patton later was renamed the Dorris Opera House and still later became a cinema.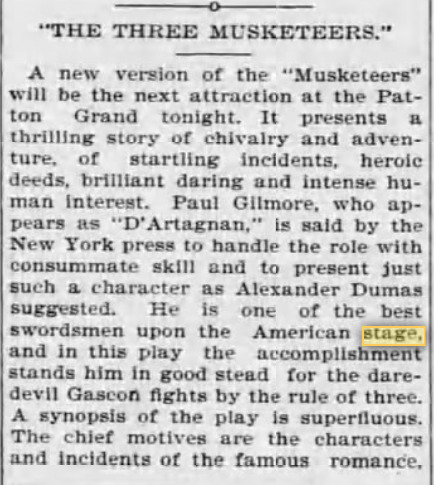 SO LONG CALIFORNIA, HELLO, PHOENIX

Clipping from the Arizona Republic, Dec. 11, 1893.
MRS. TOM THUMB COMES TO TOWN

 ARABIAN NIGHTS IN THE PHOENIX DESERT
In March of 1893, the Calhoun Opera Company brought Said Pasha to town, putting up at the Avon Theater. It's an opera company no one seems to have heard of, playing at a theater whose existence is proved only by this single clipping from The Arizona Republican.

YOU CAN FOOL US ONCE, TEMPE SAYS …
From the Arizona Republican March 29, 1893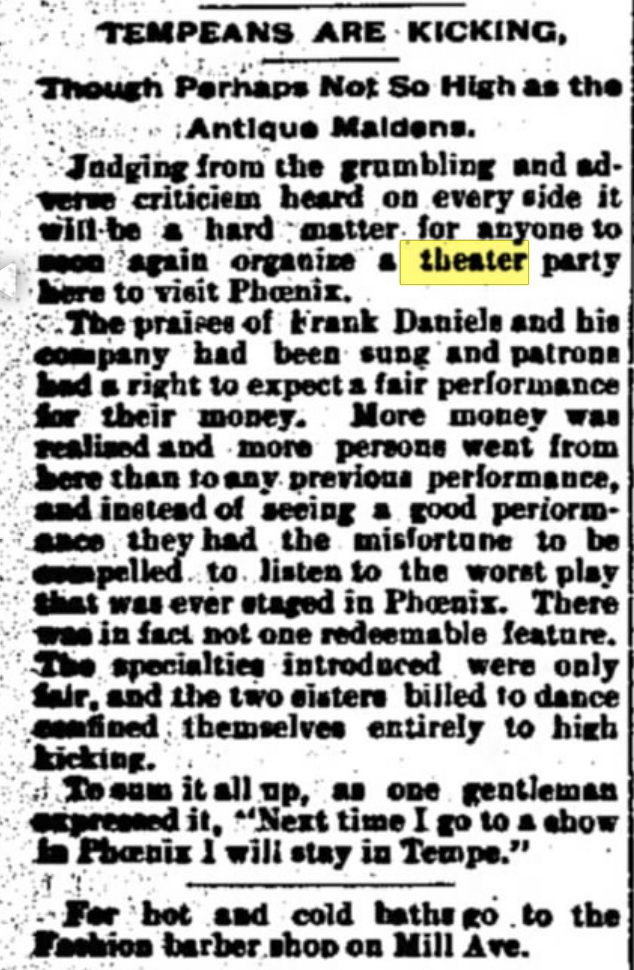 IF THEATER DOESN'T WORK OUT, THERE'S ALWAYS GOLD PROSPECTING …

Clipping from the Arizona Republican, Jan. 12, 1891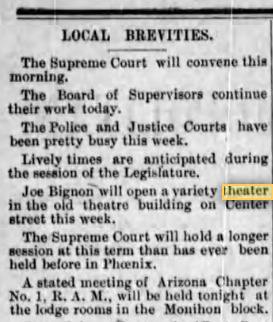 Joe Bignon was a French-Canadian who came to America in 1986. He managed theaters in Tombstone and Phoenix  and did a little gold prospecting on the side. He died Nov. 6, 1925 and is buried in Pearce, Arizona.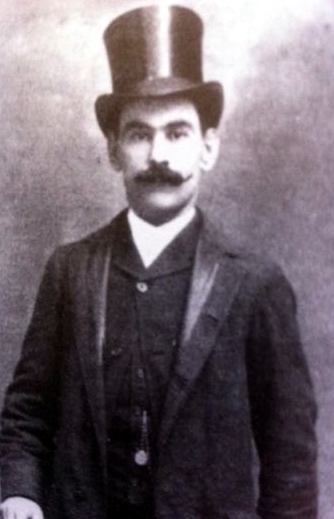 Published Jun 26, 1895 in the Tombstone Prospector.
"The discovery of gold in the Pearce area caused Joe Bignon to disassemble his home and move via Joseph McPherson's freight to the area. He had a claim along the ledge of Tomlinson Hill aka Six Mile Hill. He was producing 'some excellent ore'."
For more on Joe and his wife, Big Minnie, go HERE