'TEN NIGHTS IN A BAR ROOM' COMES TO PHOENIX …
" … a sensation unparalleled in the history of the drama."
Oct. 21, 1900. Arizona Republican.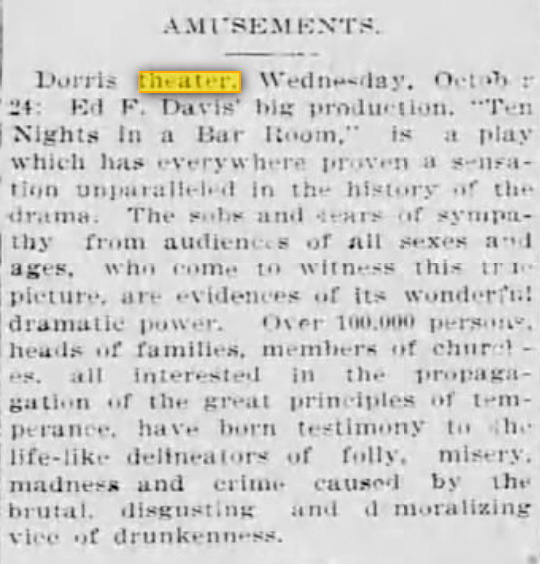 LONG FORGOTTEN NAMES …
Dec. 29, 1900. Arizona Republican.

Dec. 13, 1902 Arizona Republican "A True Kentuckian"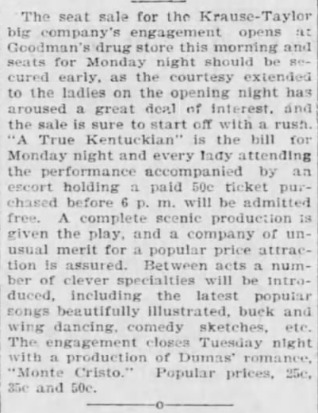 Dec. 13, 1901 Arizona Republican "The Belle of New York"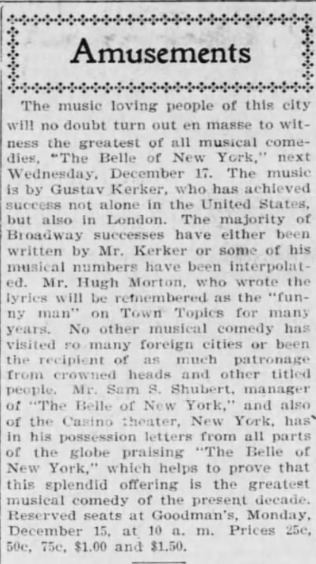 JANUARY 1904
The Dorris Opera House, considered the finest theater in Phoenix, presented a "realistic melodrama" called The Guilty Wife to kick of the 1904 season.  The Clyde Fitch script was a touring production taken on the road by the Della Pringle Company. During the week they were in town, the actors also staged Thelma, The Mansion of Aching Hearts and The Sultan's Daughter. The hunk pictured in the Arizona Republican article is not identified.
Della Pringle was an actress popular in the 1890s and early 1900s. She first came to the public's attention as a comedienne in the Western states and then moved east to Boston and New York, where she starred in a number of plays. She became famous enough to operate her own company, which toured the smaller markets in the American West. It was a life of ups and downs and ended on a down. She died a charity case in Boise, Idaho, at the age of 82.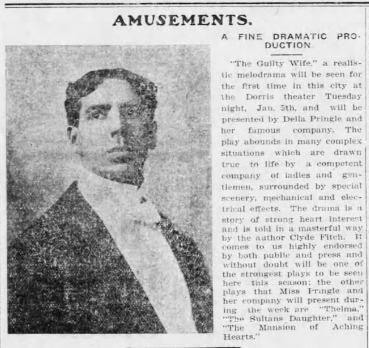 'THE FATAL WEDDING' DRAWS CROWDS TO THE DORRIS
Clippings from the Arizona Republican, January 5, 1904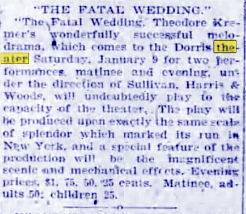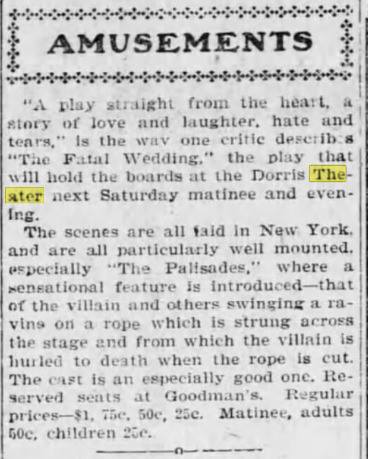 1904 The Millionaire Tramp at the Dorris.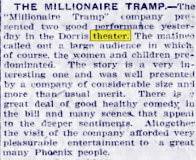 Dec. 9, 1905 Arizona Republican. Ethel Tucker at the Hardwick Theatre.
The Hardwick Theatre was at 30 S. Third Avenue. In later incarnations, it was known as the Olympic, Phoenix and Third Avenue theaters.