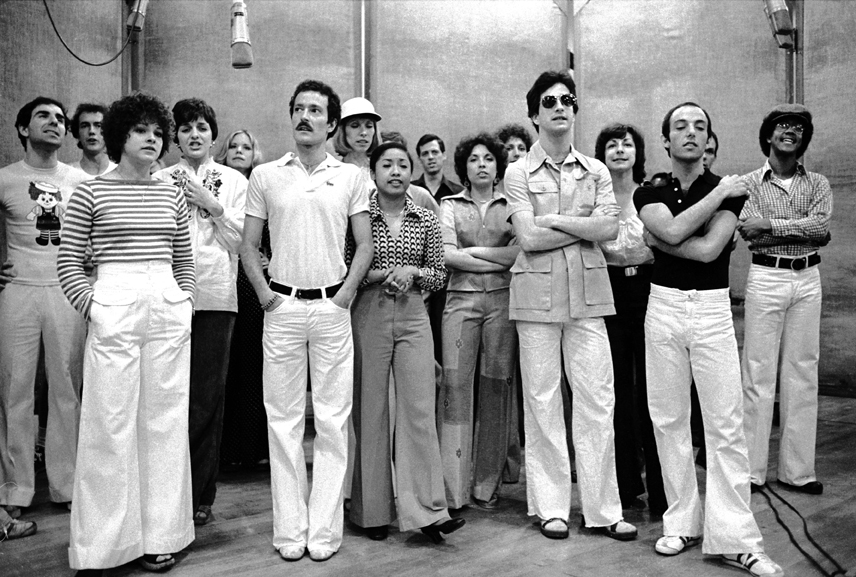 CAMERON MASON
Actor, Dancer
MICHAEL BENNETT
Choreographer, Director, Producer
Two 'A Chorus Line' participants have ties to Phoenix. Cameron, the original Mark, was born here, and returned to Phoenix after Broadway to start a housecleaning service; and Michael Bennett, the director-choreographer who created the show, worked at the Star Theatre, now the Celebrity.
Both are mentioned in this fascinating 2006 story from the New York Times.
'Chorus Line' Returns, as Do Regrets
By CAMPBELL ROBERTSON
On a snowy Saturday night in January 1974, after their curtain calls, 19 of Broadway's best dancers gathered at the Nickolaus Exercise Center on East 23rd Street. They all sat in a circle on the floor. A tape recorder was turned on.
For the next 12 hours they spoke about their lives, telling stories of divorce, child abuse and the plight of the professional dancer. These tales, shaped by the choreographer Michael Bennett, would become the foundation of "A Chorus Line," one of the most successful musicals of all time.
The dancers who told their stories that night sold them to Mr. Bennett for $1 each. And though Mr. Bennett later arranged for them to receive royalties from the show — at times up to $10,000 a year — they have always questioned whether they have been fairly compensated and acknowledged.
Now a revival of "A Chorus Line," which opens at the Schoenfeld Theater in Manhattan on Thursday night, has reopened some of these old wounds, particularly after the dancers realized they would receive no money from this latest production because of those agreements.
The revival is being produced by the executor of the Bennett estate, John Breglio, who is also one of Mr. Bennett's heirs. A longtime theatrical lawyer, Mr. Breglio said he had no authority to renegotiate an agreement Mr. Bennett made with the dancers three decades ago.
"I only know what Michael intended by the words on that document, which are crystal clear," he said. "I'm bound to uphold the terms that Michael agreed to."
The legality of the arrangements is not an issue. "At one point, when we were young and stupid, we kind of signed our lives away, and they exploited that," said Wayne Cilento, who played the role of Mike in the original production. But reflecting the feelings of some of the other dancers, he added, "We were the authors of the show, and we should have been paid accordingly."
The question of authorship on any collaboration can be tricky. There is no doubt that the dancers provided most of the stories, and in some cases large chunks of their words show up verbatim in the show. There is also no doubt that it was primarily Mr. Bennett who took 20 hours of interviews and had the vision to shape them into a groundbreaking musical.
"There never would have been 'A Chorus Line' without Michael," said Kelly Bishop, who told her story in the character of Sheila, "but there never would have been 'A Chorus Line' without us, either."
In the end, the tapes, which contain almost all the raw material of "A Chorus Line," remain the most comprehensive record of the musical's inception. Locked in a safe deposit box for much of the last 32 years, they had been heard by a few people until Mr. Breglio recently permitted a reporter to listen.
The tapes begin with that session in January 1974. Mr. Bennett, at the time a 30-year-old virtuoso choreographer, starts by saying he has been toying with an idea for a show called "A Chorus Line."
He then describes his plan for the evening. "I really want to talk about us, where we came from, why we're dancers, what the alternatives are, why we think we're in this business."
"I don't know whether anything will come of this," he adds. "We'll just talk."
The dancers respond, one by one, to questions, much as in the musical itself, which takes place at an audition. The answers get longer and more personal as hours go by. Twelve of the 16 surviving attendees of that first taped session were interviewed for this article, and most said that while another gathering and one-on-one meetings worked similarly, that first night was the most intense.
Included on the tapes are recordings of scriptwriting sessions. Mr. Bennett can be heard portraying each dancer in turn, reading the transcripts of their life stories, while Nicholas Dante, a young dancer, prompts him with questions. James Kirkwood, a novelist and playwright, would eventually get writing credits with Mr. Dante on the book; Marvin Hamlisch and Ed Kleban would write the music and lyrics.
Later that spring, Mr. Bennett called the dancers for auditions, at which some first discovered that they had to compete against others to play themselves. Not all of them made it. Mr. Bennett began staging the first of two workshops of "A Chorus Line" at the New York Shakespeare Festival, now the Public Theater, in August 1974.
At a rehearsal break during the first workshop, the performers were handed release contracts, under which they would give Mr. Bennett rights to use all the interviews in exchange for $1. The document stated that real names could not be used in connection with the stories without consent.
"I knew it was wrong," said Priscilla Lopez, who told her own story in the character of Diana Morales. "But I thought, 'If I don't sign this, I'm not going to be a part of it.' "
Immediately, some felt they had made a mistake. Andy Bew, who was at the taping sessions but not involved with the show after that, recalled being contacted by a representative of Mr. Bennett, who asked him to sign. Calls from the other dancers quickly followed.
"I remember getting calls: 'Don't sign! Don't sign!' " he said. "I think they were concerned that they weren't really going to be taken care of."
In the end, everyone signed the releases. Some were afraid of what would happen if they did not; some revered Mr. Bennett so much that they would do anything he asked. "People were falling in love with Michael," said Donna McKechnie, who played the central role of Cassie and would later be briefly married to Mr. Bennett.
Tony Stevens, who along with Mr. Bennett and another dancer, Michon Peacock, organized the first taping session, said that the willingness to sign also came out of the dancer mentality. "When you ask an actor to do something, their first response is to ask 'Why?' " he said. Dancers, on the other hand, do not ask questions; they just perform.
After the production moved to Broadway in 1975, Mr. Bennett asked his lawyers to draw up a new arrangement that divided the 37 dancers and actors involved with "A Chorus Line" into three groups. Group A artists had given their stories at the original tape sessions and/or were part of both workshops; Group B had participated only in the tape sessions; Group C included those in the show who had not been with it from the early stages.
This new agreement split among them a half-percent of the production's weekly box office gross revenues, as well as a similar portion of the income from subsidiary rights; it gave the 19 dancers in the A Group double the shares of everyone else. In all, Mr. Bennett gave the 37 dancers roughly a tenth of his own royalties from the original production and around a third of the rights income he was entitled to as the show's conceiver, director and choreographer. He also received a share of profits and rights income as a producer.
This kind of agreement was new because the extensive workshop process was new; a similar, but less generous agreement that was hammered out for Mr. Bennett's next musical, "Ballroom," has become standard on Broadway.
For a few dancers in the taped sessions, like Steve Boockvor, this arrangement was a gift: "None of them left with a charmed life, none of them came in with a charmed life," he said of the other dancers. "It was all Michael." If Mr. Bennett manipulated them at times, he added, "well, he created a masterpiece." Mr. Boockvor, the inspiration for Al, did not make it through auditions.
The show won nine Tony Awards and the Pulitzer Prize for drama. When it closed on Broadway in 1990, it had drawn gross revenues of more than $280 million worldwide. But the careers of many of the dancers did not take off after "Chorus Line."
Some became choreographers or teachers. Cameron Mason, the original Mark, moved back to his hometown, Phoenix, and started a housecleaning service. Sammy Williams, who won a Tony for his performance as Paul, left show business for more than a decade to work as a floral designer.
Mr. Bennett died of an AIDS-related illness in 1987. His will bequeathed the tapes to Mr. Breglio and to Bob Avian, who was a co-choreographer of the original production and is directing this revival. The will stated that if the actual tapes were used for commercial projects (a documentary, for example), half of those profits would be divided among the people interviewed on them. Mr. Breglio and Mr. Avian would split the other half.
Beneficiaries of the estate, which was reported to be worth $25 million, included Mr. Bennett's brother, Frank Di Figlia; Mr. Avian and Mr. Breglio; Gene Pruit, a friend; Robin Wagner, the set designer of "A Chorus Line"; and an AIDS research foundation.
When the dancers heard there would be a revival, most assumed they would receive royalty payments, with several recalling that Mr. Bennett once told them that the A and B groups would have a piece of any "Chorus Line" production in the world.
But they were puzzled by a letter Mr. Breglio sent last autumn asking permission to use their real names on any future projects that would entail publication of the tapes themselves. E-mail messages and phone calls went back and forth among the dancers, some of whom had not been in contact for years.
"We're basically advising one another to hold off," said Ms. Bishop, who has recently been working as a featured character on the television show "Gilmore Girls."
In the end, only three people gave their consent, including Mr. Boockvor and his wife, Denise Pence.
The original dancers began examining the release form and the agreement, some for the first time. When they consulted lawyers, they discovered that the royalty agreement covered the original production and that show's subsidiary rights. According to the terms of that document, the 2006 revival fits neither category.
Mr. Breglio said the only way the arrangement could be changed is if all of the interest holders in the Bennett estate agreed to have the interviewees' royalties taken out of their shares.
The original dancers are continuing to meet with lawyers, but acknowledge that they are in a tough place.
Like almost all the other dancers, Ms. Lopez, who went on to act in television shows, films and, occasionally, other Broadway musicals, said she loved her experience in "A Chorus Line" and, with the exception of the 1974 contract, would not trade any of it. But, she added, "There's a part of me that says, 'I've had enough.' "