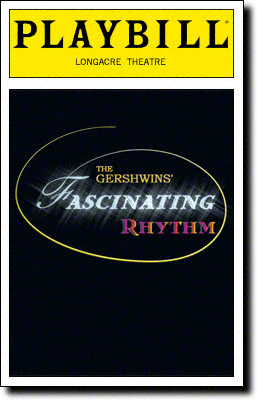 By Kyle Lawson, The Arizona Republic, April 26, 1999
David Ira Goldstein is putting on weight. Not physically. The artistic director of Arizona Theatre Company is swelling with pride as he stands in front of the Longacre Theatre, a landmark of Manhattan's theater district since 1913.
On the stucco wall in front of him is a poster for The Gershwins' Fascinating Rhythm. Its flashy graphics haven't caught Goldstein's eye. He's wrapped up in the fine print. One incomplete sentence in particular has set his pulse racing: "Subsequent development production at Arizona Theatre Company."
It's the first time the theater company's name has appeared on a Broadway poster. Every troupe dreams of transferring a show from its stage to New York, the center of the theater world. Goldstein's company has done it.
History of another sort is being made here. Not only is this ATC's New York debut, it marks the first time a show has gone directly from Phoenix to the Great White Way. It is a validation of the Valley's cultural coming of age, one more indication that local arts groups are transforming themselves into world-class institutions.
Nearly 50 ATC supporters from Phoenix and Tucson flew into New York for Sunday's gala opening. Caught up in the excitement of having one of their own on Broadway, the Arizonans were in a mood to party, and had no trouble satiating their desire.
Two events were on everyone's list: a pre-show brunch at the Park Avenue apartment of Selma and Walter Kaye, parents of ATC board member Joan Biegle-Kaye, and a post-show celebration at the glamorously chic Emporio Armani boutique on Fifth Avenue.
Goldstein, who arrived Saturday to see the revue's final preview, isn't thinking of parties as he pulls his overcoat around him. The weather is typical of New York in the spring: 48 degrees and rain drizzling from an overcast sky. A stiff wind is blowing in from Times Square, a couple of blocks away. It's a chilly welcome to a guy just off the plane from Phoenix, but, to borrow a song title from the revue's score, Who Cares?
On his way here, he passed the Brooks Atkinson Theatre where, last night, Kevin Spacey stood at the stage door, signing autographs after the four-hour marathon of The Iceman Cometh. A few hours before, at the Barrymore Theatre, Dame Judi Dench, Academy Award winner for Shakespeare in Love, stepped out of a limousine on her way backstage for a performance of Amy's View.
Goldstein waves his hand in the direction of those theaters, starts to say something, then just shakes his head.
"If we were a college basketball team, this would be the finals of the NCAA Tournament," he says, finally. "It means we're going to be able to do even better theater in Phoenix, because we're going to be able to recruit better players. People in the business now know that good and important work is being done at our company. Already, I'm hearing from playwrights, producers and actors about projects they would like to bring to us."
Inside the theater on Saturday, it's the eye of the hurricane. An eerie calm prevails. For the past several weeks, the winds of change have been howling. The revue, built around 27 tunes by the legendary team of songwriting siblings, George and Ira Gershwin, has been undergoing constant tweaking as director Mark Lamos, choreographer David Marques and their creative team fine-tune the production for New York audiences.
Sara Ramirez is one of five members of the Phoenix cast to be featured in the New York production. (The others are Chris Ghelfi, Brian J. Marcum, Karen Lifshey and Jill Nicklaus.)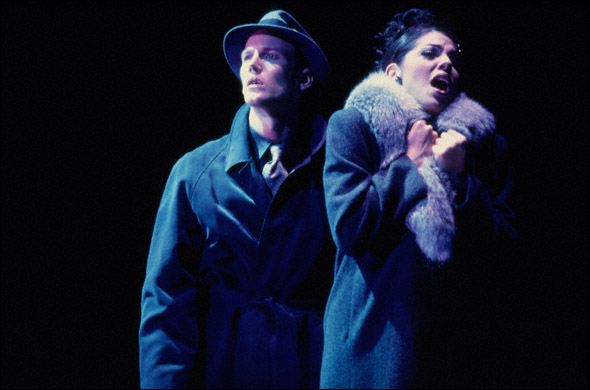 The actress seems remarkably composed for someone who's being bandied about as a potential Tony Award nominee. Doesn't she feel the pressure? She shrugs off the question. She made her Broadway debut in Paul Simon's The Capeman, which flopped. She knows how dumb it is to fall victim to what she calls the "snow job."
"It's so easy to get wrapped up in the critics and the hype and the press and the stress – this is Broadway, after all, and if you're a theater person, you can't help but feel the strain. For us, this is it, this is Mecca," she says, stopping to catch her breath after climbing the precipitous stairs to her dressing room on the upper floors of the Longacre.
"But that's all going to come down on me Sunday. Right now, I'm just trying to relax and have a fun time and remember why I do this. New York is the pinnacle, I have to say that, but Phoenix was great, too. The truth is, just as long as I'm onstage somewhere, I'm happy."
Previews of Rhythm did well in the Big Apple, which delights Goldstein since ATC participates in any profits. On Friday, only a dozen or so seats were available, and the preview audience rewarded the performers with constant laughter and applause. Two people jumped to their feet at the finale. Actor Michael Berresse, one of the new additions to the cast, grinned at them and gave them a little bow. Friends, maybe. The rest of the audience applauded enthusiastically but didn't stand.
Ramirez isn't surprised: "New York audiences are harder to please," she says. "You don't see them out of their seats as often. We were pampered in Arizona."
Audiences at the Herberger were particularly demonstrative, she recalls nostalgically. Which is not to say everyone in Phoenix embraced The Gershwins' Fascinating Rhythm with the same fervor. Some found it too sexual, too blatant in its references to contemporary relationships and issues.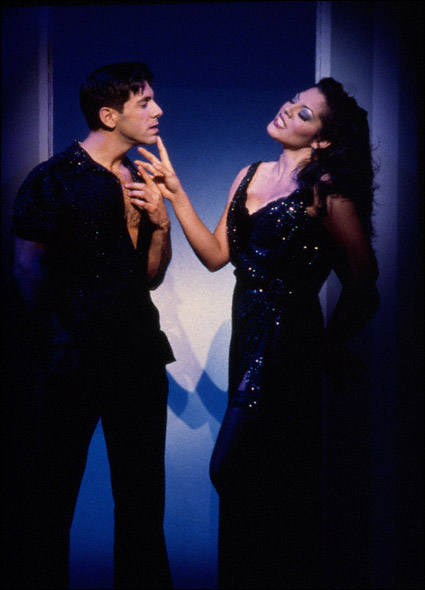 The Longacre crowd seems comfortable with Lamos' efforts to bring the composers into the new millennium. The sharp intakes of breath that greeted the lesbian duet, Isn't It A Pity, at the Herberger are missing. They Can't Take That Away From Me, with its overtones of grief for those lost to AIDS, is received in an almost reverential silence.
In the reflected glow of lighting designer Peggy Eisenhauer's lights, tears can be seen coursing down several cheeks. New York has been hard-hit by the plague. It is a city of remembered loss.
"There hasn't been an attempt to cater to the conservative eye, but then, again, we want to make audiences happy," Ramirez says. "We've reined in some of the ideas a little – toned some things down after Phoenix. It's still sexy, and I like to think, hip. It certainly is not your traditional musical. That's a response to the changing New York audience. Shows like Rent and Bring in 'Da Noise, Bring in 'Da Funk have created new expectations."
Just as The Gershwins' Fascinating Rhythm has raised the artistic bar in Phoenix.  Valley theatergoers have a tendency to believe that if it's in New York, or from New York, it's superior, says Rusty Foley, director of corporate affairs for Salt River Project, during Sunday's brunch.
"That's going to change. This show proves that the best of Phoenix theater can hold its own with theater anywhere. Even more importantly, its commercial success at the Herberger means that when Valley arts groups do exceptional work, it will be recognized," she said.
Later that night, everyone gathers at the Armani boutique to air-kiss and make merry while gawking at the cast and celebrities like playwright Terrence McNally and supermodel Reni. The reviews from the New York Times and the other Big Apple media fail to arrive by press time, but a grinning Goldstein isn't in any hurry to read them.
"I hope they love it," he says, "but this has been one of the greatest experiences of my career. Let me steal something from the Gershwin brothers. Whatever the critics say, they can't take that away from me."